---

Polybahn links | Polybahn picture gallery | Visitor information | guestbook


The Polybahn is a short funicular in Zürich linking Central with Polyterasse. It is used mainly by students and commuters, for who it provides a fast and reliable link. It has also grown to become a tourist attraction, an icon, in it's own right, and is featured in many tourist guides and on postcards.

The original Polybahn opened in 1889 and operated until 1996. It was refurbished and modified several times, but retaining the original cars and track system. It's history is one of threats and lucky survivals, but these also warded off the wand of modernisation. So this delightful relic clanked on for 107 years.

Concerns for safety and economy of operation finally caught up with the Polybahn. In 1996, it was dismantled and replaced by a new funicular respecting the style of the old one and retaining all principal architectural features of the line. Thanks to good preparation and speedy work, the period of closure was less than 4 months.

This website discusses both the new and the old funicular, as well as the rebuilding.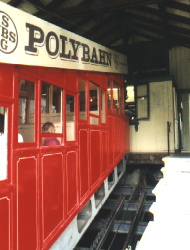 Please note that this is not the official website of the Polybahn. To my knowledge, no official website exists. Information on public transport in Zürich is available from ZVV.

This website has a photograph collection documenting all aspects of the Polybahn and a collection of links to other sites with information on the Polybahn. I am planning to add a history page, a route description and technical information.


---

Click on pictures for captions and enlargements

Polybahn links | Polybahn picture gallery | Visitor information | guestbook

also visit: my Zürich tram home page | my tram home page


---

---
last modified 07.11.00
counter added 07.11.00
mailto: shadowfax@datacomm.ch