News from Stadtbahn Glattal
filed on: 08.09.2005 (8th Sep 2005)
A news release from VBG explains the tram stop shelter at Hallenstadion (see 30.08.2005) is the prototype of the design that will be used across the entire Glattalbahn system. It has been installed for evaluation and presentation purposes and will subsequently be removed to prevent damage from vandalism or ongoing construction work (the system will not open until December 2006). In total, the system will have 22 stops. The shelter was designed by the architect Rainer Klostermann of Feddersen & Klostermann. The very marked design elements are continued in the overhead masts which will equally contribute to the recognisability of the system.
City executive councillor, Andres Türler, has announced that from 2009, at least every second tram on all VBZ-worked routes (which include Stadtbahn Glattal, at least during the initial phase) will be low-floor (either Cobra or Sänfte). Glattalbahn is the first railway project in the Zürich area to fully conform to the 2004 requirements on disabled access.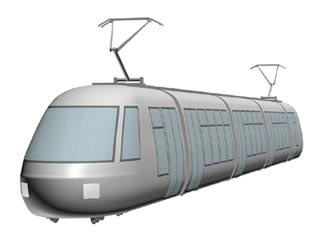 According to VBG chairman, Otto Halter, Glattalbahn is already having a positive impact on the Glattal area, with many companies investing stating this system as a reason for chosing the location.
source: VBG
Stadtbahn Glattal is a project to bring trams to an area to the North of Zürich. The first phase (on which work began in September 2004) will see tram route 11 extended from Messe/Hallenstadion to Auzelg. Further phases will see lines to the airport and Stettbach.
This news item is from the 2005 newslog.


---
search Zürich tram news archive
news index for displayed year (2005)
news index for 2022
all news for current year
Zürich tram homepage
---
to link to this item please use:

http://www.proaktiva.ch/tram/zurich/newslog/newsitem.php?year=2005&item=080905