Burgwies museum: work begins
filed on: 09.09.2005 (9th Sep 2005)
Following the granting of permission by the council and the expiry of the objection period, construction work at Burgwies began on 23rd August. This former tram depot is to be rebuilt as a tram museum and a Migros supermarket.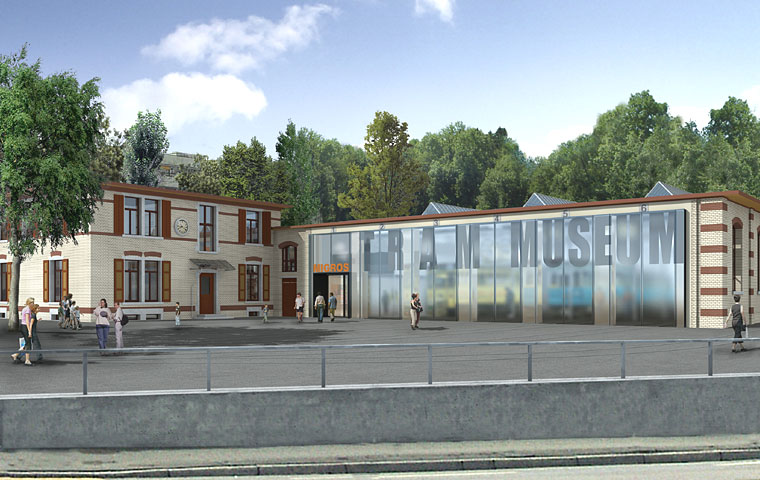 A mezzanine floor is being built on the location of tracks one and two. The upper floor will be an exhibition area with viewing gallery for the museum. The lower floor will have a joint entrance area for museum and supermarket as well as the museum shop and facilities. The rest of the main shed (four usable tracks) are for the tram museum's vehicles with the side shed becoming the supermarket. To date, 610'000 Franks have been raised for the museum. It is hoped to raise 1.5 million. The supermarket will open in 2006 and the museum in 2007.
To permit work to start, the various vehicles stabled here have been transferred to Wollishofen depot except Forchbahn (ex-Lausanne) B4 119 which is now at Forch.
source: Tram Museum Zürich
See also:
111:0 for Tram Museum (06.06.2005)
Burgwies Tram Museum (13.03.2005)
Burgwies tram museum appeal launched (01.04.2004)
This news item is from the 2005 newslog.


---
search Zürich tram news archive
news index for displayed year (2005)
news index for 2023
all news for current year
Zürich tram homepage
---
to link to this item please use:

http://www.proaktiva.ch/tram/zurich/newslog/newsitem.php?year=2005&item=090905