Stadtbahn Glattal: green light for second phase
filed on: 14.03.2005 (14th Mar 2005)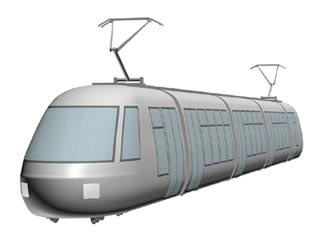 Good news for the North! The cantonal government has given the green light for phase two of Stadtbahn Glattal. Construction will start in the Summer of 2006, following on seamlessly from phase one, and be complete in late 2008. The new 5.2km line serving eight stops will branch from the phase one line at Ambassador and run to the airport via Opfikon, Glattbrugg and Bäuler. The project features a 400m tunnel under the railway and motorway at Glattbrugg and a 700m viaduct on its approach to the airport.
Coming during a time of tight purse strings and tough budget consolidation, the approval of the second phase of Stadtbahn Glattal stands as a sign of the confidence placed in this project and its importance for the development of the Glattal area. The 329 million Franks made available for the project are earmarked as follows:
— 200 million for the Stadtbahn proper between Ambassador and Airport.
— 16 million for a new tram line in Oerlikon. The link will connect phase one to Bhf. Oerlikon Ost via Hagenholzstr. and allow trams of the airport route to continue to central Zürich via Bhf. Oerlikon and Milchbuck (as city route 10).
— 52 million for a new road in Opfikon (Birchstr.) to divert road traffic from the Stadtbahn alignment.
— 10 million in compensation for non-depreciated road infrastructure for all three phases.
— 51 million for land purchases for phase three.
Ongoing roadworks in Dübendorf (Sonnental) are apparently also connected to Stadtbahn Glattal. The future alignment of phase 3 is being respected and the new road layout is designed to permit an easy integration of the future Stadbahn line.
source: VBG
Stadtbahn Glattal is a new tram system for the Glattal area (to the North of Zürich). It is being realised in three phases for completion in 2010. The first phase (construction in progress, opening 2006) connects to the city tram system at Messe (Oerlikon) and runs to Auzelg. The second phase (now approved) serves the airport, with the third phase (awaiting approval) running from Auzelg to Stettbach. The three phases will cost a total of 537 million Franks. In the longer term future a line will link Bassersdorf. There are tentative discussions about further extensions, including one to Bülach.
See also 21.12.2004.
This news item is from the 2005 newslog.


---
search Zürich tram news archive
news index for displayed year (2005)
news index for 2022
all news for current year
Zürich tram homepage
---
to link to this item please use:

http://www.proaktiva.ch/tram/zurich/newslog/newsitem.php?year=2005&item=140305