Track layout at Bhf. Enge to expand
filed on: 15.02.2005 (15th Feb 2005)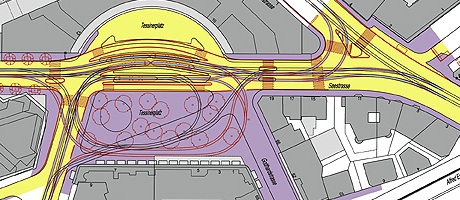 A major tram track renewal and remodelling programme is starting at Bahnhof Enge. The work will stretch over almost two years. It includes the laying of a connecting spur allowing direct workings between Wollishofen and Albisgüetli. Besides being useful for depot runs, such a track will enable the possible extension of tram route 5 to the future Sihl City shopping centre. This curve is remarkable as it is not only very tight but also in a gradient.
The plans also see a total transformation of Tessinerplatz, the square outside Bhf. Enge. The single loop track will be replaced by a double loop. Planting of trees will transform this area into an attractive urban setting.
source: http://www3.stzh.ch/internet/taz/home/baustellen/tessinerplatz.html.
This news item is from the 2005 newslog.


---
search Zürich tram news archive
news index for displayed year (2005)
news index for 2022
all news for current year
Zürich tram homepage
---
to link to this item please use:

http://www.proaktiva.ch/tram/zurich/newslog/newsitem.php?year=2005&item=150205