Double-articulated trolleybus order confirmed
filed on: 03.04.2006 (3rd Apr 2006)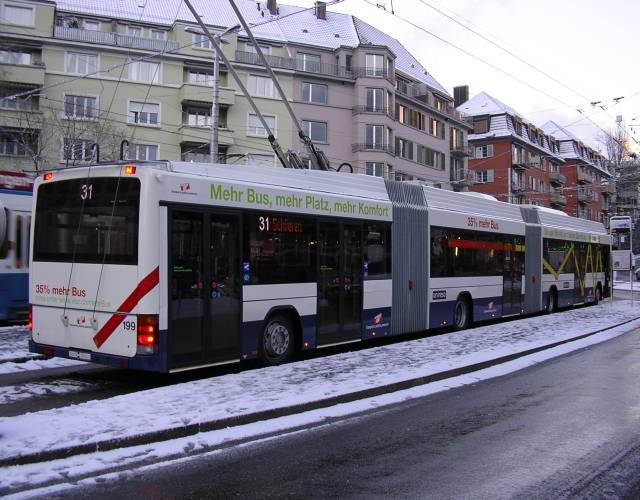 Following the trial of a Geneva double-articulated trolleybus in Zürich in February — in which this vehicle fulfilled all expectations (despite occasionally inclinent weather) — and additionally earned much praise from staff and passengers, VBZ has confirmed its order for 17 of these vehicles for delivery from the Summer of 2007.
The order had already been placed last July, but the option of converting it to a larger number of single-articulated buses was retained should the trial prove unsuccesful.
source: Tages Anzeiger, 30th March
See also:
251 people in a trolleybus! (27.02.2006)
Genève trolleybus in Zürich in February (03.01.2006)
Zürich trolleybus numbering (29.11.2005)
Double-articulated trolleybus update (24.10.2005)
33 new trolleybuses (21.07.2005)
VBZ to order new trolleybuses (26.02.2004)
trolleybus page ...
Aside: As poisson d'avril, VBZ announced on 1st April that it is had now also acquired a triple-articulated trolleybus.
This news item is from the 2006 newslog.


---
search Zürich tram news archive
news index for displayed year (2006)
news index for 2022
all news for current year
Zürich tram homepage
---
to link to this item please use:

http://www.proaktiva.ch/tram/zurich/newslog/newsitem.php?year=2006&item=030406