News roundup (slightly belated)
filed on: 26.09.2006 (26th Sep 2006)
The lead article of the current edition of Tram magazine (Nr. 87/ 09.-11.2006) celebrates the 40th anniversary of the Mirage type tram (Be4/6 1601-1726). In the news section of the same magazine, the scrapping of 1702 and 1708 is reported. 1670 is withdrawn with accident damage. The list of vehicles scrapped to date is stated as 1617/54/90/1/1700 (in 2005) and 1702/8 this year. Furthermore 1670 and 1697 are stored — the latter since 2004. P16 type trams Be4/4 1418-20 and B4 771-4 are also out of use. The FFA three-door standard tram trailers B4 787-98 are currently undergoing bogie overhauls, suggesting that this type is set to last in service at least a little longer.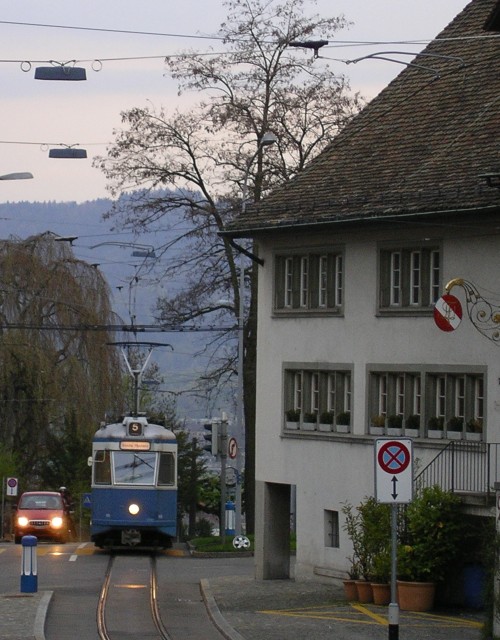 Editions 3/06 and 4/06 of Prellbock magazine continue with articles on the history and future of Lausanne's Ficelle (the first part was in edition 2/06, discussed here on 10.04.2006). Furthermore, 3/06 has an article on the Tango trams for Basel. The news section has an impressive picture of Cobra 3007 on a lorry on its way from Villeneuve to Zürich. 4/06 has an interesting article on the future rolling stock strategy of RBS (Bern - Solothurn). There is also a short article on the new narrow gauge vehicle which Bombardier is proposing for the Swiss market. The article's author, who is sales manager at the company, explains that Switzerland remains a key market for Bombardier, which employs 700 people at its Turgi, Villeneuve, Winterthur and Zürich sites. No technical details of the vehicle are revealed however, other than that two and three section variants and different motorisations are being proposed. Bombardier hopes for success in the approaching vehicle acquisition plans of BDWM and RhB
Schweizer Eisenbahn Revue (10/2006) also has a short article on BDWM's (formerly Bremgarten Dietikon) plans. BDWM intends to replace its entire fleet by new vehicles, with the newer low floor cars being transferred to WSB/AAR). The latter will refurbish these vehicles and its own similar cars, adding first class compartments. Low-floor driving trailers will also be acquired to work with the remaining high-floor cars.
source: Tram magazine, Prellbock magazine
Search news archive for Tram magazine, Prellbock magazine, Mirage, P16, standard tram, Lausanne Ficelle, Tango Basel, Cobra, Bombardier narrow gauge, BDWM, WSB.
This news item is from the 2006 newslog.


---
search Zürich tram news archive
news index for displayed year (2006)
news index for 2022
all news for current year
Zürich tram homepage
---
to link to this item please use:

http://www.proaktiva.ch/tram/zurich/newslog/newsitem.php?year=2006&item=260906