New trolleybuses arriving soon
filed on: 11.01.2007 (11th Jan 2007)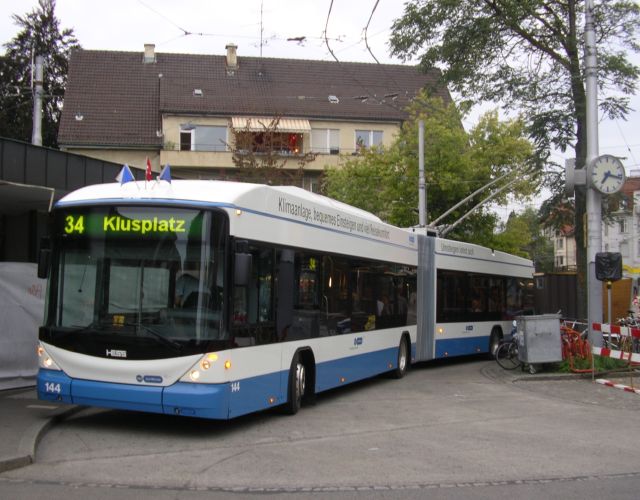 An article in VBZ's Regenbogen staff magazine reports on the first of Zürich's Swisstrolley3 trolleybuses, which was delivered ahead of the rest of its batch in July and has been running in regular passenger service since September. The trials have been largely succesful. Some teething problems were encountered with the door mechanisms and also, at the height of the summer, with overhead lines being higher than assumed. These problems have been sucesfully addressed and 144 is already achieving an availability similar to the older Mercedes trolleybuses. The second and third of these vehicles are expected to arrive in the course of January. In total 16 are on order (numbers 144-159). They will be deployed mostly on route 32. They will be followed by 17 double articulated LighTram3 vehicles for route 31 (numbers 160-176).
See also:
33 new trolleybuses ordered (21.07.2005)
Search news archive for trolleybus, Swisstrolley or LighTram.
Trolleybus fleetlist 2007
This news item is from the 2007 newslog.


---
search Zürich tram news archive
news index for displayed year (2007)
news index for 2019
all news for current year
Zürich tram homepage
---
to link to this item please use:

http://www.proaktiva.ch/tram/zurich/newslog/newsitem.php?year=2007&item=110107