Another referendum on Tram Zürich West
filed on: 27.06.2007 (27th Jun 2007)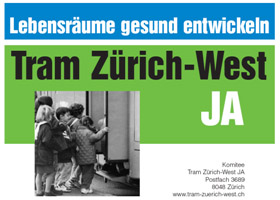 Last week's yes to the city's contribution of 59 million to Tram Zürich West isn't the last word on this matter. Opponents have succeeded in securing a cantonal referendum on the canton's contribution of 90 million for 25th November.
source: Bahnforum Schweiz
Tram Zürich West is a project to build a new tram line from Escher-Wyss-Platz to Bhf. Altstetten. The 3km line costing 150 million Franks is scheduled to open in 2010.
See also Tram expansion strategy unveiled (19.07.2006)
This news item is from the 2007 newslog.


---
search Zürich tram news archive
news index for displayed year (2007)
news index for 2019
all news for current year
Zürich tram homepage
---
to link to this item please use:

http://www.proaktiva.ch/tram/zurich/newslog/newsitem.php?year=2007&item=270607b