Limmattalbahn update
filed on: 01.02.2011 (1st Feb 2011)
Planning of Limmattalbahn, the projected light rail link from Zürich Altstetten to Killwangen is making good progress, with the final section of undecided alignment (Dietikon) now defined. According to this decison, Limmattalbahn will run via the station forecourt and share tracks with the BDWM (Bremgarten - Dietikon narrow-gauge railway) between there and Zentralstrasse. Earlier plans had suggested a different and slightly more peripheral alignment. At one point a subway solution was also suggsted. From now until the end of the year more detailed plans will be prepared and the precise locations of stops defined. Also under consideration is an extension of the double track for BDWM along Bremgartnerstrasse. Construction of Limmattalbahn could begin in 2016 for a 2019 opening.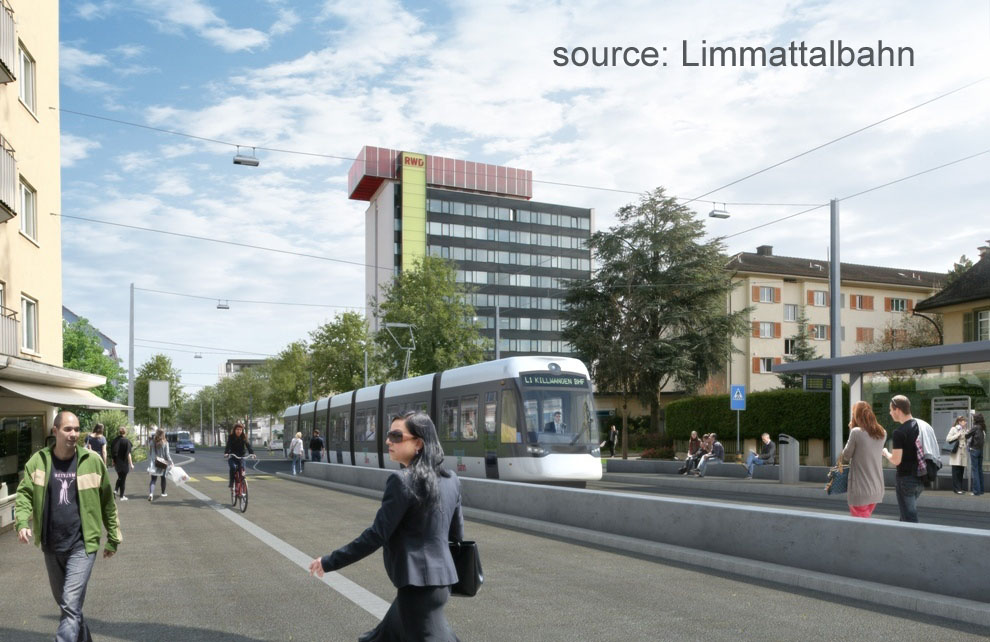 The website of Limmattalbahn (see below) also publishes some artists' impressions of the alignment with the trams. Of course, as with the early impressions of Glattal trams, it is much too early to speculate on the precise vehicle design and these impressions are more to visualise the trams in their future environment. It is nevertheles interesting to see what the planners' vision or wish for tram types is. The wedge-shaped nose cone reminds of Siemens' Avanto tram-train being supplied to SNCF, or with a squint you can recognise Augsburg's Flexity, which was recently demonstrated in Zürich. Other elements echo other types. An earlier impression (albeit by a local newpaper and probably not sanctioned by Limmattalbahn) shows a Cobra.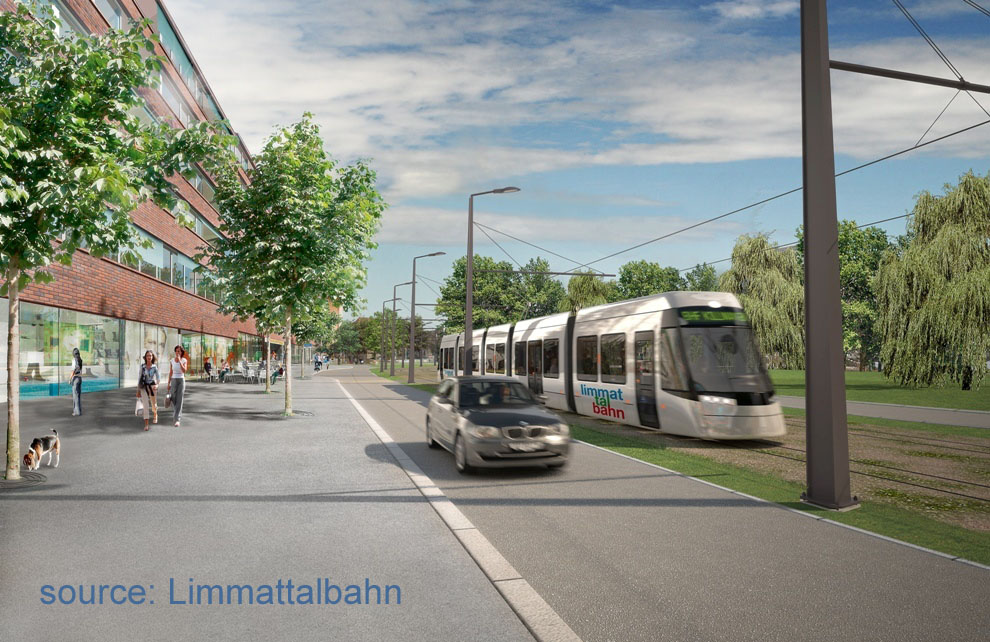 I don't believe that the numering of routes has been decided yet. Calling the Killwangen line L1 without any colour coding (as the pictures suggest) would seem to set it aside from the Zürich urban system, but also aside from the other interurban narrow gauge railways (S17 and S18) which are considered part of the S-Bahn. A new route numbering system is thus implying the creation of a new category (unless maybe it is being implied that tram route 1 wil be revived and Limmatalbahn operated as an extension of it?). I prefer to assume that nobody has thought about this yet. The white livery is probably supposed to be that of A-Welle, the integrated transport organisation of Canton Aargau, which is currently carried by buses and being applied on BDWM and AAR/WSB (but varies between the different pictures, so who knows?).
source: Limmattalbahn
This news item is from the 2011 newslog.


---
search Zürich tram news archive
news index for displayed year (2011)
news index for 2022
all news for current year
Zürich tram homepage
---
to link to this item please use:

http://www.proaktiva.ch/tram/zurich/newslog/newsitem.php?year=2011&item=010211