Bern steam tram model
filed on: 17.05.2013 (17th May 2013)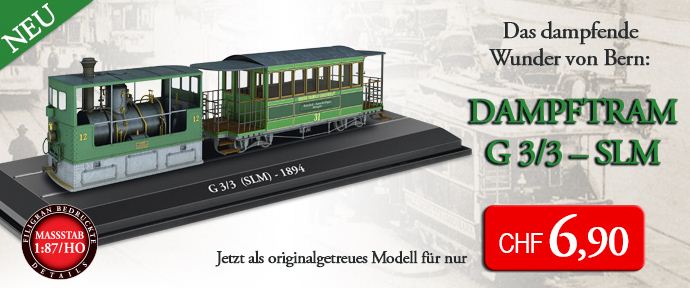 The publisher, Atlas Verlag, is offering this HO scale model of Bern's steam tram for the suspiciosly low price of 6.90 CHF. A careful reading of the small print is recommended before signing up for more than you were expecting, as it appears to be an introductory offer for a bigger selling scheme. However, in the modelling forums, the model has received surprisingly positive echoes. The offer can be found on this page of Atlas' website.
I am not in any way connected to Atlas Verlag or anybody else involved in this offer. As indicated, I recommend a careful reading of the small print.
Discussions of the model (with further pictures) can be found on HAG Forum and Jans Modellstrassenbahnen.
This news item is from the 2013 newslog.


---
search Zürich tram news archive
news index for displayed year (2013)
news index for 2022
all news for current year
Zürich tram homepage
---
to link to this item please use:

http://www.proaktiva.ch/tram/zurich/newslog/newsitem.php?year=2013&item=170513