Museum miscellanea
filed on: 26.11.2013 (26th Nov 2013)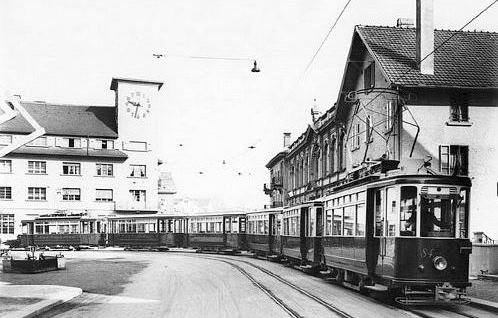 The same mailing that brought the above item also contained a newsletter commenting (among other things) on the recent return of Kurbeli 1379 and trailer 737 to Zürich from Paris. This was organized and financed by individuals outside of the official TMZ framework but with TMZ support. The two cars are now in covered storage in an out-of-town location.
Also discussed is the Polybahn funicular car, last reported in Landquart. It is still owned by TMZ and its visit to Landquart was to determine costs of restoration. These have proved to be too high to permit immediate action. The car remains in safe storage and restoration is a long-term goal.
The RhB workshops in Landquart are also preparing a quote for the restoration of ZOS car 81 (which spent its final years as VBZ 1025). Being of the Schnellläufer type, several sister cars remain in Zürich (TMZ's 2 as well as VBZ/APS 1009 and 1019). In contrast to these other survivors, 1025 was orginally built for the private company ZOS (Zürich Oerlikon Seebach). The goal of the restoration is thus to present it in its original guise as ZOS 81 in the company's two-tone green livery (as also displayed on ZOS 1). Another piece of trivia: The car initially had multiple-unit gear permiting a motor unit to be attached to either end of a string of trailers. Being the sole survivor of its batch, reinstatement of this gear is not an option (and apparently it never worked too well anyway), but I understand cosmetic provision is being considered.
The above photograph shows two ZOS motor units of this type sandwiching four trailers at Bahnhof Oerlikon.
This news item is from the 2013 newslog.


---
search Zürich tram news archive
news index for displayed year (2013)
news index for 2022
all news for current year
Zürich tram homepage
---
to link to this item please use:

http://www.proaktiva.ch/tram/zurich/newslog/newsitem.php?year=2013&item=261113b