Swiss Standard Tram from Atlas
filed on: 05.11.2014 (5th Nov 2014)
In February, this website reported on Navemo's HO/HOm model of the Swiss Standard Tram. The increase in variety of Swiss Tram models, largely thanks to Navemo, is a welcome boon for tramway modellers and has no doubt kindled interest in modelling this topic, previosuly a reserve of scratch builders. The Swiss Standard Tram was long in coming from early announcements to finally finding its way to the market. But as they say, it never rains but it pours, and another manufacturer has also produced a model. The Atlas model doesn't appear to be as detailed as the Navemo one (and it doesn't come motorized, but to the experienced modeller, remedying this shouldn't be an issue). Navemo has so far produced models of Zürich and Bern cars with Atlas tackling the other end of the country and producing the Geneva variant.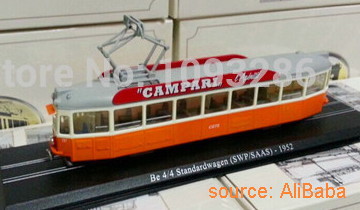 I must confess that I haven't so far seen either model in real life (but hope to remedy their absence from my collection at some point), but from pictures the Atlas one may seem a little coarse (especially the pantograph and headlights) but maybe it captures the style and character of the front end better than the Navemo one, and the bodyside panelling and details also look (more) convincing. I guess the Atlas variant is quite a bit cheaper, even taking into account the effort of motorization (maybe the Navemo mechanism even fits?).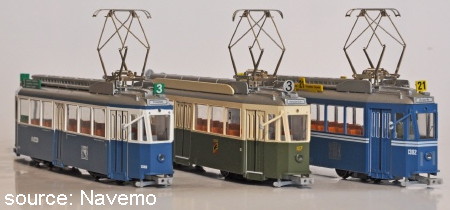 The illustrations accompanying this news item are taken from AliBaba (for the Genève Atlas model) and Navemo (for the Navemo Zürich and Bern models).
More background on the Swiss Standard Trams here.
Veering dangerously off topic here, while nominally still talking about Geneva standards, it may be fitting to recall this scene from the Tintin album L'Affaire Tournesol (The Calculus Affair) published in 1956. Several Swiss locations appear in this album, in remarkably accurate and detailed portrayals, including this Geneva street scene (a cliché that is itself a work of art) at a time when the depicted standard would have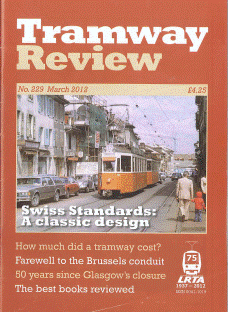 represented the non plus ultra of tram design (although Hergé seems to have got the seating arrangement sligtly wrong – too many reverse-facing passengers). Tintin and Captain Haddock are in the back of the taxi.

This news item is from the 2014 newslog.


---
search Zürich tram news archive
news index for displayed year (2014)
news index for 2022
all news for current year
Zürich tram homepage
---
to link to this item please use:

http://www.proaktiva.ch/tram/zurich/newslog/newsitem.php?year=2014&item=051114