Elefant Tram from Atlas
filed on: 11.11.2014 (11th Nov 2014)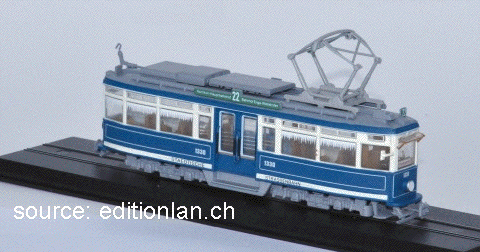 The selection of Swiss-prototype trams from Atlas is growing. Besides the Bern steam tram and the Genève Standard, Atlas is also paying homage to Zürich with a Ce 4/4 Elefant (it seems two different fleet numbers are available, 1330 as VBZ Partytram and preserved car 1350). Like the previous models, these are HO scale display models, but I'm sure modellers will soon work out ways to motorize them.
Picture source: editionlan.ch .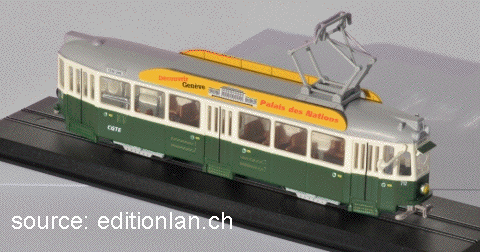 Speaking of different variants, it appears the aforementioned Geneva car is also available in different variants, including this green and cream car more reminiscent of the Tintin picture.

So here's to tramway modellers who can make it rain.

This news item is from the 2014 newslog.


---
search Zürich tram news archive
news index for displayed year (2014)
news index for 2022
all news for current year
Zürich tram homepage
---
to link to this item please use:

http://www.proaktiva.ch/tram/zurich/newslog/newsitem.php?year=2014&item=111114