Tower waggons for tram museum
filed on: 29.09.2014 (29th Sep 2014)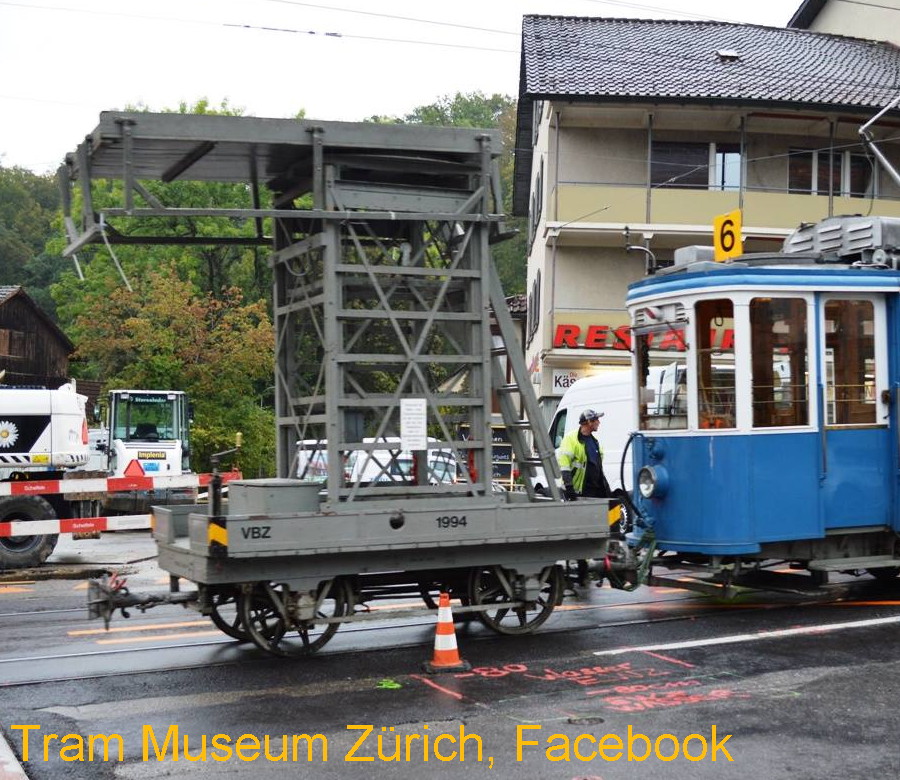 According to VBZ's Facebook page, two VBZ tower waggons have been transferred to the custody of the tram museum (according to bahnhofplatz.net, the transfer already occurred last year). The two waggons are numbers 1994 and 1995. A quick dip into literature reveals 1994 was built in 1930 (although the spoked wheels might suggest they were re-used from an earlier vehicle) whereas 1995 uses the tower from a road tower waggon of IStB (Industriequartier Strassenbahn, a private taken over by the city in 1902) and the axles from a horse tram – typical of the make do and mend engineering that went into many tramway works cars and that makes them so fascinating.
These tower waggons have not seen much if any use on overhead lines in recent deaades, as more modern vehicles exist for that purpose. However, one of them was retained in Oerlikon depot and used to replace fluorescent tubes. According to one anecdote it was once accidentally coupled to a passenger tram and took a lap of honor on the system until encountering the low bridge at Oerlikon. The other tower waggon was possibly based at Escher-Wyss-Platz, although I'm not sure of its purpose there.
This news item is from the 2014 newslog.


---
search Zürich tram news archive
news index for displayed year (2014)
news index for 2019
all news for current year
Zürich tram homepage
---
to link to this item please use:

http://www.proaktiva.ch/tram/zurich/newslog/newsitem.php?year=2014&item=290914c