Trolleybus update
filed on: 08.07.2015 (8th Jul 2015)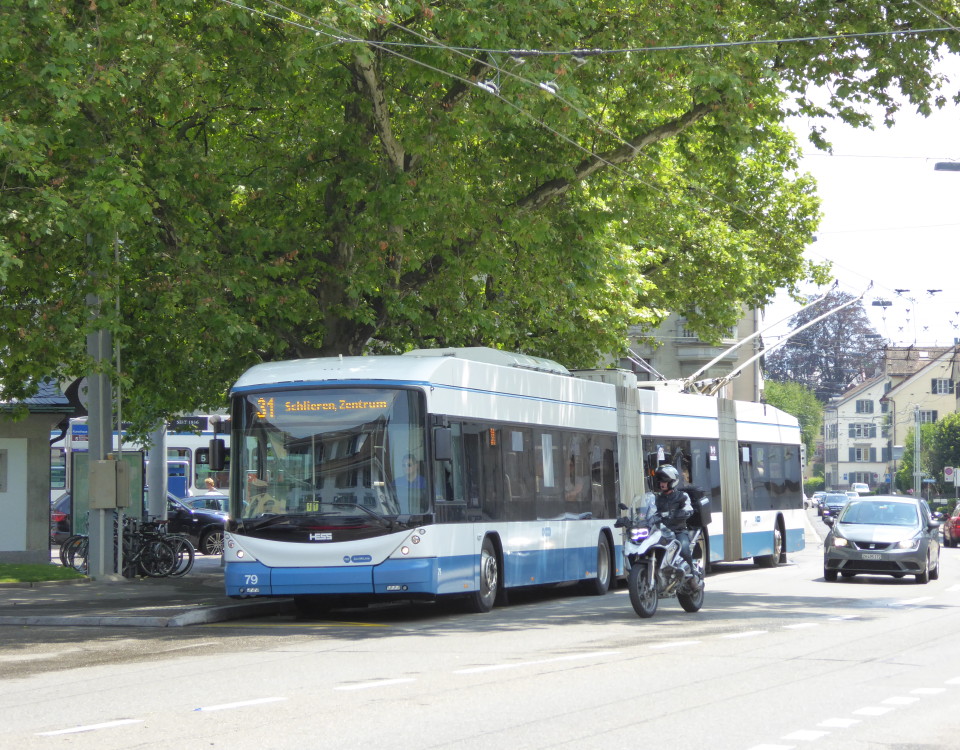 According to bahnhofplatz.net, GTZ trolleybus 131 (reported as withdrawn earlier this year) has been temporarily reinstated. This would take the number of active GTZs back to four (106, 122, 131 and 142).
According to the same source and concerning VBZ's plans to remove sections of trolleybus overhead line, it seems likely that after the rebuilding of Albisriederplatz that the lines will not be reinstated. The layout at Bucheggplatz is also likely to be simplified. Citing VBZ's staff magaine Takt 3/15, the criteria for battery operation of trolleybuses are (1) maximum of one to two stops without overhead lines and (2) location of end points must be on level and overhead line centred over trolleybus.
On the same forum, one reader complains that the air condition is not used on the test battery section (Albisriederplatz - Hardplatz), not a popular decision in view of the present heat wave.
Let us hope that the removal of overhead will not just turn into a cost savings exercise for existing routes but can enable new routes to be electrified at lower cost and so bring trolleybuses to places that will not otherwise see them.
The picture above (taken at Kunsthaus) has no direct link to this topic, but I included it both to show how urban trees can provide shade during the intense summer heat, and how the trolleybus overhead blends to almost invisibility under them.
This news item is from the 2015 newslog.


---
search Zürich tram news archive
news index for displayed year (2015)
news index for 2022
all news for current year
Zürich tram homepage
---
to link to this item please use:

http://www.proaktiva.ch/tram/zurich/newslog/newsitem.php?year=2015&item=080715