Glattalbahn takes the strain
filed on: 08.06.2016 (8th Jun 2016)
I don't normally use this newslog to report on passing incidents and accidents, but yesterday's were something out of the ordinary. The SBB main line between Zürich Oerlikon and the airport was closed due to a fire in an SBB technical installation adjacent to the line. The airport line was closed for the most of the day, as was the line via Balsberg. The fire is beleived to be arson and caused extensive damage to signalling installations.
These tracks are used both by S-Bahn and national train services and caused disruption country-wide. Passengers to the airport were advised to travel via Winterthur or catch the tram. Hundreds missed their flights.
But where there is adversity, there are also herculean efforts, and VBG's tram route 10 was stormed by passengers. VBG / VBZ even put on extra trams between the airport and Oerlikon, with several Tram 2000 sets being reported and trams being run almost nose to tail to master the crush.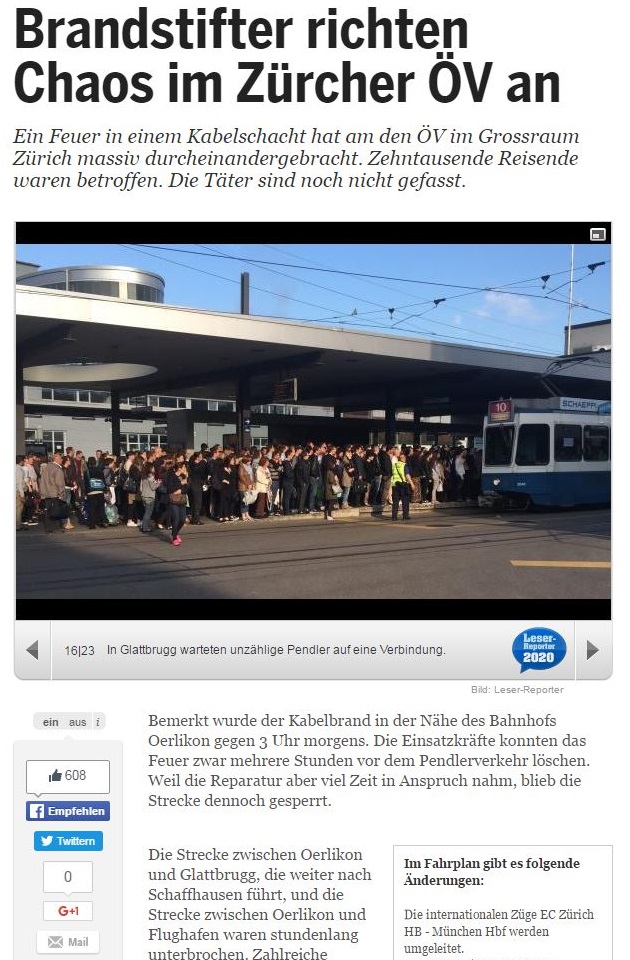 20 Minuten article
This news item is from the 2016 newslog.


---
search Zürich tram news archive
news index for displayed year (2016)
news index for 2022
all news for current year
Zürich tram homepage
---
to link to this item please use:

http://www.proaktiva.ch/tram/zurich/newslog/newsitem.php?year=2016&item=080616