Night trains: ÖBB presents Nightjet
filed on: 23.09.2016 (23rd Sep 2016)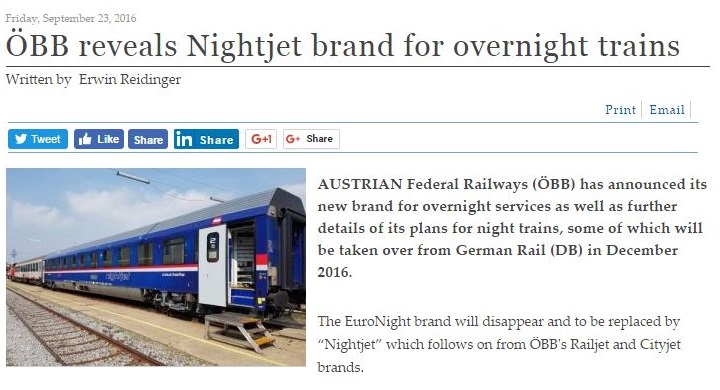 Following up on previous reports on ÖBB taking over some of DB's night train services from Switzerland, ÖBB has finally put an end to the speculation. Their existing night train network is being rebranded Nightjet (following on from their railjet brand for modern daytime intercity trains). The trains will be painted in a dark blue livery. Furthermore, three ex DB routes are being taken over, two of them starting in Austria and the third being Basel to Hamburg. This would imply that the train is being curtailed to Basel instead of Zürich and also that the Amsterdam, Berlin and Prague services are definitely being discontinued.
Neverthless it is good to see ÖBB break and unpleasant trend here. I wish them every success.
source: IRJ
This news item is from the 2016 newslog.


---
search Zürich tram news archive
news index for displayed year (2016)
news index for 2022
all news for current year
Zürich tram homepage
---
to link to this item please use:

http://www.proaktiva.ch/tram/zurich/newslog/newsitem.php?year=2016&item=230916