table of contents | articles list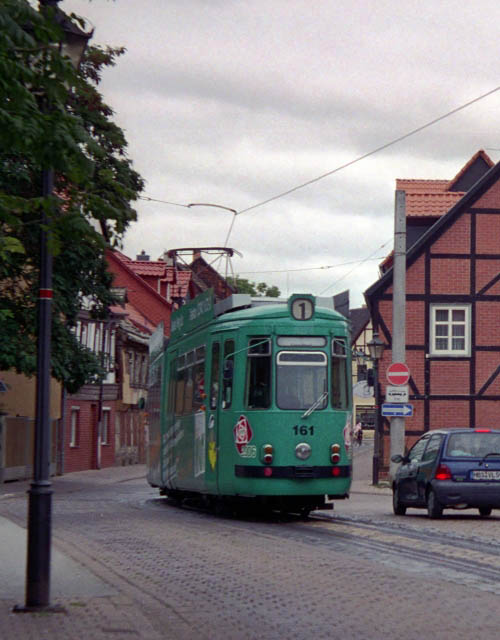 The benefits of modern trams are often cited in terms of their ability to move large crowds efficiently. The more advantageous the passenger to personnel ratio, the easier it is to underline the economic case for such a system. Not surprisingly, operators are ordering vehicles with ever-increasing capacity. As a result, the gap to full metros is narrowing, not only in terms of capacity and personnel productivity, but also in terms of the sophistication of infrastructure. This often implies a departure from some of the flexible characteristics of traditional tram systems, such as request stops at short intervals.
Many tram systems owe their survival to this concentration process, and have accepted or even welcomed the abandonment or replacement by buses of their lesser and lighter routes. Many smaller towns, where the traffic flows to justify this evolution do not exist, have lost their trams altogether.
There are exceptions however, and the survival of a number of smaller systems (and indeed lighter lines on larger systems) illustrates that trams offer advantages other than that of purely economical productivity. For the elderly, for example, the proximity of a stop may be more important than the speed of carriage. In some cases, such strengths have been recognised, and the systems in question are considered safe. For others, however the threat of closure recurs whenever major investment is required. The town of Halberstadt has just emerged from such a period of uncertainty and decided in favour of its trams.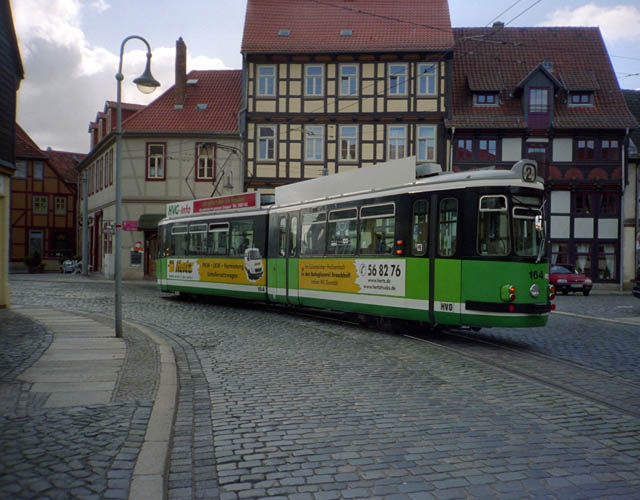 Halberstadt is set on the edge of the Harz region in what was formerly East Germany. In the middle Ages, the town rose to great riches through trade, but also became a powerful ecclesiastical centre. Besides the many churches and monasteries, the town was typified by the elaborate carvings of its semi-timbered houses, which are considered among the finest in Germany. Later, an important sausage factory bearing the towns' name was established with which many people have come to associate the town. This company still survives, albeit in a much downsized form. Halberstadt was also, for much of its history, an important garrison town. Bombing during World War II inflicted heavy damage, with some 80 percent of buildings being destroyed. Recovery was painstakingly slow: Despite redevelopment programmes with typical socialist-era apartment blocks, broad swathes of desolate wasteland continued to scar the town centre until the 1990s.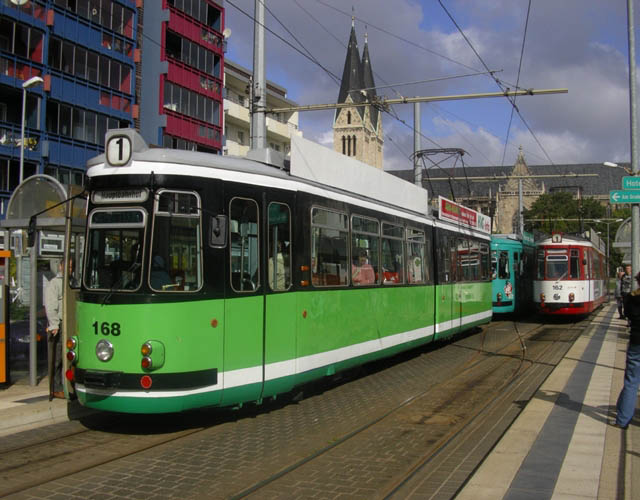 Although it was German re-unification that finally permitted these areas to be re-established and brought about much other urgently needed renovation work, the transition to a market economy hit local companies hard and led to a rapid rise in unemployment. Population fell from over 48,000 in 1987 to about 38,000 today as inhabitants left in search of better prospects elsewhere. At the same time, car ownership rocketed as citizens discovered a new status symbol. The combination of these developments saw annual tram ridership collapse from almost 8 million in 1987 to around 2 million today. At present, typical tram loadings are best described in single figures. The authors' impression is that passengers are predominantly pensioners and young mothers and that the role of public transport has become one of social inclusion. Rising deficits have been countered by the stretching of service intervals and personnel reductions. The current headways are 15 minutes on weekdays, 20 on Saturdays and 30 on Sundays. Additionally, services after about 18:00 are provided by buses. In a town that is small enough to be entirely within walking distance and which has a modern fleet of low-floor buses, the justification of continued tram operation is not easy to argue. The town is sufficiently small to escape any serious road congestion and concerns over it are not high on anybody's list of priorities and hardly a basis for pro-tram arguments.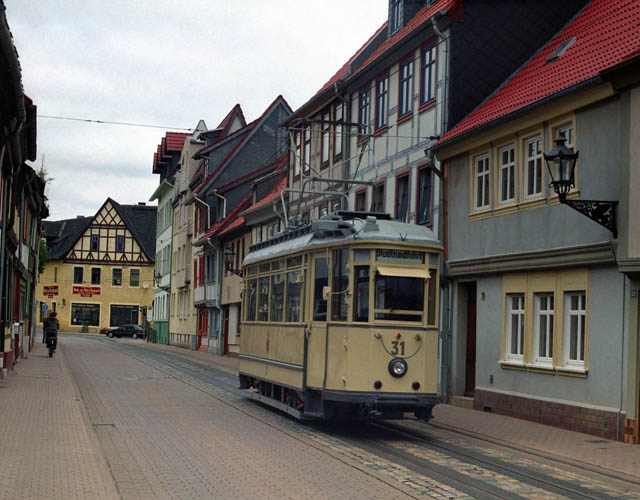 Looking back over Halberstadt's tram history, one recurring theme has been the system's ability to adapt. Horse tram operation in Halberstadt began in 1887 with electrification following in 1903. The only significant line closure concerned the route to Westendorf in 1938, parts of which ran through narrow mediaeval streets. However, the route network underwent numerous and extensive changes over the years, with lines being diverted in tune with changing needs and ambitions. The town's central interchange was relocated several times, and peripheral routes realigned to reduce conflicts with motor traffic. The most recent of these projects was the rearrangement of the Hauptbahnhof connection in 1980. Recent decades have seen only one system extension, that from Voigtei to Sargstedter Weg. which opened in 1993.
In common with many other smaller systems in eastern Germany, Halberstadt was, over the years and right up until re-unification, largely dependent on four-wheeled trams. In 1989, Halberstadt's fleet was made up of a mix of the ubiquitous Gotha cars from the 1950's and 1960's and similar cars from other sources, including 1970's REKO trams. Following re-unification, it became clear that either refurbishment or replacement was necessary to keep the system attractive. A solution was found in second-hand GT4 cars.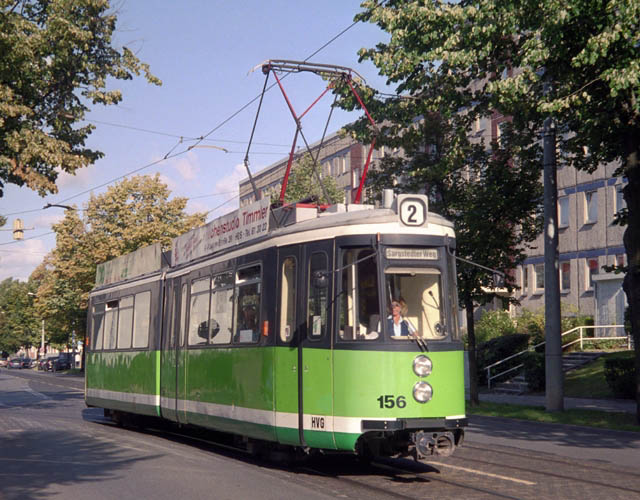 The GT4 is in essence an articulated bogie car, the centre bogie of which is replaced by an ingenious mechanical guidance system that uses the angles of the outer bogies to trace the approximate position of a hypothetic centre bogie. This arrangement permits short body segments, defining the tram's ability to negotiate the tight curves of classical tram networks, without incurring the weight penalty of a third bogie. At the same time, the design permits fast and comfortable running on modern alignments. The GT4 was designed by Maschinenfabrik Esslingen for Stuttgart, where it represented the ideal choice for the approaching phased transition to a modern Stadtbahn system.
In total, 350 GT4s were supplied to Stuttgart between 1959 and 1965. 30 further cars were built for other systems, including 19 for Freiburg. By the early 1990's, progress in conversion to standard gauge was increasingly rendering Stuttgart's GT4s superfluous and low-floor designs were doing the same in Freiburg. The combination of a a robust design and good maintenance practices meant that the GT4s themselves were far from life-expired. Even before the fall of the Iron Curtain and the ensuing trend of sending east anything that was surplus but could still be put to use, second hand GT4s were finding grateful takers among West German systems. However, their migrations increased rapidly as tram operators further east discovered the type. The list of towns that uses or has used GT4s is long — indeed the tight curves for which these cars were designed were, and still are, common to many traditional systems. For Halberstadt with its narrow serpentine streets, the GT4 was ideal.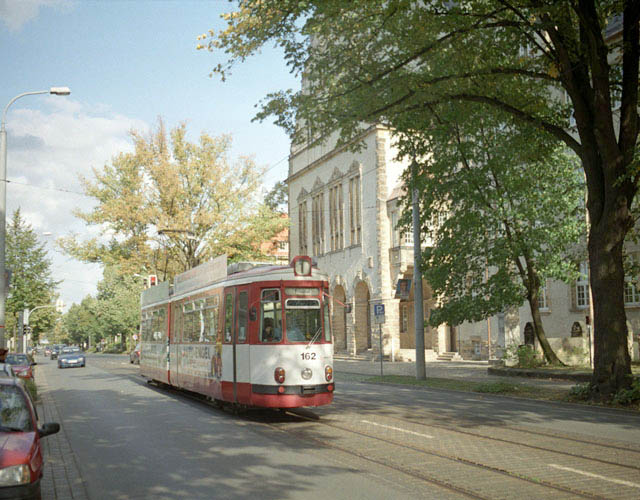 Between 1991 and 1998, the town obtained 13 cars of this type from Stuttgart, 6 from Freiburg and 3 further ex-Freiburg cars from Nordhausen. 18 of these entered service numbered 151-168 (not all were in the fleet simultaneously). As a comparison in culture it is noteworthy that both the four-wheelers being replaced and the Stuttgart cars replacing them had comfortable padded seats from new, whereas the Freiburg cars still used hard seats. Upholstery was added as part of their Halberstadt refit programme. At the time of writing, all regular services in Halberstadt are worked by GT4s.
Whereas most of the network is of urban nature, the southern line beyond Herbingstr. runs past up-market villas and then allotments and green fields reaching the woodland Klusberge terminus serving a local recreation area. Consequently, traffic here is even lower than on other lines; since 2001, route 3 is operated on weekends only.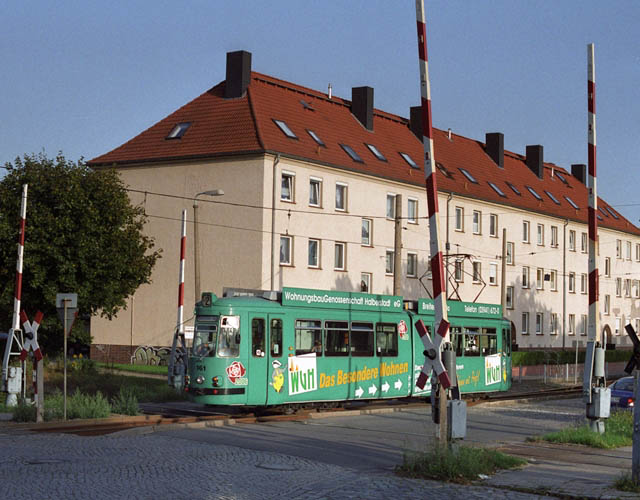 One point of interest of route 2 is that it twice crosses the Halberstadt-Blankenburg railway at grade. Besides passenger services, heavy freights use this line and trams are frequently seen waiting at the crossings to allow trains to pass.
Halberstadt, by the late 1990s, presented the picture of a quiet and marginalised tramway that, optimistically, could continue to operate as long as there was a political will to subsidise it. More realistically, however, despite their strengths, the GT4s cars were over 40 years old. Their steep steps and high floors were not in keeping with the needs of the predominantly elderly passengers. The debate over the tramway's future took centre-stage when one of the roads on which route 2 runs needed to be refurbished. The central question was whether the work should include renewal of the tram tracks or do away with them. As the abandonment of this route would have robbed the system of its critical size, the debate escalated into one about the future of the town's tramway.
This controversy is still very much in the minds of citizens today. On learning that the author was interested in trams, several people offered their opinions on the matter. A supporter explained that the tram was an integral part of Halberstadt; its abandonment would represent a loss of part of the town's identity. Maybe today's loadings are light, he argued, but sooner or later the town's fortunes must recover, and then the tramway will be sorely missed. Retaining the tram is also about building confidence in the town's future. In a town that has already lost so much, abandonment of the tram system comes close to officially sanctioned defeatism and is an insult to those who are doing all they can to turn fortunes around.
An opponent observed, that those who argued in favour of the tramway (in common with those against) did not regularly travel on it, and that in retaining the trams, the city was only placating a vociferous special interest group.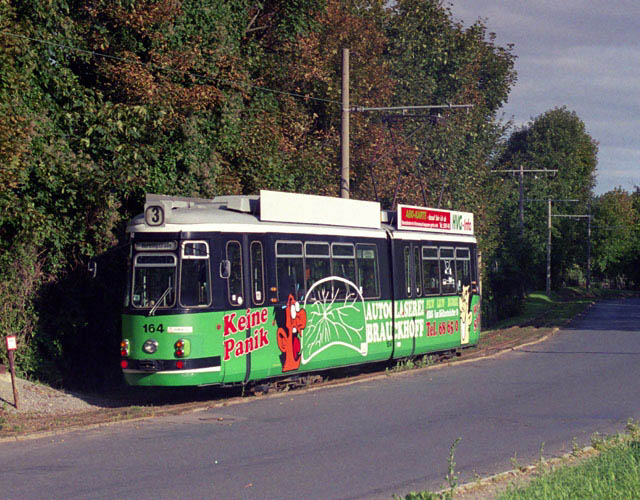 So, idealists were pitted against realists. For once, it was the former who showed the greater resolve and the better command of the facts. In 2002, as the signs of the approaching end became clearer, a pro-tram organisation was formed. It may at first have seemed that its members were defending a lost cause. The tram was in the late 1990s swallowing 3.6 million DM in subsidies annually. A fleet of low-floor buses powered by natural gas was, in 2000, proposed as a cheaper and more attractive alternative. Despite having only thirty members, the pro-tram group campaigned with great professionalism and countered all arguments eloquently, rapidly building a strong public support base. One important financial issue favouring the tram was that the recent refurbishment of town centre streets had in part been financed through infrastructure subsidies. Abandoning the infrastructure would oblige the town to pay back this money.
In 2002, the pro-tram group organised the visit of a three-section Combino tram from neighbouring Nordhausen. It is a sign of fraternal solidarity among tram operators, that the costs of shipment were covered by Nordhausen in cooperation with Siemens. The public demonstration runs provided were immensely popular. No better ambassador could have been wished for. Pro-tram sentiments won the day.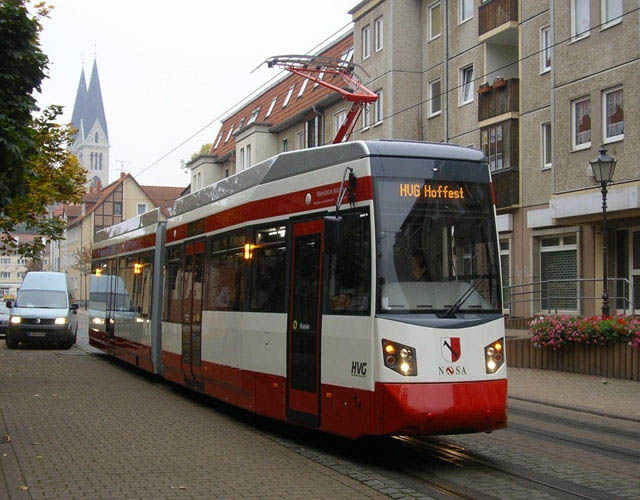 With the system's future now secure, Halberstadt set about seeking modern trams of its own. Siemens' Combino, the hero of 2002, fell out of favour in 2004 as the manufacturer admitted serious design flaws. Instead, Halberstadt opted for Leoliner. The manufacturer is a spin-off company of Leipzig's tram operator – Halberstadt can almost consider Leoliner a local product. The design is 60 percent low floor and based on conventional bogie technology, providing good riding quality while minimising technological risk – risk that a small and cash-strapped system such as Halberstadt simply cannot afford. Halberstadt's first Leoliner was presented to the public on a depot open day on 14th October 2006. In total, five of these units are being delivered.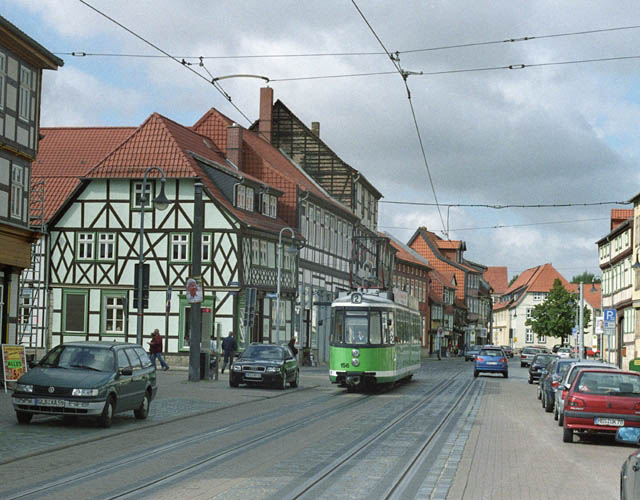 Recent decades were marked by the combination of low car ownership and planned housing policies of the socialist era, followed by economic downturn. As a result, urban sprawl remains minimal and Halberstadt's suburbs still follow the catchment areas of its tram stops. This means the tram remains well positioned to serve the town today. Modern attractive vehicles will hopefully entice some of the system's lost passengers to return, whilst also providing the town with the confident and forward-looking face it needs to attract business.
Halberstadt still has much to offer the visitor. Despite heavy war damage and years of decay, many of its fine semi-timbered houses survive (although some are in a poor state). In the author's opinion, the historic atmosphere of the centre and the quality of its architecture is on par if not more recommendable than that of other towns in the region, even if the latter make more of their tourist potential. For steam enthusiasts, the town is an ideal starting point to explore the Harz narrow gauge railways, two stations of which, Wernigerode and Quedlinburg, are both less than 20 minutes away by regional train. At the far end of this system lies another small tramway town, Nordhausen.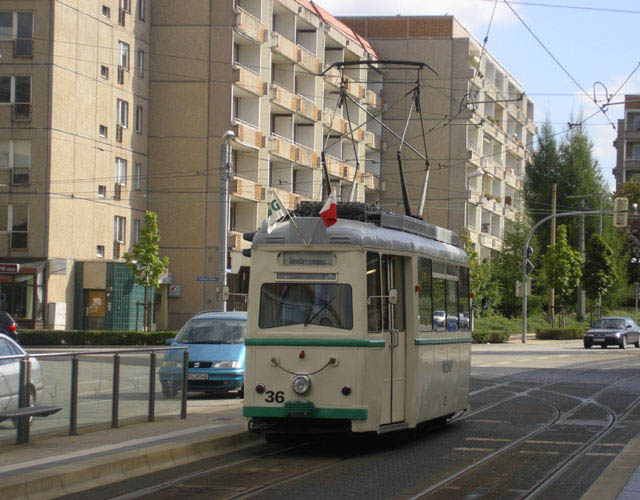 A small fleet of older tramcars has been retained in working condition. The venture appears to be successful, as during the five days the author spent in Halberstadt, one if not several were observed in action almost every day. Guided tours of the city are also provided using such trams. This highly commendable ride leaves the Holzmarkt stop at 14:45 every Saturday during the summer.
If there is a lesson to be learnt from the survival of Halberstadt's trams, it is above all the value of local initiative and the refusal to accept defeat. Without such resolve and identification, both Halberstadt and the tramway world would be poorer and duller places today.
All interpretations and opinions in this article are the author's. Besides conversations with various people in Halberstadt and own observations, information is drawn from the 2003 book "Die Strassenbahn in Halberstadt" by Wolfgang Dörge.
Halberstadt photo gallery | more Halberstadt | articles list
last updated: 05.04.07
counter added: 05.04.07