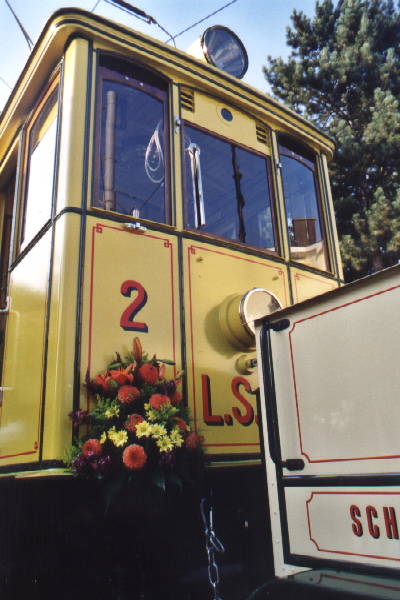 Newslog 2003
This page presents news and other items of interest concerning the Zürich tram system and connected topics.
This is not the official information page of any organisation. All opinions expressed here are my own or belong to those to whom they are attributed.
This page collects news items for the year 2003. next year | previous year | current year | other years.
return to Zürich tram home page.
---
14.12.2003 - new timetable
One of the main changes in the new timetable introduced today is that route 10 has been cut back from Seebach to Oerlikon and replaced by a strengthened bus timetable. The section is still worked by route 14.
---
30.11.2003 - TMZ end of year photo tour - a report
TMZ members and friends congregated at Gessnerallee at 10:00 for their end of year photo tour. Only one participant was missing, the tram itself. But finally the BDe4/4 12 and Bt 106 rounded the corner cautiously edging towards the eager photographers who immediately set about capturing the moment on film.
The tour took us via Usteristrasse and Limmatquai to our first photo call between Scheuren and Neuhaus at a beautiful location overlooking Lake Greifensee and the snowclad Alps bathed in an unusually clear light. The crowd disembarking from the train directly onto the road and far from any stop or settlement quite confused at least one motorist. The next photo calls were at Esslingen and at Hinteregg. The latter has a single track, a simple wooden shelter and a genuine interurban feel to it.
Inside Forch depot we were able to inspect the first of the new Be4/6 units (probably 61, but no numbers have been applied yet). This vehicle is still being commissioned and we must be among the first to have seen it. Everybody agreed that this vehicle has been turned out to a very high standard. Seats are three across (reminiscent of first class accomodation), tasteful and comfortable.
From Forch our trip continued to Burgwies where we said farewell to our BDe4/4. These cars are soon to vanish from traffic, and their future is uncertain as no buyer has been identified yet (so if anybody needs any 1200V metre gauge BDe4/4 or Bt4s, please contact the Forchbahn ... soon ... ).
We were able to visit the depot, the future tram museum. A number of works cars, non operational cars and assorted parts have been collected here. The newest arrivals are a pair of bogies from an ex Wehmingen, ex-Geneva car incorporating original Zürich TM11 motors which will one day see use on the replica 57 project. From Burgwies the tour continued with ZOS 1 and 176+455 via Bürkliplatz, Bahnhof Enge (photo call), Stockerstrasse, Stauffacher, Bahnhofplatz to Wartau. This was a wonderful tour which will long be remembered.
---
28.11.2003 - NAVEMO presents COBRA model
The 1:87 scale model of Zürich's COBRA tram will go on sale next week. At the launch ceremony, executive city councillor Andres Türler and VBZ director Thomas Portmann were presented with models.
The NAVEMO model is available in HO and HOm gauges. Four out of six axles are powered and the minimum curve radius is 20cm. Four different fleet numbers (3001/2/4/6) are available and route number and destination display can be customised. The retail price is 425 Franks.
For further information see NAVEMO website.
---
27.11.2003 - Tunnel instead of Hardbrücke?
An article in today's 20minuten reports that a tunnel has been demanded to replace the Hardbrücke road viaduct. The tunnel would proceed along Rosengartenstrasse to Bucheggplatz.
Besides the obvious advantages in removing an eyesore and reducing surface congestion, the proposal would imply changes for planned and existing public transport links. Trolleybuses 33 and 72 which currently use the viaduct would be affected, having to use either the tunnel or a surface alignment. Also affected would be the proposed tram route 18 which is to run beneath the bridge. If this project goes ahead it may affect the construction schedule of the tram line.
---
26.11.2003 - Route 18 schedule slipping?
Plans to have route 18 operational by Spring 2008 are being cast into turmoil. It has been announced that the cantonal contribution to the planned construction of tracks between Escher Wyss Platz and Bahnhof Altstetten is unlikely to be made available in time. It had been hoped to have route 18 (Hauptbahnhof - Bhf. Altstetten) operational for the European Football Cup 2008 and the corresponding inauguration of the new Hardturm stadium with a combined shopping mall. Now it seems that funds cannot be made available before 2008.
Tele Züri
---
21.11.2003 - Stadtbahn Limmattal
Plans are forming for a light rail line from Farbhof via Schlieren, Spital Limmattal, Bhf. Dietikon, Shopping Center (Tivoli) to Bhf. Killwangen. The proposed line follows existing roads, but will be segregated from these wherever possible. In Schöneggstrasse (Dietikon) street running will be necessary. Currently 27'000 people work within 400m of the stops. This could develop to 50'000 in the forseeable future. The line could be operational by 2015 at the earliest. However, an extension of route 2 from Farbhof to Schlieren on this alignment remains possible at an earlier date. Besides the Farbhof - Schlieren section, Dietikon - Spreitenbach is also a priority. The latter would initially be realised as a branch of the Bremgarten Dietikon railway (BDWM). The total costs of the project are estimated at 500 to 550 million Swiss Franks.
20minuten, NZZ
---
20.11.2003 - TMZ end of year tour on 30.11.2003
This year's TMZ end of year tour will be on 30th November. The basic details are:
- Tour starts at Gessnerallee at 10:00.
- An FB BDe4/4 + Bt4 will take the group to Esslingen with photo calls at Heuberg and Hinteregg Bad.
- On the way back there will be a call at Forch to see the new Be4/6.
- Depart Forch at 12:50 for Burgwies depot where the group will transfer to Ce2/2 176 + C2 455.
- Depart Burgwies at 13:00.
- Arrive Wartau (tram museum) at 14:00.
- Lunch in museum.
- Tour costs 20 Franks (10 for children), meal is extra for 28 Franks.
- Registration with Tram Museum until 26th November.
---
17.11.2003 - Forchbahn 61: first pictures
On website of VHF.
---
12.11.2003 - Cargo-Tram wins award and is set for expansion
VBZ and ERZ have been jointly awarded the ÖV Innovationspreis for Cargo-Tram. This prize is awarded every second year by VCS and SEK for innovation in public transport. Cargo-Tram was selected from among 15 submissions.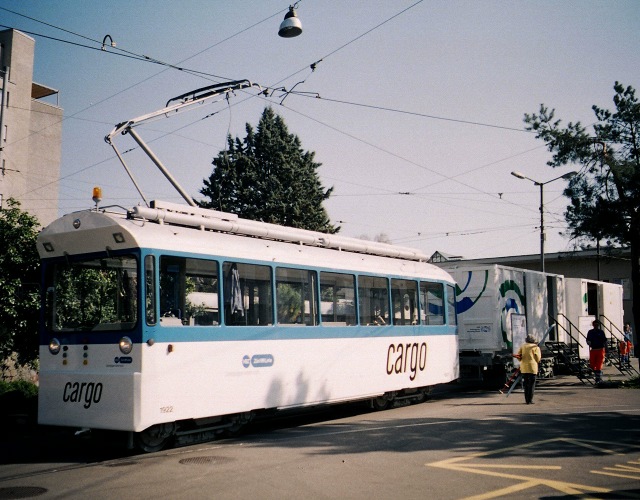 Since the inauguration of the trial phase in April, Cargo-Tram has carried 200 tonnes of refuse. It's success is widely acclaimed.
In 2004 the Cargo-Tram service will be expanded to serve 8 destinations rather than the current 4. Commercial customers will also be able to use the service.
source: 20minuten and own observations.
See also: Cargotram.
---
12.11.2003 - First new Forchbahn unit delivered
The first of 13 new Forchbahn units from Stadler was delivered to VBZ main workshops on Monday (9.11.2003) and presented to the press at Forch today (12.11.2003). One complete set should be in service by mid December.
One unit is a single ended, single articulated Be4/6. A complete train is formed by 2 or 3 such units. They will replace BDe 4/4 10-16 and Bt 101-108 and also reduce the acute shortage of spare vehicles.
source: BahnCH and FB staff.
---
next year | previous year | current year | other years.
return to Zürich tram home page.