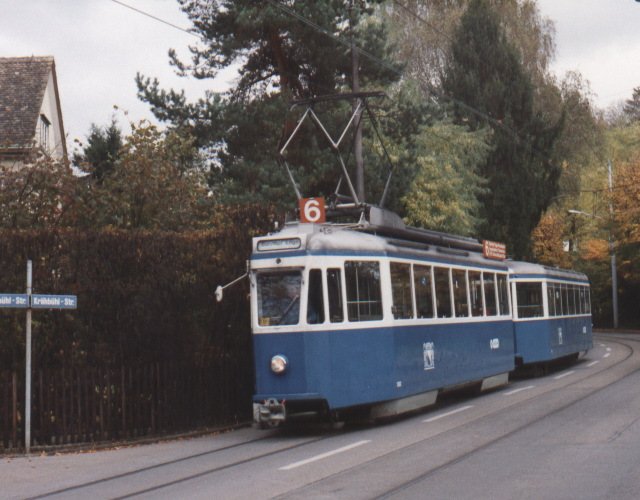 you are in: tram -> zurich
Trams of Zürich
These pages collect news, photos, articles and opinions on Zürich trams (mostly in English). The website is likely to grow so it is worth bookmarking and coming back.
Note that this website does not claim to represent the official opinions of VBZ, ZVV or any other organisation concerned with Zürich trams.


---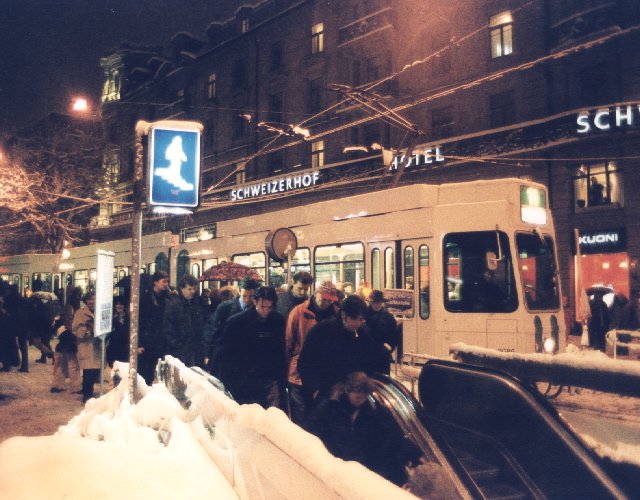 photo gallery (i, ii)
---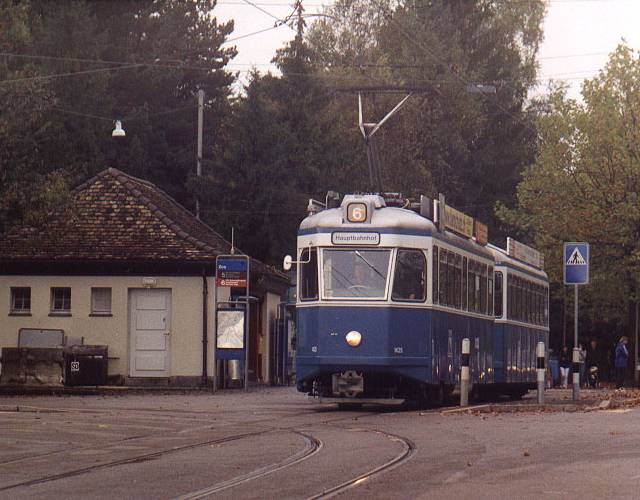 ---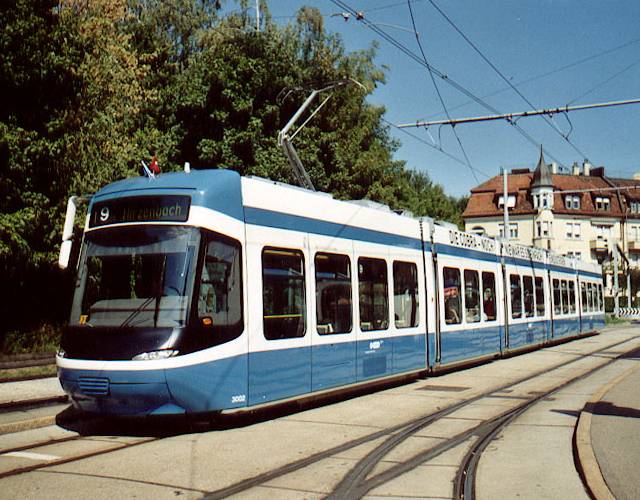 downloads (pictures)
---
Next diary event:

see also events diary
Latest news:

Temporary change of web domain (added on 22.09.2020: 1097 days ago). more in news section.
---
Zürich celebrates its new tram museum
News: Search archive | latest additions | all items
---
additional search categories: Zurich, Zuerich, tram, streetcar, tramway, strassenbahn, Straßenbahn, trolley, trolleybus, Obus, S-Bahn, RER, light rail, light railway, LRT, rapid transit, urban, suburban, interurban, public transport, Cargotram, TMZ (Tram Museum Zürich), Burgwies museum depot, heritage trams, ÖV, Züri Linie, VBZ (Verkehrsbetriebe Zürich), ZVV (Zürcher Verkehrsverbund), FB (Forchbahn), Stadtbahn Glattal, Glattalbahn, StStZ (Strassenbahn der Stadt Zürich), Züritram, Swiss trams, Switzerland, Swiss, Schweiz, Suisse.
---
Updates: Latest update to this page (other than automatic updates of items such as news and events) on 31.07.2006. The current page was generated on 24.09.2023. If this is not today's date, you may be viewing a cached version. Click here to refresh.
---
News summary:
22.09.2020:
Temporary change of web domain

08.09.2020:
Ceneri Base Tunnel opens

08.09.2020:
Liechtenstein S-Bahn rejected

08.09.2020:
Flexity not yet in service

08.09.2020:
Zürich's first Flexity

03.09.2020:
Flexity in service on Monday

31.08.2020:
Moscow trolleybus RIP

28.08.2020:
Mirage back in service

28.08.2020:
Mirage and Karpfen in Vinnitsa

28.08.2020:
Limmattalbahn, final tram design revealed

28.08.2020:
Limmattalbahn to Baden, the film

28.08.2020:
Depot Hard

25.08.2020:
Minor photo update

11.08.2020:
Depot Hard rebuilding

10.08.2020:
Shunting the Swissmill siding

10.08.2020:
Schaffhausen: Battery bus instead of trolleybus

10.08.2020:
ÖBB to order 20 further night trains

09.08.2020:
The railway siding that crossed a motorway on the level

08.08.2020:
Tram features in zoo advert (subtitles)

08.08.2020:
Tram features in zoo advert

08.08.2020:
Routemaster bus at Zürich Zoo

07.08.2020:
Mirage presently unavailable

07.08.2020:
Alstom's Bombardier Transportation acquisition approved

06.08.2020:
Night train developments, some clouds and a lot of silver lining

06.08.2020:
All change on Waldenburgerbahn

05.08.2020:
Crocodile locomotive finally returns to Oerlikon

04.08.2020:
Old Polybahn car finds new home

04.08.2020:
Forchbahn in Madagascar

04.08.2020:
Still awaiting third flexity

30.07.2020:
No more flags for special days?

30.07.2020:
Third Flexity arriving

30.07.2020:
Flexity in service soon?

30.07.2020:
Mirage still in service

30.07.2020:
Ex BLT trams on Thüringerwaldbahn

04.04.2020:
Trolleybuses on route 83 update

31.03.2020:
Trolleybuses on route 83

30.03.2020:
Forchbahn still waiting in Madagascar

18.03.2020:
Corona virus restrictions

11.03.2020:
Second Flexity approaching

11.03.2020:
Flexity on Glattalbahn

older news ...

news page ...

news search