you are in: tram -> zurich -> cargotram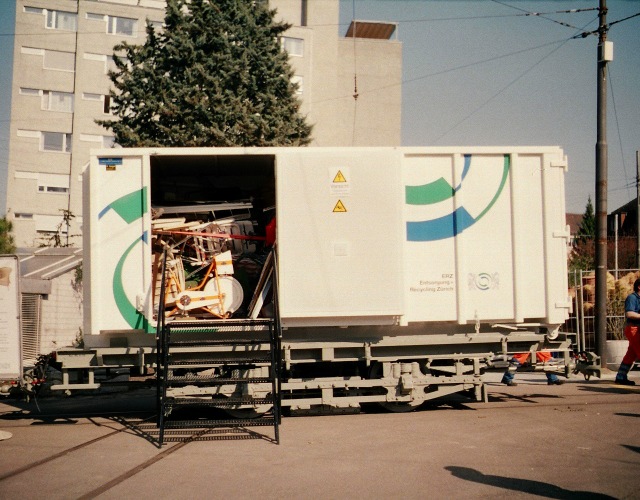 Cargotram
About
News (latest and archive)
Timeline (history)
Fleetlist (vehicles)
Articles
Pictures
Film clips
Timetable information
Other cargo tram cities
Miscellany

Zürich tram main page

---
Cargotram is a service transporting freight on the tram network of Zürich (Switzerland). This page is intended to provide at-a-glance information on this service, aimed primarily at the transport enthusiast, but may also provide a starting point for professionals and planners. For an introduction to the concept, this 2003 article may be of interest.
---
Search news archive for cargo and E-tram.
---
1898 - 1966
Goods operation by tram in Zürich began in 1898 when mail was carried between Zürich and Höngg in a special trailer hauled by a passenger-carrying tramcar. Ventures to carry different types of goods came and went over the years. These include beer from Dietikon to Zürich from 1900, refuse to a landfill in Heuried from 1921 (this idea was short-lived), groceries to LVZ shops (now Coop) from 1941 to 1945. The final service to be discontinued was the goods service from the Forchbahn which ran through to Tiefenbrunnen where a transfer shed existed to the main line railway.
April 2003
After an absence of 37 years, freight returns to the Zürich tram network. A trial service is introduced collecting waste from Laubegg, Letzigrund, Tiefenbrunnen and Wollishofen (each destination served once a month). [See 2003 Cargotram article]
November 2003
Cargotram wins an innovation prize. The service becomes permanent. [See news item 12.11.2003]
January 2004
Four further destinations are added (Albisrieden, Hirzenbach, Seebach and Wartau). [See news item 12.11.2003]
January 2005
Irchel is added as ninth destination. [See news item 13.12.2004]
Spring 2005
A siding is built into ERZ Werdhölzli recycling yard. This is the first track to be purpose built for Cargotram. It greatly simplifies operations. [See news item 21.06.2005]
January 2006
E-tram is introduced for electrical and electronic goods. The same destinations are served as Cargotram but on diferent days — taking the number of monthly round trips to 18! [See news item 30.11.2005]
March 2007
The extension of passenger route 5 to the Laubegg loop mean Cargotram and E-tram can no longer serve this location. They are substituted by lorries. The goods tram still has 16 monthly round-trips. [See news item 18.02.2007]
July 2007
Burgwies is added as ninth destination, taking the number of monthly round-trips back to 18. [See news item 15.08.2007]
Mid 2013
Cargotram marks 10 years of operation, and is repainted into a new livery. [See news item 14.08.2013]
January 2014
Hard tram depot (Escher-Wyss-Platz) is added as tenth destination. [See news item 14.01.2014]
---
The fleetlist is dicussed in the news item of 4th May 2005. Cargotram services are typically formed Xe4/4 + X2 + X4 and E-tram services Xe4/4 + X2 + X2, with the X2's using different bodies for these different types of services. There is no rule without exception however.
---
Cargotram — Zürich's domestic refuse takes to the rails, first published in T&UT, August 2003.
See also the news section of this page
---
See the cargotram section of the picture gallery.
---
A video showing rubbish being loaded at Hirzenbach, the tram passing through Schörlistrasse on the Schwamendingen subway and at the end of its trip, pushing back into the ERZ yard at Werdhözli (added January 2011).
And much the same footage as above but with a humorous soundtrack, for those who remember Oscar the Grouch (added January 2011).
Cargotram reversing out of Burgwies depot (added July 2009).
---
Notice: the following link is to an external website: Cargotram.
---
In Dresden, supplies to the Volkswagen factory are delivered by tram (the up-market Phaeton car is produced here)
In Vienna, there are plans to introduce a freight tram service. A prototype has been built but this is currently restricted to internal use (supplies to the operator's own depots) and does not appear to be undergoing further development.
Various Dutch cities are planning freight tram services. Of these, the plans of Amsterdam are most advanced. The Amsterdam project was abandoned in 2009.
In 2004, SNCF (French railways) proposed a freight tram for the distribution of goods in Paris. There does not appear to have been any further development.
Search the news archive for important developments in these areas.
---
Notice: the following link is to an external website:
To follow discussions about cargo trams and works trams (in German), join the cgtr Yahoogroup.
---
---
last updated: 21.01.11
counter added: 24.05.06