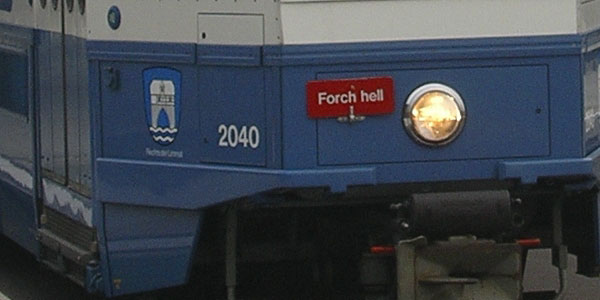 you are in: tram -> zurich -> news
Newslog 2014
latest news | archive | news search
This page presents news and other items of interest concerning the Zürich tram system and connected topics.
This is not the official information page of any organisation. All opinions expressed here are my own or belong to those to whom they are attributed. Whereas care is taken to ensure the correctness of news, no claim is made to total accuracy.
Visitors are informed that many links from this page are to external sites. Such links are provided for informational purposes only. The author of this site explicitly declines responsibility for the content of external web pages.
latest news | older newslogs | articles.
return to Zürich tram home page.
2014 news:

next year | previous year | current year | other years | search.

guide to linking to news items
---
21.12.2014 - Seasons Greetings
Seasons greetings from the Polybahn.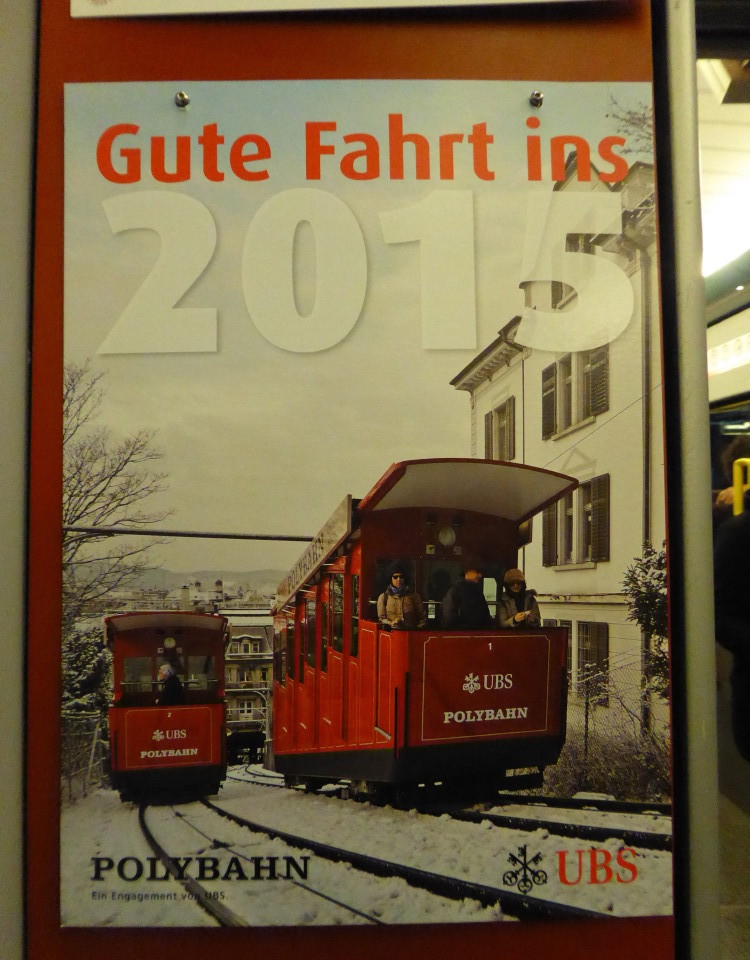 ---
21.12.2014 - A date for your diaries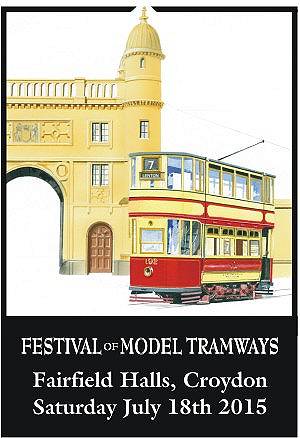 ---
21.12.2014 - Basel: Fare confusion around Weil line
Basel's tram extension to Weil was opened on 14th December. Being outside Switzerland, some confusion has raised as to the validity of Swiss travel passes and tickets. It appears that Generalabbonnement is valid but SwissPass is not. Visitors wishing to travel on the international section are recommended to verify before traveling.
Swiss Rail Yahoogroup
---
First of all, apologies yet again for the lack of updates. I'm now trying to catch up and am posting missed items in no particular order.
---
20.12.2014 - Tram Hardbrücke approved
The cantonal referendum of 30th November saw the cantonal contribution of 76 million CHF to the Hardbrücke tram project approved by 66 percent of voters. The tram should be operational in 2017. The project is costing 101 million, with a further 28 million earmarked for modifications to Bahnhof Hardbrücke to make it more suitable to handle increased pedestrian flows.
---
20.12.2014 - Trolleybus 106 gets matrix displays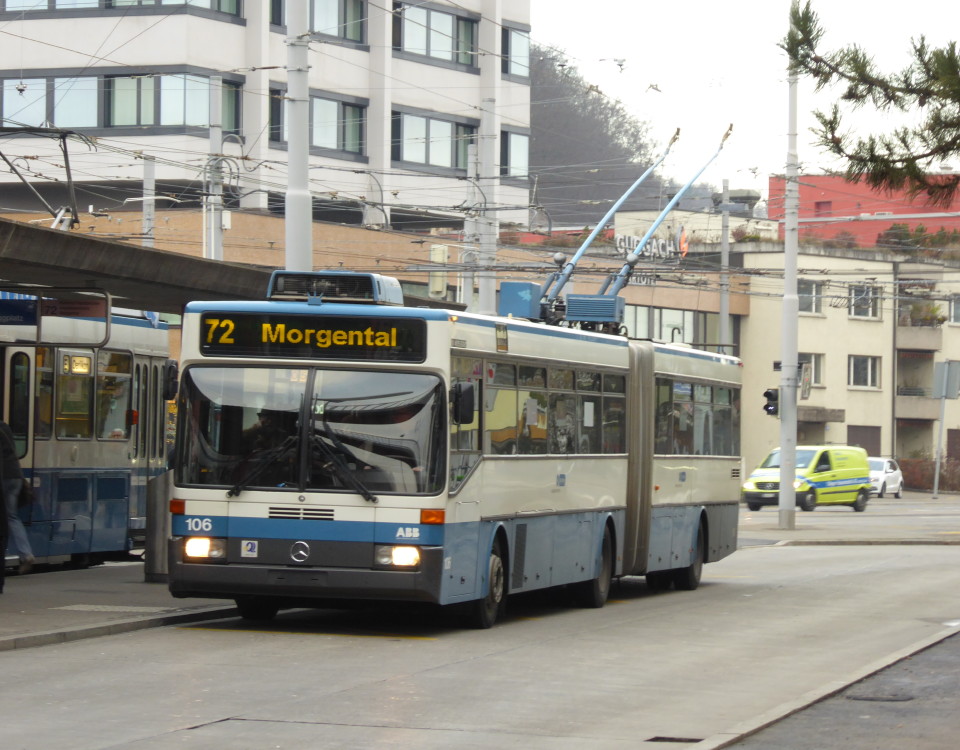 GTZ trolleybus 106 has become a bit of a celebrity, being the last GTZ – no the last VBZ bus in regular service – to use roller-blind displays. This ended in early December when matrix displays were fitted, presumably from a withdrawn sister vehicle.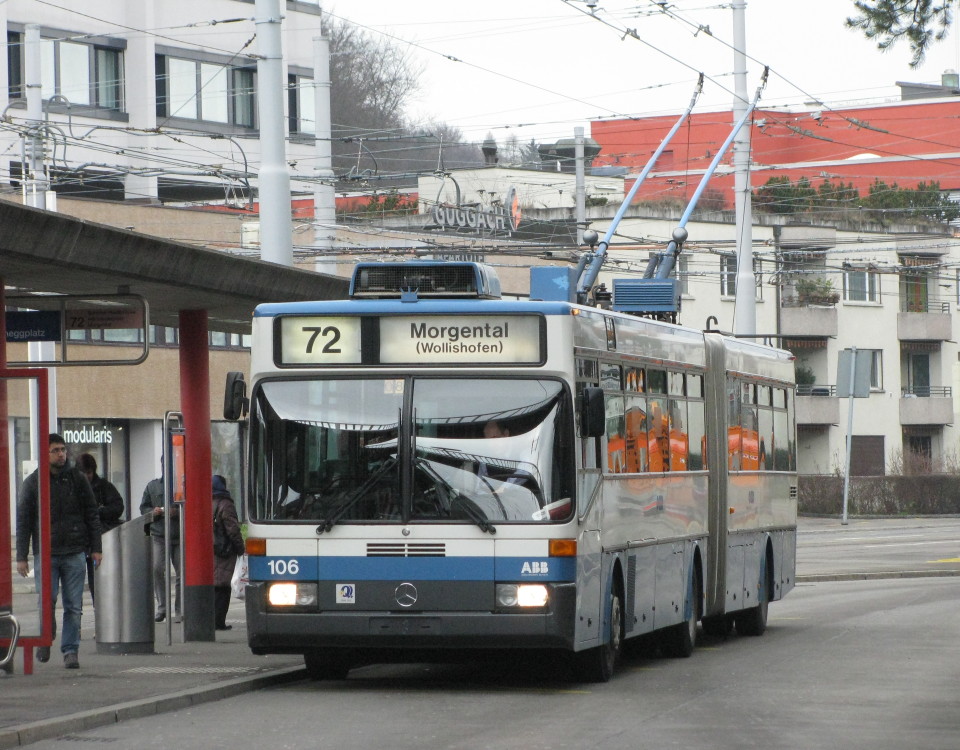 This would make this the third bus to use the displays as the GTZs were in turn fitted with matrixes from withdrawn O405 diesel buses. For a bus that supposedly (or so it was suggested) has only days to live, this is a surprising move. Of course we wouldn't mind if this means their final withdrawal has been postponed yet again.


---
20.12.2014 - New trams? The saga drags on
Still no announcement on who will supply the new trams that will replace the older Tram 2000s. Latest reports suggest that there has been a standoff between VBZ and ZVV, with ZVV refusing VBZ's recommendation and insisting on seeking the opinion of an external consultant. However, VBZ refused this over fears the external consultant would not respect the non disclosure agreement and pass on sensitive information to competitors. The case is presently pending appeal. How wistful the simpler days when experts real were experts and could take decisions in house.
---
20.12.2014 - Trams in Altstetten: Present alignment to be retained
— but sometimes common sense can still prevail. Zürich's executive council (Stadtrat) has bowed to people power from inhabitants of Altstetten who wanted to keep the trams running on Lindenplatz. As part of the Limmatalbahn project, planners were proposing to re-route it via Bahnhof Altstetten, leaving the centre of Altstetten without a tram service. The compromise will see Limmattalbahn run to Bahnhof Altstetten and route 2 continue on its present course.
---
20.12.2014 - Trolleybus in battery mode
As part of the test phase for the future plans to increase trolleybus sections without overhead, suitably battery-equipped trolleybuses are presently operating between Albisriederplatz and Hardplatz from mornings until 21:00 with retracted booms. The non-battery trolleybuses are using the overhead as normal.
---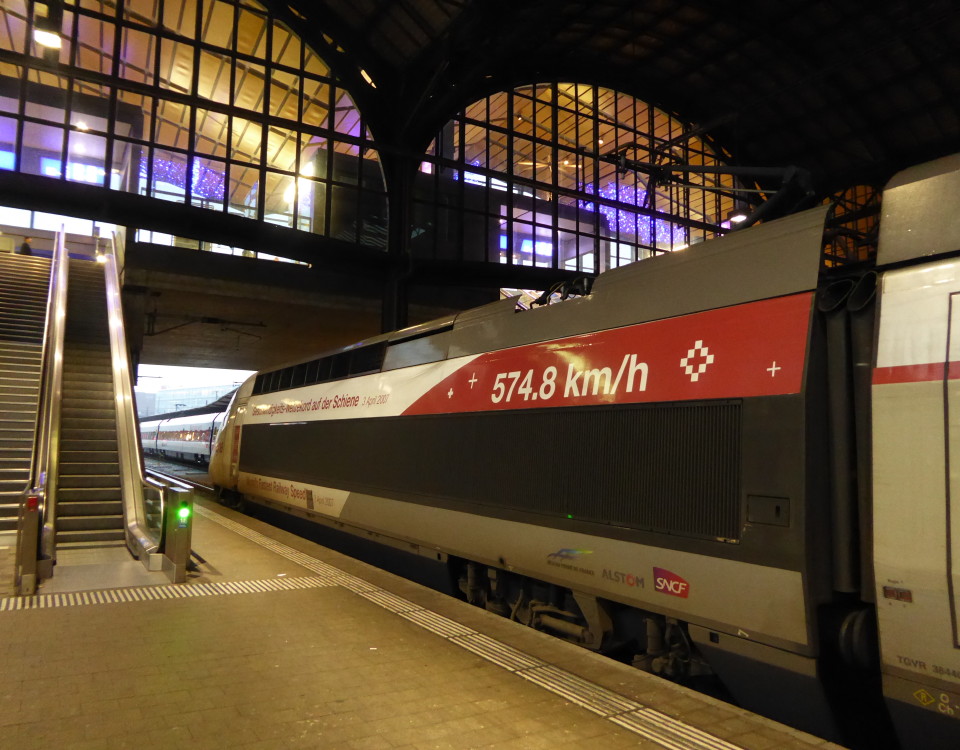 I have uploaded a mini series of recent pictures. No trams this time but some VBZ and also trains in Basel SBB. View them here.

---
26.11.2014 - By trolleybus to ETH Hönggerberg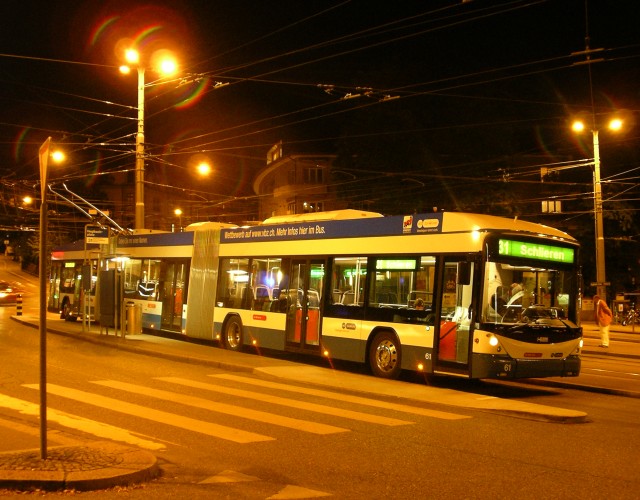 The proposed electrification of bus routes 69 and 80 still appears to be an active goal – or so it is suggested by a report on a potential tram route to serve the ETH Hönggerberg campus (of the Swiss Federal Institute of Technolgy, ETH). Although the report basically says this tram is not much of a priority, if indeed it will ever be built at all, a side remark states that the conversion to trolleybus of diesel bus routes 69 and 80, both of which serve this location, is planned for "within the next years".
bahnhofplatz.ch citing Zürich Nord newspaper.
In 2012, the city of Zürich was supportive of said electrification, but the canton was dismissive. If this is to go ahead under favourable conditions, a certain urgency is required as should the electrification coincide with the present diesel fleet coming due for replacement, only the incremenetal rather tha total cost would need be raised.
---
26.11.2014 - Forgotten trailer saved
The latest edition of TMZ Revue (magazine of Tram Museum Zürich) describes the recovery of B2 trailer 644. Trailers 588 to 710 (actually including different design variants) were delivered between 1919 and 1931. They were the first trailers to have traverse (rather than longitudinal) seats. Being the most numerous trailer type ever in Zürich's history, they are well represented in preservation with VBZ having 629, 645 and 679 and TMZ 626 and 687. Following the scrapping of "Goldtimer" trailer 681 in 1994, it was assumed (well, at least by myself) that the fleet had now shrunk to these five survivors.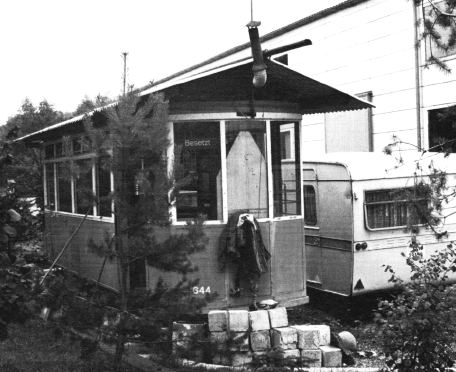 At the time these cars were withdrawn in the 1960s and 1970s, several found further use on children's playgrounds or as summer houses. However, vandals and the elements have done their work and so it is all the more surprising to learn that not only has a unit turned up, but that it is in good condition. 644 survived in a garden in the town of Uster. Owned by a tram enthusiast who purchased it in 1972, it's good condition is partly thanks to the protective roof. Although largely in original condition on the extrerior, the interior has been modified. The original owner's son offered the car to the tram museum, who moved it to Birr to the custody of a youth workshop. It will at a later point return to Zürich, although its future use is not yet clear.
The saving of this car may represent a certain softening of the museum's collection policy. As recently as 2011, car 1016 (of similar vintage) was allowed to go for scrap under the justification that four similar cars survive.
(The black and white picture above is scanned from Ein Jahhundert Zürcher Strassenbahnen by Trüb, Bahlen & Kamm.)
---
26.11.2014 - More preserved trams hiding away
The same issue of TMZ Revue (as above) also has an article on the various vehicles being stored off system in a disused factory in Zuchwil. These are Swiss Standard Tram 1379 and trailer 737 (repatriated from Paris), crane car 1953 and Polybahn car 2.
The future of the crane car is unclear. The article says it might one day find use on a heritage or narrow-gauge railway. The Polybahn car, dating to 1889, is Zürich's oldest surving public transport vehicle. A restoration as static exhibit has been considered but rejected for now due to the high costs involved.
---
26.11.2014 - Ex Swiss trolleybuses in Brasov
The Romanian town of Brasov jas acquired ex-Neuchâtel trolleybuses from a dealer in Sibiu. These are to replace the ex-Bern FBW/R&J/SAAS of 1974-77, which were aquired in 2006. Brasov also has trolleybuses from Biel and Limoges.
---
26.11.2014 - Vote on Hardbrücke tram this weekend
This weekend (30th November) will see the cantonal referendum on providing money for the Tram Hardbrücke project.

---
11.11.2014 - Elefant Tram from Atlas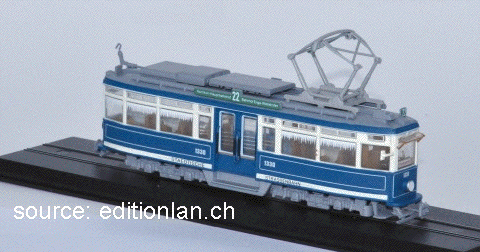 The selection of Swiss-prototype trams from Atlas is growing. Besides the Bern steam tram and the Genève Standard, Atlas is also paying homage to Zürich with a Ce 4/4 Elefant (it seems two different fleet numbers are available, 1330 as VBZ Partytram and preserved car 1350). Like the previous models, these are HO scale display models, but I'm sure modellers will soon work out ways to motorize them.
Picture source: editionlan.ch .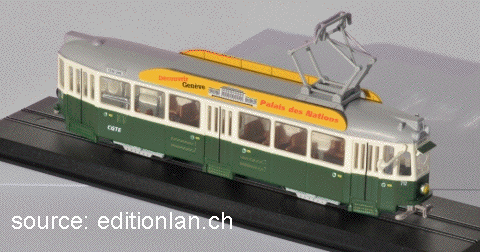 Speaking of different variants, it appears the aforementioned Geneva car is also available in different variants, including this green and cream car more reminiscent of the Tintin picture.

So here's to tramway modellers who can make it rain.

---
06.11.2014 - GTZ trolleybuses to vanish by end of year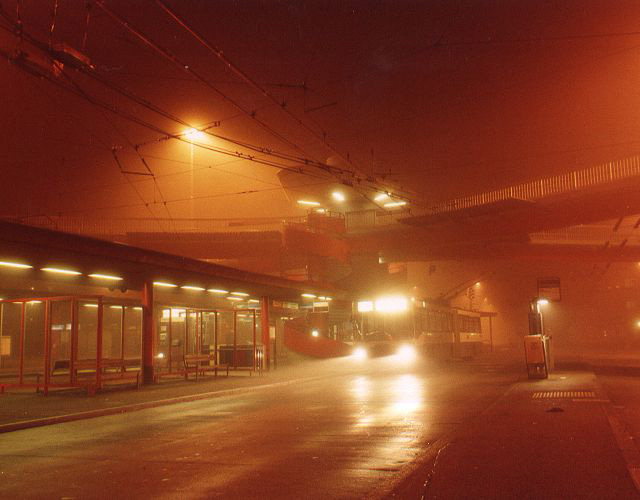 According to a report on bahnhofplatz.net, operation of Merdedes/ABB O405 GTZ trolleybuses will come to an end this year.

---
05.11.2014 - Swiss Standard Tram from Atlas
In February, this website reported on Navemo's HO/HOm model of the Swiss Standard Tram. The increase in variety of Swiss Tram models, largely thanks to Navemo, is a welcome boon for tramway modellers and has no doubt kindled interest in modelling this topic, previosuly a reserve of scratch builders. The Swiss Standard Tram was long in coming from early announcements to finally finding its way to the market. But as they say, it never rains but it pours, and another manufacturer has also produced a model. The Atlas model doesn't appear to be as detailed as the Navemo one (and it doesn't come motorized, but to the experienced modeller, remedying this shouldn't be an issue). Navemo has so far produced models of Zürich and Bern cars with Atlas tackling the other end of the country and producing the Geneva variant.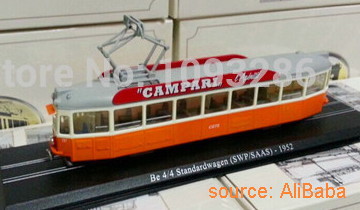 I must confess that I haven't so far seen either model in real life (but hope to remedy their absence from my collection at some point), but from pictures the Atlas one may seem a little coarse (especially the pantograph and headlights) but maybe it captures the style and character of the front end better than the Navemo one, and the bodyside panelling and details also look (more) convincing. I guess the Atlas variant is quite a bit cheaper, even taking into account the effort of motorization (maybe the Navemo mechanism even fits?).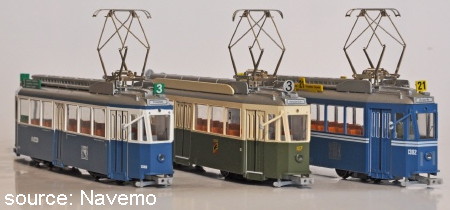 The illustrations accompanying this news item are taken from AliBaba (for the Genève Atlas model) and Navemo (for the Navemo Zürich and Bern models).
More background on the Swiss Standard Trams here.
Veering dangerously off topic here, while nominally still talking about Geneva standards, it may be fitting to recall this scene from the Tintin album L'Affaire Tournesol (The Calculus Affair) published in 1956. Several Swiss locations appear in this album, in remarkably accurate and detailed portrayals, including this Geneva street scene (a cliché that is itself a work of art) at a time when the depicted standard would have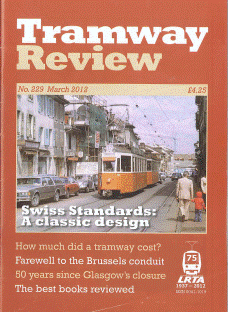 represented the non plus ultra of tram design (although Hergé seems to have got the seating arrangement sligtly wrong – too many reverse-facing passengers). Tintin and Captain Haddock are in the back of the taxi.

---
04.11.2014 - Ex-Sernftal Be4/4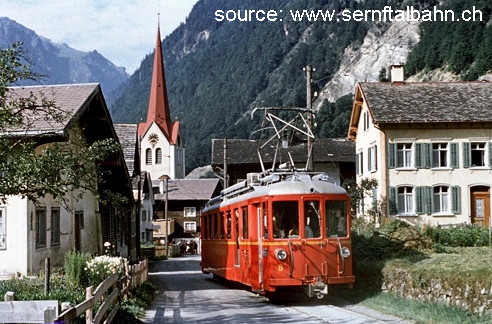 In 1948, Forchbahn took delivery of two modern bogie cars. The presence of these cars, their speed, comfort and potential for economic operation played a crucial part in warding off closure threats and releasing money for further modernisation measures. It is thus fitting that both cars still survive today. 10 is a heritage car and 9 is converted to a snowplough.
It is maybe less well known that three further virtually identical cars were built. These were 5-7 of Sernftalbahn, a line between Schwanden and Elm in the Canton of Glarus. Following the closure of that line in 1967, the cars were transferred to AOMC (Aigle-Ollon-Monthey-Champéry) where they ran as 111-113 until they were rendered superfluous by the arrival of newer rolling stock (ex BLT) and found a third home in Austria in 1986. The secondary railway operator, Stern & Hafferl allocated ET 23108 (ex 111, ex 5) to Gmunden - Vorchdorf and ET 26108/9 (ex 113/112, ex 7/6) to Atterseebahn (Vöcklamarkt - Attersee). In 1987, ET 26108 was withdrawn following a fire. ET 23108 was transferred to Atterseebahn as a replacement and renumbered ET 26110. Together with 26109, it remains in service there to this day.
But all good things must come to an end. Atterseebahn will probably withdraw both cars by late 2016. In the meantime, a Sernftalbahn museum has been created in the former goods shed of Engi-Vorderdorf. Of course it would be fitting to repatriate one of the ex Sernftalbahn cars and place it on static display at the museum. A local bank (Glarner Regionalbank) has already promised to finance the transport. But further money is needed to remove asbestos and finance the restoration. More information can be found on www.sernftalbahn.ch .
Of course, in the meantime, also try and ride them while they're still running. Even in the distant corners of the Alps, cars of this vintage are becoming more and more of a rarity.
Prellbock 4/14
---
04.11.2014 - Ex Uetliberg 2 in Winterthur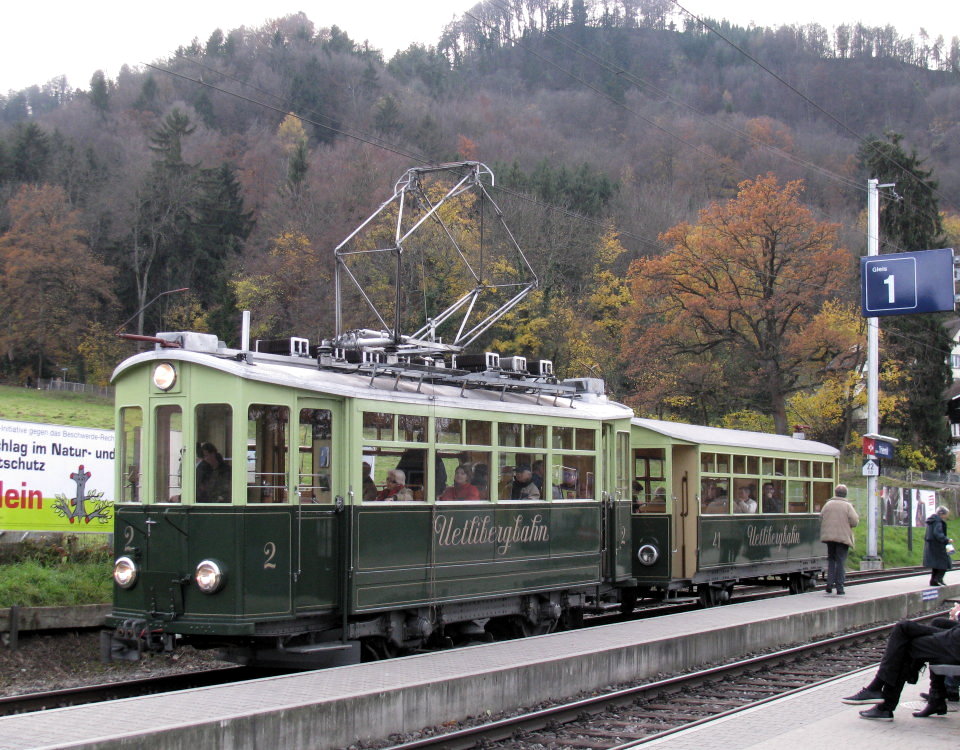 SZU's former Uetliberg heritage set Ce 2/2 + C 41 (dating to 1923), which made their final run on their home line in 2008 before a short stint at the transport museum in Luzern has since made their way to Winterthur where they are to be converted to a bistro. Prellbock 4/14 now sheds further light on the project. The trailer will be converted to a bar, the motor car will provide seating for 24 people while remaining as close to original condition as possible. Meanwhile, a third vehicle, baggage car D 311, has been recovered from a garden and will house the kitchen. A roof will be built over the train to protect it from the elements.
The project has its own website, www.leswagons.ch .
---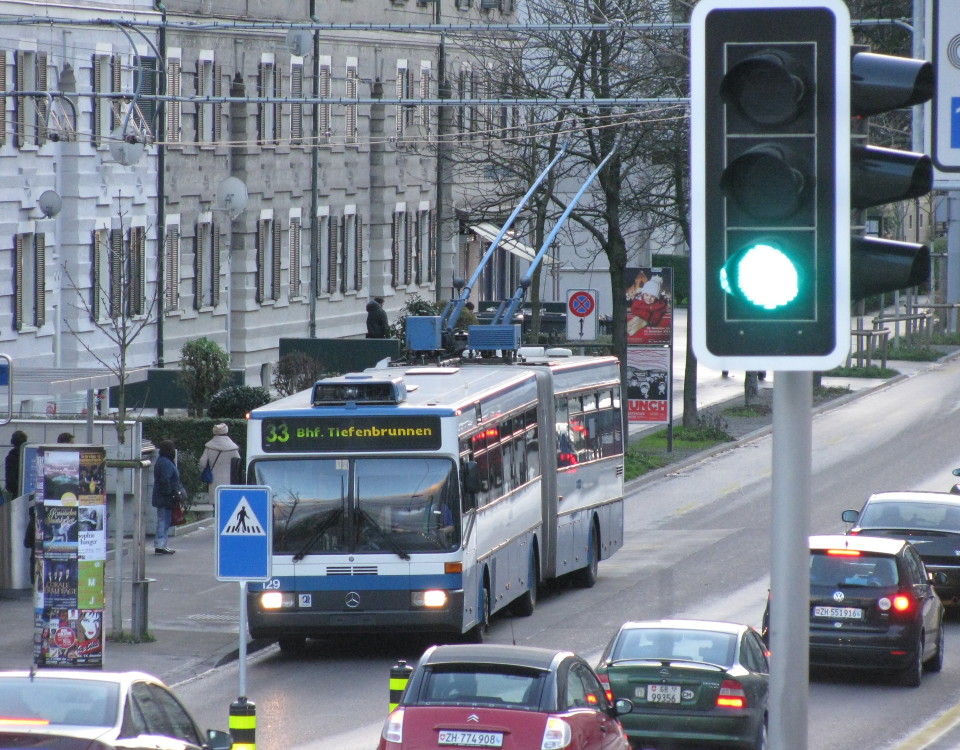 Since this website's last update on the remaining O405 GTZ trolleybus, 129 has been withdrawn, leaving 106, 122, 131, 137 and 142. However, the upcoming timetable change will see the end of the shortlived route 71. With the GTZs clearly on borrowed time, it remains to be seen what effects the resulting fleet contraction will have. But it seems unlikely they will find yet another reprieve, so ride them while you can.
---
03.11.2014 - Valparaíso: Further ex-Luzern trolleybuses arrive
According to a report on trolleymotion, delivery of the ex-Luzern trolleybuses to Valparaíso is continuing at speed, with 6 already in Chile the final 4 expected to arrive by the end of November. Their entry into service will spell the end for the various 1960s era Swiss trolleybuses presently in use in the city, among them two ex-Zürich GTr51s.
---
03.11.2014 - New access to Altsetten workshops
VBZ is seeking planning permission to build a second access track to its central workshops in Altstetten. The new double track line will follow Rautistrasse, connecting to the tracks of line 3 with a triangle bewteen the Hubertus and Siemens stops. The new line will provide better access to the Albisrieden line when in future the workshops will also serve as a depot. Various uses in diversion scenarios can also be imagined.
---
03.11.2014 - People power pushes politicians to re-think
The discussion around the future of route 2 in Altstetten, in which planners wanted to divert the tram via Bahnhof Altstetten but Altstetten residents fought tooth and nail to keep it on its present course through the centre of Altstetten, will probably be settled to the satisfaction of the residents, with only Limmattalbahn running to Bahnhof Altstetten.
In another magnanimous incident of listening to people power, it is now also highly likely that route 17 will continue operating as a fully fledged all-day tram route once route 8 is extended to Werdhölzli. With its function to be replaced by the future 8, planners were proposing to withdraw the 17 (with the exception of some peak runs) but residents protested about losing a direct tram to Hauptbahnhof.
---
07.10.2014 - Winterthur: Heritage trolleybus returns
I am happy to be able to disclose more details of the previously reported return of Winterthur's heritage trolleybus 101. Trolleymotion has revealed that this vehicle has been overhauled in Winterthur, passed its ministry inspection and is now available for specials and private hire. Its first official appearance in this guise will probably be as Adventsbus - an advent fairy-tale bus for children (an appearance to be jointly organized by Winterthurer Verkehrsbetriebe and the Reformed Church in Winterthur). As Trolleymotion points out, the public appearance of heritage buses has an enormous goodwill value for an operator.
101 entered sevice in 1958 and was withdrawn in 1989 after more than 30 years of service. Following the Zürich prototype (also 101) of 1957, Winterthur's 101 was the second GTr51 built and is thus the second Swiss trolleybus ever. As Zürich 101 no longer survives, this beauty from Winterthur is the oldest of all Swiss articulated trolleybuses.
Zürich also still has a GTr51, but this vehicle languishes in storage with an uncertain future. Amazingly, two further (and only marginally younger) GTr51s survive in active service in Valparaíso. A brief history of the type in Zürich and Valparaíso can be read here. There is also a Bern example in preservation.
Can Zürich one day take a leaf from Winterthur's book and return a heritage trolleybus to operating condition?
The pictures below are from Trolleymotion (click pictures to access original article):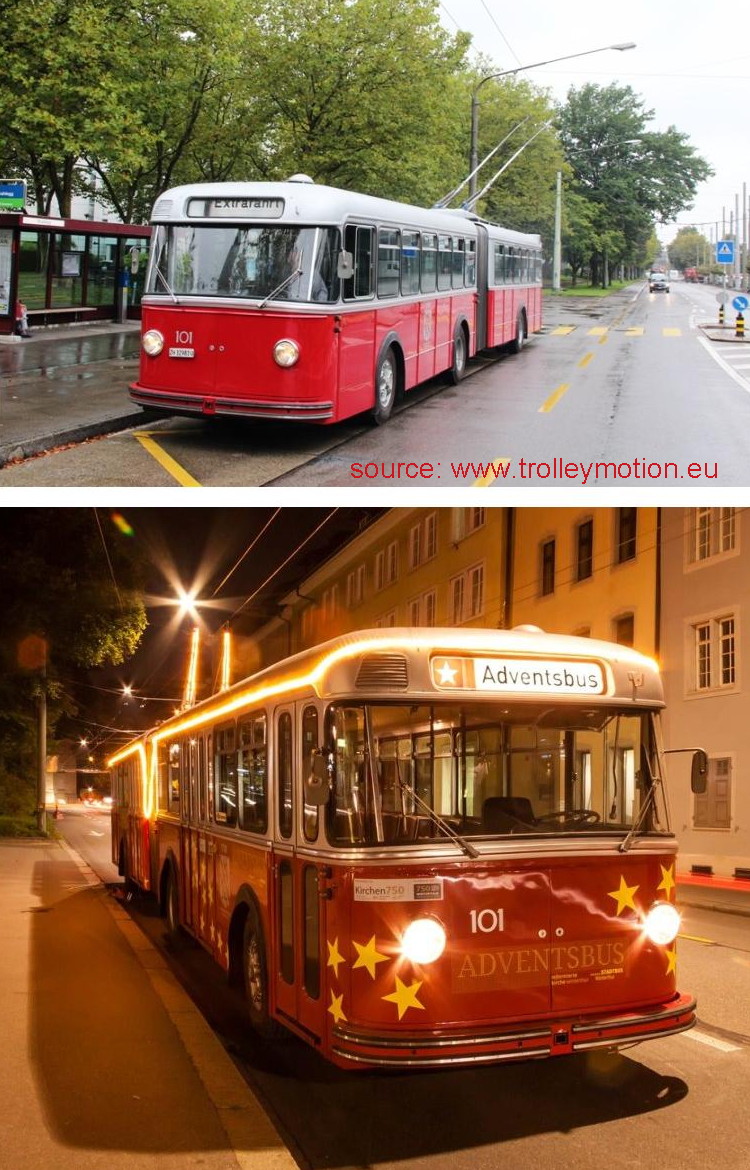 And here is another atmospheric view from the page of the Reformed Church of Wintherthur: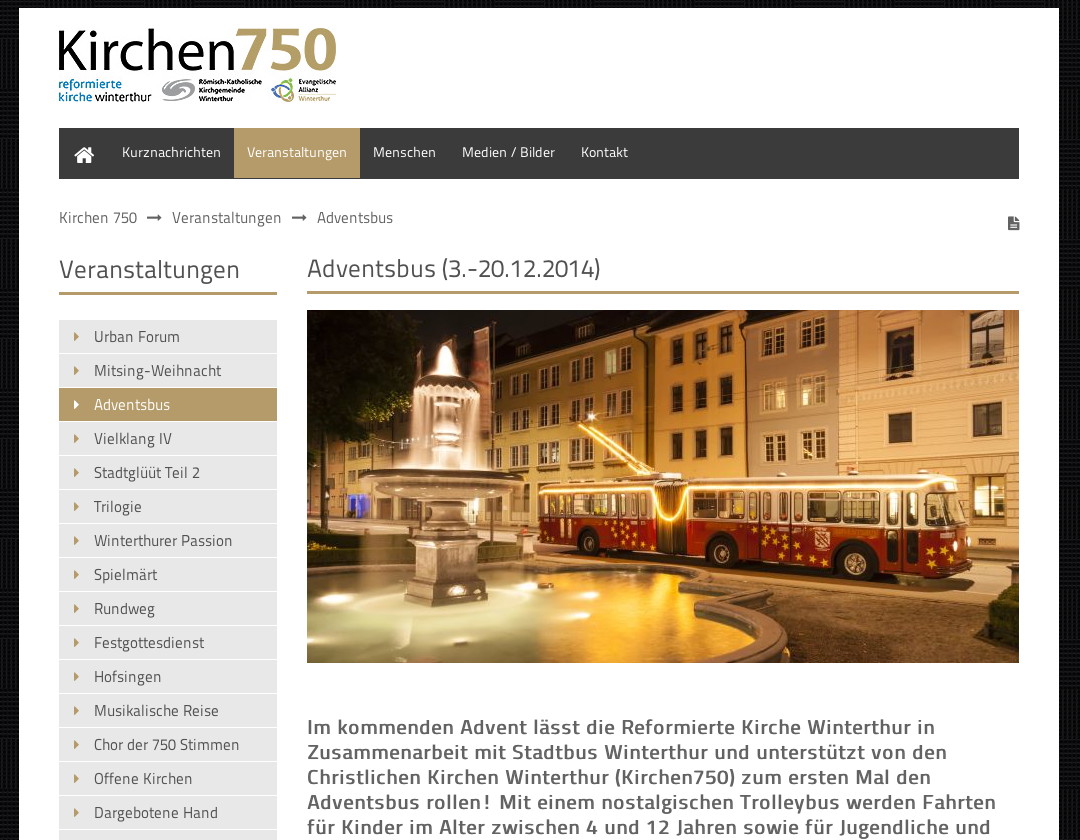 A truly amazing collection of pictures of GTr51s and a description and history of the type is provided on this page of Trolleybus Valparaíso blog.
---
01.10.2014 - Thumbs down for Tram Region Bern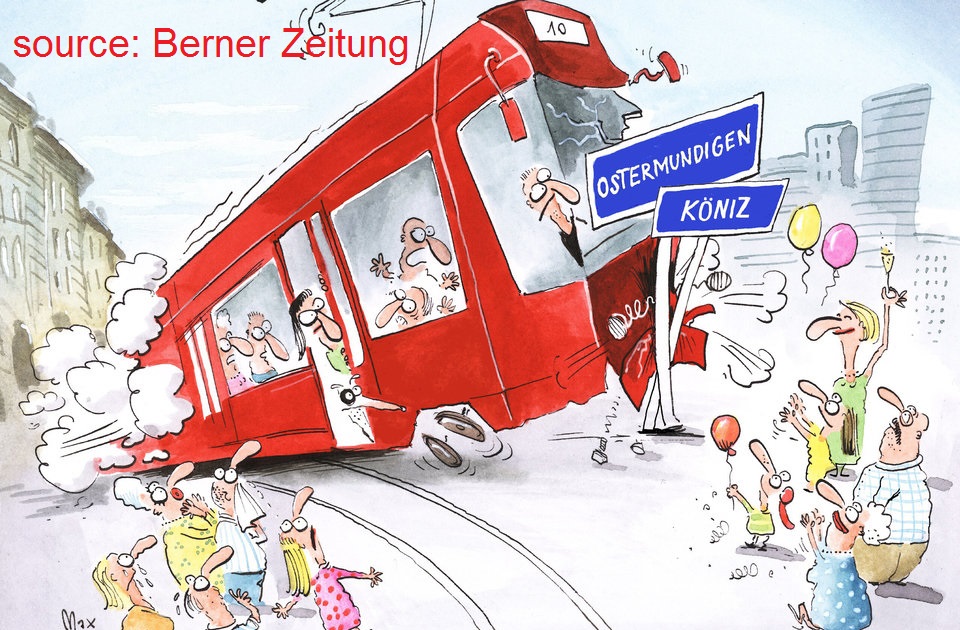 Last Saturday, voters of the city of Bern as well as the adjoing communities of Köniz and Ostermundigen voted on the proposed Tram Region Bern, which would convert the present bus route 10 to tram. Although voters of Bern approved the project (61 percent yes), those of Köniz and Ostermundigen said no (61 and 53 percent repsectively) to the 500 million CHF project. That means, the project is called off.
Yet again, the political sqabbling between Bern and its suburbs has flared up. The saga has a precedent in Tram Bern West which was rejected in May 2004, went back to the drawing board and re-emerged as a cheaper, less invasive and more acceptable proposal that was approved in November 2006 (and opened in December 2010). Now if only the planners could learn to get things right the first time!.
On a happier note, at the same time and in the same Köniz, 64 percent approved the extension of route 9 from Wabern to Kleinwabern. This project must still be approved on cantonal and federal levels. Construction could begin in 2019.
To put the proposed lines into their broader perspective, here is my own map of Bern (which unfortunately I haven't updated since the opening of Tram Bern West in 2011), but is still broadly correct (except that the Wankdorf extension of route 9 was opened in 2012).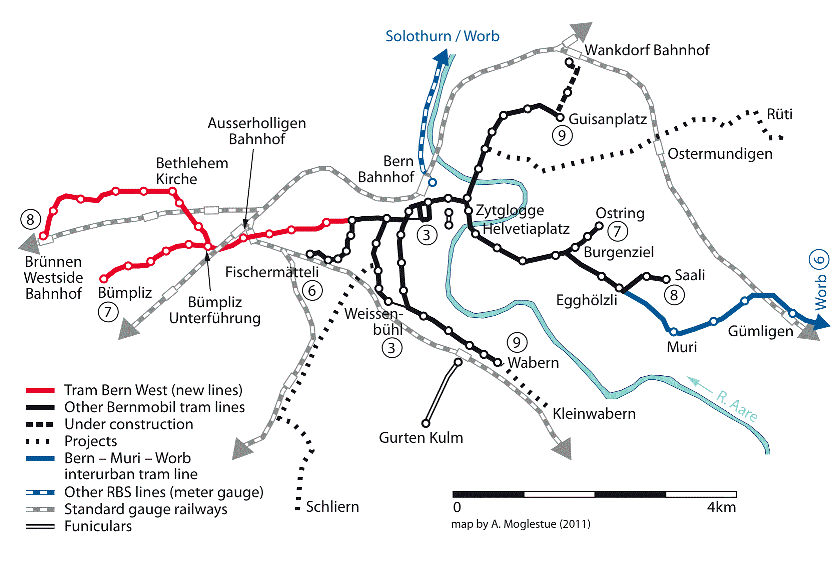 ---
29.09.2014 - Tower waggons for tram museum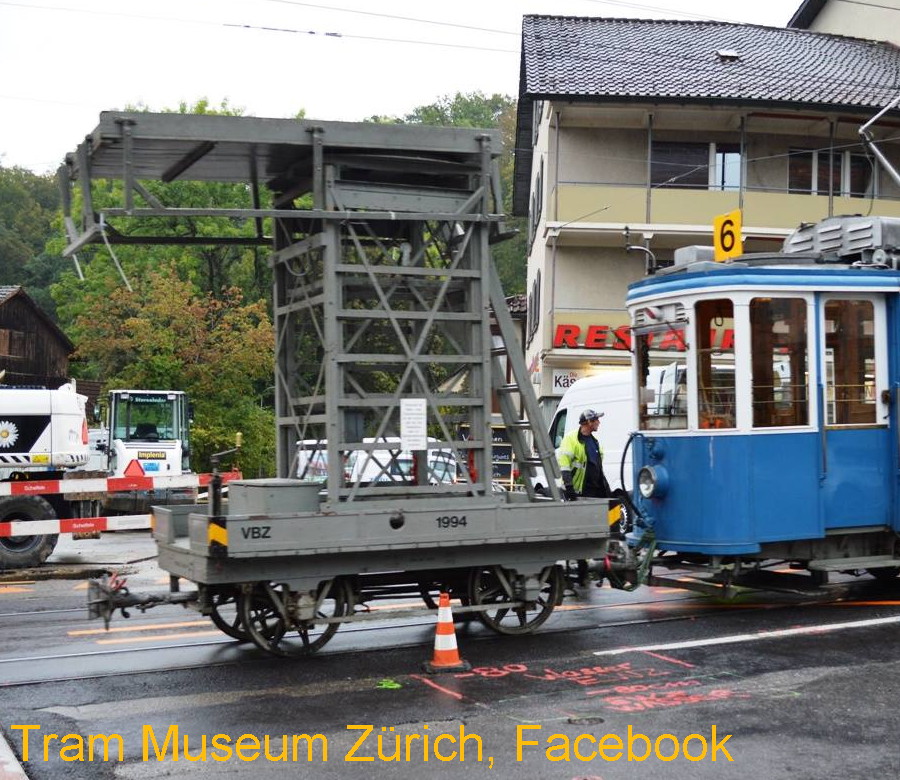 According to VBZ's Facebook page, two VBZ tower waggons have been transferred to the custody of the tram museum (according to bahnhofplatz.net, the transfer already occurred last year). The two waggons are numbers 1994 and 1995. A quick dip into literature reveals 1994 was built in 1930 (although the spoked wheels might suggest they were re-used from an earlier vehicle) whereas 1995 uses the tower from a road tower waggon of IStB (Industriequartier Strassenbahn, a private taken over by the city in 1902) and the axles from a horse tram – typical of the make do and mend engineering that went into many tramway works cars and that makes them so fascinating.
These tower waggons have not seen much if any use on overhead lines in recent deaades, as more modern vehicles exist for that purpose. However, one of them was retained in Oerlikon depot and used to replace fluorescent tubes. According to one anecdote it was once accidentally coupled to a passenger tram and took a lap of honor on the system until encountering the low bridge at Oerlikon. The other tower waggon was possibly based at Escher-Wyss-Platz, although I'm not sure of its purpose there.
---
29.09.2014 - Basel: Test running on Weil line to begin next week
Test running on Basel's newest tram extension is to begin next week. What makes this line remarkable is that of the extension's 2.5km, 1.6 are in Germany (Weil). Rather than being a simple extension of the existing system, the German section is built to German standards. This also effects signage and signaling, for which drivers will receive a special training. To help implement this, BVB is using the services of Thomas Ruff, formerly of Freiburg's VAG.
Another novelty caused by the border crossing will be the presence of customs inspectors going through the tram. Despite its various protestations at not having money for the tram, Weil has a large number of well frequented shops and attracts numerous Swiss shoppers (especially on Saturdays), as the long tailbacks at road customs posts show. Many motorists will hopefully switch to the tram, meaning customs and excise officials will need to stay on their toes to accomodate that.

---
29.09.2014 - Save our night trains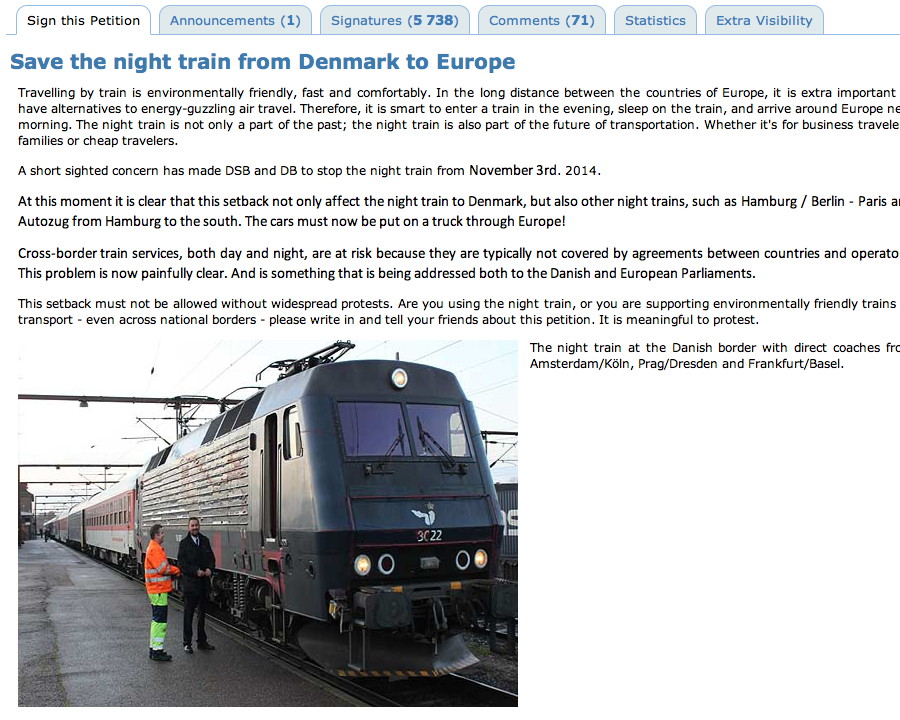 I have in the past on this newslog bemoaned the gradual passing of night trains in Europe. I have now come across a petition seeking to do something about it. The petition is specifically concerned with the Basel to Copenhagen train, but it is worth supporting, also to break a lance against this tragic development in general. With billions being spent on railways, and talk of major rail corridors connecting Europe's capitals, it seems absurd that in reality longer-distance and international travel is being discouraged.
The initiators of the petition hope to bring this matter to the attention of the Danish parliament, and are seeking 10,000 signatures for this. With almost 6,000 signatories, the goal is within realistic grasp. So please support on: www.petitions24.com/a/91939.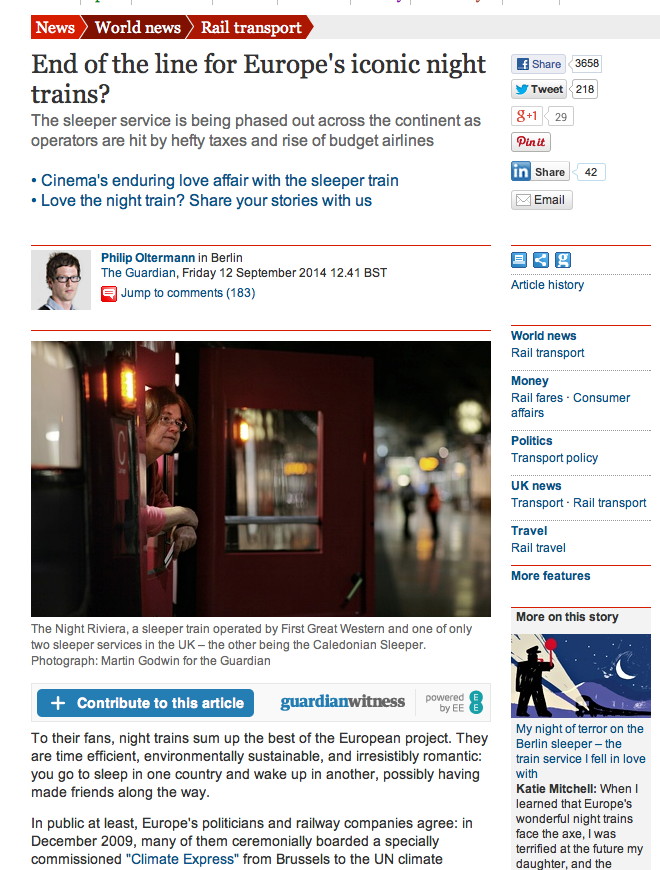 An article on the topic of vanishing night services has recently been published by The Guardian here.

---
24.09.2014 - Ex Luzern trolleybuses in Valparaíso
Several of the 10 ex Luzern NAM trolleybuses have already arrived at their new home in Chile. For more information and updates, check www.trolleybusvalparaiso.blogspot.ch
---
24.09.2014 - Heritage trolleybuses
Reports on bahnhofplatz.net indicate that VBZ has sold two of its four preserved trolleybuses to Rétrobus. The two units disposed of are:

- number 53 of 1939 (Saurer 4 TP). Upon withdrawal from Zürich this unit saw further service in Neuchâtel as number 6. It was later returned to Zürich as a heriatge bus, but retains its Neuchâtel yellow livery.

- number 1 of 1957 (FBW Tr 51).

Remaining in Zürich are:

- number 102 of 1959 (FBW GTr 51, articulated), of which sister units 105 and 129 still exist in Valaraíso.

- number 70 of 1974 (FBW GTr 91, articulated)
Their status as "preserved" is to be set in inverted commas, as to my knowledge no attempts were ever made to restore any of these vehicles to operating condition. It was even extremely rare for them to be even officially made available for public viewing. Rétrobus has acquired such a large collection that it is unlikely any Zürich units will be prioritised for restoration. But maybe this move can provide them a safe home in expectation of better times. Several diesel heritage buses have also been transferred to new owners. With VBZ under increasing pressure to achieve more with less, the luxury of having heriatge buses sleeping in a far corner of a depot are alas a thing of the past, and it is to be expected that the fleet will be decreased further.
A more positive development can be reported from Winterthur, where apparently FBW GTr 51 number 101 of 1958 has been overhauled (this trolleybus is related to VBZ 102 mentioned above). Further details of this restoration are at present lacking.
---
22.09.2014 - Basel gets its first Flexity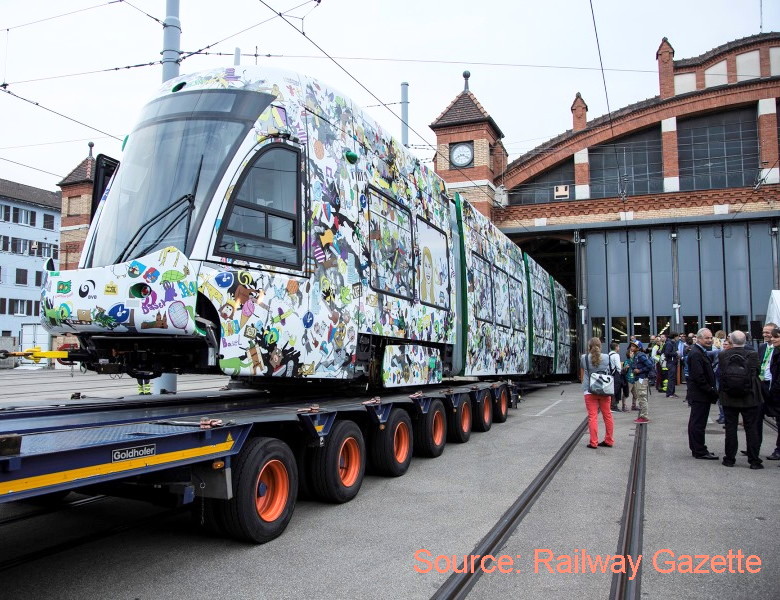 BVB's first Flexity was delivered on 4th September. A total of 61 of these trams were ordered in 2011. The new tram will be presented to the public at an open day on 8th November. This and a second tram will be used for testing, with series delivery not commencing until mid 2015 from when two 7-section trams will be delivered per month. The 5-section trams will then follow from 2017.
The livery of the test trams was designed by children, and will indicate that these trams are not in service. When testing is completed they will be repainted green.
---
11.09.2014 - Bring back a Geneva trolleybus from Valparaíso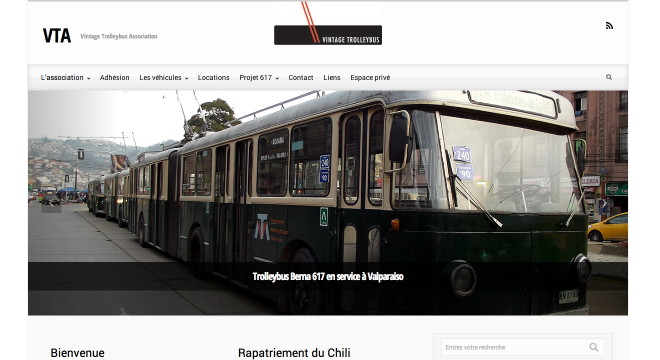 This website recently reported on the 10 ex-Luzern trolleybuses crossing the Atlantic to Valparaíso, giving that system a much needed injection of modern equipment. Now it seems an ex-Genève trolleybus may be making the return journey. An association has been formed in Geneva to bring about the repatriation of 617. This articulated trolleybus was one of 21 built by Berna / Schlieren / Sécheron and operated in Geneva from 1965 until 1991. 14 of the type were then sold to Valparaíso with 5 entering service and the others being used for spares. 617 is the last of these to remain operational.
Besides seeking to repatriate 617 and operate it on its home system, the newly formed VTA (Vintage Trolleybus Association) is also seeking to save two more modern trolleybuses currently still part of the active fleet. These are 666 of 1982 and 681 of 1987. VTA would be happy to accept any support for its goals.
It is wonderfulness to see a new association formed with such noble and support-worthy goals. It would be wonderful if one day in Zürich too a similar association could bring some of the surviving old trolleybuses back to the streets.
---
29.08.2014 - Bernmobil seeks 40 new trams
Bernmobil is seeking to acquire 40 new trams. 20 of these will be required for the new Köniz - Ostermundigen tram route and 20 to replace older trams. The trams coming up for replacement are the Vevey cars (731-742) of 1989-90 and the Tram 2000s (81-89) on lease from RBS of 1987-88 (extended with low-floor sections in 2010) — how 12 plus 9 makes 20 is not explained. If the communities of Bern, Köniz und Ostermundigen approve the new tram route on 28th September, Bernmobil will commence the acquisition process with the hope of determining a supplier in 2015 and deliveries between 2018 and 2024.
Bernmobil will also be replacing its 20 trolleybuses by 2020. Tests have already been performed using a borrowed Zürich trolleybus to evaluate running without overhead lines for a section outside the parliament building.
bahnhofplatz.net (citing Der Bund)
---
26.08.2014 - Schaffhausen pushes to expand trolleybus system
Schaffhausen's trolleybus has seen a remarkable revival. Threatened with abandonment, the comeback from the brink began in 2008 when the city decided to retain and renew the system. This was followed in 2010 by an order for seven new trolleybuses, renewing the entire fleet. A new substation was also installed and a new maintenace vehicle acquired. However, the recommendations of the 2008 study went further than merely replacing what already existed. The study proposed electrification of a second route to create operating synergies. This is precisely what Schaffhausen is now planning to do.
An electrification of route 3 (Sommerwise - Krummacker) will cost 13 million CHF, of which 9 million for the overhead lines and 4 for substations. Furthermore, seven new trolleybuses will be required. Besides synergies with route 1, advantages are identified in the suitability of trolleybuses to the hilly nature of the route, noise reduction and environemntal objectives.
Schaffhausen is presently applying for federal support for this programme.
---
26.08.2014 - La Chaux de Fonds Solaris goes to Budapest
The final death knell of the (presently officially suspended but effectively closed) La Chaux de Fonds trolleybus has not yet been spoken, but it has long been a forgone conclusion. This is not helped, of course, by the system's three Solaris trolleybuses being sold to Budapest. They will be delivered to their new home at the end of this year.
---
19.08.2014 - Petition for Salzburg's Gunter Mackinger
Gunter Mackinger, director of Salzburg's transport system, has long been an untiring advocate of trolleybuses, championing the mode in times that it is not universally popular. He is internationally recognized as an expert and his opinions and example have over the years been a pillar of the worldwide trolleybus cause.
Unexpectedly, however, he has been removed from office from 31st July and placed in an advisory role. Officially this is explained with the need to restructure the undertaking. Inofficially, the decison appears to be politically motivated, and could well turn out to be the beginning of a broader attack on the trolleybus system.
A petition has been launched in favour of reinstating Mackinger. This petition can be signed on http://secure.avaaz.org/de/petition/petition_53ed124e82477/ .
Please support.
Trolleybus Yahoogroup
---
14.08.2014 - The quest for safety on Glattalbahn
Follwoing a continuing spate of crossing accidents on Glattalbahn (the new brighter livery introduced last year didn't help), further crossings are being fitted with barriers. One Cobra tram is furthermore experimentaly fitted with a third headlight, railway style.
---
Swisstrolley4 was loaned to Bern for demonstration purposes.
GTZs still in service are 106, 122, 129, 131, 137 and 142
---
31.07.2014 - More uncertainty surrounds new tram order
There is still no definite news about the new tram order, but plenty of indefinite rumours. An article in Handelszeitung suggests that VBZ and ZVV have differing opinions over which model to chose. According to the source, VBZ had expressed a preference for Bombardier's offering, with that of Siemens being ranked second. ZVV's preferences were not indicated.
---
31.07.2014 - 3034: as a phoenix from the ashes
Cobra 3034, which was damaged by arson in January 2013 (at the time I mistakenly reported it as 3043) finally returned to traffic in late June. The cost of the repair has not been revealed, but two segments had to be sent to their birthplace in Bombardier's Bautzen factory.
---
31.07.2014 - Stadler closes Winterthur works
Following the delivery of the final Eem923 shunting locomotive to SBB, Stadler closed its Winterthur works. The event happened quietly and was hardly picked up by the press or media, maybe reflecting how this activity was already perceived as a thing of the past.
Winterthur can look back on 142 years of railway engineering under the world-renowned SLM (Schweizerische Lokomotiv und Maschinenfabrik). One part of the former SLM was spun off in the 1990s, with fresh hope being kindled when these were absorbed by Stadler in 2006.
Due to exchange rate developments, the seemingly unstoppable Stadler found difficult acquiring export orders for its Swiss plants (although this is offset by some positive growth for its foreign operations). Some of the Winterthur staff could be transferred to other Stadler sites, but information from official sources remains vague.
Schweizer Eisenbahn Revue 8-9/2014
---
31.07.2014 - More retrenchment of CNL services
The retrenchment of night trains is continuing its tragic course. December of this year will see the loss of the CNL (CityNightLine) Basel-Copenhahen and all Paris trains. At least the Paris train is still well patronized but CNL wishes to withdraw the Schindler double-decker sleeping cars (which despite being relatively modern, are not proving as reliable as desired). With no new rolling stock in sight, further retrenchments seem likely as the present fleet shrinks.
Schweizer Eisenbahn Revue 8-9/2014
---
28.06.2014 - Stadler tender for VBZ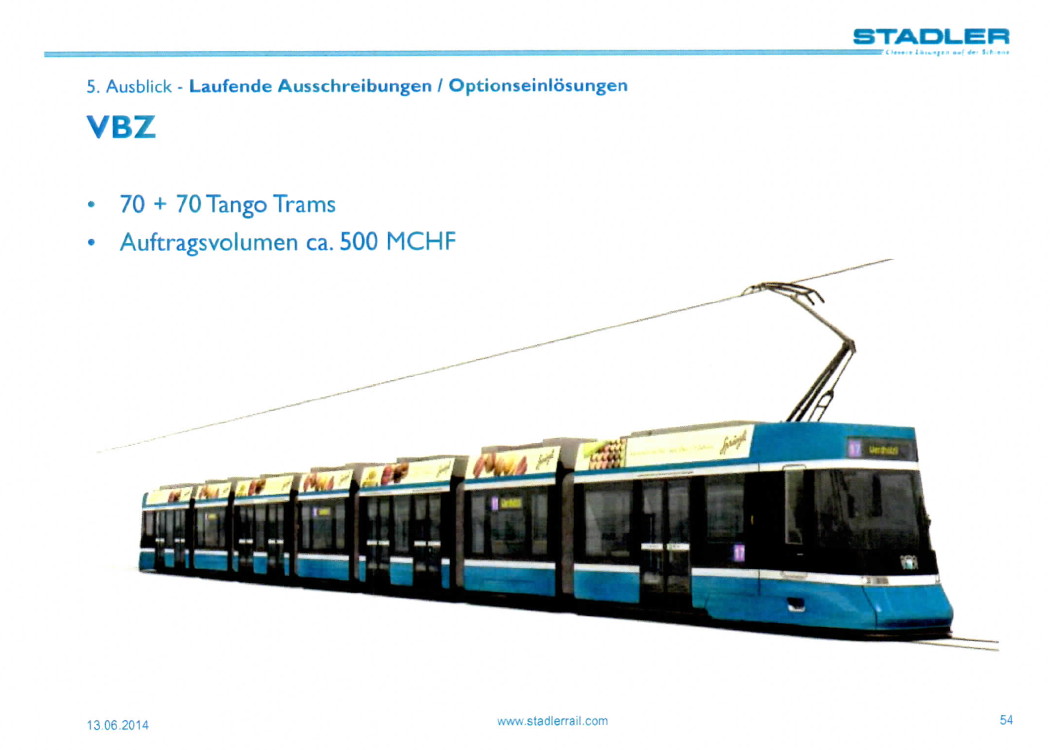 There is still no news on Zürich's decision on the new tram order. But for those interested in what Stadler may offer, an interesting artist's impression has appeared in the 2014 Stadler Press Conference pack. Stadler was unable to offer the BLT-type Tango to Zürich as VBZ specified an all low-floor tram. The illustrated car looks as it may be a hybrid of the BLT Tango and the classic Variobahn. But it may equally by an artist's doodle with little connection to what is being proposed. Only time will tell.
In terms of styling, the proposed Tango bears a resemblance to the earlier proposals for Cobra.
Die Stadler Rail Grouo Jahrespressekonferenz 14 Juni 2014
---
28.06.2014 - Limmattalbahn depot
Limmattalbahn has chosen a site for its depot. The depot will be built at the "Müsli" site (nothing to do with breakfast cereal), adjoining the SBB Limmattal marshaling yard between Dietikon and Spreitenbach. The depot will provide space for 14 trams.
---
13.06.2014 - Durchmesserlinie opens this Saturday
Zürich's new cross city rail link, Durchmesserlinie, is to open this Saturday (14th June 2014). Regular S-Bahn operations will commence on Sunday. Long distance trains will commence using the service from December 2015.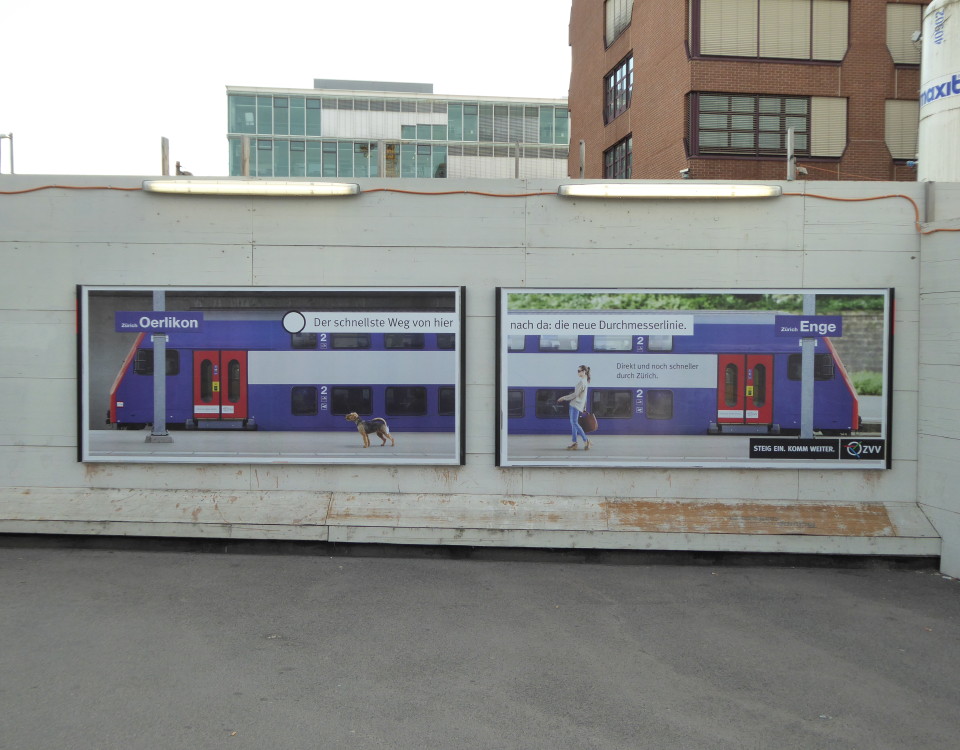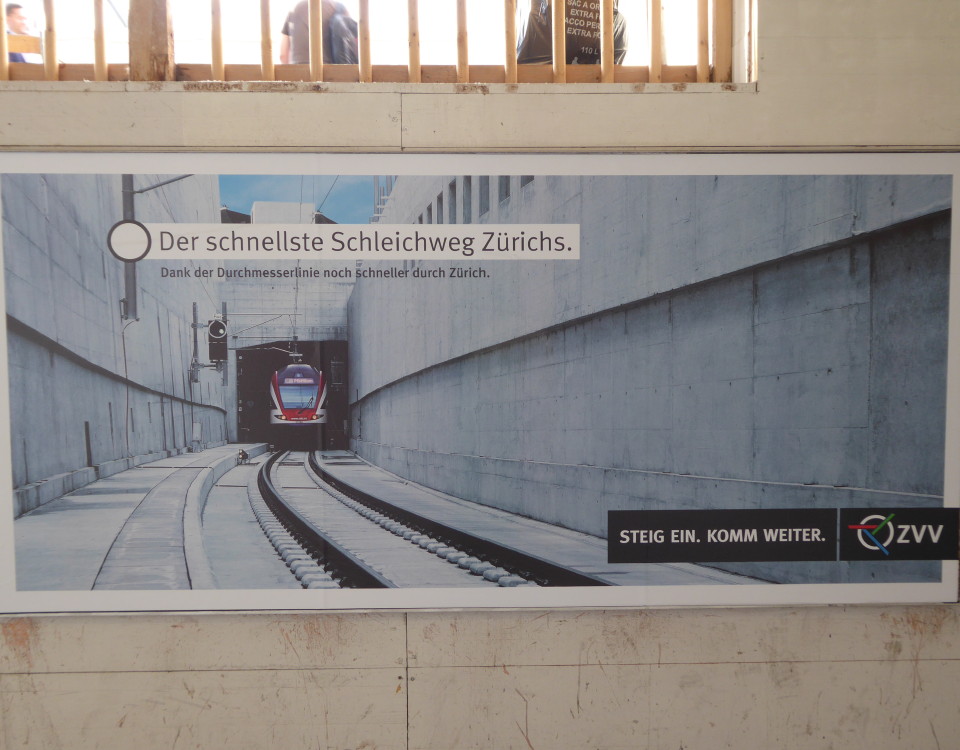 ---
21.05.2014 - Uetliberg tram becomes a bistro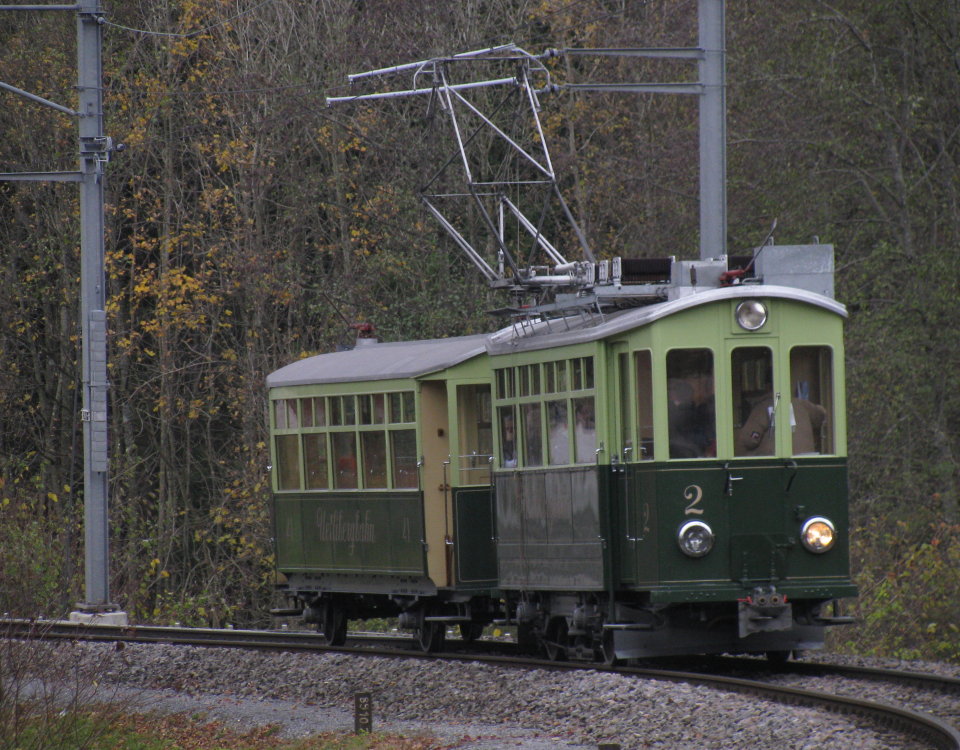 At the end of 2008, SZU celebrated a farewell tour for its "Uetliberg tram" Ce 2/2 2 + C 41. This set, dating from the electrification of the line in the 1920s had been retained by SZU as a heritage set. However, the combination of infrequent use and shortage of depot space led to the decision to part with this jewel. At the time it was said that the set would go to he transport museum in Luzern and might even return to the SZU for special occasions. Sadly, the transport museum could not offer the set a permanent space. With the five years of its stay now over, the historic set was once again homeless.
The set has been saved by a venture seeking to convert it to bistro at Lagerplatz in Winterthur. More information on Lagerplatz is available on their webiste www.lagerplatz.ch (but as yet no coverage of this project).
C 42, sister unit of C 41, was damaged in a shunting incident in 2002 and later scrapped in a rescue exercise.
---
20.05.2014 - Genève: TOSA bus update
Looking back on the TOSA trial ten months on, the prototype has operated on average three to four days per week and accumulated 8000km without any major problems or failures. The price of energy consumed is 30% lower than that of an equivalent diesel.
TPG planns to deploy vehicles of this type of route 23 from 2016. Route 23 is presently a diesel route. The decision not to use it as an immediate trolleybus replacement as previously suggested is good news.
Tram magazine 05-07.2014
---
20.05.2014 - Durchmesserlinie to open in June
Zürich's new cross-city tunnel, Durchmesserlinie, is to be opened on 15th June. Initially the line will be used only by S-Bahn trains, but once remaining work is completed, long distance trains will start using it from December 2015.
The tunnel essentially peels off the present line west of Oerlikon station to then form an elongated underground S permitting Hauptbahnhof to be approached from the east. The line will have four underground platforms at Hauptbahnhof. Beyond these platform the line will rise to the surface and feed into the station throat. However, a viaduct (presently still under construction) will commence here re-joining the main line at Altstetten. Oerlikon is also being widened from 6 to 8 platforms.
Tram magazine 05-07.2014
---
19.05.2014 - Electric bus future
An article in westnetz.ch looks at VBZ's future bus strategy. VBZ recognizes electric traction as the way forwards. With trams already being electric, focus will be on more electric power for the buses. This policy will be reflected in a mix of trolleybus, batter bus and hybrid bus operation.
A hybrid bus is presently already under evaluation and experiences gained with this vehicle will flow into the next bus acquisition, whose delivery should begin in December 2015.
Battery buses could appear on the Quartierbusse (the shorter bus routes with lighter traffic serving the neighborhoods).
Of interest for the trolleybus system is the objective to make more use of the on-board batteries fitted to the newer vehicles for travelling shorter distances without wires, for example to eliminate complex junctions and their customized and expensive overhead lines. Field trials will be conducted to evaluate the efficient de and rewiring of trolleybuses in such locations. The article also mentions the proposed electrification of the 69 and 80.
---
19.05.2014 - BVB's Pedaler snowplough withdrawn
BVB's (the other BVB: Bex-Vilars-Brettaye) snow plough 1501 has been withdrawn last year. The Xe 4/4 is/was rebuilt VBZ Pedaler (lightweight standard tram) Be 4/4 1501 (originally 401).
Tram magazine 05-07.2014
---
19.05.2014 - Winterthur to add trolleybus route
Winterthur is planning to add a new trolleybus route. The 22 will be a peak-only short-working of the 2 between Schloss Wülflingen and Waldegg.
Tram magazine 05-07.2014
---
19.05.2014 - Zürich trolleybus update
The two new Lightrams, 90 and 91, have been in service since April.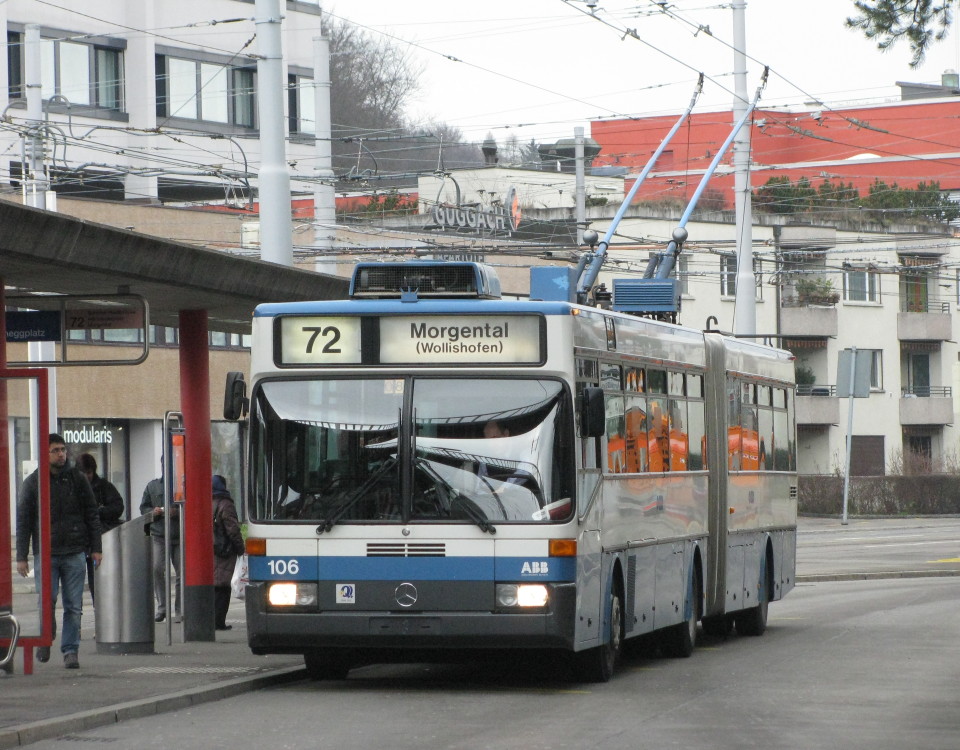 Also withdrawn in March and April were O405 GTZ numbers 115, 124, 137 and 140 (140 was one of the pair used in the farewell tour last year). However, 137 has since been reinstated. 124 and 140 are being dismantled for spares. This leaves seven active trolleybuses of this type in service: 106, 113, 122, 129, 131, 137 and 142, of which at least 106 and 122 have received inspections approving their continued deployment until March 2015.
On the topic of future development of the network, VBZ is planning to join the peak-only trolleybus route 71 (only created last December) to the peak-only bus route 95 from this December. As the 95 is not electrified, the new route would have to be diesel-operated throughout. This will probably spell the end of more of the GTZs (route 71 currently requires three units). As previously discussed, the proposed cutting back of route 31 from Schlieren to Bahnhof Altstetten (for construction of Limmattal light rail) will release Lightrams permitting route 31 to be extended at its other end by taking over route 34 to Witikon. But the future of the trolleybus system does not about to just be about consolidation. Despite proposed electrification of the (presently diesel operated) route 69 not being financed, planning of the work is to start in 2014. It is envisaged to operate double-articulated trolleybuses on this hilly route serving the Hönngerberg university campus. Electrification of the 80, which also serves this site, is equally still on the cards.
bahnhofplatz.net furthermore reports that GTZ number 10, the mysterious survivor of the first batch, which has long languished in storage, has now been obtained by Retrobus, joining sister unit 102.
---
02.04.2014 - Valparaíso to get Luzern trolleybuses
10 non-articulated trolleybuses from Luzern are set to make the long journey to Valparaíso. Valparaíso is Chile's only trolleybus system. The fleet already includes former Swiss trolleybuses fromn several Swiss cities (including two from Zürich) as well as Ameican-built trolleybuses from the 1950s. There were at a time rumours that the city might be acquiring ex-Winterthur GTZs, but these attempts did not prove fruitful.
---
02.04.2014 - Dining car used as restaurant in Oerlikon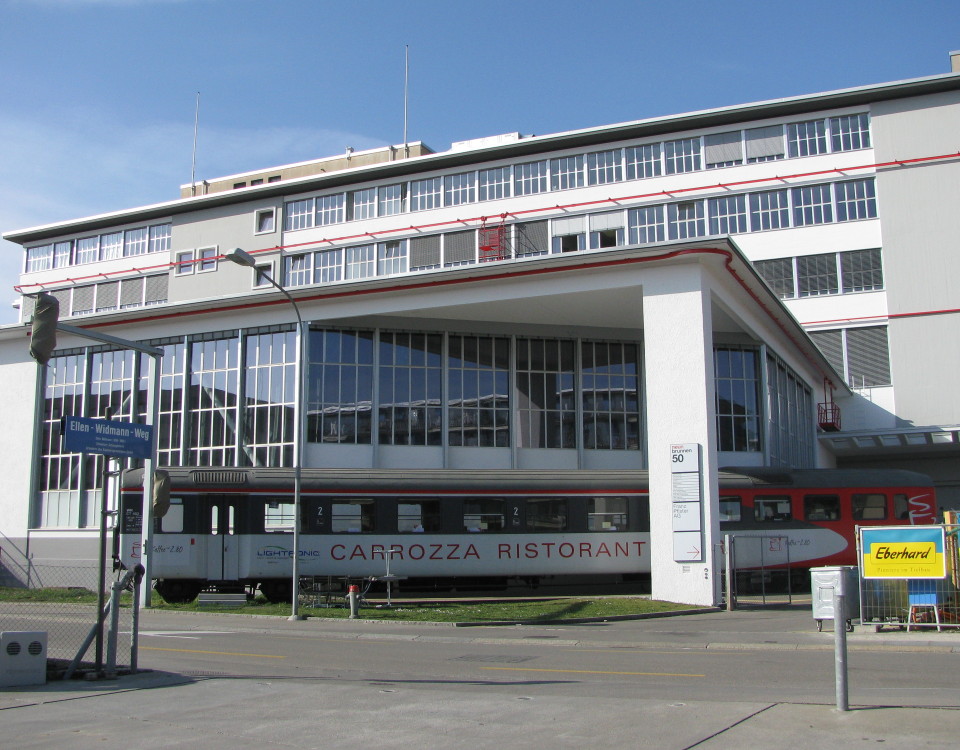 An old dining car has found a new lease of life as a restaurant in Oerlikon. The car sets on an industrial siding in Neubrunnenstrasse, where it will remain until probably 2015. The restaurant is open on weekdays for lunch. The car is ex SOB WR 452 which has already had a previous mention on this newslog. It was the restaurant car that ran in SOB's Gipfelexpress between Zürich Altstetten and Einsiedeln until 2008.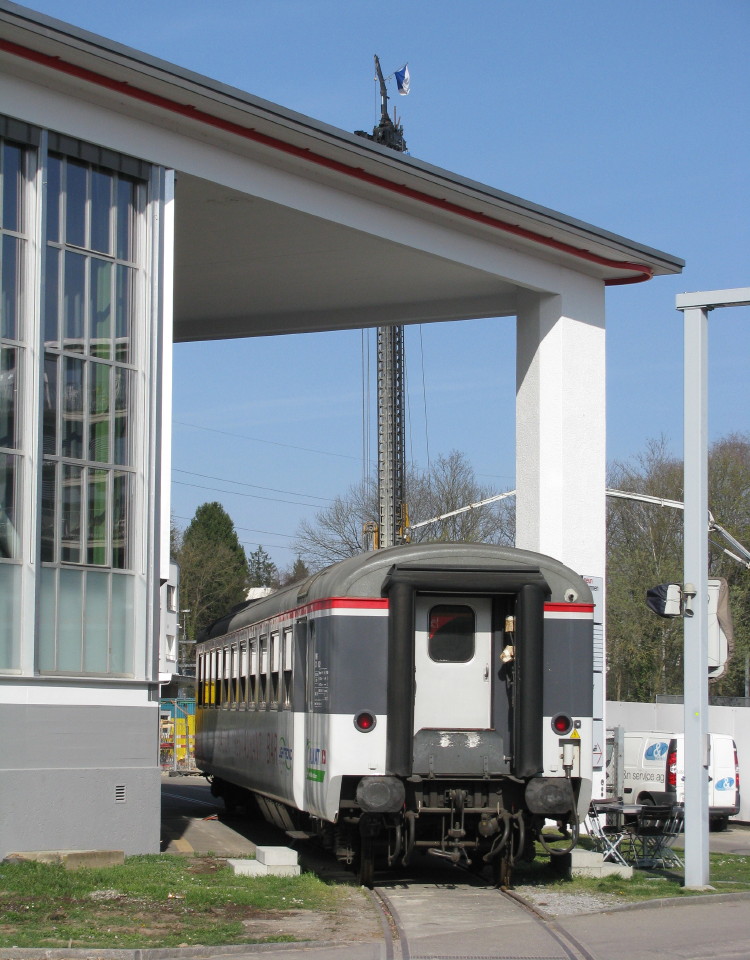 Schweizer Eisenbahn Revue

---
02.04.2014 - CNL night trains lose dining cars
Following on from previous sad reports on the degradation of long distance trains, I have learn that DB is dropping dining car service from its CNL night trains from the beginning of April. A choice of drinks and snacks will continue to be available from staff.
Schweizer Eisenbahn Revue
---
02.04.2014 - Epitaph to Basel trolleybus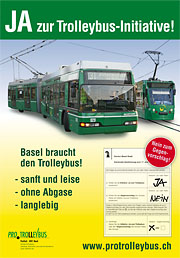 In 2008 Basel abolished its trolleybus. BVB and the city council convinced voters to approve the measure by promising them clean and environmental gas buses. Originally these would have used compost gas, but this was later corrected as being natural gas. With these gas buses now up for premature replacement, the next generation will be of normal diesel buses. So a salami tactic of false and misleading promises has destroyed a trolleybus system.

---
02.04.2014 - An additional Flexity for Basel
BVB is to receive 61 Flexity trams from Bombardier rather than 60 as previously planned. The reason being the formula used to adapt for inflation would have qualified BVB for a refund. Instead they opted for an additional tram. The first Flexity will arrive in the third quarter of this year.
Schweizer Eisenbahn Revue
---
18.03.2014 - Witikon to get direct trolleybus link from central Zürich
Trolleybus route 34 has long been somewhat special. In Zürich trolleybuses are not otherwise found on such peripheral feeder routes. The inhabitants of Witikon, however, have long been petitioning for a direct link to central Zürich. If current plans come to fruition, their desire will be granted in 2017 with the 31 and 34 being joined into a single route. 2017 is also the year that the 31 will be cut back at its other end (Altstetten to Schlieren) to permit construction of the Limmattalbahn tram, making the double-articulated trolleybuses available for this extension.
---
18.03.2014 - New trolleybus arriving
The two additional Lightrams ordered last year will be delivered this month.
Meanwhile, GTZ 115 was withdrawn earlier this month. On the other hand 106 and 113 have received overhauls that may extend their working lives by another year.
---
18.03.2014 - Basel trolleybus and tram 1989
A great Youtube find: footage from Basel in 1989.
---
18.03.2014 - Photo update: Freiburg tram extends to Gundelfingen
My latest photo update with the opening of Freiburg's extension to Gundelfingen.
---
04.03.2014 - Pictures from Vinnitsa
Readers interested in the ex-Zürich trams in Vinnitsa will enjoy this page of Drehscheibe Foren.
Thanks to user Martin S. of bahnhofplatz.net for finding this gem.
---
04.03.2014 - Basel trams on Youtube
I have uploaded a short recent movie of random BVB and BLT tram movements on Centralbahnplatz to Youtube.
---
26.02.2014 - GTZ trolleybuses, the final months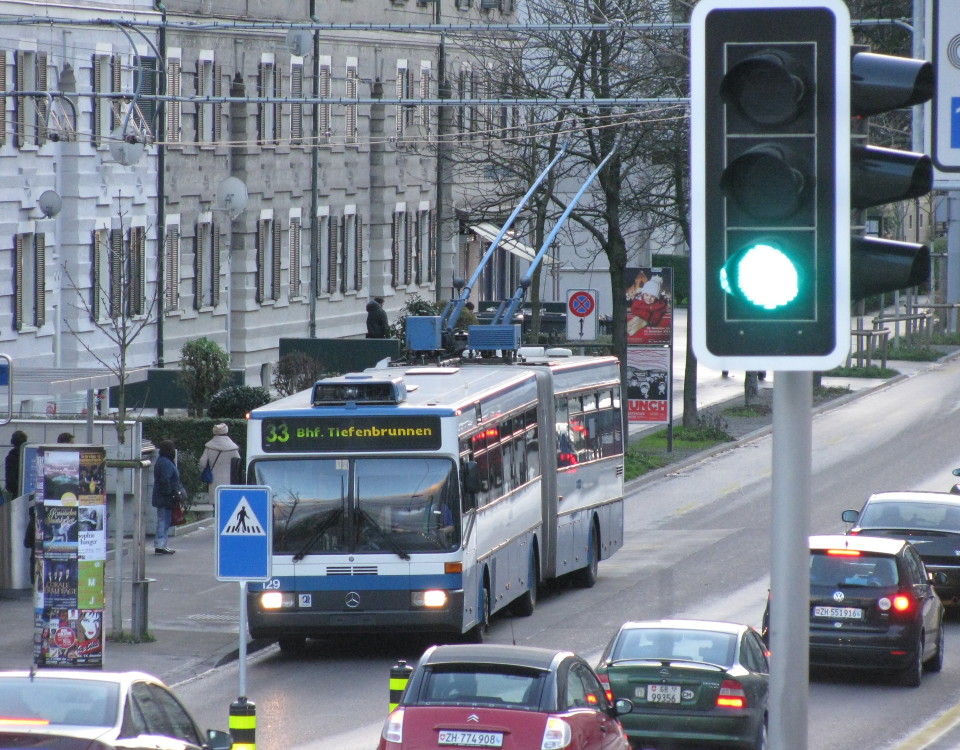 With delivery of Swisstrolleys being completed in September, withdrawal of Mercedes/ABB GTZs came to a temporary halt. 10 units presently remaining in service (according to my notes, these are 106, 113, 115, 122, 124, 129, 131, 137, 140 and 142). It was announced last year, that they would remain until April. Two Lightrams are still to be delivered, but beyond this no further trolleybus acquisitions are in the immediate planning. It is not clear whether there is any connection, but there are apparently six diesel buses on order that could replace the remaining GTZs, at least for the interim period until Tram Hardbrücke opens (in 2017), making route 71 superfluous. So ride and photograph these trolleybuses while you can!
On the topic of GTZ disposals, it was 133's turn to be scrapped on 19th February. This was one of the vehicles withdrawn last year.
---
My latest photo update is a rather random collection of tram and rail scenes from Switzerland and Spain.
---
26.02.2014 - San Francisco's "Zürich" tram back in action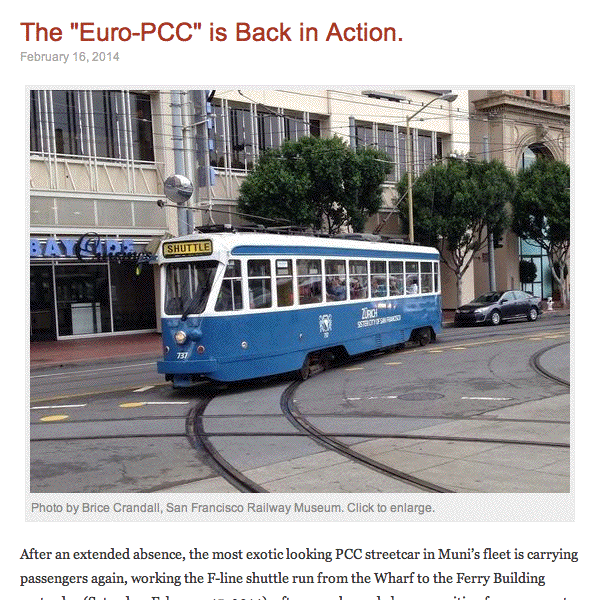 San Francisco's Market Street Railway website reports that the city's "Zürich" tram is back in service.

---
11.02.2014 - Model trams: Navemo to produce Swiss Standard Tram


The long-anounced Swiss Standard Tram models by Navemo are to be launched this Summer, according to this announcement on Navemo's website. According to the announcement, variants for both Zürich (old and new liveries) and Bern are being prepared. The pictures do not as yet represent the final model.
---
09.02.2014 - FABI: More money for the railway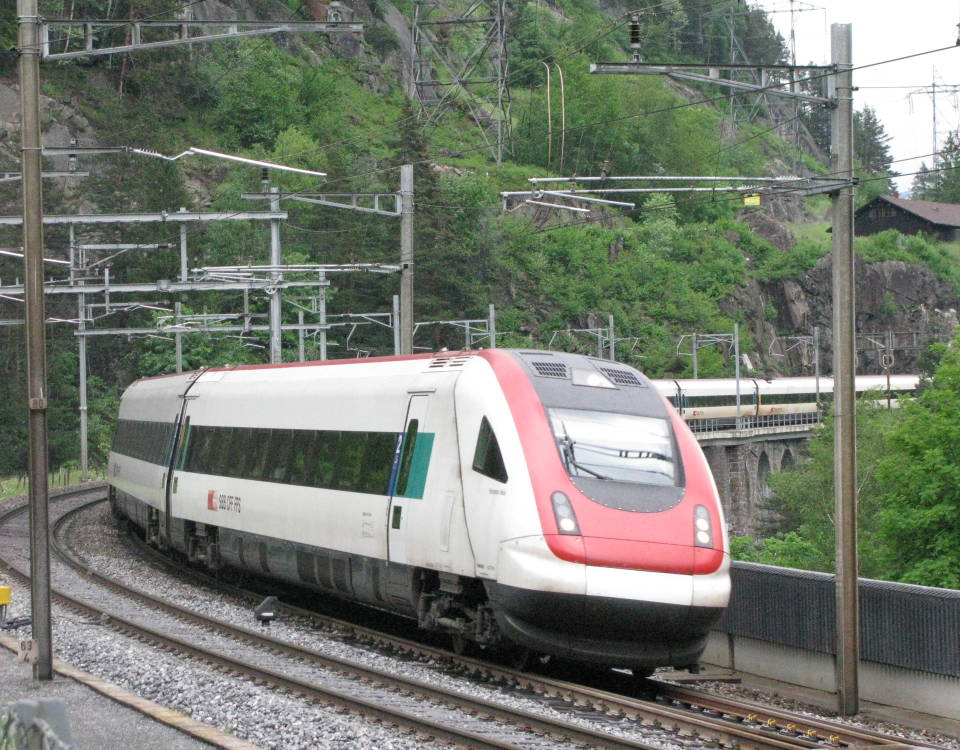 One of the items in this weekend's referenda was FABI, a law that will provide more money for the railway, enhancing capacity on certain lines and nodes permitting service frequencies to be increased. Continuing in tradition of major rail projects, 62 percent of voters approved FABI. The proposal was put forwards by federal government after its hand was forced by pro-rail groups asking for more far-reaching measures.

---
09.02.2014 - New trams: The rumour mill rumbles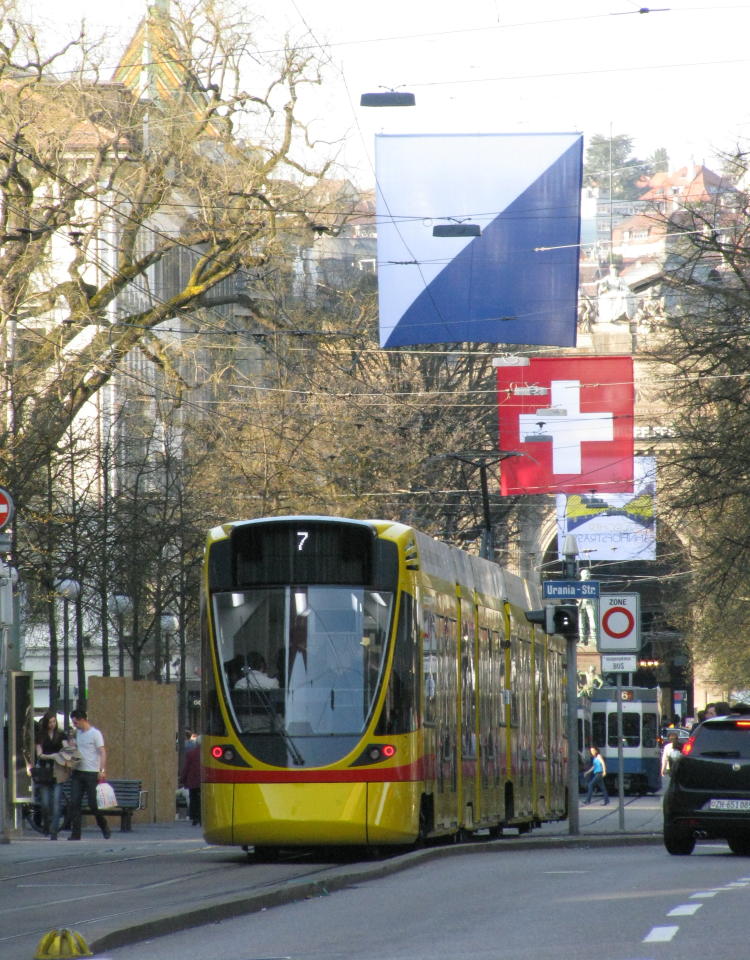 No, you haven't missed it. The decision on Zürich's new trams is still being awaited with baited breath. According to an article in Handelszeitung, the main competitors are now Siemens and Stadler, with Stadler proposing a variant of its Tango type.
---
24.01.2014 - London: Routemaster operation of route 9 to cease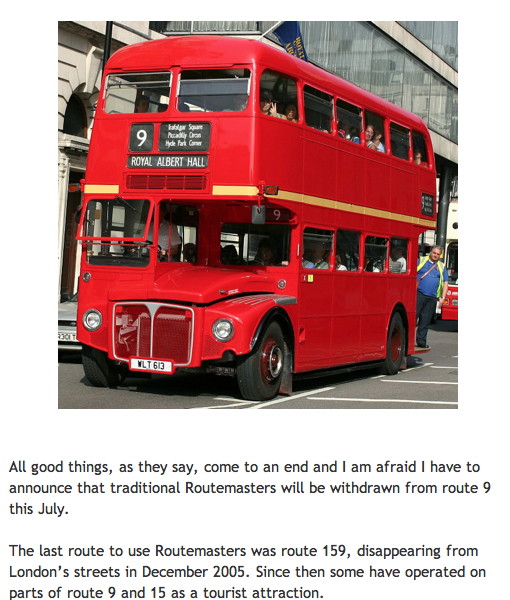 Off topic, but maybe of interest is the sad news that heritage Routemaster operation of London's route 9 is to cease this July. After this only the 15 will continue to operate with heritage Routemasters.
---
24.01.2014 - Appenzellerbahn choses Tango
Appenzellerbahn has ordered seven Tango trams from Stadler. These will operate the future through service between Trogen and Teufen. The older Stadler units of Trogenerbahn will be retained (the timetable requiring eight units in service) but the older BDe4/8 are to be sold, possibly to Rittnerbahn (Austria).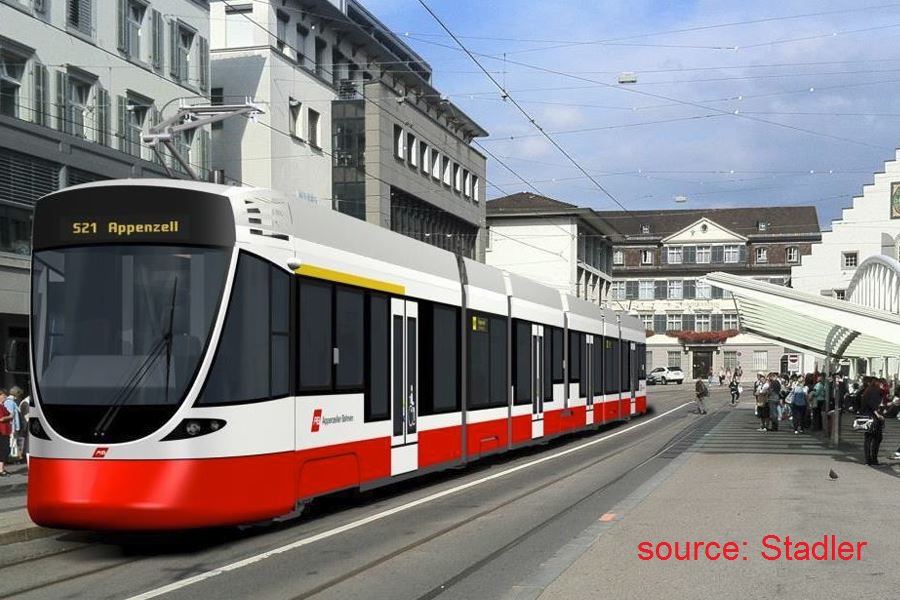 ---
23.01.2014 - The Zürich tram in San Francisco
Back in 2005, this newslog reported that to mark Zürich's sister city relationship with San Francisco, that the latter city was to run a Zürich tram (actually a Bruxelles PCC painted in VBZ colours) on its heritage F route. Technical issues eventually curtailed the operation of 737, but according to San Francisco's Market Street Railway website, the car is soon to return, and has recently been seen under test.

---
22.01.2014 - Cobra 3034: Repairs in progress
I have been asked about the status of Cobra number 3034, which was the victim of an arson attack on 1st January 2013 (at the time I erroneously reported the number as 3043). Initially it was not clear whether the tram could be saved, but later a repair was deemed to be viable. Progress has been slow, not least as work took second place to the more routine maintenance and repairs required to keep the rest of the fleet rolling. The rate of dismantling was impeded by the severely scorched condition of many of the parts. Two body segments were found to have suffered structural damage and were sent to Bombardier in Bautzen, Germany (where the body segments were built) for rebuilding. A return to traffic is presently expected around Easter. VBZ has produced the video below showing scenes of the repair so far.
---
21.01.2014 - Durchmesserlinie approaching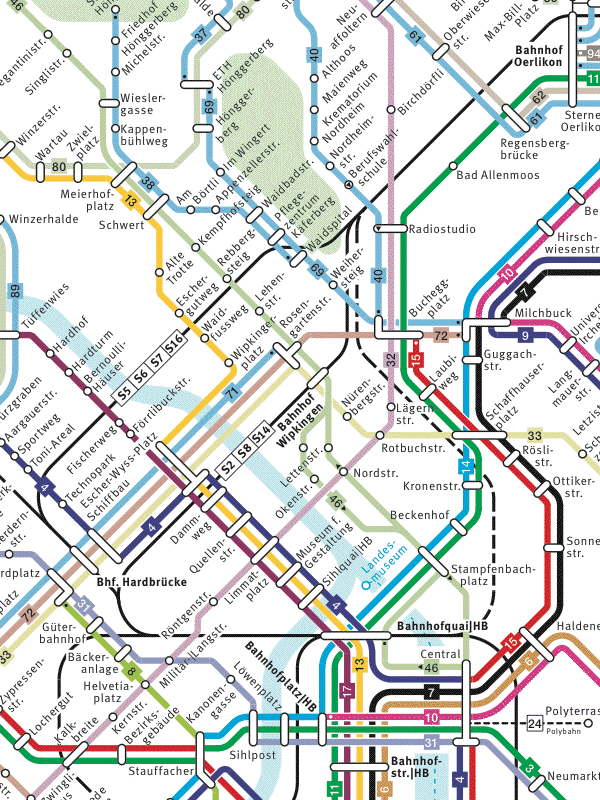 Spotted today: The new route maps already depict Zürich's new cross-city rail link, Durchmesserlinie (albeit as a dotted line). The line is slated to open this summer for S-Bahn traffic, and at the end of the year for long-distance trains.
---
21.01.2014 - Canton supports tram re-routing in Altstetten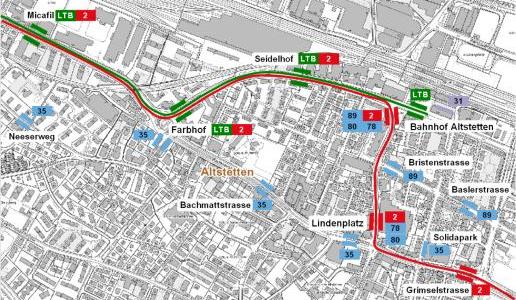 In the debate around the re-routing of the Alstetten tram (replacing its present direct route between Lindenplatz and Farbhof with a dog leg via Bahnhof Altstetten) the city council recently voted in line with the local desire to preserve the present alignment. The cantonal parliament, however, has now taken the contrarian view and wants to continue with the project as planned.
---
15.01.2014 - Winterthur: Deutweg depot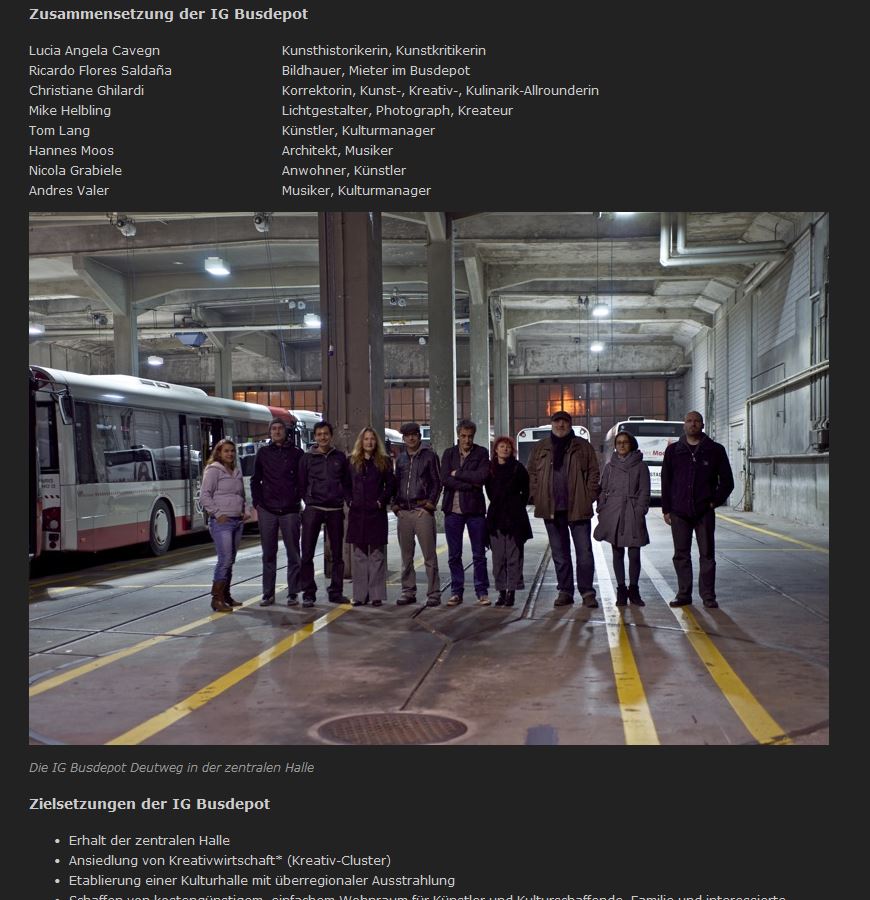 A group of artists in Winterthur are campaigning to save Deutweg bus depot. The structure will cease to serve as depot this year, with its functions being transferred to an extended facility at Grüzefeld. Whereas the city wishes to tear down the structure and redevelop the land residentially, IG Busdepot Deutweg is seeking to maintain the central shed as a centre for artists. Their website is here. The oldest part of the depot was completed in 1914, and originally served as the city's tram depot. Some of the pictures on the site show tram rails still in place. Winterthur's last tram line closed in 1951.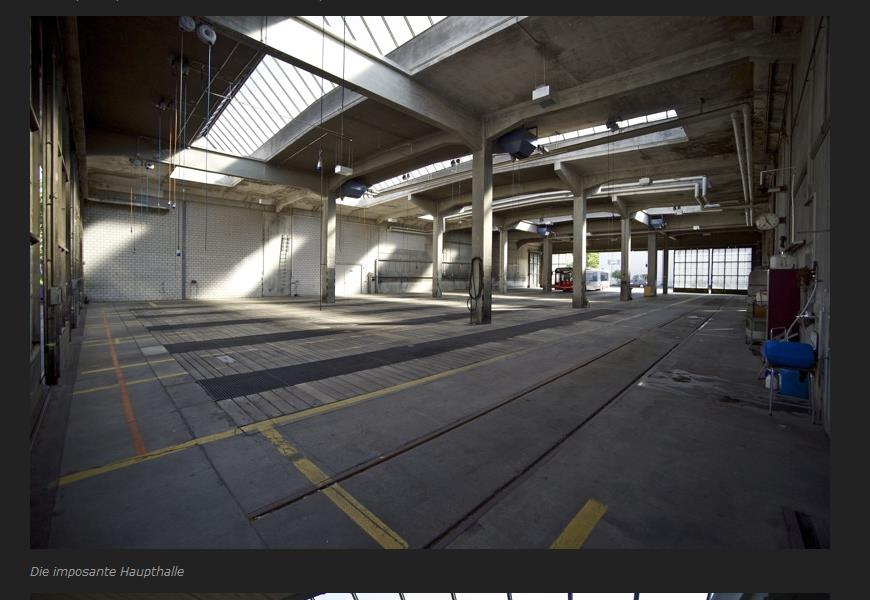 ---
15.01.2014 - Winterthur: new Swisstrolley to arrive shortly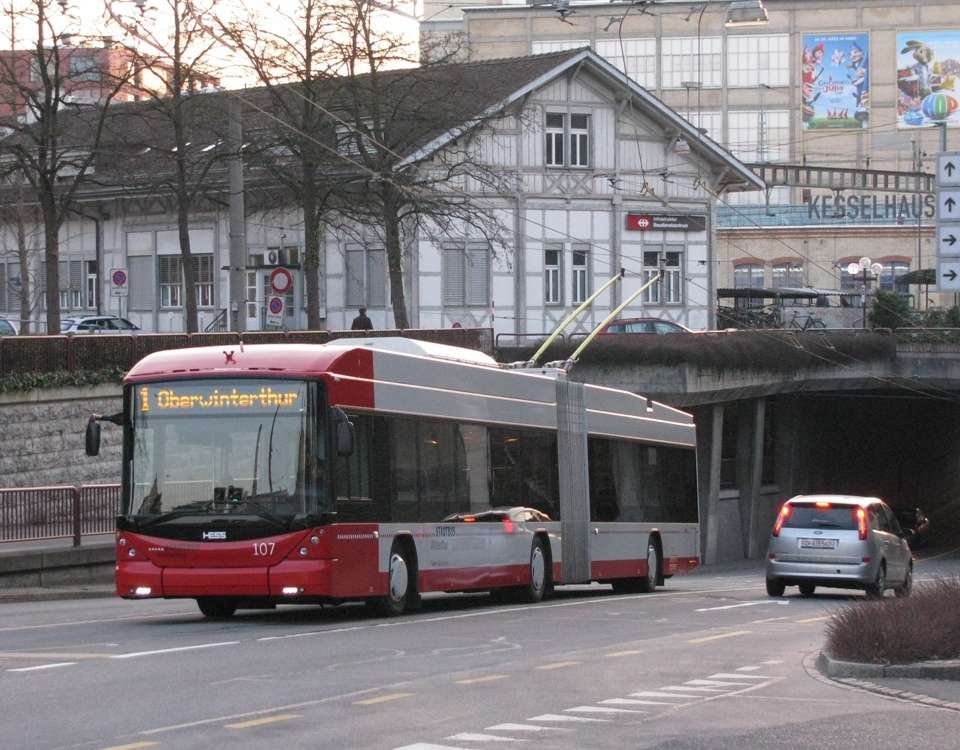 While on the subject of Winterthur, the new trolleybus is to arrive imminently, and could be in service on 22nd January. The addition vehicle will permit a shortening of peak headways on route 2.
---
14.01.2014 - Cargotram serves additional destination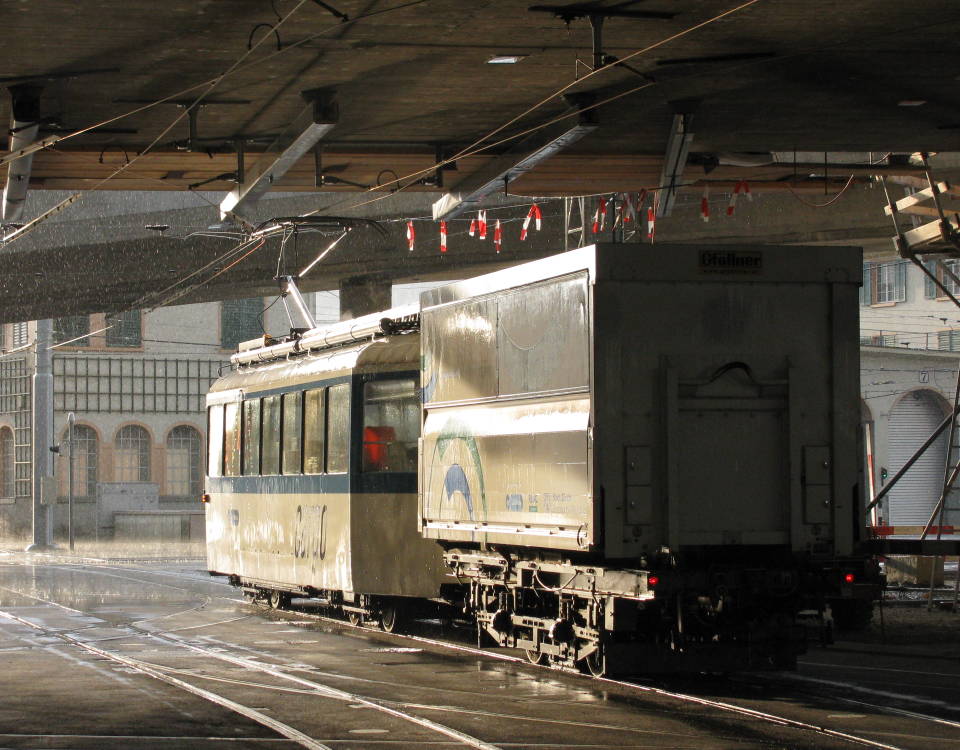 Scrutiny of the Cargotram (and E-tram) timetable shows a further destination has been added. Hard (Escher-Wyss-Platz depot) is served (commencing 11th January). This raises the number of destinations served to 10 (plus Strassenverkehrsamt which is listed as Cargotram in the timetable but is actually served by lorry) – the highest number yet. Cargotram/E-tram destinations are currently Albisrieden, Burgwies, Hirzenbach, Letzigrund, Seebach, Tiefenbrunnen, Hard, Irchel, Wartau and Wollishofen.

(click on timetable to enlarge)
Official Cargotram page

My Cargotram pages
---
I have added some pictures of a tram accident that occurred this morning, as well as recent views of French trams.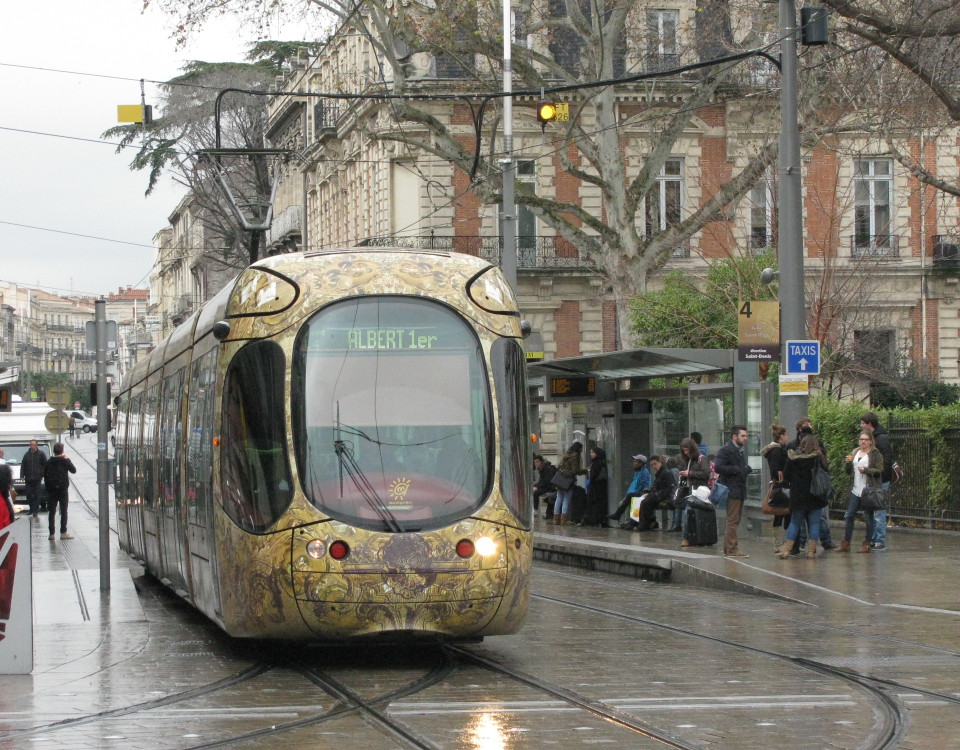 (or all together here)
---
10.01.2014 - City council wants to keep tram route 2 on present alignment
Zürich's city council has voted on Wednesday in favour of keeping tram route 2 on its present alignment in Altstetten, and is opposing the executive council who wants to take it off Badenerstrasse and build a detour via Bahnhof Altstetten. Altstetten residents fear that losing trams through the centre of their neighbourhood will erode its function and could cause businesses to move away, leading to an overall loss of livability. The re-alignment is being proposed in conjunction with Limmattalbahn.
Limmattalerzeitung
---
A Happy New Year to all readers.
All 2013 news items can now be found on www.proaktiva.ch/tram/zurich/newslog/2013.html.
The past year did not start too well, as the first news item announced that Cobra 3034 had been ravaged by fire. The ordering of the new trams that will replace the Tram 2000s of the 1970s batch has also slipped and an announcement is still being eagerly awaited. So much for the bad news. Otherwise the Zürich news was rather more upbeat in 2013. In terms of the route newtork, tram 17 has been extended to Albisgüli at peak times and extra services to the airport added. This is of course placing a squeeze on the fleet, but so far VBZ has coped well.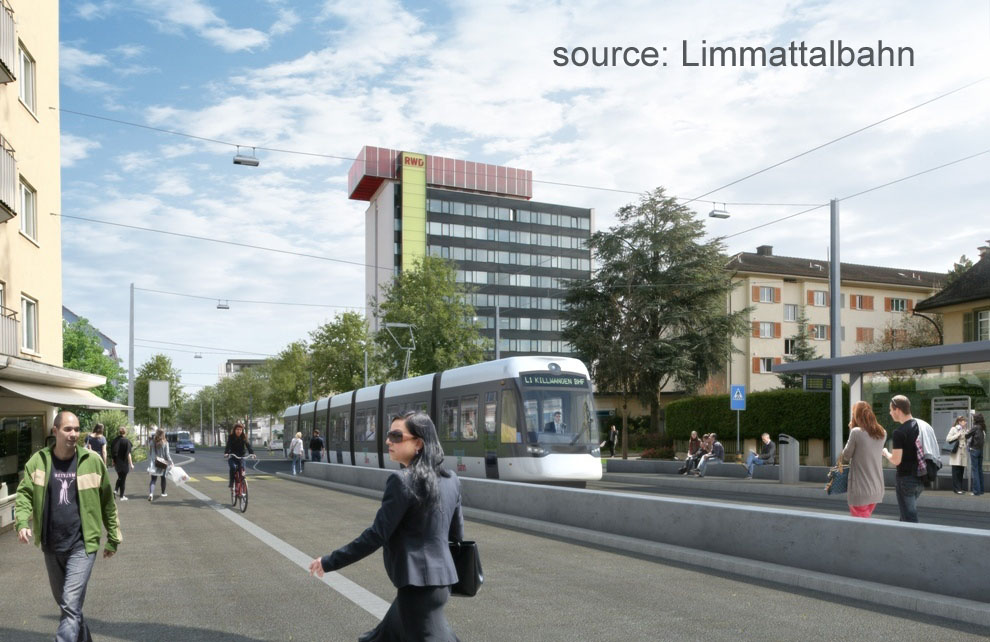 Planning for the future is also making good progress, with both Tram Hardbrücke and Limmattalbahn edging closer to reality, and Vision 2030 laying out a blueprint for VBZ's network of tomorrow.
In terms of preservation and museum news, the highlight of the year was undoubtedlly the return of Kurbeli 1379 and trailer 737 to Zürich (before being moved into storage).
And now to the trolleybuses: 2013 saw the delivery of the Hess Swisstrolley4s, 162-182. Together with Lightrams 87-89 (delivered in 2012), 21 new single-articulated trolleybuses and 12 new double-articulated are available, replacing in principle 43 Mercedes/ABB 0405 GTZ (101-143). The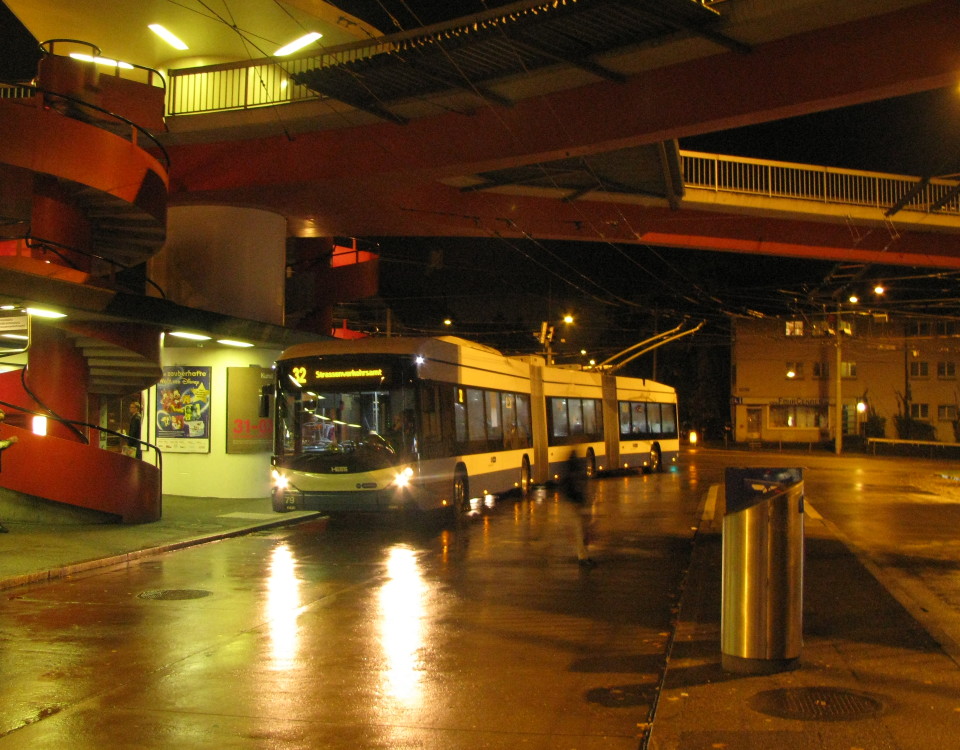 discrepancy of 10 trolleybuses is explained by higher capacity vehicles on route 32 permitting peak headways to be stretched and meaning four fewer trolleybuses are required. Furthermore, the exchanging of the Triemli - respectively Morgental - legs of routes 33 and 72 and the introduction of a relief route 71 while thinning out end-to-end workings slightly mean one vehicle can be economised here. The remaining shortfall is being covered by a small number of GTZs being retained in traffic a little longer. Presently there are about 10 of these remaining. They are turning 20 years old this year. In a move to replace these, two further Lightrams have been ordered for delivery in 2014. In the longer term the opening of the Hardbrücke tram link (in 2017) should reduce trolleybus operation on Hardbrücke (although diesel buses could be used as an intermediary, so there is no speculating how long these trolleybuses are safe).
However, if initial rumblings come to fruition, the trolleybus system may grow overall with the 69 possibly slated for electrification by 2016 and the 80 also being under consideration. On the preservation front, it sadly seems that no GTZ is being saved locally but Rétrobus has saved GTZ 102 as well as its Winterthur sister vehicles 147 and 149. Presently, Zürich's 106 is the city's only trolleybus to still sport display blinds rather than matrix displays, leaving it in close to its original condition. It would seem that the German dealership, Sturm, is still hanging onto Winterthur sister units.
---
next year | previous year | current year | other years | search.
return to Zürich tram home page.