Winpro is now Stadler Winterthur
filed on: 06.01.2006 (6th Jan 2006)
Winpro (the company that built the Sänfte low floor sections for Zürich's Tram 2000s) is now called Stadler Winterthur.
Winpro's origin lies in SLM (Schweizerische Lokomotiv- und Maschinenfabrik) which was founded by Charles Brown in Winterthur in 1871 and soon grew to export locomotives across the globe — one of its greatest strenghs being mountain railways. The company became part of Sulzer in 1961 but continued to trade under its own name. Various crises and downsizings hit SLM during the 1990s, with many sections being sold off or dissolved. This led to the company's focus shifting from locomotive engineering and manufacturing to service, repairs and components. Narrowly escaping closure, it was rebranded Sulzer-Winpro in 1998. Following a management buyout in 2001, the name was shortened to Winpro. In July 2004, Winpro signed an agreement with Stadler in which it took on service responsibilities for that company. When Winpro's director and main shareholder, Roland Michel, was killed by the 2004 Tsunami in south-east Asia, Stadler secured the company's survival by taking over his shares. On 5th January, Winpro formally became part of the Stadler Rail Group and will now trade under the name Stadler Winterthur.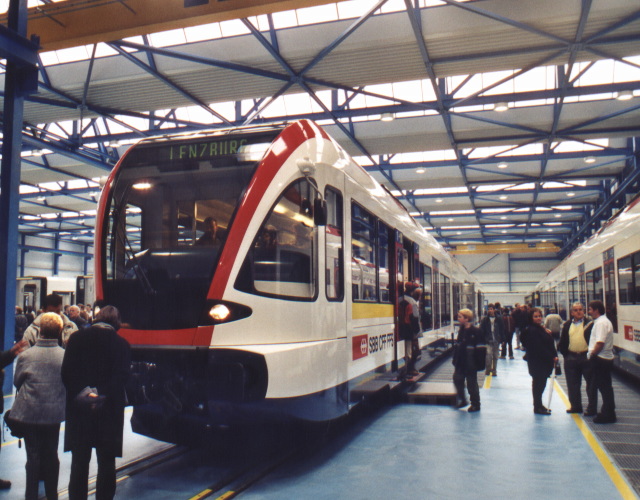 The story of Stadler is quite different. The company exists since 1942 but did not rise to much significance until Peter Spuhler took the reins in 1989. Under his leadership, Stadler has taken a significant portion of the Swiss light-rail market and is also growing its export market — all this in a period that Stadler's main national and international competitors are struggling with overcapacity, downsizing and disengagement. Stadler's first great success was with the GTW series of light rail units that it initially produced in cooperation with SLM. Other significant designs include the Regio-Shuttle railcar (taken over from Bombardier), the FLIRT suburban train, the Variobahn tram (also ex-Bombardier) and a bogie tram called Tango. Stadler's staff has grown from 20 in 1989 to about 1420 in 2005. It has taken over many works that its rivals intended to close and has filled them with new vitality. The dynamism of the company has made Spuhler a hero among railwaymen and the public alike. He has shown that small and medium sized companies still have a part to play in a market dominated by giants, and more significantly, that it is possible to succesfully operate and grow a heavy manufacturing company in a supposedly post-industrialised high-cost environment. Besides its main works in Bussnang and its latest acquisition in Winterthur, Stadler now has works in Altenrhein, Bienne, Pankow, Weiden (both Germany) and Budapest.
On Zürich's tram network, Stadler is represented by Forchbahn Be4/6 61-73.
Search news archive for Stadler, Winpro, Winterthur.
This news item is from the 2006 newslog.


---
search Zürich tram news archive
news index for 2022
all news for current year
Zürich tram homepage
---
to link to this item please use:

http://www.proaktiva.ch/tram/zurich/newslog/newsitem.php?year=2006&item=060106