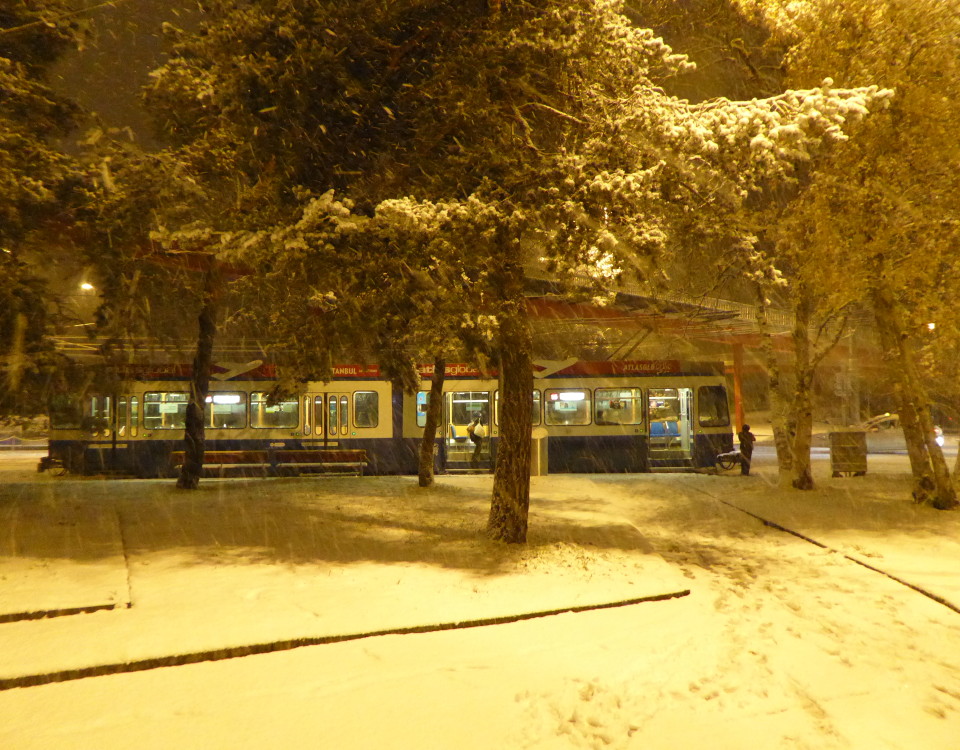 you are in: tram -> zurich -> news
Newslog 2019
latest news | archive | news search
This page presents news and other items of interest concerning the Zürich tram system and connected topics.
This is not the official information page of any organisation. All opinions expressed here are my own or belong to those to whom they are attributed. Whereas care is taken to ensure the correctness of news, no claim is made to total accuracy.
Visitors are informed that many links from this page are to external sites. Such links are provided for informational purposes only. The author of this site explicitly declines responsibility for the content of external web pages.
latest news | older newslogs | articles.
return to Zürich tram home page.
2019 news:

next year | previous year | current year | other years | search.

guide to linking to news items
---
12.04.2019 - Ex-Trogenerbahn trams in Neuchatel
According to reports on the SwissRail io group, the sale of Trogenerbahn 31-35 to Neuchatel fell through in early 2017 as Neuchatel was unable to raise the money. But a fresh agreement was reached later that year. The five trains sold will be replaced on AB by additional tango units, taking the fleet size to 11. The latest news is that 32 arrived at Neuchatel on Tuesday (9th April) painted in Neuchatel's current black and green bus livery. Driving trailer 533 went for scrap the same day.
---
28.03.2019 - Geissbock returns to Zürich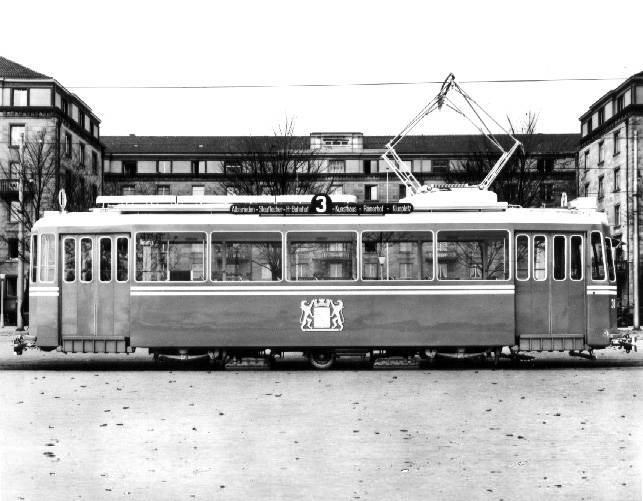 After 37 years in the transport museum in Luzern, 32 is returning to Zürich. This 6-wheeled tram, built in 1939, is celebrating its 80th birthday this year. Together with its long scrapped sister car, 31, it was a protototype (at least as far as its bodywork was concerned) for what was to become the Swiss Standard Tram, and was an important milestone in the development of modern tram designs internationally.
The return of the tram to Zürich has long been an objective of the Tram Museum. The car is being delivered to Burgwies by lorry today and will be placed on display in the museum shortly.
---
28.03.2019 - Cobra trams in trouble again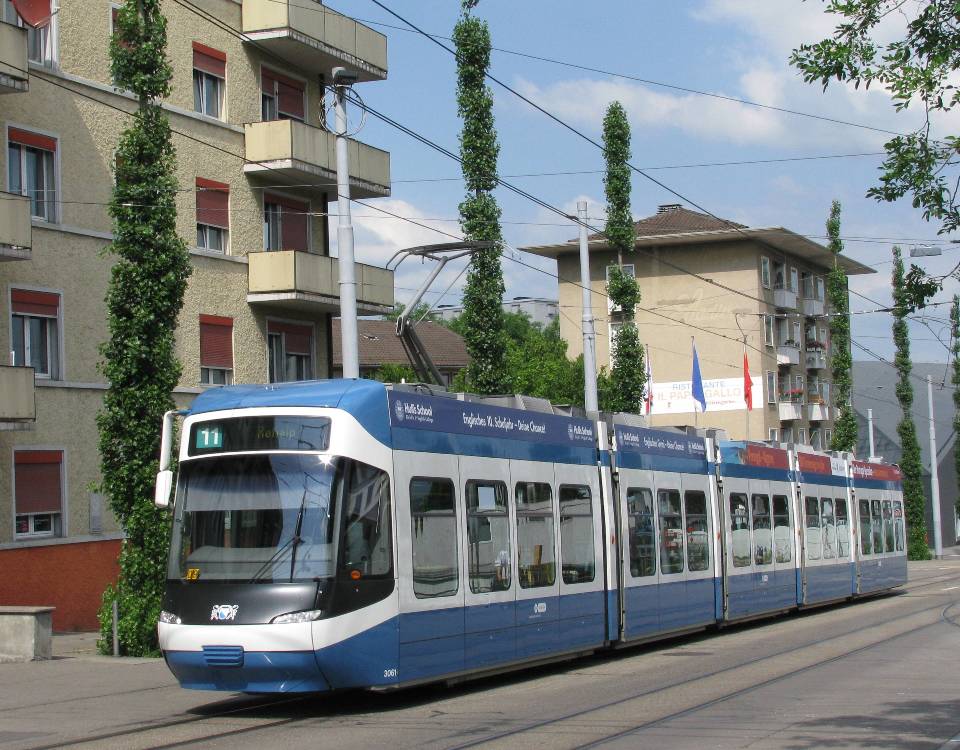 A routine control late last year revealed fractures in one of the rods fitted under a Cobra tram to guide the wheels into curves (these radially adjusting wheels are an important feature of the Cobra design). Further investigations involving Alstom (as succesor to SIG who designed this part of the tram) and the material science laboratory, EMPA, showed that the damage could have led to a derailment.
As an immediate measure, commencing 21st March, all Cobra trams are being inspected. In the meantime, uninspected trams are having to operate at reduced speed. The new limits are 42km/h generally, 12km/h on points and crossings as well as restrictions on curves.
The restrictions mean that overall speed is reduced and connections cannot be guaranteed. There is also an increased use of high-floored Tram 2000 cars, including on the airport routes where these are otherwise a rarity.
With many Cobras having now passed their test, regular operation is slowly resuming.
---
21.02.2019 - Mirage back in service soon
According to a correspondent on the SwissRail iO Group, Mirage 1674 is expected to return to service from 25th February (that is, coming Monday). Expected timings will be:
On route 8

Monday to Friday only

15:29 Salersteig via Stampfenbachplatz-Sihlquai to Hardturm

16:01 ex Hardturm
16:38 ex Klusplatz
17:23 ex Hardturm
18:00 ex Klusplatz

18:41 ex Hardturm via Sihlqual-Stampfenbachplatz to Sternen Oerlikon
I have recently observed this tram on what I assume was a test or driver familiarization run. On the inside, the tram is fitted with route boards in the style of the old ones used when Mirages were still commonly in service, but updated to reflect the extended route 8.
---
25.01.2019 - VBZ web article on history of Tram Affoltern
With the tram line to Affoltern slowly but surely moving towards the spades in the ground stage, VBZ has published on its website a history of previous attempts to build a tram line to Affoltern, as well as looking at the history of the bus line that served this corridor in the interim.
The first attempt to serve Affoltern by tram was in 1903 when the ZOS company applied for powers to build a line from Wallisellen to Regensdorf via Oerlikon and Affoltern. Only the section from Schwamendingen to Oerlikon was actually built, with one of the reasons being that the westward continuation would have involved crossing SBB tracks on the level (the Regensburg bridge not yet having been built). The alignment proposed was only party identical to that of today's project, as it would have connected to the existing system at Oerlikon rather than following Wehntalerstrasse. The Oerlikon connection is still being entertained by VBZ as a longer term objective.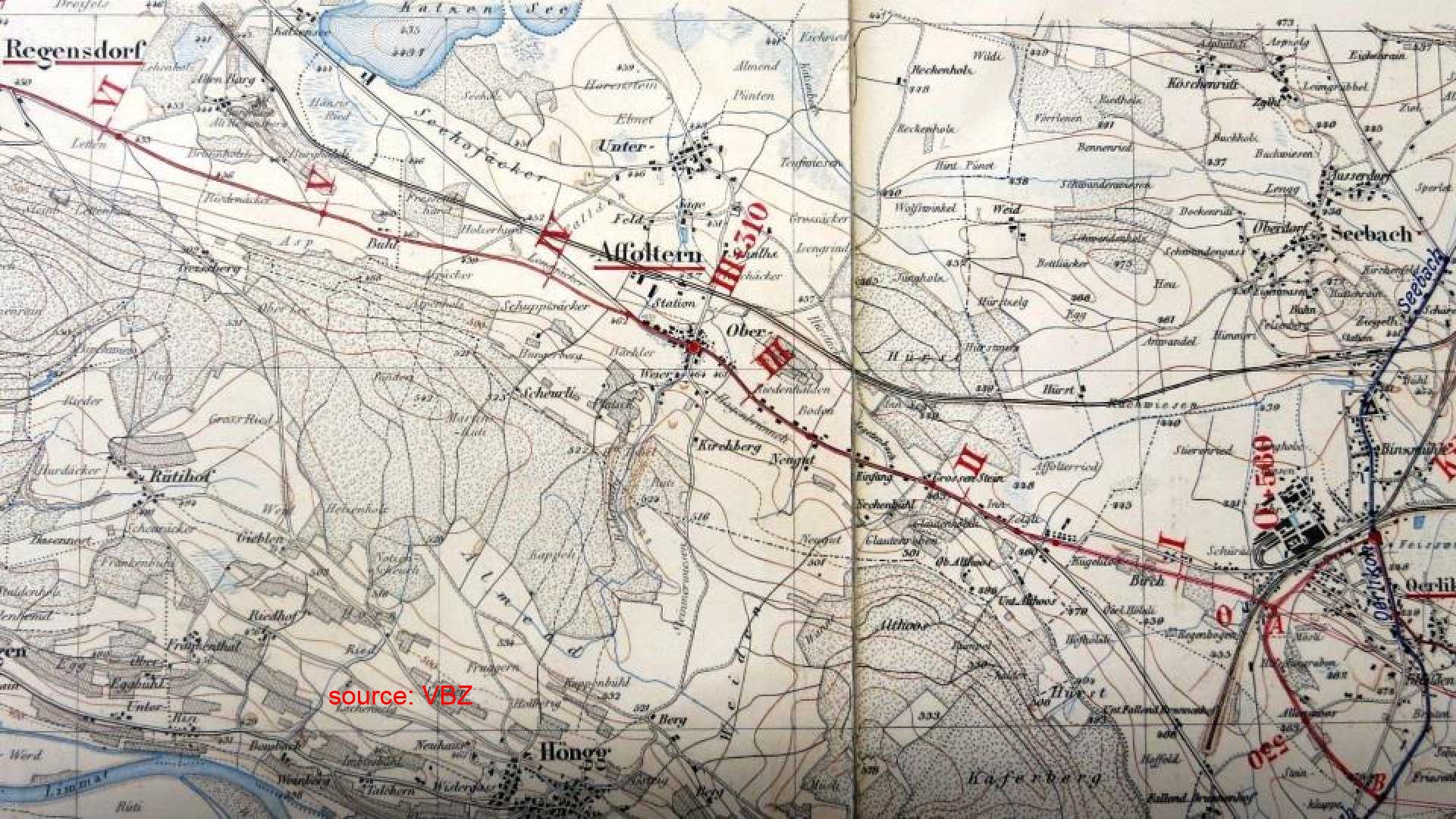 A second attempt followed in 1910, this time curtailed to Affoltern, but extended at its eastern end to Dübendorf. ZOS's motivation was tactical, as by obtaining the concession they could keep competitor companies from building a similar line. The plans were dropped with the share offer being undersubscribed.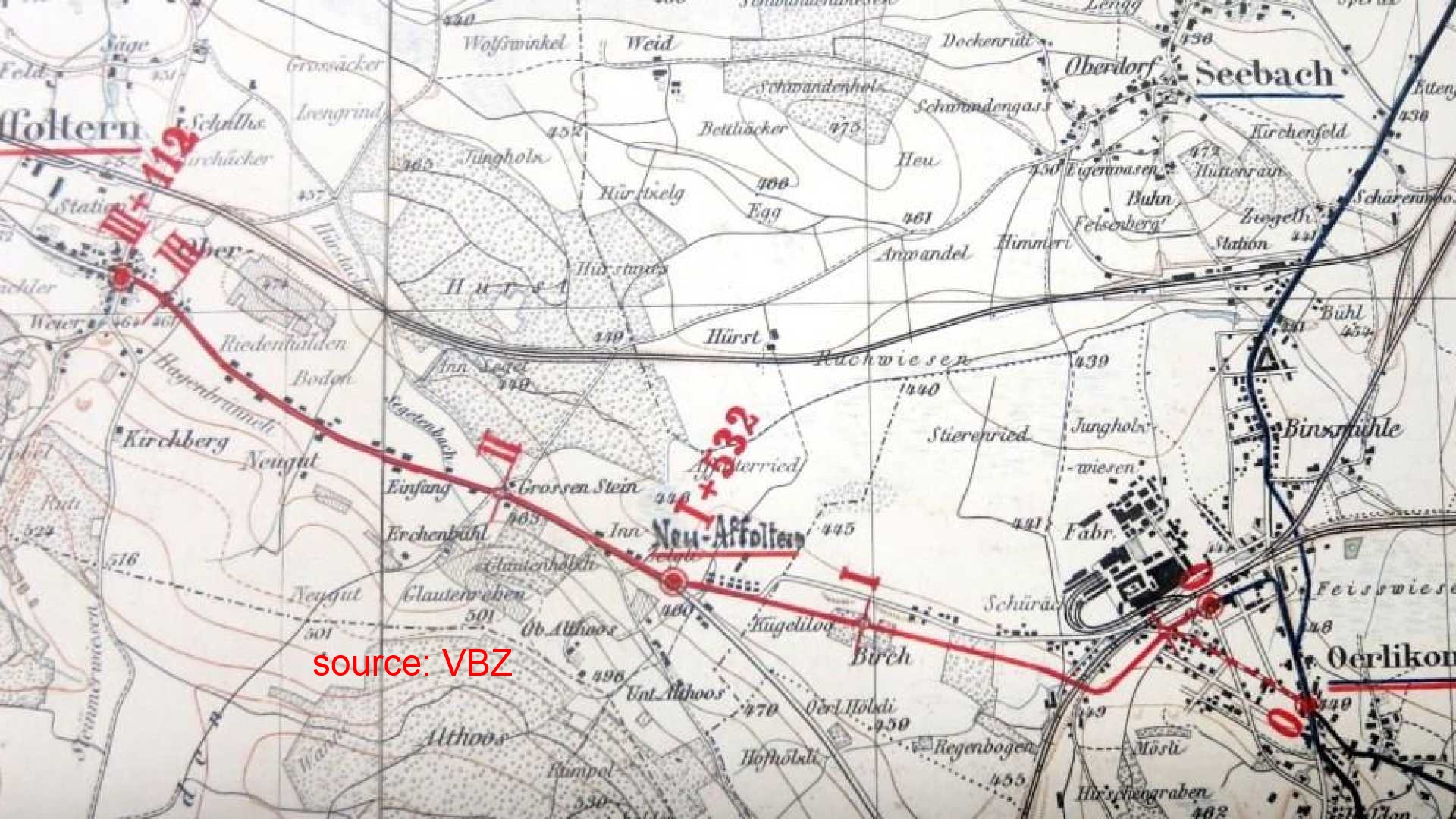 A third attempt in 1928 saw a shortened line to Neuaffoltern, as part of a project also featuring a line in Hofwiesenstrasse. Again, this was to stave off attempts by competition to build a line competing with ZOS's main line from Zürich to Oerlikon. The tactic failed and the city did soon build a new tram line through Hofwiesenstrasse, with the entire ZOS company being bought out by the city not long afterwards.
With Affoltern's population growing, a fourth attempt at building a tram was launched in 1946, but this was dropped as trams were falling out of favour at the time.
The bus competition moved fatser, with a privately operated bus service commencing in 1905, but closing two months later. Another operator, with ZOS support, provided service from 1910 to 1914. A third abortive attempt followed in 1925. Finally the city inauguarted a bus service in 1932. This was the forerunner of today's service, and was converted to trolleybus in 1975.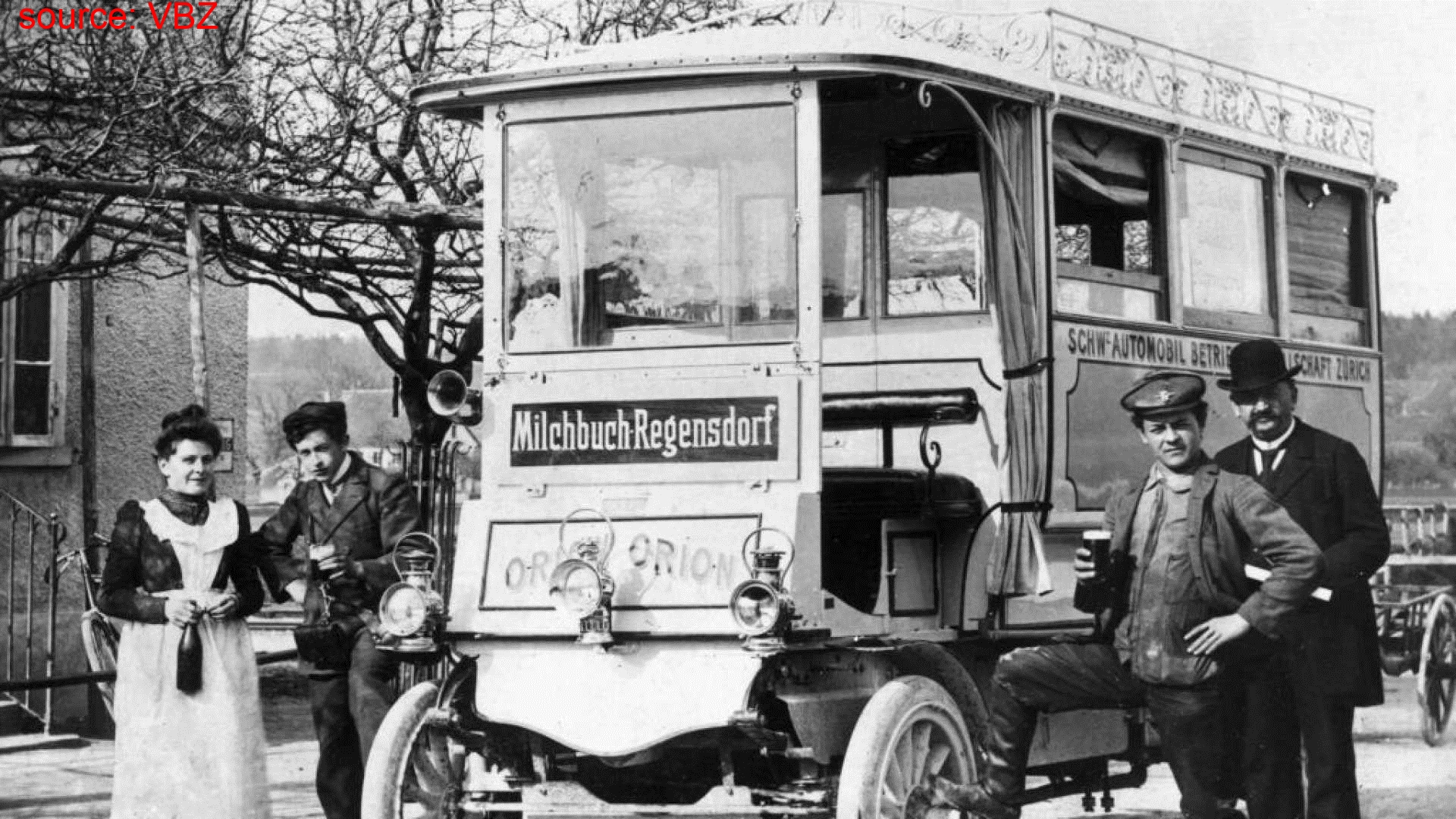 ---
25.01.2019 - Internet find, Altdorf tram
Internet find: this rare film footage of the Altdorf tram.
The Altdorf – Flüelen tram operated from 1906 to 1951. More information, pictures and a map can be found on this page of Eingestellte Bahnen.
---
News items for 2018 have been moved from the newslog.html main page to the 2018.html page.
---
next year | previous year | current year | other years | search.
return to Zürich tram home page.