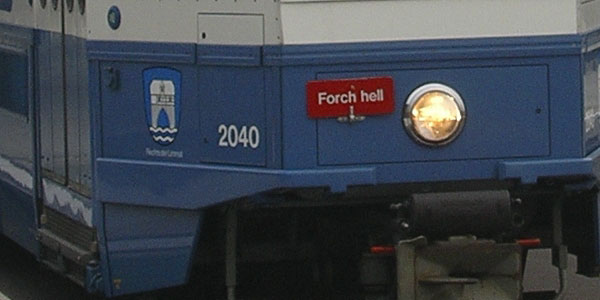 you are in: tram -> zurich -> news
Newslog 2015
latest news | archive | news search
This page presents news and other items of interest concerning the Zürich tram system and connected topics.
This is not the official information page of any organisation. All opinions expressed here are my own or belong to those to whom they are attributed. Whereas care is taken to ensure the correctness of news, no claim is made to total accuracy.
Visitors are informed that many links from this page are to external sites. Such links are provided for informational purposes only. The author of this site explicitly declines responsibility for the content of external web pages.
latest news | older newslogs | articles.
return to Zürich tram home page.
2015 news:

next year | previous year | current year | other years | search.

guide to linking to news items
---
28.05.2015 - Tram Hardbrücke: Construction commences
Construction of Tram Hardbrücke has finally commenced.
---
28.05.2015 - ZVV is 25 years young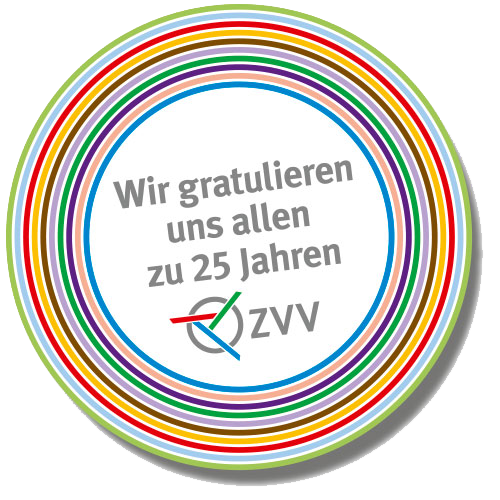 ZVV, the transport executive responsible for public transport and the integrated fare and planning structure within the canton of Zürich is celbrating ist 25th anniversary this year. Among others, various vehicles have been repainted in anniversary liveries. To mark the anniversary, all (2nd class) ZVV fares will be free on Sunday 31st June.
---
22.04.2015 - GTZ Trolleybus update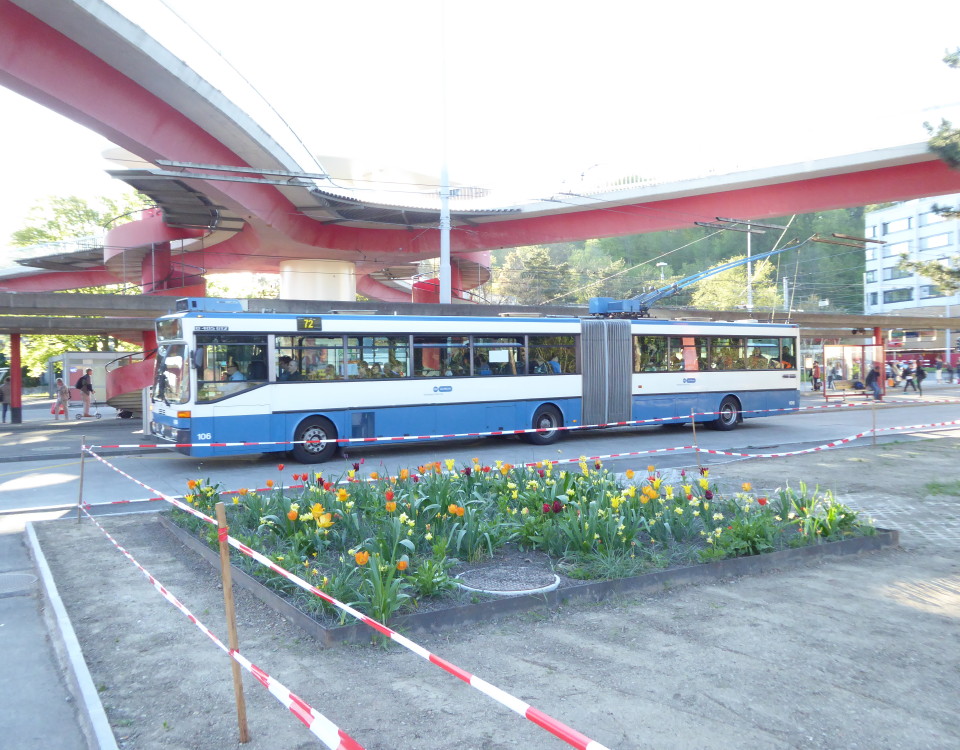 Trollemotion reports that the active GTZ fleet is now down to three units (106, 122 and 142). Last year there were still seven. 113 and 129 were withdrawn in May and December 2014 respectively, with 137 and 131 following earlier this year (fleetlist here).
Trials of battery operation are in progress between Albisriederplatz and Hardplatz. If trials prove succesful, the compex junctions at Albisriederplatz and Bucheggplatz could be permanently replaced by battery operation. On the other hand, route 71 will be converted to diesel or hybrid bus at the end of the year on account of its extension and connection and mrging with diesel route 95.
Changes in the proposed routing of route 2 in Altstetten mean trolleybus 31 will continue serving this location and be turned at Hermetschloo. From December 2017, route 34 will be extended to Hauptbahnhof.
---
22.04.2015 - Can our night trains be saved?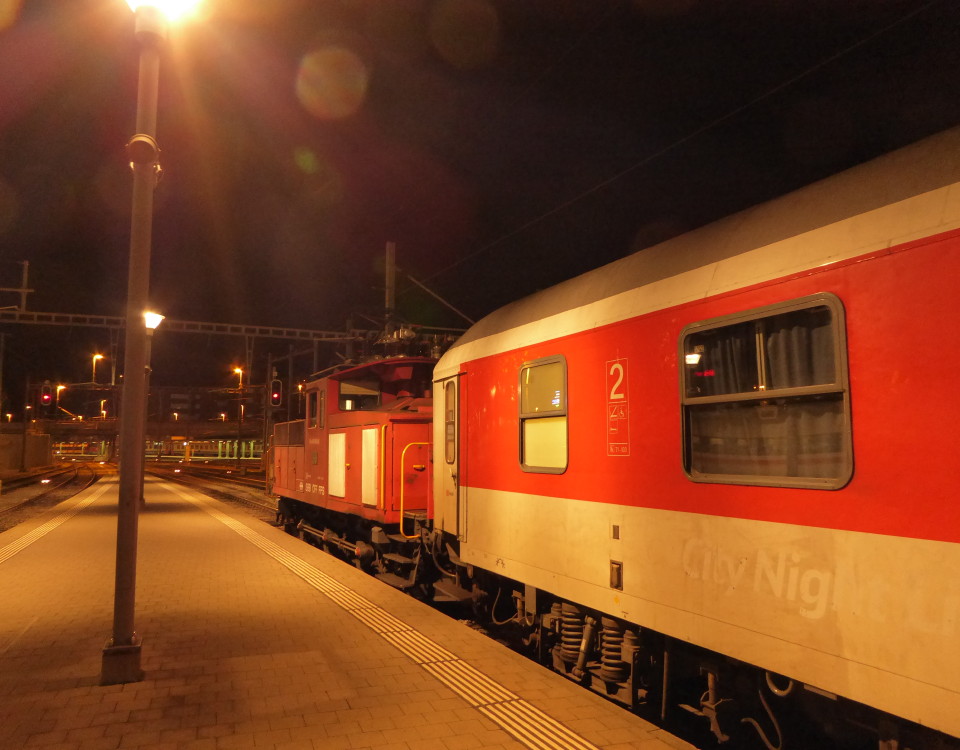 The latest round of night train discontinuations has led to some international mumblings and complaints, even if this is still far from an organized movement of protest. For Switzerland, the pro-public-transport organization, Umverkehr, has presented a petition to SBB and demanded commital to the continuation of existing services and the reinstatement of the lost ones. So far SBB's reaction has been that the night trains are the responsibility of foreign railways and that it wasn't their responsibility. But let us not give up hope before everything has been tried. Maybe SBB will yet find a way of leaning on its partner railways.
Umverkehr: SBB nimmt Umfrage-Ergebnisse mit Interesse entgegen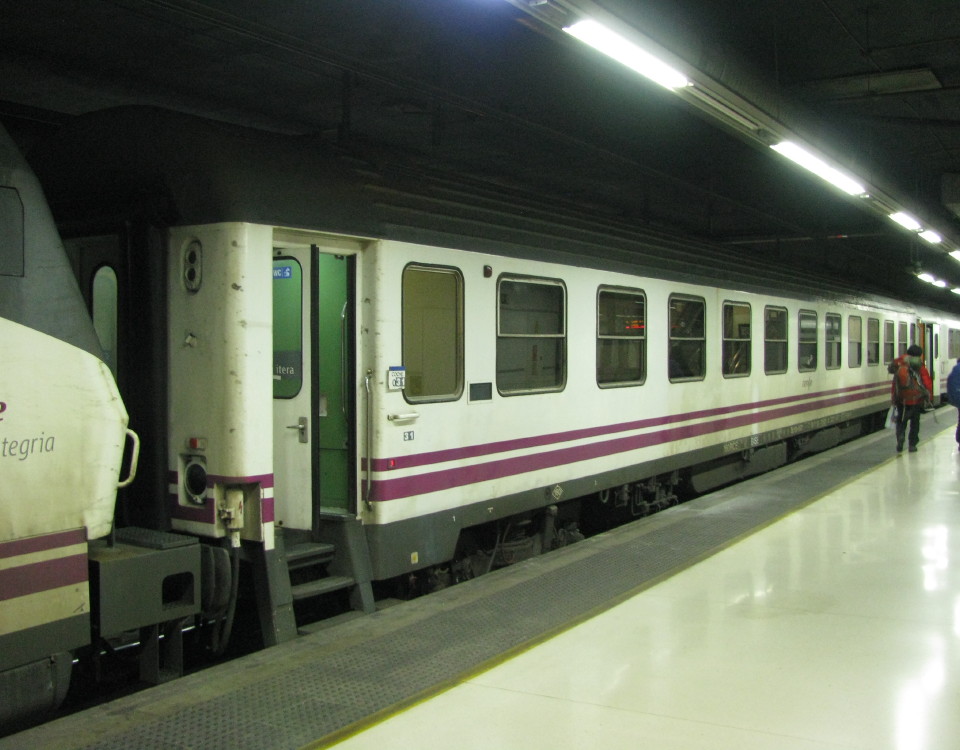 Meanwhile in Spain, another night train with much tradition has been discontinued. On 6th April the last Estrella Costa Brava ran between Madrid and Barcelona. This train was always well patronized, frequently being sold out - and this despite the train not being the subject of any publicitity drive. But RENFE announced that it was being discontinued nevertheless. The passengers can just as well take the high speed train, whose earliest arrival in Barcelona is similar to that of the Estrella. This may be attracxtive for those living nxt door to Madrid Chamartin station, but for those using this train as part of a longer trip, that is one more impediment to train travel. Despite the massive spending spree of past years, Spain's high speed trains are chalking up a huge operating deficit, apparently.
---
20.03.2015 - Limmatalbahn in Dietikon
Disagreement around the routing of Limmattalbahn through Dietikon appears to have been laid aside. Many locals objected to the tram being routed via the station. The proposed alternative along the main road would have sacrificed the opportunity of an interchange. However, following the discussions, plans have been modified somewhat and two of the buildings adjoining Dietikon station are to be demolished to create more room for an interchange.
Bahnhofplatz.net
---
20.03.2015 - Tram Affoltern / Furrtal
The proposed tram line to Affoltern has taken a step forwards. Following evaluation of both variants (direct route from Bucheggplatz, or longer route from Oerlikon) it has been decided to adopt the direct routing via Bucheggplatz (replacing the present trolleybus route 32 along Wehntalerstrasse). The tram could be operational around 2023. The Oerlikon route could follow by 2018 as part of a tangential route connecting Affoltern to Stettbach via Oerlkion.
Bahnhofplatz.net
---
20.03.2015 - NStCM: first new unit arrives
The first of the new Stadler units for NStCM has been delivered.
Swissrail Yahoogroup
---
20.03.2015 - Trogenerbahn trains for Neuchâtel
Trogenerbahn is to increase its order (placed last year) for Stadler Tango units to 12 units (from seven). The older Stadler units 31-35 will then be sold to Neuchâtel. It had previously been suggested they might come to Forchbahn (whose Stadler units are 2 section versions of the same design, the Trogenerbahn units have three sections and cabs at both ends). The units they are replacing in Neuchâtel are of course also similar to a Forchbahn type.
Swissrail Yahoogroup
---
04.03.2015 - New trams – The plot thickens
Reactions to the recently published statements concerning the problems with the new tram order have been heated. Heinz Vögeli, personnel manager of VBZ, has said these revelations are being circulated to discredit VBZ and their choice of Bombardier. It is also revealed in Tages Anzeiger that Mr. Weis and Molinari Rail are in fact connected, or at least were in the past. Their joint opinion should thus not be judged as independent. Fingers point at Siemens being behind the accusations. Siemens has criticised Bombardier for not permitting its offer to be re-evaluated by Molinari, and demanded the company be excluded from the bidding for its intransigence. Bombardier on the other hand, supposedly fears Molinari may be biassed against it, having worked with both Siemens and Stadler on recent projects. Alas, the politics of big money and big business.
---
26.02.2015 - More gloom over tram order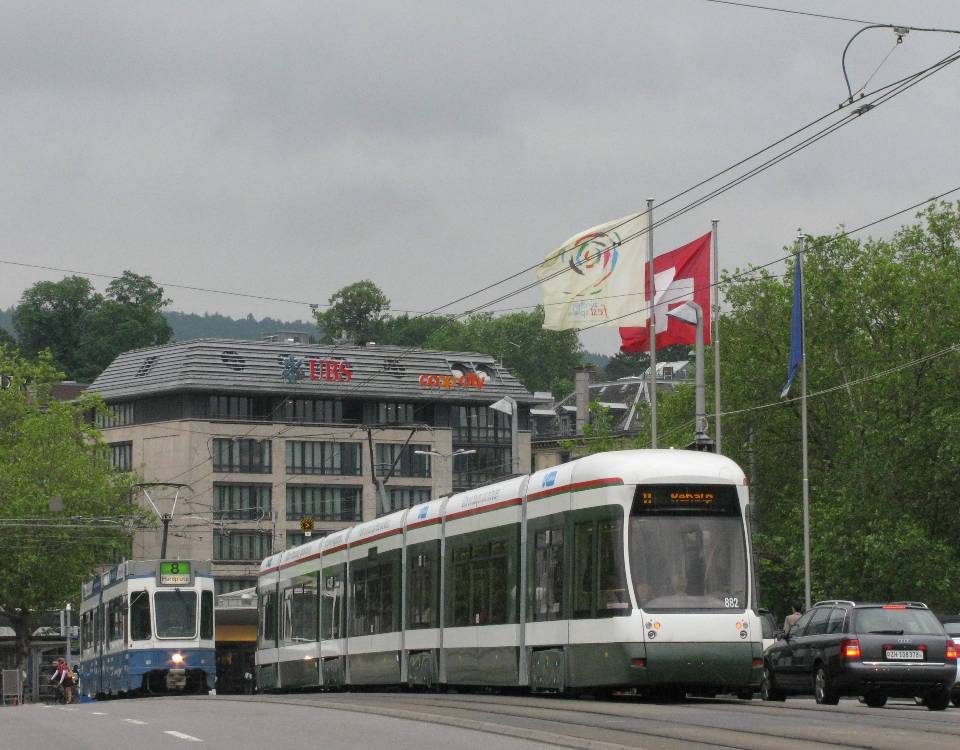 Various media sources have again picked up the problems around Zürich's as yet still undecided tram order. Apparently the manufacturer that is ahead in VBZ's preference is Bombardier, but the canton is not accepting this choice. Martin Weis, a consultant is quoted as accusing VBZ of haveing biassed the process from the beginning. The office advising the canton, Molinari Rail, goes even further and says none of the offers received strictly fulfill the terms of the tender.
The companies participating in the tender are Bombardier, Siemens, CAF and Stadler Rail, and their offers are worth 280 to 350 million CHF for the 70 trams. Each company has invested between 300,000 and 500,000 Euros in the tendering process and may possibly be seeking compensation.
---
27.01.2015 - Photo update: dock crane
My latest photo update is on the dock crane that spent 2014 on Limmatquai as part of an art project.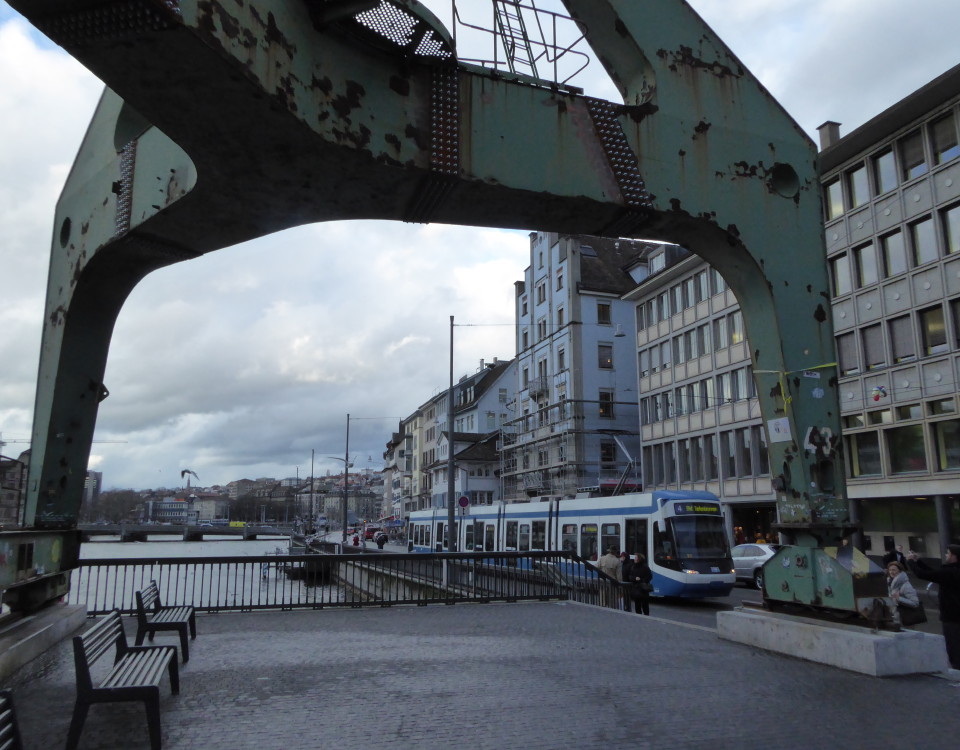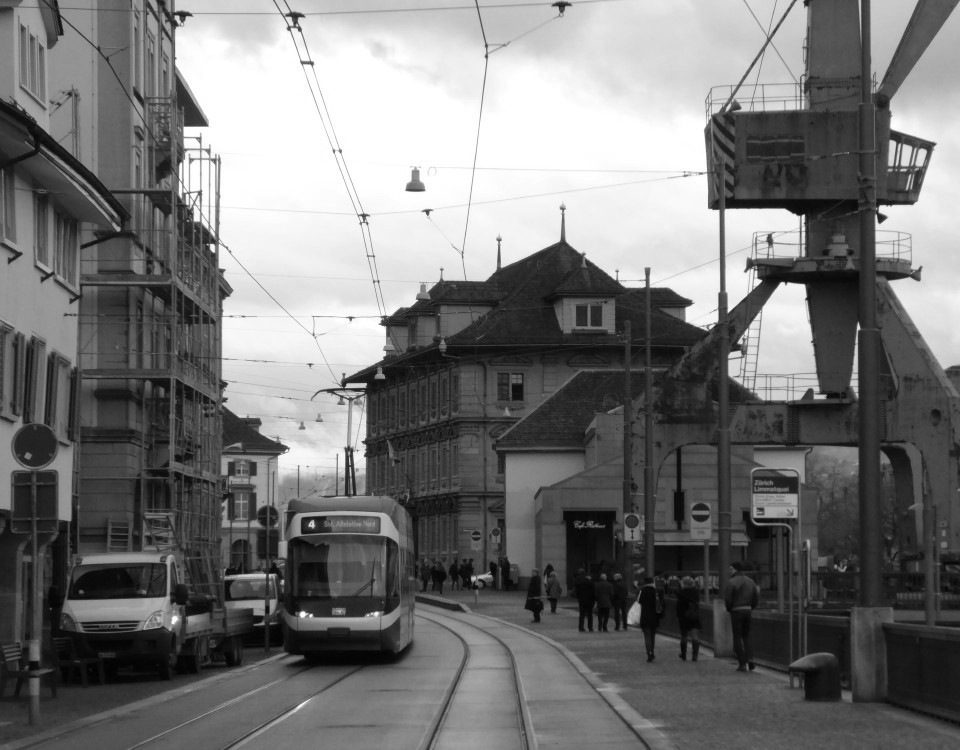 ---
27.01.2015 - Save our night trains
This website has many times pointed to the plight of our vanishing night trains. Apparently others are also unhappy, with Blick am Abend of 20th January making it the cover story.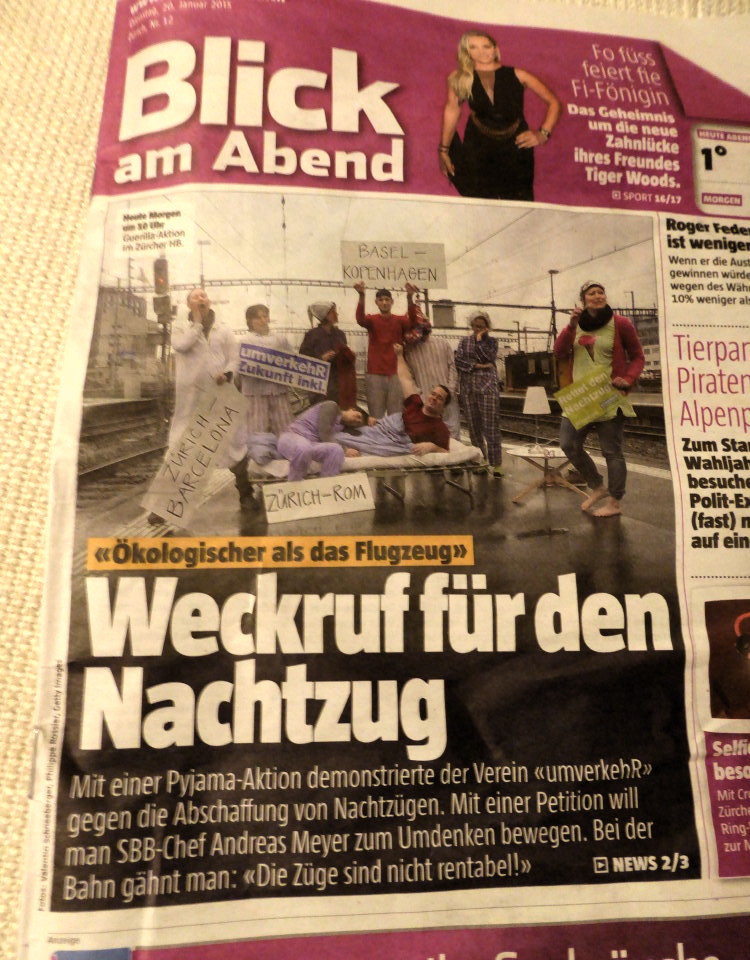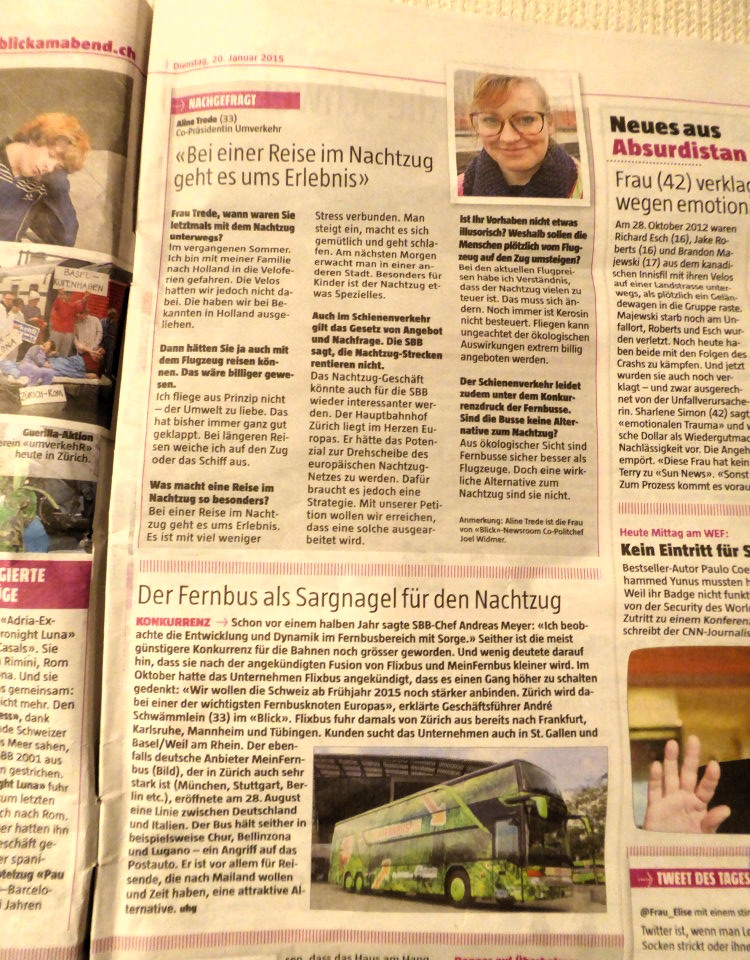 ---
All 2014 news items have been tranfered to www.proaktiva.ch/tra,/zurich/newslog/2014.html
Just to summarise some of the highlights:
A decison is still pending on the new tram acquisition. New tram are to be ordered to replace the earlier Tram 2000 units, but differences between VBZ and ZVV have blocked the decision, with the process almost descending into farce. The earliest Tram 2000s will be 39 years old this year.
In terms of extensions to the tram network, things are looking up. The Tram Hardbrücke project was approved in a referendum (this will see route 8 extended from its present Hardplatz terminus by way of new tracks using the existing Hardbrücke road viaduct to Schiffbau and then onward using existing tracks to Werdhölzli). The other project that is making progress is Limmattalbahn, a tram corridor that will extend beyond the city's western border through the Limmat valley and crossing into the neighbouring canton of Aargau, terminating at Killwangen Bahnhof. Although the project has broad support in principle, there has been opposition to details of the route in both Schlieren (where a longer subway was demanded) and Dietikon (where an alternative routing was called for). It appears that in both cases concerns could be assuaged. As for the tram's entry into Zürich Altstetten, planners have revised their earlier proposals. The plan to reroute tram number 2 away from Badenerstrasse had met with considerable local opposition.
The trolleybus fleet has seen the Mercedes / ABB O405 GTZ fleet dwindle from 10 to 5 units. Rumours that these would be gone by the end of the year proved unfounded, although they are clearly living on borrowed time. These units wil be 21 years old this year, with the type being 29 years old. 2014 also saw the entry into service of two additional Hess Lightram3s (nos 90 and 91), ordered as an option to an earlier batch. Contrary to what I reported, route 71 did not cease to be a trolleybus in December, but this will happen in December this year. However, there seems to be hope that electrification of routes 69 and 80 may go ahead soon.
Probably the biggest public transport event of the year was the opening of the Durchmesserlinie cross-city heavy rail tunnel on 14th June.
---
next year | previous year | current year | other years | search.
return to Zürich tram home page.