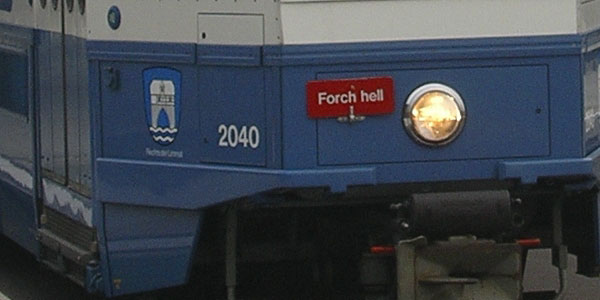 you are in: tram -> zurich -> news
Newslog 2016
latest news | archive | news search
This page presents news and other items of interest concerning the Zürich tram system and connected topics.
This is not the official information page of any organisation. All opinions expressed here are my own or belong to those to whom they are attributed. Whereas care is taken to ensure the correctness of news, no claim is made to total accuracy.
Visitors are informed that many links from this page are to external sites. Such links are provided for informational purposes only. The author of this site explicitly declines responsibility for the content of external web pages.
latest news | older newslogs | articles.
return to Zürich tram home page.
2016 news:

next year | previous year | current year | other years | search.

guide to linking to news items
---
22.01.2016 - Douglas horse trams to end
The world famous horse tram along the promenade in Douglas is set to end after 140 years. A very sad day for trams.


www.manxradio.com/news/isle-of-man-news/end-of-the-line-for-the-horse-trams/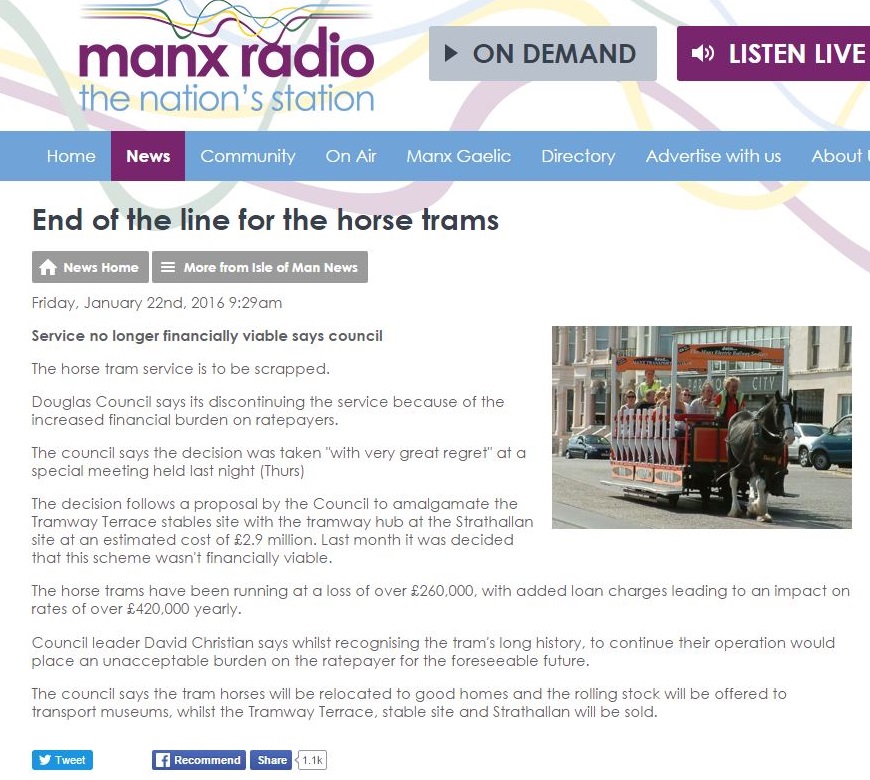 A petition has been launched here
---
20.01.2016 - Progress in tram acquisition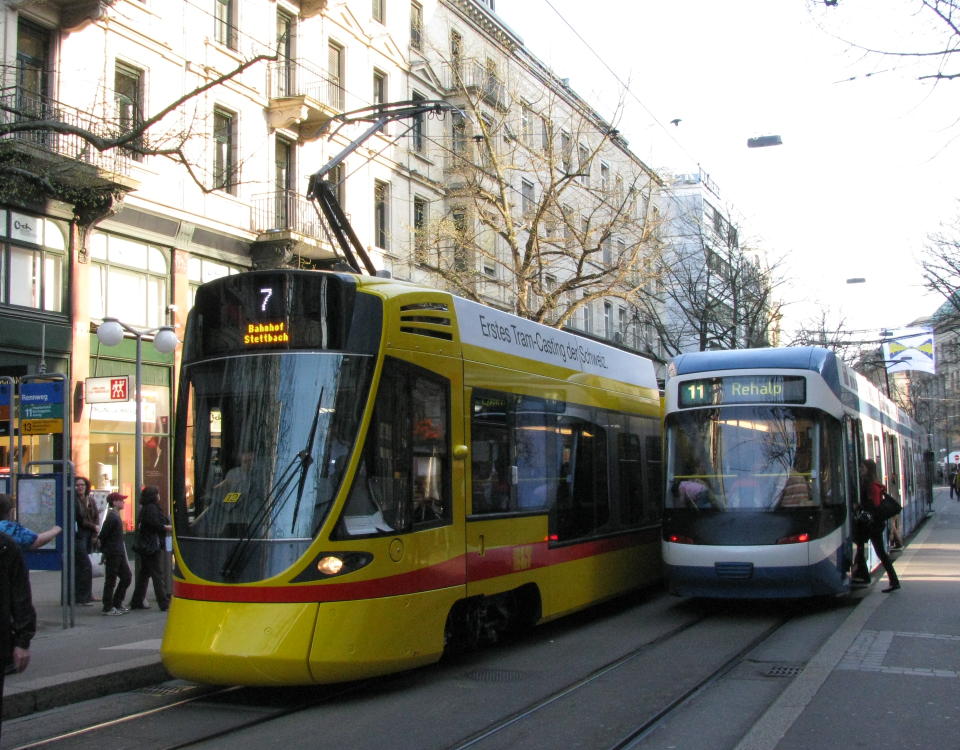 Zürich's new tram acquisition process, which has been seriously delayed following differences between VBZ and ZVV over who is to provide a second opinion on the evaluation of the tenders, has taken an important step forwards. Both sides have agreed to employ the servics of TÜV Süd. A decison on the order is expected this Spring.
The tram acquisition process has been a protracted one. Starting in 2009, three manufacturers were invited to demonstrate their trams in Zürich. Specifications were issued in 2011, with the five suppliers emerging from the pre-qualification round entering the race in 2013. Things began to turn sour in mid 2014 as it became increasingly clear that something was delaying the decision. In 2015 it was revealed the point of contention was doubt over the neutrality of the consultant ZVV was employing.
---
20.01.2016 - Kramatorsk: Two GTZ trolleybuses to be trialled
Two ex-Winterthur GTZ trolleybuses were presented in Kramatorsk yesterday (numbers 161 and 152). The trolleybuses have not been bought by Kramatorsk but will be trialled for three months pending a decision.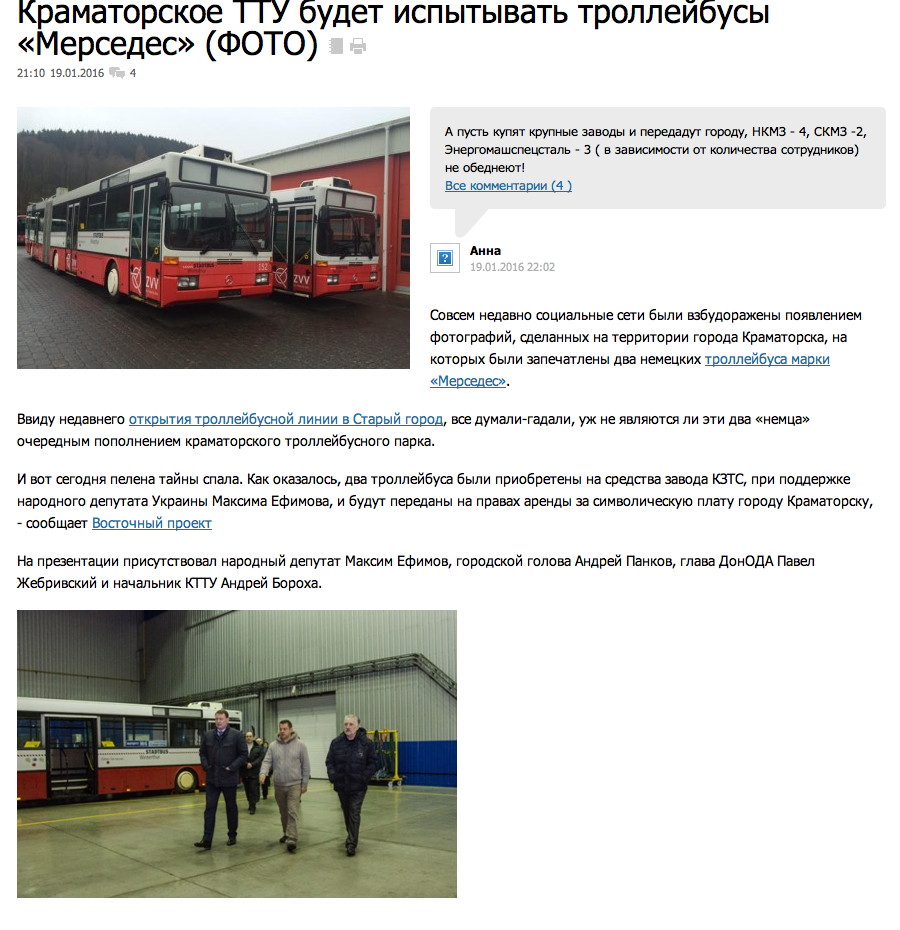 ---
15.01.2016 - Limmattalbahn and trolleybus
Construction of Limmattalbahn is set to begin in 2017, with the first section (extension of city tram route 2 to Schlieren) to open in 2019. Trolleybus route 31, which presently serves this route, will be cut back from Schlieren to Micafil in 2019 (the article in Limmattaler Zeitung mysteriously says no turning loop will need to be built at Micafil). Originally it was planned to divert tram route 2 to serve Bahnhof Altstetten, and this would have permitted the trolleybus to terminate at that location. However, with residents having succesfully petitioned to keep the tram on its present alignment, the trolleybus will continue to be required to assure a direct connection between Hermetschloo and Bahnhof Altstetten.
---
14.01.2016 - Bern: Trolleybus reaches Holligen
Here is one I missed earlier. Bern's trolleybus system celebrated an extension on 13th December when route 11 was extended to Holligen. The 700m extension serves Inselspital. A further 600m extension is planned that will take this route to Warmbächliweg, but construction will probably not begin before 2020.
The change is not all growth, however, as the recent extension leads to the abandonment of 500m line to Bremgartenfriedhof and Güterbahnhof, where passengers will now use postal buses. This section was a tram line until 1965 (part of tram route 1, Güterbahnhof - Brückfeld) and was converted to trolleybus in 1977.
---
13.01.2016 - Ex Winterthur GTZ in Kramatorsk
A correspondent has made me aware of the appearance of ex Winterthur GTZ trolleybus 161 in Kramatorsk (Ukraine). The trolleybus is believed to be for use in Kramatorsk or Mariupol.
---
11.01.2016 - Videos: Schwamendingen subway and ETR 470
I have uploaded two new videos to Youtube. One shows the illuminated Schwamendingen subway (news item here) and the other recently withdrawn ex-Cisalpino ETR 470 Pendolini in Kaiseraugst.
---
08.01.2016 - Fire in Schwamendingen tunnel
At about 5am on 31st December, emergency services attended to a fire in an electrical cabinet in the Schwamendingen tram subway between Milchbuck and Tierspital. Although tram operation was resumed later that day, the fire had taken out the block signalling system. When driven on sight, the maximum speed in the tunnel is 18km/h (rather than 60km/h), and the tunnel lighting needs to be on.
I travelled through the tunnel on the evening of 6th January and the slow regime was still in force between Tierspital and Milchbuck. As a silver lining, the lighting reveals many details of the tunnel interior otherwise not seen.
---
A Happy New Year to all readers.
For those who read these news items on the www.proaktiva.ch/tram/zurich/newslog/newslog.html page, as every year, the previous news items have been moved to a separate page, which for 2015 is http://www.proaktiva.ch/tram/zurich/newslog/2015.html. For those reading as individual items, as usual, there is no change.
Just to summarise some of the highlights and look back on 2015:
There is still no decision on the new tram order, but at least the different parties appear to be moving towards an understanding on how to solve the issue. To summarise, the spat was caused by ZVV wanting to call on the services of a consulting company that some of the parties involved did not consider neutral.
Construction work on the Hardbrücke tram link is now underway. The next extension, Limmattalbahn, has also cleared its last major hurdles.
On the trolleybus side, the last three Mercedes/ABB GTZ bowed out in late November. This means the fleet is now made up entirely of Hess low-floor vehicles. The older of these are being retrofitted with battery packs to replace their auxiliary generators. There will be an increased running without overhead lines as junctions are simplified.
---
next year | previous year | current year | other years | search.
return to Zürich tram home page.