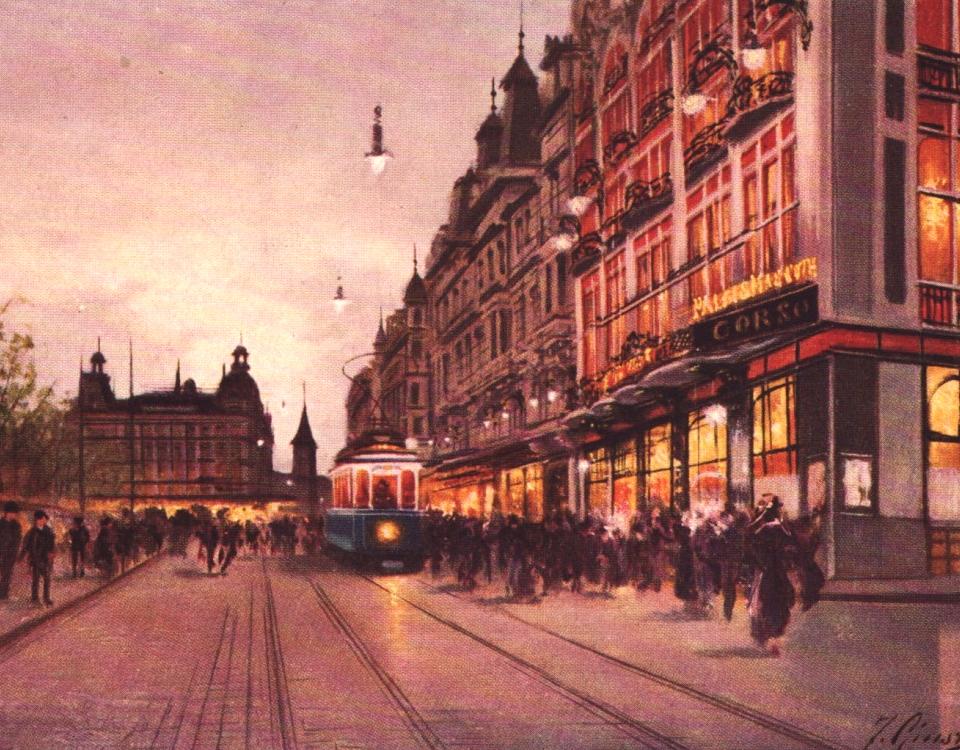 you are in: tram -> zurich -> news
Newslog 2020
latest news | archive | news search
This page presents news and other items of interest concerning the Zürich tram system and connected topics.
This is not the official information page of any organisation. All opinions expressed here are my own or belong to those to whom they are attributed. Whereas care is taken to ensure the correctness of news, no claim is made to total accuracy.
Visitors are informed that many links from this page are to external sites. Such links are provided for informational purposes only. The author of this site explicitly declines responsibility for the content of external web pages.
latest news | older newslogs | articles.
return to Zürich tram home page.
2020 news:

next year | previous year | current year | other years | search.

guide to linking to news items
---
04.04.2020 - Trolleybuses on route 83 update
Delivery of new trolleybuses is proceeding at pace, with 204 being reported in service.
There has been some doubt over the precise number of new vehicles being delivered, with earlier sources saying eight, and more recent ones saying nine, although some suggested that "prototype" 183 was somehow included in the final number. However, it appears this is not actually the case and that eight new trolleybuses are earmarked for route 83 (although presently being run-in on other routes) whereas a ninth has been added to the order to be able to run an additional vehicle on route 72, needed due to anticipated extended journey times on account of 30kph speed limits being applied in residential streets.
---
31.03.2020 - Trolleybuses on route 83
Although the occasional rare sighting of number 183 on route 83 has not been unknown, it is now official that the route is now being converted to trolleybus and that the eight new trolleybuses (200-207) presently being delivered are dedicated for this route. The electrification is being achieved without any new overhead line. The buses will cover the considerable unelectrified portion of the route using battery power (7.6 km without overhead lines vs 7.6km with overhead lines).
---
30.03.2020 - Forchbahn still waiting in Madagascar
A contribution on bahnforum.ch reports on a visit by member Cyrill to the railway workshops of Antananarivo in Madagascar, with photographs of the ex-Forchbahn cars and also the ex-Trogenerbahn unit. They are still in surprisingly good condition despite having been stored in the open since 2004 and 2005. The author of the post writes that there is still some hope that the project involving these cars can be realized somehow.
---
18.03.2020 - Corona virus restrictions
Restrictions in connection with the Corona virus are getting increasingly drastic. All regular railways within Switzerland are still operating, but in many cases with reduced frequency. Ridership is down to about 10 percent of normal levels. Tourist railways have been closed down altogether. This includes Glacier Express and SBB Historic specials. Cross-border traffic to Italy is greatly reduced. For example on the Centovalli railway, only a handful of trains serving primarily cross-border commuters are still running. All trains to and from Austria are suspended.
---
11.03.2020 - Second Flexity approaching
Further to today's earlier report on the delivery of the second Flexity car today, the tram is reported as currently being on a motorway car park on the German side of the border somewhere to the north of Basel.
---
11.03.2020 - Flexity on Glattalbahn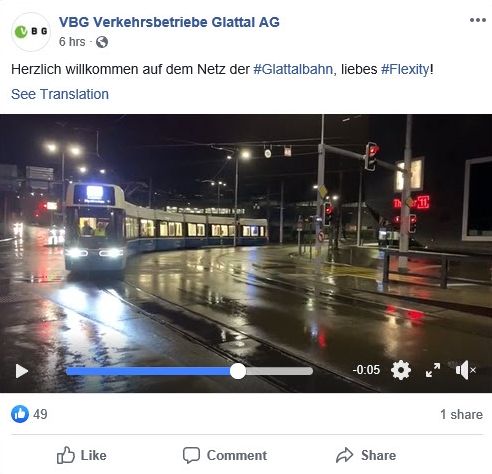 With testing of the first Flexity ongoing, 4001 is now wandering beyond the core VBZ network and welcomed on Glattalbahn.
---
11.03.2020 - Second Flexity to touch down tonight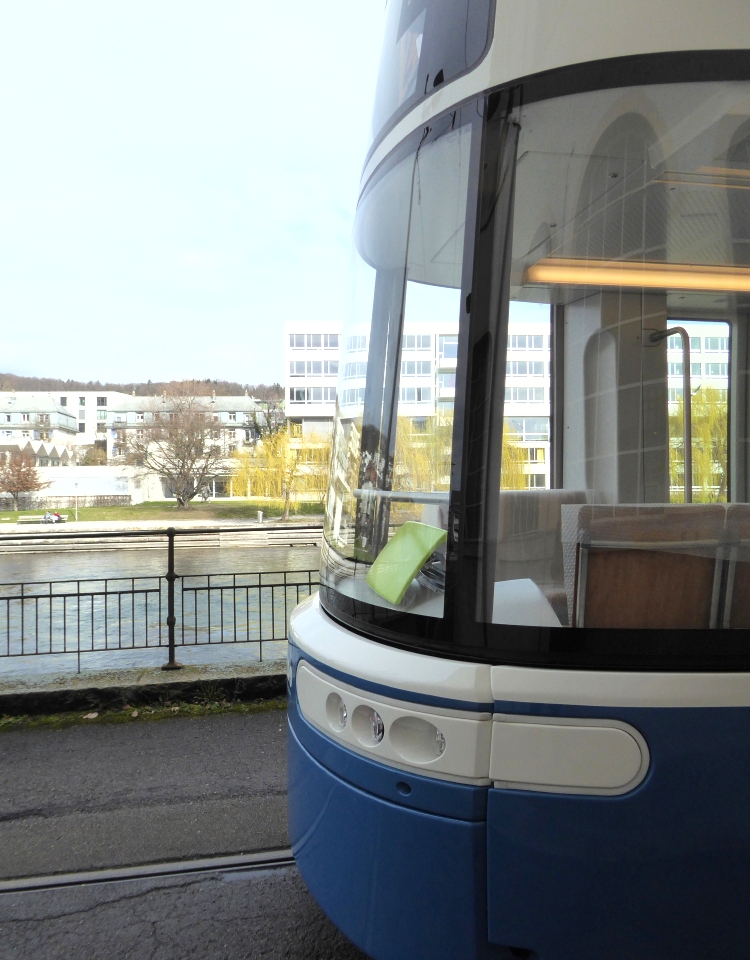 The second Flexity tram is due to arrive tonight.
---
10.03.2020 - VBZ and Coronavirus
VBZ has announced measures to reduce risk from the Corona virus.
Among others, as from tomorrow (11th March) doors will be opened at all stops, avoiding the need for passengers to touch push buttons. To protect staff, the window bewteen cab and passenger compartment on trams will remain closed as will, on buses, the forward door (with passengers being prevented from standing in the forward area). On those bus routes where tickets could until now still be bought from the driver, this will also be suspended. VBZ are also recommending that those passengers who can do so, work from home.
---
09.03.2020 - Swisstrolley5 arrives
The first of nine new Hess Swisstrolley5 is now in Zürich. It carries the number 200. The new trolleybuses will be used to permit conversion of route 83 to trolleybus operation. This conversion will not involve the construction of any new overhead lines but trolleybuses will run in battery mode on the unwired sections.
---
09.03.2020 - RBS mandarinli leaves for Madagascar
I missed this one previously, but the project to re-use the ex-RBS Mandarinli in Madagascar is getting serious. According to bahnonline.ch, number 60 was loaded onto a low-loader lorry at Bätterkinden on 3rd February. Sister vehicle, 59, is taking the same route. They pair will be joined in Madagascar by ex-FLP 21-25 and 41-42 when these are withdrawn.
Also, according to the same source, ex-LEB Be 4/4 26 and Bt 152 of 1966 are heading for the same destination.
I still don't know what excatly is planned for these units in Madagascar. In 2006 a number of vehicles from different Swiss narrow-gauge railways, mostly ex-Forchbahn, were sent them for a proposed tramway in Antananarivo which never materialized.
Two further Mandarinli are expected to remain on RBS temporarily as spare units. The society, Bahnhistorischer Verein Solothurn-Bern, are attempting to drum up support to preserve one when it becomes available. See their page on the type here.
---
06.03.2020 - Rosengartentunnel, what was it all about?

It is almost a month ago that the Rosengarten tunnel was rejected by voters in a cantonal referendum. As is often the case after such clear no votes, the topic goes quiet for a while. In Swiss politics, pragmatism sets the rules. Winners are typically magnanimous and losers don't whinge. But the discussion is bound to be come sooner or later. The underlying problem has not been solved.
The proponents of the combined road tunnel and surface tram solution were maybe trying to please everybody while satisfying nobody. When the faction who wanted a tram but no road tunnel joined forces with the faction who wanted a road tunnel but no tram, any hope of a combined solution were dashed.
Here is an interesting article showing the twelve buildings that would have had to be torn down: tsri.ch/zh/rosengartentunnel-abreissen-gentrifizierung-rosengartenstrasse/. Some of these buildings would have had to make way for the tunnel portals, but others were needed for the tram, including those required to build a tram junction at Albisriederplatz, and the corner building at Bucheggstr/Wehntalerstr which presumably would have eased the alignment of the tram curve (I think the other houses on the list were all in the way of road measures). Obviously none of these buildings are of any great urbanist value, and their preservation is hardly an argument against a project such as this. But the list highlights the scale of the project. Certainly, with some creative thinking, alternatives could have been found that could have brought down costs and percieved impact.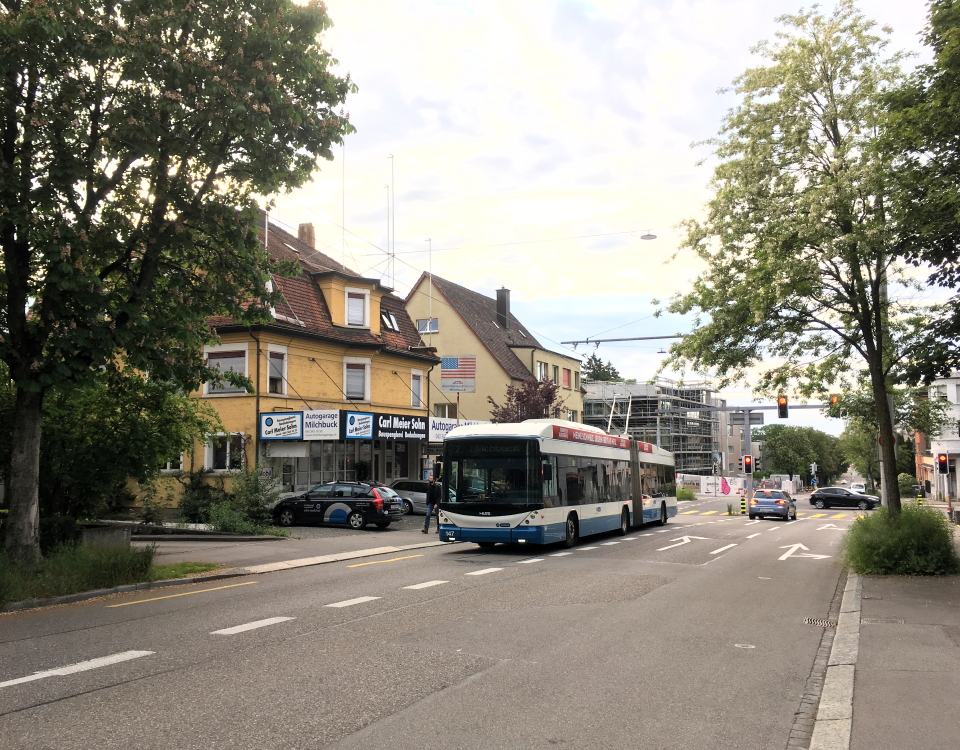 Personally, I feel the need for a tram here is more political than real. There are other bus routes suffering from far greater overcrowding. Whereas the Affoltern line (route 32) is now showing realistic signs of getting trams, this is not presently on the horizon for Hohlstrasse (route 31). Whereas these routes are graced by double-articulated trolleybuses, and often filled to the seams nevertheless, the Rosengarten route sees only single-articulated trolleybuses (route 72) and diesel buses (route 83). If demand were to increase here, this could be first met by larger trolleybuses and by providing dedicated bus lanes — which would mean a restriction in road capacity which would have to addressed in some way — thus taking us back to the core of the problem. However, dedicated bus lanes could have tram rails added at some point in the future if the need is there. The competing need for road space need not be directly between trams and cars.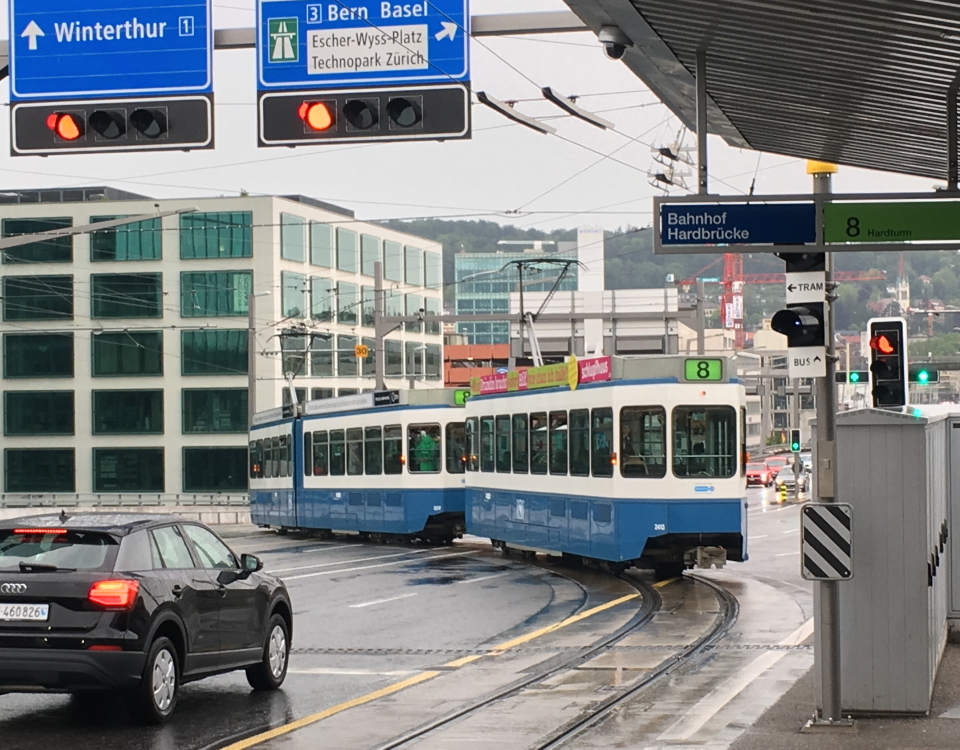 The need to create a tangential tram link between the growing new areas in the north and in the west of Zürich while avoiding the central area has to be addressed, and is right in terms of the strategic development of the tram network. The question is whether Rosengartenstrasse is the best place for this. For example it has been said the gradient would impose severe speed restrictions for trams running downhill, and thus be slower than today's trolleybus, especially if the trolleybus could be put on a dedicated lane instead.
Maybe part of the motivation behind insisting on a tram here is about the ideological satisafcation of seeing a major and much hated thoroughfare replaced by a tram line? This maybe also explains the proposed tram continuing its itinerary on the upper level of Hardbrücke even though there are already tracks on the lower level. Ideologically pleasing and symbolic solutions are not always the best or most practical. Maybe there is even a hint of a first-world-problem syndrome here.
How about instead building a tram line from Schaffhasuerplatz via Rotbuchstr and Kornhausbrücke to Limmatplatz, and then using Langstrasse to join Badenerstrasse? That would leave the question of Rosengartenstrasse to be solved another day.
---
05.03.2020 - Night trains world map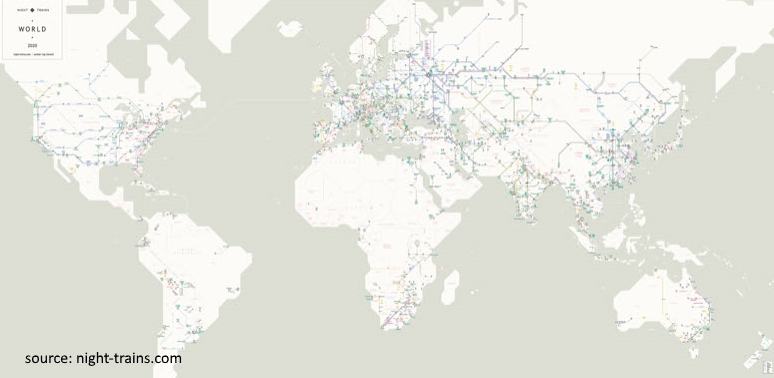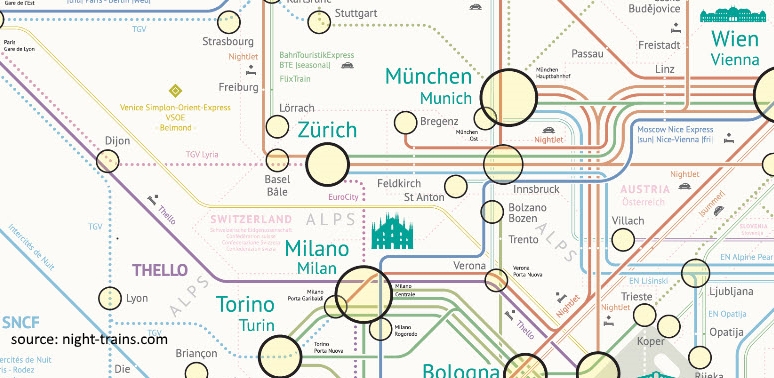 A website mapping the night trains of the world, zoomable to a detail level.
---
04.03.2020 - Trolleybuses for Berlin?
It is often implied that trolleybuses are a difficult proposition to sell. Numerous trolleybus systems have vanished between the 1960s and the present day. Even in relatively recent years in Switzerland, often considered a stronghold of common sense and trolleybuses, we have seen the disappearance of trolleybuses from Lugano, Basel, La Chaux de Fonds with Schaffhausen and Winterthur surviving only be the skin of their teeth. In the case of Schaffhausen the risk is maybe not yet over as the town is looking at battery buses.
Trams have seen a huge revival all across the globe. There have been some new trolleybus system too, but not on a scale in any way comparable to that of trams. With the recent trend towards green energy and electrification, it might have seemed that a new opportunity was opening for trolleybuses. But the limelight was stolen by hybrid and battery buses.
One interesting development has been that of trolleybuses with increased battery range. Besides being able to deviate from their usual route, for example to circumvent roadworks, cost savings can be obtained by simplifying junctions and removing the wires on entire segments of route. Wiring a junction is far more costly than wiring a straight section of road. So on the one hand such trolleybuses are leading to an erosion of classical trolleybus operation while at the same time new routes can be electrified at lower cost.
So are battery trolleybuses the beginning of the slow abolition of trolleybuses, or can they help re-grow lost systems? Is the glass half full or half empty? Positive signs are recently coming from Berlin, a city that lost its trolleybuses decades ago, but where there are now plans to electrify four routes using an "in motion charging" (IMC) system similar to that of Zürich.
Initially, line M32 will be elctrified as a pilot line and equipped with double articulated trolleybuses. In the longer term 15 lines could be converted, costing some 300 million Euros, including 190 vehicles operating on 235km, of which 148 wired. Initial investment is 50% higher than for a comparable battery system.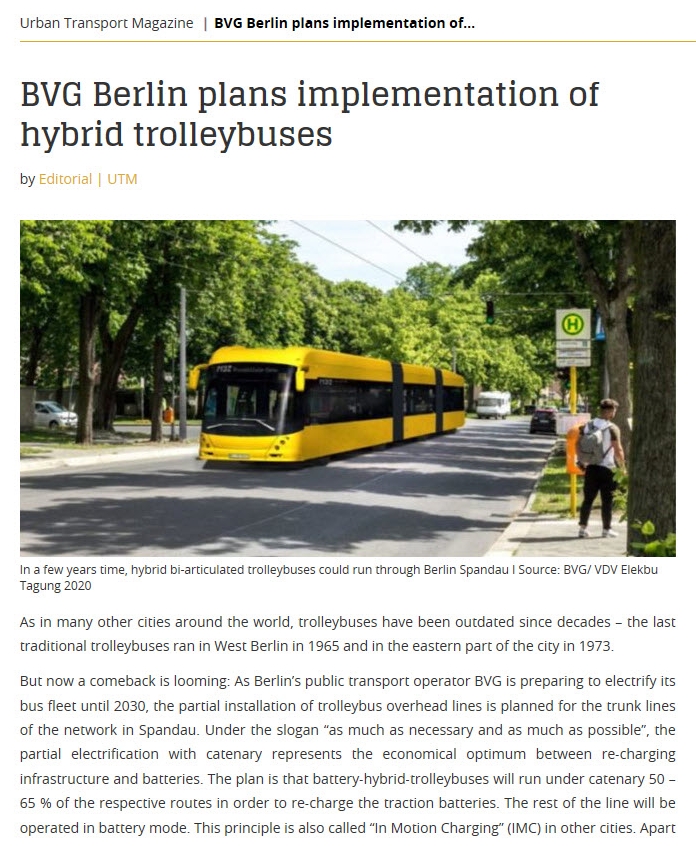 ---
03.03.2020 - Photo update, Flexity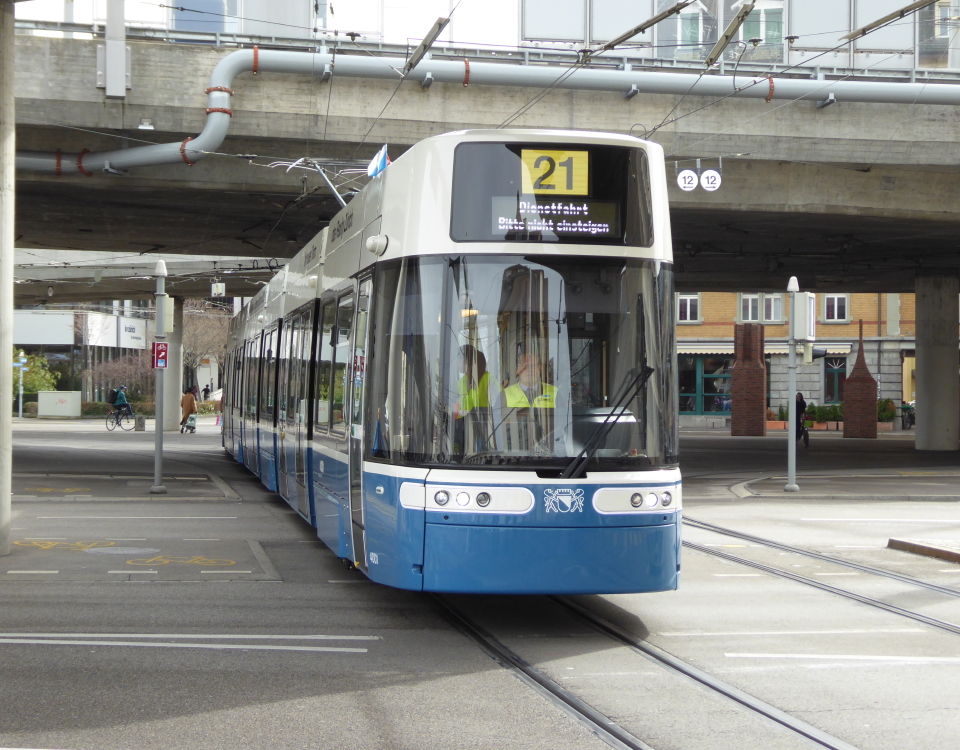 On Saturday, the tram museum held a sale of surplus inventory at Escher-Wyss-Platz depot as preparation for their impending move. The city wants to rebuild the depot and create appartments by adding a tower block over the rear part of the site. This means the tram museum must vacate the parts of the present complex it has long used as workshop and store. The event was well visited, both by people in search of souvenirs and by those seeking to say farewell to this piece of history.

Among the visitors was Flexity 4001, suitably marked as route 21 (the number of the museum line). My latest photo upload includes pictures of the new tram as well as general impressions of the depot, as well as some totally unconnected recent shots from Budapest.
New photos:
Only flexity (10)
Flexity and depot scenes (27)
All new photos (53)

---
19.02.2020 - Alstom to acquire Bombardier Transportation
Alstom is to acquire Bombardier Transportation for between 5.8 and 6.2 billion Euros. The acquisition is subject to regulatory approval and will take effect in the first half of 2021.
---
10.02.2020 - Rosengartentunnel rejected
Yesterday's vote on the Rosengartentunnel project was surprisingly rejected by 63.7 percent to 36.3.
---
06.02.2020 - Rosengartentunnel debate
For those interested in getting a better understanding of the debate about Rosengartentunnel, here is an article in aargauerzeitung.ch.
---
27.01.2020 - FLP and RBS Mandarinli for Madagascar?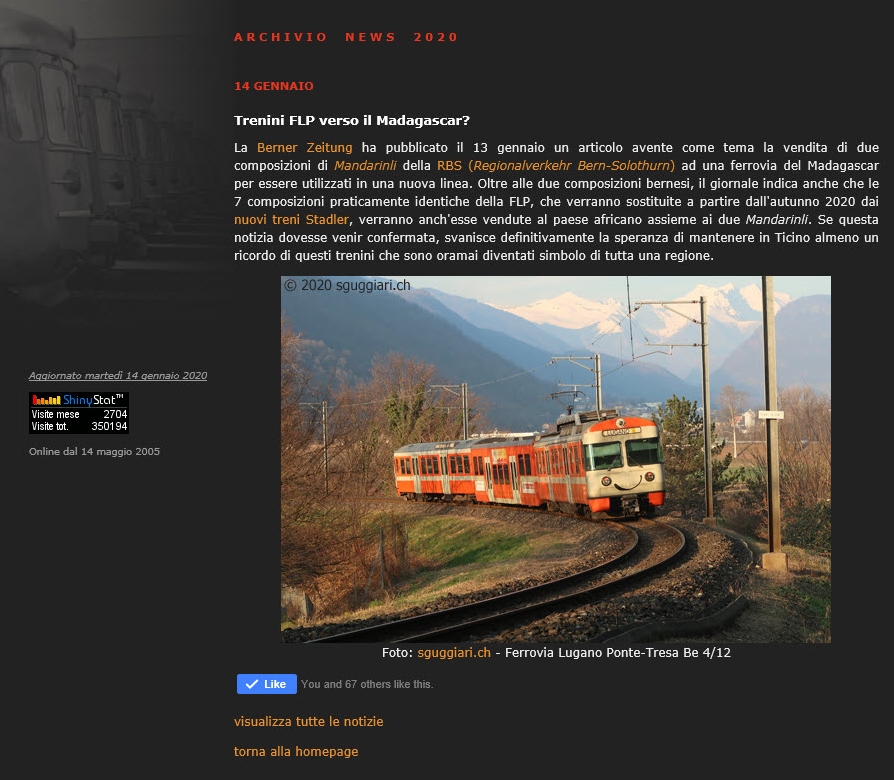 Further to my recent mention of RBS Mandarinli units being earmarked for further service in Madagascar, sguggiari.ch adds some further details.
The 7 units of this type presently in service on FLP (Lugano to Ponte Tresa railway) will be replaced by new Stadler tram-trains from this autumn. According to the article's sources, the old trains will then be shipped to Madagascar, together with two of the virtually identical RBS Mandarinli, where they will be used on a new line.
---
22.01.2020 - Impressions of Rosengarten tram
Further to yesterday's report on the Rosengartentunnel project, I am posting further pictures of the project from the Rosengartentunnel website.
Unfortunately there are no mock-ups of the top end around Milchbuck and Bucheggplatz. I understand that rather than running around the block at Milchbuck as the trolleybus presently does, trams will use Wehntalerstrasse in both directions and thus approach Milchbuck from the South side.
The first visualization is one that already appeared in the previous posting but is repeated here for completeness, with the tram that escaped from the 2000s already some way below Bucheggplatz.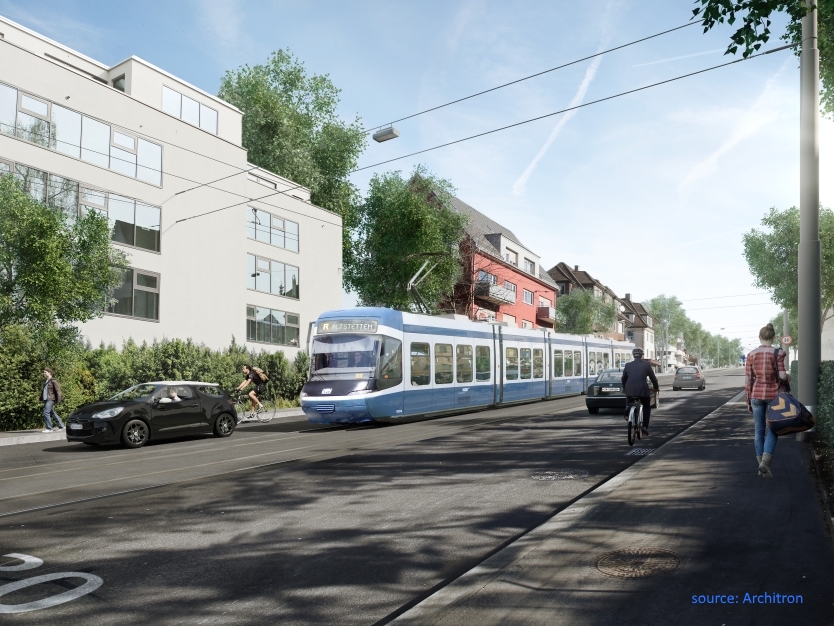 The next one, a little further down, shows the junction at Lehenstrasse, which isn't really changing much apart from the tram itself. I doubt that the building in the background (presently under construction) is accurate, but we'll see when the scaffolding finally comes down.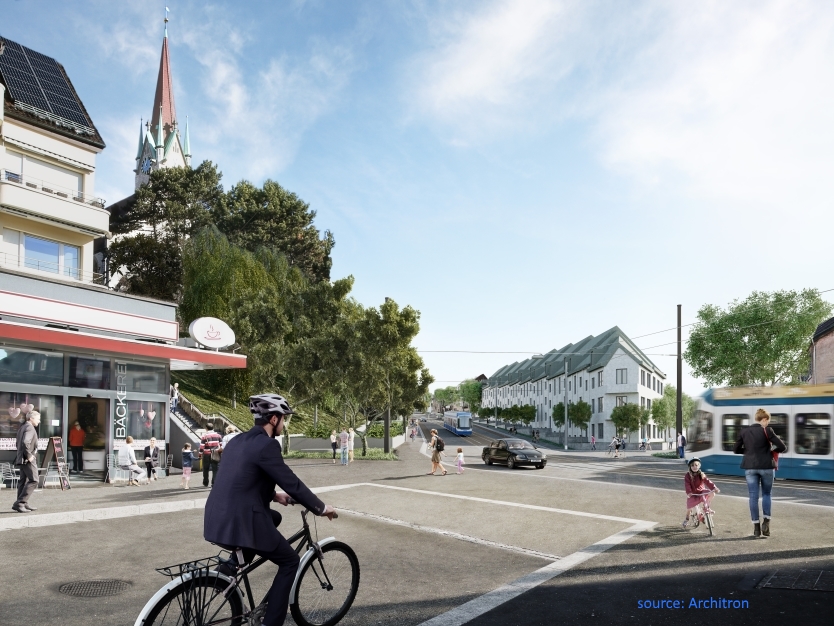 The next one down is the lower part of Rosengartenstrasse. The beginnings of the mouth of the road tunnel cause a lot of cluttering of the space and overall asphalt space does not seem to be significantly reduced. On the right of the picture, behind those trees, Röschibachstrasse branches off. This road was once used by a tram line to Bahnhof Wipkingen. So the very short portion of the new tram line from here to Wipkingerplatz (behind us) revives a section of tram that once was.

Here is the same tunnel mouth seen from a little further away, showing how the trams will run on either side of the road that emerges from the tunnel.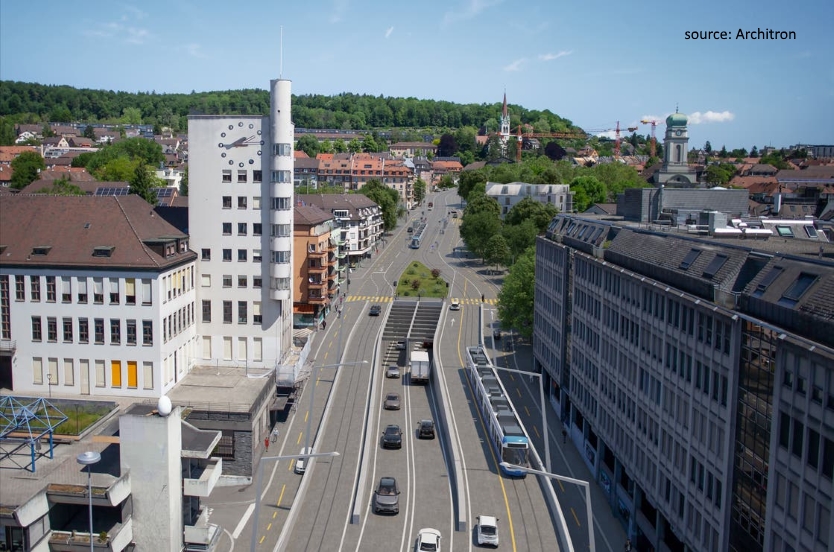 The next one is not at all tram relevant, but just for completeness, here is a view of the road tunnel. This is facing Hardbrücke. The road tunnel will be four-lane between the lower end and the intermediate tunnel entrance ramp at Bucheggplatz, and just two lane onwards towards Milchbuck. At the lower end (picture), the four lanes split with one per direction going up to Hardbrücke (as seen from the outside in the previous two views) and two down to Wipkingerlatz (as seen from the outside in the view that will follow after this one).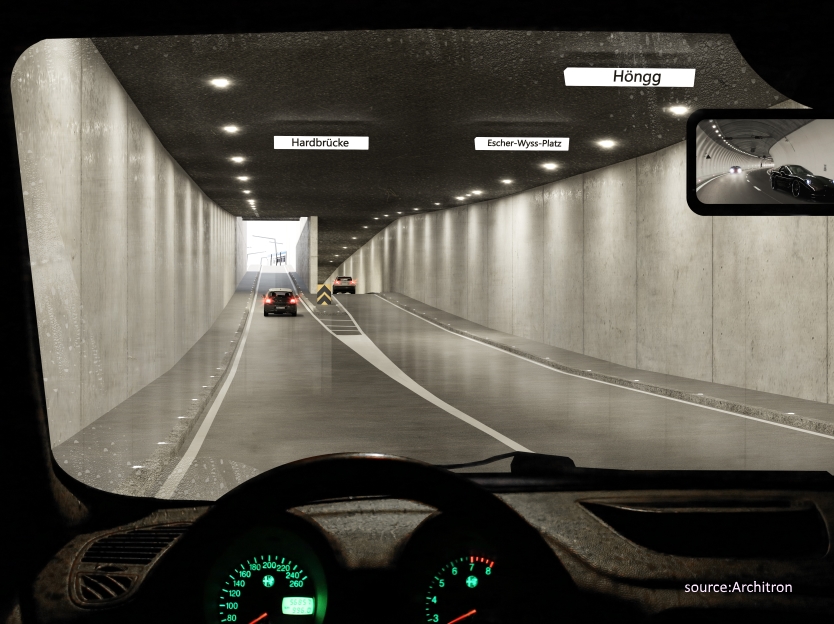 And finally Wipkingerplatz. The tram will continue on Hardbrücke itself. This is a surprising decison seeing there are already tram tracks running under the viaduct. So there will be two tram lines running one above the other here for a distance of three stops.

To complete the overwiew, here is a map showing both the tram line along its full length and the road tunnel making its curve. The tracks between Bahnhof Hardbrücke and Hardplatz are already in place. The rest must be built.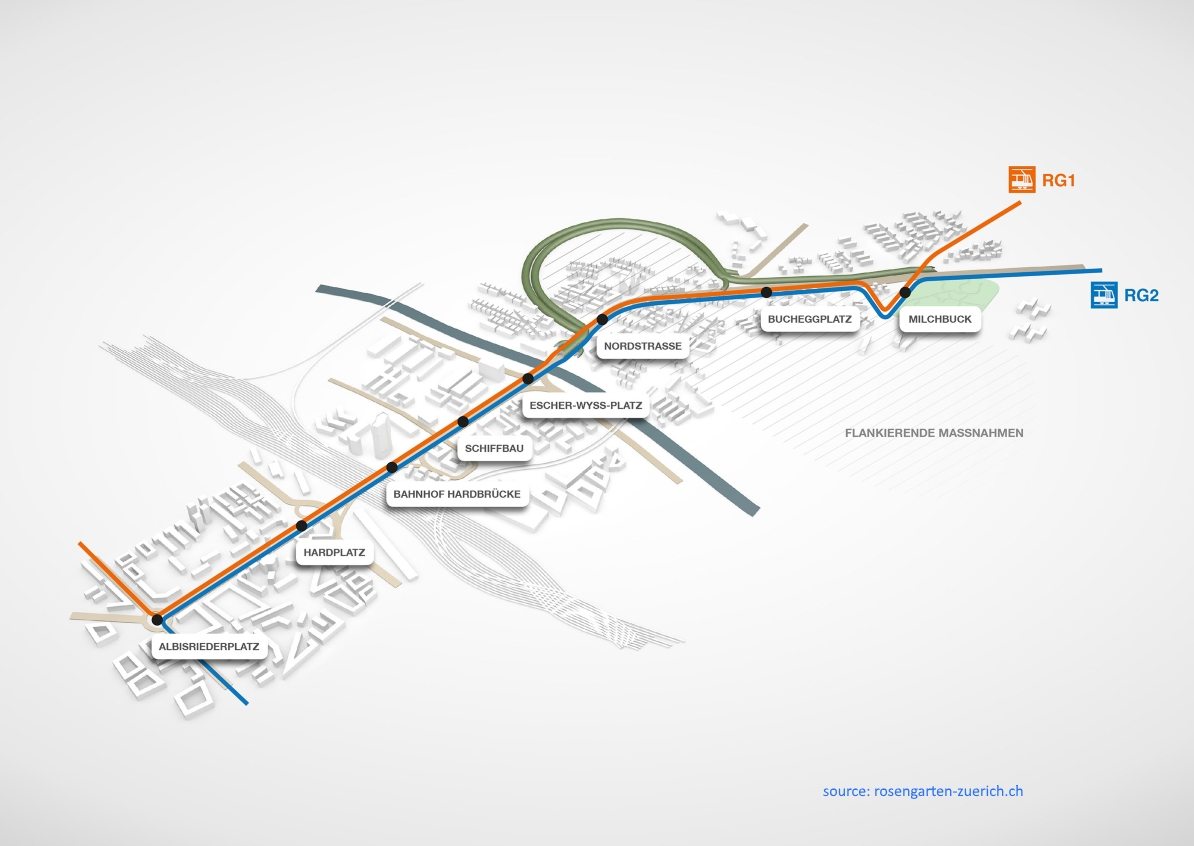 All pictures can be enlarged by clicking on them.
---
22.01.2020 - End of SEPTA PCCs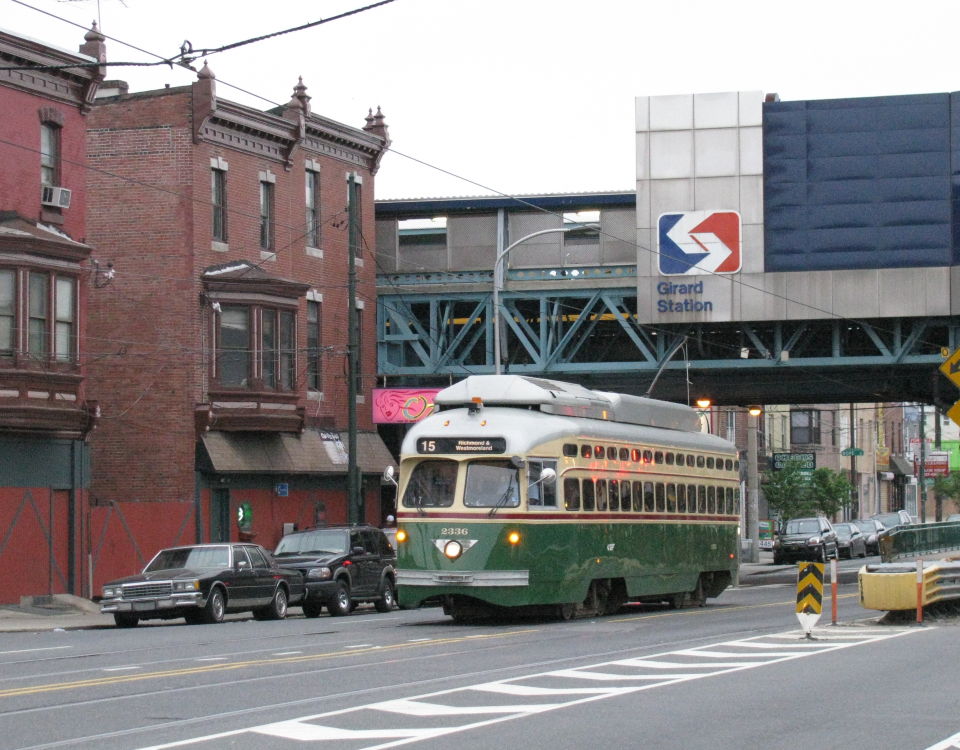 I have just learnt that SEPTA (Philadelphia) are to end the operation of PCC trams on 25th January. SEPTA made big waves in the tram world when in 2005 they not only reintroduced trams to route 15, a service that had not seen trams for 13 years, but did so with specially rebuilt 1940s PCC cars. Sadly, that is now over as it is claimed the PCCs have reached the end of their economic lifespan. Route 15 will go back to being a bus route as the replacement cars have not yet been ordered.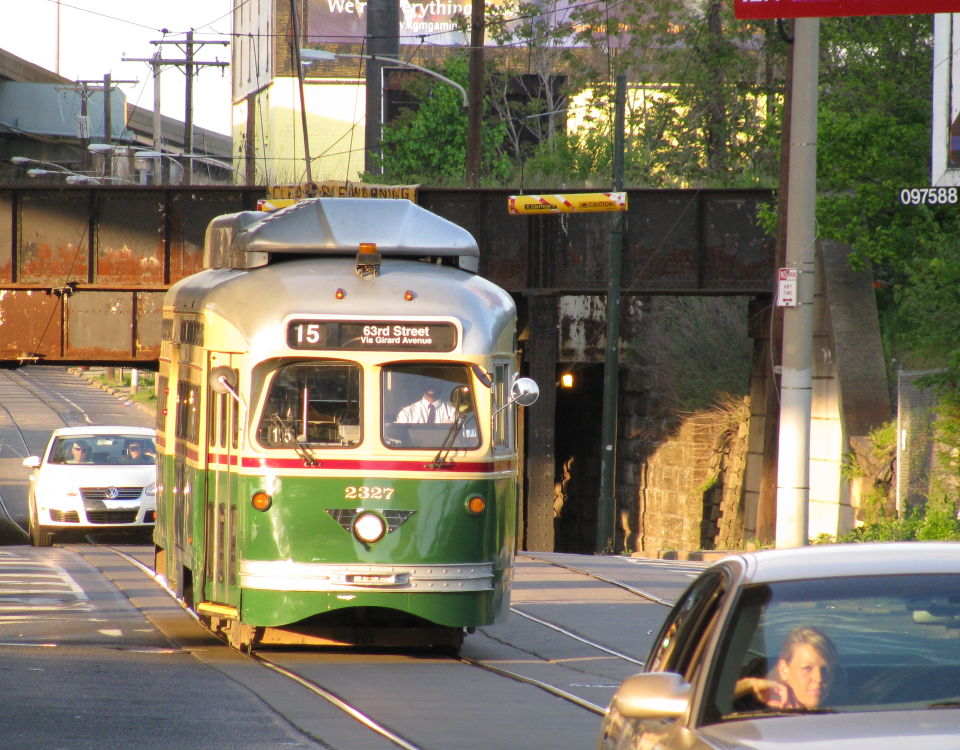 I visited Philadelphia in 2008 and rode part of the system, now regretting not having gone back.

---
21.01.2020 - Rosengartentunnel vote on 9th February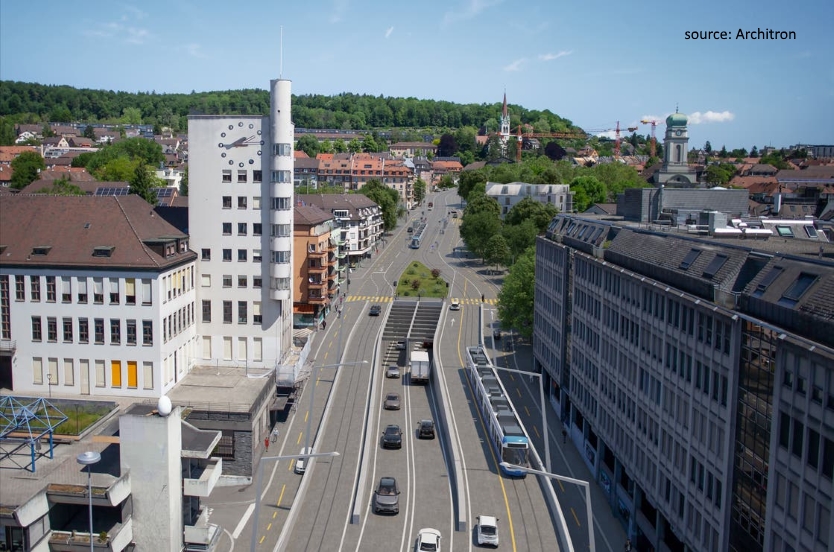 An important vote is approaching. On 9th February the voters of the Canton of Zürich will decide on the Rosengartentunnel project. At the centre of this dicussion is the major road via Rosengartenstrasse and Bucheggstrasse that forms the continuation of Hardbrücke northward to Milchbuck (where it joins a tunnel towards the motorway). The thoroughfare is used by 56,000 vehicles a day. The future of this road has long been a subject of much political dispute, not least because it cuts through a densely populated area. The road lobby have favoured replacing the road by a tunnel which they claim would permit traffic to flow more freely while relieving traffic conditions on the surface. Pro-public-transport groups have opposed this and instead sought to reduce capacity and discourage driving in the city altogether.
Compromises are, fortunately, always the favoured way of resolving political differences in Switzerland. A compromise led to a proposal involving a road tunnel (rebranded from Waidhaldetunnel to Rosengartentunnel and somewhat reduced in scope), with a tram line being built on the surface. The tram line would run from Milchbuck to Albisriederplatz (incorporating the already built section on Hardbrücke) as proposed in VBZ's Vision 2025 (published 2006).
Such compromises between political adversaries are often endangered by opportunism. In 2010, a popular referendum to build the tram part without building the tunnel, thus effectively constricting road capacity, was rejected by 65.9%. Fortunately that result was not widely used to discredit the tram proposal.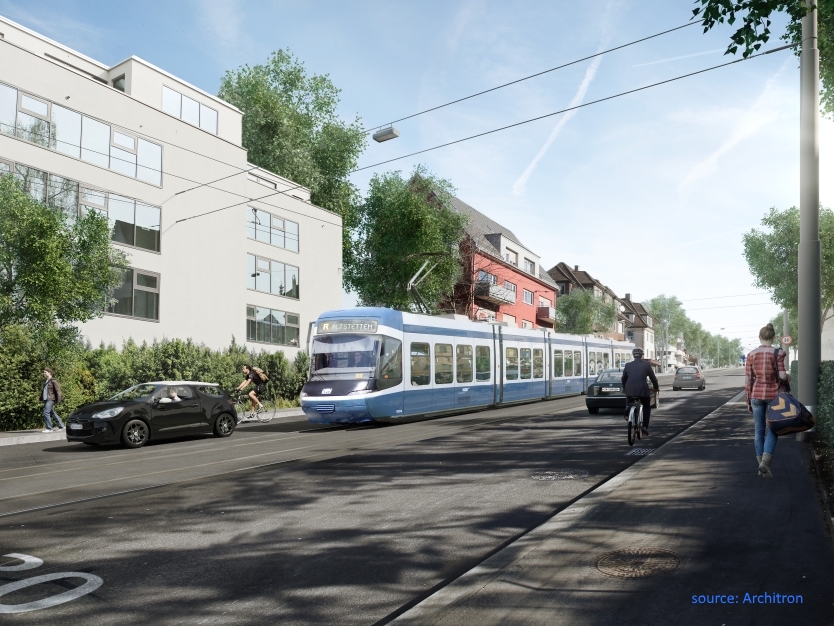 The official project will be voted on on 9th February. The total cost of the project will be 1,100 million CHF. The 3.1km of new tram line account for 165 million and the road tunnel 600 million, with the rest for planning, reserve, and the acquisition of some properties.
The project is supported by the centre-right parties but opposed by some of the centre-left (although supported by some public transport groups). A recent survey shows 49 percent of voters in favour of the project with 27 percent against, with opponents gaining ground (according to this NZZ article).
The alignment is presently used by trolleybus 72 throughout and for a short section at its lower end by trolleybus 33. At its Milchbuck end also by diesel bus route 69 which is one of those earmarked for conversion to trolleybus. I have not seen any announcement on how these will be affected but cutbacks are highly likely, with the 72 most definitely losing its justification.
It is of course inevitable that the construction phase will lead to some disruptions. But the tunnel itself will be bored rather than built by cut and cover, and will not follow the present road alignment, instead taking a more gradual and elongated curve to avoid the gradient. I also assume that, in order to minimize disruption, construction of the tram line will not start in earnest until the road tunnel has been opened.
The artists' impressions above (created by Architron) show the tunnel portal at its lower (Wipikingen) end with two Cobra trams (upper picture), and another Cobra underway further uphill (lower picture - in the discontinued livery of the prototypes).
NZZ article on Rosengartentram
---
VBZ's Facebook feed has published photos of the new Flexity tram on its nightly test runs in front of Hauptbahnhof and also in Oerlikon.
In a press release published today, VBZ also re-iterates its ambition to have the first Flexity in passenger service this Summer. New trams will spend their first 25 days of passenger service on route 11, where it will be easier service them due to the location of Oerlikon depot (where the initial cars will be allocated). After this burn-in, they will be transferred to route 4, which is presently considered the route with the greatest capacity problems. By the end of this year, 9 or 10 cars should be in service.
Trams displaced by the new additions will initially be transferred to other routes to address the general vehicle shortage. VBZ hopes this will be resolved by the end of this year.
VBZ employ 980 people with tram driving duties. Training will begin in April and extend over a three-year period. The Flexity will replace Tram 2000 pairs on routes 2, 4, 7, 11, 13, 14 and 17.
---
20.01.2020 - Basel tram museum opens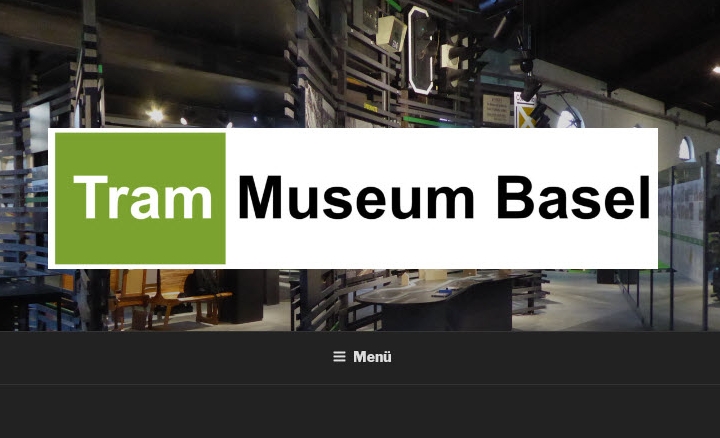 Basel's tram museum opened for the first time on 17th January as part of the museum night. The museum will be open regularly from April on every third Sunday of the month from 13:30 to 17:30.
During opening times, heritage trams will operate from Schifflände via Bahnhof SBB to the museum which is in Dreispitz depot.
---
16.01.2020 - Swisstrolley Plus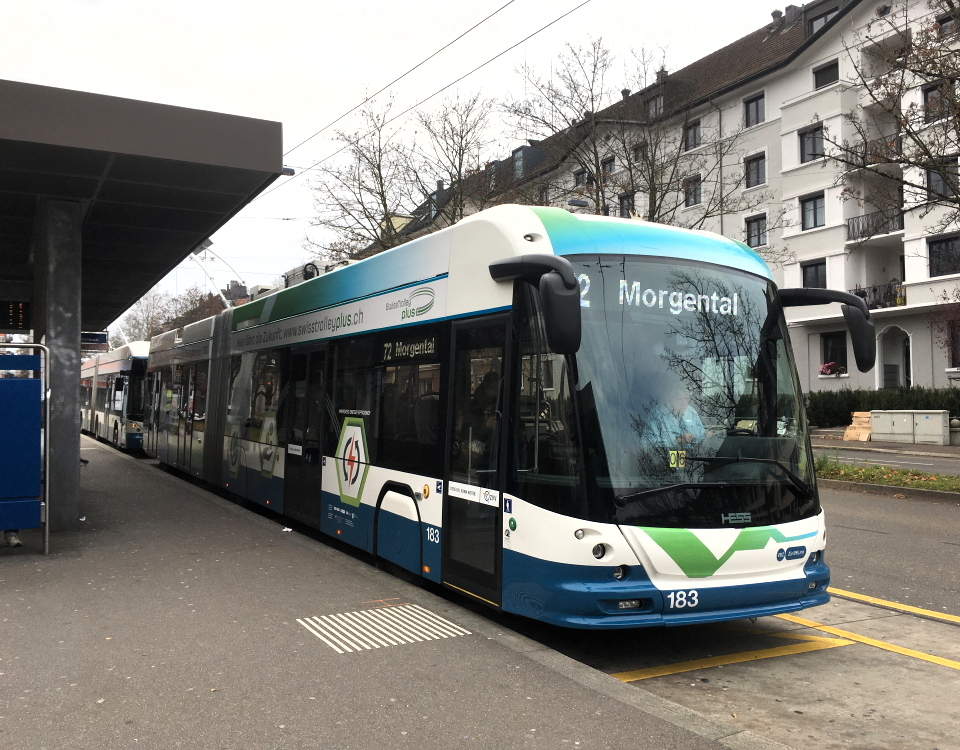 Seen yesterday at Bucheggplatz, Swisstrolleyplus 183 now in standard Zürich livery rather than the livery it carried as an experimental bus (as in the photo). It was stated that the research project would end in late 2019, so this would indicate that 183 is now just a regular part of the fleet. I will look out for and report on any publication of the findings.

---
16.01.2020 - Mandarinli for Madagascar?
It is being reported that a project is underway to ship some of the RBS Mandarinli trains to Madagascar. I hope this is not an echo of the failed attempt to start a service with ex-Forchbahn units there in 2005. Watch this space for news.
---
News items for 2019 have been moved from the newslog.html main page to the 2019.html page.
---
next year | previous year | current year | other years | search.
return to Zürich tram home page.