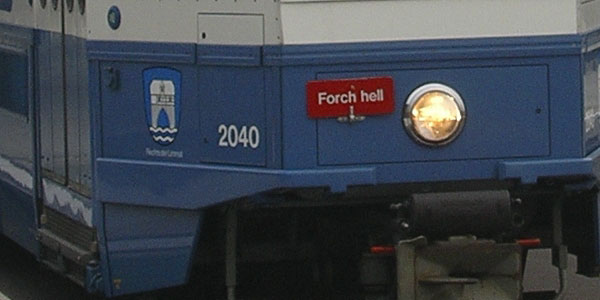 you are in: tram -> zurich -> news
Newslog 2014
latest news | archive | news search
This page presents news and other items of interest concerning the Zürich tram system and connected topics.
This is not the official information page of any organisation. All opinions expressed here are my own or belong to those to whom they are attributed. Whereas care is taken to ensure the correctness of news, no claim is made to total accuracy.
Visitors are informed that many links from this page are to external sites. Such links are provided for informational purposes only. The author of this site explicitly declines responsibility for the content of external web pages.
latest news | older newslogs | articles.
return to Zürich tram home page.
2014 news:

next year | previous year | current year | other years | search.

guide to linking to news items
---
02.04.2014 - Valparaíso to get Luzern trolleybuses
10 non-articulated trolleybuses from Luzern are set to make the long journey to Valparaíso. Valparaíso is Chile's only trolleybus system. The fleet already includes former Swiss trolleybuses fromn several Swiss cities (including two from Zürich) as well as Ameican-built trolleybuses from the 1950s. There were at a time rumours that the city might be acquiring ex-Winterthur GTZs, but these attempts did not prove fruitful.
---
02.04.2014 - Dining car used as restaurant in Oerlikon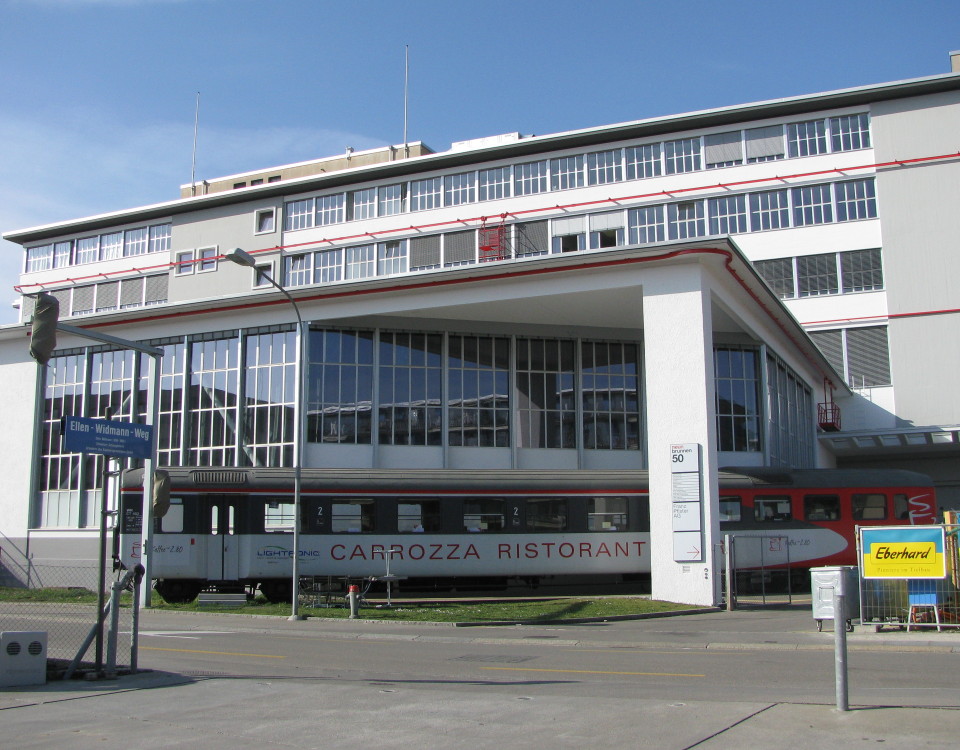 An old dining car has found a new lease of life as a restaurant in Oerlikon. The car sets on an industrial siding in Neubrunnenstrasse, where it will remain until probably 2015. The restaurant is open on weekdays for lunch. The car is ex SOB WR 452 which has already had a previous mention on this newslog. It was the restaurant car that ran in SOB's Gipfelexpress between Zürich Altstetten and Einsiedeln until 2008.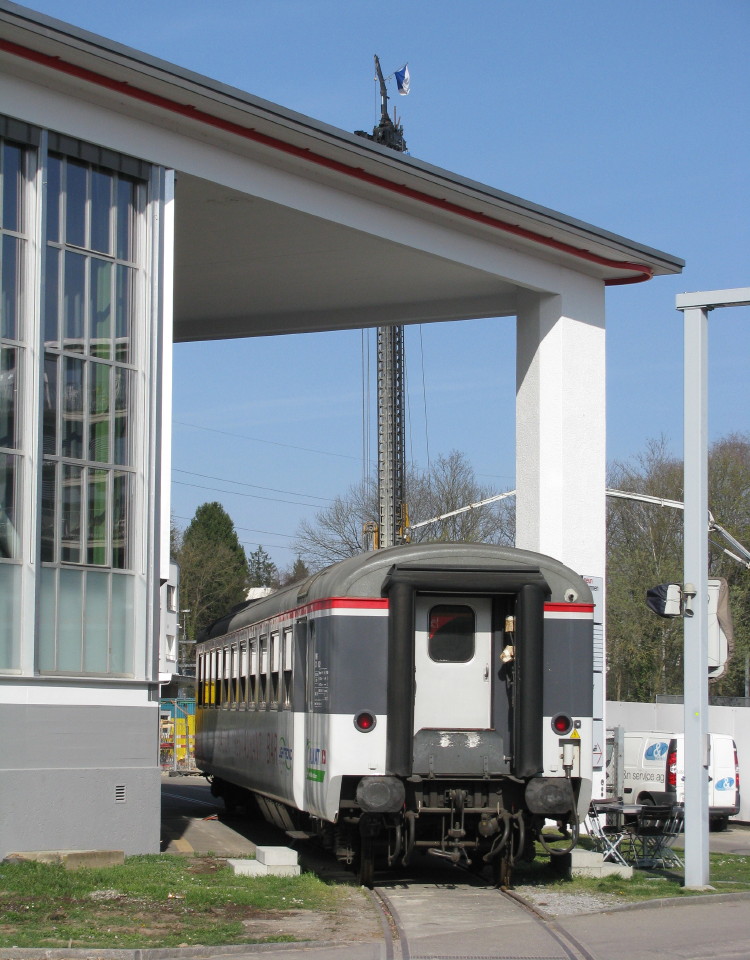 Schweizer Eisenbahn Revue

---
02.04.2014 - CNL night trains lose dining cars
Following on from previous sad reports on the degradation of long distance trains, I have learn that DB is dropping dining car service from its CNL night trains from the beginning of April. A choice of drinks and snacks will continue to be available from staff.
Schweizer Eisenbahn Revue
---
02.04.2014 - Epitaph to Basel trolleybus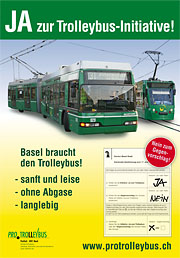 In 2008 Basel abolished its trolleybus. BVB and the city council convinced voters to approve the measure by promising them clean and environmental gas buses. Originally these would have used compost gas, but this was later corrected as being natural gas. With these gas buses now up for premature replacement, the next generation will be of normal diesel buses. So a salami tactic of false and misleading promises has destroyed a trolleybus system.

---
02.04.2014 - An additional Flexity for Basel
BVB is to receive 61 Flexity trams from Bombardier rather than 60 as previously planned. The reason being the formula used to adapt for inflation would have qualified BVB for a refund. Instead they opted for an additional tram. The first Flexity will arrive in the third quarter of this year.
Schweizer Eisenbahn Revue
---
18.03.2014 - Witikon to get direct trolleybus link from central Zürich
Trolleybus route 34 has long been somewhat special. In Zürich trolleybuses are not otherwise found on such peripheral feeder routes. The inhabitants of Witikon, however, have long been petitioning for a direct link to central Zürich. If current plans come to fruition, their desire will be granted in 2017 with the 31 and 34 being joined into a single route. 2017 is also the year that the 31 will be cut back at its other end (Altstetten to Schlieren) to permit construction of the Limmattalbahn tram, making the double-articulated trolleybuses available for this extension.
---
18.03.2014 - New trolleybus arriving
The two additional Lightrams ordered last year will be delivered this month.
Meanwhile, GTZ 115 was withdrawn earlier this month. On the other hand 106 and 113 have received overhauls that may extend their working lives by another year.
---
18.03.2014 - Basel trolleybus and tram 1989
A great Youtube find: footage from Basel in 1989.
---
18.03.2014 - Photo update: Freiburg tram extends to Gundelfingen
My latest photo update with the opening of Freiburg's extension to Gundelfingen.
---
04.03.2014 - Pictures from Vinnitsa
Readers interested in the ex-Zürich trams in Vinnitsa will enjoy this page of Drehscheibe Foren.
Thanks to user Martin S. of bahnhofplatz.net for finding this gem.
---
04.03.2014 - Basel trams on Youtube
I have uploaded a short recent movie of random BVB and BLT tram movements on Centralbahnplatz to Youtube.
---
26.02.2014 - GTZ trolleybuses, the final months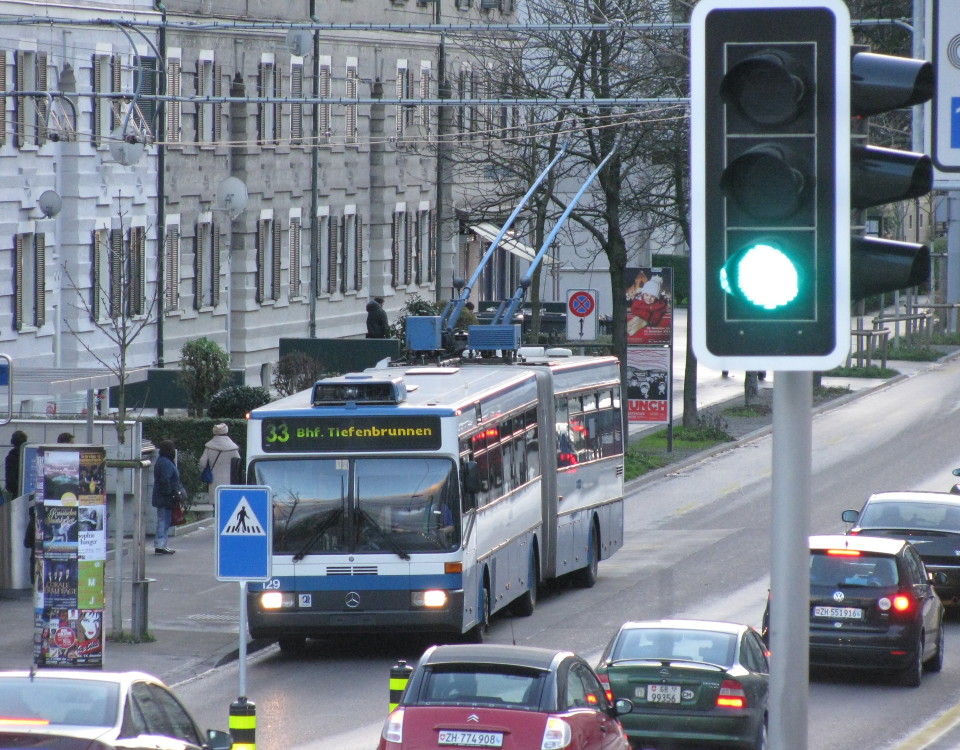 With delivery of Swisstrolleys being completed in September, withdrawal of Mercedes/ABB GTZs came to a temporary halt. 10 units presently remaining in service (according to my notes, these are 106, 113, 115, 122, 124, 129, 131, 137, 140 and 142). It was announced last year, that they would remain until April. Two Lightrams are still to be delivered, but beyond this no further trolleybus acquisitions are in the immediate planning. It is not clear whether there is any connection, but there are apparently six diesel buses on order that could replace the remaining GTZs, at least for the interim period until Tram Hardbrücke opens (in 2017), making route 71 superfluous. So ride and photograph these trolleybuses while you can!
On the topic of GTZ disposals, it was 133's turn to be scrapped on 19th February. This was one of the vehicles withdrawn last year.
---
My latest photo update is a rather random collection of tram and rail scenes from Switzerland and Spain.
---
26.02.2014 - San Francisco's "Zürich" tram back in action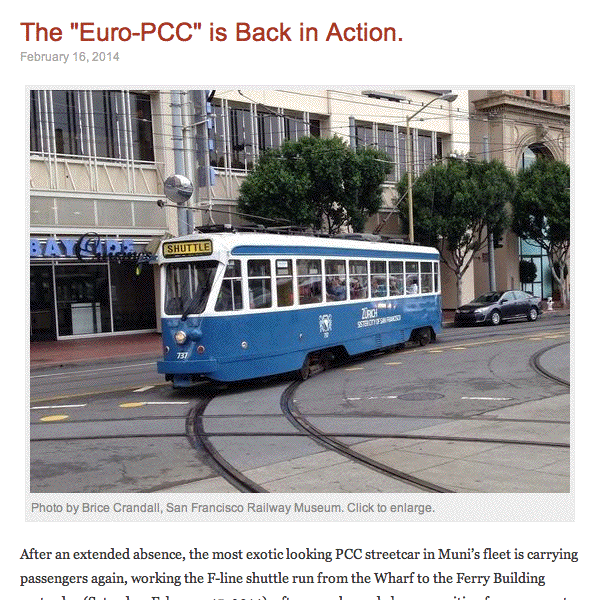 San Francisco's Market Street Railway website reports that the city's "Zürich" tram is back in service.

---
11.02.2014 - Model trams: Navemo to produce Swiss Standard Tram


The long-anounced Swiss Standard Tram models by Navemo are to be launched this Summer, according to this announcement on Navemo's website. According to the announcement, variants for both Zürich (old and new liveries) and Bern are being prepared. The pictures do not as yet represent the final model.
---
09.02.2014 - FABI: More money for the railway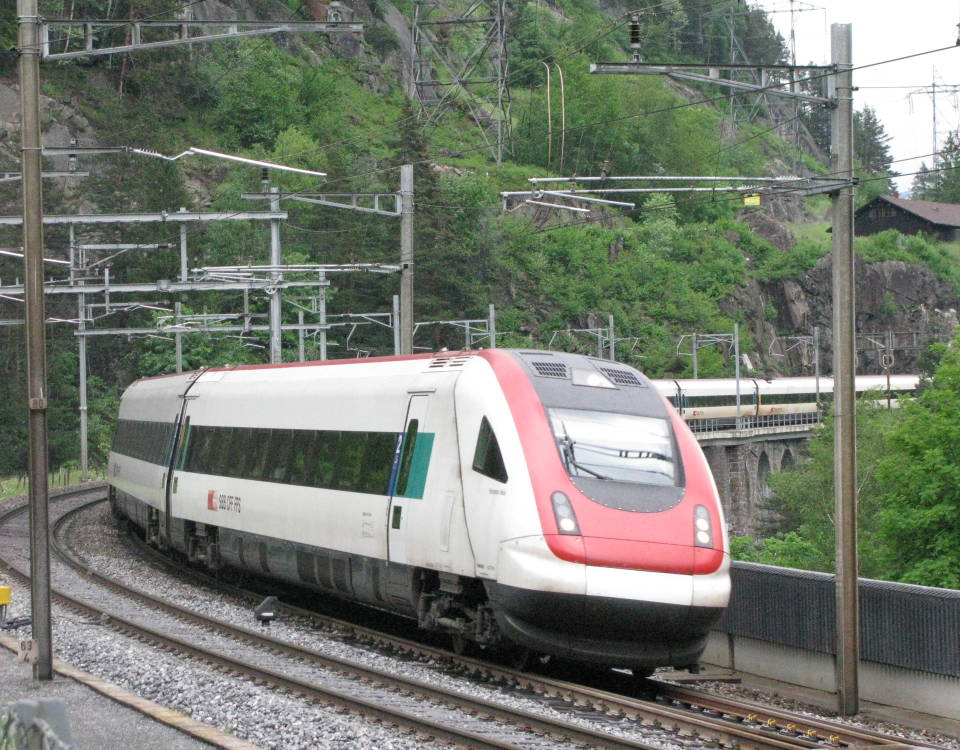 One of the items in this weekend's referenda was FABI, a law that will provide more money for the railway, enhancing capacity on certain lines and nodes permitting service frequencies to be increased. Continuing in tradition of major rail projects, 62 percent of voters approved FABI. The proposal was put forwards by federal government after its hand was forced by pro-rail groups asking for more far-reaching measures.

---
09.02.2014 - New trams: The rumour mill rumbles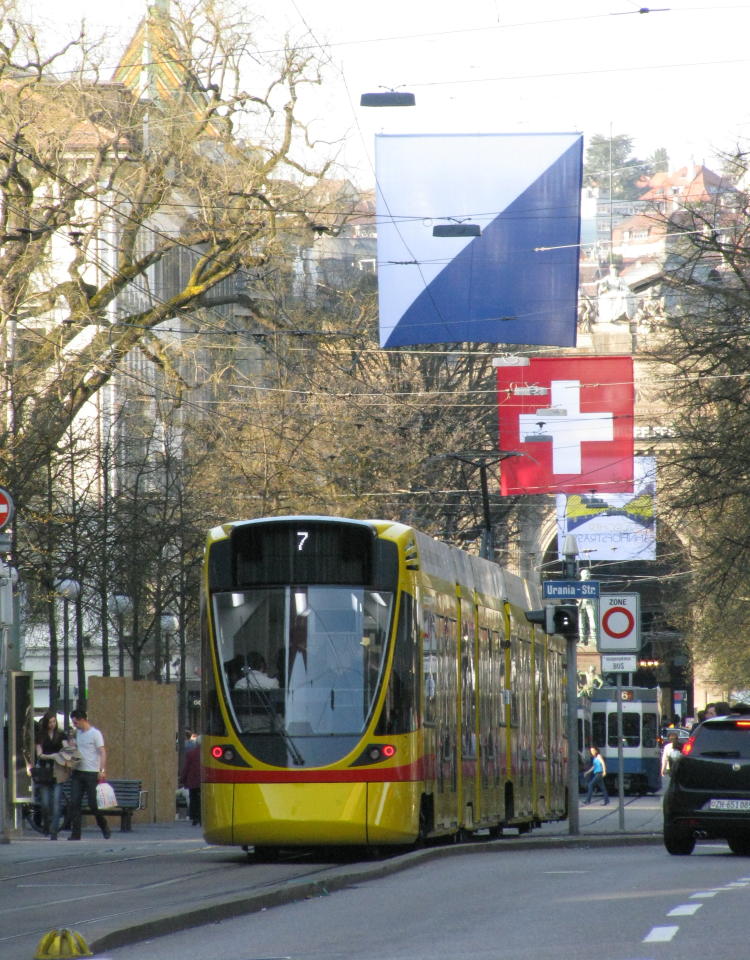 No, you haven't missed it. The decision on Zürich's new trams is still being awaited with baited breath. According to an article in Handelszeitung, the main competitors are now Siemens and Stadler, with Stadler proposing a variant of its Tango type.
---
24.01.2014 - London: Routemaster operation of route 9 to cease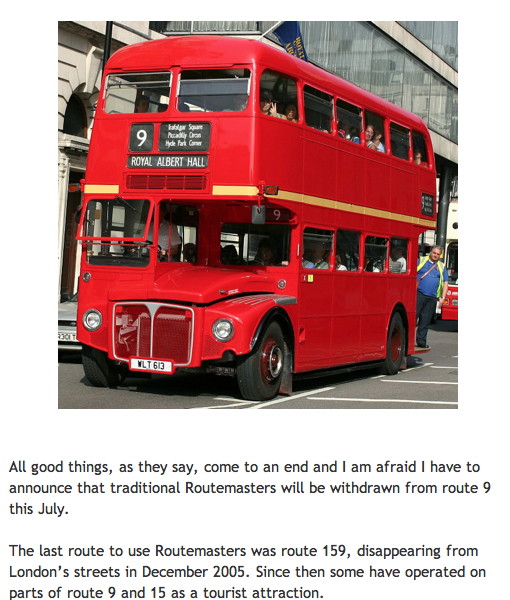 Off topic, but maybe of interest is the sad news that heritage Routemaster operation of London's route 9 is to cease this July. After this only the 15 will continue to operate with heritage Routemasters.
---
24.01.2014 - Appenzellerbahn choses Tango
Appenzellerbahn has ordered seven Tango trams from Stadler. These will operate the future through service between Trogen and Teufen. The older Stadler units of Trogenerbahn will be retained (the timetable requiring eight units in service) but the older BDe4/8 are to be sold, possibly to Rittnerbahn (Austria).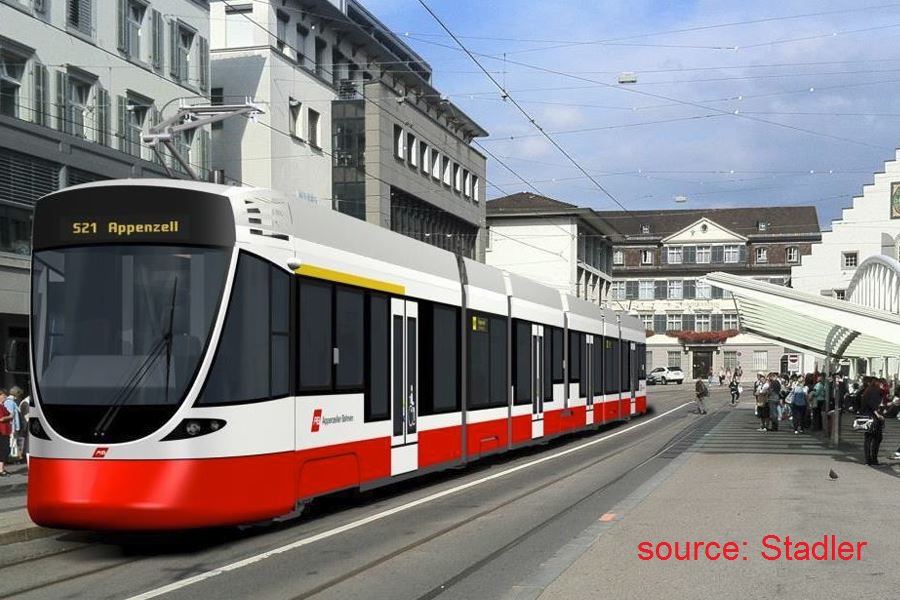 ---
23.01.2014 - The Zürich tram in San Francisco
Back in 2005, this newslog reported that to mark Zürich's sister city relationship with San Francisco, that the latter city was to run a Zürich tram (actually a Bruxelles PCC painted in VBZ colours) on its heritage F route. Technical issues eventually curtailed the operation of 737, but according to San Francisco's Market Street Railway website, the car is soon to return, and has recently been seen under test.

---
22.01.2014 - Cobra 3034: Repairs in progress
I have been asked about the status of Cobra number 3034, which was the victim of an arson attack on 1st January 2013 (at the time I erroneously reported the number as 3043). Initially it was not clear whether the tram could be saved, but later a repair was deemed to be viable. Progress has been slow, not least as work took second place to the more routine maintenance and repairs required to keep the rest of the fleet rolling. The rate of dismantling was impeded by the severely scorched condition of many of the parts. Two body segments were found to have suffered structural damage and were sent to Bombardier in Bautzen, Germany (where the body segments were built) for rebuilding. A return to traffic is presently expected around Easter. VBZ has produced the video below showing scenes of the repair so far.
---
21.01.2014 - Durchmesserlinie approaching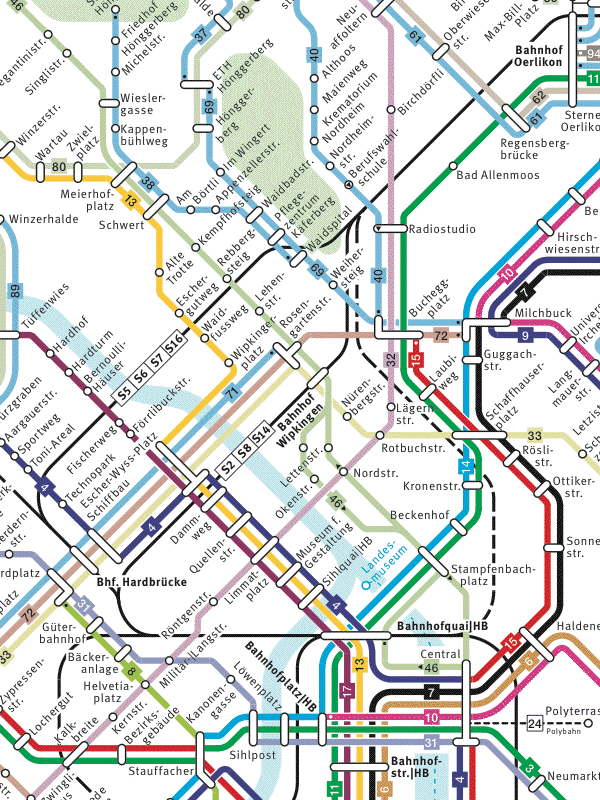 Spotted today: The new route maps already depict Zürich's new cross-city rail link, Durchmesserlinie (albeit as a dotted line). The line is slated to open this summer for S-Bahn traffic, and at the end of the year for long-distance trains.
---
21.01.2014 - Canton supports tram re-routing in Altstetten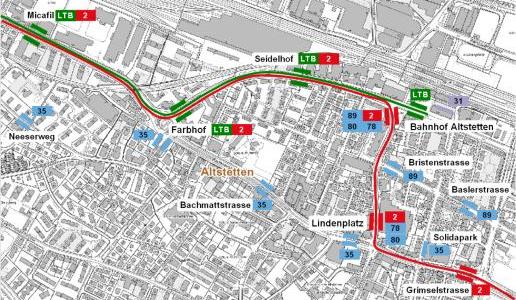 In the debate around the re-routing of the Alstetten tram (replacing its present direct route between Lindenplatz and Farbhof with a dog leg via Bahnhof Altstetten) the city council recently voted in line with the local desire to preserve the present alignment. The cantonal parliament, however, has now taken the contrarian view and wants to continue with the project as planned.
---
15.01.2014 - Winterthur: Deutweg depot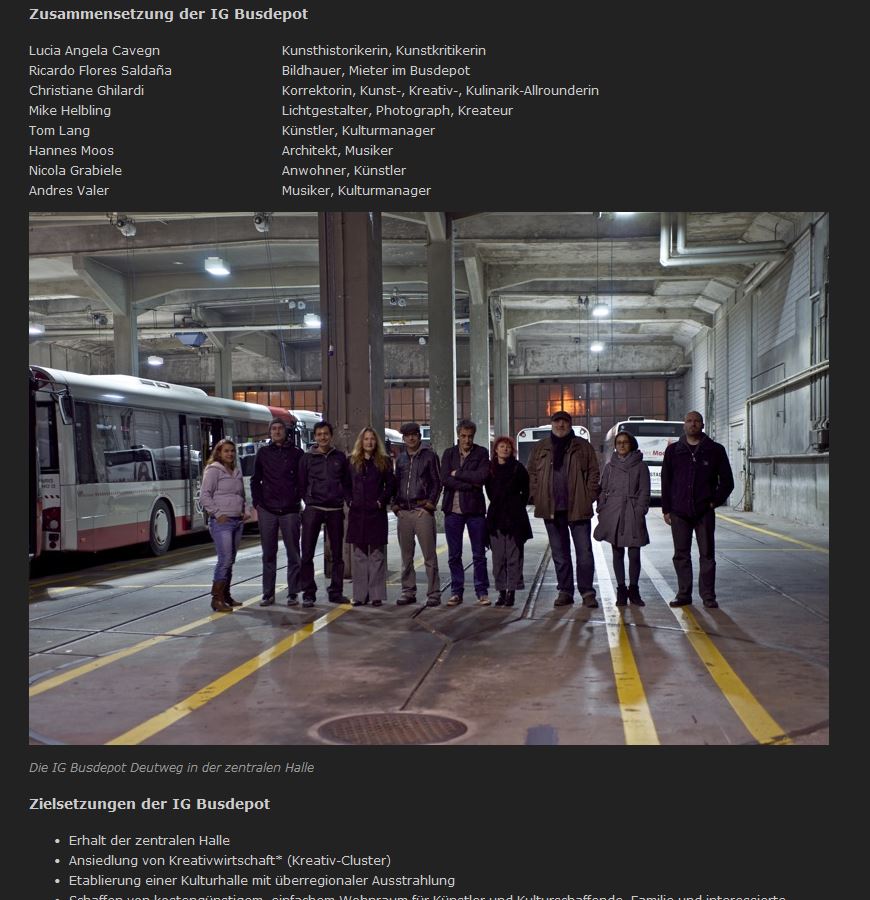 A group of artists in Winterthur are campaigning to save Deutweg bus depot. The structure will cease to serve as depot this year, with its functions being transferred to an extended facility at Grüzefeld. Whereas the city wishes to tear down the structure and redevelop the land residentially, IG Busdepot Deutweg is seeking to maintain the central shed as a centre for artists. Their website is here. The oldest part of the depot was completed in 1914, and originally served as the city's tram depot. Some of the pictures on the site show tram rails still in place. Winterthur's last tram line closed in 1951.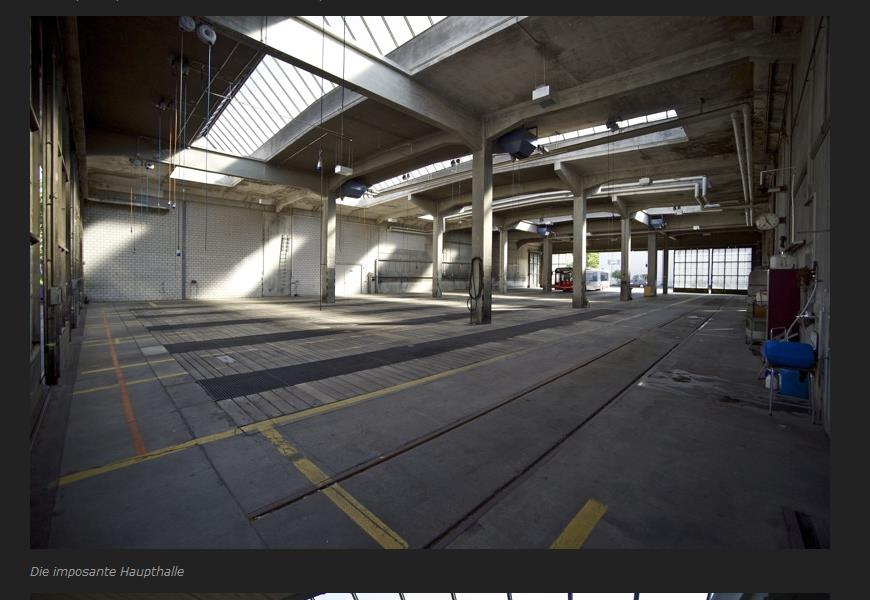 ---
15.01.2014 - Winterthur: new Swisstrolley to arrive shortly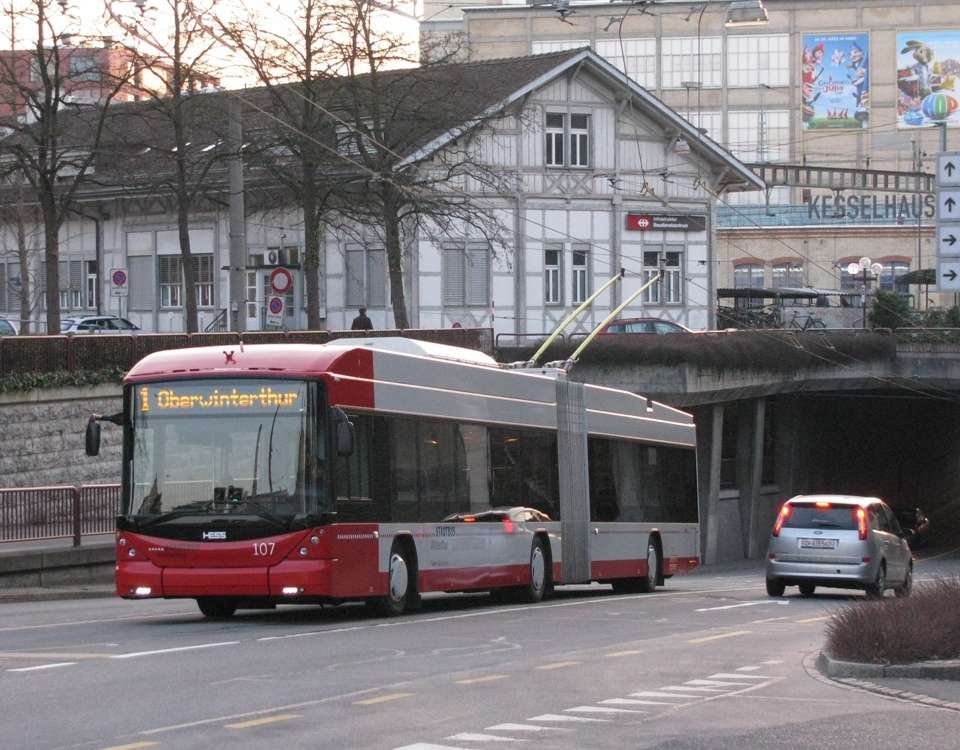 While on the subject of Winterthur, the new trolleybus is to arrive imminently, and could be in service on 22nd January. The addition vehicle will permit a shortening of peak headways on route 2.
---
14.01.2014 - Cargotram serves additional destination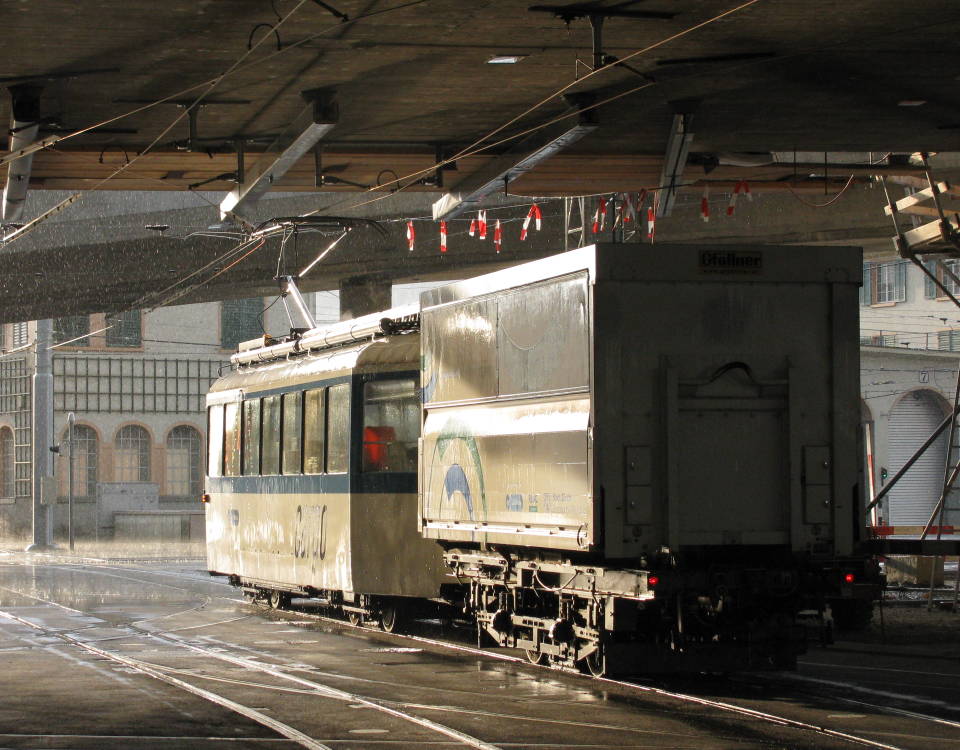 Scrutiny of the Cargotram (and E-tram) timetable shows a further destination has been added. Hard (Escher-Wyss-Platz depot) is served (commencing 11th January). This raises the number of destinations served to 10 (plus Strassenverkehrsamt which is listed as Cargotram in the timetable but is actually served by lorry) – the highest number yet. Cargotram/E-tram destinations are currently Albisrieden, Burgwies, Hirzenbach, Letzigrund, Seebach, Tiefenbrunnen, Hard, Irchel, Wartau and Wollishofen.

(click on timetable to enlarge)
Official Cargotram page

My Cargotram pages
---
I have added some pictures of a tram accident that occurred this morning, as well as recent views of French trams.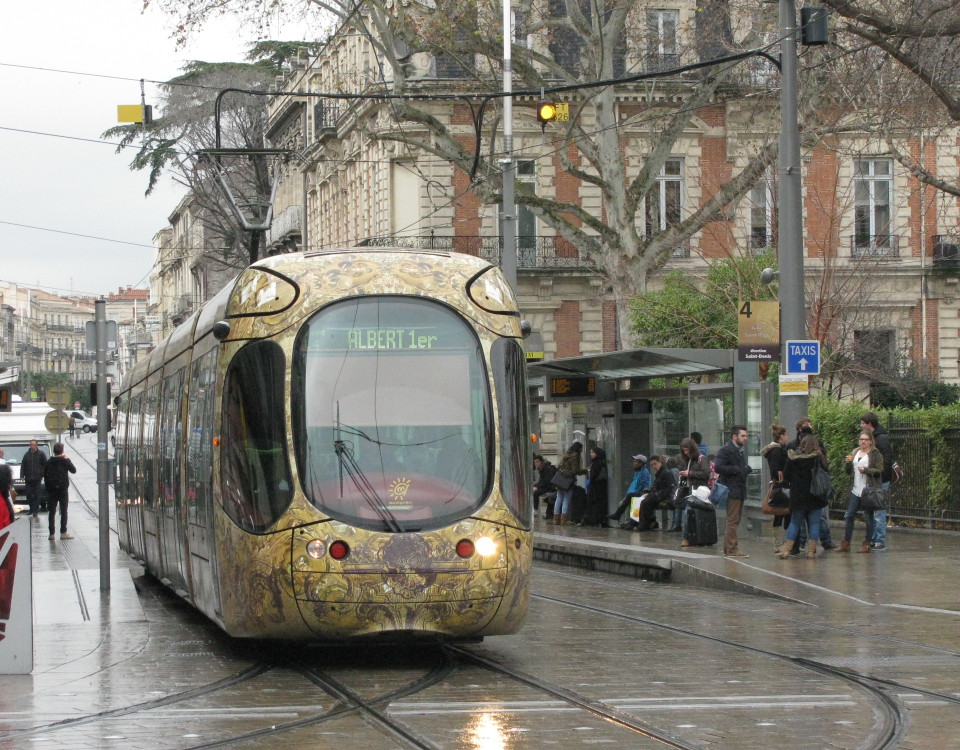 (or all together here)
---
10.01.2014 - City council wants to keep tram route 2 on present alignment
Zürich's city council has voted on Wednesday in favour of keeping tram route 2 on its present alignment in Altstetten, and is opposing the executive council who wants to take it off Badenerstrasse and build a detour via Bahnhof Altstetten. Altstetten residents fear that losing trams through the centre of their neighbourhood will erode its function and could cause businesses to move away, leading to an overall loss of livability. The re-alignment is being proposed in conjunction with Limmattalbahn.
Limmattalerzeitung
---
A Happy New Year to all readers.
All 2013 news items can now be found on www.proaktiva.ch/tram/zurich/newslog/2013.html.
The past year did not start too well, as the first news item announced that Cobra 3034 had been ravaged by fire. The ordering of the new trams that will replace the Tram 2000s of the 1970s batch has also slipped and an announcement is still being eagerly awaited. So much for the bad news. Otherwise the Zürich news was rather more upbeat in 2013. In terms of the route newtork, tram 17 has been extended to Albisgüli at peak times and extra services to the airport added. This is of course placing a squeeze on the fleet, but so far VBZ has coped well.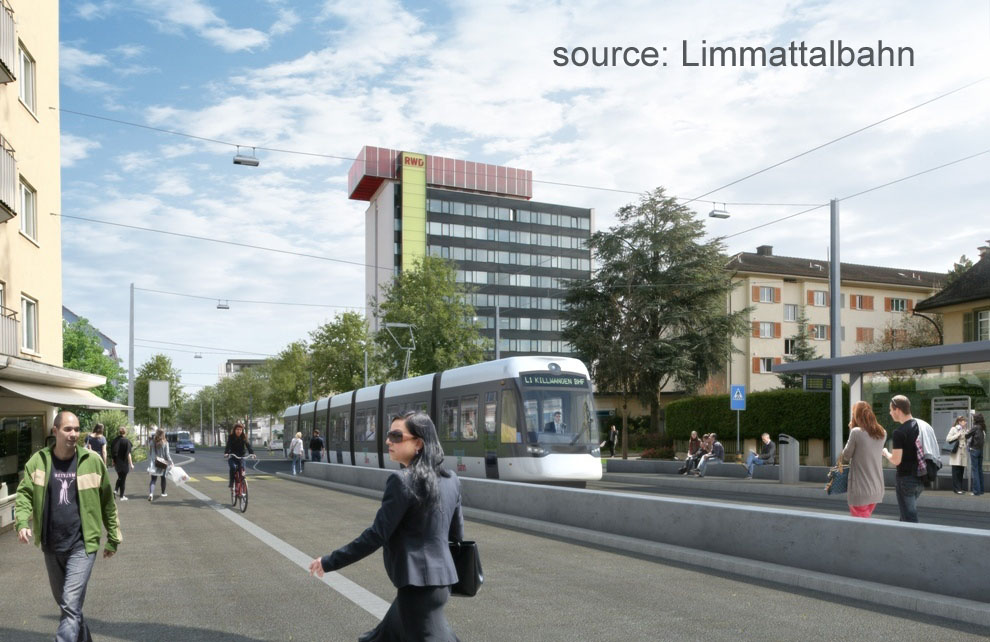 Planning for the future is also making good progress, with both Tram Hardbrücke and Limmattalbahn edging closer to reality, and Vision 2030 laying out a blueprint for VBZ's network of tomorrow.
In terms of preservation and museum news, the highlight of the year was undoubtedlly the return of Kurbeli 1379 and trailer 737 to Zürich (before being moved into storage).
And now to the trolleybuses: 2013 saw the delivery of the Hess Swisstrolley4s, 162-182. Together with Lightrams 87-89 (delivered in 2012), 21 new single-articulated trolleybuses and 12 new double-articulated are available, replacing in principle 43 Mercedes/ABB 0405 GTZ (101-143). The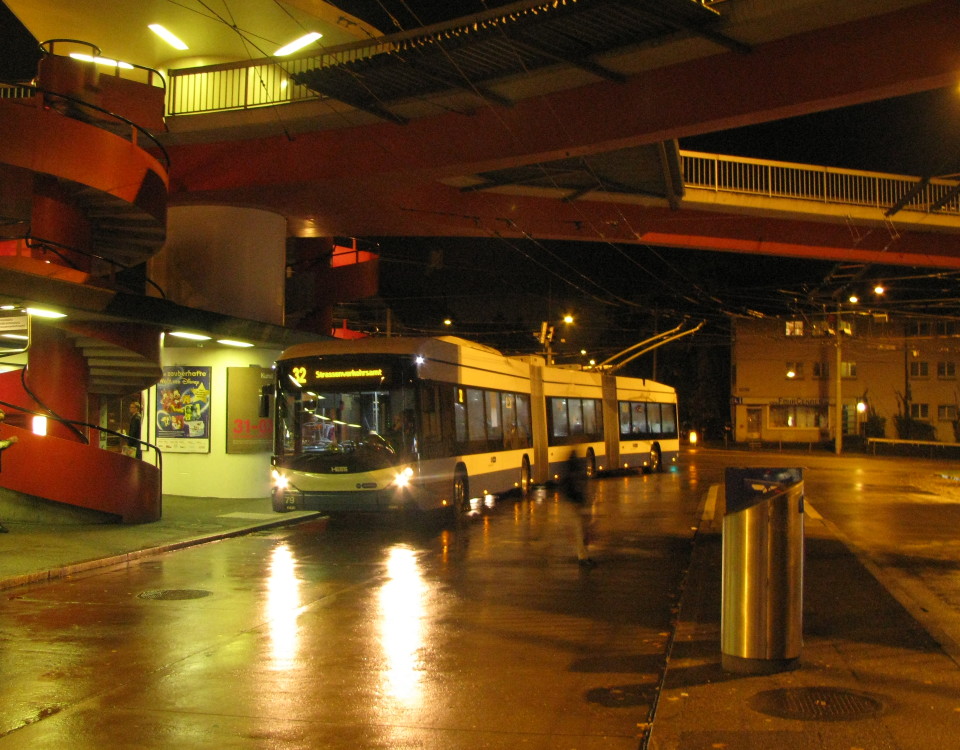 discrepancy of 10 trolleybuses is explained by higher capacity vehicles on route 32 permitting peak headways to be stretched and meaning four fewer trolleybuses are required. Furthermore, the exchanging of the Triemli - respectively Morgental - legs of routes 33 and 72 and the introduction of a relief route 71 while thinning out end-to-end workings slightly mean one vehicle can be economised here. The remaining shortfall is being covered by a small number of GTZs being retained in traffic a little longer. Presently there are about 10 of these remaining. They are turning 20 years old this year. In a move to replace these, two further Lightrams have been ordered for delivery in 2014. In the longer term the opening of the Hardbrücke tram link (in 2017) should reduce trolleybus operation on Hardbrücke (although diesel buses could be used as an intermediary, so there is no speculating how long these trolleybuses are safe).
However, if initial rumblings come to fruition, the trolleybus system may grow overall with the 69 possibly slated for electrification by 2016 and the 80 also being under consideration. On the preservation front, it sadly seems that no GTZ is being saved locally but Rétrobus has saved GTZ 102 as well as its Winterthur sister vehicles 147 and 149. Presently, Zürich's 106 is the city's only trolleybus to still sport display blinds rather than matrix displays, leaving it in close to its original condition. It would seem that the German dealership, Sturm, is still hanging onto Winterthur sister units.
---
next year | previous year | current year | other years | search.
return to Zürich tram home page.