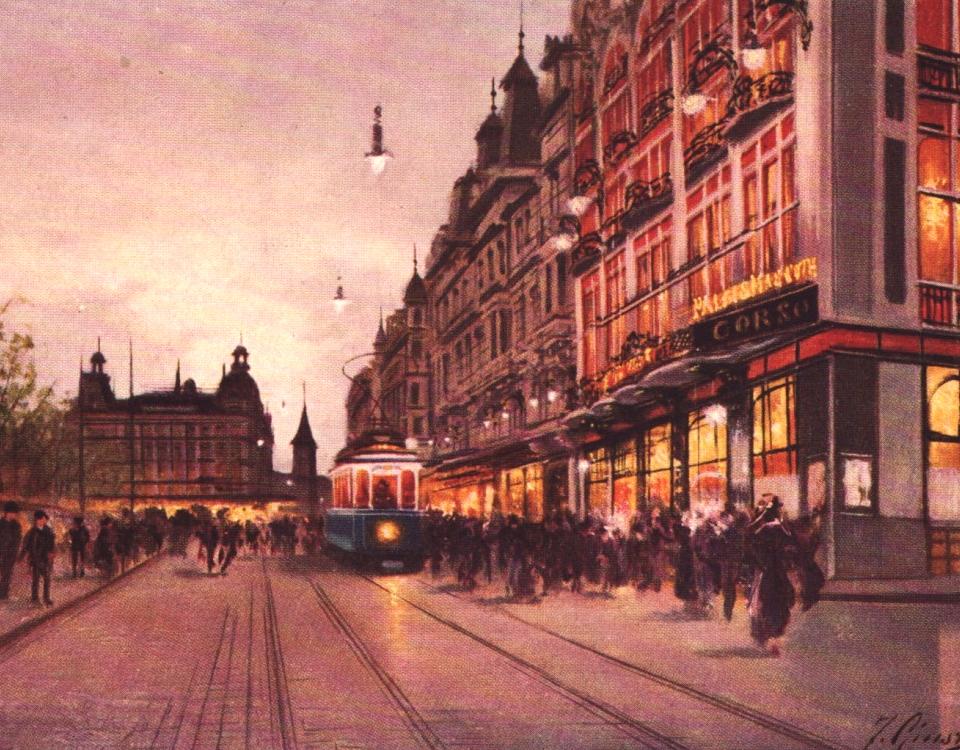 you are in: tram -> zurich -> news
Newslog 2019
latest news | archive | news search
This page presents news and other items of interest concerning the Zürich tram system and connected topics.
This is not the official information page of any organisation. All opinions expressed here are my own or belong to those to whom they are attributed. Whereas care is taken to ensure the correctness of news, no claim is made to total accuracy.
Visitors are informed that many links from this page are to external sites. Such links are provided for informational purposes only. The author of this site explicitly declines responsibility for the content of external web pages.
latest news | older newslogs | articles.
return to Zürich tram home page.
2019 news:

next year | previous year | current year | other years | search.

guide to linking to news items
---
01.09.2019 - Photo update: Limmattalbahn opening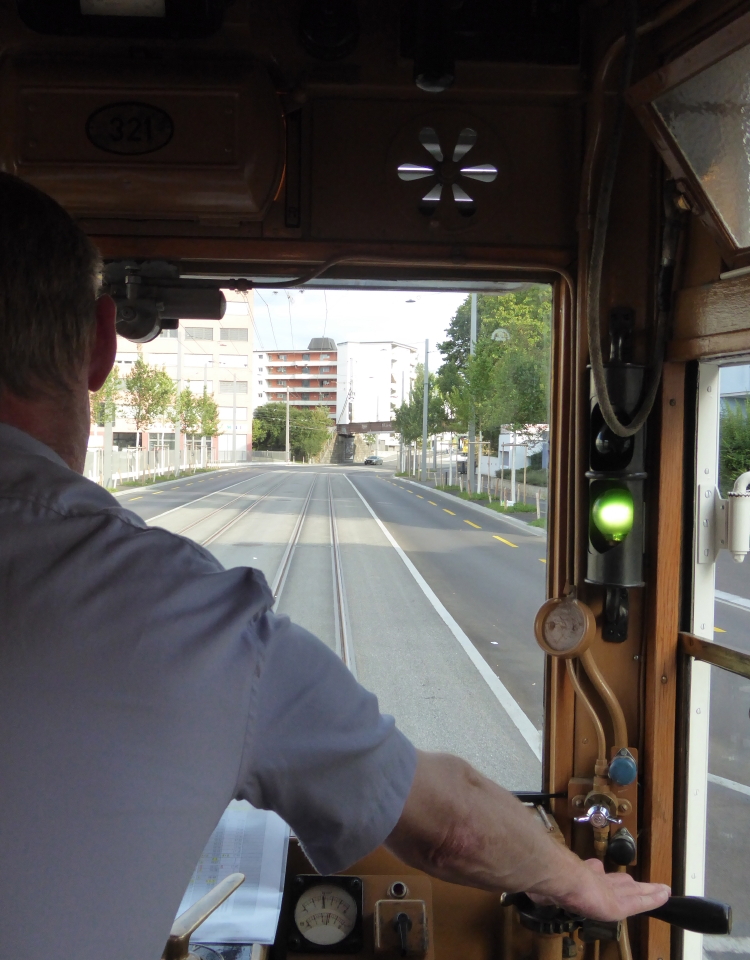 Photos from today's events surrounding the opening of Limmattalbahn (here).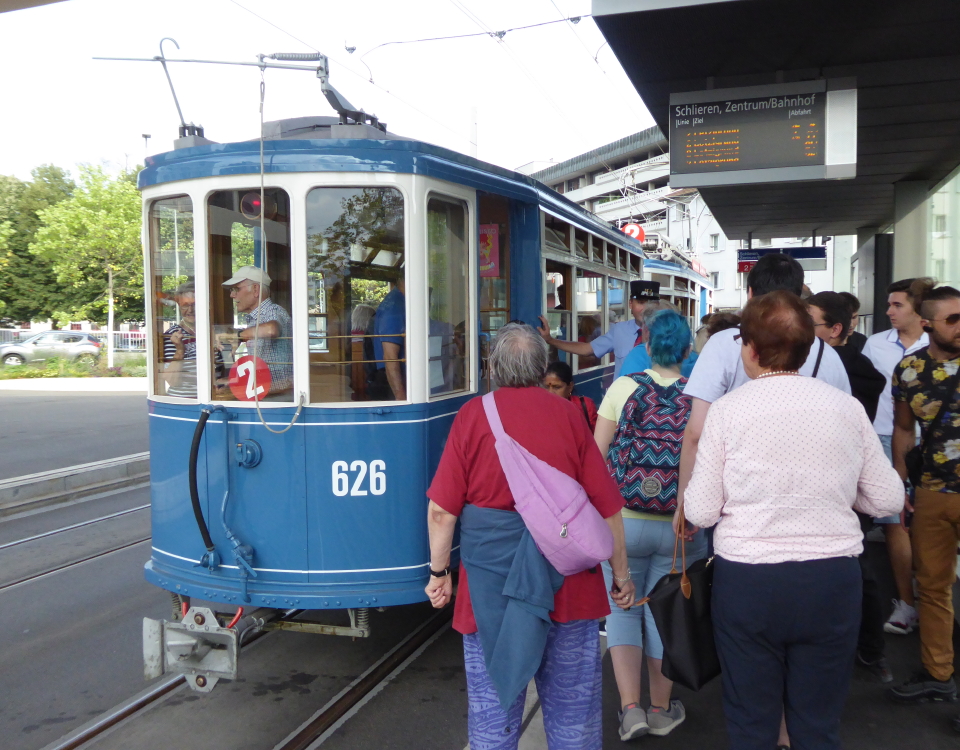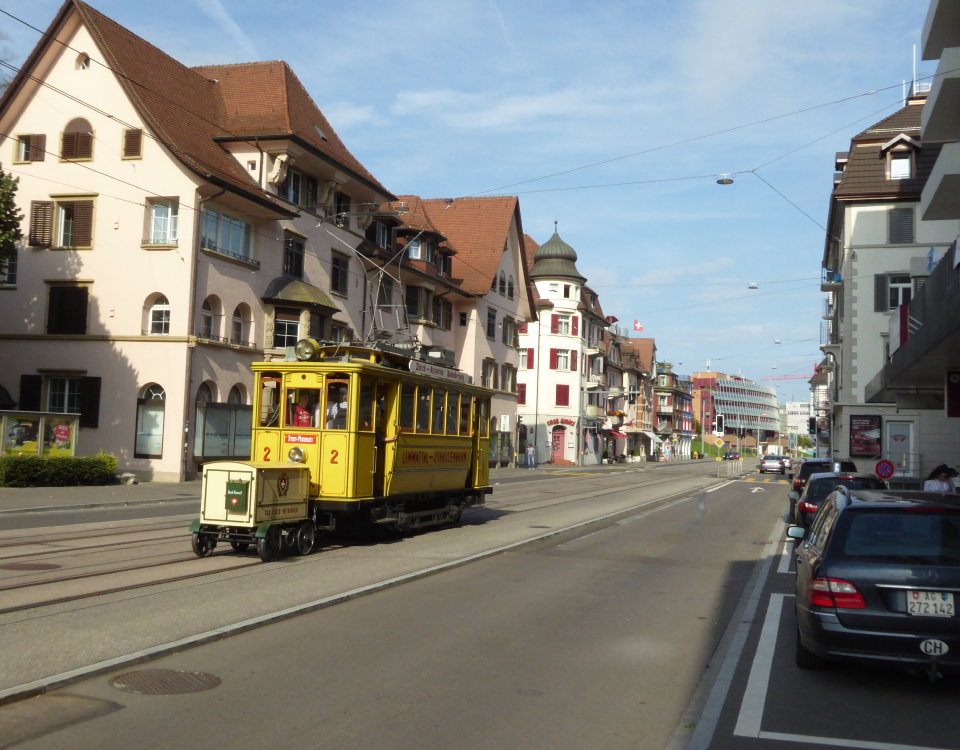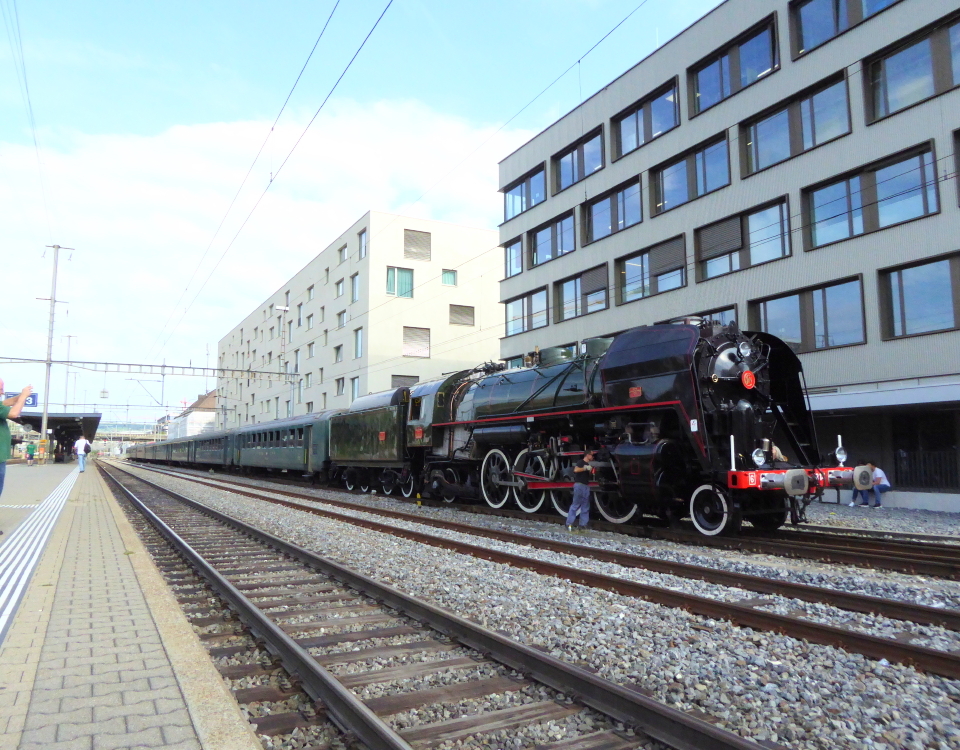 ---
21.08.2019 - Limmattalbahn opening, and second phase launched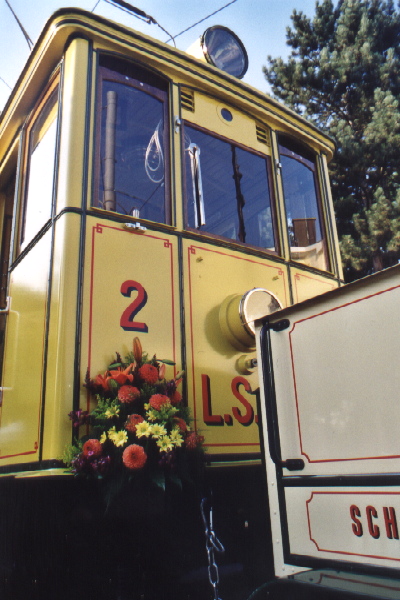 Festivities in Schlieren over the weekend of 31st Auguist / 1st September will mark the opening of the first phase of Limmattalbahn, with trams offering rides on the new section. Some sources suggest that heritage trams will also be running on both days, but the flyer from Tram Museum Zürich suggests this will only be on Sunday. For Limmattal Strassenbahn number 2 (built 1900), this is a notable return to its former home route.
Limmattal Strassenbahn was a private tram company running from Zürich Letzigrund to Dietikon via Schlieren (at times running through from Letzigrund to Hauptbahnhof), and also a branch from Schlieren to Weiningen (both lines opened in 1900). Besides passengers, mail, beer and other goods were also carried. The area was still sparsely populated at the time and ridership never developed as intended. The line from Schlieren to Dietikon closed in 1928. The entire company was taken over by the city tram operator (StStZ) in 1930 and the Weiningen line closed the following year, leaving Schlieren as terminus.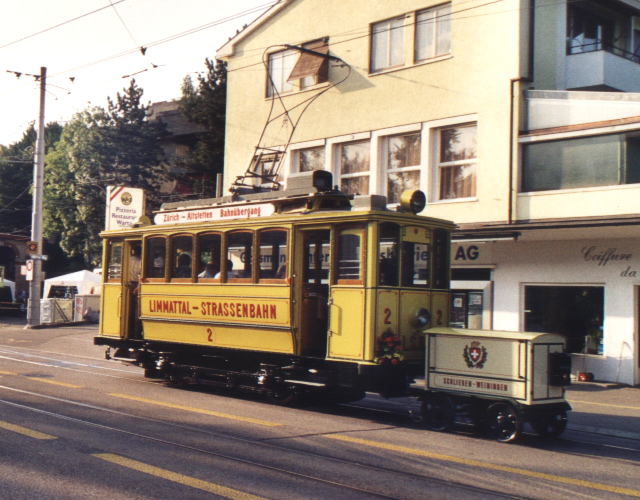 The line was cut back to Farbhof in 1956. The new line does not have an identical alignment to the original, but follows it in many places (including all of the first phase).
The completion of the first phase also marks the official commencement of the second phase of construction, which will complete the line from Bahnhhof Altstetten to Killwangen. In reality, preparatory work is already in evidence in many locations along the route.

---
15.08.2019 - Photo update, Mirage and more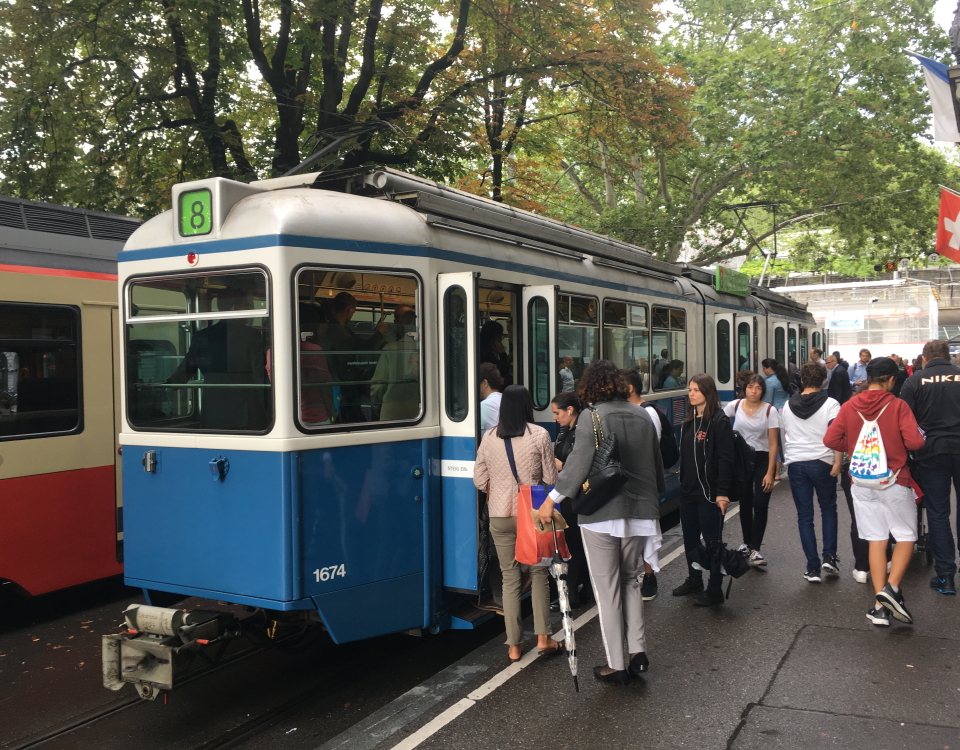 Brief photo update with Mirage 1674 in service, a visit to Hungary and SBB's new double-decker train. Full gallery here.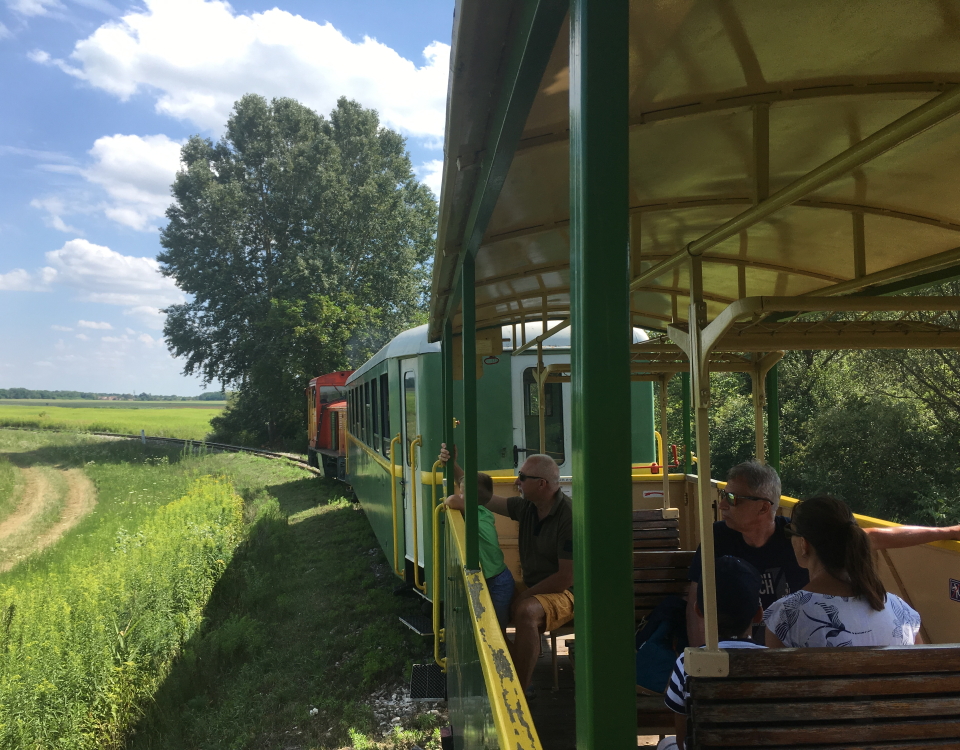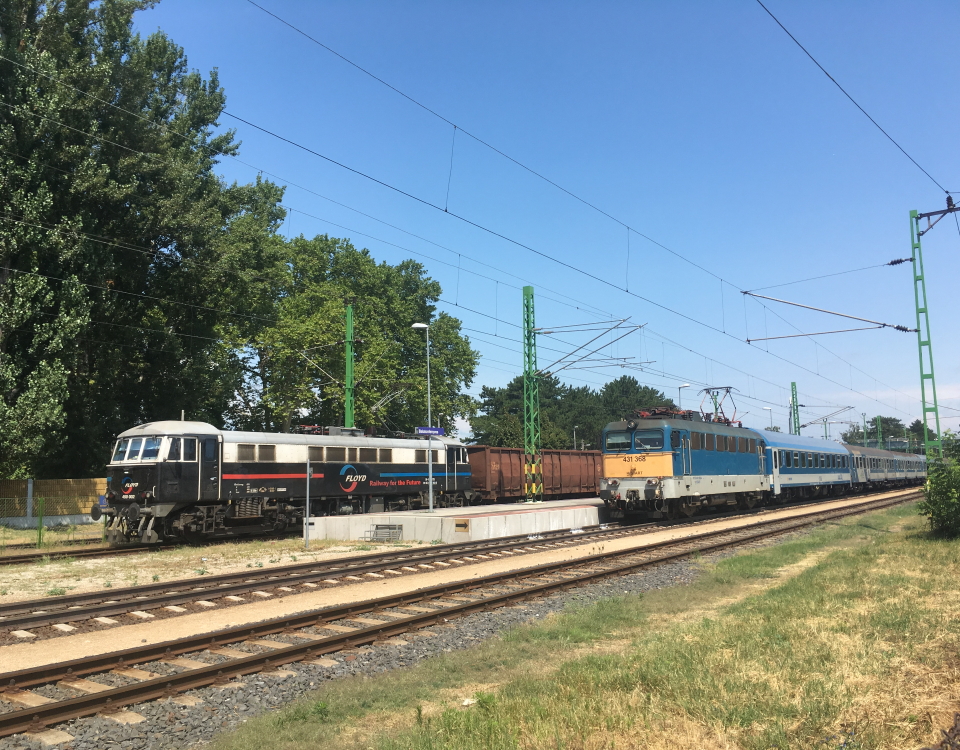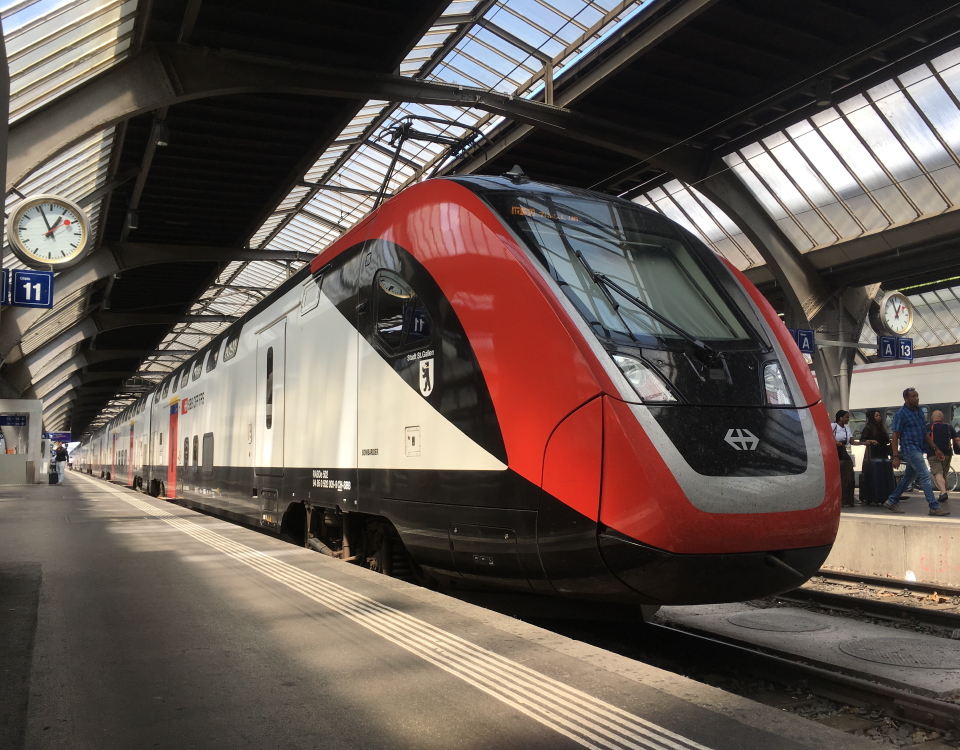 ---
22.07.2019 - 90 times to the moon and back
Yesterday, mankind celebrated the 50th anniversary of the first manned moon landing. Here is VBZ's take on the matter.

---
17.07.2019 - Limmattalbahn and Farbhof update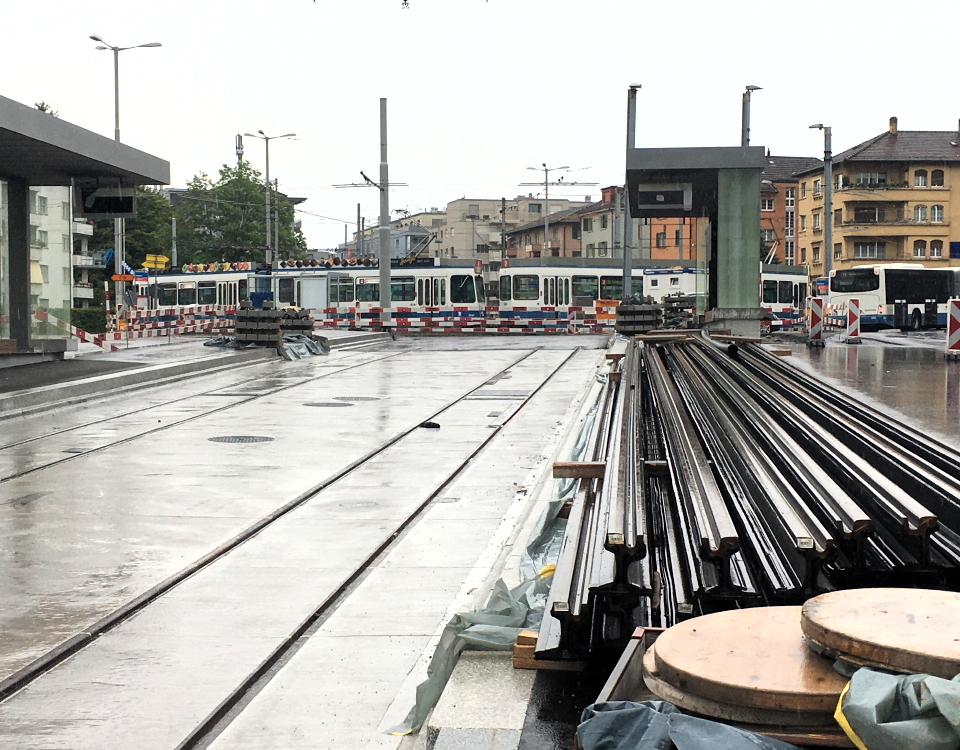 According to a corresponent on the SwissRail ioGroup, the loop at Farbhof was closed at end of traffic on 12th July (Friday night), with tram route 2 now turning at Letzigrund while the Farbhof turning loop is removed and replaced by the track connection to Limmattalbahn.
The extension from Farbhof to Schlieren Geisswied will open to timetable traffic on 2nd September but there will be an opportunity to travel during the opening festival on 31st August which will include the use of museum cars.
The line beyond Letzigrund is being worked by a bus replacement in the interim, but tram movements are not totally suspended as this is the access line to the Altstetten workshops.
---
25.06.2019 - Limmattalbahn photos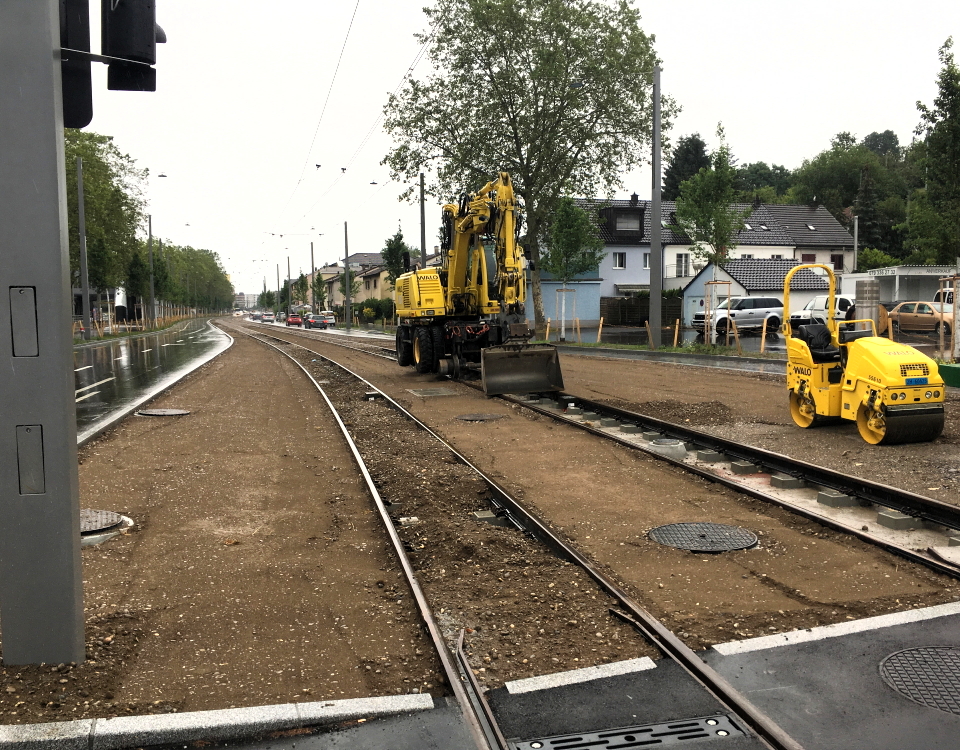 Following up on my recent report on the first phase of Limmattalbahn, here are some pictures of my visit on 9th June (including the soon to vanish turning loop at Farbhof). See pictures here.

---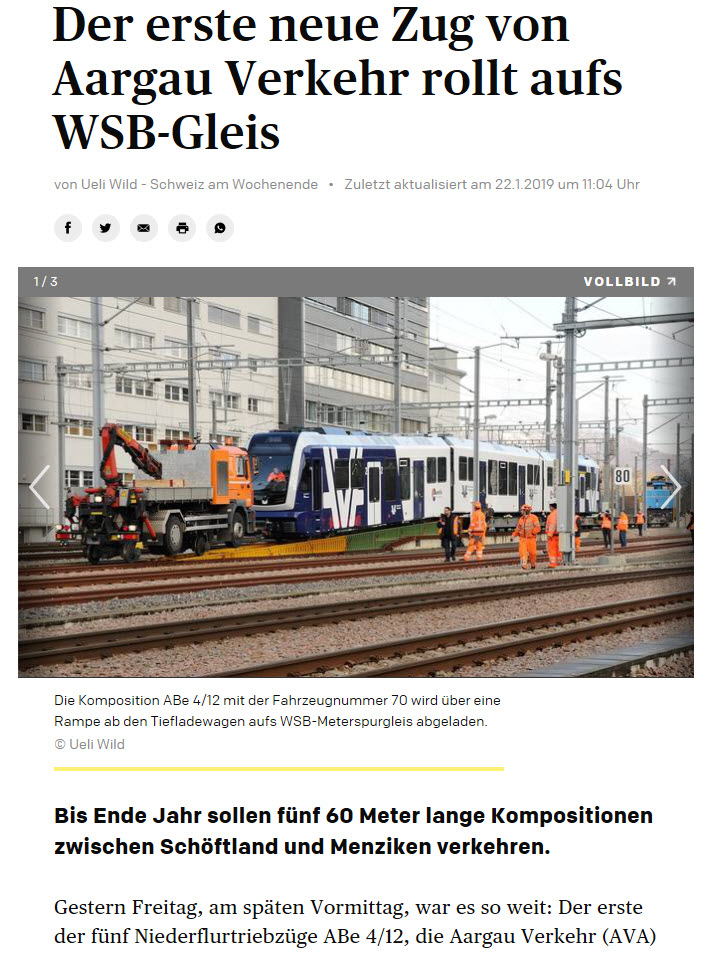 Another one I missed previously: The first of the new Stadler-built trains for the Schöftland to Menziken line of AVA (previously AAR, previously WSB) was delivered in Suhr on 18th January (report in Aargauer Zeitung). This is the first of a batch of five units that will lead to a modernization of this line's fleet and displace the Be 4/4 + ABt sets. The first unit (nr 70) entered service on 22nd May. The delivery on 71 was on 14th March and that of 72 on 16th May.
---
24.06.2019 - Photo update — Brienz Rothorn Bahn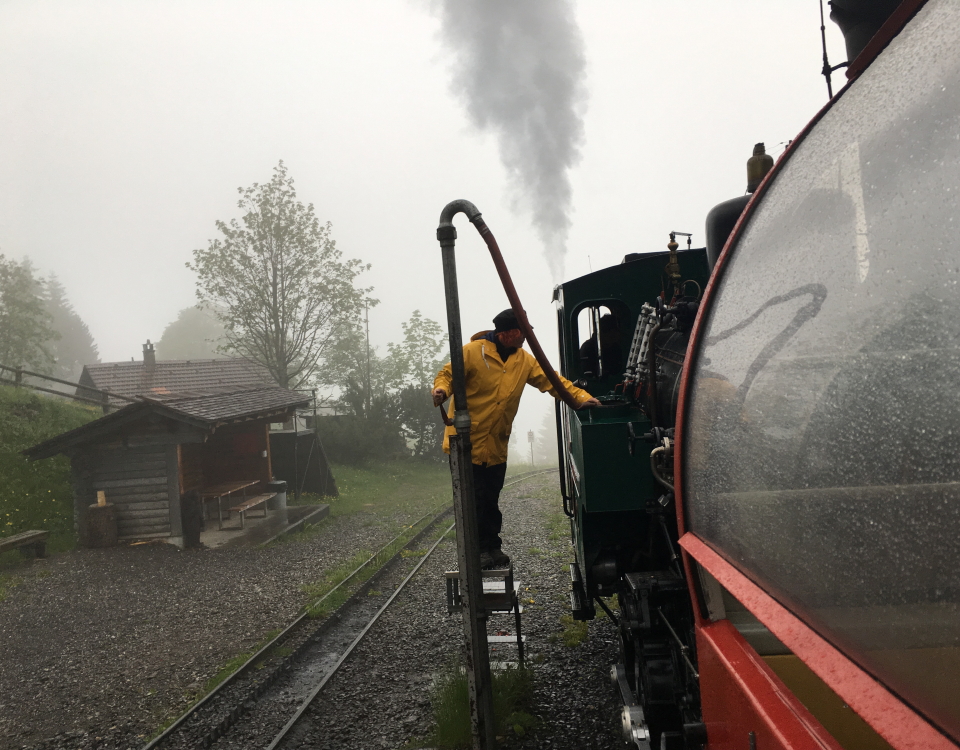 New pictures uploaded of a rainy day on the Brienz Rothorn Bahn as well as heritage coaches seen in Winterthur.

---
19.06.2019 - Pyongyang pictures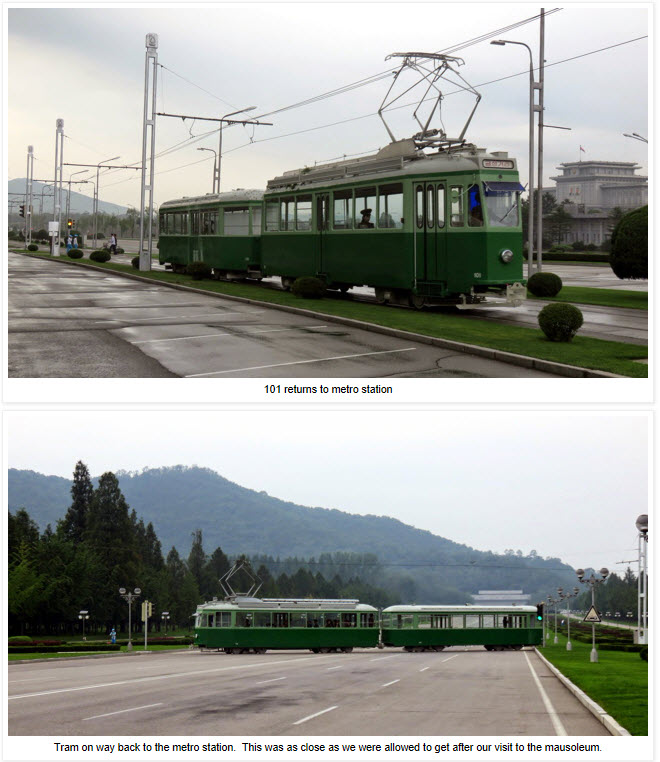 Not quite up to date, but a fascinating internet find. Ex-Zürich Standard Trams in Pyongyang on Richard Lomas' website.

---
18.06.2019 - Restore WSB Saloon car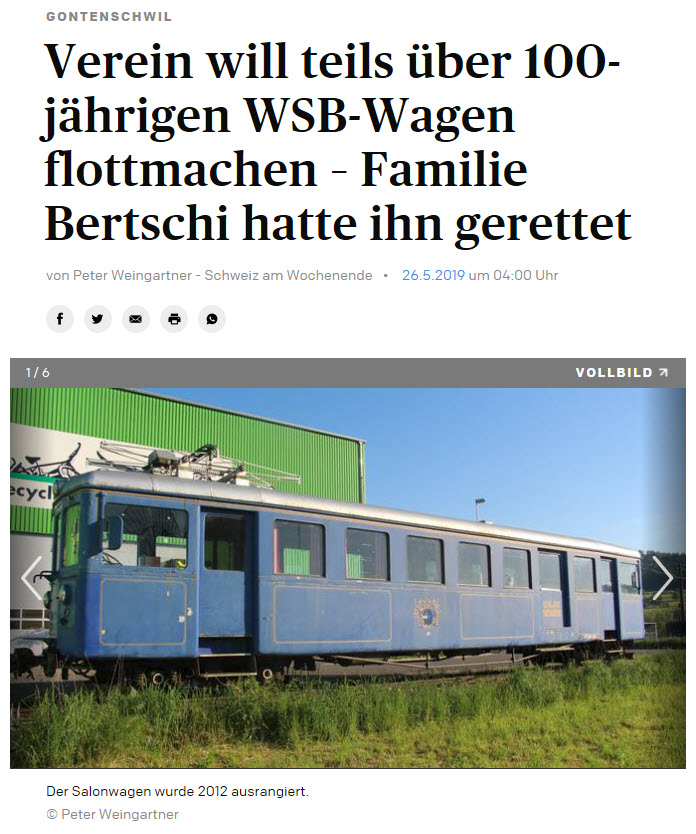 A society has been formed with the goal of salvaging and restoring to working order WSB's saloon car 115. This bogie car was originally built in 1901, underwent several major rebuilds, and was not withdrawn until 1982, after which it became a private hire vehicle and operated in an inauthentic blue livery. In 2012 WSB declared the car surplus and it narrowly avoided scrapping by, surprisingly, being saved by a scrap merchant. It was then placed in the Bertschi scarpyard at Reinach and used as an information booth for visitors. It is a nice touch that the instigator of this idea, Olivia Bertschi, said that her parents had celebrated their marriage apero in this car.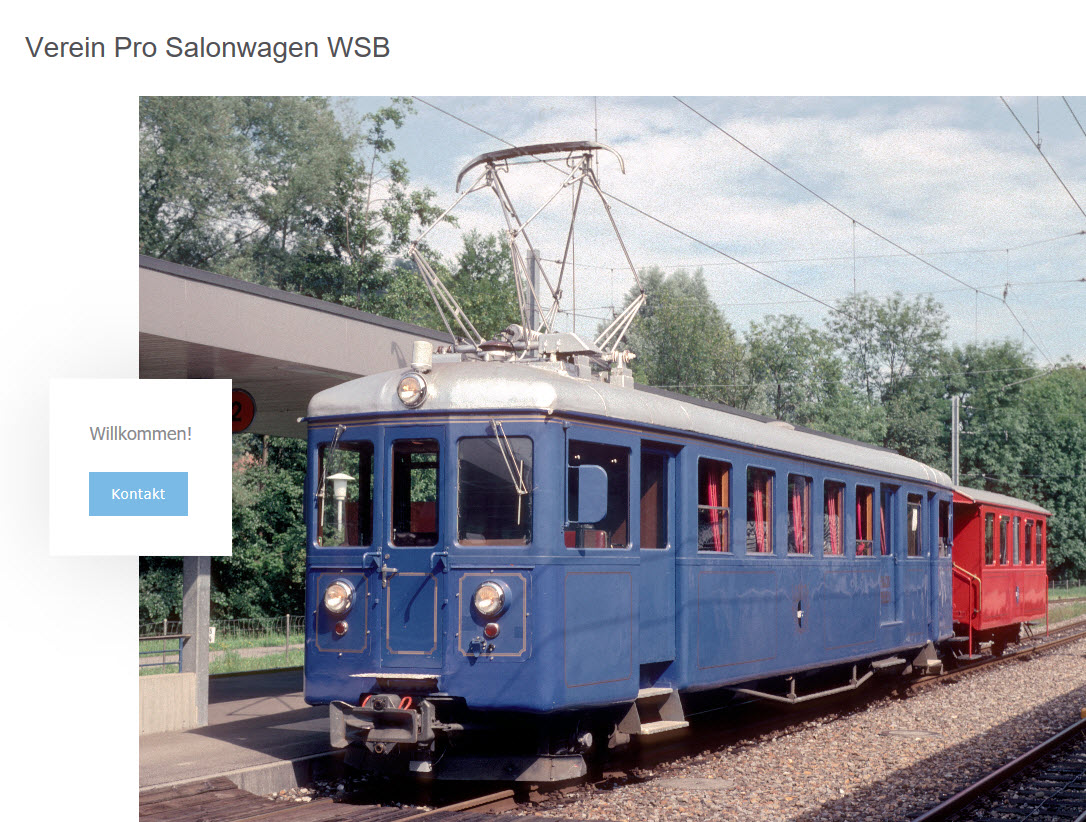 An iniative is now underway to salavge the car and restore it to working order, and a society, Verein Pro Salonwagen WSB has been founded with the specific aim of acheiving this. Their website is still being set up and does not yet have any specifics. The society is appealing for membership and money.

---
18.06.2019 - Geissbock tram back in Zürich
Some catching up one news I missed. This newslog announced the return of the Geissbock tram from Lucerne to the Zürich tram museum. The event has been well covered, so here are some links to some of that coverage:
Some dedicated coverage with lovely (and obviously meticulously planned) footage from Tele Züri (first broadcast on 28th March at 18:20).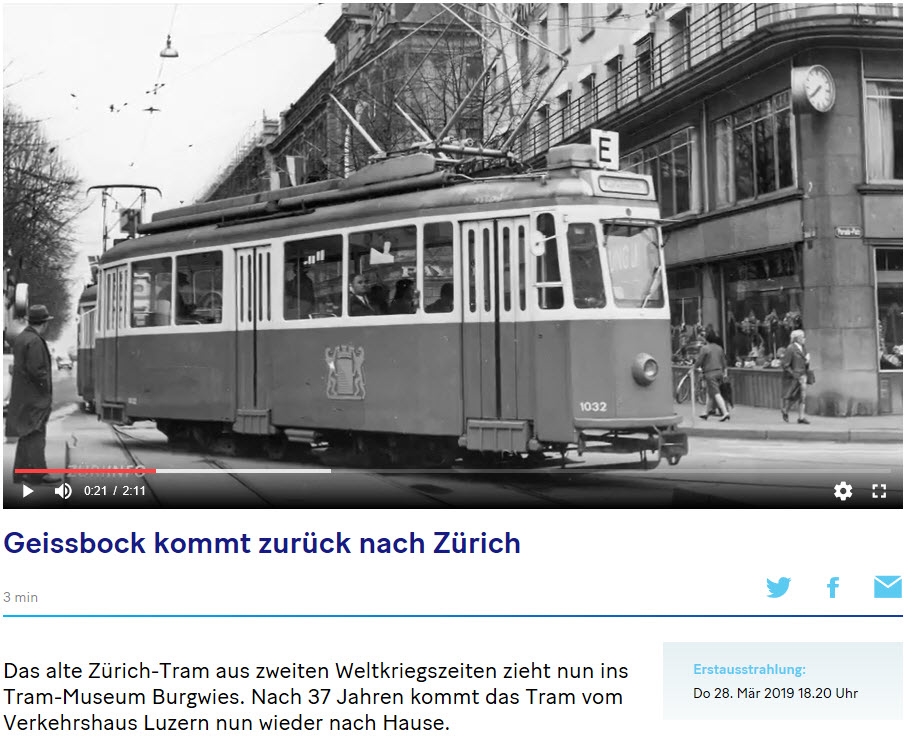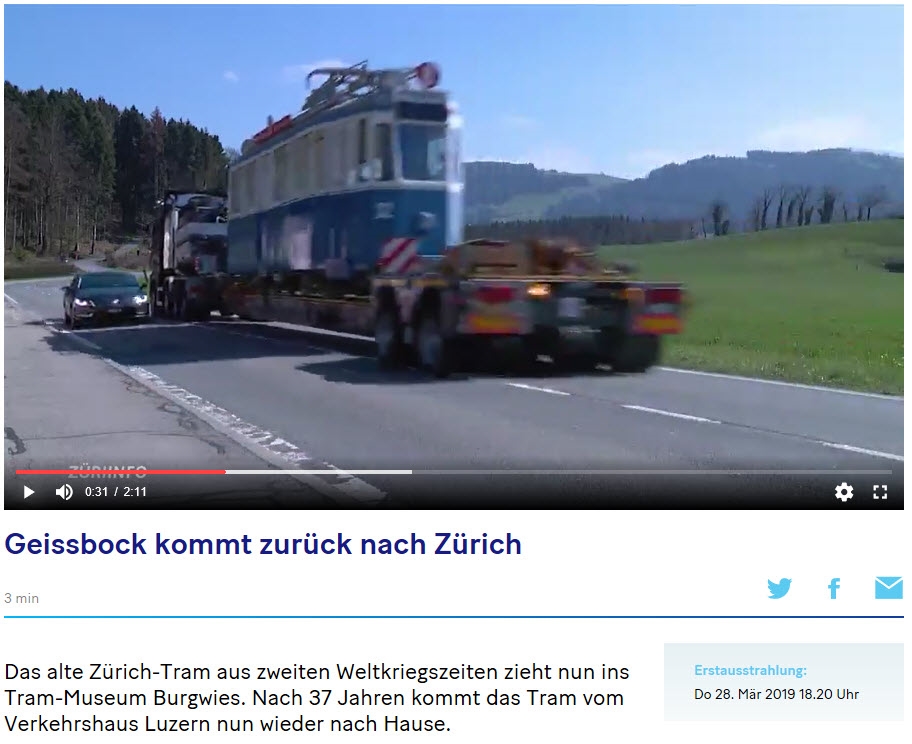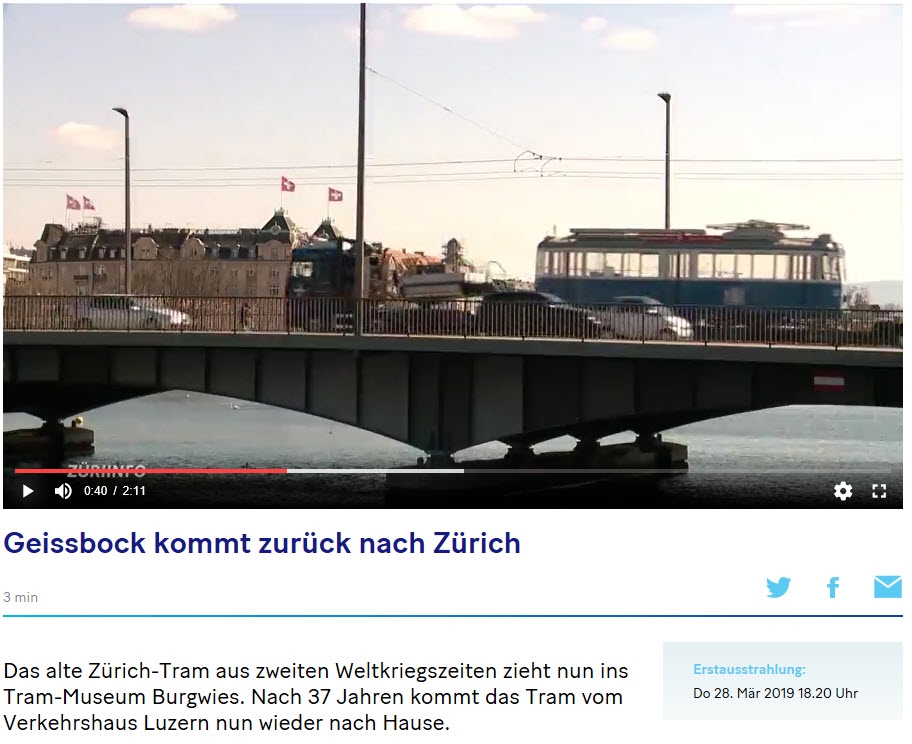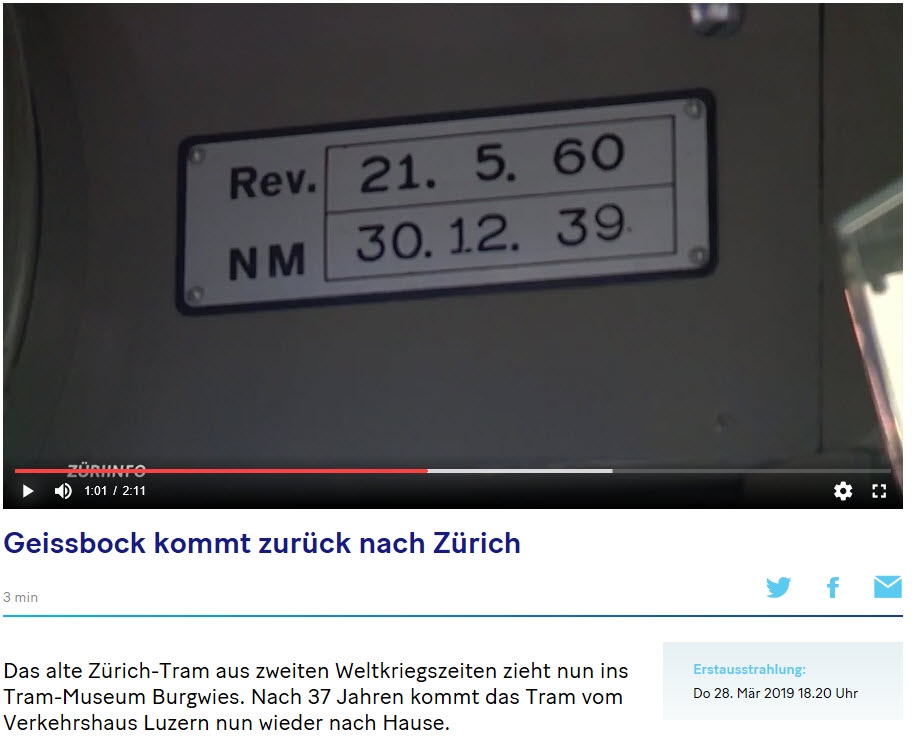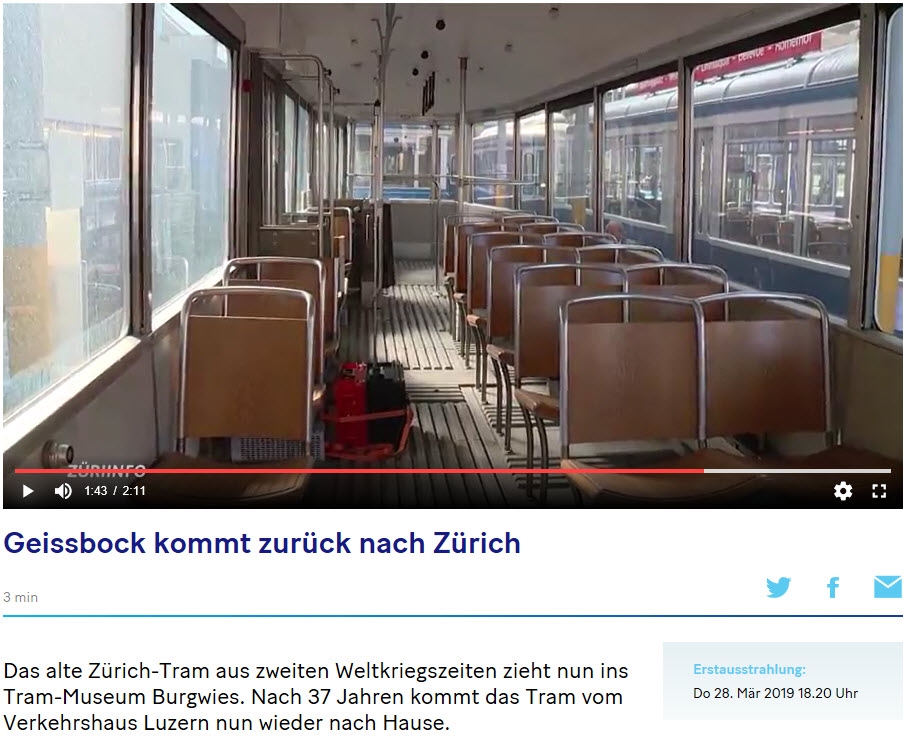 Also a whole collection of great photos as well as another film clip on Bahnonline.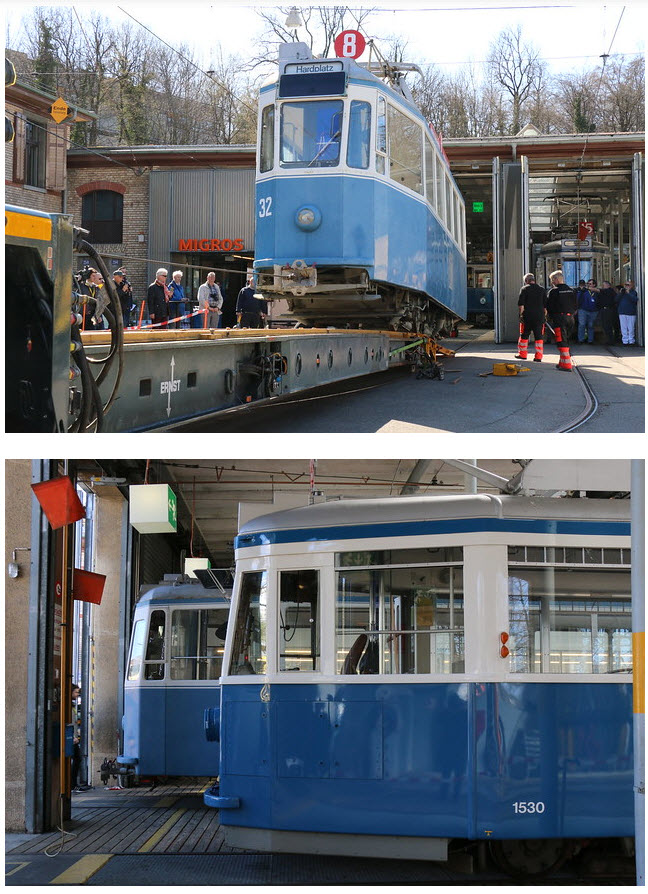 ---
17.06.2019 - Limmattalbahn opening
Infrastructure on the first phase of Limmattalbahn (Farbhof to Schlieren) is approaching completion. The line will commence operation on 2nd September as an extension of route 2. Festivities are planned in Schlieren to accompany this.
To permit the line to be connected to the VBZ network, route 2 will be cut back from Farbhof to Letzigrund at the beginning of the school holidays (I believe these start on 16th July, but was unable to ascertain whether the closure will take immediate effect). The turning loop at Farbhof will then be dismantled and the tracks connected to the new line. There are no plans to re-establish a turning loop at Farbhof, but when the second phase of Limattalbahn opens, the line to Bahnhof Altstetten will branch off here.
The trolleybus loop will also be removed and not put back. Instead, a new turning circle has been built at Hermetschloo, where tolleybuses will run around a block of buildings. The last stop served by route 31 will be Micafil.
So photographers wishing to capture the combined tram/trolleybus loop at Farbhof before it vanishes forever need to hurry.
---
17.06.2019 - New funicular at Zürich airport
A new short funicular is to be built just outside Zürich airport. The area on the other side of the Glattalbahn stop and elevated roadway is being redeveloped with an office, hotel and convention area called The Circle. Just behind this is a small hill quite popular among aviation enthusiasts. Part of the development of The Circle includes upgrading this hill to a park and adding a short funicular.
---
17.06.2019 - SZU on rare track
There will be no SZU trains Zürich HB to Selnau from 13.07.2019 to 01.09.2019 (inclusive) due to track work. During this period, some peak trains will be diverted to Wiedikon, creating an opportunity to ride on this otherwise rarely used connecting line. The trains diveretd are:
0600 Langnau-Gattikon to Wiedikon 0618 repeats every 20min until 0820/0838

1600 Langnau-Gattikon to Wiedikon 1618 repeats every 20min until 1900/1918

0609 Wiedikon to Langnau-Gattikon 0630 repeats every 20min until 0829/0850

1609 Wiedikon to Langnau-Gattikon 1630 repeats every 20min until 1909/1930
Trains will be worked by SZU's two Re 450's as well as a third one borrowed from SBB, because SZU's Re 456's do not have the required ETM signalling equipment.
---
07.06.2019 - Basel St Louis: Services suspended over antisocial behaviour
The cross-border tram extension of Basel's route 3 opened amidst much fanfare in 2017. Following incidents of antisiocial and threatening behaviour on the French segment of the line, with individuals aggressing both passengers and staff, BVB suspended the evening service (after 20:00) from 2nd May. However, it appears a solution could be found with St Louis pledging more security. Full services were resumed from 15th May.
---
04.06.2019 - Peckham cantilever truck number 8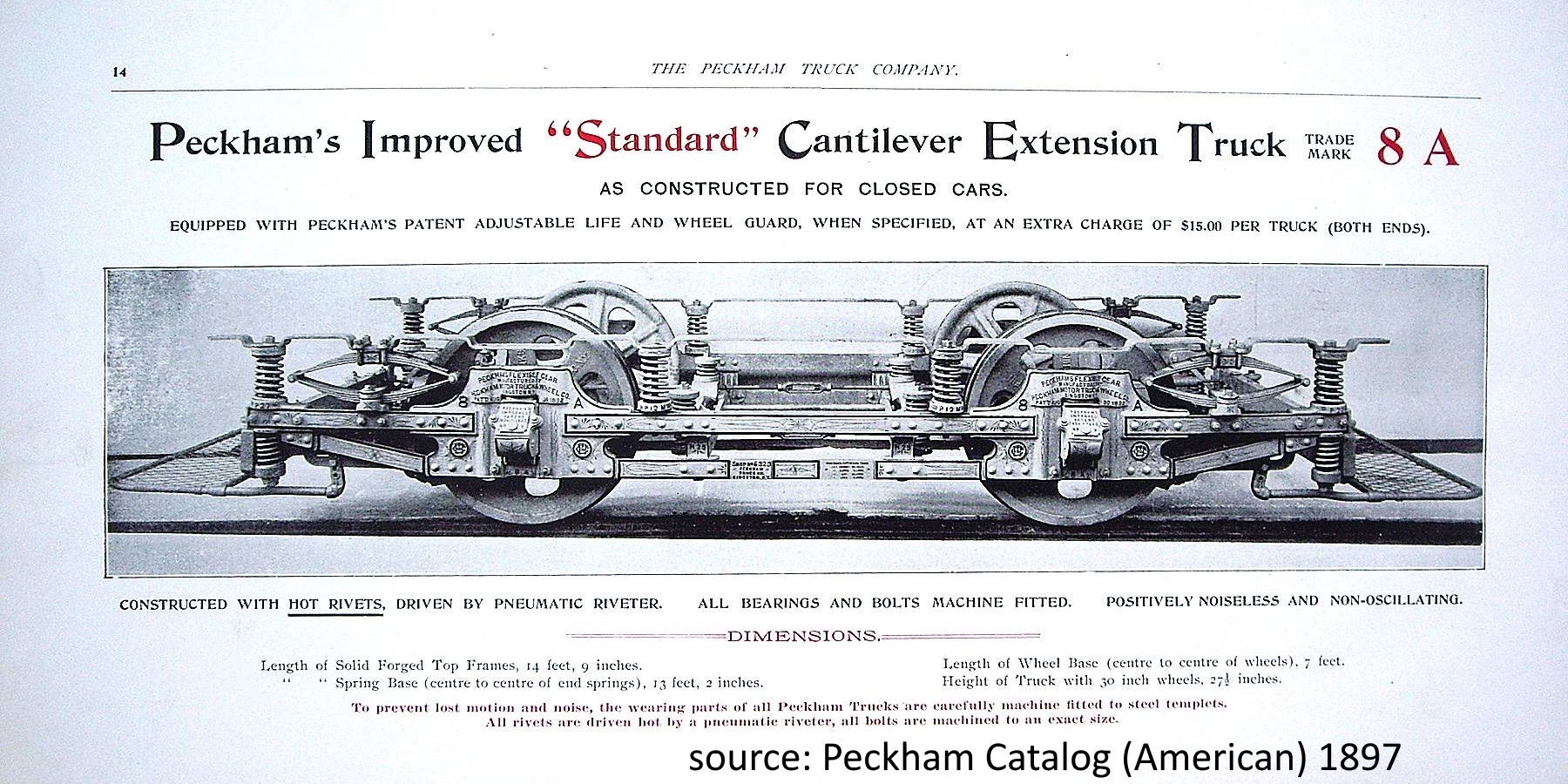 Following up on the previous item on this newslog, concerning Peckham cantilever trucks, the same Facebook source has provided a scan of a number 8 truck (from the same catalogue). This is, I believe, the type that was used in Zürich (click on picture above to enlarge).

Facebook Tramway Modelling Group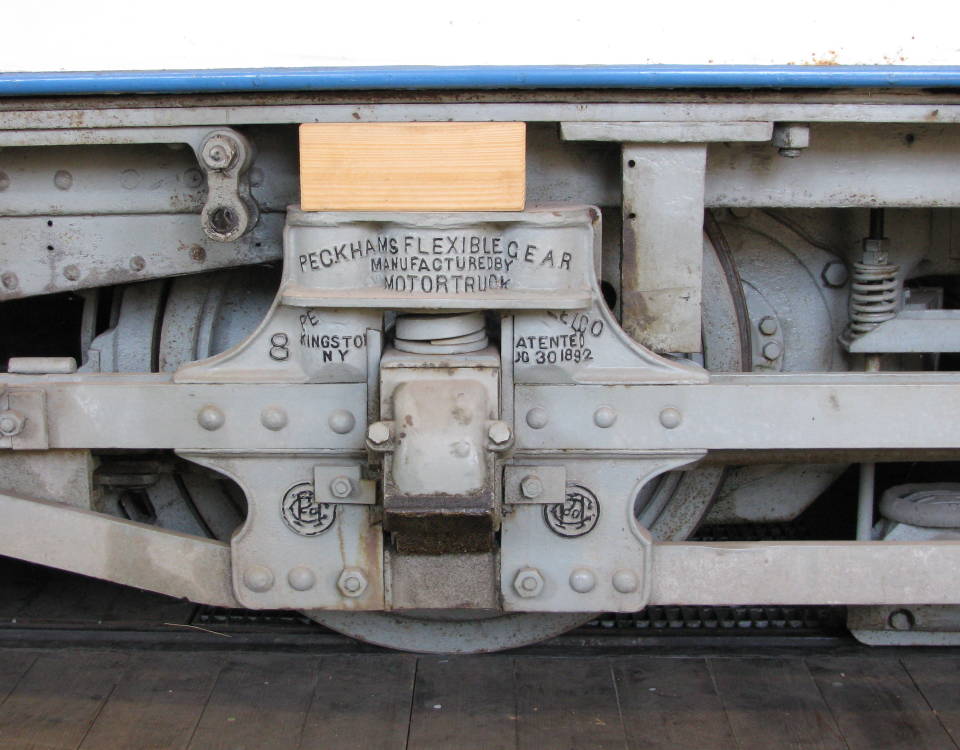 As reference, here is a view of the casting of one of the Zürich trucks.

---
31.05.2019 - Facebook find: Peckham cantilever truck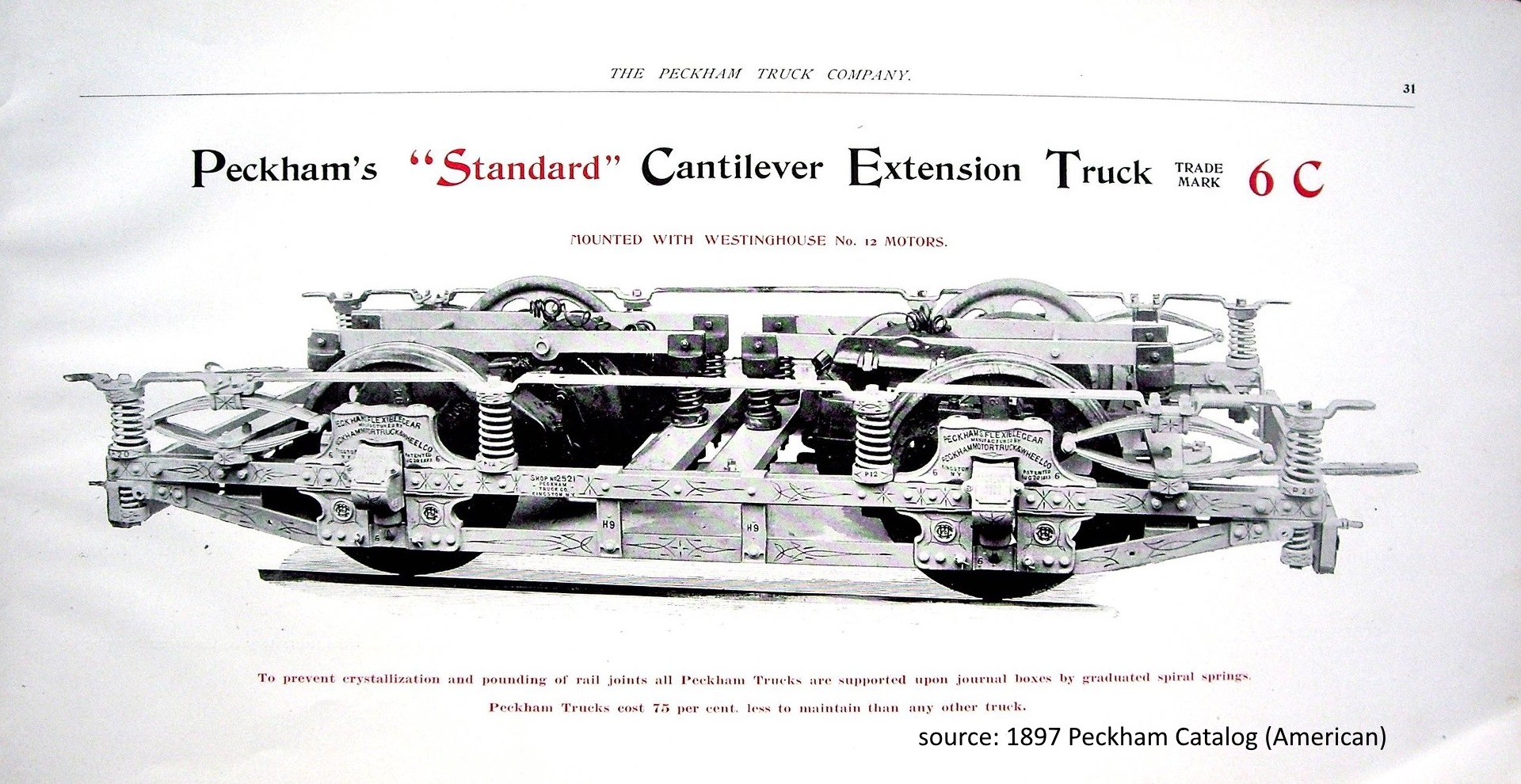 Interesting find on Facebook, from the 1897 (American) Peckham catalogue, showing "Peckham's 'Standard' Cantilever Extension Truck 6C", and claiming that "Peckham trucks cost 75 per cent less to maintain than any other truck". The design shown appears very similar, even if not entirely identical, to the Peckham trucks supplied to Zürich for Ce 2/2 57 - 84 in 1898 (the catalogue shows a number 6 whereas Zürich has number 8. I'm not sure of the precise differentiation).
The Zürich trucks were rebuilt in Zürich several times, with wheelbases being extended, springing arrangements modified, the original Westinghouse motors replaced by more powerful Swiss-made ones, and various associated strengthening of the overall truck being required as a result. Note the decorative details in the catalogue picture above (click it to enlarge). I don't know if the Zürich trucks orginally had this too, but apart from the castings themselves, all this is gone.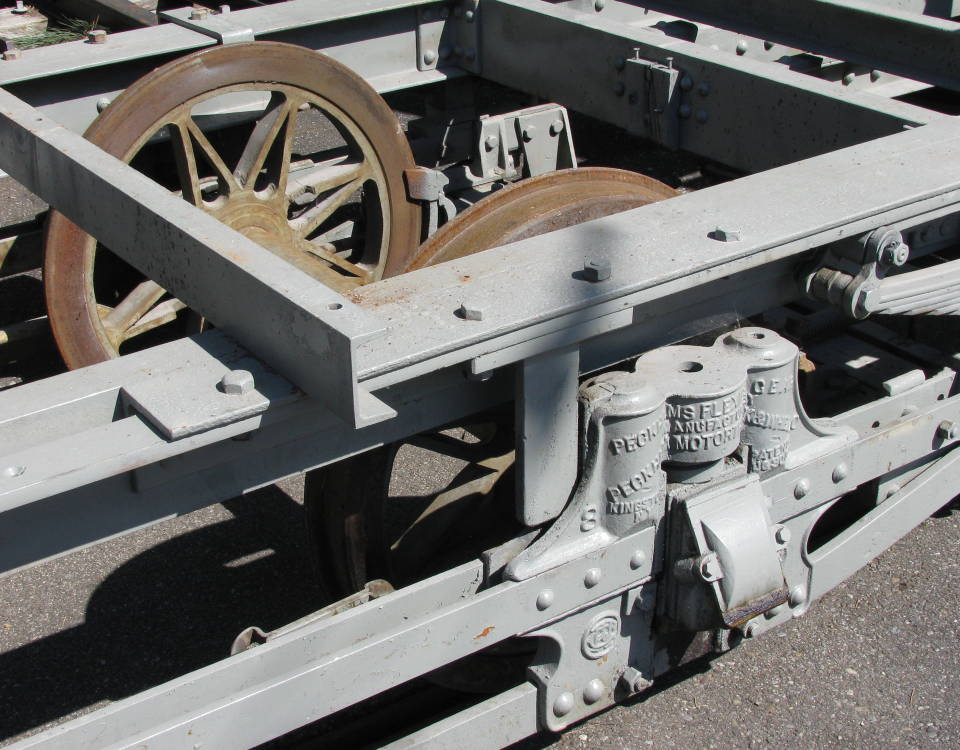 When the trams were withdrawn in the 1920s, many of the trucks saw further use as works cars, which accounts for the numbers that survived into recent times. Recent withdrawals went as donors to preservation projects in Scotland and Canada. One works tram is still in use with the Blonay Chamby heritage railway, another survives under Zürich's preserved crane car 1952, with (I believe) at least a further complete truck and various parts in store in Zürich. And then of course there are two trucks still seeing regular use in Zürich's cargo tram service.
Not bad for 121 year-old trucks!
---
31.05.2019 - SBB considers bringing back night trains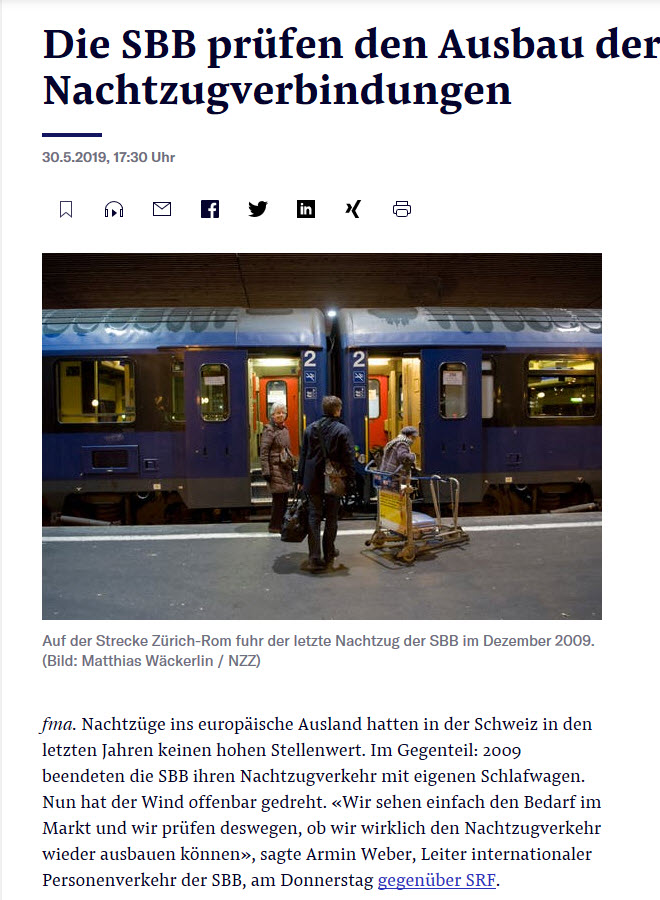 This newslog has reported the slow demise of night train services from Switzerland. SBB officially pulled out of the business in 2009 but foreign railway companies continued to serve Switzerland. The train to Spain was lost in 2012, and that to Denmark in 2014 (I believe the through coaches to Moscow and Minsk were discontinued at the same time). Finally in 2016, DB pulled the plug on all its remaining night trains (two of them serving Switzerland) but fortunately ÖBB stepped in and now runs a train to Berlin and Hamburg (but not Amsterdam unfortunately). There are also still two night trains to Austria, taking through coaches to Hungary, Czech Republic and Croatia.
So, despite some respite, the long terms prospects for night trains would appear to be ever deeper retrenchment. Despite widespread concern about pollution and greenhouse gases caused by airplanes, the Kyoto protocol apparently excluded air traffic. But despite all that, a report in yesterday's NZZ says SBB are looking into new night train connections. If any are agreed on, these will take two to three years to implement due to the lead time for ordering rolling stock. The new connections would not be operated independeently but in cooperation with ÖBB.
Good news at last? Watch this space.
---
Some random photos of trolleybuses (and other stuff) I took today on Wehntalerstrasse near Milchbuck. No specific reason.

---
12.04.2019 - Ex-Trogenerbahn trams in Neuchatel
According to reports on the SwissRail io group, the sale of Trogenerbahn 31-35 to Neuchatel fell through in early 2017 as Neuchatel was unable to raise the money. But a fresh agreement was reached later that year. The five trains sold will be replaced on AB by additional tango units, taking the fleet size to 11. The latest news is that 32 arrived at Neuchatel on Tuesday (9th April) painted in Neuchatel's current black and green bus livery. Driving trailer 533 went for scrap the same day.
---
28.03.2019 - Geissbock returns to Zürich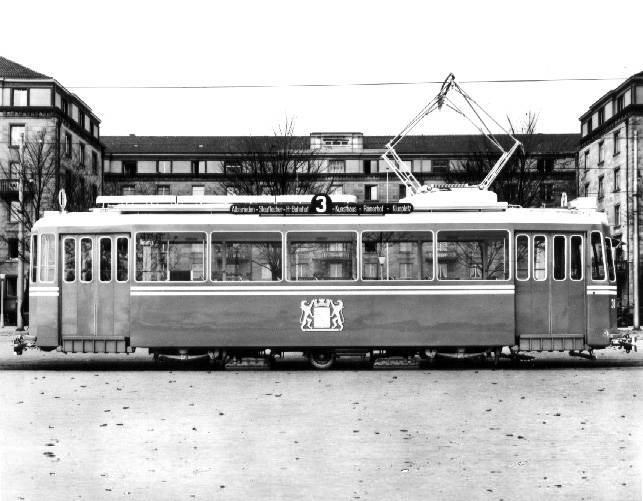 After 37 years in the transport museum in Luzern, 32 is returning to Zürich. This 6-wheeled tram, built in 1939, is celebrating its 80th birthday this year. Together with its long scrapped sister car, 31, it was a protototype (at least as far as its bodywork was concerned) for what was to become the Swiss Standard Tram, and was an important milestone in the development of modern tram designs internationally.
The return of the tram to Zürich has long been an objective of the Tram Museum. The car is being delivered to Burgwies by lorry today and will be placed on display in the museum shortly.
---
28.03.2019 - Cobra trams in trouble again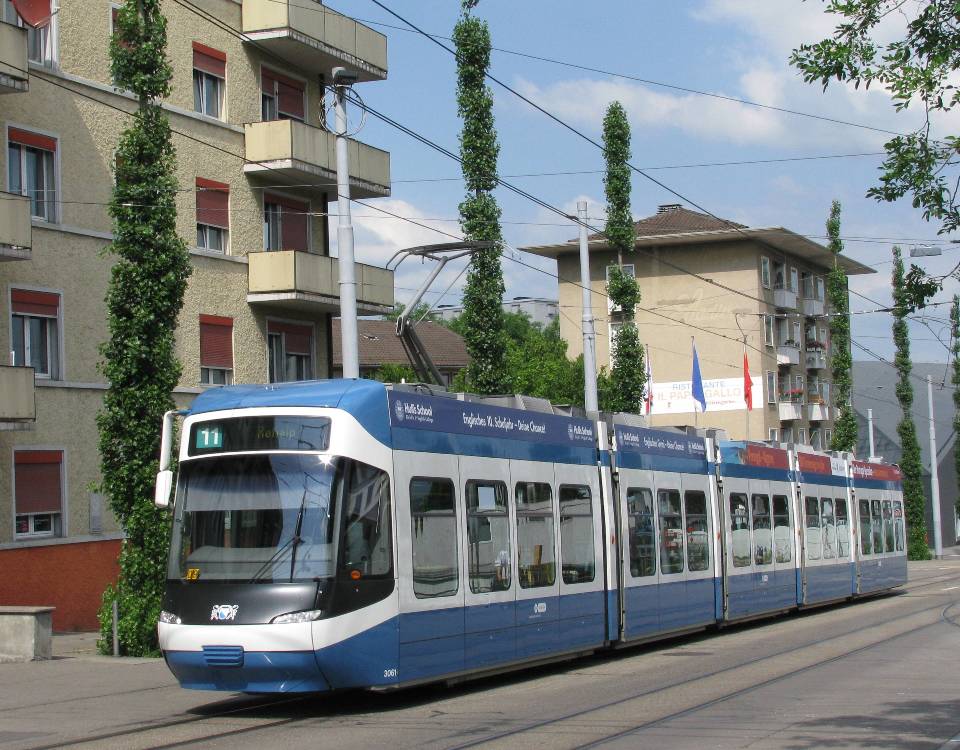 A routine control late last year revealed fractures in one of the rods fitted under a Cobra tram to guide the wheels into curves (these radially adjusting wheels are an important feature of the Cobra design). Further investigations involving Alstom (as succesor to SIG who designed this part of the tram) and the material science laboratory, EMPA, showed that the damage could have led to a derailment.
As an immediate measure, commencing 21st March, all Cobra trams are being inspected. In the meantime, uninspected trams are having to operate at reduced speed. The new limits are 42km/h generally, 12km/h on points and crossings as well as restrictions on curves.
The restrictions mean that overall speed is reduced and connections cannot be guaranteed. There is also an increased use of high-floored Tram 2000 cars, including on the airport routes where these are otherwise a rarity.
With many Cobras having now passed their test, regular operation is slowly resuming.
---
21.02.2019 - Mirage back in service soon
According to a correspondent on the SwissRail iO Group, Mirage 1674 is expected to return to service from 25th February (that is, coming Monday). Expected timings will be:
On route 8

Monday to Friday only

15:29 Salersteig via Stampfenbachplatz-Sihlquai to Hardturm

16:01 ex Hardturm
16:38 ex Klusplatz
17:23 ex Hardturm
18:00 ex Klusplatz

18:41 ex Hardturm via Sihlqual-Stampfenbachplatz to Sternen Oerlikon
I have recently observed this tram on what I assume was a test or driver familiarization run. On the inside, the tram is fitted with route boards in the style of the old ones used when Mirages were still commonly in service, but updated to reflect the extended route 8.
---
25.01.2019 - VBZ web article on history of Tram Affoltern
With the tram line to Affoltern slowly but surely moving towards the spades in the ground stage, VBZ has published on its website a history of previous attempts to build a tram line to Affoltern, as well as looking at the history of the bus line that served this corridor in the interim.
The first attempt to serve Affoltern by tram was in 1903 when the ZOS company applied for powers to build a line from Wallisellen to Regensdorf via Oerlikon and Affoltern. Only the section from Schwamendingen to Oerlikon was actually built, with one of the reasons being that the westward continuation would have involved crossing SBB tracks on the level (the Regensburg bridge not yet having been built). The alignment proposed was only party identical to that of today's project, as it would have connected to the existing system at Oerlikon rather than following Wehntalerstrasse. The Oerlikon connection is still being entertained by VBZ as a longer term objective.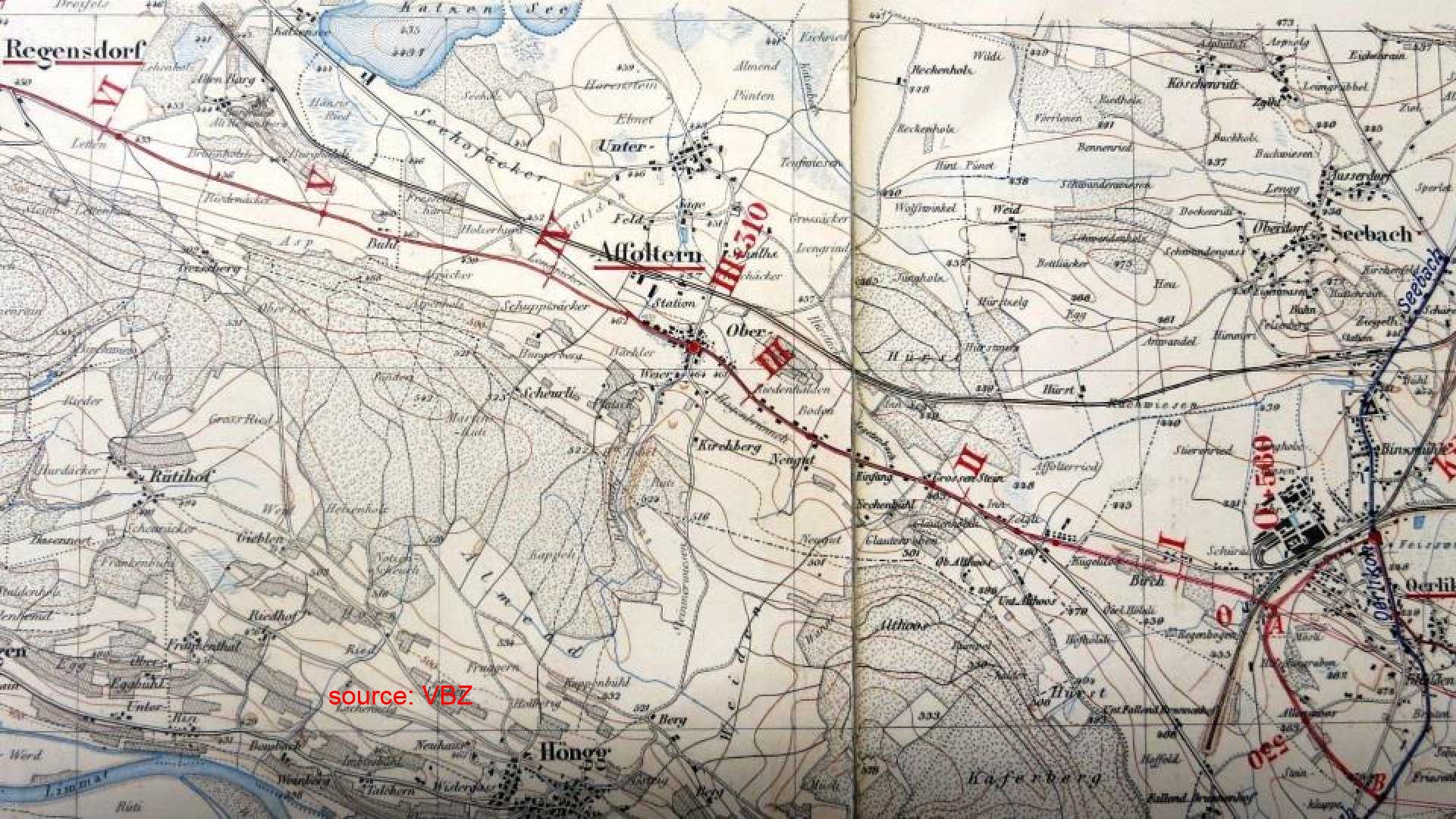 A second attempt followed in 1910, this time curtailed to Affoltern, but extended at its eastern end to Dübendorf. ZOS's motivation was tactical, as by obtaining the concession they could keep competitor companies from building a similar line. The plans were dropped with the share offer being undersubscribed.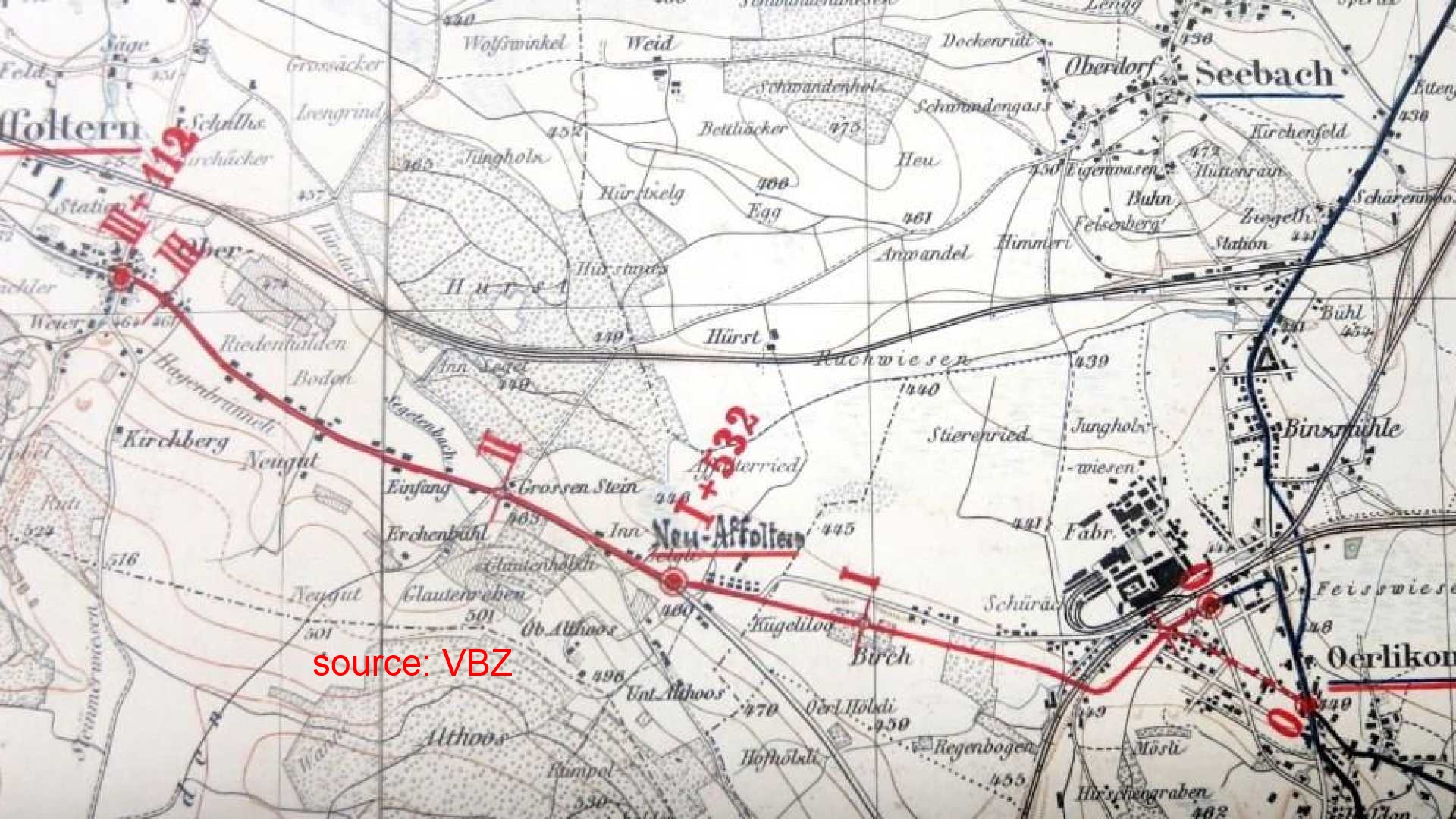 A third attempt in 1928 saw a shortened line to Neuaffoltern, as part of a project also featuring a line in Hofwiesenstrasse. Again, this was to stave off attempts by competition to build a line competing with ZOS's main line from Zürich to Oerlikon. The tactic failed and the city did soon build a new tram line through Hofwiesenstrasse, with the entire ZOS company being bought out by the city not long afterwards.
With Affoltern's population growing, a fourth attempt at building a tram was launched in 1946, but this was dropped as trams were falling out of favour at the time.
The bus competition moved fatser, with a privately operated bus service commencing in 1905, but closing two months later. Another operator, with ZOS support, provided service from 1910 to 1914. A third abortive attempt followed in 1925. Finally the city inauguarted a bus service in 1932. This was the forerunner of today's service, and was converted to trolleybus in 1975.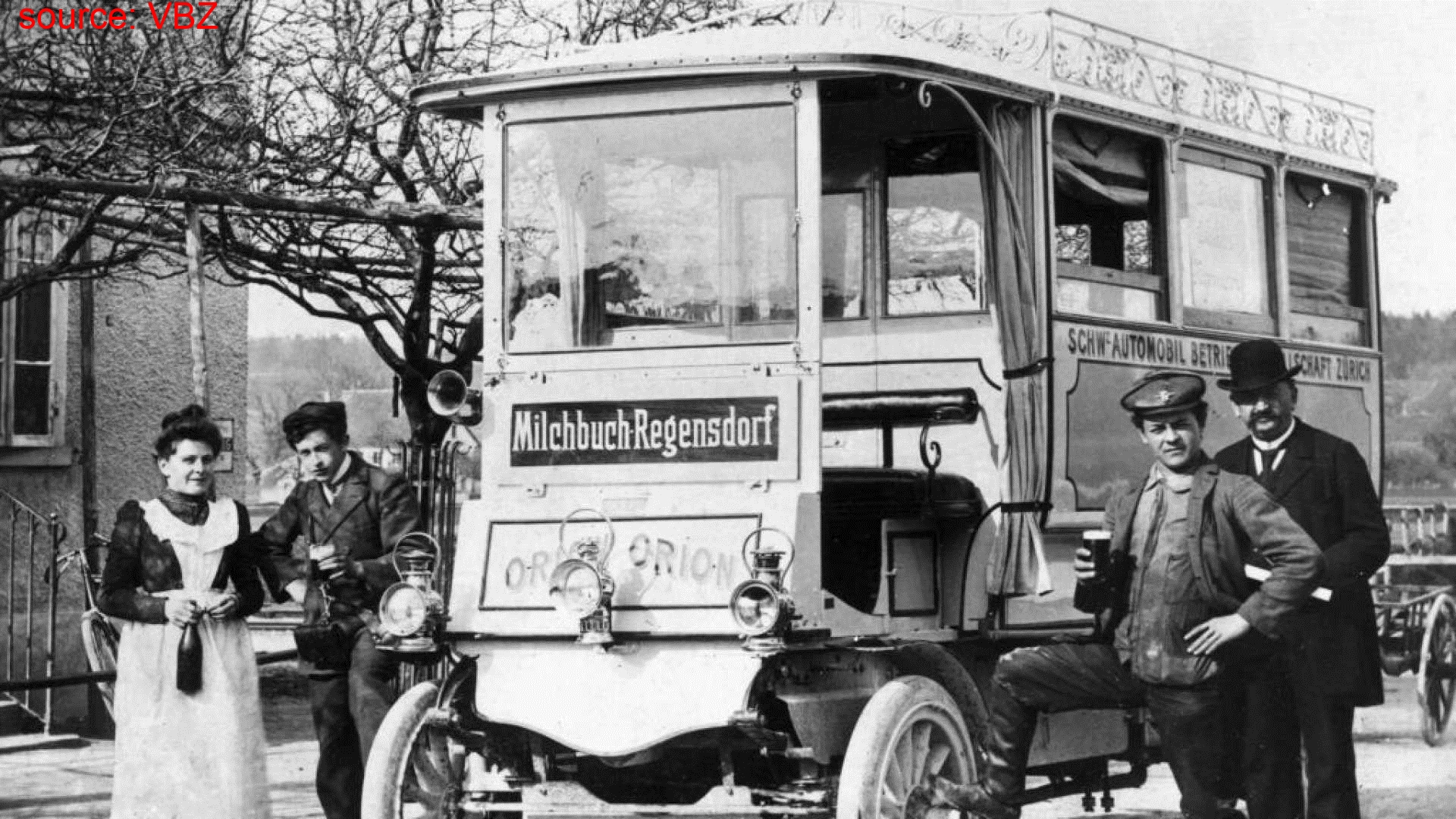 ---
25.01.2019 - Internet find, Altdorf tram
Internet find: this rare film footage of the Altdorf tram.
The Altdorf – Flüelen tram operated from 1906 to 1951. More information, pictures and a map can be found on this page of Eingestellte Bahnen.
---
News items for 2018 have been moved from the newslog.html main page to the 2018.html page.
---
next year | previous year | current year | other years | search.
return to Zürich tram home page.