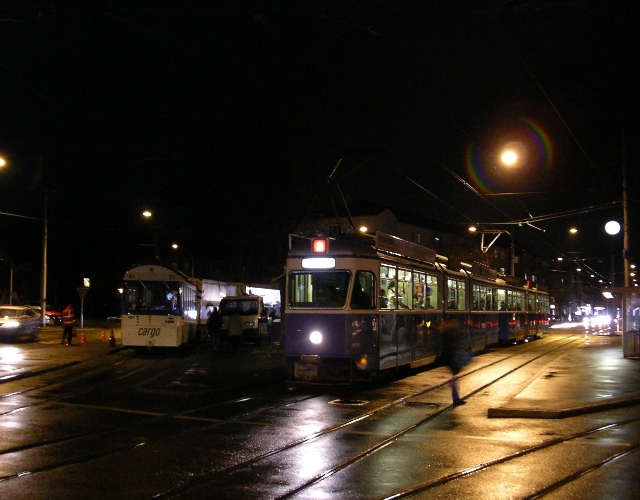 you are in: tram -> zurich -> news
Newslog 2006
latest news | archive | news search
This page presents news and other items of interest concerning the Zürich tram system and connected topics.
This is not the official information page of any organisation. All opinions expressed here are my own or belong to those to whom they are attributed. Whereas care is taken to ensure the correctness of news, no claim is made to total accuracy.
Visitors are informed that many links from this page are to external sites. Such links are provided for informational purposes only. The author of this site explicitly declines responsibility for the content of external web pages.
next year | previous year | current year | other years | search.
return to Zürich tram home page.
2006 news:

search news

guide to linking to news items
---
20.12.2006 - Trams for Vorarlberg
An independent study by the construction businessman, Hubert Rhomberg, has come out in favour of the bringing back trams to the Vorarlberg region. The idea was first suggested by the local Green Party but not investigated further. Rhomberg's plans see a ring line Bregenz - Lauterach - Schwarzach - Dornbirn - Lustenau - Höchst - Fußach - Hard - Bregenz. The project could be realised in phases.
There was a tram connecting Dornbirn and Lustenau from 1902 to 1938.
Vorarlberg is the Austrian province directly bordering Switzerland at Sankt Gallen.
See also Stadtbahn Liechtenstein (30.08.2005)
---
11.12.2006 - Glattalbahn opens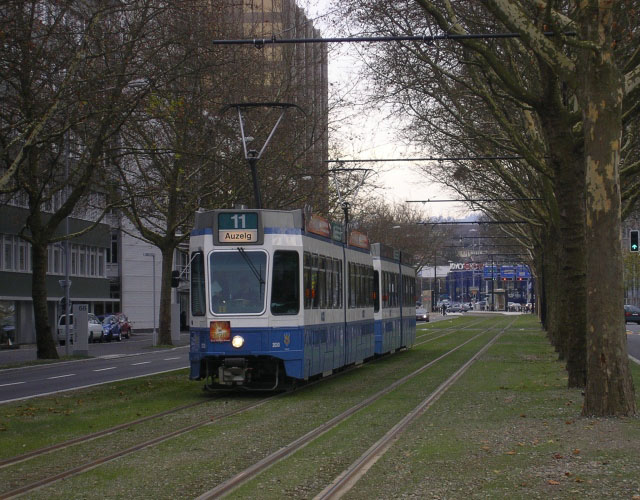 Glattalbahn (Stadtbahn Glattal) is now open. My girlfriend and I braved the early morning cold of Sunday 10th December to catch the first tram from town to Auzelg (and we were not alone). With the official opening ceremony having taken place last week (and a major public event planned for the early summer), there was nothing ceremonious about 2044+2029's first run.
Pictures of the opening and the Stadtbahn at work can be found here.
---
11.12.2006 - Karpfen: the final curtain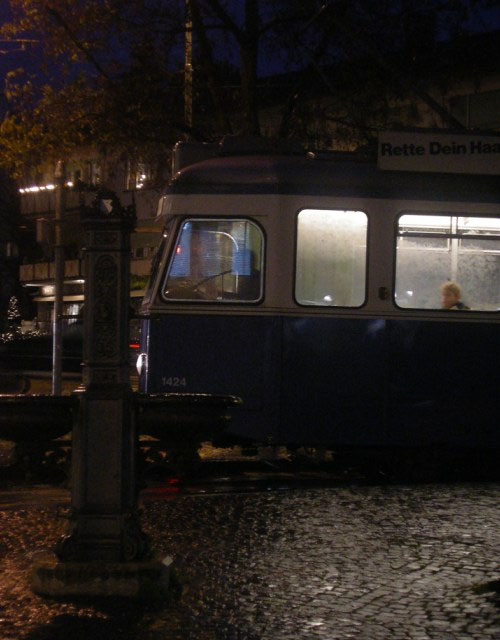 Friday, 8th December, was probably the last day for regular passenger workings of the P16 or Karpfen type (Be4/4 1416-1430 and B4 771-786). At around 16:30, route 5 was worked as follows: 1423+780, 2051+2425, 1424+779, 1428+783, 2049+2417, 2057+2402. So ended 47 years of loyal service.
Pictures of their final hours followed by various other impressions can be found here.
---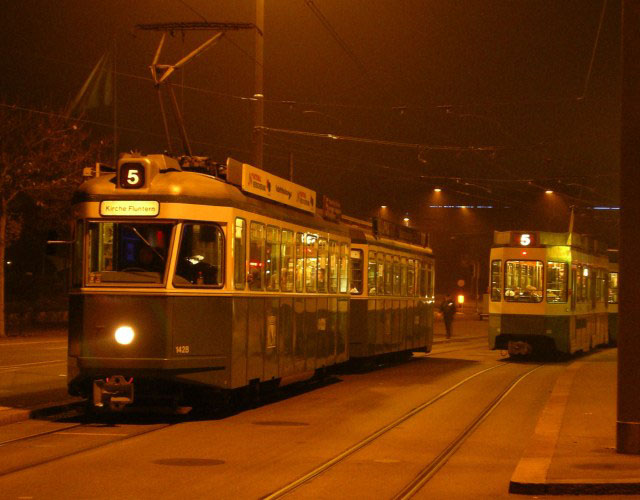 With the timetable switch approaching — bringing both the opening of the first phase of Glattalbahn and the disappearance of the P16 type from Zürich, I have uploaded a series of photographs taken over the last few days. Some of these scenes will very soon be history, others are just impressions of a tram network going about its daily (and nightly) business.
Tomorrow (Friday 8th) is the last day that any P16 trams are likely to be running. The timetable switch is on Sunday, but weekend operation of this type has practically ceased. Besides their duties on route 5, one set is a spare for route 10. This has seen service several times in recent days.
In the meantime, the enthusiast press has some interesting news...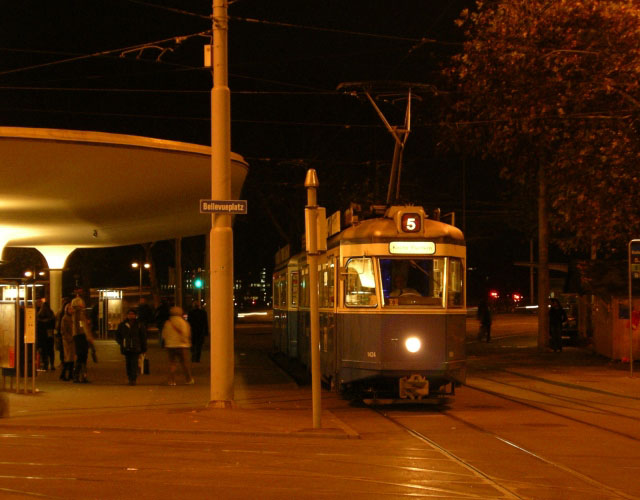 The latest edition of Tram magazine (No. 88/12.2006-02.2007) is now available. Concerning rolling stock, this reports that P16 type trams 1426+786/1427+782 and 1430+785 were withdrawn on 24th October and parked at Altstetten workshops. Their duties on route 5 have been taken over by Tram 2000 + Pony formations.
The following Mirage type trams are reported as withdrawn: 1705/26 (June), 1711 (July) and 1661/1703 (August). Accident damaged 1670/97 are likely to be scrapped, with the other withdrawn units of this type likely to head to Vinnitsa (most of the stored units are cabless units, which will not be of much use on their own — this is in accordance with VBZ policy to withdraw these first and retain the more flexibly deployable cab-equipped units, but this might be in conflict with the interests of Vinnitsa, so watch this space for news). 1668 and 1674 received minor overhauls in August.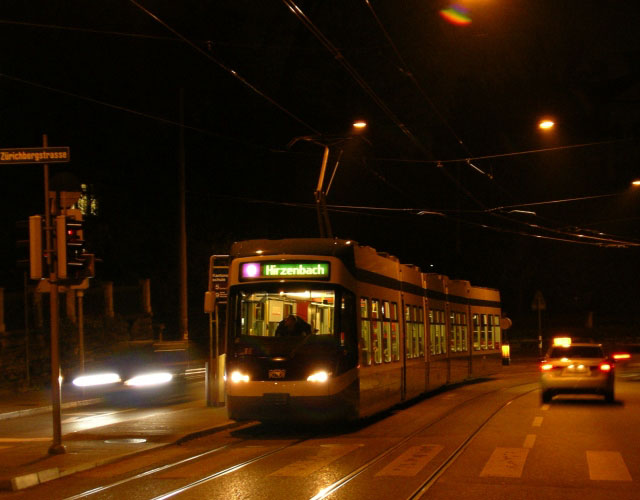 On the subject of Cobra type trams, it is reported that 3010/1 were delivered in July and 3012/3 in August (deliveries have since reached 3018 — seen in the workshops at Altstetten on 2nd December). More surprisingly, it is reported that 3006 is now withdrawn. It is currently being dismantled in the main workshops. The bodyshell to be used for a Tram Züri West information stand. It had previously been reported that, following the identification of structural weaknesses, the six prototypes (3001-6) would be modified in 2007/8 to conform to the production units. It is not clear whether 3006 will replace 768 as infotram, or a different purpose is intended.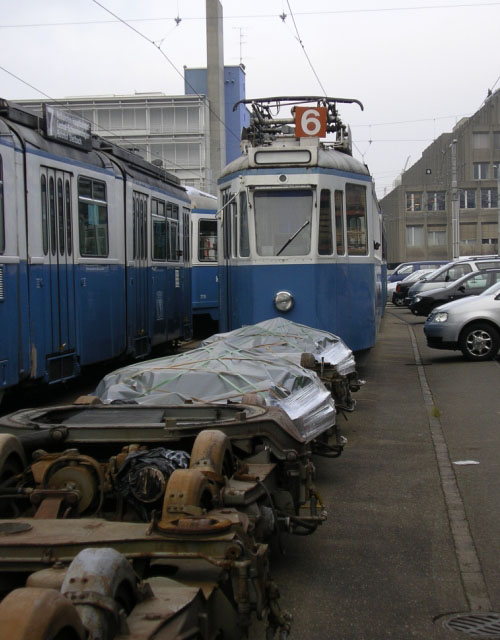 The magazine also reports on the uncertain future of Kurbeli 1408. Besides the works cars, and 1392 (which is preserved in original condition) this is the only unit of this type to remain in Zürich. Aktion Pro Sächsitram has expressed interest in restoring it to its latter service condition, but is unable to raise the 400,000 Franks this would require. With stabling space in Zürich becoming scarcer, a solution must be found if this vehicle is to be saved. Storage outside the city is being considered, but a suitable location has yet to be identified.
Otherwise, the highlights of the magazine include an article on the renaissance of Geneva's tram system and a speculative article predicting a trolley-bus revival.
---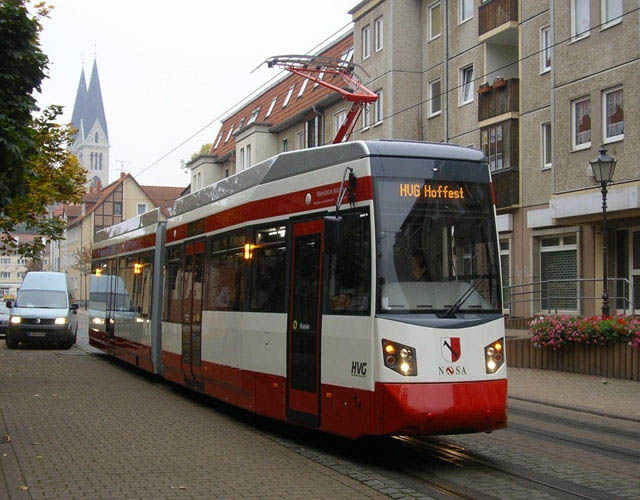 Away from Zürich, and on a more personal note: A tramway article by myself is to be published in the upcoming (January 2007) edition of Tramways & Urban Transit, the distribution of which should begin in the next couple of days. The subject is the tramway of the small German town of Halberstadt, where I spent some days in September and October.
For further Halberstadt pictures, check this website's Halberstadt picture gallery. Previously published tramway aticles by myself can be found on the articles page. The current article will (as usual) not be immediately added, so as not to compete with the magazine. For more information on Tramways & Urban Transit, check the LRTA website.
---
04.12.2006 - Glattalbahn opening — and green light for third phase
Last Friday (1st December) saw the official opening ceremony of Stadtbahn Glattal (passenger services will commence coming Sunday, 10th December). The ceremony was presided by transport minister and current Swiss president, Moritz Leuenberger.
On this occasion, it was also announced that the Canton of Zürich is giving the green light to the third phase, the 246 million Frank construction of which is to start in 2008 for a 2010 opening.
See also:
Stadtbahn Glattal: green light for second phase (14.03.2005)
Stadtbahn Glattal: first tracks laid (22.06.2005)
Search news archive for Glattal, third phase.
---
29.11.2006 - Bern says yes to tram extension
Sunday's referendum (26th November) saw 70.3% of voters in the Swiss capital city approve Tram Bern West. This is almost 10 percentage points more than approved the previous project.
The project to build a tram line to Bümplitz and Brünnen, was approved in a city refendum in 2003 but rejected by a narrow margin in a cantonal referendum in 2004. The project was revised with lower costs and other points of contention addressed.
Search news archive for Bern and Tram Bern West.
---
28.11.2006 - Cobra deliveries continuing apace
Seen yesterday on route 9: Cobra 3017.
---
27.11.2006 - Amsterdam's cargotram comes a step closer
The league of cargotram cities looks set to grow as Amsterdam's cargotram comes another step closer to reality — the city council has given CityCargo the green light for trial operations. These will begin by January with large scale operation possible by 2012. The trials will begin on the itinerary Cornelis Lelylaan – Amstelveenseweg – Stadionweg. Goods trams will be used to supply city busineses (mostly local distribution serving small companies — but potential customers include the Heineken brewery, which recognises the value of being associated with the positive image). Cargotram operation will be restricted to lines with sufficient free capacity to avoid conflicts with passenger trams, and also to the period 07:00 - 23:00 to avoid nocturnal noise. The project could reduce lorry movements by 2500 and particle pollution of the air by 15%. The trams used in the initial trial will be modified GVB trams, but CityCargo will later use its own designs.
www.nieuwsuitamsterdam.nl/2006/061124_goederentram.htm
See also:
Cargotram for Amsterdam? (28.11.2005)
Cargotram index page
Search news archive for cargo and Amsterdam
---
23.11.2006 - Double-articulated trolleybus in Luzern
Luzern is the fourth Swiss system to opt for double-articulated trolleybuses, but the third to take delivery — having leapfrogged Zürich (Luzern's order was placed in March, Zürich's in July last year and confirmed in March for delivery starting in the Summer of 2007). The first of three Lightram vehicles manufactured by Hess (and essentially identical to those of Geneva), is currently being used on driver training and will enter service on Luzern's routes 1 and 6/8 with the December 10th timetable switch.
---
23.11.2006 - Investing in Zürich West
An article in today's Tages Anzeiger newspaper discusses three defining projects which are to be realised in the Zürich West area for a total of 400 million franks in the coming years. Besides the tram extension from Escher-Wyss-Platz to Bhf. Altstetten, these are the renovation of the Hardbrücke viaduct (under which the tram will run) and remodelling of Pfingstweidstrasse (among other reasons, also to accomodate the tram). The tram extension itself is costing 150 million of which 59 million must be financed by the city (of which 12 can later be recovered). The city's contribution is likely to sink further thanks to the recent infrastructure fund decison. However, to qualify for this money, work must begin by 2008. The project is subject to a referendum in June.
---
23.11.2006 - From Zürich to Vinnitsa
An article in today's 20 Minuten newspaper confirms that 23 Zürich trams are heading for Vinnitsa. The agreement will be signed shortly.
See also Zürich trams for Ukraine? (20.09.2006)
---
17.11.2006 - Stadtbahn Limmattal
The Stadtbahn Limmattal concept was debated yesteday at a regional planning conference. The current status is that the first phase, Farbhof - Schlieren, will be realised within the horizon of the next 10 to 15 years. Dietikon - Spreitenbach has second priority, but this could move forwards if the Niderfeld area develops faster than expected.
Stadtbahn Limmattal is a project to extend trams out of the city and along the Limmat valley via Schlieren, Dietikon and Spreitenbach to Killwangen. At the western end of the line, local politicians are expressing interest in extending it further to Baden and Brugg. The project will probably be realised as a bus corridor initially and converted to light rail as traffic develops.
NZZ
---
13.11.2006 - Karpfen farewell tour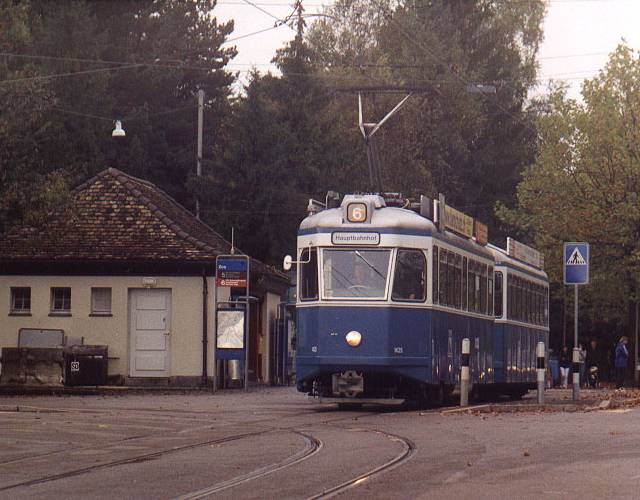 This year's TMZ end of year tour is jointly organised with APS and is planned as a farewell tour to the Karpfen or P16 type (Be4/4 1416-1430 and B4 771-786). This type, whose last haunt is now weekday workings on route 5, will be eliminated with the approaching timetable switch (10th December), with most to be shipped to the Ukrainian town of Vinnitsa.
The tour will depart Gessnerallee at 10:00 on Sunday 26th November and end at around 14:00. The tour will feature two sets of this type and visit different locations on which the type were typical in their 47 year history. It will end with a depot line-up at Kalbreite with several further units of the type joining in. No registration is necessary and the tour is free of charge but donations will be collected.
Besides concluding the history of this particular type, the demise of the Karpfen marks the end of over sixty years of Be4/4 + B4 operation in Zürich.
Search news archive for P16.
Read chapters of this website's 2005 article on the pre-history of the Swiss Standard Tram and the Karpfen or P16 type.
Events diary.
---
13.11.2006 - Three years of news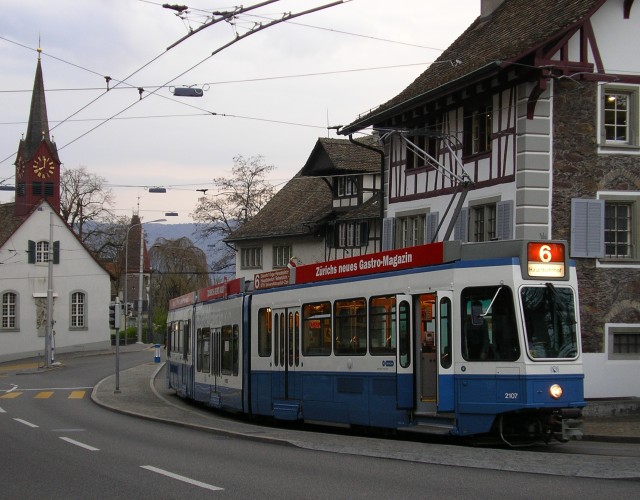 As this newslog enters the fourth year of its existence, I would like to thank all readers and supporters who have helped build its popularity. When I started this newslog, I imagined I would add about an contribution a month, and my motivation lay largely in the fun of making a website. From the beginning, updates were more frequent than this, although I cannot guarantee this will always be the case as this depends both on my time and on newsworthy developments occurring. I gradually realised that web-based interest in Zürich trams is huge and that many people are coming to this page rather than consulting the various official webistes and newsgroups. This is often due to a language barrier (showing it was the right decison to make this page in English), but also because people prefer digested and selected news from a single source rather than having to tour various sites to collect snippets of questionable interest. Consequently, even many German speakers are using these pages. I have recieved a lot of mail from regular readers from all over the world, and made many friends — making the effort all the more worthwhile.
Over the past twelve months, this page scored 8422 hits (compared to 4678 in the previous year and 2511 the year before that). October also saw the monthly figure hit four digits for the first time, scoring a grand 1257. Real figures may be higher still as many visitors are also reading articles in the search results, which do not count towards these statistics. These figures may seem meagre compared to what other sites are getting, but are quite good for a site of such a specialised field of interest (and they are far above anything that I had expected).
My advice to anybody wishing to start a website on any subject summed up in two words: frequent updates. This website has been around in a rudimentary form since 1999 but only the newslog has helped it to noteworthy visitor numbers.
Once again, a big thank you to all my regular and not so regular readers. And please continue telling your friends and spreading the word.
See also: Two years of news (14.11.2005), statistics.
---
09.11.2006 - A cunning fox in Bern
This may be a bit off topic, but I couldn't resist sharing it here. Thomas Fuchs is a member of Bern's cantonal parliament (Grosse Rat) and is prominent in the opposition to the Tram Bern West project. A mini website, www.thomasfuchs.ch, has appeared in which his animal namesake encounters a Combino (viewers should watch the introduction). This is the entire content of the website, which then links to the official pro Tram Bern West website. The real Thomas Fuchs, whose website is www.thomas-fuchs.ch, is reported as taking the incident with humour.
---
07.11.2006 - ZVV night services - the success story continues
The success story of ZVV's night lines continues unabated. With the timetable switch of 10th December, additional night S-Bahn services will be introduced. Patronage is up by 76% since 2002, with an average of 7900 riders per night. For the first time, the services made a real profit, with farebox recovery reaching 107%. No subsidies are allocated to the night lines, which operate on the nights of Friday to Saturday and Saturday to Sunday. An extension to other nights is not planned on account of the lower expected patronage.
20 Minuten
See also:
Success of night services unabated (03.04.2006)
30% more passengers on night lines (01.12.2005)
ZVV night services are profitable and popular! (11.03.2005)
---
06.11.2006 - Cobra on route 11
It is reported on Nahverkehrsforum Schweiz, that Cobra 3009 has its debut on route 11 today, making this route the third to see Cobras in regular traffic. Its introduction is part of the run-up to the Glattalbahn opening in December. The first phase will be operated as an extension of route 11 using a mix of Cobras and high-floor Tram 2000 pairs.
Cobra deliveries have reached at least 3016.
---
31.10.2006 - Restaurant tram's return
VBZ has presented it's refitted restaurant tram. The recent overhaul was taken as an opportunity to re-style its interior and improve passenger comfort (for example by fitting larger tables), while at the same time taking care to preserve the vehicle's nostalgic charm. The restaurant tram will enter service as Fondue tram tomorrow (1st November).
Be6/6 1802 entered service in 1960 as a prototype articulated tram (then numbered 1601). It has been in use as a restaurant since 1993.
---
30.10.2006 - Ground-breaking for Glattalbahn's second phase
The official ground-breaking ceremony for phase two of Stadtbahn Glattal was held last Friday (27th October). The ceremony was performed by VBG chairman Otto Halter on the Glattpark site in Opfikon. Phase two of Stadtbahn Glattal will be 5.2 km in length, branching from phase one at Leutschenbach (Ambassador) and running via Lindbergh Platz, Bhf. Glattbrugg and Balsberg to the airport. It will open in December 2008.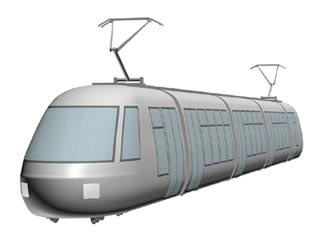 Preparatory ground work at various points on the alignment of phase two has been taking place since September. Work on phase one officially commenced on 14th September 2004 when the cantonal economy minister, Rita Fuhrer, performed the ceremony. This section is now basically complete and undergoing testing and training for a December opening (pending ministry approval). If all goes according to plan, phase three, which will extend the phase one line from Auzelg via Wallisellen to Stettbach, will see work commence in 2008 for a 2010 inauguration.
See also:
Stadtbahn Glattal second phase (18.08.2006)
Stadtbahn Glattal: green light for second phase (14.03.2005)
Stadtbahn Glattal is coming! (30.06.2004)
Phase two construction pictures.
---
24.10.2006 - 47 days to Stadtbahn Glattal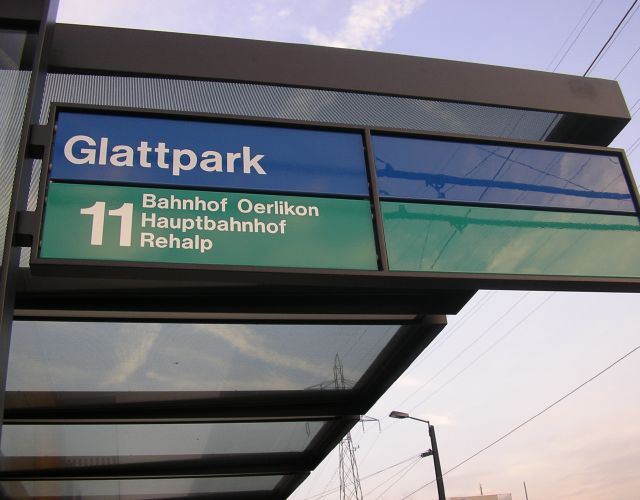 Last Monday (16th October), trial running on phase one of Glattalbahn commenced. An official press demonstration run took place yesterday (23rd). Unfortunately, I have until now been unable to capture any such moments on film (or SD card). However, I have uploaded some scenes (taken on 18th and 19th of this month) of the completed line, including impressions of the high quality to which the stops are finished.
The second part of the gallery has pictures of phase two (the airport line), construction of which is now making rapid progress. The alignment has been cleared in many places and excavation of the Lindbergh to Bhf. Glattbrugg tunnel has begun. View the gallery.
Search news archive for Stadtbahn Glattal.
---
11.10.2006 - Tram Museum Wartau dernière
With Tram Museum Zürich set to re-open at its new Burgwies abode next year, the days of the small museum depot at Wartau are numbered. The last operating day for the museum tram from Hauptbahnhof to Wartau will be on 29th October. Next year, this service will run to Burgwies.
See also:
events diary
Burgwies museum: work begins (09.09.2005)
Burgwies tram museum appeal launched (01.04.2004)
---
With the fondue season approaching, VBZ's fondue restaurant tram is coming back. It will run on Wednesdays and Saturdays from 1st November to 28th February departing Bellevue at 17:45 and 20:15. In December and January it will additionally run on Mondays and in December on Sundays also (Sunday departure times are 16:30 and 19:15). The price of 89 franks includes the tram ride and the meal served on board. This comprises a welcome drink, first course, fondue, dessert and coffee. Further drinks are charged extra. On account of the popularity of this offer, reservation is strongly recommended (+ 41 44 434 44 34).
See also events diary.
Zürich's restaurant tram was introduced in 1993 and has appeared in public service in various guises regularly, most notably as fondue tram over the Winter months. It is also available for private hire. The tram (Be6/6 number 1802) was rebuilt from a 1960 articulated prototype. For smaller groups, Elefant-type Partytram Be4/4 number 1330 can also be hired as fondue tram.
---
09.10.2006 - 1430 + 785 chosen for preservation
It is metioned on BahnCH (citing Blickpunkt Strassenbahn as source) that P16 (or Karpfen) 1430 and 785 are to be retained as museum set.
---
05.10.2006 - Basel — Weil: cross-border tram project threatened
Regular readers of this newslog will be aware that Basel is planning three cross-border tram links. Routes 3 and 11 will extend to St. Louis (France) and route 8 to Weil (Germany). A federal contribution of 39.5 million Franks towards the total costs of 79.5 million has been secured on the understanding that construction must begin by 2008. The overall financing is far from secure, however, as the towns being served must also cover part of the costs. The major of Weil, Wolfgang Dietz, has said that the 5 million Euros Weil must pay are beyond the town's means. A Basel politician, Helmut Hersberger, is suggesting that Basel should investigate whether it can increase its contribution. The traffic share of public transport between Weil and Basel is currently below 20 percent.
---
Cobra deliveries have reached 3014.
---
30.09.2006 - Tram Museum Zürich gets a million from lottery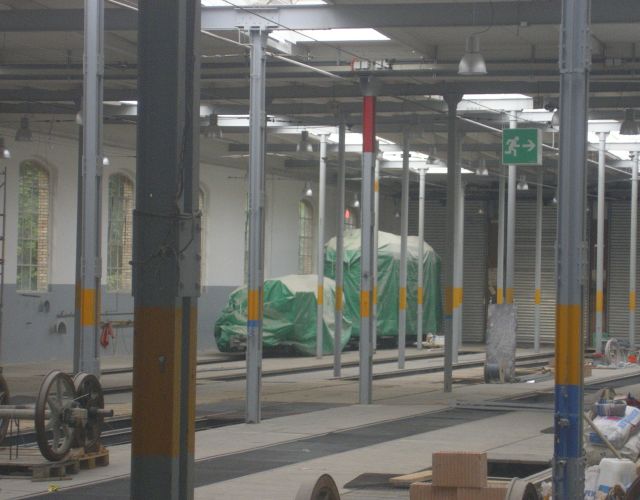 The cantonal government has applied for one million Franks of lottery money for the realisation of the new tram museum at Burgwies.
See also news archive and photo gallery for Burgwies.

---
27.09.2006 - Major projects clear another hurdle
Yesterday, national parliament approved 20.8 billion Franks for infrastructure projects, of which 728.5 million are for two public transport projects in Zürich. 400 million are being spent on the Durchmesserlinie or second cross city rail tunnel which will connect Oerlikon to Hauptbahnhof (opening scheduled for 2013 and costing a total of 1786 million). Phases 2 and 3 of Stadtbahn Glattal are getting 253.5 million and Tram Züri West 75 million (of total costs of 507 million and 150 million respectively).
20 Minuten and Bundesamt für Raumentwicklung
Other projects being supported are Tram Bern West (65 million of a total cost 130 million), Bern: tram extension to Wankdorf (40 of 80 million), Basel: tram extension/diversion St Johann/Pro Volta (9.1 of 18.2 million), Basel: Tram extensions to St. Louis and Weil am Rhein - Basel city sections (39.5 of 79 million), Basel: double tracking Arlesheim-Dornach and relocation of Dornach terminus with bus interchange (11 of 22 million), WSB: relaying of WSB on former SBB alignment between Suhr and Aarau (40 of 80 million), Lausanne: Metro M2 from Ouchy to Les Croisettes (120 of 240 million), Geneva: tram to Meyrin and CERN (210 of 420 million), Geneva: tram to Lancy, Onex and Bernex (90 of 180 million). Most of the other projects are road or heavy rail. All projects being supported are either already under construction, or will be by 2008.
See also:
Stadtbahn Glattal second phase (18.08.2006)
Tram Bern West on the right track (18.08.2006)
Tram Zürich West update (09.03.2006)
Basel's public transport strategy (29.09.2005)
---
27.09.2006 - Countdown to Stadtbahn Glattal — 74 days
The overhead line of the first phase of Stadtbahn Glattal was energised this Monday (25th September). Test running will start on 16th October and passenger services will commence with the timetable switch of 10th December.
Seen on route 11 this morning: 2315 advertising the approaching opening: "Die Linie 11 mit 5 neuen Haltestellen, ab 10 Dezember, Umsteigen lohnt sich". For this tram, advertising extensions to route 11 is nothing new: Together with 2086, it carried an advertising livery for the Messe extension from 1998 to 2004.
See also
Cobra debut on route 11 and Stadtbahn Glattal (24.09.2006)
Glattal latest (16.06.2006)
Search news archive for Stadtbahn Glattal
Stadtbahn Glattal described in this website's Zürich article (2005)
---
26.09.2006 - News roundup (slightly belated)
The lead article of the current edition of Tram magazine (Nr. 87/ 09.-11.2006) celebrates the 40th anniversary of the Mirage type tram (Be4/6 1601-1726). In the news section of the same magazine, the scrapping of 1702 and 1708 is reported. 1670 is withdrawn with accident damage. The list of vehicles scrapped to date is stated as 1617/54/90/1/1700 (in 2005) and 1702/8 this year. Furthermore 1670 and 1697 are stored — the latter since 2004. P16 type trams Be4/4 1418-20 and B4 771-4 are also out of use. The FFA three-door standard tram trailers B4 787-98 are currently undergoing bogie overhauls, suggesting that this type is set to last in service at least a little longer.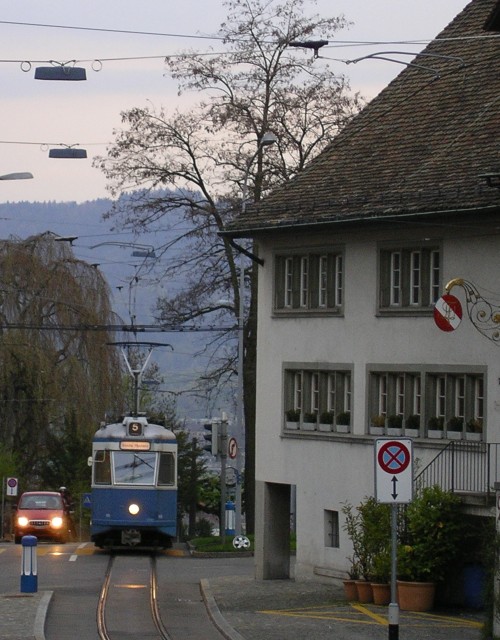 Editions 3/06 and 4/06 of Prellbock magazine continue with articles on the history and future of Lausanne's Ficelle (the first part was in edition 2/06, discussed here on 10.04.2006). Furthermore, 3/06 has an article on the Tango trams for Basel. The news section has an impressive picture of Cobra 3007 on a lorry on its way from Villeneuve to Zürich. 4/06 has an interesting article on the future rolling stock strategy of RBS (Bern - Solothurn). There is also a short article on the new narrow gauge vehicle which Bombardier is proposing for the Swiss market. The article's author, who is sales manager at the company, explains that Switzerland remains a key market for Bombardier, which employs 700 people at its Turgi, Villeneuve, Winterthur and Zürich sites. No technical details of the vehicle are revealed however, other than that two and three section variants and different motorisations are being proposed. Bombardier hopes for success in the approaching vehicle acquisition plans of BDWM and RhB
Schweizer Eisenbahn Revue (10/2006) also has a short article on BDWM's (formerly Bremgarten Dietikon) plans. BDWM intends to replace its entire fleet by new vehicles, with the newer low floor cars being transferred to WSB/AAR). The latter will refurbish these vehicles and its own similar cars, adding first class compartments. Low-floor driving trailers will also be acquired to work with the remaining high-floor cars.
Tram magazine, Prellbock magazine
Search news archive for Tram magazine, Prellbock magazine, Mirage, P16, standard tram, Lausanne Ficelle, Tango Basel, Cobra, Bombardier narrow gauge, BDWM, WSB.
---
25.09.2006 - Bern trolleybus: FBW era ends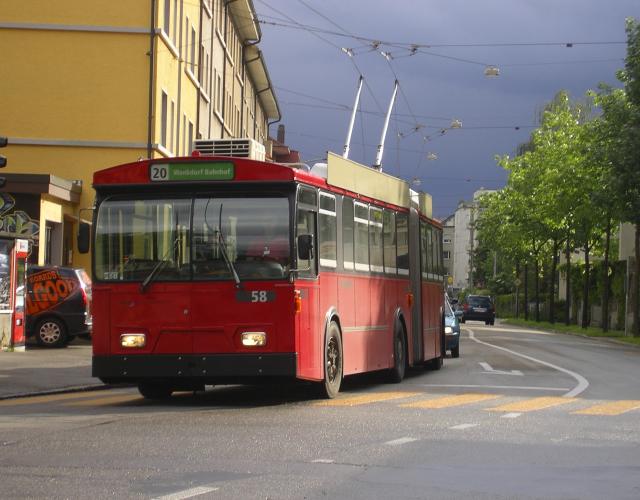 Bern's FBW trolleybuses will run for the last time tomorrow (26th September). The last remaining vehicles, 56 and 58, will work on routes 12 and 13.
---
24.09.2006 - Cobra debut on route 11 and Stadtbahn Glattal
According to a report on BahnCH, Cobra trams will debut on route 11 next month. A Cobra will also commence test running on phase 1 of Stadtbahn Glattal.
---
20.09.2006 - Zürich trams for Ukraine?
According to an article in Tages Anzeiger, the Ukrainian town of Vinnitsa is interested in obtaining second-hand Zürich trams. If agreement an is reached, Zürich will donate 12 or 13 P16 cars and a similar number of Mirages to Vinnitsa (Winniza), the first of which will be dispatched in January. The costs of transporting them there will be born by the trade office Seco, which is also coordinating the negotiations.
Vinnitsa has a 17km tram network with 60 cars transporting 150,000 passengers daily. It's livery is yellow and brown.
---
20.09.2006 - Bern's tram museum opens this Sunday!
A dream has finally come true! Tramverein Bern will open its museum to the public this Sunday (24th Septmber). Festivities will be from 11:00 to 16:00 and museum trams and buses (including the steam tram) will be in action. The museum is located in Weissenbühl depot and can be reached by trams 3, 5 and G to Brunnadernstrasse.
---
15.09.2006 - Last months for Be4/4 1416-1430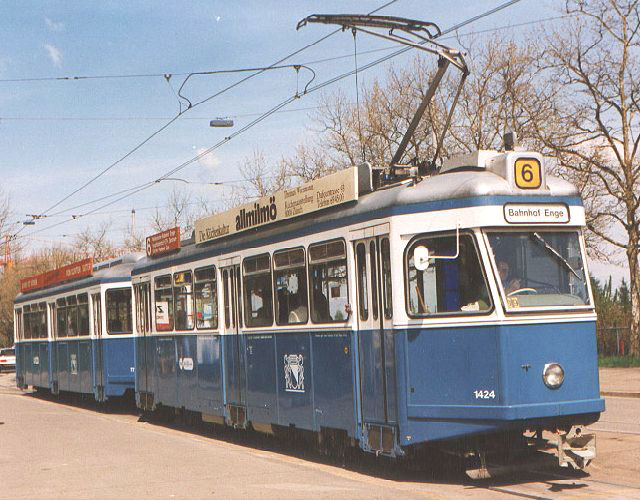 The P16 type bogie cars (Be4/4 1416-1430 and B4 771-786), also known as Karpfen or Pullmannwagen will be withdrawn from service with the timetable switch of this December. One set will be retained for the heritage fleet, with overhaul to begin in January.
Those wishing to see these 47 year old trams in action are advised that they are used only on route 5 and only on weekdays.
---
04.09.2006 - New trolleybus in service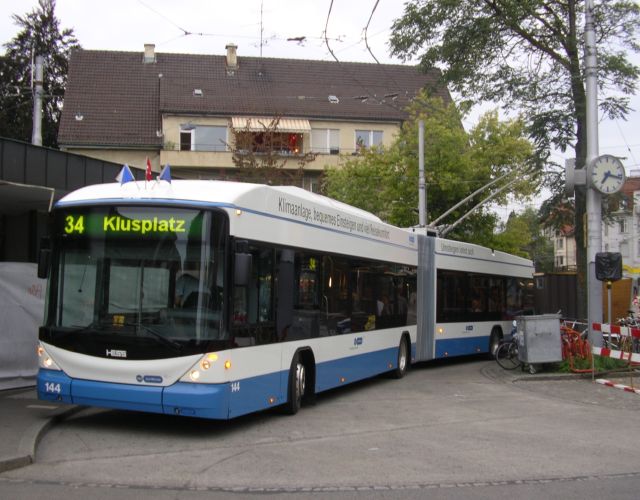 Trolleybus 144 has now entered service — sighted on route 34 on Saturday (2nd September).
See also 21.07.2006
Also new on this website is a short series of pictures documenting the current state of Burgwies tram depot. Zürich's tram museum is set to relocate here next year. The building is shared with a Migros supermarket which is already open.
---
This page has just received its 10,000th visitor (almost 5000 visits since 14th November). Thank you to all the regulars and not-so-regulars who keep this page popular.
---
18.08.2006 - Stadtbahn Glattal second phase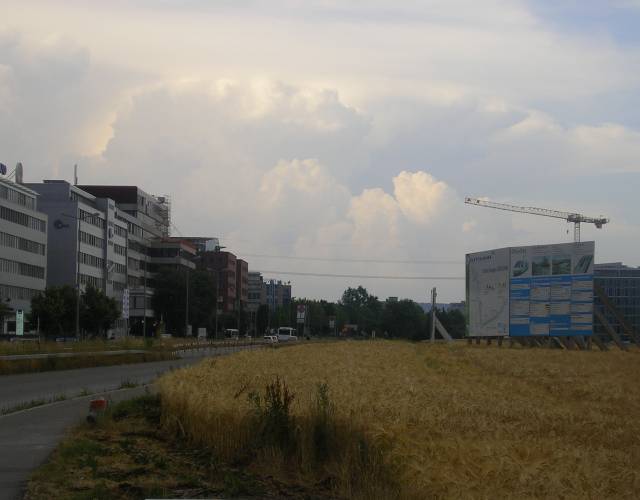 Construction of the second phase of Stadtbahn Glattal will begin in September. This 5.3km line will cost 270 million Franks, of which 200 million are for the project proper between Glattpark and the airport. 18 million are for the short new tram line from Leutschenbach (Airgate) to Bhf. Oerlikon Ost. which trams of route 10 will use as a short-cut to Bhf. Oerlikon. The remaining 52 million are for a new road which is necessary to divert traffic from the Stadtbahn alignment.
The phase two project includes the 400 meter Stelze tunnel from Lindbergh-Platz (Stelze) to Bahnhof Glattbrugg and an 860 meter viduct for its final approach to the airport bus station.
See also Glattal latest (16.06.2006)
---
18.08.2006 - A new chance for the zoo tram?
VCS has started collecting signatures with a view towards bringing about a referendum for a tram extension to the zoo. The current Zoo terminus is a short walk from the zoo entrance. Recent expansion of the zoo has increased visitor numbers while also moving the main entrance further away. This has bolstered the case for better transport. To address this, the city of Zürich evaluated a tram extension in 2000 which would have cost 11 million for a 400 meter link. This was rejected by a council decision in 2001. Partly as an alternative to this, the Zoo looked into an aerial cable car from Stettbach (which is actually more expensive than the tram link, but would be financed privately). This cable car has met with some opposition.
20 Minuten
See also:
Aerial cable car Stettbach – Zoo delayed (29.09.2005)
Aerial cable car Zoo (08.10.2004)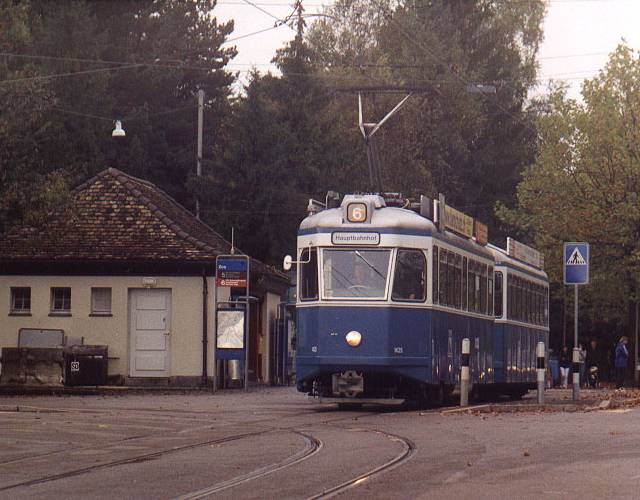 Website comment: At the time the tram link was rejected, one councillor justified this decision by saying that somebody who has walked around in the zoo all day can be expected to walk the 400m to the tram stop afterwards. There is certainly truth in this, but one wonders why the same argument should not apply to people who drive there — especially seeing that another argument raised against the tram at the time was that its tracks would eliminate a number of car parking spaces directly outside the zoo entrance.
---
18.08.2006 - ZVV finds its voice
From the end of this year, ZVV wishes to introduce automatic stop announcements on all routes. An actress has been hired to speak all 2500 stop names onto recordings. A single voice could strengthen the ZVV's corporate identity and improve the quality of announcements.
20 Minuten
---
18.08.2006 - Tram Bern West on the right track
The city council of Bern has approved its 26 million contribution towards this 141 million project. The project must be approved by referendum on 26th November. The line could open in 2010.
The original project for a tram to Bümpliz and Brünnen was rejected by a cantonal referendum in 2004. A revised project was presented earlier this year.
---
Cobra deliveries have reached 3011. From 27th August, route 4 will be worked exclusively by Cobras on Sundays.
---
31.07.2006 - Basel trolleybus — 65 years
On this day 65 years ago, Basel's trolleybus system opened. Today the system has passed out of official favour and is, indeed, struggling to survive. It comes as little surprise, that the anniversary is passing with little official attention. We are indebted to Basler Zeitung for marking the event with an article and to Pro Trolleybus for publishing the text on their website.
Basel's trolleybus history began almost be accident. Two motor buses were destroyed in a fire in 1940 and it was decided, in view of war related fuel shortages, to replace them by two electro-diesels from FBW (today such vehicles would be called duo buses). Despite their dual system capability, they were used exclusively under wires. The first route connected Claraplatz to Friedhof am Hörnli. In 1948 it was extended from the latter terminus to Habermatten and numbered 31. It was joined by route 34 from Claraplatz to Käferholzstr in 1956. These routes shared overhead from Claraplatz to Rosengartenweg.
Basel's third trolleybus route was born under rather more troubled conditions. Following a heavy referendum campaign over the acquisition of new tram rolling stock, which was defeated on anti-tram sentiment in 1955, the lightly loaded tram route 2 via Johanniterbrücke was replaced by buses in 1966. Electric operation commenced in 1968. Route 33 connected Wanderstrasse - Schützenhaus - Spalentor - Badischer Bhf.
The next extension opened in 1973 when route 31 was extended from Käferholzstr. to Habermatten, so meeting up with route 31.
In more recent years, however, the fortunes of the trolleybus were to take a different turn. The need to extend route 34 led to its dieslisation in 2000. Similarly, itinerary modifications led to the dieselisation of route 33 in 2004. BVB wishes to replace the remaining trolleybus route by gas buses by 2008, however, Pro Trolleybus is campaigning for the retention of this clean and sustainable mode. The organisation has collected sufficient signatures to enforce a referendum on the subject. This will probably be held this winter. Pro Trolleybus has registered significant support for the trolleybus and this is set to be a hot campaign!
Search news archive for trolleybus, Basel and Pro Trolleybus.
---
The latest addition to this website is a series of Aktion Pro Sächsitram photos.
---
21.07.2006 - First new trolleybus is here
Almost exactly a year after the order was placed, the first of 16 new articulated trolleybus of type Swisstrolley3 was presented in Zürich yesterday. This vehicle will enter service in September and be tested on all routes. The remaining 15 vehicles of this type will be delivered from January 2007 and enter service from February at a rate of two a month. They will predominantly be used on route 32.
These new buses supplied by Hess AG and with electrical equipment by Kiepe are costing 1.17 million each. They will replace Mercedes 0405GTZ from 1986-9 which will by then have accumulated 1.2 million kilometres.
The 17 double-articulated trolleybuses that are part of the same order will arrive from Summer 2007.
See also:
33 new trolleybuses (21.07.2005)
VBZ to order new trolleybuses (26.02.2004)
Trolleybus page
---
19.07.2006 - Tram expansion strategy unveiled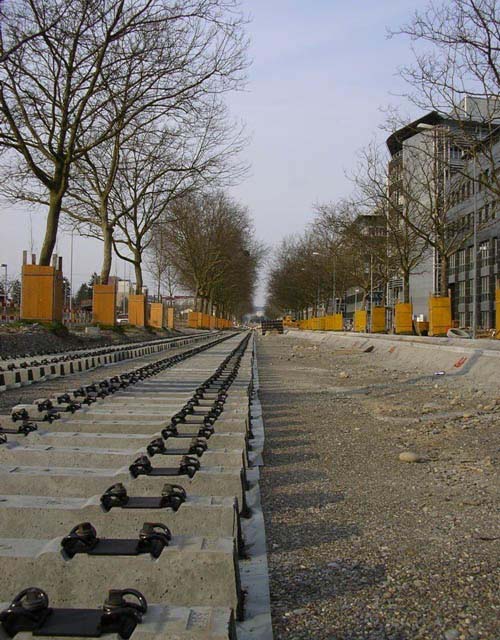 Yesterday, the new strategy document for the future expansion of Zürich's tram network was presented. It includes some deviations from previous plans and introduces some exciting new concepts, including tangential routes (connecting neighbourhoods without serving the central area). The plan underlines the importance of continuing to develop an attractive public transport system to sustainably meet future growth and development of the city and its suburbs.
Phase 1 — 2010: Completion of Tram Zürich West. 3km of new line between Escher-Wyss-Platz and Bhf. Altstetten. Route 4 will then be diverted from Escher-Wyss-Platz - Werdhölzli to Escher-Wyss-Platz - Bhf. Altstetten. The Werdhölzli line will instead be served by extending route 10 from Hauptbahnhof via Escher-Wyss-Platz (this route will in 2008 have been extended at its other end via the second phase of Stadtbahn Glattal to the airport).
Phase 2 — 2015: Completion of a 700m connecting line using Hardbrücke between Schiffbau and Hardplatz. This will be used to extend route 8 from Hardplatz via Schiffbau to Werdhölzli. This will permit route 10 to be cut back again to Hauptbahnhof as traffic currently using the axis Escher-Wyss-Platz - Hauptbahnhof is siphoned off by the extended route 8. At the same time the other end of this route will be diverted from Klusplatz - Kunsthaus - Bellevue to Klusplatz - Kreuzplatz - Bellevue. This will permit the cutting back of route 15 to Bucheggplatz - Bhf. Stadelhofen.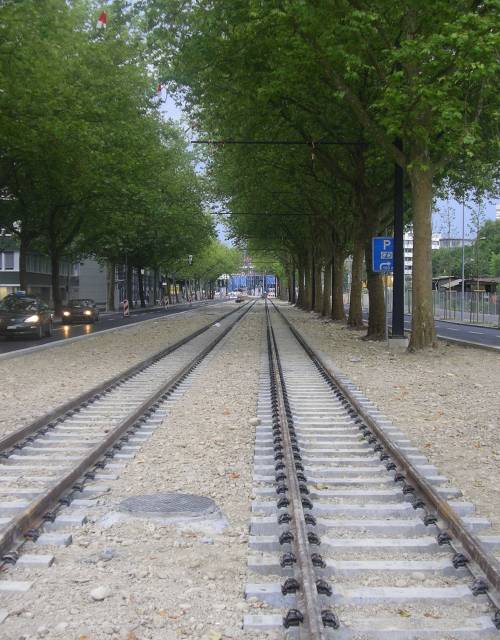 Phase 3 — 2020: New lines: Albisriederplatz - Hardplatz (600m), Escher-Wyss-Platz - Bucheggplatz (1.2km), Bucheggplatz - Milchbuck (800m), Farbhof - Hermetschloo (700m). These new lines will enable the following route changes: New route 17 Seebach - Bhf. Oerlikon - Bucheggplatz - Hardbrücke - Letzigrund. New route 18 Hirzenbach - Bucheggplatz - Hardbrücke - Albisriederplatz - Hermetschloo. Route 2 to be extended from Farbhof to Hermetschloo. Route 9 to be diverted from Milchbuck - Hirzenbach to Milchbuck - Airport. Route 10 to be diverted from Milchbuck - Airport to Milchbuck - Bucheggplatz. Discontinuation of (trolley)bus 72 between Milchbuck and Albisriederplatz and (trolley)bus 33 between Escher-Wyss-Platz and Schmiede Wiedikon. The remaining section of route 33 will be joined with bus route 67 (to Dunklehölzli). Route 72 will run Triemli - Albisriederplatz - Schmiede Wiedikon.
Phase 4 — 2025: New lines: Kalkbreite - Bhf. Wiedikon (700m), Schmiede Wiedikon - Laubegg (1.5km), Upgrade of Bahnhofbrücke to quadruple track. This will permit the following route changes: Extension of route 17 from Albisriederplatz via Binz to Laubegg SZU and then via Enge - Bellevue to Kirche Fluntern (replacing route 5). Extension of Forchbahn via Limmatquai to Hauptbahnhof. Discontinuation of route 15. Cutting back route 31 from Hegibachplatz to Hauptbahnhof.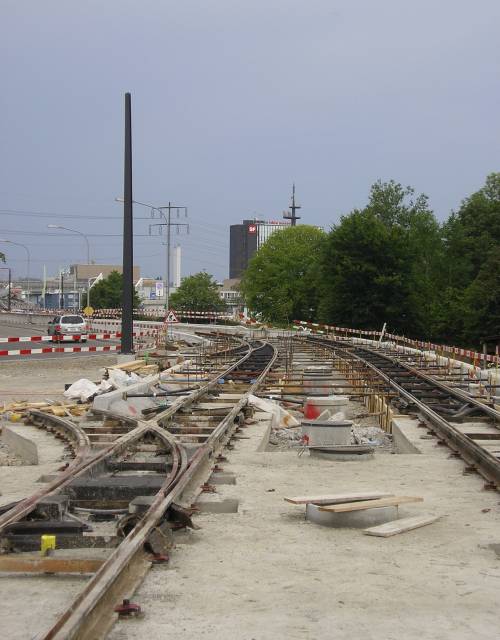 Beyond 2025: The following tram lines are to be built beyond this date: Affoltern - Bucheggplatz, Affoltern Oerlikon, Tram route 1 (Hohlstrasse, replacing trolleybus route 31), Bucheggplatz - Hönggerberg. Routes into the suburbs are Altstetten - Schlieren (component of Stadtbahn Limmattal), Wollishofen Adliswil, Höngg - Engstringen, Oerlikon - Glattzentrum - Dietlikon, Stettbach - Dübendorf. The option for Oerlkion - Schwamendingerpatz is being dropped
An article in today's 20 Minuten additionally states that on the opening of phase 1, route 4 (serving Zürich's fashionable clubbing areas) may become the first tram route to provide night services.
Website comment: These ambitious plans combine previously publicised concepts with some new elements (especially the Escher-Wyss-Platz - Milchbuck tangential route). Not clear is the future of the trolleybus network which will certainly be fragmented by seeing sections converted to tram. On the whole, however, this plan will see great improvements in the tram network and enable trams to maintain and expand their market share in a continuously changing and developing city. The final section of the document stresses the key role that the first phase plays in this concept and could be intended as preparation for the referendum over this.
It is interesting to note that the priority of route 1 has been dropped from 2015 to beyond 2025.
Projects outside the city such as Stadtbahn Glattal are not explicitly mentioned. However, the map for 2010 shows the system complete.
See also:
Tram Zürich West update (09.03.2006)
Tram Zürich West in 2010 (20.01.2006)
Double-articulated trolleybus update (24.10.2005) - mentions conversion of route 31 to tram.
Future depot and tram route changes (06.04.2005)
---
18.07.2006 - Video surveillance
Today's 20 Minuten reports that video surveillance on ZVV night lines has increased percieved security for passengers and drivers and reduced vandalism. 18 night buses have been equipped since January 2005. The program is being extended to the remaining 60.
See also Winning against vandalism and fare evasion (03.02.2006)
---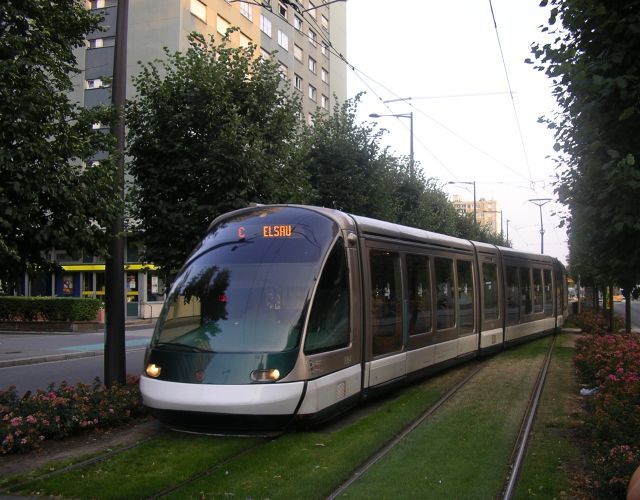 Updates to this website have been few and far between over recent weeks. This was partly for personal reasons and partly because there simply hasn't been that much to report over the Summer recess.
Cobra deliveries remain at 3009, with 3010, the first unit to come by rail, still being awaited (Nahverkehrsforum Schweiz). This means no Cobras have been delivered since 1st June.
Meanwhile, the latest update to this website is a series of Strasbourg pictures from my visit last Friday.
---
07.07.2006 - New trolleybus arriving soon
The first of VBZ's new trolleybuses (Swisstrolley3) will be presented VBZ-internally (and possibly also to the media) on 20th July.
See also 33 new trolleybuses (21.07.2005) and this website's trolleybus page.
---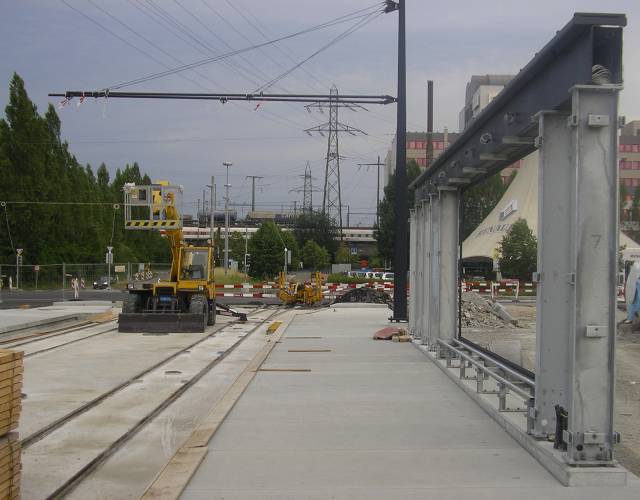 A visit to the construction site of phase 1 of Glattalbahn today revealed that significant progress has been made since my previous visit (25th April). Track laying is no basically complete as far as the Ambassador junction and has also begun at the Auzelg terminus. Overhead masts are in position on all but a few short sections of the route but no catenary has been installed. The shelters at the stops are also taking shape.
For the latest photographs see today's new photo series (includes some Mulhouse shots from yesterday, a detour on my way home from work).
---
21.06.2006 - Progress towards Tram Bern West
The second attempt at building Tram Bern West has now reached the public enquiry phase. The new project is 20 million franks cheaper than the original (rejected in May 2004) and also eliminates various other points of contention. This 141 million frank, 7km extension of Bern's tram network will replace (trolley)bus routes 13 and 14 to Bümpliz and Brünnen Bahnhof. Construction is set to begin in 2008.
---
The latest update of the VBG website presents the status of work on Glattalbahn. The schedule has been set back slightly by the exceptionally fierce winter. The target is now that test running will begin in early October for an opening as planned in December. Work is now in full swing on laying tracks, placing masts for the overhead and preparing the communication systems and stops.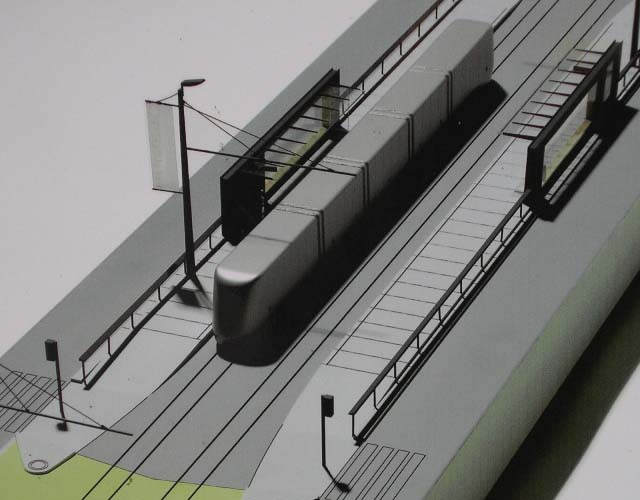 Planning for the second phase is also forging ahead. Construction will begin in September with some preliminary work starting in June! The second phase consists of the Ambassdor to airport line as well as the short connection between Airgate and Bhf. Oerlikon. Wheras the first phase is entirely on street level, the second phase will have more visible "Stadtbahn-like" civil engineering, including a tunnel and viaduct. Some of the points published are summarised below:
The section of Thurgauerstr. in Opfikon along which the Glattalbahn will run will be given a more urban feel by the planting of trees and additional zebra crossings.
The Stelze tunnel (which the Glattalbahn will use between Lindbergh-Platz and Bhf. Glattbrugg, so crossing motorway and railway line) will be built by cut-and-cover.
At Balsberg, a 600m long viaduct is to be built. The contract for this has been awarded and construction should be complete in late 2007. At 12.5MCHF, the price is considerably lower than the 16MCHF budgeted.
At the airport passenger entrance, Glattalbahn will be integrated into the existing bus station. Changes in the operations of the airport mean that the number of additional stops for airport staff can be cut from two to one.
See also: Stadtbahn Glattal described in Zürich: A city and its trams (2005).

and the following news items:
Glattal progress (25.04.2006)
Glattal progress (08.11.2005)
News from Stadtbahn Glattal (08.09.2005)
Stadtbahn Glattal: first tracks laid (22.06.2005)
Stadtbahn Glattal: green light for second phase (14.03.2005)
Glattal progress (21.12.2004)
Stadtbahn Glattal progress (24.08.2004)
Stadtbahn Glattal is coming! (30.06.2004)
A note on nomenclature: The official name of this project is Stadtbahn Glattal. In the past this website has adhered to this name. However, the media and even official documentation increasingly makes use of the easier term Glattalbahn. Strictly speaking, the latter usage is incorrect as it formally refers to the SBB railway line to Uster. This website, as a concession to this shift uses the latter albeit incorrect term in its present context.
---
The curent edition of Tram magazine (86/06-08.2006) has an interesting article on Albisgütlibahn (AGB), the private company that built and operated the tram line from the Sihltalbahn railway crossing to Albisgütli. The line was opened in 1907 and taken over by the city in 1925. It is now part of route 13. Interest in this company has grown recently following the return of an AGB tram to Zürich for preservation (see also 08.02.2006). It is quite remarkable that all five AGB tramcars survive. Three cars were sold to StStZ in 1914, with the fleet being re-united when AGB was integrated into StStZ in 1925. In 1953 one car went to BVB (Bex-Villars-Bretaye) with the remaining four going to Innsbruck in 1955.
ex-AGB tramcars

AGB Nr.

StStZ Nr.

IVB Nr.

present location

1907

1919

1914

1917

1947

1955

1

147

-

-

1147

19

museum tram in Innsbruck

2

148

-

-

1148

-

to BVB in 1953 (Nr. 7). Renumbered 8 in 1965. Returned to Zürich in 2006

3

-

141

144

1144

21

rail grinder in Innsbruck since 1971

4

-

142

145

1145

20

to Ebelsberg in 1982, thence to Klagenfurt tram museum

5

-

143

146

1146

18

to Klagenfurt tram museum in 1978

Some of the information in this table is from the BahnCH newgroup.
The magazine further reports that the last Mirage overhauls (R.A.) are currently in hand. The latest vehicles treated are 1673 and 1678, with 1678 next on the list. 1697, 1702 and 1708 have been transferred to the main workshops for scrapping. With two new Cobras ariving every month over the coming years, the rate of withdrawals is set to increase. If space allows, a P16 and trailer, a pair of Mirages and a standard trailer will be set aside for the heritage fleet.
Oerlikon depot will be extended by four tracks for the Glattalbahn trams.
The trolleybus situation in Bern will shortly see lines 13 and 14 going over to diesel working, leading to the withdrawal of many older vehicles. The lines concerned may later be replaced by Tram Bern West.
---
01.06.2006 - Another Cobra delivered
Seen in the early hours of this morning (circa 00:30) at Bucheggplatz, a Cobra tram (3009?) on a lorry. Quite an impressive sight — what a pity I didn't have a camera!
It is reported on Nahverkehrsforum Schweiz that 3008 will be entering service soon, with 3009 following around 6th June.
---
30.05.2006 - New S-Bahn in service
The first of the Siemens double-deck S-Bahn trains (class RABe514) entered service on S14 yesterday.
See also :
25 S-Bahn trains ordered (09.03.2006)
New S-Bahn train presented (02.12.2005)
---
24.05.2006 - Cargo trams in other cities update
A year has passed since this website last reported on Vienna's Güterbim. Its website reports that the demonstrator is proving its worth ferrying supplies between the main workshops and the depots and also shifting wheelsets and running gear between the main workshops and the Bombardier works (Bombardier's Vienna works has a track connection to the tram system). For the future, two areas of expansion are envisaged. These are deliveries to shops — possibly using a cargo version of the low-floor ULF tram. The low floor facilitates the quick loading and unloading of palettes. The other area is the collection of refuse for individuals and companies, including hazardous waste and return bottles.
Amsterdam too, is making progress. The feasibilty study (presented to city council on 26th April) delivered a positive result. Negotiations are to start with City Cargo over the implementation of a goods service. Lorry access to the ciy would be restricted and goods delivered by trams to disribution centres in the city from where the door-to-door distribution can be assured by electric vans.
See also:
Cargotram for Amsterdam? (28.11.2005)
Güterbim — Vienna tests its cargo tram (25.05.2005)
Cargotram concept speads to Vienna (11.08.2004)
This website's cargotram page.
---
18.05.2006 - No Caliente restaurant tram this year
Accoding to the Caliente website, the Caliente restaurant tram that normally accompanies the festival will not be running this year as it will be in overhaul. Obviously the fact has not been well communicated as other sources continue to announce it.
See also:
Events diary
Caliente tram (25.05.2005)
---
17.05.2006 - Mulhouse: grand opening
Mulhouse's new tramway commenced operation in a blaze of publicity and events last Satuday (13th). The official part will follow on coming Saturday (20th) when the French president, Jacques Chirac, will ceremoniously inaugurate the new tramway at Place de la Bourse at 11:00.
---
17.05.2006 - Genève: Lancy tram opening
Mulhouse is not the only city to celebrate a tram opening on the 20th. Geneva's latest extension, the 1.5km line from Lancy-Pont-Rouge To Palettes is also opening!
---
It is reported on Nahverkehrsforum Schweiz, that Cobra 3008 arrived by lorry on Wednesday (10th May).
---
08.05.2006 - Basel: Tram order awarded to Stadler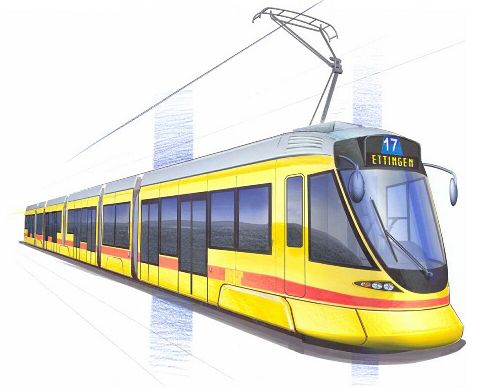 A joint BVB/BLT tram order has been awarded to Stadler. The 45m long, 10-axle Tango trams able to hold 276 people (of which 94 seated) are bogie vehicles based on those recently supplied to Forchbahn and Trogenerbahn.
The order is worth 276 million Franks. Prior to its confirmation, four prototypes must undergo an extensive testing programme with BLT for 2 years. In total, 40 vehicles will be supplied to BLT and 20 to BVB. The prototypes will be delivered to BLT in 2008. If these perform well during the test phase, BLT will order a batch of 15, to be followed by 21 between 2014 and 2016. The 20 BVB trams will enter servce in 2014.
Tramforum Basel, BLT (there is as yet no mention on the websites of BVB or Stadler)
See also:
Basel tram acquisition latest (31.01.2006)
Industry lethargic on Basel tram order (24.11.2005)
New trams for Basel (30.06.2005)
Website comment: Today's official press release speaks of 60 new trams; previous news items mentioned only 55 (of which 15 for BVB).
This website is pleased to see that this significant order has been secured by Stadler, an innovative company with good knowledge of the local market. The company appears commited to securing jobs and expertise and is well positioned to fill the gap in the tram market that has been left by the recent wave of ruthless mergers and consolidations. This is yet another milestone in the growth of Stadler!
---
05.05.2006 - More livery variations
Seen yesterday on route 14, 2307 in a modified look. The vertical band at the articulation is narrowed to the middle section, similarly to the Sänftes.
---
27.04.2006 - Freiburg: Vauban line opening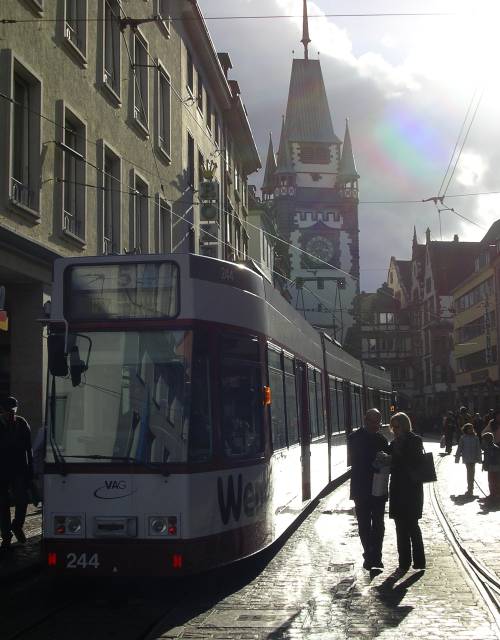 This Saturday (29th April) will see the opening of a new tram line in Freiburg (Breisgau). The 2.5km line serves Vauban, a neighbourhood that is currently being developed on a former French military base (hence its name).
A tram cavalcade carrying guests of honour will arrive at Vauban terminus at circa 11:15, following which speeches will be held. Public rides will begin at 12:00 — with both modern and historic trams operating. Rides on the entire VAG tram and bus network will be free of charge all day.
Best wishes to Freiburg for the new line!
Freunde der Freiburger Straßenbahn
Search news archive for Freiburg.
---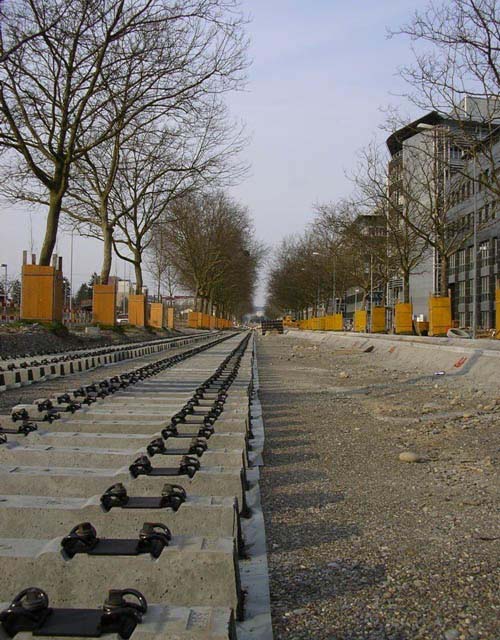 A visit to Glattalbahn (Stadtbahn Glattal) last Thursday (20th April) showed the rapid progress that has been made during recent months. Track is now in position between Hallenstadion and Airgate (Leutschenbach). Beyond this, railway-style sleepers have been layed along much of the remaining section on Thurgauerstrasse. This marks a departure from Zürich's usual method of surface track construction.
At the next stop (Ambassador / Glattpark) the triangle that will connect the phase 2 line to the airport has been built. The ground along the entire length of phase one is levelled and prepared for track laying. The Auzelg terminus will be realised as two concentric loops allowing trams from both directions to be turned. Only the through lines will have platforms and there is no holding loop to allow trams to overtake. I wonder how this will be operated in practice when route 11 terminates here and route C runs through (as the published plans suggest will happen when all three phases are complete). At least a platform on the loop track would be useful to permit passengers to alight without blocking the departure platform.
View pictures of current state of works
See also:
Glattal progress (08.11.2005)
News from Stadtbahn Glattal (08.09.2005)
Stadtbahn Glattal: first tracks laid (22.06.2005)
Glattal progress (21.12.2004)
Search news archive for Glattal
Glattalbahn is a project to bring trams to the Glattal area to the North of Zürich. Phase One (on which work began in September 2004) will open in December. Further phases will see lines to the airport (second phase opening 2008) and Stettbach (third phase).
---
2113, the first Sänfte was always easy to recognise by the absence of the small logo from the front end. Since its recent release from overhaul (REV 1.2 4.06) this is no longer the case.
See also:
Sänfte deliveries complete (02.12.2005)
First WinPro low floor 2000 in service (06.05.2004)
---
12.04.2006 - 274 million passengers
VBZ's latest passenger statistics suggest some 15 million fewer passengers travelled by VBZ than in 2004. VBZ assures us, however, that there is no need for panic. The lower figure is due to a new counting method. In the past inspectors counted passengers manually and estimated total figures from these results. Now every seventh vehicle is equipped with infrared sensors at the doors providing continuous and accurate passenger counts.
The statistics show that in 2005, 185 million passengers travelled by tram (67%), 52 million by trolleybus (19%), 35 million by diesel bus (13%) and 2 million by neighbourhood minibus, Quartierbus (1%). On a typical working day, 907,000 passengers are carried.
Tages Anzeiger
See also: A good year for VBZ (25.02.2005).
---
10.04.2006 - News roundup, slightly off-topic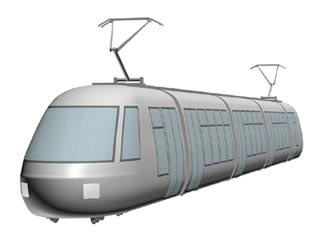 The latest edition of Prellbock magazine (2/06) features the second part of an article on Zürich's Dolder Tram. This one-car line served the Grand Hotel Dolder from 1899 to 1930. Lausanne's Ficelle (see also 18.01.2006) features with two articles, one on its history with many remarkable old photographs, and one on its final day of operation. The news pages include a photograph of ex BVB 8, ex-AGB 2 Ce2/2 (see also 08.02.2006) being unloaded in Zürich with the assistance of P16 Be4/4 1417. Also discussed is the fund of 20 billion Franks for urban transport projects to be spent over the next 20 years. Some of this money will benefit tram extensions in Zürich (Glattalbahn, Tram Zürich West, Hauptbahnhof - Farbhof and Oerlikon - Affoltern) plus projects in Bern, Basel, Genève and maybe a tram in Lugano (!).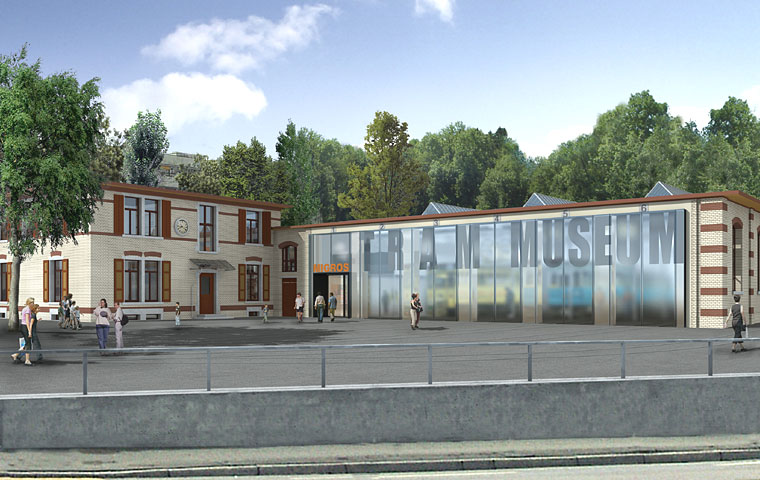 The TMZ newsletter states that the fund for the new Burgwies tram museum has now reached 960,000 Franks. The goal is to collect 1.5 million (see also 09.09.2005). Donations are still beng sought. Meanwhile, work is progressing at pace with visible progess on the mezzanne floor (and the Migros supermarket area). The newsletter also draws attention to the forthcoming inauguration of tram lines in Freiburg (Vauban, 29th April), Mulhouse (new system, 13th May) and Genève (Lancy, 20th May).
Off-topic, but no doubt good news to Zürich fans: In its annual study of liveability in cities, the Mercer Institute has once again given Zürich top marks. Zürich scored 108.2 points followed by Genève with 108.1. The study compares towns to New York City, which is normed at 100. This is the fifth year in a row that this honour is bestowed on Zürich (see also 21.03.2005).
---
05.04.2006 - Production Cobra in service
The first production Cobra (3007) entered service on route 9 yesterday.
See also:
Cobra arriving on Thursday (14.03.2006)
Cobra approaching (03.01.2006)
---
05.04.2006 - Basel and Bern: Combino repairs delayed
The first of Basel's Combinos to have left for repairs by Siemens in Krefeld will take longer to return than envisaged. The tram (310) left Basel on 23rd November and should have been back in Basel in the Spring. It is, however, indicated that this ram cannot return until the Autumn.
Similarly, the Bern trams will take 17 instead of 13 weeks to repair. By the end of April, seven of the 15 Bern Combinos will be running in rebuilt form. The explanation for the delay is explained as additional test and modification work. It is also pointed out that the repairs to the Bern cars cannot be fully compared to those of the Basel cars as these are of a different type.
See also:
Freiburg: new Combinos delivered (15.02.2006)
Basel: Adios Combino (for a while) (24.11.2005)
Basel: Combino latest (23.03.2005)
Combino update (30.06.2004)
Combino troubles (13.03.2004)
---
03.04.2006 - Easter Bunny Tour
The annual Easter Bunny Tour (Osterhasenfahrt) will take place on Easter Monday (17th April). Historic trams and buses and a historic Forchbahn will converge on Burgwies depot. Trams depart Usteristr. and Bahnhofstrasse between 10:00 and 16:00 with Forchbahn BDe4/4 10 leaving Esslingen at 09:30 (Egg 09:35, Forch 09:43) and tours will run from Burgwies until 16:30.
TMZ (Tram Museum Zürich), APS (Aktion Pro Sächsitram), VHF (Verein Historische Forchbahn)
See also events diary.
---
From 31st march to 27th April, comics involving public transport from the Zürich by Mike series by Mike van Audenhove will be displayed in VBZ trams and buses. The event marks the 10th anniversary of the appearence of the first comic of this series — in which VBZ's Trams have frequently appeared.
---
03.04.2006 - Success of night services unabated
ZVV's night lines transported 730,000 passengers in 2005, about a third more than last year and 58% more than in 2003. ZVV operates 6 night S-Bahn and 36 night-bus routes for which it receives no operating subsidy.
20 Minuten
---
03.04.2006 - Double-articulated trolleybus order confirmed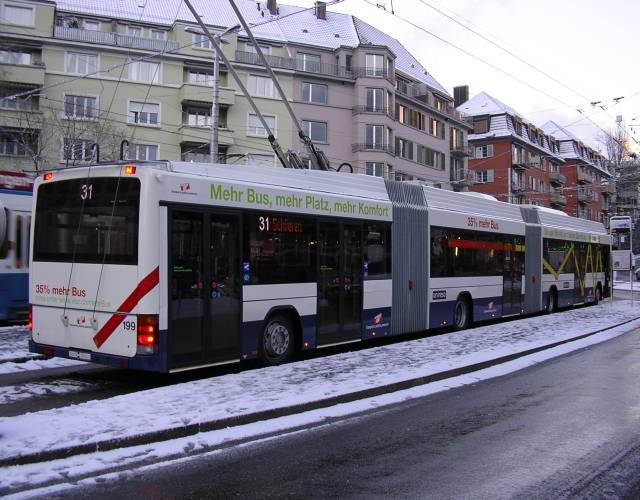 Following the trial of a Geneva double-articulated trolleybus in Zürich in February — in which this vehicle fulfilled all expectations (despite occasionally inclinent weather) — and additionally earned much praise from staff and passengers, VBZ has confirmed its order for 17 of these vehicles for delivery from the Summer of 2007.
The order had already been placed last July, but the option of converting it to a larger number of single-articulated buses was retained should the trial prove unsuccesful.
Tages Anzeiger, 30th March
See also:
251 people in a trolleybus! (27.02.2006)
Genève trolleybus in Zürich in February (03.01.2006)
Zürich trolleybus numbering (29.11.2005)
Double-articulated trolleybus update (24.10.2005)
33 new trolleybuses (21.07.2005)
VBZ to order new trolleybuses (26.02.2004)
trolleybus page ...
Aside: As poisson d'avril, VBZ announced on 1st April that it is had now also acquired a triple-articulated trolleybus.
---
29.03.2006 - Basel: trolleybus versus gas bus
As regulars to this website will be aware, Basel intends to abandon its trolleybus system. The system, however, enjoys significant popular support: The commitee Pro Trolleybus was formed to prevent abandonment and collected 7157 signatures in 2004, enough to force a referendum on the topic. The Basel government was not going to give in this easily and has now presented an official alternative for the referendum: the long term converison of the entire bus fleet to gas buses. This alternative, it is claimed, would provide the environmnental advantages of trolleybus retention at a fraction of the cost. The saved money might be better spent on cross-border tram extensions.
The results of a study (by the institute INTRAS and commissioned by the government) have been published comparing different bus types for Basel. The long term aggregated annual operating costs (without driver's costs) are 8.4 MCHF for an all-diesel fleet, 9.4 for an all gas fleet, 11.4 for a mixed trolley/diesel fleet and 12.0 for a mixed trolley/gas fleet.
Pro Trolleybus has been quick to point out how its actions have forced BVB's hand in departing from the all diesel option it had hitherto pursued. Furthermore, It points out the environmental advantages the report confirms and suggests that the additional costs must surely be worth this. The fight will go on!
See also:
Basel's public transport strategy (29.09.2005)
Fighting for Basel's trolleybus (10.05.2005)
Basel trolleybus referendum (09.11.2004)
Basel's trolleybus referendum initiative succesful! (16.09.2004)
Can Basel's trolleybus survive? (16.06.2004)

Search news archive for Basel, Pro Trolleybus
Website comment: Quite besides the stated flaws in the official argumentation, the author of this website notes some interesting details in the text of the study. In the section on sensitivities (to errors in assumptions), it is suggested that the only factor influencing the prices of diesel and gas fuel are taxes. Anybody following the evolution of oil prices over recent years shouldn't have much difficulty spotting another factor. Also, the report stresses the difference to diesel costs rather than overall costs, so suggesting a trolleybus is at least twice as expensive as a gas bus. The comments on cross-border tram extensions sounds almost cynical — might being a mighty word.
---
24.03.2006 - Cobras to come by rail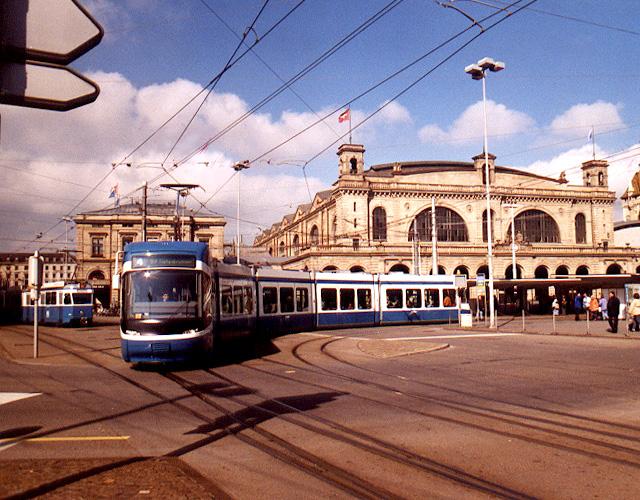 Until now, all Cobra deliveries have come by lorry (3001-6 from Pratteln and 3007 from Villeneuve). This is set to change, with rail being used in future. The reason stated being that delivery by road is not reliable in snowy conditions.
Website comment: The decision to deliver these trams by road led to severe criticism in railway circles at the time. The justification used was that technical problems (not further expounded) prevented such transport.
---
14.03.2006 - Cobra arriving on Thursday
The first series Cobra was loaded onto a lorry at 10:00 in Villeneuve today and will be unloaded in Zürich on Thursday at at 9:00.
See also:
Cobra approaching (03.01.2006)
Cobra deliveries delayed (14.12.2004)
"Cobra" from this website's 2005 article "Zürich: A city and its trams"
---
14.03.2006 - How many people fit into a bus?
Concerning VBZ's attempt to enter the Guinness Book of Records (see 27.02.2006), I have received an eMail from Bratislava relating that on 02.10.2003, 358 students and the driver crammed into an Ikarus 280 type articulated bus (length 16.5m) — see this website. To compare, lighTram3 199 is 24.7m long and held 251 people on 25.02.2006.
---
09.03.2006 - Antananarivo tram arrives in port
A report in allafrica.com dated 7th March reports that the 11 vehicles of the second shipment earmarked for use on an urban light-rail service in Antananarivo (Madagascar) had arrived at the port of Toamasina five days previously. They must still be hauled to Antananarivo to join the four vehicles which arrived last year. Readers are reminded that this equipment was donated by various Swiss narrow gauge railways including Zürich's Forchbahn (which provided BDe4/4 11-6 and Bt 101-6). These will be modified through the fitting of diesel generators. The initial section to open will be Alarobia-Ankaraobato, with an opening date planned for July. Private investors are being sought to help finance the necessary work and operate the service.
fr.allafrica.com/stories/200603070716.html
Search news archive for Antananarivo, Madagascar, Forchbahn
Website comment: There appears to be real commitment behind this project, which promises to make a substantial contribution at very low cost. The imaginative re-use of old equipment as illustrated here is something operators all over the world should be taking more seriously. For this tram there is still a long way to go, but things are heading in the right direction. Well done Antananarivo!
---
09.03.2006 - Tram Zürich West update
The VBZ website indicates that the referendum over Tram Zürich West is planned for 17th June 2007. A positive outcome would permit construction to begin on 20th August 2007. This tram line is an important step towards Zürich's target of raising the modal share of public transport from 40 to 46% by 2010 (motor traffic will drop from 45 to 34 % with walking and cycling progressing from 15 to 20%).
The exhibition tram outside Schiffbau informing about the project will remain open until the end of this year.
Search news archive for Tram Zürich West
---
09.03.2006 - 25 S-Bahn trains ordered
SBB has exercised its option for 25 additional four-car double-deck trains for Zürich's S-Bahn. They will supplement the 35 ordered in February 2003. The new type RABe 514 four-car trains are being supplied by Siemens for 358 million Swiss Franks and will be delivered in 2008 and 2009.
See also : New S-Bahn train presented (02.12.2005)
---
03.03.2006 - Lausanne: Old and new on La Ficelle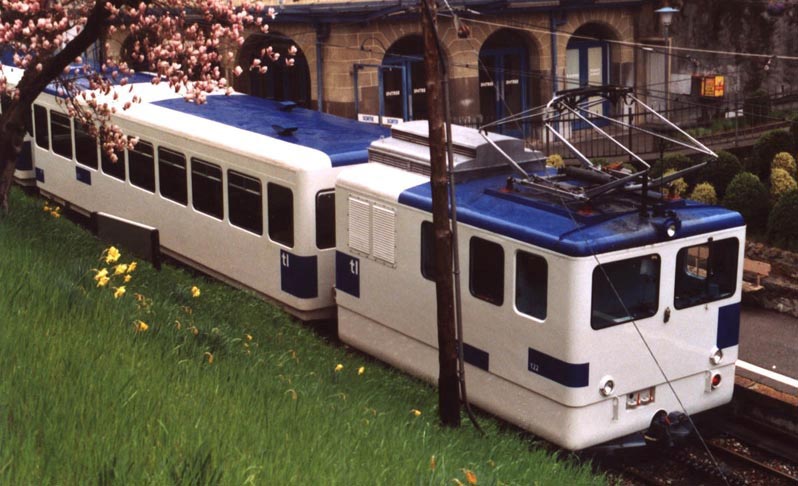 Yesterday (2nd March) the last cog locomotive in Lausanne ran under its own power for the last time. Since closure on 22nd January, these locomotves have been employed on track dismanting trains. The last 15m at Ouchy were lifted in the morning with power being switched off at 13:30. On the same day, locomotive He2/2 122 was removed by lorry to join it's sisters at EFSA Châtillens where they are stored pending possible re-use in Villard de Lans. On the same day, the first rubber-tyred metro set was delivered, so symbolically securing the continuity of La Ficelle.
See also:
Lausanne's Ficelle in the French Alps? (26.01.2006)
Lausanne: Last days for La Ficelle (18.01.2006)
Search news archive for Lausanne
Lauanne Ficelle pictures
---
27.02.2006 - 251 people in a trolleybus!
In an attempt to take the world record for the largest number of people on board a trolleybus, 251 people boarded the double-articulated trolleybus (Hess/Kiepe lighTram3 199, aka TPG 783) on Saturday (25th) at Pestalozzi-Denkmal (see also announcement: 11.01.2006). An entry into the Guinness Book of Records is not yet confirmed. The current record holder is a Leipzig bus that held 200 people.
On the Yahoogroups Trolleybus Group, it is reported that the Russian type SVARZ TS could nominally carry 224 and that 402 have been observed.
---
23.02.2006 - No trams for Lörrach?
The town council of Lörrach (in southern Germany) has rejected plans for a cross-border tram extension from Basel.
Webiste comment: The explanation offered, that a tram would compete with the S-Bahn is questionable. With its longer headways and longer distance between stations, the S-Bahn operates in a different niche than the tram. Rather, S-Bahns perform best when supported by feeder services.
Lörrach had through trams from Basel from 1926 to 1938. Tram operations resumed in 1947, but only as a shuttle service within Lörrach. This ceased in 1967.
See also: Basel's public transport strategy (29.09.2005)
---
15.02.2006 - Freiburg: new Combinos delivered
Last Friday (10th), Freiburg took delivery of the first of five new Combinos (286-290).
Website comment: These are part of a batch whose acceptance was halted in March 2004. The first five vehicles have been on loan to Freiburg since 2004 to cover for the vehicle shortage following the withdrawal of the earlier units, but remain the property and responsibility of Siemens — They will shortly be returned for modifications. The tenth vehicle in this batch is provided as a replacement for 272, which was destroyed in investigative testing by Siemens in March 2004.
Search news archive for Freiburg, Combino, Siemens.
---
13.02.2006 - E-tram in service
Last Thursday (8th), I visited Letzigrund for a closer look at E-tram. The vehicles used are the same as for Cargotram (Xe 4/4 1922, X2 1984 and X2 1987). The X2s carry different container bodies, presumably more suited for carrying crates and palettes (E-tram staff sort objects into different bins as they are received, whereas in Cargotram they are stowed for later processing). This would imply that the container bodies are changed two to three times a week. Some photographic impressions of Thursday night can be seen here.
See also:
Cargotram vehicles (04.05.2005) (summary here)
E-tram: Cargotram goes electronic (30.11.2005)
E-tram pictures
---
08.02.2006 - Albisgütlibahn 2 returns
Yesterday, BVB (Bex - Villars - Bretaye) Be2/2 8 was hauled from its resting place at Bévieux to Bex (by Be2/3 16) where Tram Museum Zürich members loaded it onto a low-loader wagon. It has arrived in Zürich today and will be unloaded tomorrow.
This tram was originally Ce2/2 2 of Albisgütlibahn (AGB), one of the private companies that operated trams in Zürich in the early years. 8 continued to see service on BVB until relatively recently, but has suffered through exposure to the elements since its withdrawal. The move to Zürich is primarily aimed at safeguarding the vehicle. Restoration is not a priority at present.
---
03.02.2006 - Winning against vandalism and fare evasion
Since May 2005, 18 buses have been experimentally equipped with surveillance cameras. As a result, practically no instances of vandalism have occured on these buses. Besides equipping further buses, VBZ will similarly equip its Cobra trams. Vandalism to VBZ vehicles costs 1.5 million Franks in repairs every year.
Thanks to tougher enforcement and penalties, progress is also being made against fare evasion. Of the 3.13 million people challenged in 2005, only 36,013 failed to produce a valid ticket (1.15%). The figure was 1.39% and 2.7% in 2004 and 2003 respectively.
20 Minuten (26.01.06 and 03.02.06)
See also: Video surveillance by tram? (28.07.2005)
---
31.01.2006 - Basel tram acquisition latest
According to an article in Basler Zeitung (baz online: 26th January), the tendering process for 55 new trams for BVB and BLT (see also 24.11.2005) has taken a new twist. According to the article, neither offer fulfills the criteria set. One manufacturer has quoted maintenance costs in Euros instead of Swiss Francs. Also, one of them is not offering to fulfill the demand of taking back the trams should they prove inadequate. The article does not provide any further clues as to which of the two companies (Bombardier or Stadler) is implied in either case.
In view of this, the buyers are now entering into direct negotiations with the manufacturers. The buyers hope that a price reduction can also be achieved. Both manufacturers are prepared to negotiate. BLT director, Andreas Büttiker, representing the tram buyers, is quoted as being confident on a positive result being reached within the next three to four months. Buttiker also states that both designs offered are not totally new types but based on proven experience.
See also:
Industry lethargic on Basel tram order (24.11.2005)
New trams for Basel (30.06.2005)
Webmaster comment: It is left to the reader to speculate which of the tram-makers might have failed which criterium (if I did you'd say I'm biassed). Is Stadler offering Variobahn, itself an ex-Bombardier (ex-Adtranz, ex-ABB) product? What is Bombardier offering? The Flexity (can it take Basel's curves?) or the Cobra (does Bombardier really want to sell it?) or anything else? Watch this space to stay informed. It is especially striking that a large order like that has failed to attract more (and more focussed) interest. Why have the manufacturers failed to meet the specifications? Is it arrogance, or is it insecurity in the post-Combino market?
---
26.01.2006 - Lausanne's Ficelle in the French Alps?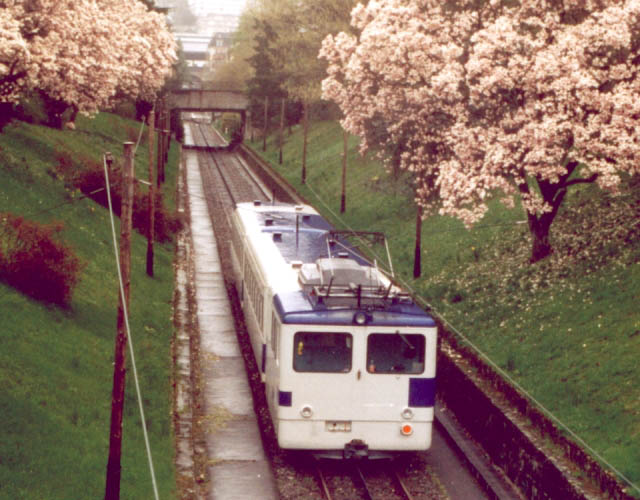 The rolling stock of Lausanne's Ouchy - Flon cog metro (which carried its last passengers on Sunday 22nd — see report of 18.01) will see further use — in the French mountain resort of Villard de Lans (west of Grenoble). This 4km line serving a new ski station called Villard 1300 is set to open in 2008.
Villard de Lans (official website)
---
20.01.2006 - Tram Zürich West in 2010
According to Tages Anzeiger of 16th January, delays in the planning of Tram Zürich West have caused the projected opening date to be changed to December 2010.
Two years ago, an inauguration was still envisaged prior to the 2008 European Cup football. The decision to host Zürich's contribution in Letzigrund rather than Hardturm has reduced the urgency of this link. The city does, however, remain firmly committed to its construction. The 3km tram line from Escher-Wyss-Platz to Bhf. Altstetten will cost 150MCHF (including 90MCHF from the cantonal transport fund and 47MCHF from the city).
See also:
Progress on Tram Zürich West (28.07.2005)
First tram reaches Zürich West! (13.01.2005)
Tram route 18's concession granted (11.11.2004)
Miscellaneous news (30.09.2004)
Hardturm stadium and tram 18 (09.09.2004)
Hardturm crisis: What will it mean for route 18? (11.06.2004)
Tram Züri West: Route 18 is coming! (08.06.2004)
Route 18 schedule slipping? (26.11.2003)
---
20.01.2006 - New special livery: Gesundheitstram
Zürich's latest special livery tram was launched yesterday. The Gesundheitstram (health tram) will inform riders about health issues and will operate on routes 8 and 15 during a two-year period. 2091 is the 32nd special livery tram in Zürich. The only other special livery tram at present is 2042 (Energietram) which has run in this guise since 2001.
Gesundheitstram has its own website: www.gesundheits-tram.ch.
---
19.01.2006 - Zürich tram events diary 2006
All information provided as-is. As everywhere else on this website, no guarantee is offered for accuracy or completeness. Visitors intending to make special arrangements for these events are recommended to visit the websites of the organisers (see end of list) or check with these directly.
Date

Event

Organiser

26 October 2005 to 25 February 2006

Fonduetram, details here...

VBZ

1 April 2006

TMZ museum tram operation HB - Wartau

TMZ

17 April 2006

Osterhasenfahrt (Easter bunny tour) details here...

TMZ, APS, VHF

30 April 2006

TMZ museum tram operation HB - Wartau

TMZ

6 May 2006

TMZ museum tram operation HB - Wartau

TMZ

14 May 2006

APS museum tram operation HB - Zoo

APS

21 May 2006

APS museum tram operation HB - Zoo

APS

24 May 2006 to 17 June 2006

Caliente restaurant tram (cancelled)

VBZ, Caliente

28 May 2006

APS museum tram operation HB - Zoo

APS

TMZ museum tram operation HB - Wartau

TMZ

3 June 2006

TMZ museum tram operation HB - Wartau

TMZ

11 June 2006

APS museum tram operation HB - Zoo

APS

18 June 2006

APS museum tram operation HB - Zoo

APS

25 June 2006

TMZ museum tram operation HB - Wartau

TMZ

1 July 2006

TMZ museum tram operation HB - Wartau

TMZ

30 July 2006

TMZ museum tram operation HB - Wartau

TMZ

5 August 2006

TMZ museum tram operation HB - Wartau

TMZ

27 August 2006

TMZ museum tram operation HB - Wartau

TMZ

2 September 2006

TMZ museum tram operation HB - Wartau

TMZ

Museum Night

TMZ

22 September 2006

APS museum tram operation HB - Messe

APS

23 September 2006

APS museum tram operation HB - Messe

APS

24 September 2006

APS museum tram operation HB - Messe

APS

TMZ museum tram operation HB - Wartau

TMZ

Opening of Bern's tram museum, details here ...

TVB

29 September 2006

APS museum tram operation HB - Messe

APS

30 September 2006

APS museum tram operation HB - Messe

APS

1 October 2006

APS museum tram operation HB - Messe

APS

7 October 2006

TMZ museum tram operation HB - Wartau

TMZ

29 October 2006

TMZ museum tram operation HB - Wartau and farewell to Wartau museum, details here...

TMZ

1 November 2006 to 28 February 2007

Fondue tram, details here...

VBZ

26 November 2006

Karpfen farewell tour, details here...

APS, TMZ

2 December 2006

Museum tram operation HB - Paradeplatz - Bellevue - HB

APS, TMZ

VBZ flea market

3 December 2006

Museum tram operation HB - Paradeplatz - Bellevue - HB

APS, TMZ

9 December 2006

Museum tram operation HB - Paradeplatz - Bellevue - HB

APS, TMZ

16 December 2006

Museum tram operation HB - Paradeplatz - Bellevue - HB

APS, TMZ

17 December 2006

Museum tram operation HB - Paradeplatz - Bellevue - HB

APS, TMZ
For further information and confirmation please check the websites of the event organisers: TMZ (Tram Museum Zürich), APS (Aktion Pro Sächsitram), VHF (Verein Historische Forchbahn), VBZ (Verkehrsbetriebe der Stadt Zürich).
Updated: 15.02, 03.04, 10.10, 11.10.
---
18.01.2006 - Lausanne: Last days for La Ficelle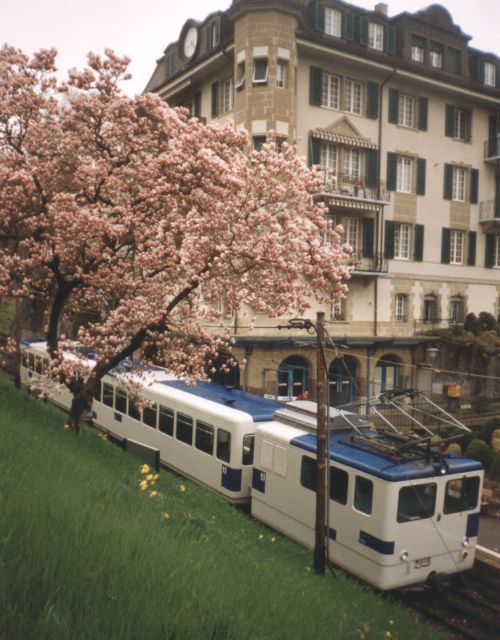 Lausanne's cog-railway metro, also known as La Ficelle (the string) is to see its last day of regular service on coming Saturday (21st). Further special events including free rides will take place on Sunday (22nd). The railway is to be rebuilt as part of a rubber-tyred metro opeining in 2008.
This new metro will be the third mode to use this alignment. Flon - Gare - Ouchy was opened as a funicular in 1877. In 1879 a second funicular was opened parallel to the Gare - Flon section. Besides passengers, these lines also moved railway goods wagons. For this purpose, a connecting track from the main–line railway crossed the station forecourt and connected to the Gare – Flon funicular. Industrial sidings existed at both Flon and Ouchy and wagons could be exchanged between the funiculars by means of a traverser at Flon. DC electric locomotives shunted at both Flon and Ouchy. Transport of goods from Gare ended when a railway siding reached Flon directly in 1954 (since dismantled).
The funiculars were replaced by the present cog railway in 1954 and 1958. The remaining freight traffic between Flon and Ouchy was discontinued but a track connection was retained at Flon for a period to permit materials to be delivered to the railway.
The cog-railway uses the Strub rack system and climbs 135 metres with a maximum incline of 11.6%. There are five stations in total. The section upwards of Gare is in a double-track tunnel (but effectively worked as two single-track lines — as in the days of the funiculars: one line for the Gare – Flon shuttle and one for Ouchy - Gare – Flon). A simple crossover in the tunnel connects the tracks. The lower section is mostly in the open and is single track with a passing loop at Montriond. The depot is at Ouchy. The line has been designated Metro line M2 for some years now.
The Ouchy - Flon service is normally worked by two sets, each consisting of an He2/2 locomotive 121-3 attached to the valley ends of a two car train Bt2 1-5 (all built 1958). The Flon - Gare shuttle is worked by a single railcar Bhe2/2 111-112 (built 1964) — the remaining stock being spare. TL are seeking new owners for this rolling stock. Sadly, the transport museum at Luzern has declined to offer a home to any of these remarkable vehicles.
The new M2 will be considerably longer than the old, extending beyond Flon to Croisettes. The driverless rubber-tyred stock is being supplied by Alstom and is based on that of the Paris METEOR.
Interesting link: FUNIMAG
---
12.01.2006 - News and press roundup
Yesterday's Tages Anzeiger reports on the Geneva trolleybus being tested in Zürich. Besides many of the facts previously reported by this website, it is written that the vehicle has been undergoing trials in Zürich (without passengers) since last week (5th January?). To better negotiate tight curves, the rear axle of this bus is steerable . The driver is additionally assisted by two cameras.
Discussions on Nahverkehrsform Schweiz suggest that the identity of the new trolleybus is TPG 783. Pictures show that in Zürich it is carrying the number 199.
A correspondant (S. Baguette) informs that Mirages 1697,1702 and 1708 are currently stabled outside Wollishofen depot. Presumably they are withdrawn.
The current edition of Tram magazine (No.84/12.2005-02.2006) states that Mirages 1617/54/90/1/700 have been scrapped (some of these were already mentioned in the previous edition, see 6th October). The accompanying picture suggests that 1654 was with accident damage. Also scrapped are Standard Tram trailers 747/56/65.
The current edition of Prellbock magazine (6/05) discusses, among many other things, the project to build a replica compressed air tram (Mekarski system) in Bern. The Berner Tramway Gesellschaft has been formed with the purpose of realising this project which should be complete by 2008. Ten trams of this type served Bern between 1890 and 1901. The original depot still survives in the form of Restaurant Altes Tramdepot at Bärengraben.
Search news archive for trolleybus, mirage, standard tram, bern.
See also: www.dampftram.ch (steam and compressed air trams in Bern).
---
11.01.2006 - Genève megatrolleybus in Zürich update
The Geneva double-articulated trolleybus that will be evaluated in service in Zürich will operate here from 21st January to 3rd March. VBZ intend to purchase 17 such vehicles for 1.52 million Franks each. Additionally, modifications to stops for a maximum of 4 million are required and depot modifications for 3 million.
20 Minuten (thanks to F. Roski for finding this news)
The test phase will be accompanied by much publicity: The departure times of the new trolleybus during this phase are announced on the VBZ homepage. On 25th February at 13:00, VBZ will attempt to achieve an entry in the Guinness Book of Records by inviting as many people as possible to attempt to board the trolleybus at Pestalozzi-Denkmal. On selected days, tours will also be operated with this bus on which author and journalist, Al Imfeld, will present Zürich's western neighbourhoods from his perspective.
See also: Double-articulated trolleybus update (24.10.2005)
---
11.01.2006 - RBS Tram 2000 to get Sänftes?
A report on BahnCH suggests that RBS (Bern) is seeking to rebuild its Tram 2000 type units with low floor sections.
---
06.01.2006 - Winpro is now Stadler Winterthur
Winpro (the company that built the Sänfte low floor sections for Zürich's Tram 2000s) is now called Stadler Winterthur.
Winpro's origin lies in SLM (Schweizerische Lokomotiv- und Maschinenfabrik) which was founded by Charles Brown in Winterthur in 1871 and soon grew to export locomotives across the globe — one of its greatest strenghs being mountain railways. The company became part of Sulzer in 1961 but continued to trade under its own name. Various crises and downsizings hit SLM during the 1990s, with many sections being sold off or dissolved. This led to the company's focus shifting from locomotive engineering and manufacturing to service, repairs and components. Narrowly escaping closure, it was rebranded Sulzer-Winpro in 1998. Following a management buyout in 2001, the name was shortened to Winpro. In July 2004, Winpro signed an agreement with Stadler in which it took on service responsibilities for that company. When Winpro's director and main shareholder, Roland Michel, was killed by the 2004 Tsunami in south-east Asia, Stadler secured the company's survival by taking over his shares. On 5th January, Winpro formally became part of the Stadler Rail Group and will now trade under the name Stadler Winterthur.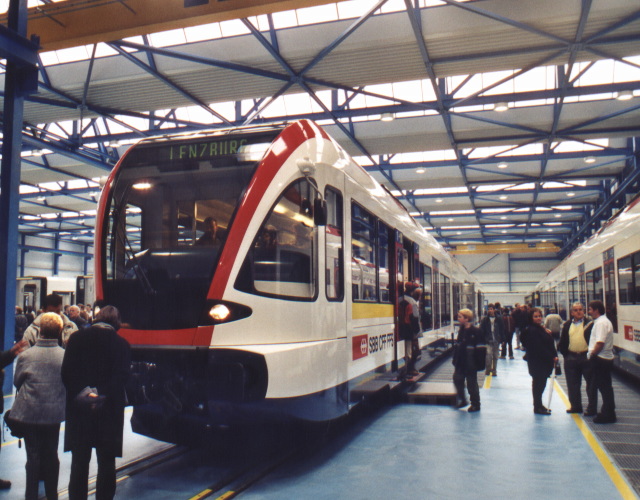 The story of Stadler is quite different. The company exists since 1942 but did not rise to much significance until Peter Spuhler took the reins in 1989. Under his leadership, Stadler has taken a significant portion of the Swiss light-rail market and is also growing its export market — all this in a period that Stadler's main national and international competitors are struggling with overcapacity, downsizing and disengagement. Stadler's first great success was with the GTW series of light rail units that it initially produced in cooperation with SLM. Other significant designs include the Regio-Shuttle railcar (taken over from Bombardier), the FLIRT suburban train, the Variobahn tram (also ex-Bombardier) and a bogie tram called Tango. Stadler's staff has grown from 20 in 1989 to about 1420 in 2005. It has taken over many works that its rivals intended to close and has filled them with new vitality. The dynamism of the company has made Spuhler a hero among railwaymen and the public alike. He has shown that small and medium sized companies still have a part to play in a market dominated by giants, and more significantly, that it is possible to succesfully operate and grow a heavy manufacturing company in a supposedly post-industrialised high-cost environment. Besides its main works in Bussnang and its latest acquisition in Winterthur, Stadler now has works in Altenrhein, Bienne, Pankow, Weiden (both Germany) and Budapest.
On Zürich's tram network, Stadler is represented by Forchbahn Be4/6 61-73.
Search news archive for Stadler, Winpro, Winterthur.
---
03.01.2006 - Cobra approaching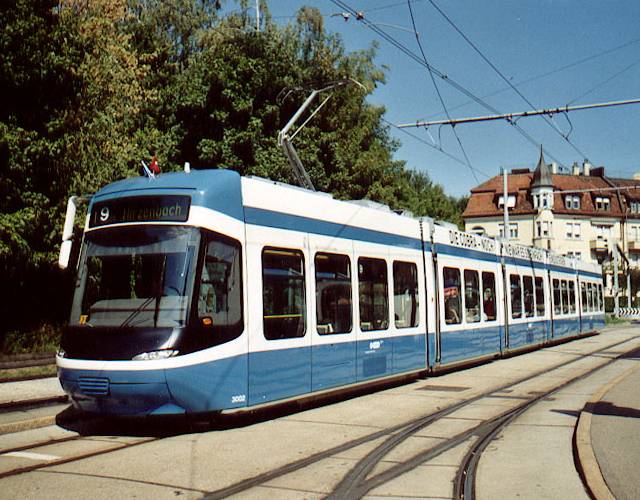 The first production Cobra (presumably 3007) was officially presented at Bombardier's Villeneuve works on 22nd December 2005. An article in the January edition of Schweizer Eisenbahn Revue provides further information: The bodyshells are being supplied by Bombardier's Bautzen works (Saxony). Originally production was planned for Pratteln but closure of that site has led to the present solution. Following the detection of structural weaknesses, the body has been redesigned with welding replacing the (Combino-style) Alugrip system and some vital parts being steel rather than aluminium. The six prototype units will be similary modified from 2007. The first production Cobra is set to enter service in March with two units following every month once production has reached full speed.
See also: Cobra deliveries delayed (14.12.2004)
For more information on the Cobra's history and background, read the Cobra section of this website's 2005 Zürich tram article.
---
03.01.2006 - Sänfte: low floor Tram 2000
A VBZ press release dated 30 November 2005 celebrates the entry into service of the 23rd and last Sänfte on that day. The release states that the first (series) rebuild entered service on 6th May 2004 and that these accesibilty-compliant trams are expected to last in service until at least 2032. The Sänftes are deployed on routes 6 and 10 and also work route 5 at weekends.The platform at Zoo terminus has recently been raised to facilitate boarding at the low floor and front sections.
See also: Sänfte deliveries complete (02.12.2005)
---
03.01.2006 - Genève trolleybus in Zürich in February
According to an editorial penned by city executive councillor, Andres Türler, for the VBZ staff magazine, Regenbogen; the Geneva double-articulated trolleybus that is slated to be tested in Zürich will arrive in February. The editorial also has warm words of thanks to VBZ staff for their commitment and conveys enthusiasm about continuing high levels of customer satisfaction as well as the approaching realisation of Tram Zürich West and the first and second phases of Stadtbahn Glattal.
See also: Double-articulated trolleybus update (24.10.2005)
---
Merry Christmas and a Happy New Year to all readers!
All 2005 news items (98 in total) have been moved to:
www.proaktiva.ch/tram/zurich/newslog/2005.html#latest.
---
next year | previous year | current year | other years | search.
return to Zürich tram home page.