Zürich: A city and its trams
Chapter 4: A bright future for trams
Zürich tram main page | articles list
<previous chapter | table of contents | further articles>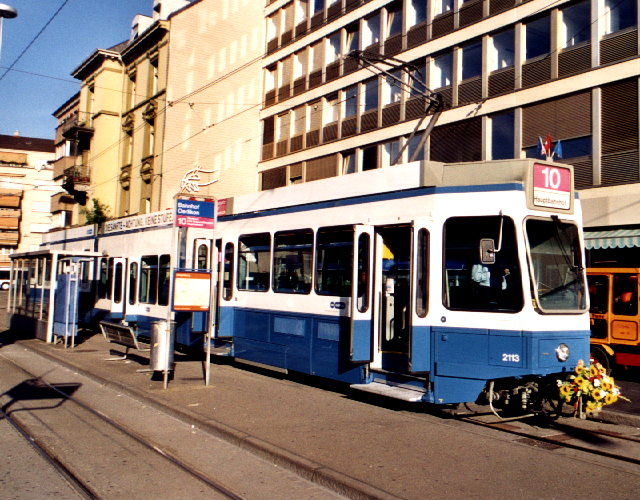 When Cobra deliveries are complete in 2010 [21], pre-Tram 2000 vehicles should no longer be required in service [22]. In order to create additional capacity and further raise the proportion of low floor vehicles in the fleet, it has been decided to lengthen some Tram 2000's with low floor centre sections (Sänfte [23]). A prototype section was assembled in VBZ's own workshop using a high proportion of Tram 2000 parts from stock. This was fitted to 2113 in 2001. Following an extensive evaluation phase, an order was placed for 22 similar sections for units 2099-2112/2114-2121 [24]. The new sections are being built by WinPro [25] and fitted by VBZ in their own workshops. Delivery began in mid 2004; in January 2005 more than half are already in service. Whether further Tram 2000's will be rebuilt at a later point remains to be decided.
Beyond the municipal boundaries
The first tram extension since the Schwamendingen lines, is the very modest section of route 11 from Bhf. Oerlikon to Messe/Hallenstadion, which was opened in 1998. However, the rate of network growth is set to increase in coming years with several major schemes on the starting blocks.
It has already been mentioned, that historically the tram network was largely confined to the municipal area, whereas much of the newer residential and commercial growth affected satellite towns. Initially these areas attracted investors by offering cheap land and low taxes. This was made feasible through comparatively low infrastructure expenditure. Many such towns have since come of age and are faced with infrastructure problems of their own. In order to maintain and further encourage their dynamism, a more powerful transport system is required.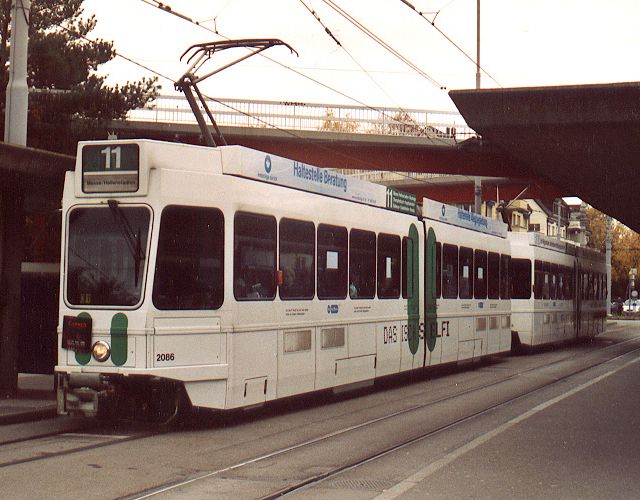 One such area is Glattal. This stretches from Oerlikon to the airport and comprises many buoyant towns and villages. Although well served by S-Bahn services, a lighter and more intermediate mode is required for direct distribution. It was decided the area was best served by a Y-shaped system, with Oerlikon, the airport and Bhf. Stettbach at its extremities. After considering options such as monorails and standard gauge light rail (and after some wooing by VBZ), the Glattal authorities decided in favour of a metre gauge tram system called Stadtbahn Glattal. This choice allows for through running to the city network, so boosting the attractivity of the system and also creating synergies by allowing depot and workshop sharing. However, Stadtbahn Glattal will not necessarily be operated by the same body that runs the city system [26].
Besides serving the Glattal towns, this project plays an important part in revitalising land in the north of Oerlikon. In order to retain its position as a finance capital, Zürich must be flexible in dealing with investors. As high rise development in the sensitive historic centre is ruled out, such investors are directed towards the north of Oerlikon where several skyscrapers are already under construction. The area is close to the trade fair centre (Messe), to the airport and motorway and to Oerlikon station (which is not only an S-Bahn hub but has direct trains to many parts of the country). In the minds of the planners, a Docklands style development is already evolving, with the proximity of water replaced by stunning views of the Alps (weather permitting!). A stylish tram will run on grass reservations through the middle of this new city providing a direct service to the airport, the centre of Zürich and many residential areas.
The first phase, construction of which began in September 2004, will see a line built from Messe to Auzelg to be opened in December 2006. This will be operated as an extension of city route 11.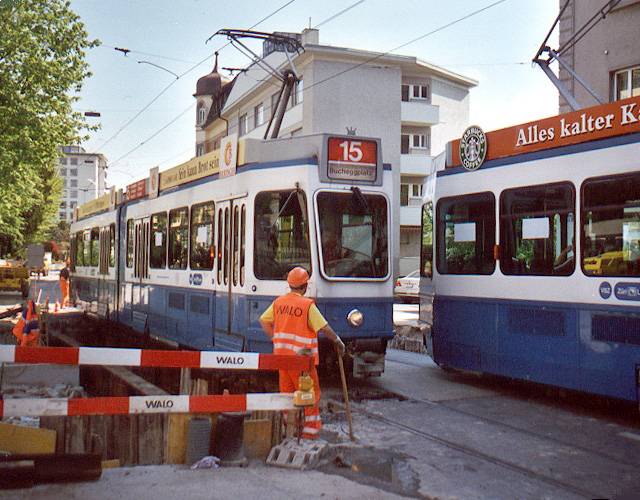 In a second phase, the line to the airport will be added. This is scheduled to open in 2008 and will be served by an extension of city route 10. The airport line will not terminate at the passenger terminals but continue beyond these to the operations centre and cargo terminal (the new link is intended for airport staff as much as for airline passengers).
The third phase comprises an extension from Bhf. Stettbach to Auzelg, serving the Zentrum Glatt shopping mall and Wallisellen. This section is scheduled for opening in 2010 and will be operated by a new route (Bhf. Stettbach-Auzelg-airport, currently designated route C).
VBZ will provide the vehicles for the first phases, but Stadtbahn Glattal must have trams of its own before the system is complete. Whether this will translate into further Cobra orders (as favoured by VBZ) or whether another design will be preferred remains to be seen.
Many other communities in the Glattal area are following the development of the new tram with great interest. Kloten and Bassersdorf are seeking an extension from the airport and current planning makes provision for this. Dübendorf has wanted to extend a tram route through its territory long before Stadtbahn Glattal was launched and is keeping route options open. If the Stadtbahn is a success (which it most probably will be), it will demonstrate that trams are not just the right solution in Zürich proper, but can work in the satellite towns as well. Similar projects will doubtlessly receive increased support and many will move forwards towards realisation.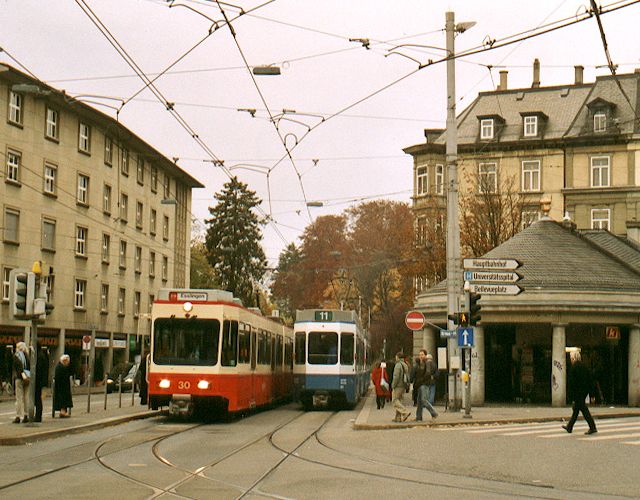 Stadtbahn Glattal has inspired a similar scheme in the West of Zürich's conurbation. A project named Stadtbahn Limmattal is trying to make the most of the momentum surrounding the approval of its Glattal counterpart (even the name is chosen in emulation). The origin of the project lies in a popular shopping area in Spreitenbach. The roads here are regularly congested and the situation is worsening. As a solution, a light rail link from the shopping area to Dietikon Bhf. was proposed in the 1990ies. From this grew the idea of a far longer tram line connecting to the city network at Farbhof and serving Schlieren, Dietikon Bhf., Spreitenbach and ending at Killwangen Bhf.
This 13km Stadtbahn has yet to receive formal approval, but there is much enthusiasm and optimism among politicians and planners. The highest priority is being accorded to the Farbhof - Schlieren and Dietikon Bhf. - Spreitenbach sections. The former had trams until 1956 and their return will correct an old and much regretted error. The latter will initially be isolated from the city network. It will, however, be connected to the Dietikon-Bremgarten-Wohlen (BDWM) light railway which was itself once part of Zürich's web of interurban lines. As further phases are completed, BDWM will be reconnected to the Zürich network with interesting possibilities of through running.
For Forchbahn, the light railway from Zürich to Forch and Esslingen, through running is reality (and has been since the line opened in 1912). The area served is less densely populated than those of the proposed new corridors, but the line has healthy traffic and a 15 minute service is run on the Zürich to Forch section. Two subway sections were built in the 1970ies and street running eliminated along all parts of the line outside Zürich. Even so, Forchbahn retains much of its interurban charm, especially on the outer section. Plans exist to extend Tram 11 using Forchbahn tracks between the current terminus at Rehalp and Zollikerberg.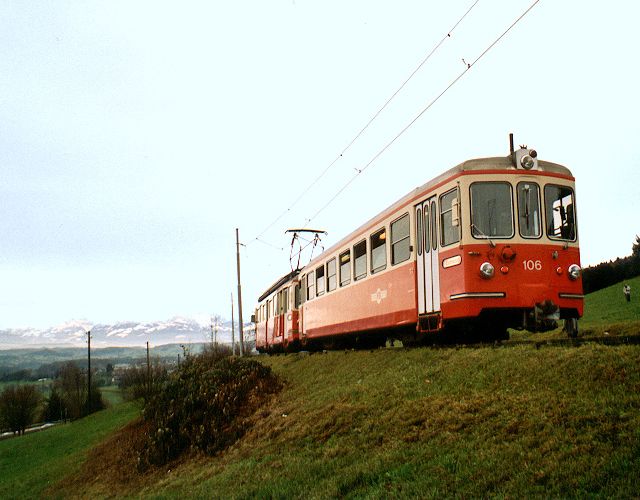 Within the city, planners are not resting on their laurels either. The next extension is a line from Escher-Wyss-Platz to Bhf. Altstetten (North side). This line is part of a broader urban regeneration project on former industrial land. Construction is scheduled to start in 2007 for an opening in 2009.
This line is but the first in a portfolio of tram developments for the Western suburbs. It will be followed by an extension of route 8 from its present Hardplatz terminus to join up with the first route, creating a much-needed North-South link.
Also on the cards is the conversion of trolleybus route 31 back to tram route 1. Redevelopment projects will bring further jobs and homes to this area accentuating the already clear case for a tram. The new route 1 will run from Hauptbahnhof to Hardplatz and then on to Bhf. Altstetten and Farbhof from where it could one day continue to Schlieren using the tracks of Stadtbahn Limmattal.
Further North, there are plans for a connection from Oerlikon to Affoltern. This route will cross former industrial land in Oerlikon and provide direct interchange with Stadtbahn Glattal. Residents of Affoltern have stated that they would prefer a direct link to Zürich via Bucheggplatz rather than a roundabout one via Oerlikon. Their suggestion would not fulfil the goal of serving the regeneration area, but certainly has its own merits and may well be realised at a later point.
For the more distant future, an extension from Klusplatz to Witikon and Zollikerberg is an option. The Glattal circle could also be completed by a line from Dübendorf to Bassersdorf. It would be more than speculative to associate any dates or route details with these projects.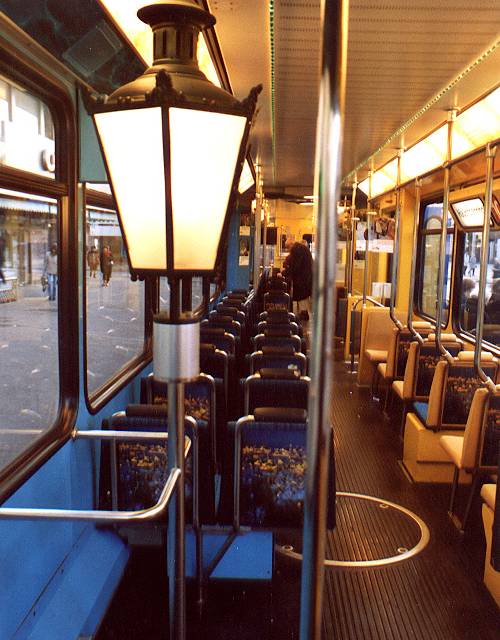 Zürich's blue and white trams are not just exemplary in their punctuality or the masses they move. They are an integral part of the city's identity and will sometimes fulfil unorthodox purposes. It is not uncommon for trams to be chartered for theatre performances or readings (after all, what could be more typical of Zürich than a tram?).
Zürich does not permit all over advertising liveries. The city feels that the additional income does not justify the associated negative image. However, a maximum of three tram sets may be repainted into theme liveries and the private sector is a welcome sponsor. Frequently, such schemes go beyond a common external repaint, additionally providing some educational or entertainment aspect inside. In one recent project, a tram doubled as a natural history museum with interactive displays on wild animals in the city. The local utility provider uses another tram to inform about alternative energy. As an eye-catcher, an old fashioned lantern stands inside the vehicle. Such measures ensure that rather than dragging trams down to the level of rolling billboards, theme trams serve to further enhance travelling experience.
Often, when the city is overcast or wrapped in fog, the sun still shines on the surrounding hills. A short trip out of town is an attractive possibility, but how does one avoid disappointment? The answer: trust the trams! Routes 13 and 14 serve the foot of Uetliberg (the local "mountain" stretching some 400m above the city). Trams of these routes display a headboard "Uetliberg hell" (Uetliberg bright) when appropriate. Similarly, route 11 displays "Forch hell". For many decades, this sympathetic, effective and yet stunningly simple system has tempted passengers to postpone their intentions and ride the tram into the sun! Additionally, perception as a gateway to recreation rather than a pure commuting carrier helps strengthen the emotional link between trams and passengers.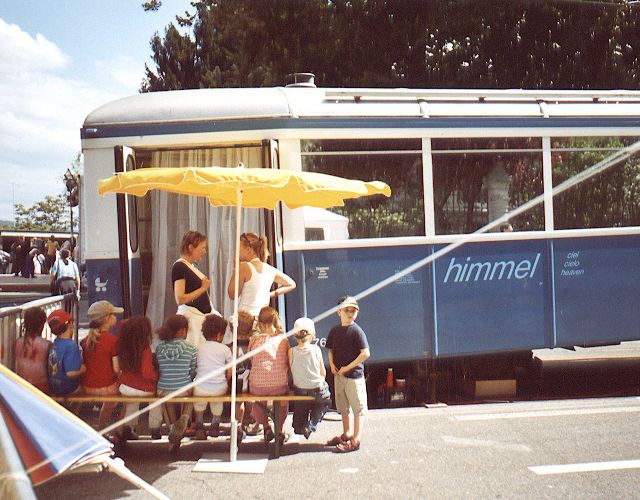 Understanding this emotional bond is central in putting Zürich's success into perspective. Being slightly old-fashioned yet utterly irreplaceable makes the trams strangely analogous to their city. Slighter operational irregularities or staff eccentricities may repeatedly land the trams in the crossfire of sarcasm, but even vociferous moaners wouldn't want anything but trams to reign supreme on the streets - or indeed under them. Zürich's voters chose not to trade their tram for the then so fashionable Tiefbahn or U-Bahn. Had they chosen differently, Zürich would probably now have more cars, more concrete and less quality of life. The story of Zürich shows that people want trams and that trams are good for cities!
<previous chapter | table of contents | further articles>
Zürich tram main page | articles list | Zürich tram news>
---
Footnotes:

[21] The exact delivery schedule is still subject to negotiations between VBZ and Bombardier.

[22] 126 Mirages, 15 P16's and 32 bogie trailers (of 3 types) must be replaced by 72 Cobras.

[23] Sänfte means sedan chair - in reflection of the way a low section is carried between two high sections.

[24] These are the newest units, dating from 1991-2.

[25] WinPro is an engineering company that emerged from the closure of SLM Winterthur in the late 1990ies.

[26] See also Glattal: High quality light rail to Zürich Airport, C.J.Wansbeek, T&UT October 2003.

<previous footnotes
---
last updated: 14.12.05
counter added: 14.12.05