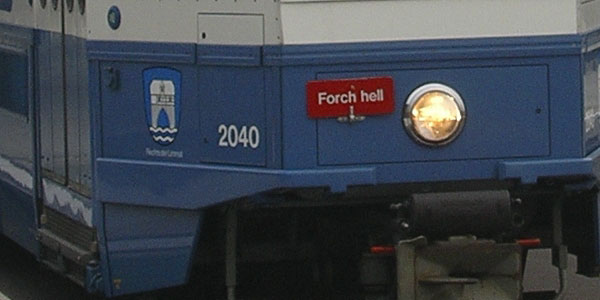 you are in: tram -> zurich -> news
Newslog 2010
latest news | archive | news search
This page presents news and other items of interest concerning the Zürich tram system and connected topics.
This is not the official information page of any organisation. All opinions expressed here are my own or belong to those to whom they are attributed. Whereas care is taken to ensure the correctness of news, no claim is made to total accuracy.
Visitors are informed that many links from this page are to external sites. Such links are provided for informational purposes only. The author of this site explicitly declines responsibility for the content of external web pages.
latest news | older newslogs | articles.
return to Zürich tram home page.
2009 news:

next year | previous year | current year | other years | search.

guide to linking to news items
---
10.12.2010 - Glattal region eyes tram expansion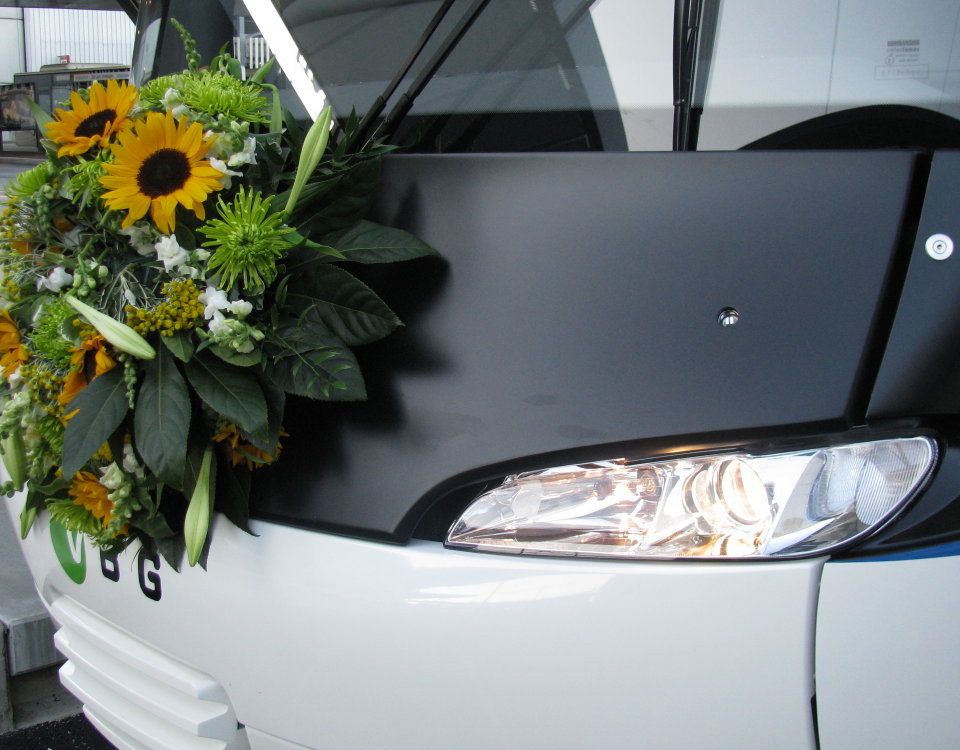 Two news items today look at future tram expansion in the Glattal area.
The first of these projects is the extension of Glattalbahn beyond the airport through Kloten and Bassersdorf. This is part of the project formerly known as Ringbahn Hardwald. The 'ring' is likely to be realised in phases on account of the differing needs and stages of development of the places being served. The extension from the airport to Bassersdorf looks set to be higher in priority. The canton and communities have announcd that they have agreed on the future alignment and this is now being reserved. With available funds being required by more pressing tram projects such as Limmattalbahn and Tram Hardbrücke, construction of this section is not likely to commence soon, and an opening before 2020 is unlikely. However, a clear demarcation of future land use is necessary to allow land development projects to go ahead.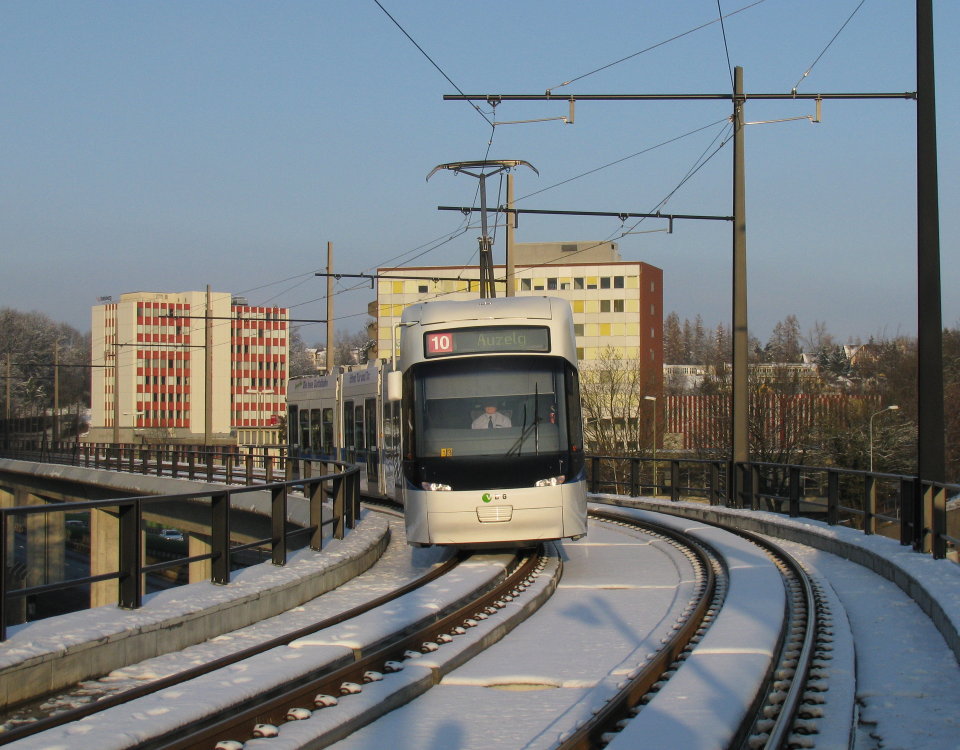 The other project that has hit the news is a proposed tram extension from Schwamendingen (presumably branching off or diverting route 9 at Altried) and continuing via Zentrum Glatt to Dietlikon's industrial area. This area has many large shops (including IKEA) and serious congestion is frequent. The local bus services get caught up in this and so fail to provide a viable alternative. Dietlikon has in the past rejected proposals to create a bus lane but is now surprisingly supportive of this tram project (which is not new, but has not been mentioned for a long time).
Of course the biggest Glattal tram event right now is the opening of Glattalbahn tomorrow.
---
10.12.2010 - Eberswalde trolleybus in Zürich
Further to yesterday's report on the Eberswalde trolleybus visiting Zürich, the website www.obus-ew-de has some pictures of number 051 being loaded onto a low loader (1st December) for the trip and arrived in Zürich (3rd December) in a rather more dirty-looking state. The bus is likely to remain in Switzerland for 2 weeks. According to bahnhofplatz.net, night-time testing on the VBZ system has commenced.
---
09.12.2010 - Trolleybus trials
In connection with the planned acquisition of new trolleybuses, different manufacturers are demonstrating their products in Zürich. However, in contrast to the tram trials of this and last year, the trials are not taking place publically. Apparently this is due to stricter Gatt/WTO rules having come into effect. This requirement is especially strange as surely public opinion is important in the definition of tomorrow's transport. VBZ are in fact not even revealing which manufacturers are particpating, but a Tages Anzeiger article of 8th December reveals a Solaris Trollino 18 of Barnimer Busgesellschaft (Eberswalde, Germany) was (or is) here. The newspaper asks why this bus had to be taken 800km on a low loader when similar buses are running in nearby Winterthur, and answers this by explaining that these are now five years old and technology has moved on.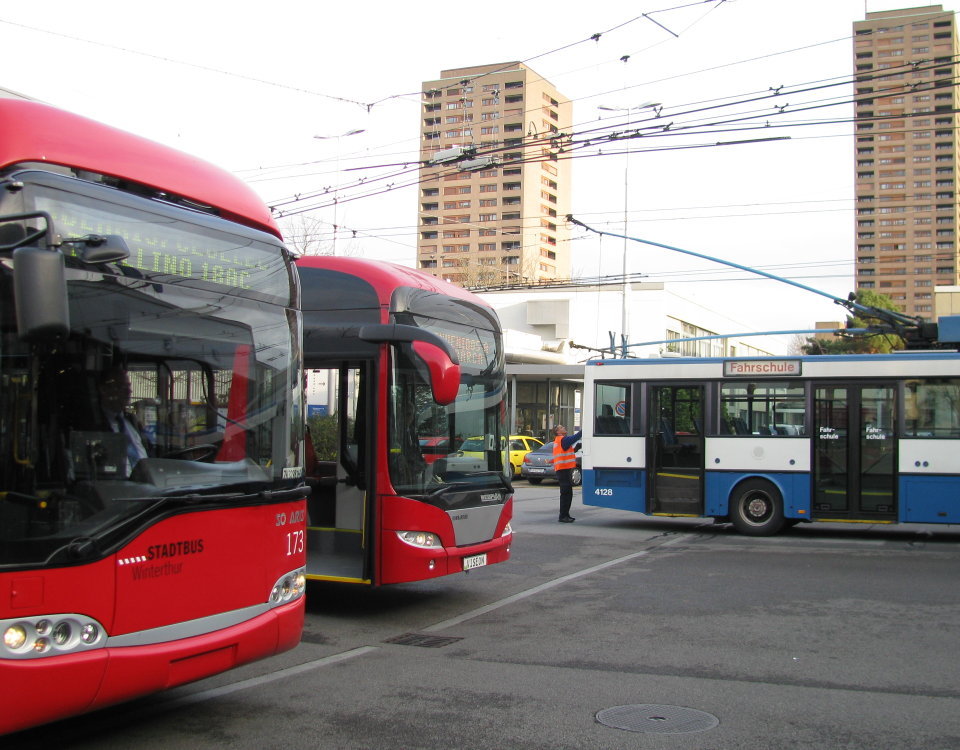 All tenders must reach VBZ by 26th January 2011. The winner will supply 12 double-articulated and 21 single-articulated trolleybuses, with the latter being delivered by the end of 2013 and the former a year earlier. Concerning the question of how these 33 buses are to replace the 43 Mercedes/ABB O405 GTZ units, it appears that the order will come with an option for 40 further single articulated and 10 double articulated units, whose acquisition can only be confirmed as the future development of the trolleybus network is clarified. This again depends on the approval and timelines of tram projects such as Rosengartentram (replacing trolleybus 72) and Tram Route 1 (replacing trolleybus 31) and also possible future electrification of bus routes. VBZ are working on an update of their Vision 2025, which will also cover trolleybus development.
To this website's trolleybus pages.
The photo above is not of the present trial but shows a Winterthur Solaris and a Barquisimeto Electroliner visiting Zürich for the Trolleymotion conference in 2008.
---
07.12.2010 - Partytime as new tram mileage opens this weekend
This weekend will see the completion of two major tram projects.
In Zürich, Glattalbahn will be completed with the opening of its third phase. The first phase from Oerlikon to Auzelg opened in December 2006, and the second phase from Glattpark to the airport in December 2008. This third and (for now) final phase extends beyond Auzelg via Wallsellen and Dübendorf to re-join the tram network at Bahnhof Stettbach. In a more distant future, it is intended to extend the system further by closing the gap between Dübendorf and the airport via Dietlikon, Bassersdorf and Kloten (Ringbahn Hardwald).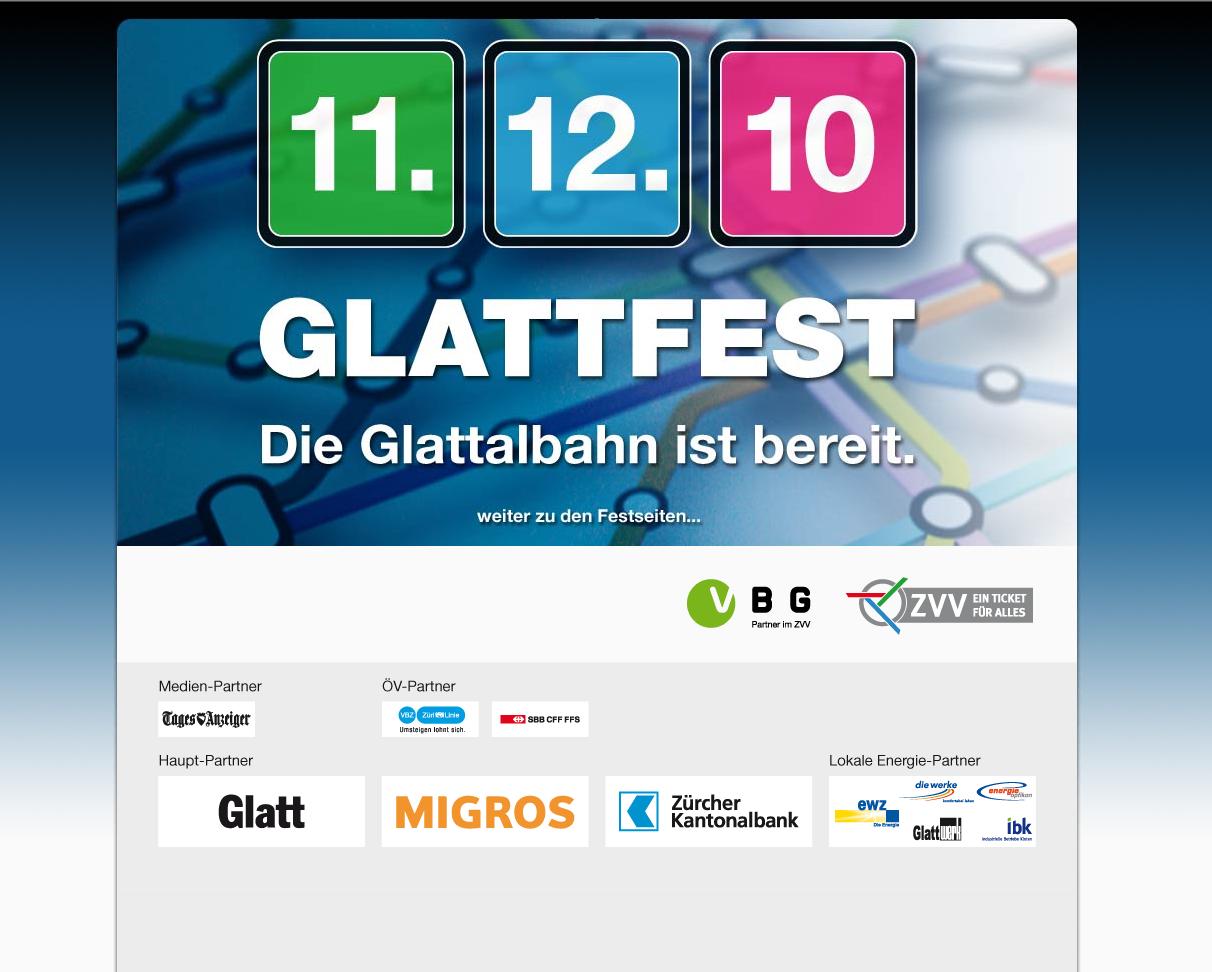 Saturday 11th December will see the official opening with the public being able to take free rides and numerous events organised in the vicinity of the stops. More information on this can be found on the website www.glattfest.ch. Regular operation will commence on Sunday 12th. Besides additional track mileage, Zürich is also gaining a new tram route. Route 12 will serve the new corridor and then continue beyond Auzelg to the airport. It will be worked by VBG-liveried Cobra trams.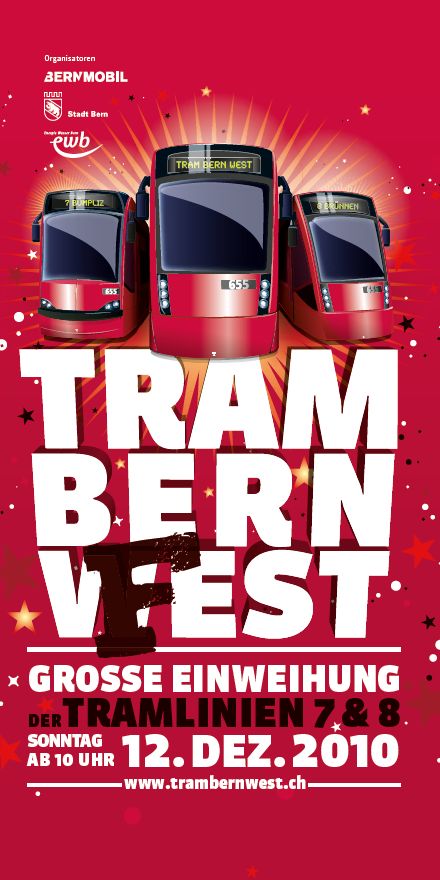 Meanwhile, Sunday will also mark the opening of Tram Bern West. This is not only the first major tram extension to have been built in Bern for many years, but with it Bern is gaining not one but two additional tram lines. The new extension forms two branches, with route 8 terminating at Brünnen and route 7 at Bümplitz. It is fitting for the Christmas season that the Brünnen branch also serves a place called Bethlehem. Similarly to Glattalbahn, the opening will be accompanied by numerous other activities along the route and even a concert. More information can be found on the website www.trambernwest.ch.
Also in Bern, RBS Route G to Worb is being integrated into the city tram network.
I don't know whether it is coincidence, or maybe planning for the benefit of invited guests and enthusiasts that despite both projects coming into full service on the same day (coinciding of course with the national timetable changeover), that the main Glattal festivities are on the previous day so making it easy for enthusiasts to attend both events and enjoy a very trammish weekend. This makes it all the more unfortunate that Tram Museum Zürich have also chosen the same Sunday for their end of year photo-tour, using Pedaler type tram 1530. Building on the theme of the previous day's Glattal opening, the tram will be decorated for route 12 and will revisit the haunts of the previous route 12 (Sportplatz Hardturm – Laubegg) which was discontinued in the 1960s. The tour will continue to Auzelg to meet the new route 12, but as it is not equipped with the necessary safety/signalling systems, it will not run on the new section. More information on www.tram-museum.ch.
---
07.12.2010 - Ballet Mirage is back (for a day)
Christmas time is approaching and with it all the rush on the shops. Many shops are open on Sundays 5th and 19th December, and it is a tradition that museum trams operate in the city centre on these days (circular route via Bahnhofstrasse and Limmatquai) to help move the masses and provide a nostalgic touch. This year they are being supported by the special liveried ballet mirage 1676, which last ran at the end of October. 19th December may well be the last turn for this tram.
---
02.12.2010 - Going off-topic with more snow
Pretty much off-topic, but maybe of interest following on from yesterday's Zürich snow film. Where even a 4x4 struggles, the bus has no trouble climbing Saltburn Bank (which I believe is located on Teeside, UK). I found this gem on Omnibuses blog.
The Youtube link was changed on 7th December. The original film linked (identical to this one) appears to have been deleted.
---
01.12.2010 - Fresh snow in Zürich
We had plenty of fresh snow in Zürich today. Coming home from work I made the following film at Bucheggplatz, featuring trams and trolleybuses.
---
01.12.2010 - Glattalbahn to Uster?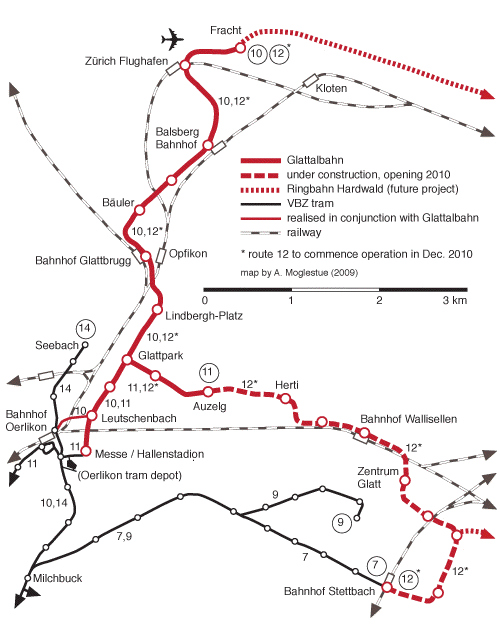 With the opening of Glattalbahn's phase 3 approaching (11th December), the project is being mentioned in the news almost every day — doubtlessly in part due to VBG's clever marketing strategy. The NZZ newspaper is even running an extensive series looking at different aspects of the project and route served. Did you know, for example, that the Wallisellen to Dübendorf viaduct is the longest railway bridge in Switzerland, measuring 1209 metres? The stop at Zentrum Glatt is on level with the top level of the car park and a new entrance to the shopping centre is being provided this way, leading to a redesign of the shopping complex.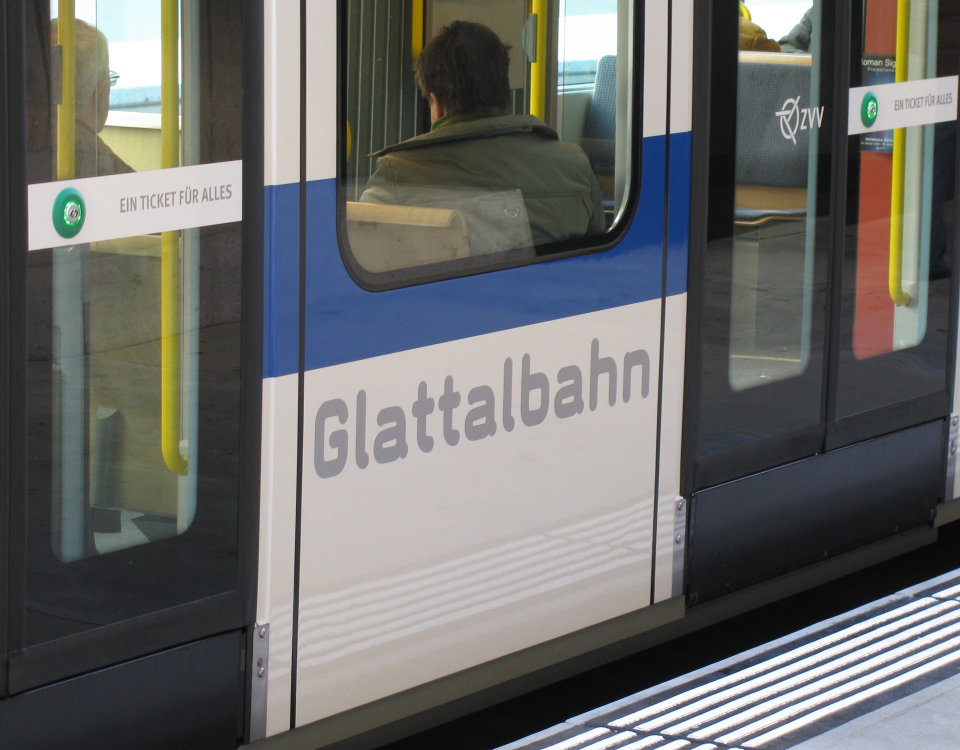 Among the articles are also some more visionary ideas that were maybe not part of VBG's official media strategy. This website has already mentioned the propeller powered vehicle that traversed the longest bridge. A more serious contribution comes from two Uster politicians proposing that Glattalbahn could be extended from Stettbach to Uster (a distance of some 16km). Tram historians will recall that one of the longer tentacles of Zürich's extended tram system did once reach Uster (the Uster Oetwil Bahn, which connected to Forchbahn at Esslingen but was closed in 1949). Zürich's tram still marks its presence in Uster today through ex-VBZ Pedaler 1517, which stands at Wagerenhof. Today Uster's commuters benefit from a fast S-Bahn service to Zürich, a service that has made Uster more attractive for commuters and largely contributed to its recent growth, a development that (who knows?) may one day make the return of a tram possible.
---
30.11.2010 - Low floor trams in timetable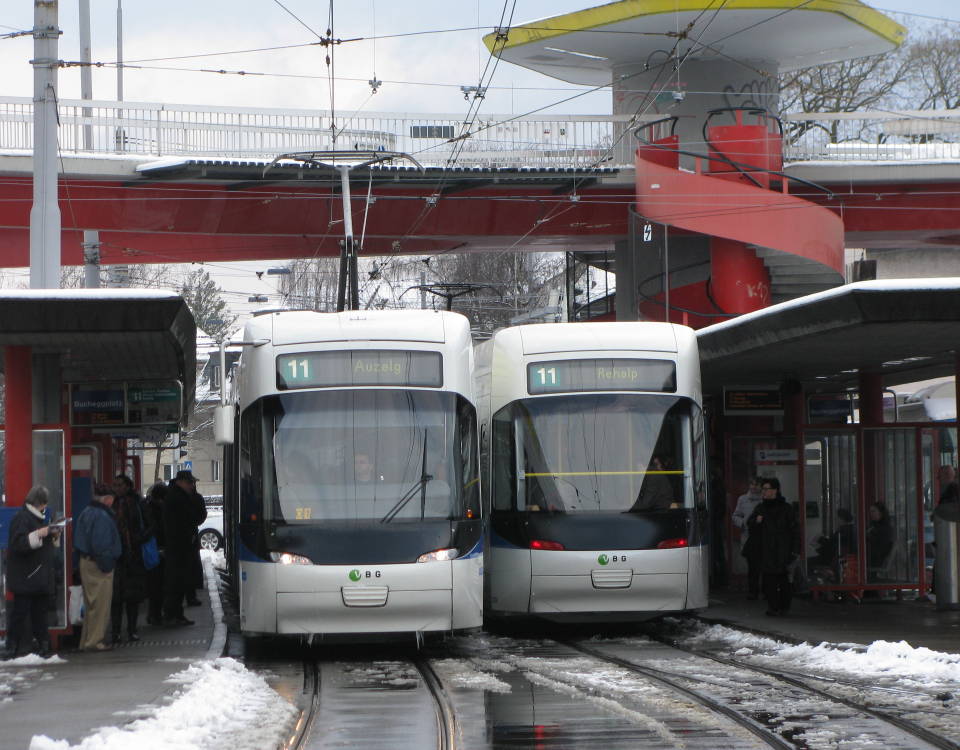 With deliveries of the Cobra trams now complete, the approaching timetable switch will see timetable information indicate which trams feature low floor. On routes 2, 3, 4, 7, 9, 11, 13 and 14 at least half of all trams will be low floor. Routes 6 and 10 and entirely low floor. Rotes 5, 8 and 15 continue to operate without any low floor.
---
29.11.2010 - No to Rosengarten tram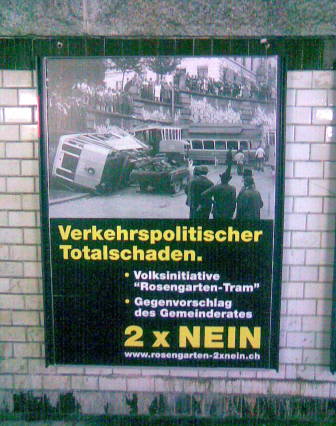 This weekend's referendum saw the project for a tram on Rosengartenstrasse rejected. The initiative, which would have seen the project go ahead and supported this with 31 million Franks was rejected by 65.9%. The counter-proposal, which would have spent 10 million on bus lanes and preparing the tram, was equally rejected with 60.7%. Neither proposal explained what was to happen to the motor traffic that was being displaced from this important thoroughfare or addressed the fact that cantonal support was not going to be likely for the project in this form. It remains to be seen whether the city council presses ahead with a more acceptable version of the project, or whether it is to be quietly forgotten.
In the further news, 71.4% approved the creation of an interchange at the eastern end of Bahnhof Oerlikon.
---
22.11.2010 - New S-Bahn tunnel breaks through
The new rail tunnel from Oerlikon to Hauptbahnhof (Durchmesserlinie) passed an important milestone today when at 12:21 the tunneling machine broke through. Construction of the tunnel begain in 2007 for a 2014 opening.
---
19.11.2010 - Propeller power on Glattalbahn
The third phase of Glattalbahn (due to open December 12th) is essentially complete and acceptance, testing and training runs are currently in progress. These have included a rescue operation from a simulated crash scene, performed by the Dübendorf fire brigade (the line runs through Dübendorf for some distance on its approach to Stettbach). Enthusiastic about the new line, the fire brigade decided to follow this up by running a tram of their own. Their Luftschildkröte (air turtle) is a home-built and rather quirky propeller-powered light vehicle that normally runs on road wheels and is demonstarted at special events, but was on Sunday 14th November able to change these for rail wheels and ran on the new line, starting at Giessen and traversing the viaduct via Glattpark to Wallisellen where it met up with the local fire brigade.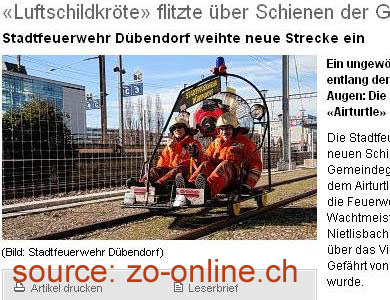 original article in ZO-online | screenshot
---
I am able to update the previous numbering list of ex Zürich trams in the Ukrainian city of Vinnitsa. With respect to the previous list, this list is updated with the newly arrived Mirage units numbered 285-314. (Thanks to Martin Baumann)
Vinnitsa nr./
Zürich nr.

229 1418
230 781
231 1419
232 782
233 1427
234 777
235 1425
236 783
237 1421
238 784
239 1428
240 779
241 1424
242 773
243 1422
244 778
245 1429
246 771
247 1426
248 780
249 1423
250 775
251 1417
252 776
253 1416
254 772
255 1601


256 791
257 1602
258 794
259 1603
260 1718
261 1604
262 788
263 1605
264 1715
265 1614
266 792
267 1620
268 786
269 1612
270 797
271 1622
272 1717
273 1639
274 795
275 1615
276 789
277 1619
278 798
279 1683
280 796
281 1687
282 787
283 1689
284 793
285 1606


286 1609
287 1611
288 1613
289 1616
290 1618
291 1623
292 1624
293 1628
294 1630
295 1631
296 1632
297 1633
298 1636
299 1608
300 1610
301 1625
302 1627
303 1634
304 1635
305 1637
306 1638
307 1652
308 1653
309 1658
310 1662
311 1669
312 1678
313 1682
314 1684


Ex Zürich numbers 1416-1430 are Karpfen motor units, 1601-1690 are Mirage driving units, 1691-1726 are Mirage non-driving (cabless) units (Kühe). 771-786 are Karpfen trailers and 787-798 are FFA trailers used with Mirages.
---
06.11.2010 - Tram on Rosengartenstrasse in referendum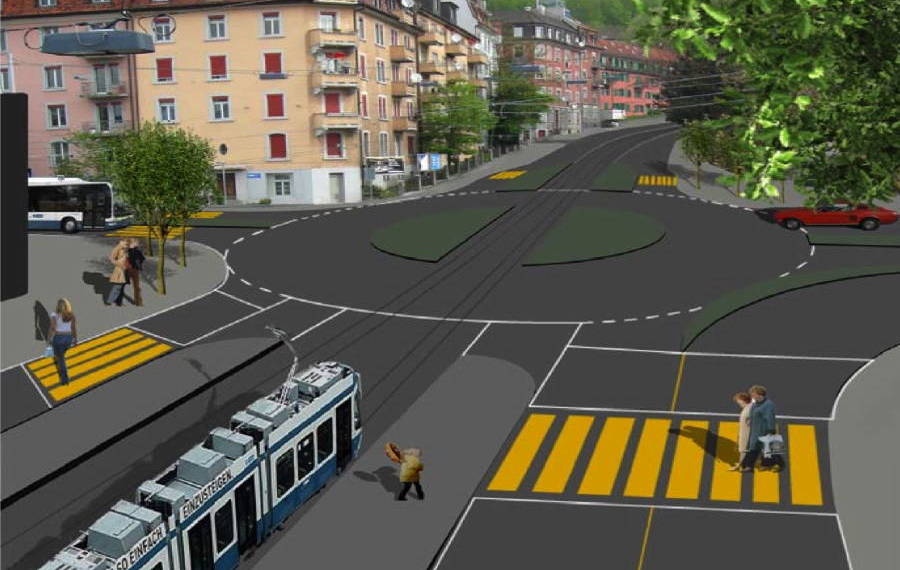 The approaching referendum (28th November) include an item on the proposed tram project on Rosengartenstrasse. This project goes back to VBZ's Vision 2025 (published in 2006), which recommended that by 2020 a tram line should be built from Milchbuck to Albisriederplatz basically replacing trolleybus 72. The new line would both improve service to the rapidly developing west of Zürich, while also providing a tangential connection so that people can travel from one area of town to another without passing through the centre. Rosengartenstrasse, however, is no ordinary street but an important and heavily used traffic thoroughfare connecting two bits of motorway. A tram would constrict road capacity. To relieve pressure on this route, another project would be required, that of a new road tunnel called Waidhaldetunnel. Combining both projects was a clever move by the town council as it would have solved the impasse between the pro-road lobby demanding the tunnel, and the pro public transport lobby demanding the tram. These well laid plans have been overtaken by an initiative that seeks to have the tram line built without the tunnel, and is seeking the approval of 31 million Franks for this. A counter proposal by the city parliament proposes that bus lanes be provided as an interim measure for 4 million and a further 5.4 million for a tram pre-project (which I believe is mostly about studies). The city executive council, including Andres Türler, who is responsible (among others) for VBZ, is opposed to both variants. On 8th November voters will have to cast a vote for both variants and a third to decide which will be realised if both get a majority.
Some observers are saying that this is an unfortunate development. The tram project can not be realised without cantonal support, and the Canton will not be likely to support the tram without the road tunnel. The referendum might well end up being a meaningless decision. It might even be counter productive as many voters may vote no due to doubts, with the pro-road lobby interpreting this as anti-tram sentiment, so potentially wrecking a project that otherwise has majority support.
Personally, I remain undecided as to whether this is a wise move.
Below are some of the posters of the pro and anti side, providing an interesting comparison on the ways trams are used to transport a message. The accident on the 'no' poster actually occurred on Gloriastrasse in 1930 when a driver lost control of a tram running downhill.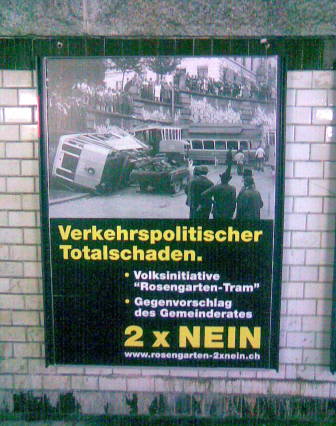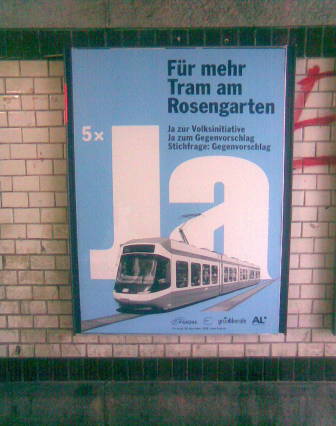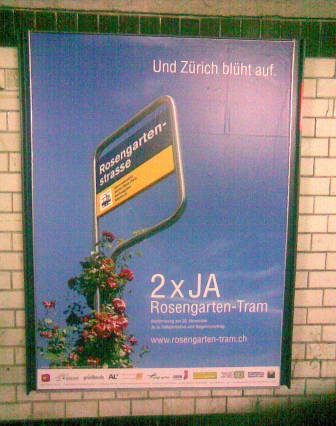 The 'yes' lobby has a website to promote their cause: www.rosengarten-tram.ch.
---
06.11.2010 - BDWM Be8/8 in rescue exercise
On the 21st October, rescue services attended to a level crossing incident involving BDWM's Be8/8 number 1, a sister unit and a lorry carrying hazardous material. Number 1 derailed and landed on its side besides the tracks. 300 passengers on board the train had to be rescued. Fortunately it wasn't a real accident but an exercise. For the Be8/8, however, it appears to have been its final moment of fame. Several of the type are now out of use.
---
18.10.2010 - VBZ to order new trolleybuses
Following some speculation over the replacement of the remaining GTZ trolleybuses, VBZ is now inviting tenders for 12 double articulated trolleybuses and 21 single-articulated ones. VBZ is praising its own decision as being a sign of its environmental commitment. However, with 43 GTZ up for replacement, the further implications of such an aquisition are unclear. VBZ wishes to withdraw the GTZ by 2012.
---
Following on from the various YouTube videos posted here lately, I am adding links to two of my own. The first shows Cargotram reversing out of Burgwies depot.
Thes second shows Forchbahn on the temporary (California) switch at Stadelhofen during last year's remodelling.
---
28.09.2010 - Winterthur trolleybus in 1938
Rare and atmospheric footage from the early days of Winterthur's trolleybus can be seen in this YouTube movie (posted by the Youtube user busfilmer):
Thanks to Trolleybusverein Schweiz (TVS)

---
28.09.2010 - New trains for Uetlibergbahn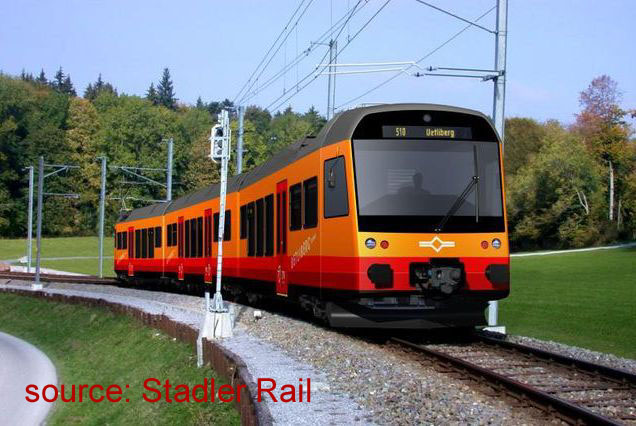 SZU has ordered six new trains for its S10 (Uetlibergbahn) service from Stadler Rail for 58 million CHF. The new trains will enter service from 2013. Uetlibergbahn is a light railway from Zürich HB to the scenic Uetliberg peak overlooking the city and beyond. Besides leisure traffic, the line passes through several residential areas and makes an important and growing contribution to commuter traffic.
To be able to increase capacity, the new three-car articulated sets will be able to run in multiple. For the first time on this line, trains will be dual voltage (1200V DC for the Uetliberg line and 15kV 16.7Hz for the Sihltal line). Regular use on Sihltal services is not planned at present, but the dual voltage capability will increase flexibility in operations and depot stabling and maybe permit a long term conversion to a single operating voltage. One special feature of the Uetliberg's 1200V electrification is that the overhead line and pantographs are not centered above the track but displaced to one side. This permits the dual electrification of the common section between Zürich HB and Giesshübel (but makes pointwork very complicated). To be able to work under both systems, the new trains (which will be known as class Be 510) will feature a laterally movable pantograph.
SZU is furthermore spending 2 million on adapting various stops and also modifying the workshops for the new trains.
For various SZU pictures, see the SZU page of this website's photo gallery.
---
23.09.2010 - Zürich S-Bahn in Berlin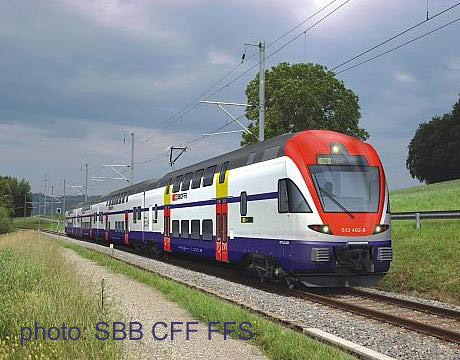 Right now (21-24 September), Berlin is hosting Innotrans, the trade fair for the rail industry. The Swiss manufacturer, Stadler, is represented and exhibiting a FLIRT for Norway, a GTW for an Austrian regional railway, a Variobahn tram for Norway's Bergen and a RABe 511 double-deck S-Bahn for Zürich.
Continuing in the tradition of applying names to Zürich's double-deck S-Bahns, the first train has been named Berlin. The type, it has been announced, will be known under the more questionable name of KISS, explained as komfortabler, innovativer, spurtstarker, S-Bahn-Zug (comfortable, innovative, good at spurting, S-Bahn train). Form your own opinions.
---
22.09.2010 - BDWM Be 4/8 go to AAR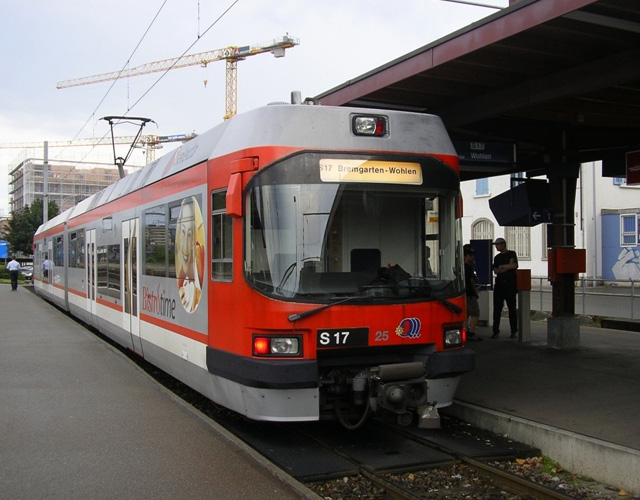 Not another BDWM news item? Following the disposal of BDe8/8 3 and 9, the third unit to be displaced by Diamant deliveries is not a BDe8/8 but a newer Be4/8. Number 21 was sent to Bombardier in Villeneuve to be modified for its future use on AAR/WSB (Schöftland - Aarau - Menziken) and has since been delivered to WSB. Ultimately, both types will be entirely replaced by Diamants, although BDe8/8 8 will be retained as a heritage vehicle.
---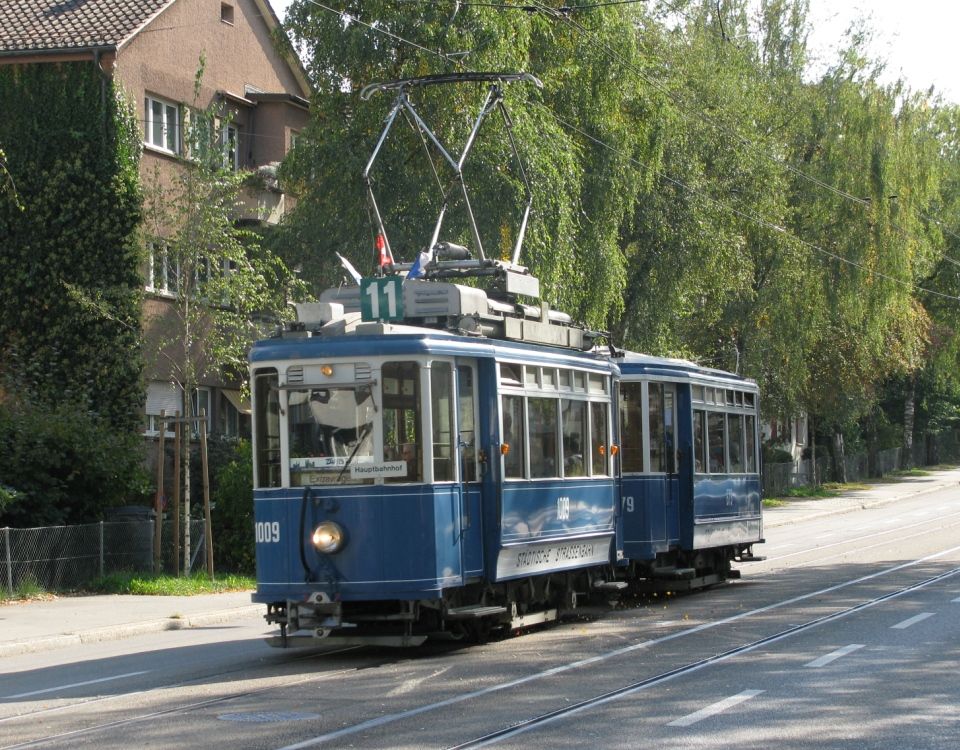 On the coming two weekends (25-26/9 and 2-3/10), Aktion Pro Sächsitram will operate hertage trams between Hauptbahnhof and Messe/Hallenstadion (coinciding with the Züspa fair). See also this timetable on the APS web page.

---
20.09.2010 - BDWM BDe 8/8 farewell tour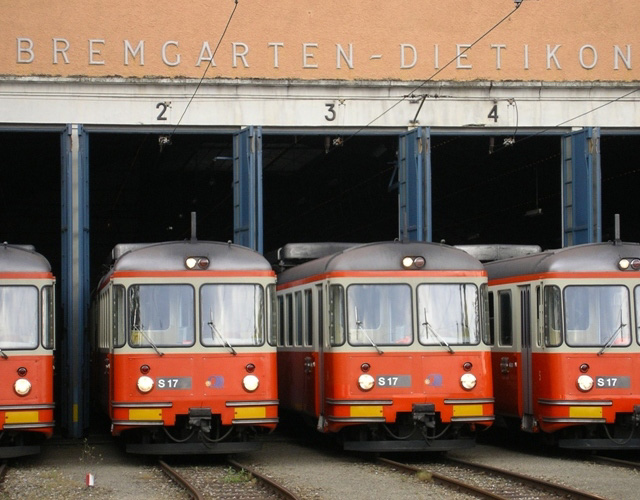 With time running out for BDWM's (Bremgarten Dietikon) BDe8/8 units, Aktion Pro Sächsitram (APS) is organising a farewell tour on Sunday 10th October. More details on the APS website.

---
14.09.2010 - Trolleybus accident
A serious accident occurred at Schöneggplatz on route 31 on Sunday (12th September) when trolleybus 161 crashed into a building, injuring the driver and 16 passengers. The cause of the accident is unknown but it is speculated the trolleybus was taking the curve at too high a speed. The building was also evacuated due to concerns over its structural stability, but residents have since been allowed to return. The bus is also heavily damaged.
---
07.09.2010 - Illuminated trams in Zürich?
An article in Tages Anzeiger reports on a proposed Fêtee des Lumières, featuring numerous illuminations and light spectacles in Zürich during the pre-Christmas period starting in 2011. Proposals include illuminated trams. However, the result is likely to be more restrained than Blackpool's.
---
25.08.2010 - Karpfen and Mirage in Vinnitsa
With the exception of the ballet tram, the Mirage era in Zürich is probably over. That makes it all the more comforting to know that many ex-VBZ Mirage and Karpfen trams are providing good service in the Ukrainian town of Vinnitsa. A correspondent has sent me the following YouTube video:
---
24.08.2010 - First two BDWM BDe8/8 scrapped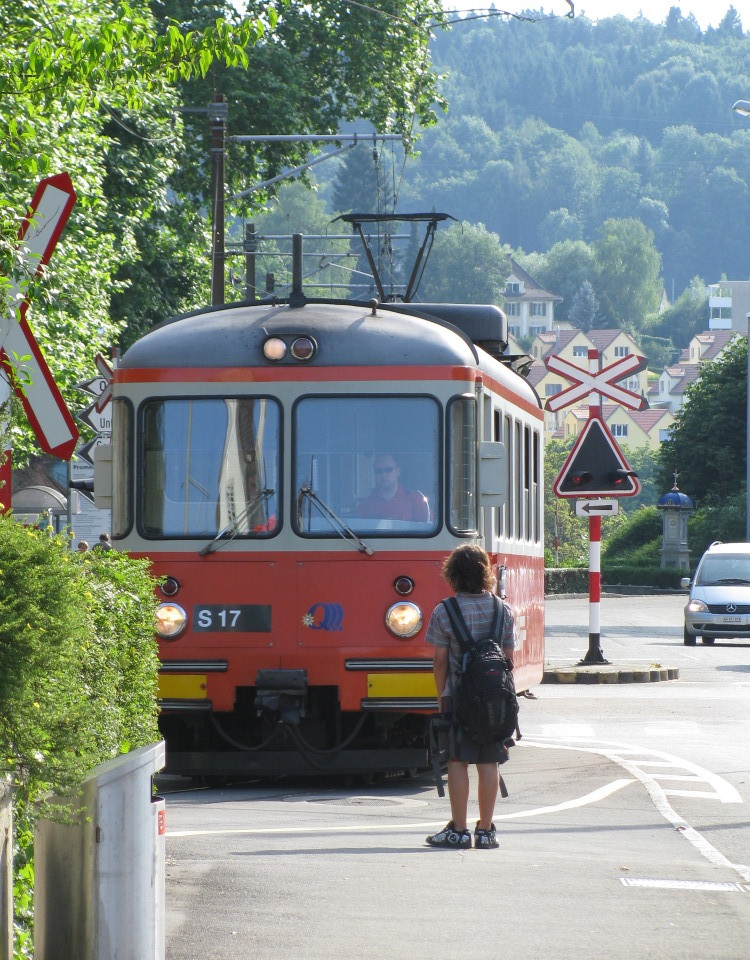 The first BDWM BDe8/8 to be scrapped was 3, leaving Bremgarten by rail on 23 July to be scrapped by Thommen in Kaiseraugst. The second unit to go was number 9, which was partly dismantled in its own depot with parts being salavged by the organisation, IG BDe 8/8, who wish to preserve one of these units for posterity.
Some views of this type can be seen on this page of this website's photo pages.

---
20.08.2010 - Ballet Mirage in service
According to VBZ's website, the ballet-themed Mirage tram (1676) commences running today. This is the only Mirage tram in service in Zürich at present. It will work on route 8 until October. The special livery marks the 70th birthday of the coreographer and director of Zürich's ballet, Heinz Spoerli.
First pictures are published on this page of the VBZ website.
---
06.08.2010 - Ballet Mirage to debut soon
Mirage operation officially ended in June, but one Mirage is about to make a brief comeback. 1676 will operated on route 8 in a special ballet livery from 20th August until the end of October. It will be presented to the press on 19th August.
Besides 3056 (Ingenieutram) and 2005 (Die Schweizermacher), this will restore the number of special livery trams to three.
---
02.08.2010 - Energy storage tests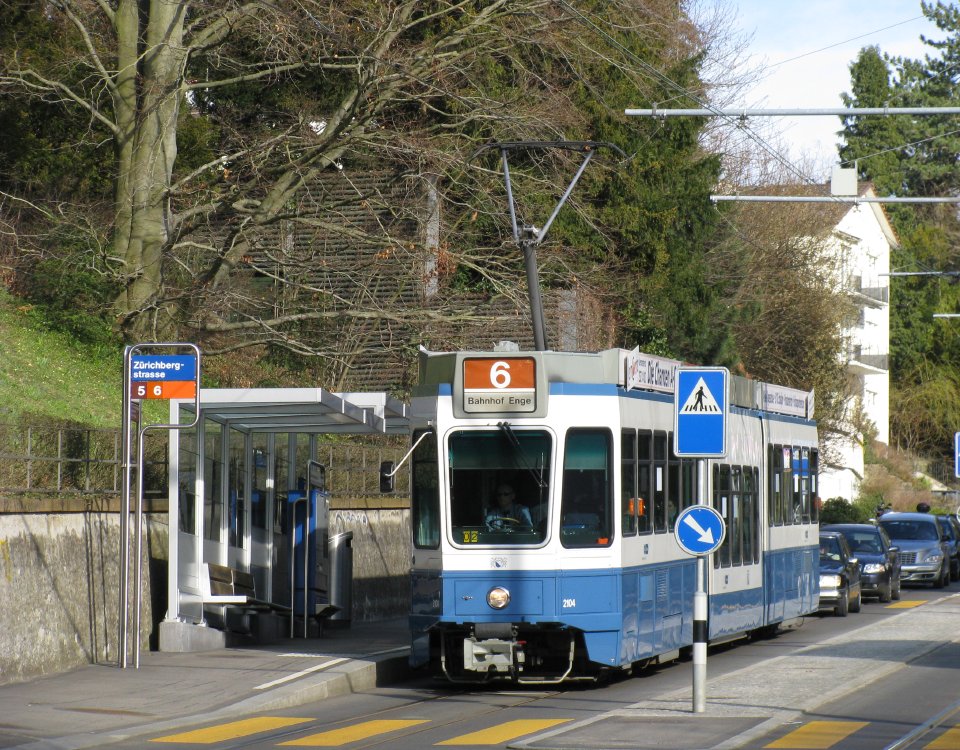 Last year, this website reported VBZ's plans to test energy storage using a flywheel installation by the Zoo terminus. Evaluation of the six-week trial showed that currently about 85% of regenerated energy is re-used by trams. Additional energy savings made through the storage were negated by the enery costs of actually running the installation and its internal losses. The technology is not totally unsuitable, however, as VBZ believes it could be useful for supporting the power supply on heavily used sections of line.
---
16.07.2010 - Trams diverted for major works
VBZ is making use of the summer break to execute track remodelling works at two locations, starting on 17th July (tomorrow) and lasting until 22nd August. Both of these projects are about connecting new tram lines to the existing network.
The first of these projects will take place at Bahnhof Stettbach, where the third phase of Glattalbahn will connect to the VBZ network. Route 7's current turning loop is being replaced by a new arrangement in which routes 12 and 7 will approach the loop from opposite sides and share a loop track, but each have their own platform face. Passing loops will allow trams to overtake. During the closure period, route 7 will be diverted to Hirzenbach and buses will operate between Stettbach and Schwamendingerplatz.
The second project affects Escher-Wyss-Platz where Tram Zürich West will connect to the present newtork, and the opportunity is baing taken to remodel the extended area. Buses will replace route 13 between Frankental and Hauptbahnhof, but interestingly Werdhözli - Escher-Wyss-Platz will continue as an island of tram operation, disconncted from the rest of the system. trams will turn in the depot yard.
---
14.07.2010 - Mirages refuse to surrender
Only two weeks after officially retreating to the emergency reserve, a Mirage pair (1659+1668) is reported on route 13 today.
---
14.07.2010 - New special livery tram
Another special livery tram has debuted in Zürich. 2005 advertises the musical Die Schweizermacher. Previosuly this tram advertised another musical, Ewigi Liebi (photos of that here). This is the tram's third consecutive special livery as previously to that it was VBZ's 125th anniversary tram (photos of that here). The tram will run on routes 8 and 15.
20 Minuten
---
12.07.2010 - First Sänfte + Pony pair in service
This newslog has previously reported on plans to operate Sänfte + Pony coupled pairs. This would permit a more intensive use of these types which have partly been displaced from their former strongholds by the introduction of Cobras, and have since been lingering as spares. The overall length of such a combination would, however, be longer than anything VBZ currently operates and exceed the permissible length at many stops. As a compromise, tests were performed with shortened end couplings. These would of course not normally have to couple with anything but should still assure emergency towability. The front coupling also provides the driver with some additional crash-protection, and the new solution would have to fulfill this function in a similar manner. 2120 was briefly tested in late 2009 with a shortened front-coupling, modified from that salvaged from a cabless Mirage, but after this the topic was not mentioned again. The set 2105+2435 is, however, now operating on route 7 (since at least Saturday 10th July) with such shortened couplings at both ends (of course the couplings between the two cars are of normal length and type).
---
05.07.2010 - Buy a Winterthur GTZ
With the new Hess Swisstrolleys beginning to displace Mercedes/ABB O405 GTZ trolleybuses in Winterthur, the German bus dealer H.D. Sturm is offering these for sale.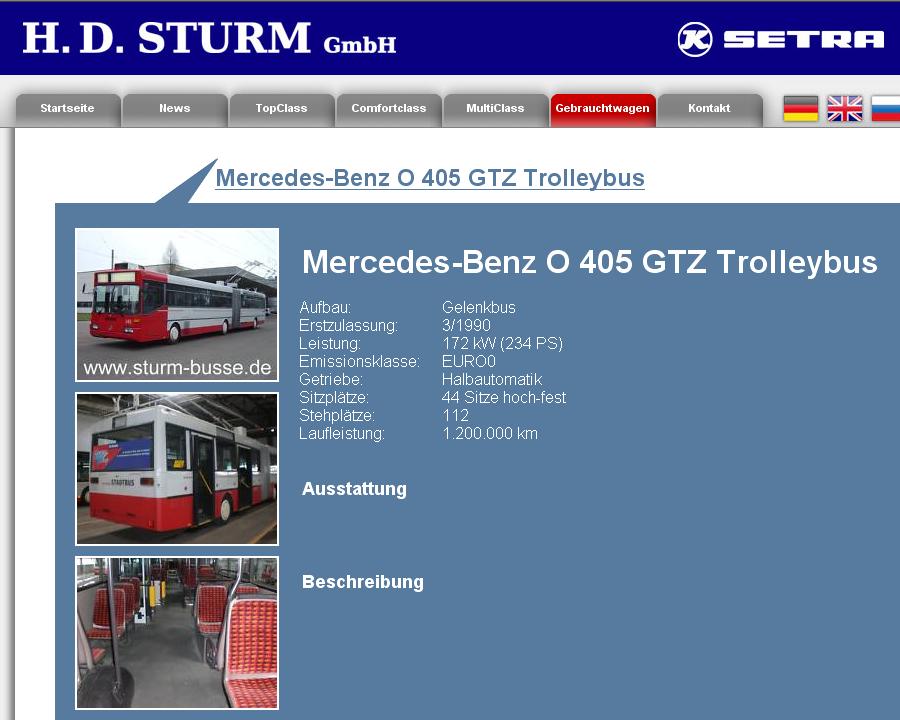 ---
A correspondent has sent me this impressive YouTube video of the last day of Mirage operation.
---
The set that performed the last honours on Wednesday was 1685+1688.
The units that are to remain in Zürich are: 1656, 1659, 1664, 1668, 1673, 1674, 1675, 1676, 1677, 1681, 1685 and 1688. 1676 is currently in the paint shop in Altstetten to be transformed to a Ballet tram, in which guise it will return to service from mid August to late October. The others are spare units and not likely to see much use. Tram 2000 number 2005 (previously Ewigi Liebi tram) has also returned to the paint shop and is receiving another special livery.
---
30.06.2010 - More Mirages depart
On this dark day for Zürich's Mirages, it is consoling to know that many are finding further work in Vinnitsa. Earlier this week, 1647, 1649 and 1650 left Zürich by rail, followed today by 1640, 1655, 1663 and an unidentified unit.
---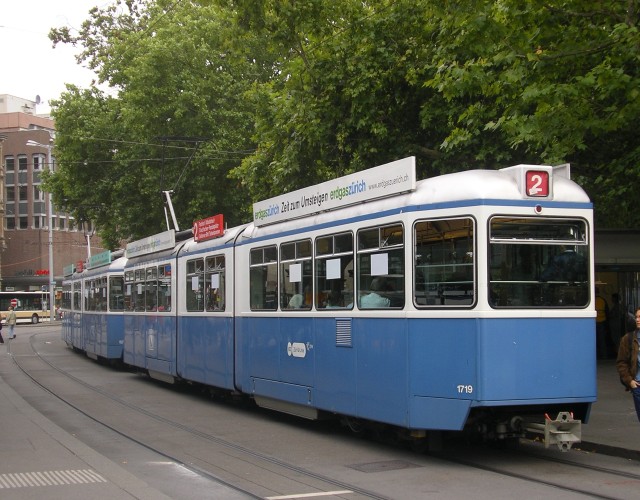 According to various newspaper reports, today is the last day of Mirage operation. One unit is set to make a brief comeback later this year, however, as a "ballet tram".

---
3088, the final Cobra, has been delivered in late May.
---
21.06.2010 - Tango, Combino or Flexity?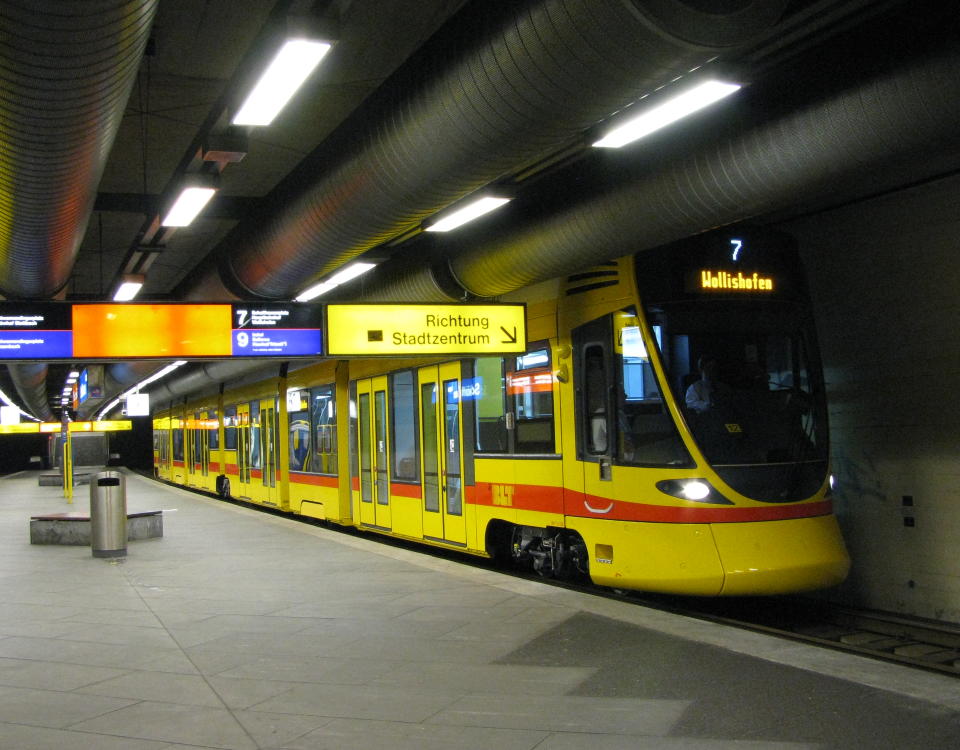 With the three trials of visiting trams now completed, VBZ must embark on the daunting task of evaluating public and internal reactions and using these to specify the next generation of tram for Zürich.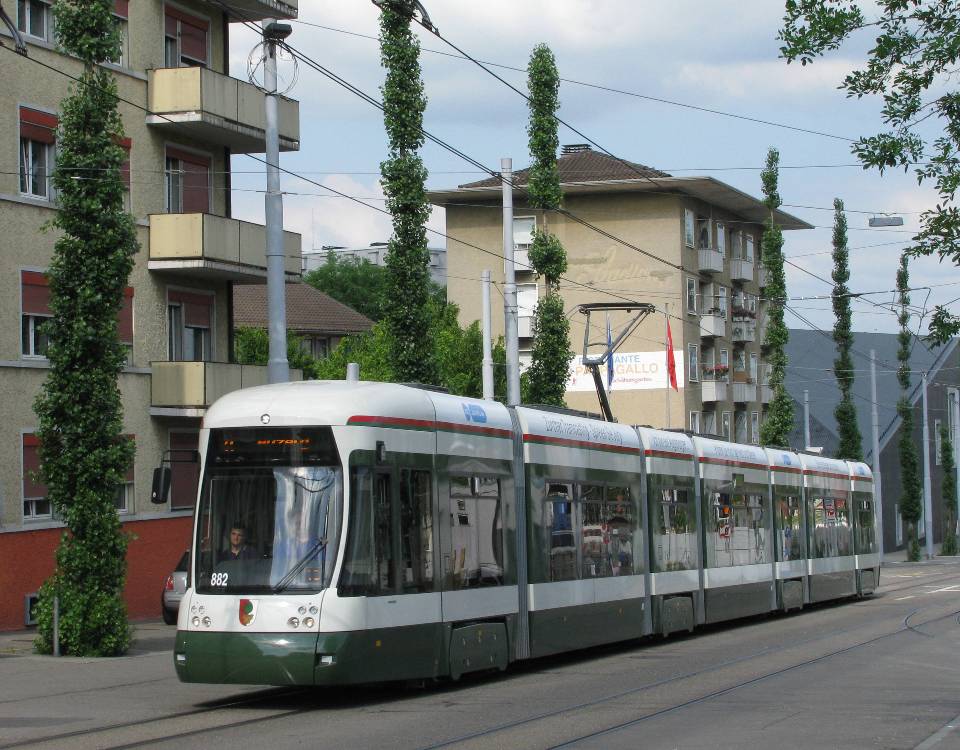 Of course any other manufacturer will also theoretically be able to bid for the actual work (personally I would like to see Leoliner considered, the tram can actually be built in Switzerland as Kirow have acquired the former Ramseier und Jenzer and have, among others, supplied rolling stock to MOB).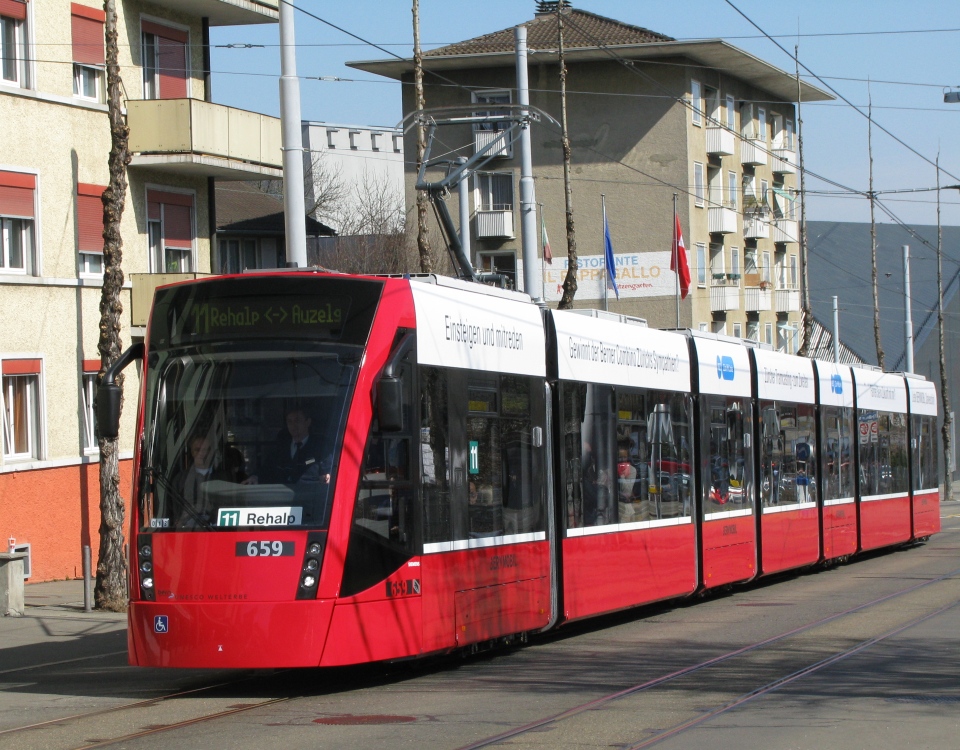 In terms of ride quality, all three demonstrators managed to outperform the Cobra (albeit Cobra's problems don't occur on new vehicles). In terms of design though, I still feel that the clean lines and quality materials put the spartan and messy modern design with their different window sizes, plastic seats and clinical intrior lighting to shame. I hope that VBZ will specify a higher quality of design.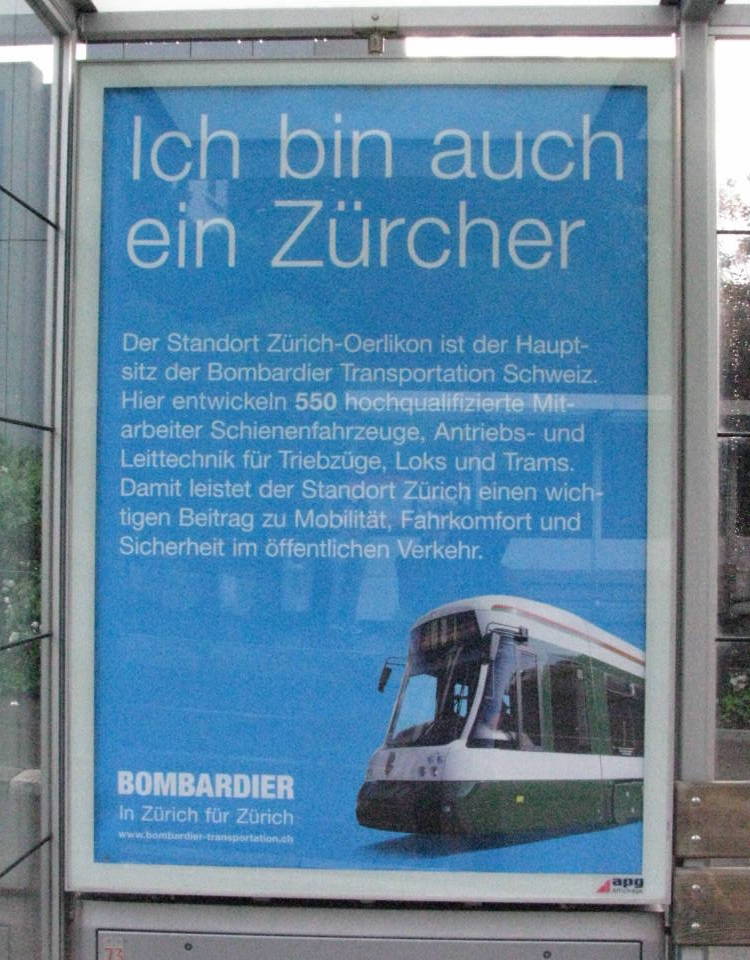 Of all the manufacturers, Bombardier was the most proactive in profiling itself. All along route 11 posters went up pointing out Bombardier's connections to Zürich and Switzerland. Obviously, the company is trying to break through the mould of Stadler being perceived as only local manufacturer. Bombardier has high-tech engineering facilities in Zürich Oerlikon and a manufacturing plant in Villeneuve. It employs several hundred people. The company has absorbed, directly or indirectly, the majority of Swiss train makers but has sadly downsized its inheritance, lost market share and ultimately become an outsider in what could have been a captive market.

---
21.06.2010 - Winterthur GTZ trolleybuses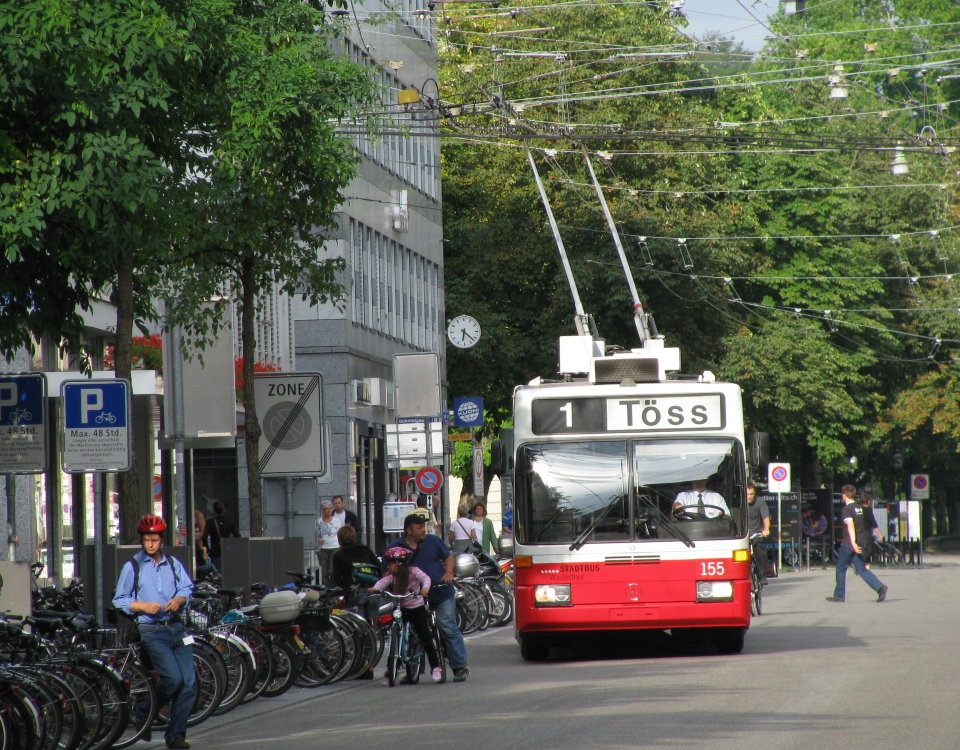 According to reports on bahnhofplatz.net, Winterthur's first Mercedes/ABB O405 GTZ trolleybuses will be withdrawn next week. Ten are likely to go to VBZ for parts, with the other 11 going to a dealership to be sold for further service in an unknown location.

---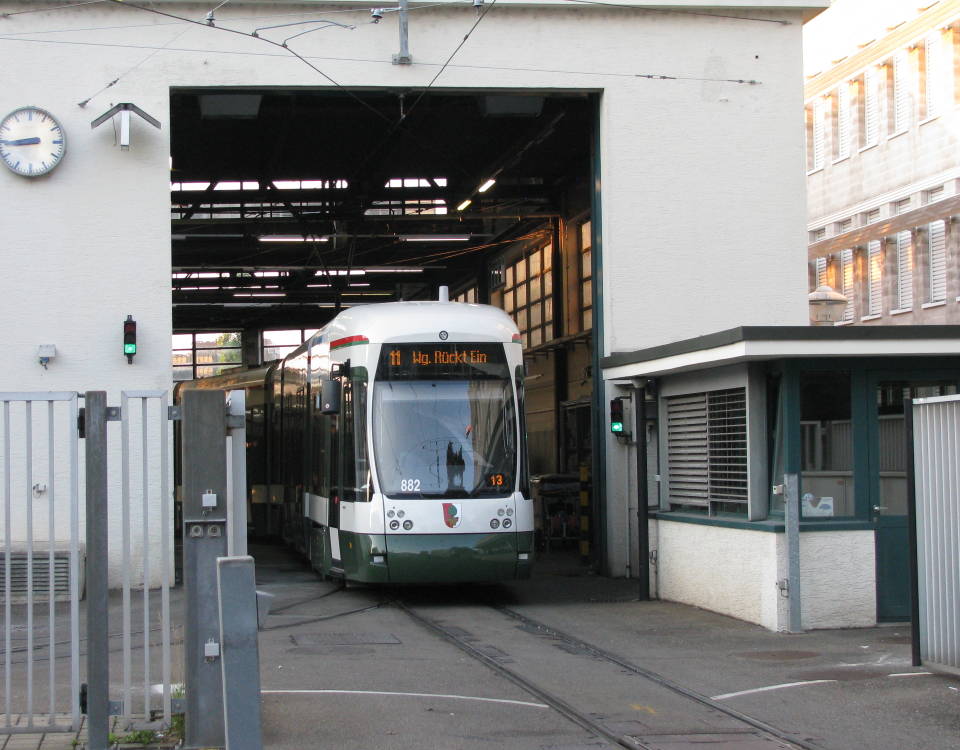 Friday (18th) was Augsburg Flexity 882's last day in service in Zürich. The adjoining picture shows it backing into Oerlikon depot after its final run (more here).

---
18.06.2010 - Flexity in Zürich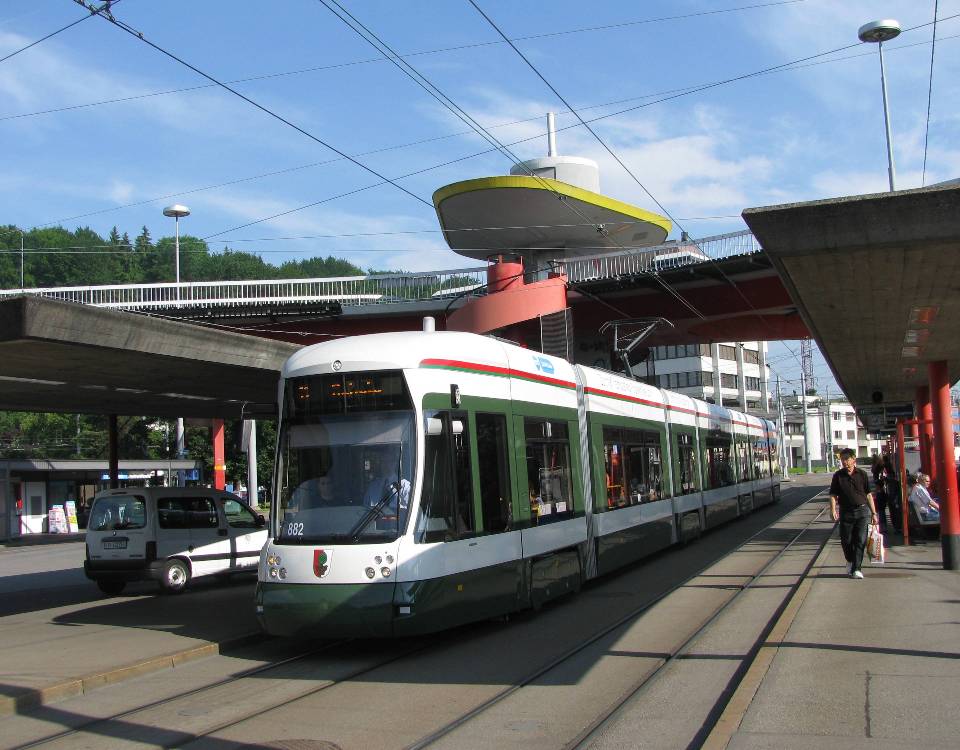 With Augsburg Flexity 882 now completing the second week of its demonstration on Zürich's route 11, I have uploaded some further pictures.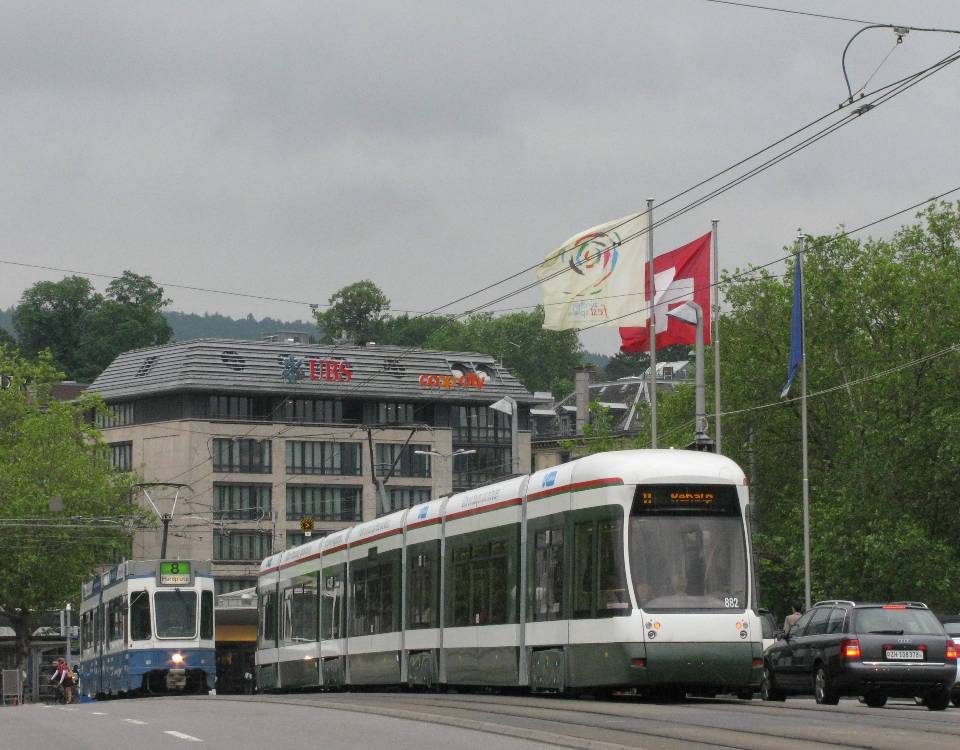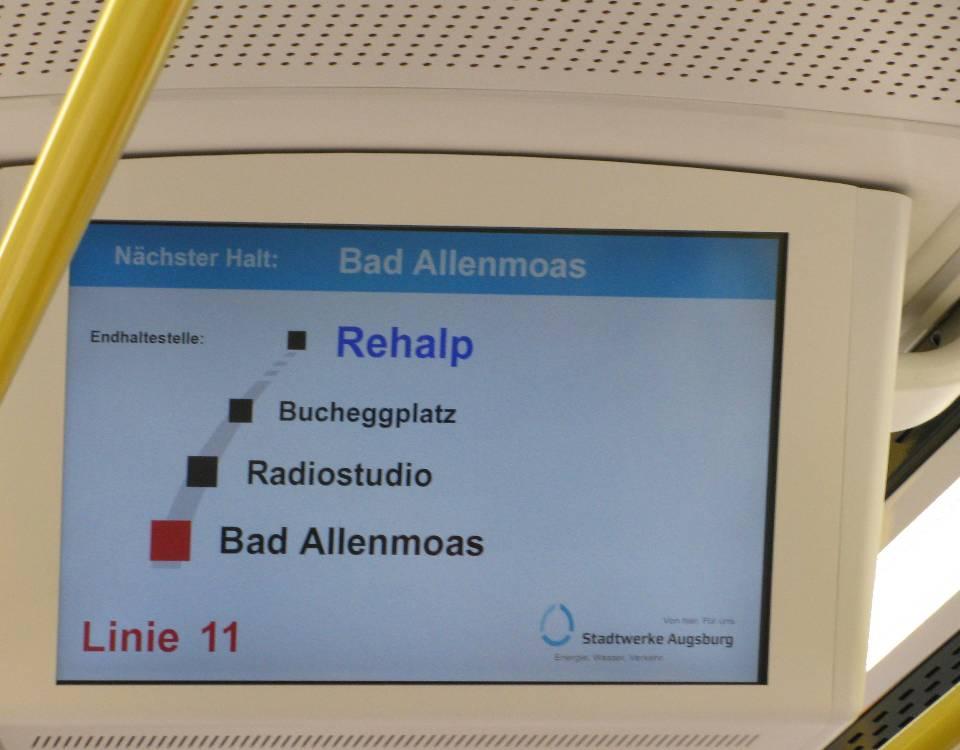 Here is the trams' passenger information display, with an amusing typo hinting at the tram's Bavarian home.

---
15.06.2010 - Vinnitsa tram website
An interesting website, with pictures and information on the Vinnitsa tramway in English can be found on depo.vn.ua/en/. It includes many pictures of the ex-Zürich cars.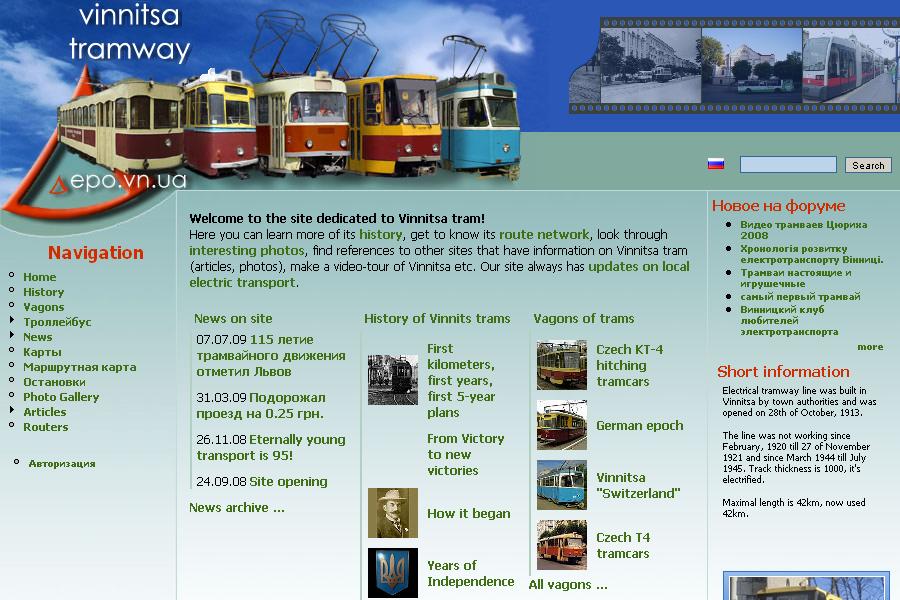 ---
14.06.2010 - New trolleybuses?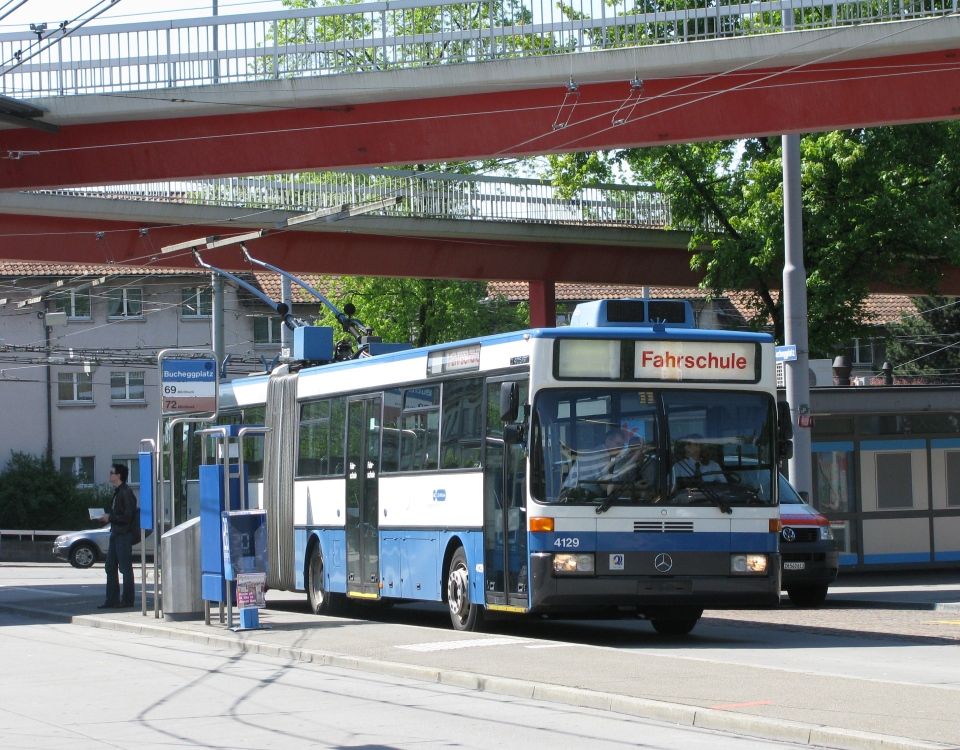 Following a July 2005 order, VBZ took delivery of 18 single-articulated and 17 double-articulated trolleybuses from HESS between July 2006 and July 2008 replacing the Mercedes/ABB O405 GTZ trolleybuses 1-11/13-36 of 1986/88-9. There has not yet been an official announcement concerning the replacment of the remaining GTZ (numbers 101-143 of 1994). However, a possible clue has emerged in an article in the Zürich Nord newspaper, which in an article on changes to the bus routes serving Affoltern, mentions that VBZ wishes to use double-articulated trolleybuses on route 32 from December 2012. This could of course also be realised by redeploying existing trolleybuses, and so would not necessarily require new vehicles. Watch this space!
---
In order to cope with future growth, VBZ has identified the need for two new tram depots. These will be locted in the West (by 2020) and North (2025).
Tages Anzeiger
Website comment: Further details are not offered for either of these depots but wheras the North depot appears to be a new proposal, the West depot is likely to be that previously mentioned here (Aargauerstrasse).
---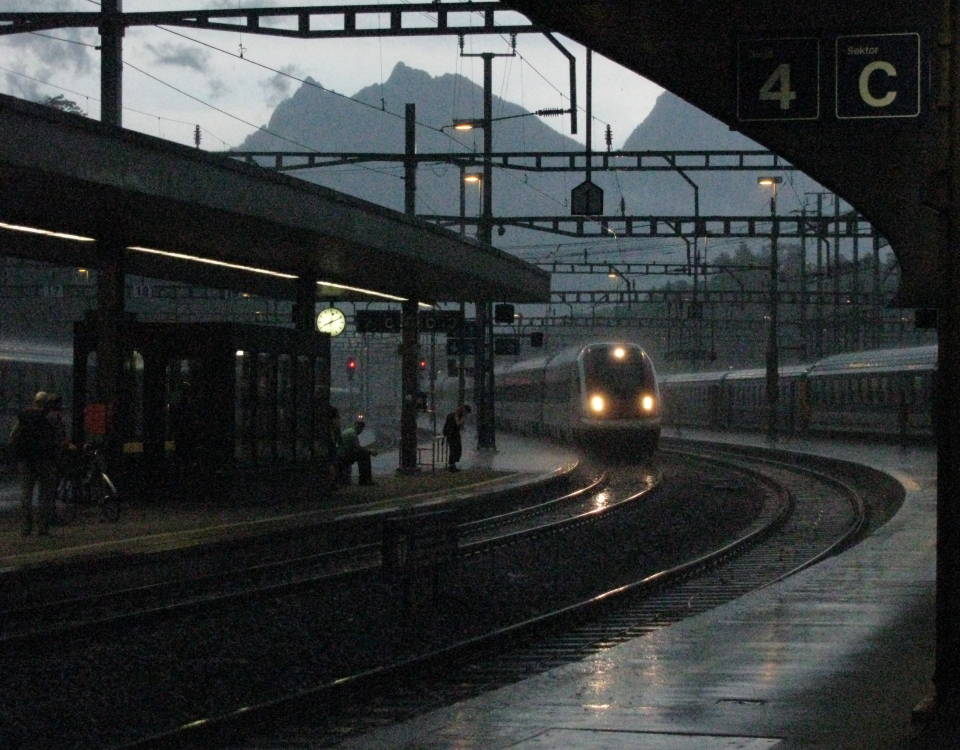 I have uploaded various new pictures. The series cover Zürich, Amsterdam, SBB and Rigi Bahn.

---
07.06.2010 - Flexity demonstration commences today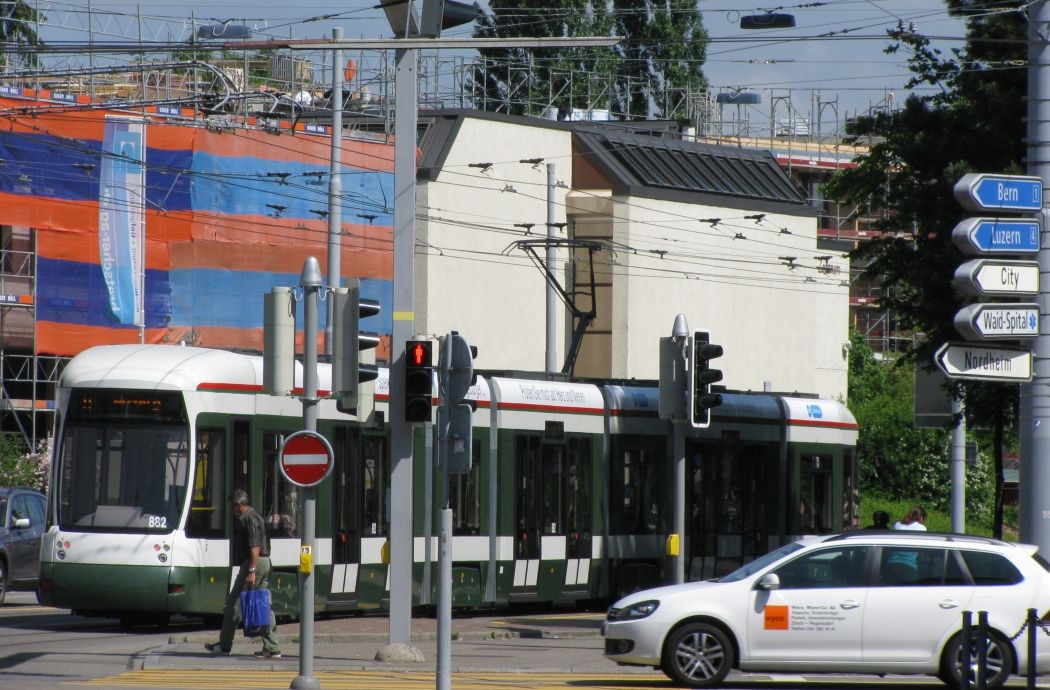 Demonstration running of Bombardier's Augsburg Flexity commences today. The tram will run on route 11 for two weeks.
---
07.06.2010 - New S-Bahn train (RABe 511)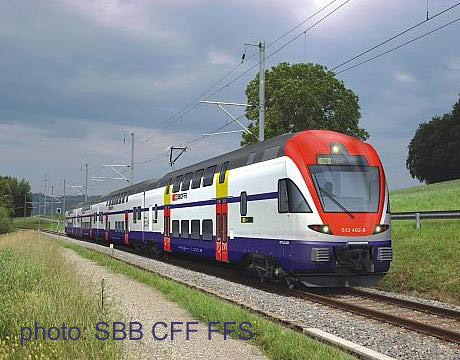 On 3rd June, the first of the new Stadler double-deck S-Bahn trains was presented at Zürich Hauptbahnhof. About 29 of the 50 six-car trains are intended for Zürich's S-Bahn.
---
04.06.2010 - Augsburg Flexity in Zürich
Quite by chance, I saw the Augsburg Flexity demonstrator on test today. Demonstration runs will commence on Monday. Meanwhile, here are two pictures.

---
03.06.2010 - Mirage: The end is nigh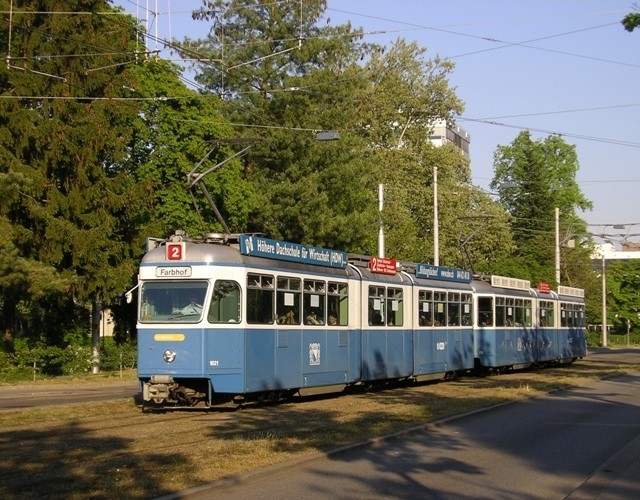 According to reports on bahnhofplatz.net, regular operation of Mirage trams is likely to cease within about three weeks. Currently, about three sets are still operational on route 2. Circa 13 units are likely to be retained in storage, and 18 are currently being prepared for despatch to Vinnitsa.
Mirage fans are reminded that a farewell tour is taking place this Sunday (6th June).
---
31.05.2010 - Flexity demonstrator
Bombardier's Flexity demonstrator (from Augsburg) arrived in Zürich this past weekend (29/30th May) and will operate in service on route 11 for two weeks commencing 7th June. This is the third and final demonstrator being trialled in Zürich after the BLT Tango and Bern Combino.
---
28.05.2010 - S-Bahn is 20 years old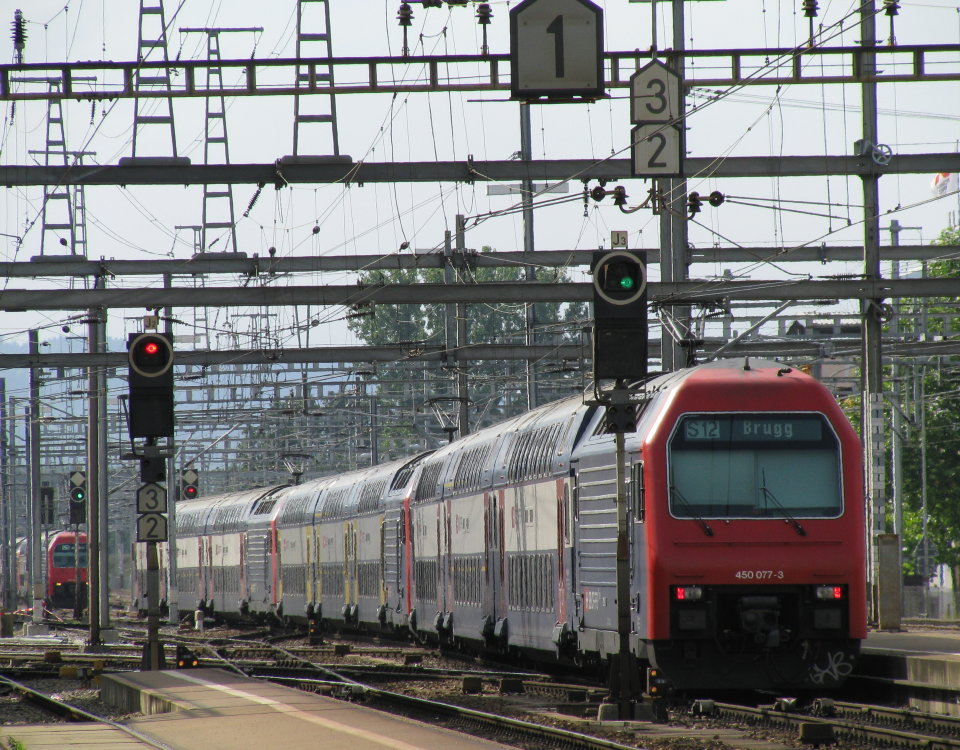 It was on 27th May 1990 that the cross-city rail link was opened. This line, which is largely in tunnels soon became the keystone of Zürich's suburban railway system, which was restructured to coincide with the opening to become the S-Bahn. In total 2 thousand million Franks have been invested in the S-Bahn, with another 2 thousand million of further investments planned. ZVV was launched simultaneously with the opening, introducing a zonal fare structure covering all forms of public transport and carriers. In the following 20 years, ZVV usage has grown more than 150% reaching 1.6 million daily passengers.
No major festivities are lanned to mark this anniversary, however. For that, ZVV is awaiting its 25th anniversary and the opening of the second cross-town link.
Tages Anzeiger, 20 Minuten
---
Cobra deliveries have reached number 3087. Only one Cobra remains to be delivered.
---
This newslog doesn't normally comment on buses. However, it is rare that the presentation of a new bus design is reported so widely in the mainstream press. Even models such as the Mercedes Citaro – whose numbers outstrip even the best possible New Routemaster production by orders of magnitude – were hardly discussed when introduced and haven't been mentioned much since. Maybe, after all, a bus is just a consumable or a commodity and not expected to create awareness or make a statement. The fact that London is getting a custom designed bus isn't that unusual either. It wasn't that long ago that most major operators would specify their own buses to a high level of detail and get involved in the design process. But that's not the way things are done any more (and today trams are heading the same way down the road of standardisation). The New Routemaster has been criticsed as being too expensive or being about fulfiling the folly of London's eccentric major. I don't know enough details to comment on that. But the fact that a bus is getting this level of attention cannot in itself be bad. There are points of the design that can be quibbled over (I don't like the irregular window spacing, which I don't like on trams either), but the bus does certainly capture some of the essence of the original Routemaster or even earlier London designs (especially the rear with its round domed roof and the suggestion of an open stair) while still being a forward looking design. But even if all this is all just spin, it cannot be a bad thing if people start talking about and becoming aware of bus design.
Another nice feature about the New Routemaster is its diesel-electric drive. Maybe this is making a future trolleybus version possible?

---
17.05.2010 - Basel: No tango for BVB?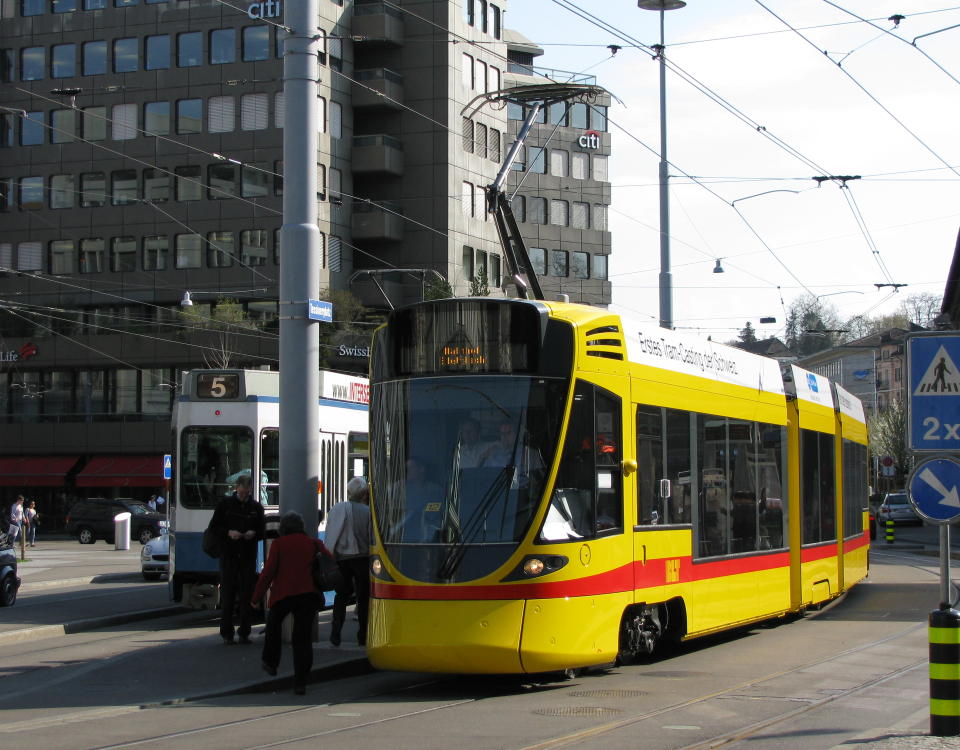 An article in Basler Zeitung (14th May) suggests that BVB is withdrawing from its part of the joint tango procurement with BLT. A Combino derivative seems to be the preferred option. BVB is seeking to acquire 30 trams by 2014.
Website comment: The article reports some rather tenuous arguments by BVB. An argument against the Tango is that BVB needs trams of different lengths (for example to be able to serve the Bruderholz lines). One wonders whether it was really not possible to obtain a shorter Tango, or indeed why this fact only occurred to BVB now. But it gets even stranger, with "Peak Oil" and an aging population being cited. If BVB is really so concerned about Peak Oil, one wonders why they were so desperate to get rid of the trolleybus. Arguments as to why the Tango should be more oil-hungry than a Siemens tram are not provided.
The original newpaper article can be read here (external link).
---
11.05.2010 - Bern: back to three trolleybus routes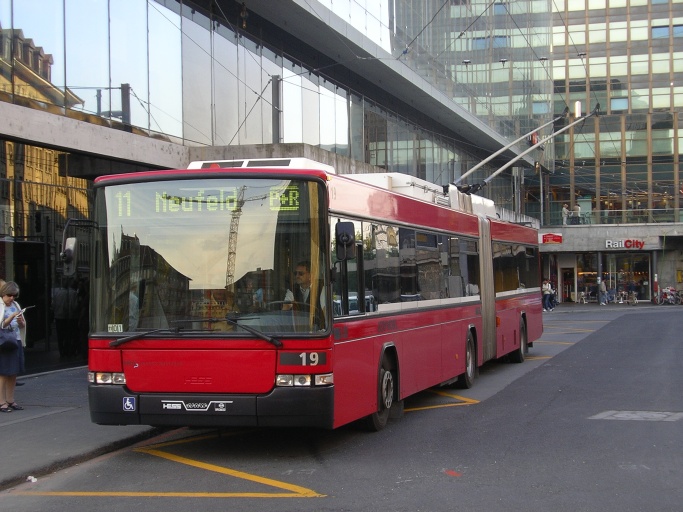 Bern is now back to three trolleybus routes, with trolleybuses having returned to route 11 on 2nd November (road works had led to the temporary dismantlement of the overhead line). Bern's three trolleybus routes are 11, 12 and 20. The tram line to Bümplitz (Tram Bern West) that replaces trolleybuses 13 and 14 (actually discontinued in 2006) will open this December. As it is feared that the additional trams will lead to congestion on Marktgasse, it is proposed to divert trolleybus route 12 via Bundesplatz. Rather than constructing overhead lines, it is proposed to use duo buses for this. Duo buses will be tested in Bern for this purpose.
See also: This website's trolleybus page.
---
10.05.2010 - Mirage farewell tour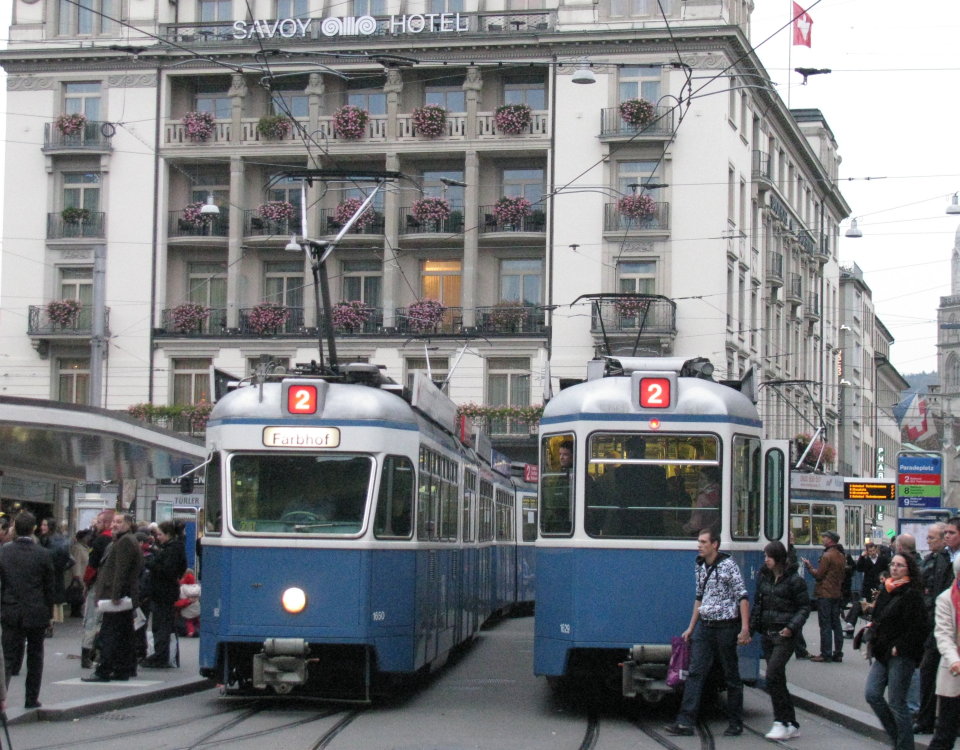 With the remaining Mirage turns becoming increasingly rare (currently down to three or four pairs on route 2 only), Tram Museum Zürich are running a farewell tour on Sunday 6th June. The tour starts at Burgwies depot (the tram museum) at 09:00 and finishes at circa 13:30 at Hauptbahnhof. The tour will offer plenty of opportunties for photographs, and include a run to the airport. Registration is not necessary. Costs are 20 Franks for adults (10 for children).
Website comment: This tour does probably not mark the final turn for this type. It is more likely that Mirage numbers will dwindle further as the last Cobras arrive, and that the last working some time this Summer will be rather inconspicuous. It is furthermore planned that a number of units will be retained as spares for some time and some of these could even return to traffic with the opening of the two tram extensions (end of this and next year). On the other hand, the increased flexibility with which trams are exchanged between routes decreases the overall need for spare units. The large scale Mirage revival that some enthusiasts are wishing for is not likely to happen.
---
06.05.2010 - Combino trial positive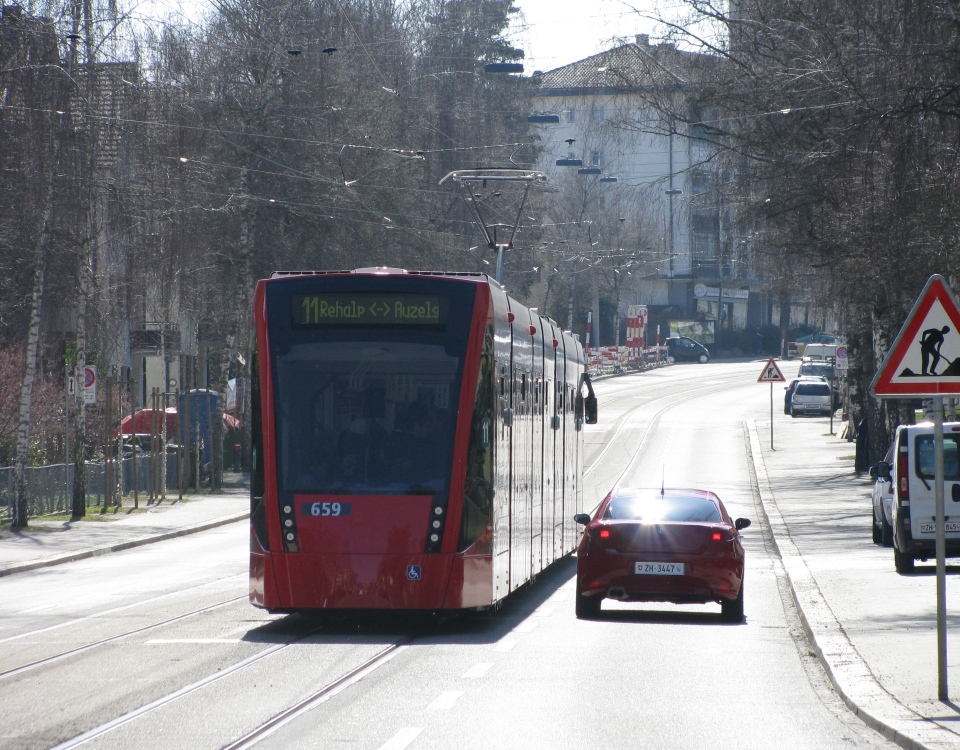 The Zürich trial of Bern Combino 659 in March and April left a positive impression. The tram ran 2906 km in 192 hours of operation. 4100 passengers returned the questionnaire. The accessibility of the tram, its low noise level and comfort. The seating arrangement proved less popular. The red colour was also criticised.
The trial will be followed up by an Augsburg Flexity tram later this year, takingh the total number of tested trams to three. The first was a Basel Tango, tested last year.
Tages Anzeiger
---
27.04.2010 - Schaffhausen orders Hess trolleybuses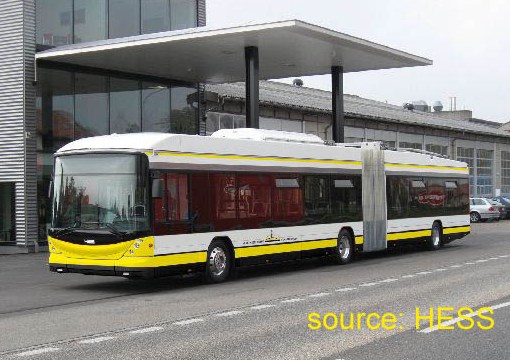 On 20th April, Schaffhausen confirmed that it is acquiring seven Swisstrolley3 trolleybuses from Hess AG for 10.5 million Franks. The new trolleybuses will replace the existing fleet, with delivery commencing in June 2011. This finally ends uncertainty over the small systems' future.
---
Cobra deliveries have reached 3085. Only three more trams of the type remain to be delivered.
---
12.04.2010 - Flexity demonstrator
Following on from the Tango and Combino demonstrations, the third demonstrator, a Bombardier Flexity from Augsburg, will visit Zürich in late May.
Tages Anzeiger
---
08.04.2010 - Official: Limmattalbahn is now a company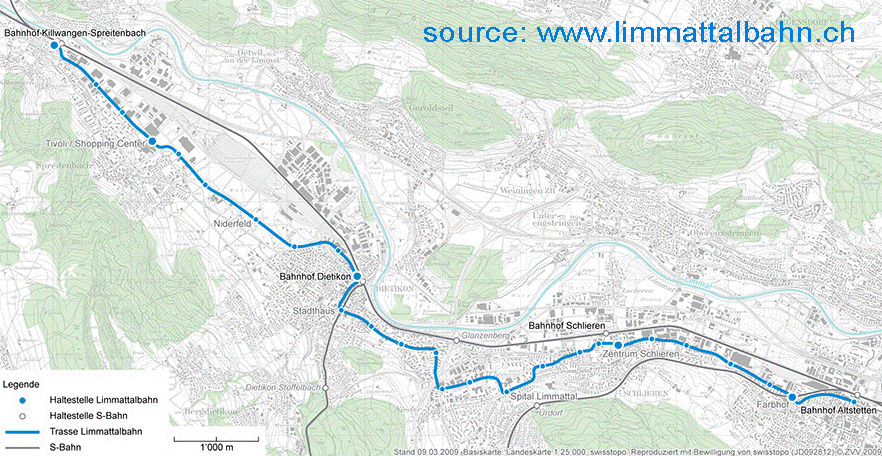 Limmattalbahn, the projecetd light rail link from Zürich Altstetten to Killwangen has taken another step forwards today with the legal founding of a company to plan and realise the line. Limmattalbahn AG is jointly owned by the Cantons of Zürich (75%) and Aargau (25%).
---
22.03.2010 - First Winterthur Swisstrolley delivered
Winterthur today took delivery of its first Hess Swisstrolley trolleybus. Mysteriously, the vehicle carries the number 150 which is already in use.
---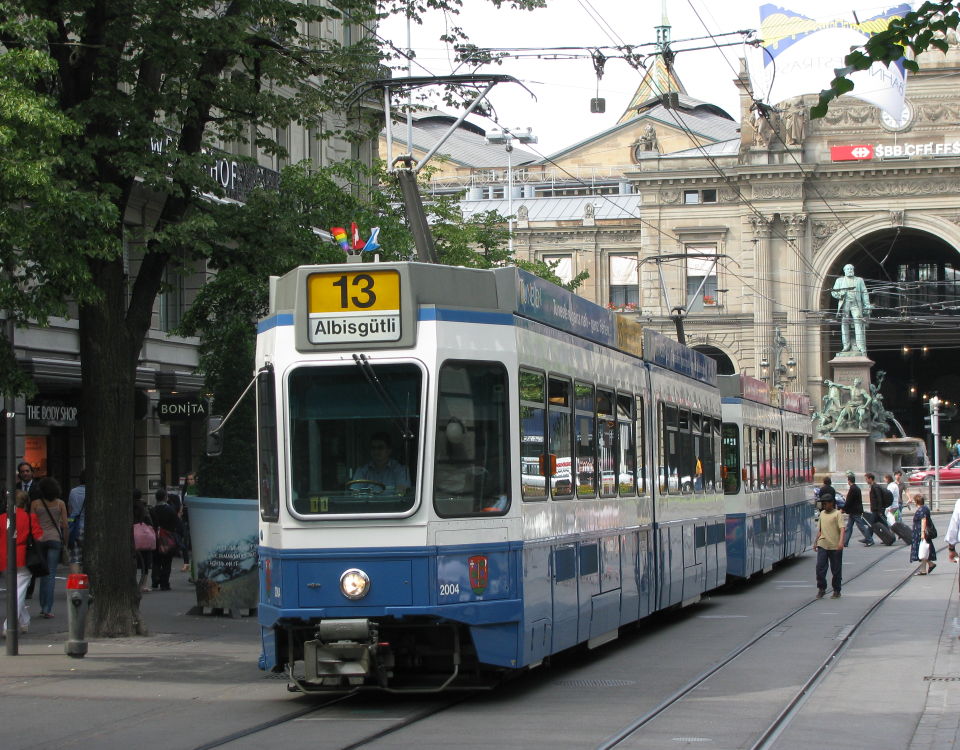 Several people have recently written to me asking for a list of named tramcars in Zürich. Quite by coincidence (or maybe not?), a discussion on bahnhofplatz.net has pulled together precisely this information.

Tram 2000 first series

2001 Höngg (renamed Street-Parade in 2001, name removed 2004)
2002 Seebach
2003 Unterstrass
2004 Höngg (transferred from 2001)
2005 Industriequartier (removed 2007?, now special livery tram)
2006 Fluntern
2007 Enge
2008 Friesenberg
2009 Triemli
2010 Wipkingen
2011 Örlikon
2012 Wiedikon
2021 Albisrieden
2030 Hirslanden
2034 Briefly and inofficially carried the name Basel in 1977
2037 Oberstrass
2038 Witikon
2039 Rennweg (transferred to 2043)
2040 Rechts der Limmat
2041 Hottingen
2042 Altstetten
2043 Rennweg (transferred from 2039, previously Nancy)
2044 Wollishofen
2045 Riesbach

Tram 2000 second series

2070 Aussersihl Hard
2080 Schwamendingen

Numbers in bold indicate trams still carrying their names.
With the exception of Basel, Nancy and Street Parade, all these names take after after districts, neighbourhoods or areas of Zürich. Some names appear to be matched to the numbers randomly while others echo the city district (Kreis) numbers. Besides the names, the corresponding arms are also carried.
---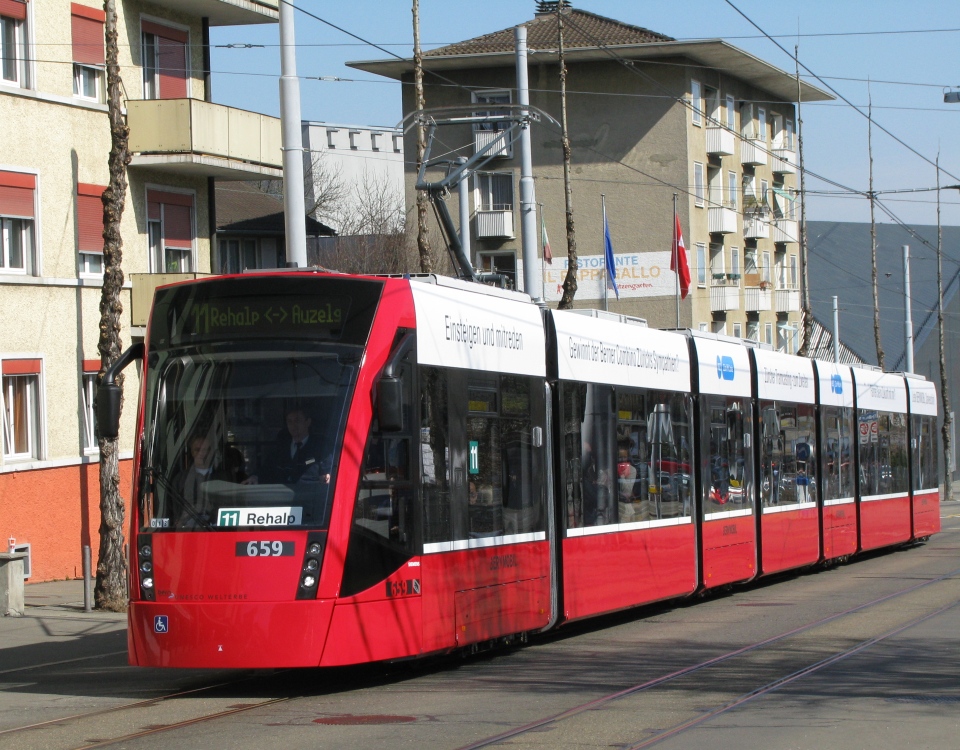 Today is the first day of the demonstartion of Bern Combino 659 in Zürich. Its demonstration will continue until 9th April (without weekends). An initial series of pictures is here.

---
18.03.2010 - Waiting for Combino
The local press have picked up positively on the approaching Combino trials. The NZZ has even warned that compared to the Tango which was demonstrated last year, the ride quality is inferior, but added that this is the price that must be payed for being 100% low floor and not really the Combino's fault. It is rare for newspapers to go into this level of technical detail and still get it right, so well done NZZ for not dumbing down! All articles speak of the order which is at stake being for 60 trams. This is most likely a misinterpreation, with 60 being the number of first batch Tram 2000 units to be replaced (2001-45 and 2301-15). With longer trams replacing coupled sets, but new lines also needing to be covered, the number of new units is likely to be a bit more than half that number.
---
16.03.2010 - Mirage accident at Helvetiaplatz
This morning at 05:30, Mirage 1667 hit a lorry at Helvetiaplatz and derailed. Fortunately, nobody suffered more than light injuries. The tram is a write-off. 1667 was one of the 20 IBIS-plus equipped units, set to be retained as a spare unit by VBZ.
---
10.03.2010 - More Mirages for Vinnitsa
Four Mirage trams left Zürich by train on Monday night (8th). A further four were on railway wagons, waiting to depart yesterday evening (9th). The latter four were 1610/27/52/8.
See also: Vinnitsa (3rd March).
---
08.03.2010 - Valparaíso earthquake
Not the transport news but the world news has recently turned to Chile and the aftermath of the earthquake that hit hat country on 27th February. Samuel Fuentes' trolleybus blog presents an interesting inside view on the event in Valparaiso and its effect on operations.
The blog entry (in Spanish) can be read at: trolleybusvalparaiso.blogspot.com/2010/03/terremoto-en-chile-valparaiso-sector.html.
See also: The world's oldest active articulated trolleybus (21st Oct 2009)
---
08.03.2010 - Combino to debut on 19th
The Combino demonstrator's (Bern 659) first day in service is likely to be Friday 19th March.
---
05.03.2010 - The first Combino in Zürich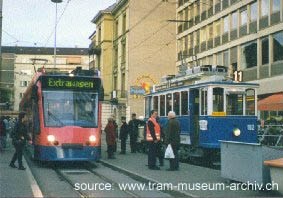 With a Combino tram demonstrator having now arrived in Zürich and soon to debut in service, it is appropriate to recall that this isn't the first Combino to visit Zürich. In September 1998 the Combino prototype was demonstrated in the city for the UITP conference, and ran in passenger service between Hauptbahnhof and Hallenstadion. At the same time, a Saarbrücken tram-train also visited the city and was operated on the Seetal railway as well as providing a demonstration run from Oerlikon to Zurzach.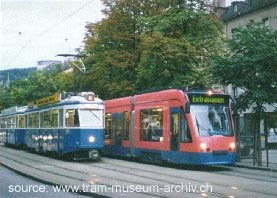 The prototype (first presented in 1996) also visited many other cities, running on both meter and standard gauge trucks. It was finally retired in circa 2001 and came to Potsdam where it was apparently originally intended as a modern museum car but was finally overhauled and entered service as number 400 in 2009. The car is relevant to Potsdam as this was the first city to order the type. 48 Combinos were ordered in 1996 for delivery over a longer period. With only 16 of these delivered (between 1998 and 2001), Potsdam cancelled its order in view of the uncertainties caused by the March 2004 withdrawal of Combinos across the world. Potsdam 401-16 are five section vehicles (with 12 wheels). The prototype (number 400) is the only Combino in the world to have 4 sections (10 wheels). This includes one unusual end section with a single "axle".
Potsdam Combino information: www.tram2000.de/html/combino1.html
1998 UITP report from Regenbogen (VBZ staff magazine) from Tram Museum Zürich archive: www.tram-museum-archiv.ch/Seiten_Rueckspi/uitp-D.shtml (also source of above pictures)
See also this website's Combino gallery (unfortunately without the prototype)
---
The Combino demonstrator (Bern 659) is scheduled to arrive in Zürich tomorrow (5th March). It will be presented to the press on 16th March and then operate on route 11 until 12 April.
---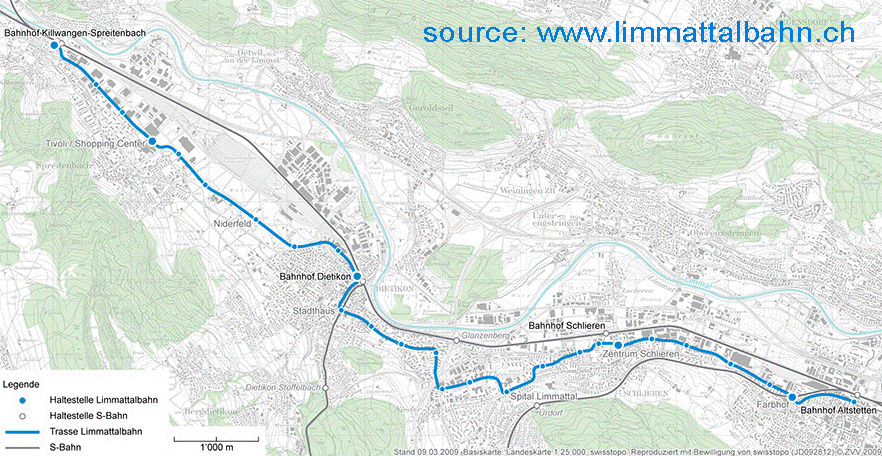 The decison on the mode of the Limmattalbahn corridor has been taken: It will be realised as a metre gauge light rail system using bi-directional rolling stock. This decison ends speculations over guided bus alternatives. The choice of bi-directional units also eases a phased realisation as it simplifies the construction of temporary terminii.
Limmattalbahn is a project to link Zürich Altstetten to Killwangen. It will connect with both Zürich's tram system and the Bremgarten-Dietikon narrow gauge railway (BDWM).
Prellbock (1/10)
---
03.03.2010 - Final end of the line for La Ficelle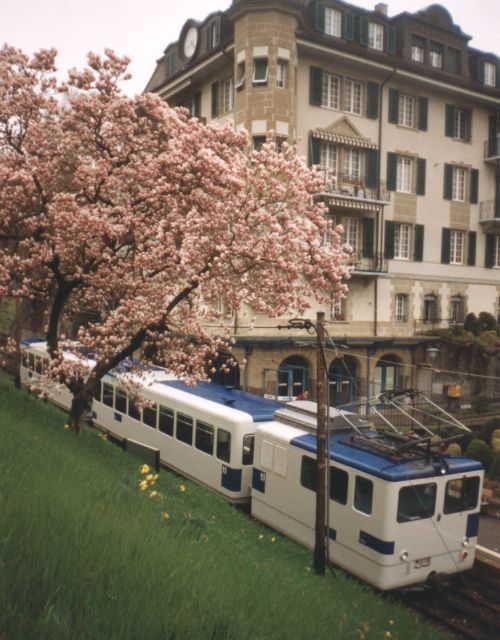 Following the 2006 closure of La Ficelle for conversion to Lausanne's new rubber-tyred metro, there were hopes that the vehicles of this cog railway could see further use elsewhere. Initially there were plans to deploy them on a new line in the French resort of Villard de Lans. When this project collapsed, there remained some hope that some vehicles could at least survive in the form of refreshment booths in Lausanne; but even this less ambitious idea came to naught. The three locomotives and one railcar were scrapped in October 2009, followed by the five trailers and the second railcar (111) in January.
Prellbock (1/10)
---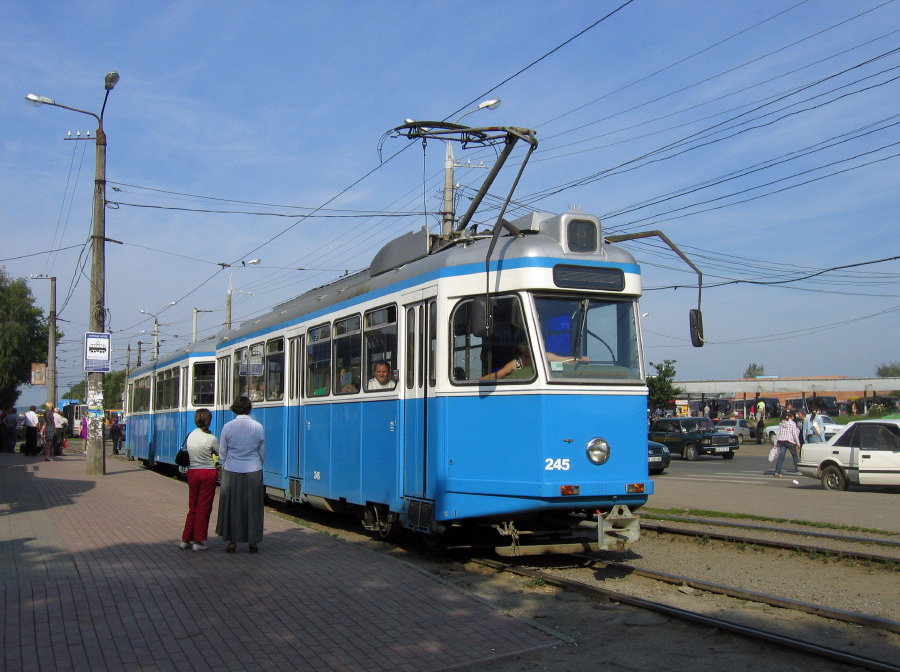 The best report on the Vinnitsa tramway that I have read so far appears in the 2/2010 edition of Strassenbahn Magazin. Vinnitsa is of interest to fans of Zürich trams due to the second-hand Karpfen and Mirage-type trams in use there. The article takes a comprehensive look at the system's history, and also for the first time (for me anyway) presents a system map. The system has six tram routes. Karpfen are used on routes 4 and 5 and Mirage on routes 1, 4 and 5. Conductors travel on all vehicles, which sometimes limits the ability to run coupled sets. So far, double Mirage sets have not been operated as such long sets are not yet passed for service.
Strassenbahn Magazin (2/1010)
---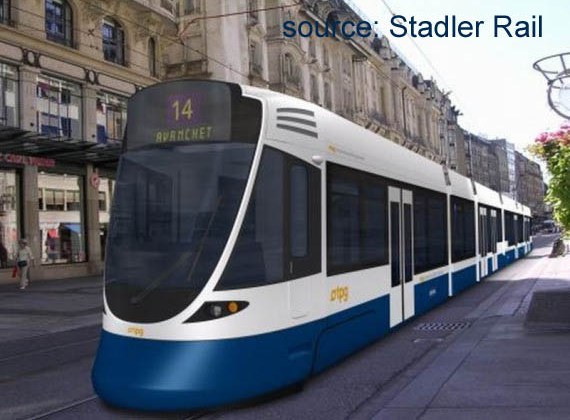 It's blue and white, but no, it's not Zürich's future Tango tram! In January, TPG (Genève) ordered 32 Tangos from Stadler for 154 million Franks. The new trams will be 44m long and enter service from late 2011. The decison comes as a surprse from an operator that has obtained its new trams exclusively from Bombardier (and predecessor companies) for more than 50 years.
Schweizer Eisenbahn Revue (3/2010)

---
02.03.2010 - Combino to be demonstrated in Zürich
After the yellow demonstrator, a red demonstrator.
The Siemens Combino tram to be demonstrated in Zürich is to be Bern 659, which will visit Zürich on it's way to its new home later this month. It will operate on route 11.
---
Further news items concerning Bern:
Further to the news on Combino 659 visiting Zürich, sister unit 657 made the news when the low loader carrying it to Bern lost its footing on an icy between Lörrach and Rheinfelden on 4th January. The lorry sank into the soft verge of the road and had to be recused by two cranes, blocking the A98 during the morning rush hour. It is to avoid such situations that Zürich's Cobras are delivered by rail.
Schweizer Eisenbahn Revue (3/2010)
The first of RBS's Tram 2000 units to be stretched with a low-floor section is 89. It is currently being tested. The nine trams of this type are being extended by 8m to 40m (making them Be4/10) for 10 million Franks. Besides increasing capacity, this rebuild is providing low flow accomodation on these otherwise high-floor vehicles.
Prellbock (1/10)
---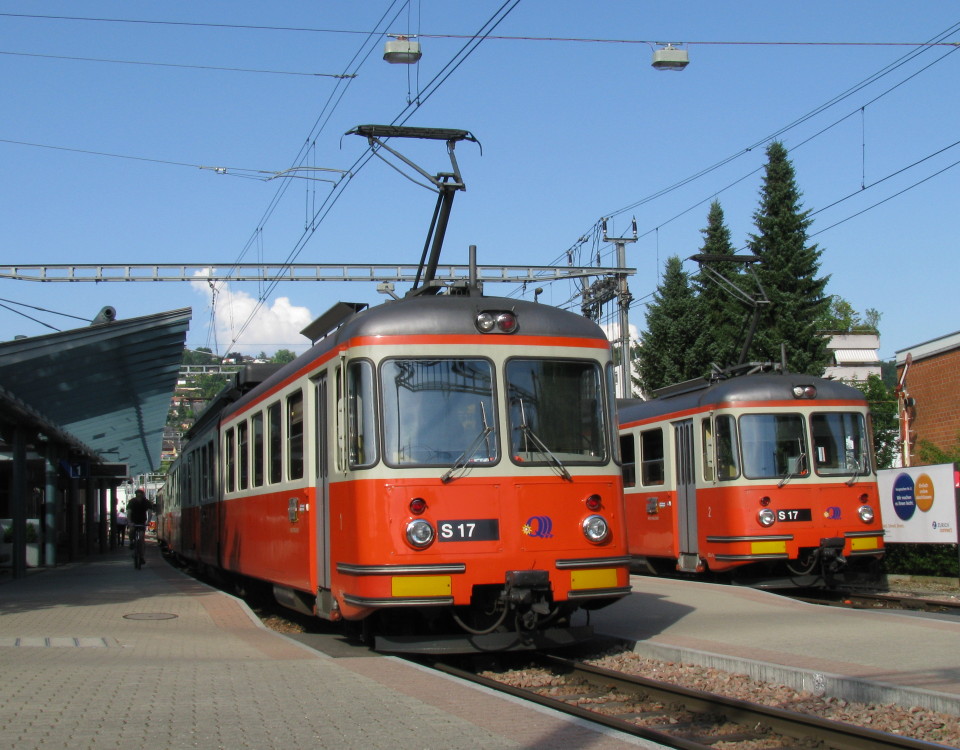 The first of BDWM's new Stadler Diamant-type Be4/8 sets (number 5001) was delivered in December. The new unit was unloaded from its standard gauge transporter wagon at Bremgarten West. It is currently undergoing trials and is expected to be in service in April. A second unit followed in January. Delivery of the remaining 12 units will commence in June and be completed by mid 2011.
The Diamant order is worth 84 million Franks and will replace the entire present passenger fleet. Be4/8 21-25 are being sold to WSB. BDe8/8 1-9 are to be scrapped – with the exception of one unit, which is to be preserved locally. An organisation has been formed with the goal of looking after this unit, and is currently seeking members and supporters.
Information on this organisation, as well as pictures of the new trains, can be found on the BDWM website.
BDWM has announced an open day for 29th May, featuring a naming ceremony for the two new units.
---
23.02.2010 - Basel: BVB looking for alternative to Tango?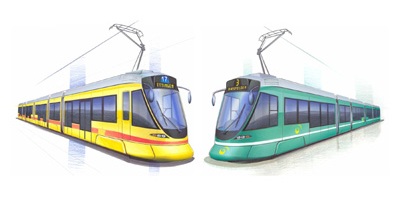 The Tango trams being acquired by Basel were initially announced as a joint order of the two tram companies BLT and BVB, with the procurement being led by BLT. BLT has ordered the four prototypes (May 2006), and follwing their satisfactory performance, 15 further units (December 2009). Initial plans had intended that this would be followed by further orders of 21 for BLT and 20 for BVB. Whereas BLT appears to be satisfied with the type, BVB doesn't seem so sure. According to bahnhofplatz.net, BVB is to perform further studies to define its future trams needs.
---
23.02.2010 - Cobra and Mirage update
Cobra deliveries have reached number 3082. Meanwhile,it appears that further withdrawn Mirage are being prepared for their journey to Vinnitsa.
---
23.02.2010 - Zürich trolleybus in Lausanne
According to a report on Trolleymotion, VBZ's Lightram3, number 72 is currently in Lausanne for demonstration purposes (but not in public service). TL is considering acquiring such vehicles to replace trolleybus + trailer combinations by 2015.
---
02.02.2010 - Schaffhausen: Trolleybus supplier sought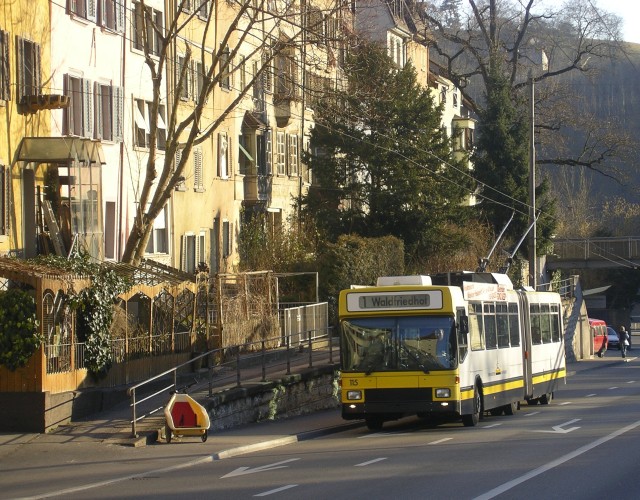 Schaffhausen is calling for tenders for seven trolleybuses to replace its current fleet. Demonstration trials will be held in March and the decison publicised on 16th April.
---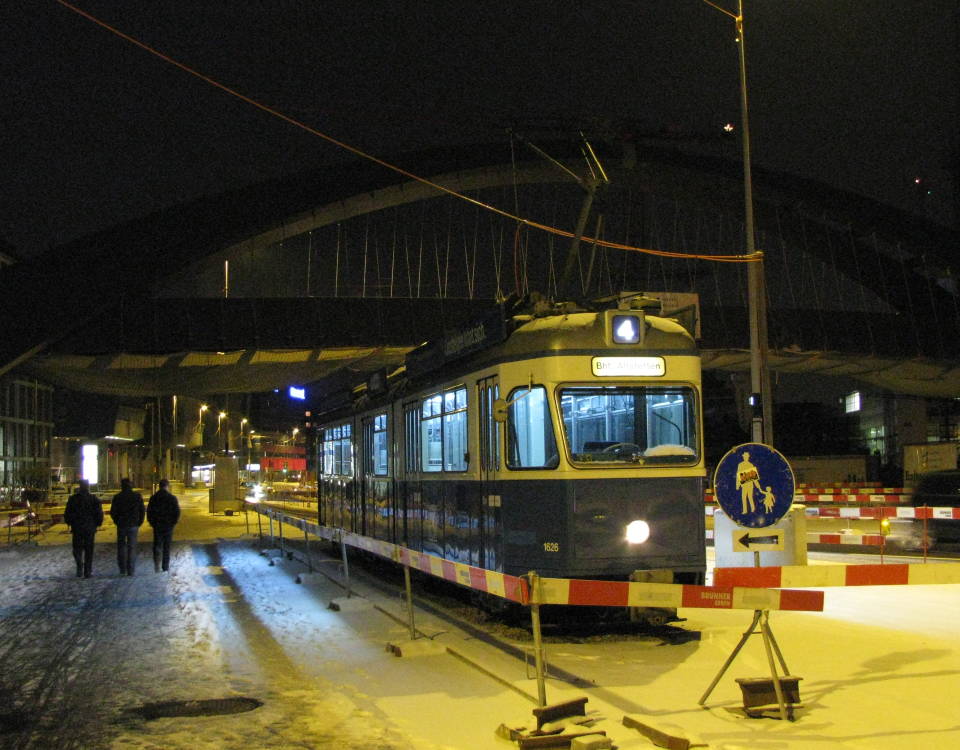 The newslog previously reported that 1626 was being converted to an exhibition tram for Tram Zürich West. This was not quite accurate as the tram does not house any exhibition. It has, however, been set up on a short section of completed track at Duttweilerbrücke, in front of the archway-shaped pedestrian overpass that will no doubt become a landmark of this neighbourhood. 1626 acts as a visual ambassador for the coming tram extension and hopefully creates some understanding for the disruptions caused by the construction work. Let's hope the vandals respect the tram!
A short series of pictures of this tram in the snow, also featuring another Mirage at nearby Harplatz, can be found here.
---
27.01.2010 - Sankt Gallen: Trolleybuses to Sarajevo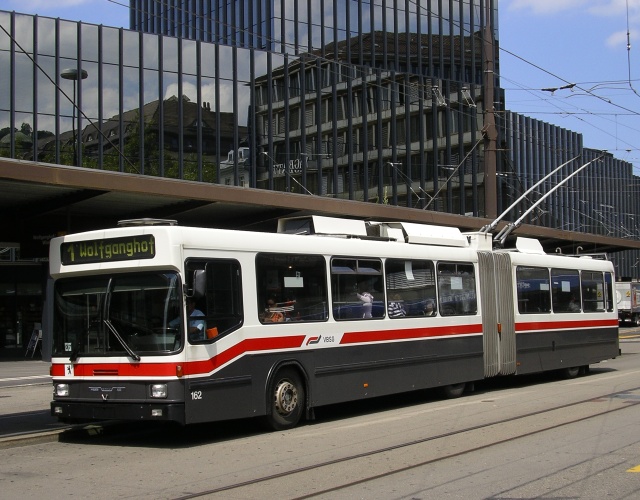 With Sankt Gallen's NAW trolleybuses 151-154 and 156-168 (*) having been been displaced by new Hess trolleybuses, Sarajevo has been attempting to obtain the NAWs. A deal was signed but then terminated in circa April as Sarajevo was unable to pay. Since then, a new director has taken over at Sarajevo who managed to revive the deal. So far the cash has been raised to buy 11 trolleybuses (the first five of which left Sankt Gallen by rail today). It is still though that all 17 trolleybuses could go to the Bosnian capital.
bahnhofplatz.net and stgallerbus.de.tl
*) 155 was converted to a double articulated in 2005 and will remain in Sankt Gallen for the time being.
---
27.01.2010 - Winterthur: New trolleybus in May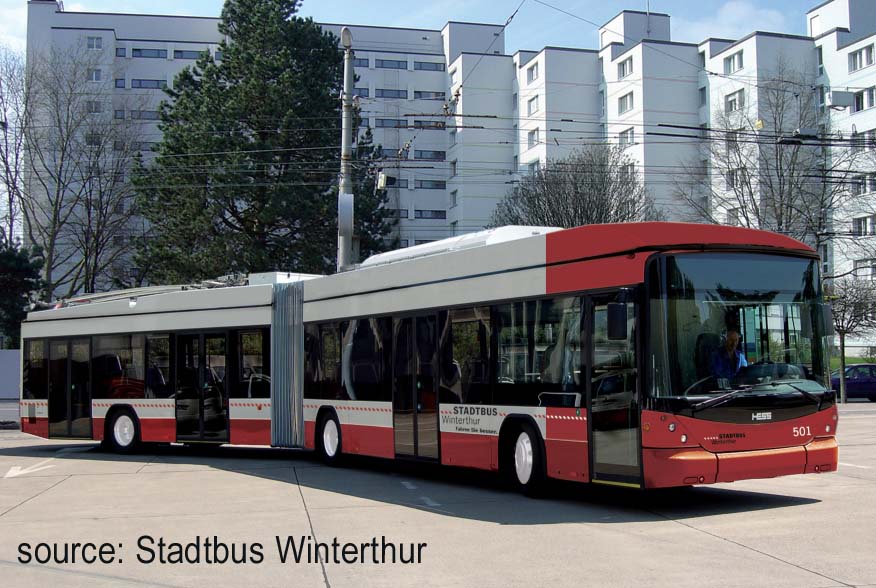 A report on trolleymotion informs that the first Swisstrolley for Winterthur will be delivered in May, with the series delivery from July to May 2011. In contrast to the Swisstrolley3 of other cities, only the third axle will be powered (rather than axles 2 and 3). These 21 trolleybuses were ordered in February 2009 as a replacement for the Mercedes/ABB GTZ.
See also this website's trolleybus page.
---
Zürich is pressing ahead with its plans to extend tram route 8 from its present Harplatz terminus to join the Tram Zürich West line (currently under construction) in a junction at Schiffbau. The trams would run on the outer lanes of the existing Hardbrücke road bridge, serve Hardbrücke railway station, and return to ground level using the West side approach ramp at Schiffbau. This would entail crossing the centre lanes on the busy road viaduct at Hardbrücke station. The extension is phase two of VBZ's Vision 2025, and would help relieve pressure on the centre-area tram network by interconnecting the neighbourhoods north and south of the railway lines. With this link in place, route 8 will run through to Werdhözli (route 4 will switch to Bahnhof Altstetten).
The link is estimated to cost 89.3 million Franks. Work could begin in 2015 for an opening in 2017.
---
22.01.2010 - Mirage: The End is Nigh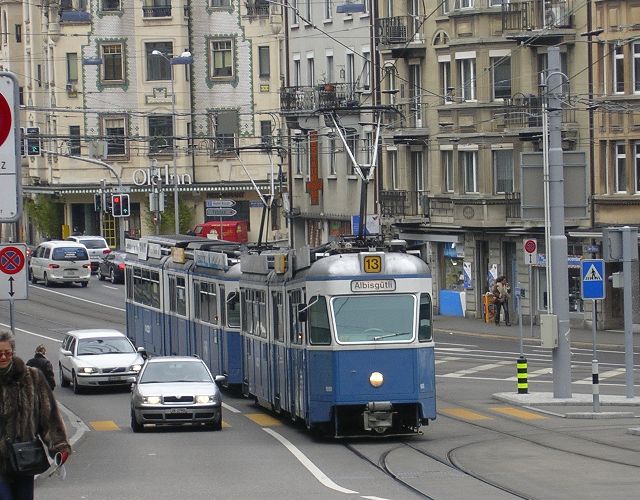 The early days of the new year are seeing the scrapping of the six remaining "Blinde Kühe" (or cabless mirage units of the 1691-1726 series). Confirmed scrapped are 1710, 1712 (all white livery, formerly Coca Cola ad) and 1725. The other three are 1711, 1723 and 1724. All have been out of use for several months. Their final departure will mark the end of this sub-type in Zürich, with none being preserved. Three do, however, survive in Vinnitsa (ex 1715, 1717 and 1718). Time is also running out for the other Mirages. They have practically vanished from route 13 and are getting rarer on route 2. They still have route 8 to themselves on most days but here too heir days are numbered. VBZ would like to see the type vanish by Summer, with the final Cobra deliveries making them dispensable. Some units will be kept for emergencies and a number of these will probably return to regular use with tram line extensions to be opened in December 2010 (Glattalbahn phase three) and December 2011 (Tram Zürich West).
---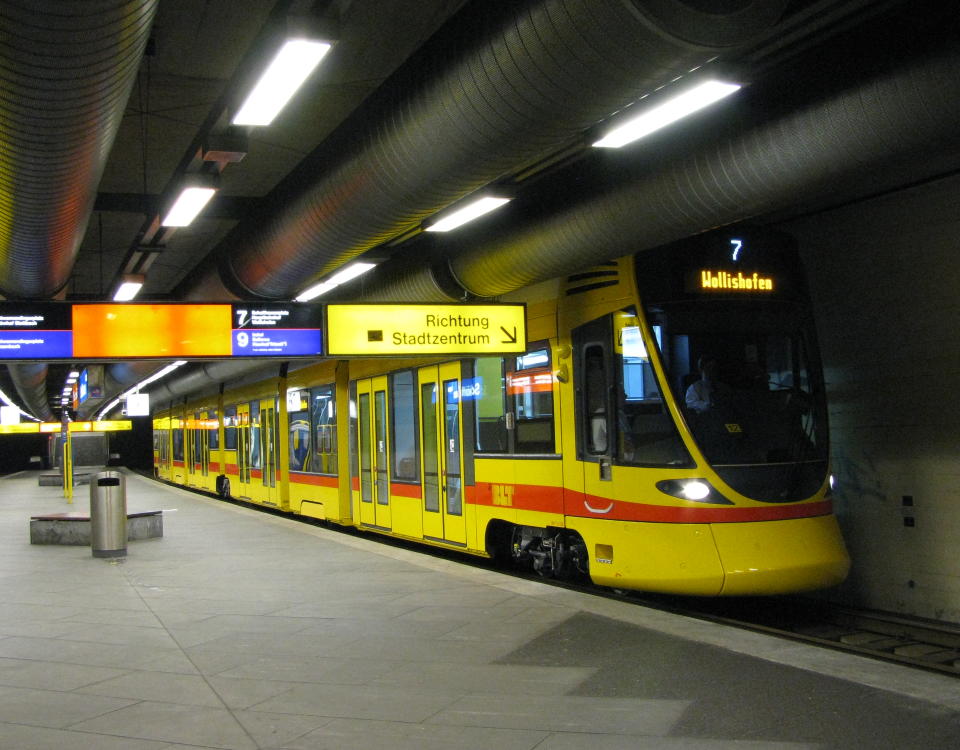 Today's online edition of the Tages Anzeiger newspaper reports that following last year's demonstration of a Stadler Tango in Zürich, other manufacturers are lining up to showcase their products. In the case of Siemens, one of Bern's new Combinos trams will stop off in Zürich en route to its new home. Bombardier, who are referred to as "a Canadian manufacturer" in the article, with no reference to the Cobra, will demonstrate a Flexity from a yet to be announced city (maybe Geneva? — The tram in the article's photograph is from Brussels, which is less likely).
Tages Anzeiger, article here
---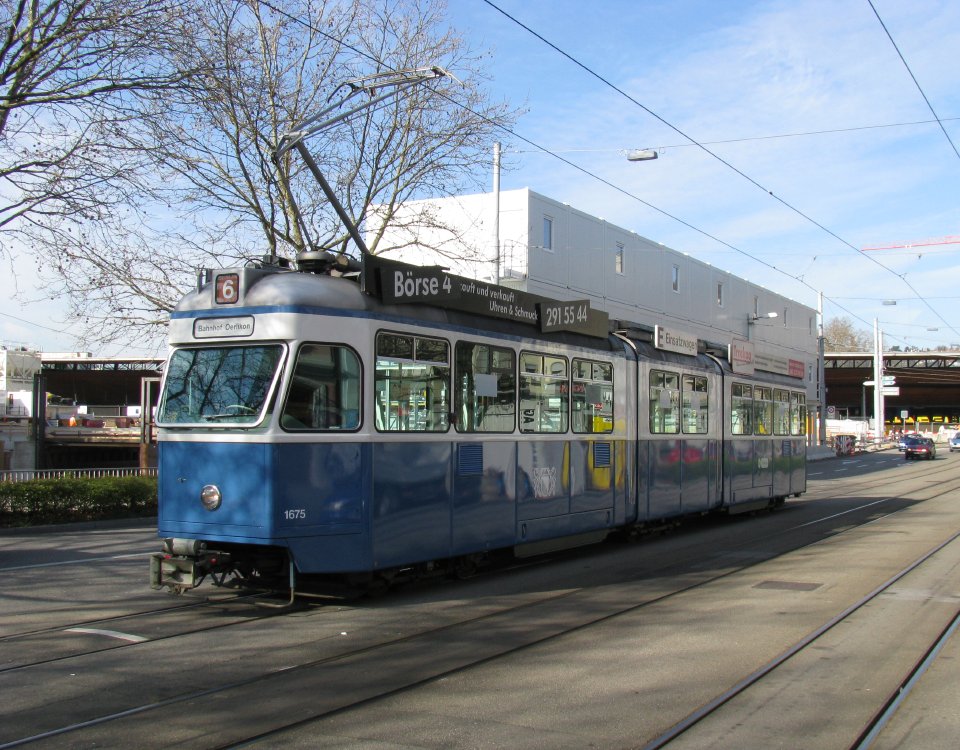 The latest issue of Tram magazine (issue 100/11.2009-01.2010), confirms the scrapping of the accident-damaged Tram 2000 number 2060 (scrapped in July 2009), the first tram of its type to be scrapped. Concerning Mirage trams, 1675 which was fitted with matrix displays in 2008, is reported as having this change reverted. Folowing Mirages were scrapped in 2009: 1607/21/41/4-5. 1686 has been withdrawn following an accident. The following cars are reported in store or spare: 1606/8-9/10-1/3/6/8/23-8/30-38/40/2/86/710-2/23-5 (some of these have since left for Vinnitsa). Still in service on routes 2, 8 and 13 are: 1629/46/9-53/5-9/60/2-9/72-82/4-5/8.
In Luzern, there are plans to build a new trolleybus line to Littau Gasshof to replace motor bus route 12. A realisation is considered possible within two years.
The days of Be8/8 trams with FFA B4 (standard tram) trailers is coming to an end in Bern. One set will be retained for the tram museum, with the other Be8/8s joining their sister units in Iasi (Romania). The trailers will be scrapped.
The first of Neuchâtel's new Hess trolleybuses has been delivered.
Prellbock magazine (issue 6/09) reports on the visit of Basel (BLT) Tango 154 to Bern. This tram was demonstrated from 11-14th November for the benefit of visitors of the Suissetraffic fair. This is the same tango that visited Zürich in April. The magazine also has an interesting article on Stadler's new Allegra units for Rhaetische Bahn, and on the delivery of the final NeXT units for RBS (RABe4/12 numbers 21-26).
---
The latest addition to the Cobra fleet is number 3080. This tram is in VBZ's blue and white livery, so ending the line of white VBG liveried ones (3062-3079).
---
14.01.2010 - Mirage as exhibition tram
Reports on bahnhofplatz.net suggest that the withdrawn Mirage tram 1626 is being converted to an exhibition tram for static display to inform about the Tram Zürich West project. The new tram line which is currently under construction will connect Escher Wyss Platz to Bahnhof Altstetten (North side) and will open in December 2011.
This is not the first exhibition tram to be used to inform on this project. Between 2005 and 2007, standard trailer 768 stood in front of Schiffbau. I am not sure where 1626 will be located.
The previous exhibition tram, 768, has been sold to the transport author, bus preservationist and tour organiser, Jürg Biegger. His website is www.widi.ch/hnf/, and includes information on his preserved buses, his books, and the tours he is operating. The tram can be seen on a photo here.
---
Last year, this website reported on plans to return trams to Biel. The project now has its own website: www.regiotram.ch.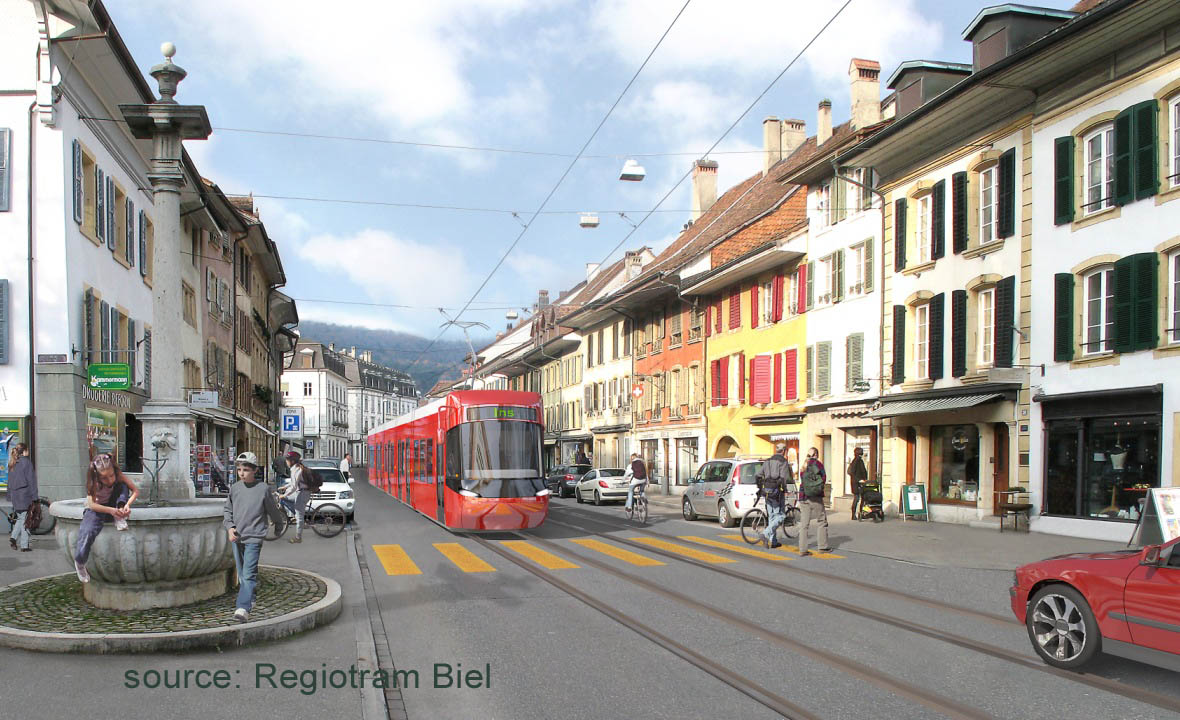 It is interesting to observe that the trams used on the artist's impressions are Zürich Cobras, looking very smart indeed in their ultra-glossy dark red livery, no doubt inspired by Bern.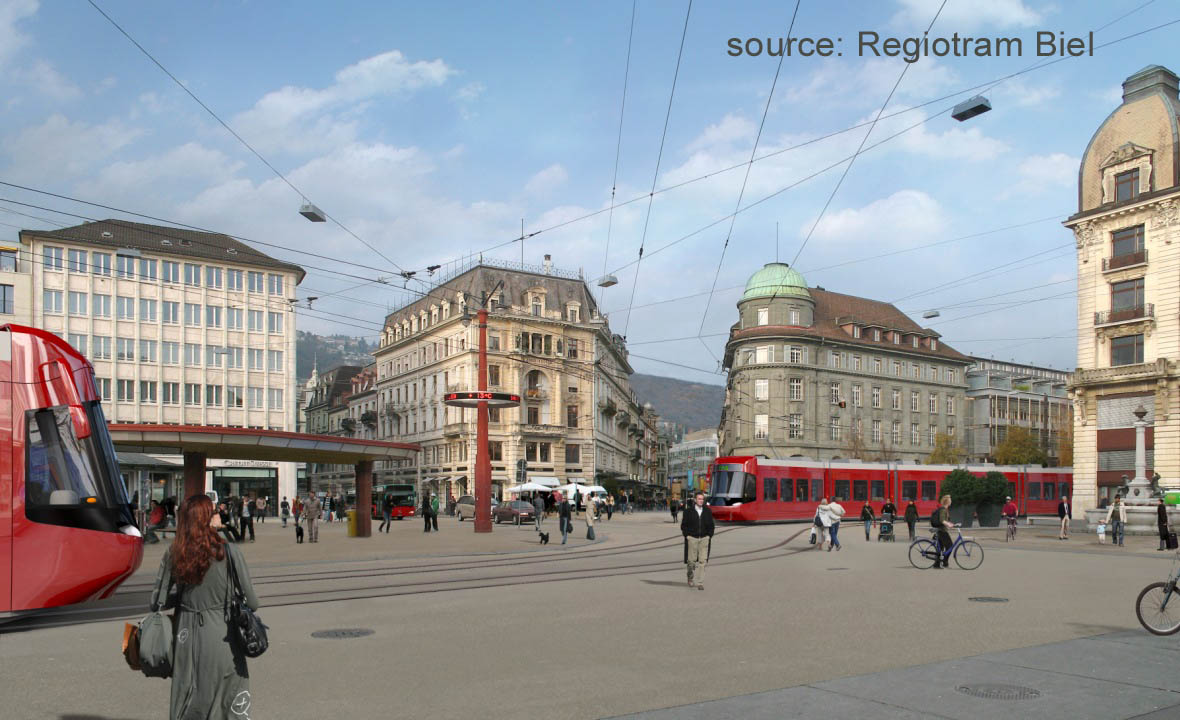 Of course it is highly unlikely for a number of reasons that Cobras will ever really run in Biel. However, the artist's choice does underline that this is still considered a modern type despite going back more than 10 years.

---
A belated happy new to all readers!
All 2009 news items (92 in total) have been moved to: www.proaktiva.ch/tram/zurich/newslog/2009.html#latest.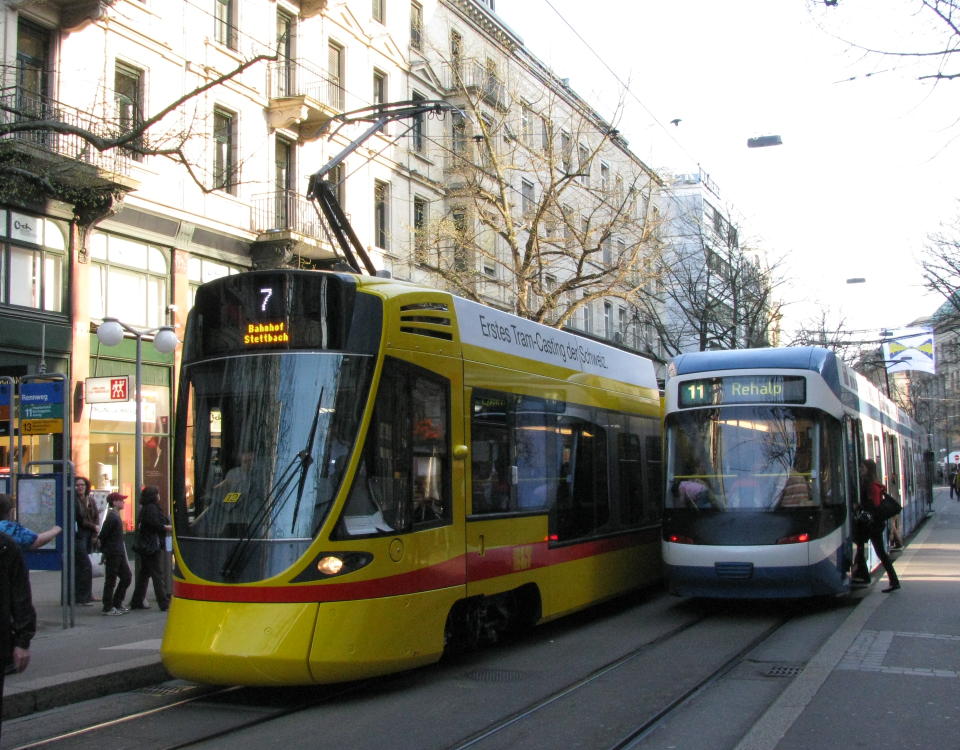 Future tram generation
One of the highlights of 2009 was the visit of Basel (BLT) Tango tram 154 in April. This was the last of the four Basel prototypes and actually visited Zürich before coming to Basel! The event was well reported in the local press and led to many positive comments. The tram's positive performance does not however preempt any decison, as the final order will be subject to a tendering process which will be started this year. Even so, this combined with various negative reports on noise, vibrations and wear and tear on Cobras, could be interpreted as subtle pressure on Alstom and Bombardier to resolve those issues.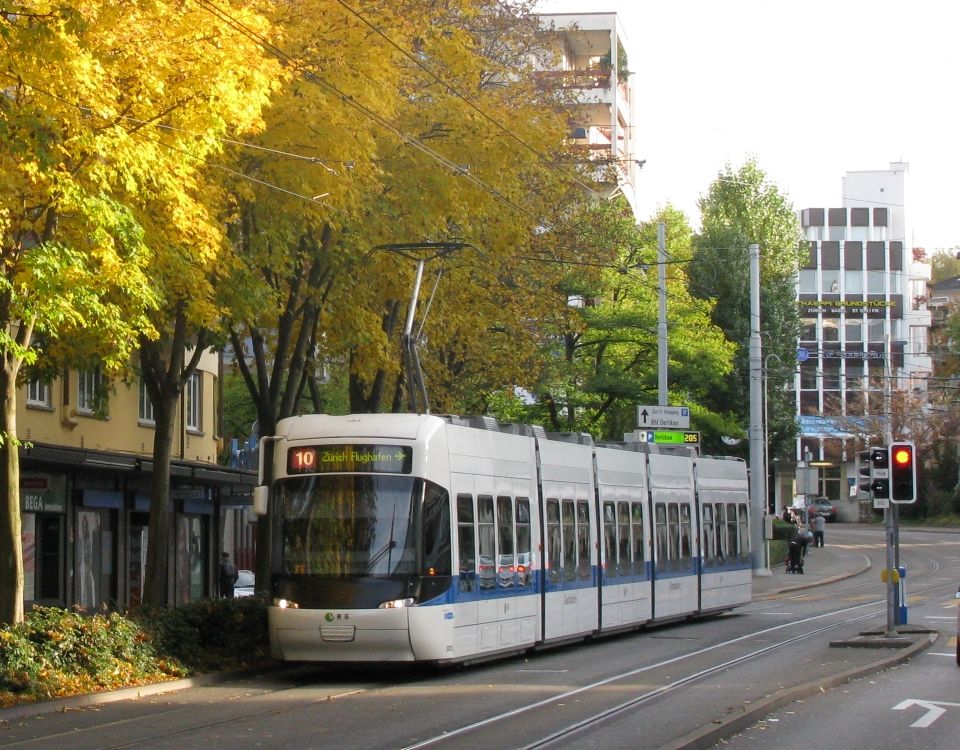 Cobra
Meanwhile, Cobra deliveries are continuing. Units delivered in 2009 are from (circa) 3067 to 3079 plus 3001 to 3005. 3074 was the last unit of the initial order and delivery of this was followed by nos. 3001-5 as replacements/rebuilds of the prototypes with the same numbers. Delivery then began of the option, starting with number 3075. Numbering will ultimately reach 3088. With the exception of 3001-5, all Cobras delivered in 2009 are in VBG livery (white with a blue waist band) for use on route 10 and the future route 12 (to be opened in December 2010). Trams in this livery have, however, already interloped onto other routes.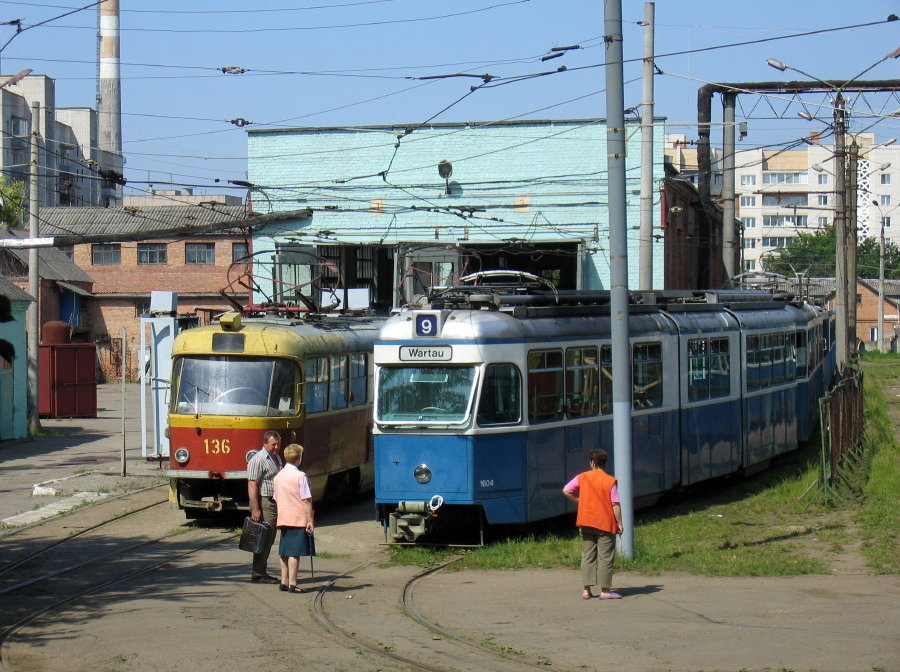 Mirage
Ongoing Cobra deliveries have led to a rapid shrinking of the Mirage fleet (I intend to post an up to date list of remaining units at a later date). Some withdrawn units have found a new home in Vinnitsa (Ukraine). However, even with all Cobra deliveries complete, there will be insufficient units available to make all Mirages redundant (VBZ having let its option for further Cobras lapse) and it seems that about 15 Mirages may live to see further years of service in Zürich. For this purpose selected units have been fitted with new IBIS equipment (for tracking and signalling). For all other Mirage trams, 2010 will doubtlessly be their final year in service in Zürich.

Passenger information displays
Another marked change during 2009 has been the installation of passenger information displays, both at stops and on vehicles. Those on the vehicles do not only assure that information displayed is up-to-date at all times (including informing of late running etc of connecting services) but replaces the line-specific fixed displays so permitting the vehicles to be depoyed more flexibly on different routes.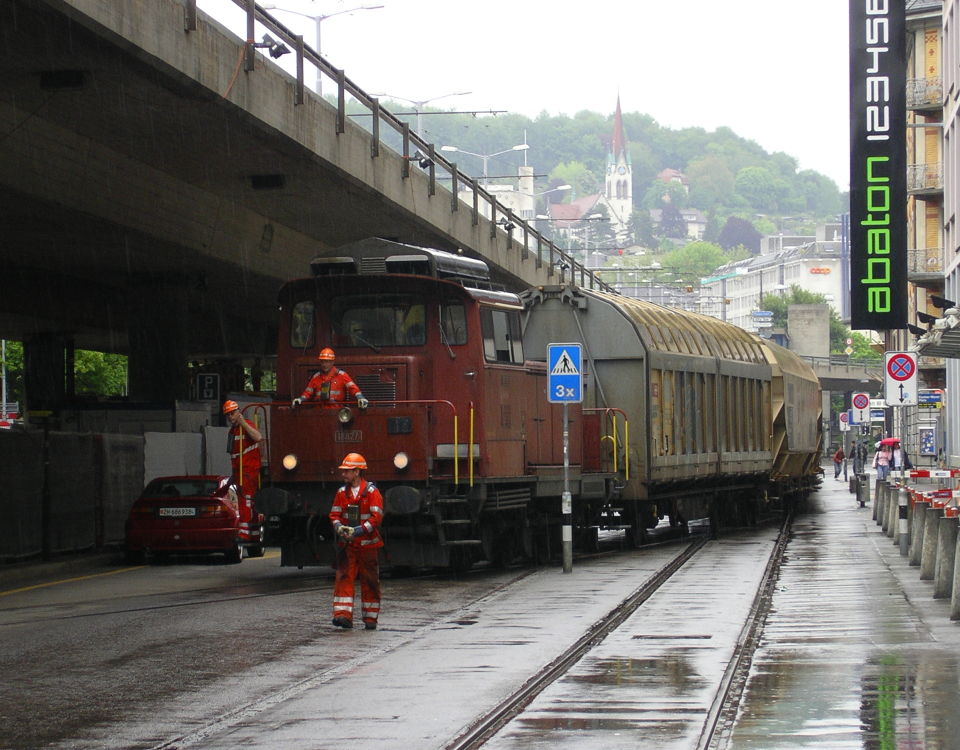 New lines
2009 has also seen work progress on the Tram Zürich West line. The street running railway goods siding at Hardbrücke had to be diverted for this purpose. The new tram line will open in 2011. The third phase of Glattalbahn is also approaching completion, for an opening at the end of 2010. Looking further into the future, planning on Limmattalbahn, the light rail link from Altstetten via Schlieren and Dietikon to Killwangen, is making good progress. 2009 also saw a major track layout remodelling and replacement exercise in the Stadelhofen area.

See also:
2006 news
2007 news
2008 news.

---
next year | previous year | current year | other years | search.
return to Zürich tram home page.