Tram expansion strategy unveiled
filed on: 19.07.2006 (19th Jul 2006)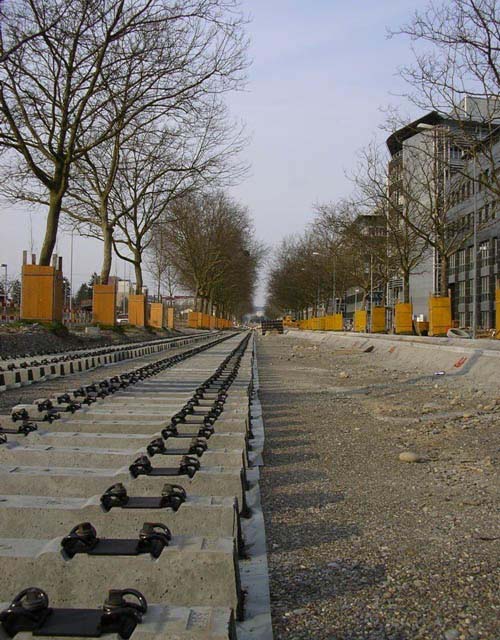 Yesterday, the new strategy document for the future expansion of Zürich's tram network was presented. It includes some deviations from previous plans and introduces some exciting new concepts, including tangential routes (connecting neighbourhoods without serving the central area). The plan underlines the importance of continuing to develop an attractive public transport system to sustainably meet future growth and development of the city and its suburbs.
Phase 1 — 2010: Completion of Tram Zürich West. 3km of new line between Escher-Wyss-Platz and Bhf. Altstetten. Route 4 will then be diverted from Escher-Wyss-Platz - Werdhölzli to Escher-Wyss-Platz - Bhf. Altstetten. The Werdhölzli line will instead be served by extending route 10 from Hauptbahnhof via Escher-Wyss-Platz (this route will in 2008 have been extended at its other end via the second phase of Stadtbahn Glattal to the airport).
Phase 2 — 2015: Completion of a 700m connecting line using Hardbrücke between Schiffbau and Hardplatz. This will be used to extend route 8 from Hardplatz via Schiffbau to Werdhölzli. This will permit route 10 to be cut back again to Hauptbahnhof as traffic currently using the axis Escher-Wyss-Platz - Hauptbahnhof is siphoned off by the extended route 8. At the same time the other end of this route will be diverted from Klusplatz - Kunsthaus - Bellevue to Klusplatz - Kreuzplatz - Bellevue. This will permit the cutting back of route 15 to Bucheggplatz - Bhf. Stadelhofen.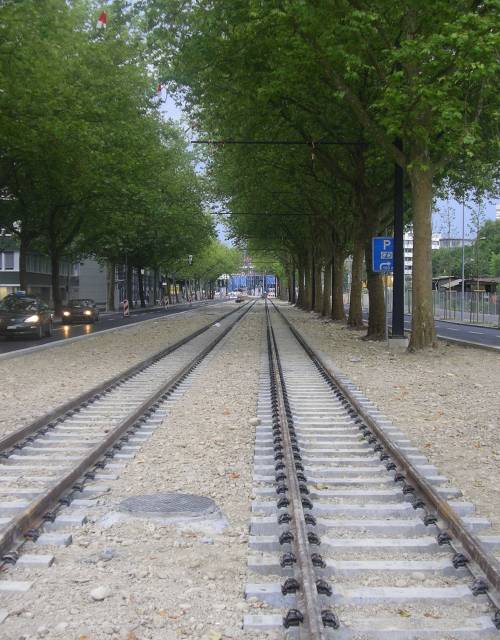 Phase 3 — 2020: New lines: Albisriederplatz - Hardplatz (600m), Escher-Wyss-Platz - Bucheggplatz (1.2km), Bucheggplatz - Milchbuck (800m), Farbhof - Hermetschloo (700m). These new lines will enable the following route changes: New route 17 Seebach - Bhf. Oerlikon - Bucheggplatz - Hardbrücke - Letzigrund. New route 18 Hirzenbach - Bucheggplatz - Hardbrücke - Albisriederplatz - Hermetschloo. Route 2 to be extended from Farbhof to Hermetschloo. Route 9 to be diverted from Milchbuck - Hirzenbach to Milchbuck - Airport. Route 10 to be diverted from Milchbuck - Airport to Milchbuck - Bucheggplatz. Discontinuation of (trolley)bus 72 between Milchbuck and Albisriederplatz and (trolley)bus 33 between Escher-Wyss-Platz and Schmiede Wiedikon. The remaining section of route 33 will be joined with bus route 67 (to Dunklehölzli). Route 72 will run Triemli - Albisriederplatz - Schmiede Wiedikon.
Phase 4 — 2025: New lines: Kalkbreite - Bhf. Wiedikon (700m), Schmiede Wiedikon - Laubegg (1.5km), Upgrade of Bahnhofbrücke to quadruple track. This will permit the following route changes: Extension of route 17 from Albisriederplatz via Binz to Laubegg SZU and then via Enge - Bellevue to Kirche Fluntern (replacing route 5). Extension of Forchbahn via Limmatquai to Hauptbahnhof. Discontinuation of route 15. Cutting back route 31 from Hegibachplatz to Hauptbahnhof.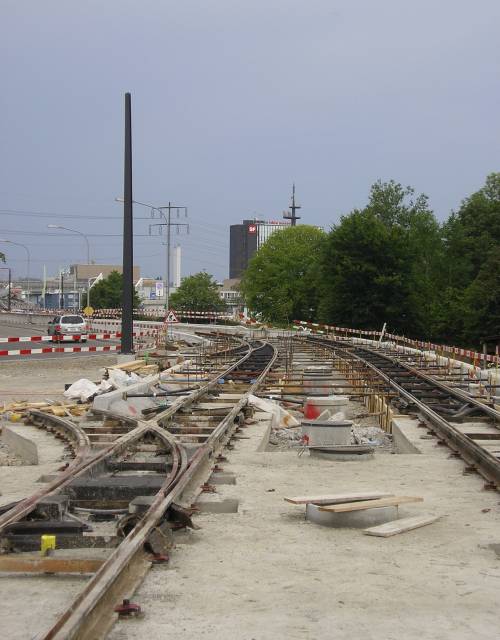 Beyond 2025: The following tram lines are to be built beyond this date: Affoltern - Bucheggplatz, Affoltern Oerlikon, Tram route 1 (Hohlstrasse, replacing trolleybus route 31), Bucheggplatz - Hönggerberg. Routes into the suburbs are Altstetten - Schlieren (component of Stadtbahn Limmattal), Wollishofen Adliswil, Höngg - Engstringen, Oerlikon - Glattzentrum - Dietlikon, Stettbach - Dübendorf. The option for Oerlkion - Schwamendingerpatz is being dropped
source: News item on VBZ website
An article in today's 20 Minuten additionally states that on the opening of phase 1, route 4 (serving Zürich's fashionable clubbing areas) may become the first tram route to provide night services.
Website comment: These ambitious plans combine previously publicised concepts with some new elements (especially the Escher-Wyss-Platz - Milchbuck tangential route). Not clear is the future of the trolleybus network which will certainly be fragmented by seeing sections converted to tram. On the whole, however, this plan will see great improvements in the tram network and enable trams to maintain and expand their market share in a continuously changing and developing city. The final section of the document stresses the key role that the first phase plays in this concept and could be intended as preparation for the referendum over this.
It is interesting to note that the priority of route 1 has been dropped from 2015 to beyond 2025.
Projects outside the city such as Stadtbahn Glattal are not explicitly mentioned. However, the map for 2010 shows the system complete.
See also:
Tram Zürich West update (09.03.2006)
Tram Zürich West in 2010 (20.01.2006)
Double-articulated trolleybus update (24.10.2005) - mentions conversion of route 31 to tram.
Future depot and tram route changes (06.04.2005)
This news item is from the 2006 newslog.


---
search Zürich tram news archive
news index for 2022
all news for current year
Zürich tram homepage
---
to link to this item please use:

http://www.proaktiva.ch/tram/zurich/newslog/newsitem.php?year=2006&item=190706