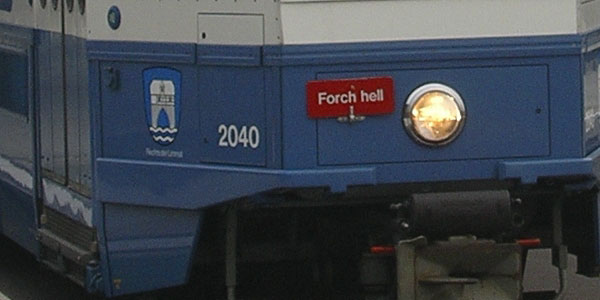 you are in: tram -> zurich -> news
Newslog 2009
latest news | archive | news search
This page presents news and other items of interest concerning the Zürich tram system and connected topics.
This is not the official information page of any organisation. All opinions expressed here are my own or belong to those to whom they are attributed. Whereas care is taken to ensure the correctness of news, no claim is made to total accuracy.
Visitors are informed that many links from this page are to external sites. Such links are provided for informational purposes only. The author of this site explicitly declines responsibility for the content of external web pages.
latest news | older newslogs | articles.
return to Zürich tram home page.
2009 news:

next year | previous year | current year | other years | search.

guide to linking to news items
---
11.12.2009 - Zürich's new tram order delayed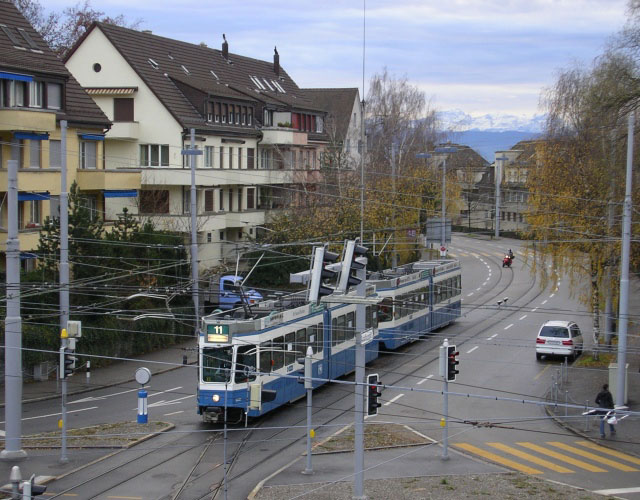 The oldest Tram 2000s, delivered in 1976, will be 40 years old in 2016. Around that time, VBZ would like to replace the first batch (2001-45 and 2301-15) by 35 to 40 new trams (which will be longer and hence not be required to work in multiple, hence the overall reduction in numbers). Although not mentioned specifically, I am assuming the circa 15 Mirage trams likely to last until then are also covered in this replacement.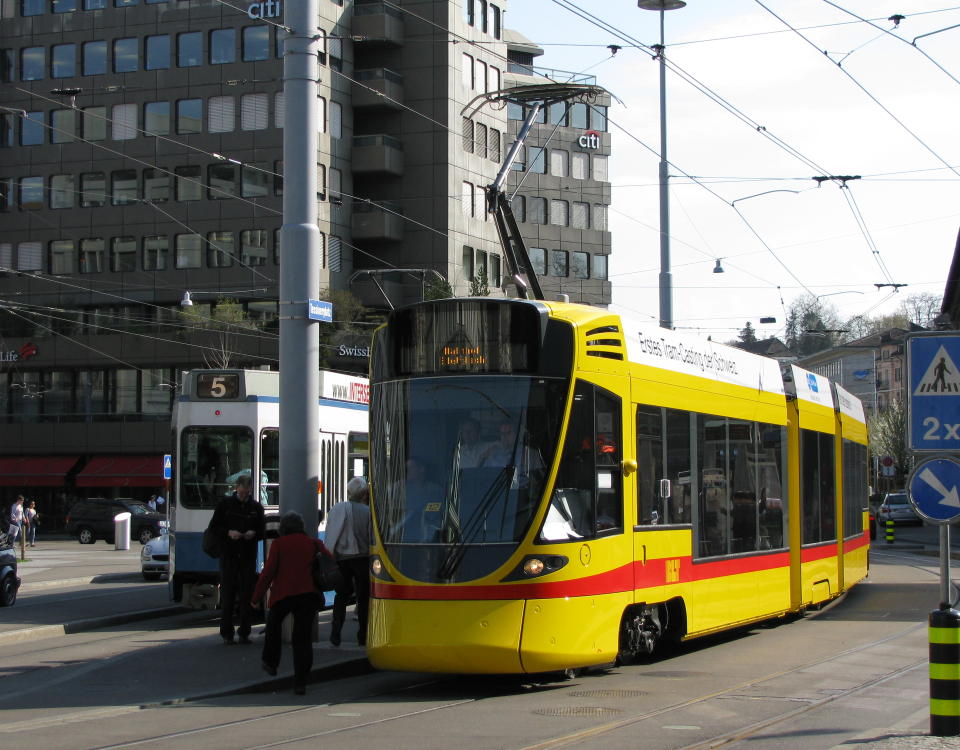 It is unlikely that the new trams will be required to be 100% low floor. The recent succesful trial of a Tango tram in Zürich showed that the public does not see high-floor areas as a disadvantage.
Planning had foreseen that the tendering process for these new trams would start this year. The newspaper, Tages Anzeiger, has been revealed that this will now definitely not be the case, but that this will be a goal for 2010. VBZ would like sufficient time to trail pre-series trams before placing a definite order.
---
10.12.2009 - Basel: 15 Tango trams ordered
Following an extensive test and evaluation phase with four prototype Tango trams (which also made guest appearances on BVB and in Zürich), BLT has signed an order for 15 further units with Stadler, for delivery in 2011 and 2012.

---
07.12.2009 - Sänfte + Pony pairs?
This newslog has in the past reported on the possibility that Sänfte + Pony pairs might be deployed. The Sänftes are Tram 2000 numbers 2099-2121 which were extended by adding low-floor centre sections in the years 2001-05. The Ponys (2401-35) are short non-articulated Tram 2000 units with two bogies. The idea of pairing Sänftes and Ponies has been around for some time, but such a formation would be slightly too long for many stops. One solution that is being evaluated is that of shortening the front and rear couplings of such a pair.
It is reported on Bahnhofplatz.net that Sänfte 2120 has now been fitted with such a front coupling, modified from the rear coupling of a withdrawn cabless Mirage (1691-1726).
---
Cobra deliveries have now reached 3079. This is probably the last to be delivered in VBG livery (Glattalbahn), with the remaining 3080-88 to follow in VBZ livery.
---
20.11.2009 - Bern: new Combinos arriving
The first three of Bern's new Combinos (651-3) are now in Bern and being tested.
---
19.11.2009 - Limmattalbahn to extend to Baden?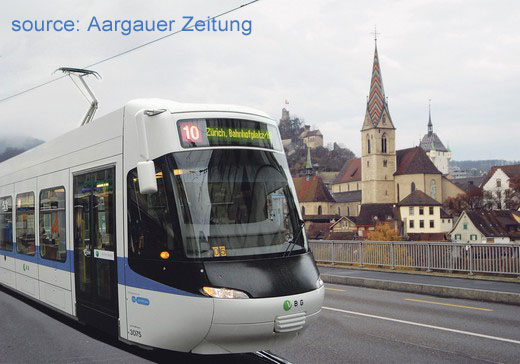 This webiste has in the past reported on the Limmattalbahn project to build a tram line from Zürich Altstetten to Killwangen Bahnhof. This is now making good progress with an opening for 2019 envisaged. For a more distant horizon, an extension to Baden via Wettingen is also on the wish list. This option has now taken an important step forwards with the cantonal parliament of Aargau agreeing to invstigate four routing variants in the Wettingen/Baden area. The line would have to cross the Limmat river twice and find its way through the Baden/Wettingen conurbation to terminate in central Baden. The securing of a corridor will effect future development projects. The article in Aargauer Zeitung has a sympathetic impression of a Glattal Cobra crossing the Hochbrücke Limmat bridge in Baden (a view I considered worth sharing here despite white Cobras having already featured markedly in recent news items).
It is also being suggested that at its Zürich end, the line should not terminate at Bahnhof Altstetten as previously suggested, but continue into central Zürich (and maybe even to Tiefenbrunnen!). This would reqire it to use existing or planned tram tracks and so pre-empt any decison on the system to be adopted for Limmattalbahn (guided bus solutions have been suggested in the past as alternative to a tram).
---
10.11.2009 - Glattal Cobras on route 11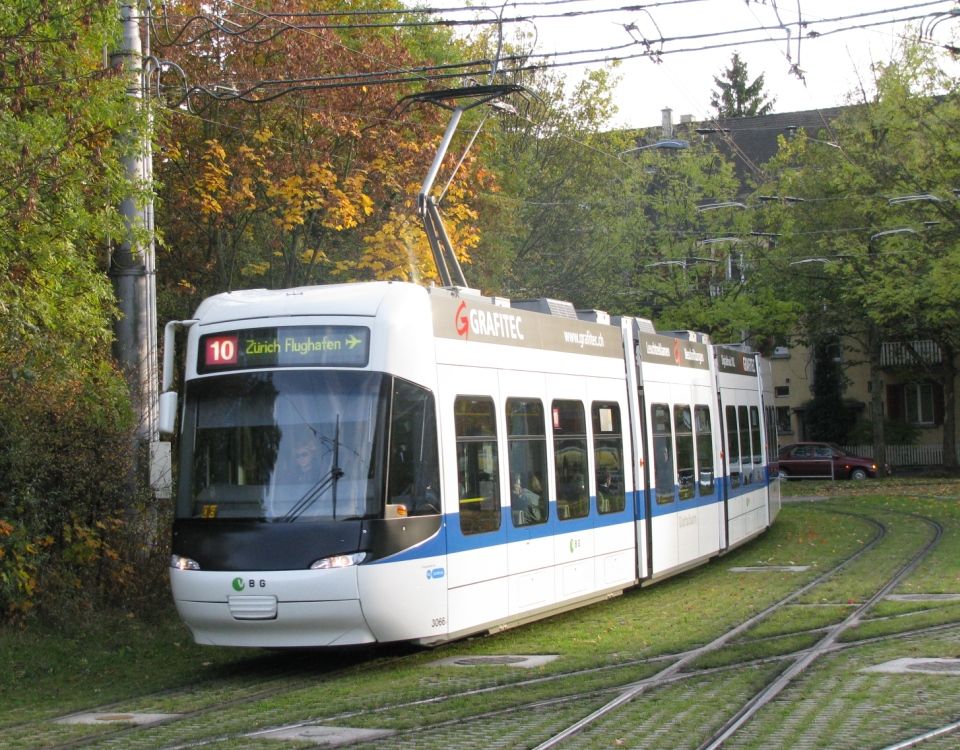 Until recently, with only Cobras 3062-3074 being available in Glattal livery, route 10 was often short of suitably liveried trams and VBZ liveried ones had to help out. With 3075 and 3076 having joined the fleet, the reverse is true and Glattal liveried trams have seen service on route 11 on several days recently. The additional Glattal liveried trams will be used on route 12 when this opens in December 2010.

---
09.11.2009 - Blackpool pictures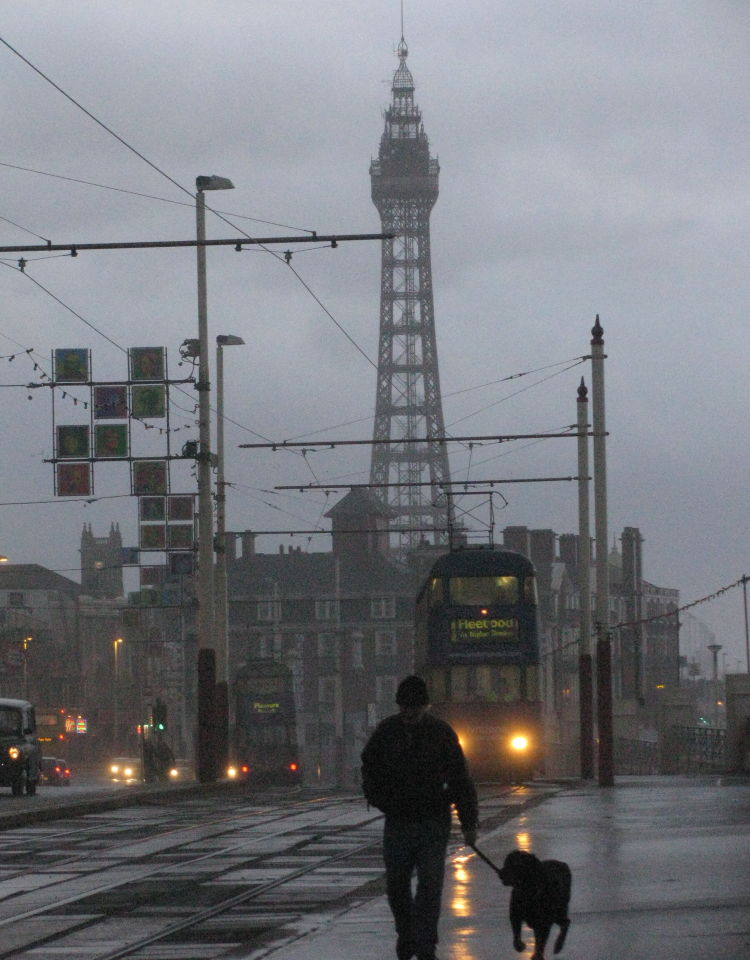 I have just returned from a visit to Blackpool. I hope to report on this more fully later, but for now here is a selection of photographs.

---
09.11.2009 - Further Mirages on their way to Vinnitsa
The latest Mirage trams to leave Zürich for Vinnitsa are 1606, 1609, 1611, 1613, 1618, 1623, 1630, 1631, 1633, 1636, 1616, 1624, 1632 und 1628. They were sighted on a train in Wien on 25th October.
Martin Baumann (citing Bahnnews Austria)
---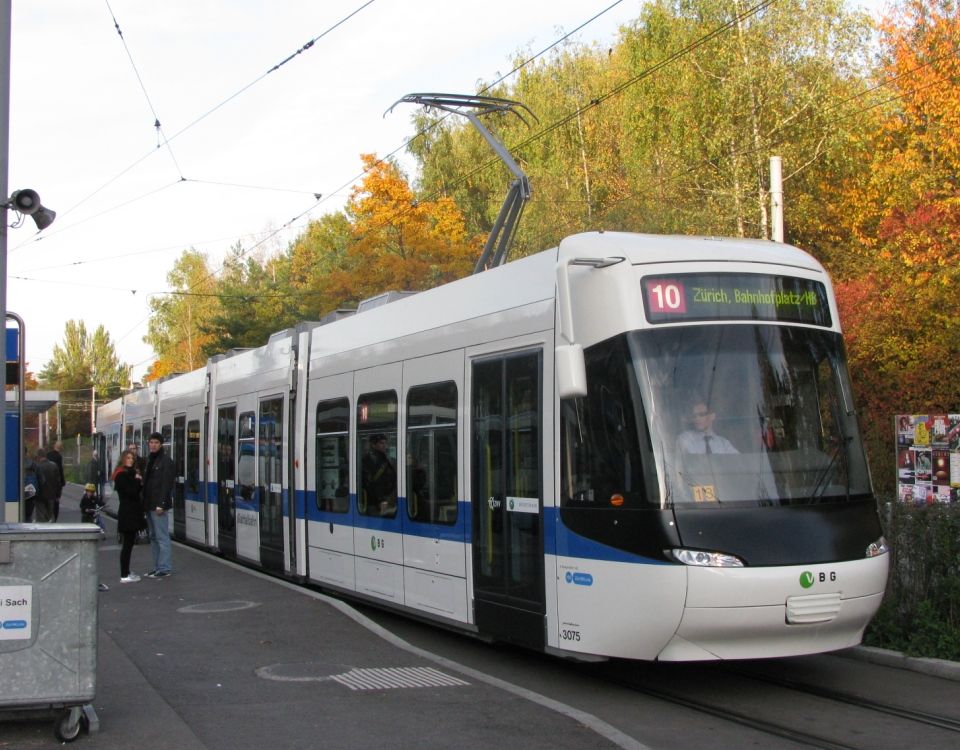 The first of the 14 additional Cobras confirmed as option in December 2007, number 3075, is now in service and carrying VBG's livery.

---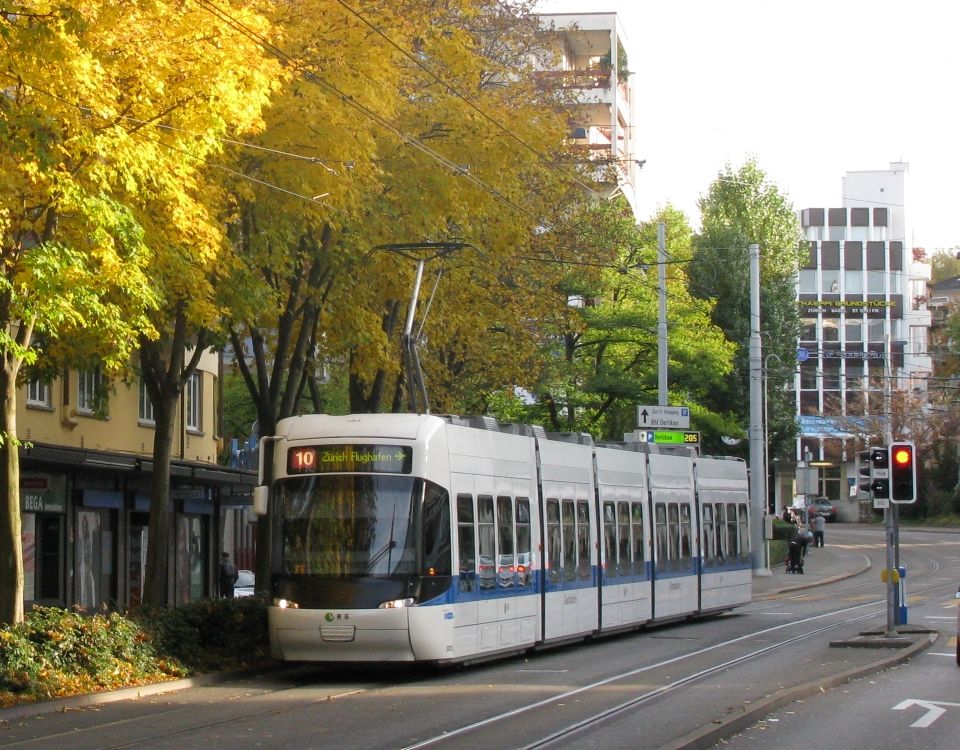 I have updated this webiste by adding recent photos from Zürich, taken on 2nd October and some autumnal scenes taken today.

---
27.10.2009 - Facelift for tunnel stops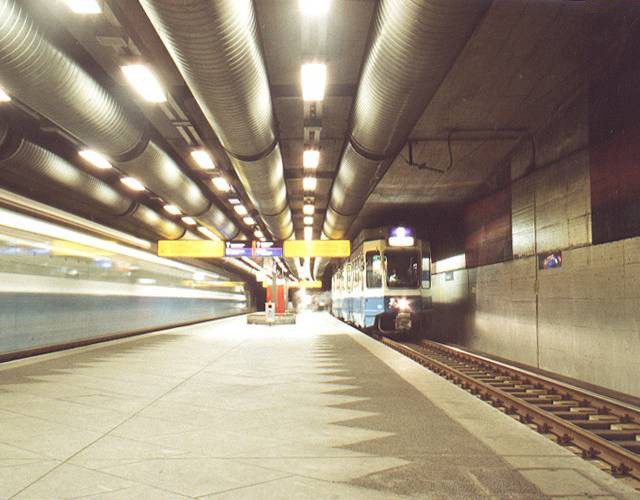 The three underground tram stops of the Schwamendingen subway, are to be given a 13.2 million Frank facelift to make them brighter and friendlier by 2012.
---
21.10.2009 - Four further Mirage leave Zürich
Four Mirage trams (1630, 1623, 1633 and 162?) were seen on railway wagons yesterday evening, covered in graffiti and probably bound for Vinnitsa.
(the number of the fourth tram could not be read)

---
21.10.2009 - The world's oldest active articulated trolleybus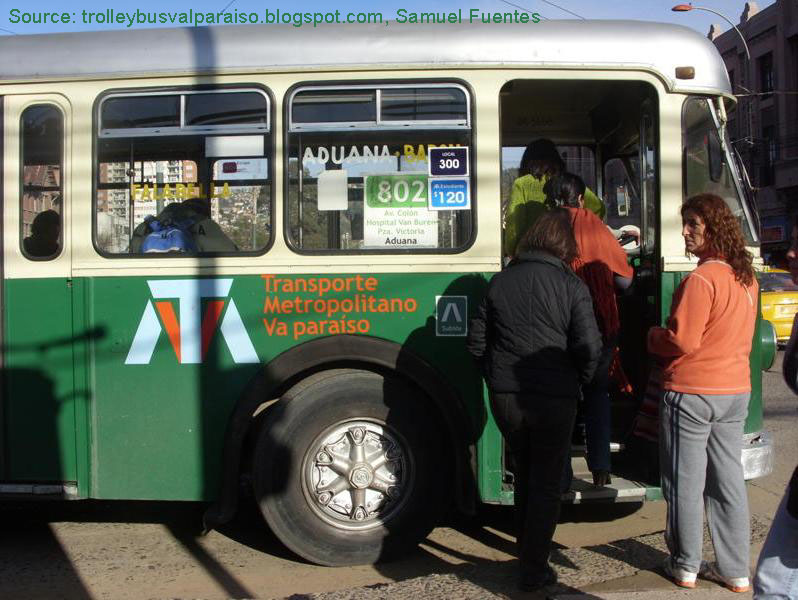 Possibly the world's oldest active trolleybus is ex-VBZ 105, which is still in regular service in Valparaiso, Chile. As this year marks its 50th birthday, I have added a short article on the FBW GTr 51 type in Zürich and Valparaiso to this site [->here].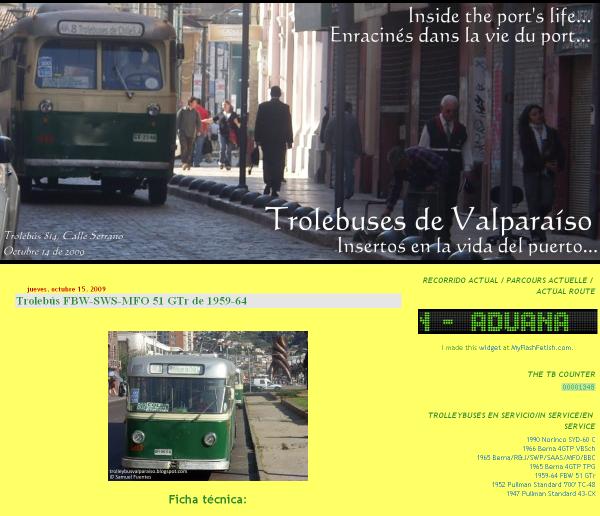 I am indebted to Samuel Fuentes and his excellent Valparaiso trolleybus blog for much of the information in this article. His blog is at trolleybusvalparaiso. blogspot.com .

---
14.10.2009 - Lugano's tram takes a step forwards
The canton of Ticino has provided 2 million Franks for the planning process of Lugano's tram. These plans will be submitted to the federal government by the end of 2011. Construction could start in 2015. The first line will run from Bioggio (near the airport) to the centre of Lugano and is estimated to cost about 200 million Franks. A second line linking Cornaredo to Scairolo will be added at a later point.
Lugano's last tram line was closed in 1959, and the trolleybus system in 2001.
Tages Anzeiger
---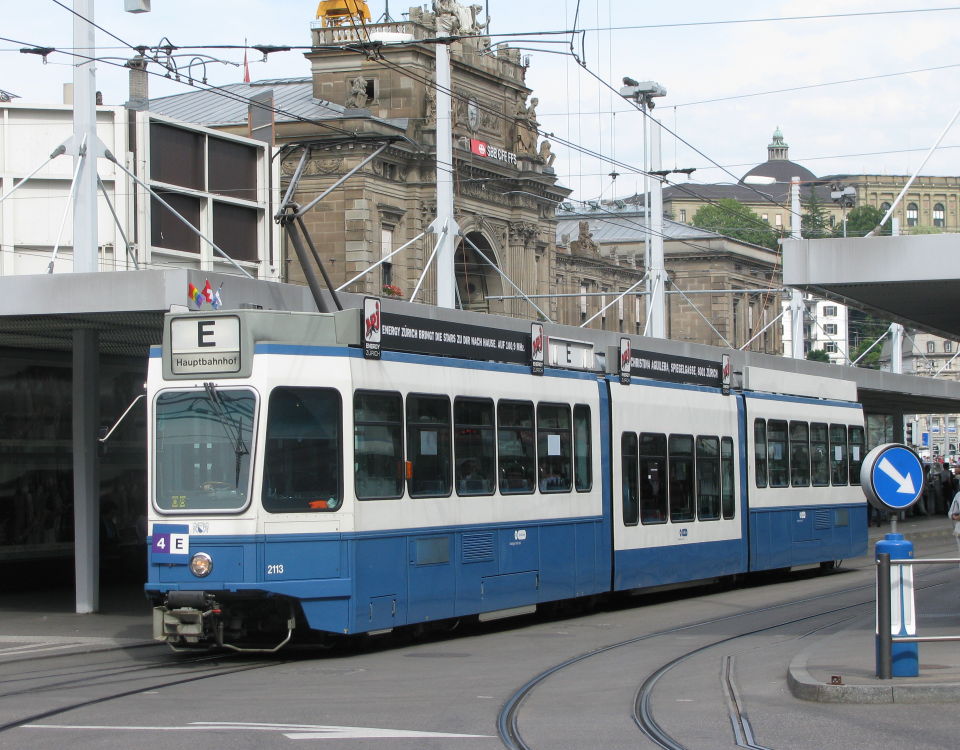 According to Tram magazine (issue 99/08.-10.2009), the Cobra tram involved in the broken-suspension incident of June was 3051 (the date is reported as 23rd June). Seven Cobras were temporarily withdrawn as a consequence.
The next Mirages likely to be withdrawn are reported as 1626/9/38/40/6-9. Mirages are still seeing service on routes 2, 8 and 13, with route 8 currently being the only route to be worked purely by this type.
The project to build a skyscraper over the stabling tracks behind Escher Wyss depot have been abandoned. A new solution is now being sought for the depot's renovation.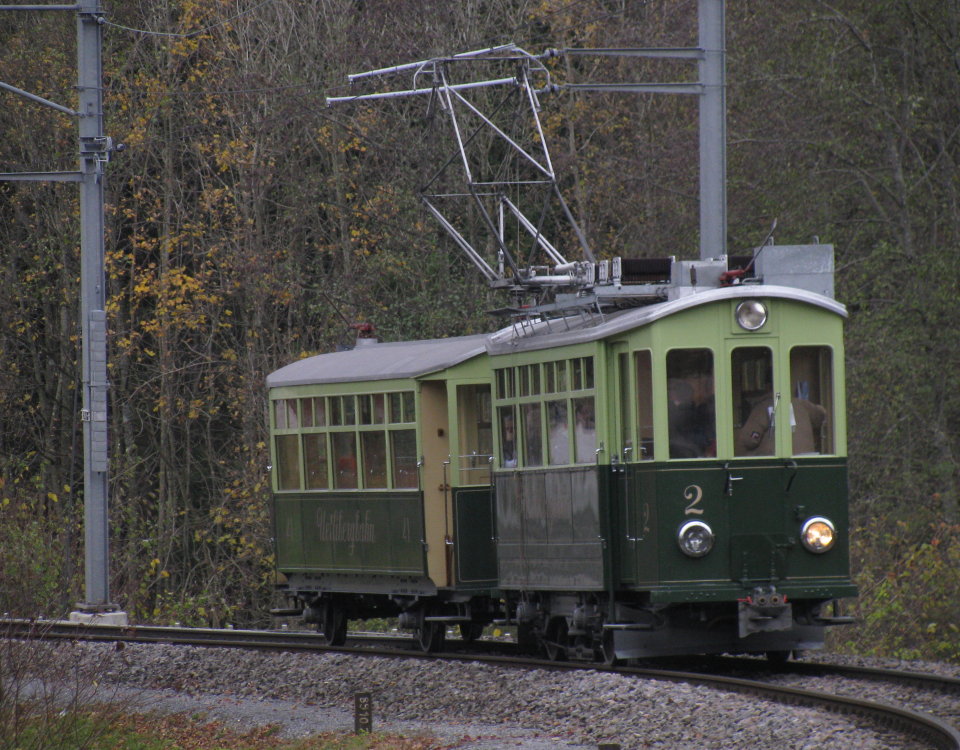 The Uetliberg tram, which ended its period as a museum set with SZU last year is now on display at the transport museum in Luzern (VHS, Verkehrshaus der Schweiz).
Meanwhile, the Tages Anzeiger newspaper of 12th October reports on VBZ's future depot situation. VBZ is considering adding a depot on the land of its workshops in Altstetten before 2020. In return, some buses could be stabled in Wollishofen and Kalkbreite depots. Beyond 2020, with further new lines being inuagurated, a further depot will be built on the land that has been acquired on Aargauerstrasse. Beyond that, with rote 1 reverting to tram operation, a further depot willbe required at a site that has yet to be identified.
---
30.09.2009 - BDWM: BDe4/4 scrapped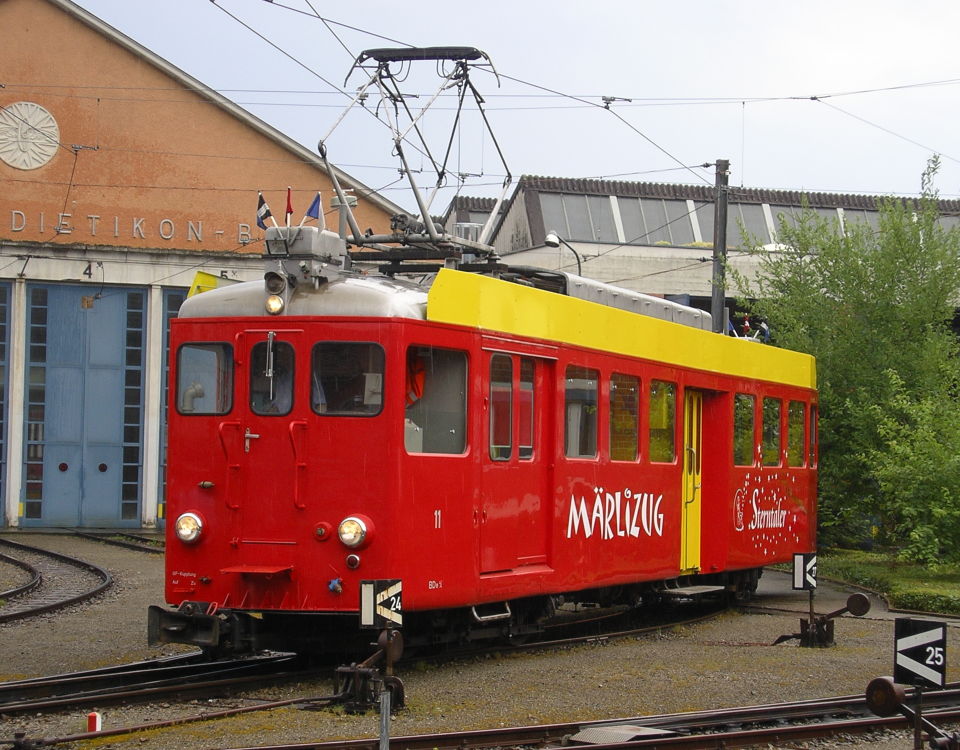 BDWM's (Bremgarten Dietikon) BDe4/4 number 11 dating to 1932 has been scrapped. The vehicle spent its last years as BDWM's party car (at one time sponsored by MacDonald's, hence its red colour). It featured a plexiglass floor plate to permit viewing of the track. The vehicle was disposed of to make way for the new Stadler ABe4/8 5001-14, the first of which will arrive later this year. Number 11's sister vehicle, 10, is being retained as a museum car.
Schweizer Eisenbahn Revue (10/2009)
More pictures of BDWM Bde4/4 cars are available in the photo gallery.
---
30.09.2009 - Limmattalbahn: Cash for planning released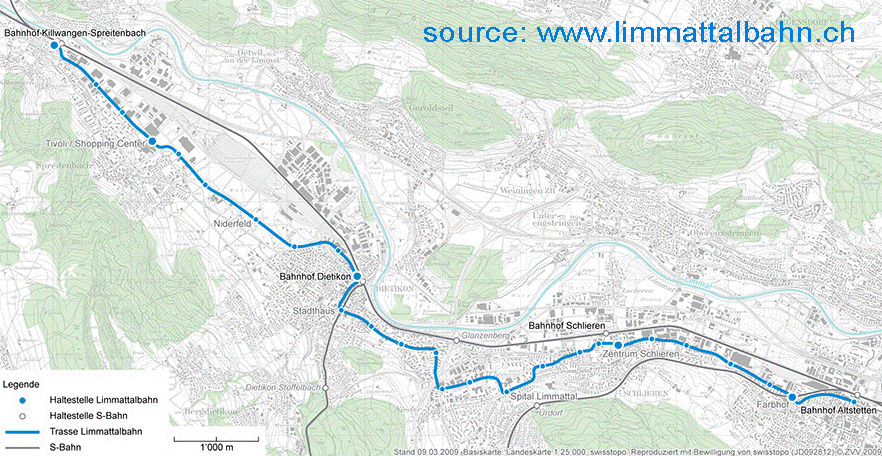 The board of ZVV (Zürcher Verkehrsverbund, the cantonal transport coordination authority) has released 6.9 million Franks for planning works on Limmattalbahn, the proposed tram link from Zürich Altstetten to Killwangen. This money covers 75% of the budget. The remaining 25% (yet to be approved) will be provided by the Canton of Aargau (on whose territory part of the line will lie).
---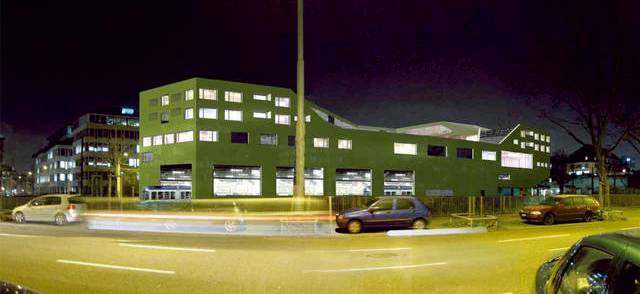 While on the topic of depot rebuilding, another approaching project is that at Kalkbreite. The first depot on this site was a horse tram depot dating to 1882. This was replaced by a larger depot for electric cars in 1900. This was in turn demolished in 1979 on account of its poor condition, with the area having been used for open-air stabling since then. Some of the depot's outbuldings remain and the track plan is also still original (with the pits having been filled in).
Over the years there have been several plans to redevelop the site, suggesting the trams wouldhave had to move elsewhere. Being just across the road from another depot (Elisabethenstrasse), the value of continuing to stable trams here is great. The latest plans therefore project a building permitting tram stabling on the ground floor with apartments on the upper stories.
An interesting page on the history of Kalkbreite depot can be found on the archive pages of Tram Museum Zürich.
---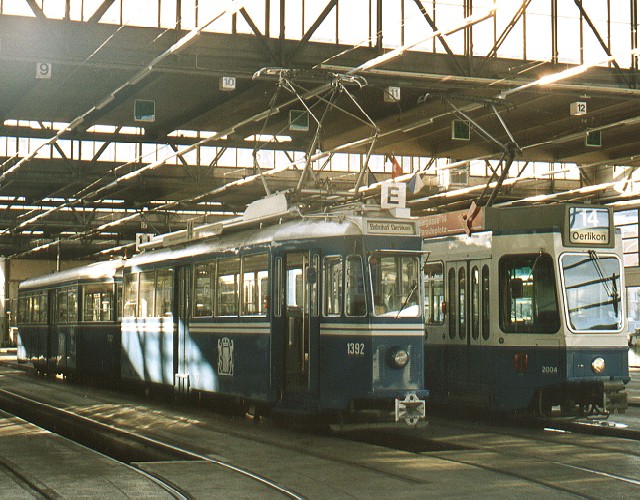 An article in today's Tages Anzeiger newspaper looks ta the plans to extend Oerlikon depot. This extension will be required to house the Glattalbahn trams.
The first depot on this site was built in 1889 by the private company ZOS (Zürich-Oerlikon-Seebach). The depot was extended in 1928 by adding a new wing with tram stabling on the upper floor and buses below. This is the oldest part of today's complex. The rest of the original structure was demolished and replaced by a larger depot completed in 1935 by Hermann Herter – a building which earned much praise at the time and whose modern feel has not really aged to this day (shown in the adjoining photographs).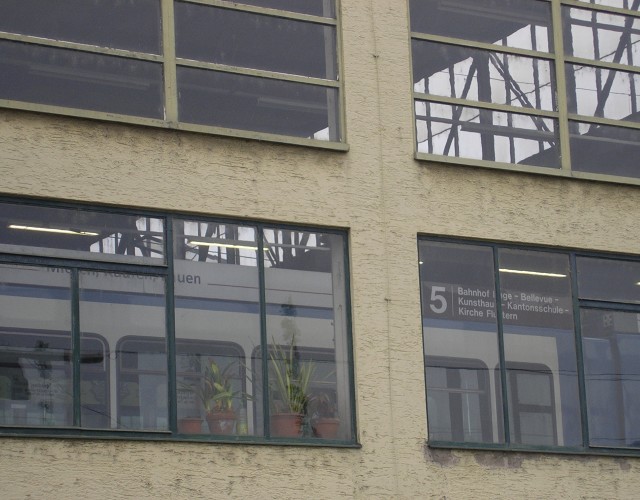 The depot is now a protected monument but the authorities have agreed to permit the demolition of the remaing 1928 wing to make way for a larger extension also using the land of the adjoining car park.
An interesting page on the history of Oerlikon depot can be found on the archive pages of Tram Museum Zürich.

---
22.09.2009 - Swiss Standard trams in T&UT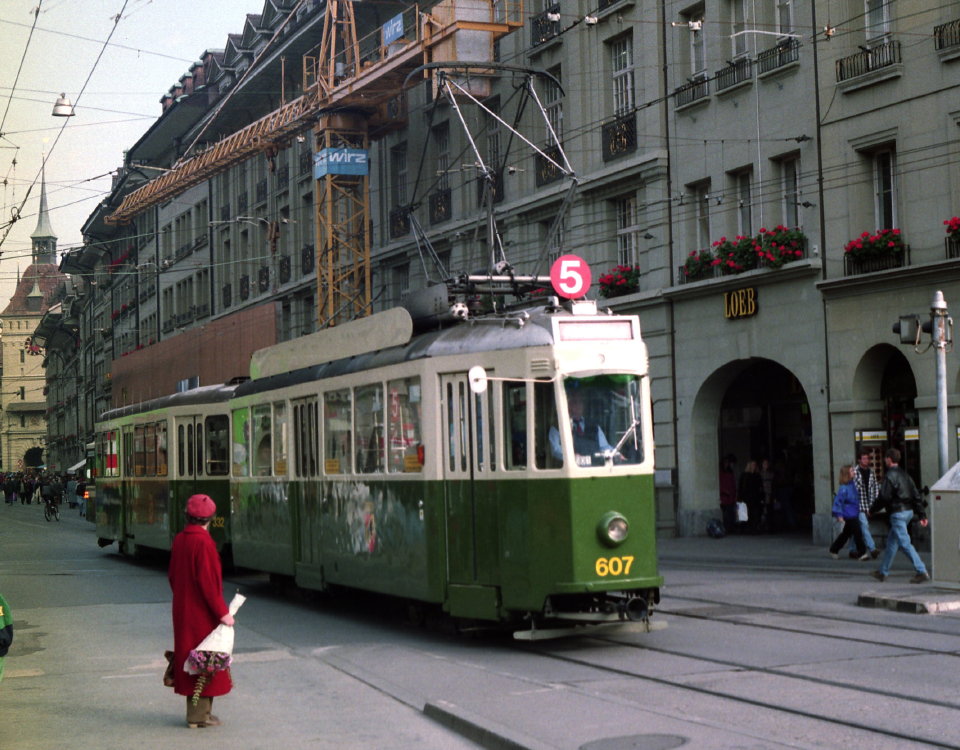 An article by myself on the Swiss Standard tram is published in the current (October 2009) issue of Tramways & Urban Transit. The article carries the title "Swiss Standards: 70 years of a classic".
Admitedly, this article is short (and was pruned a bit more editorially). However, I am working on a longer and more thorough version for Tramway Review (details will follow, so watch this space).
Both Tramways & Urban Transit and Tramway Review are journals published by the LRTA (Light Rail Transit Asociation).
---
21.09.2009 - VBZ tests energy storage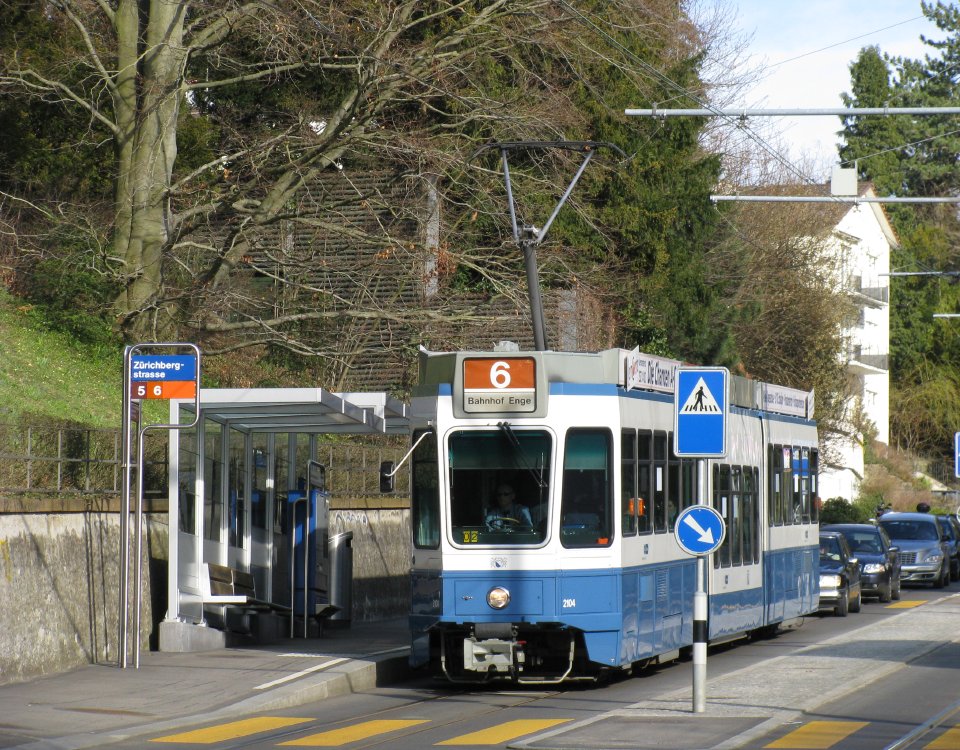 The section of tram line between Zürichbergstrasse and Zoo is to be used to test an energy storage system. Modern tram types (I believe from the third Tram 2000 generation onwards, ie 2099-2121, 2421-2435 and all Cobras) feed energy back into the overhead line when braking or running downhill. The energy is, however, lost when there is no other tram in the same section able to use this energy. The proposed new storage system will use rotating flywheels located by the Zoo terminus to store surplus energy from that section. VBZ and Zürich's electrical utility, EWZ, believe the new system can save 50,000kWh per year — enough to cover the need of four family homes.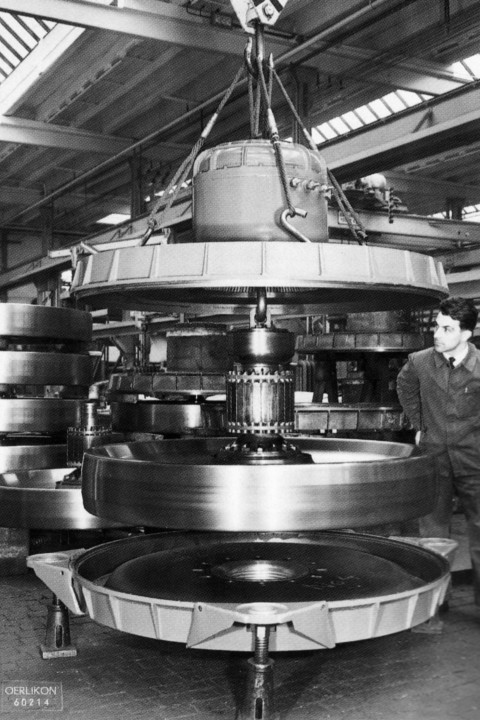 Bahnhofplatz.net
The idea of using flywheels to store energy is not new to Zürich. In the 1950s, Maschinenfabrik Oerlikon developed flywheel energy storage systems for buses and mining locmotives (see this website's article on the Gyrobus).

---
10.09.2009 - Engineering tram (Ingenieurtram)


Zürich's latest special livery tram has taken to the streets today. The tram (Cobra 3056) is dedicated to engineering and especially to encouraging young people to take interest in the engineering profession. The tram will run in this guise until 2011 and host special displays and activities.
The tram has its own website on www.ingenieurtram.ch . One nice touch is the google maps function tracking the location of the tram in real time: www.ingenieurtram.ch/index.php/googe-map . Today it is on route 11.
---
I have added three new photo series to this website: tram depot open day in Freiburg (25th July), Rigi Bahn (23rd August) and assorted recent transport views.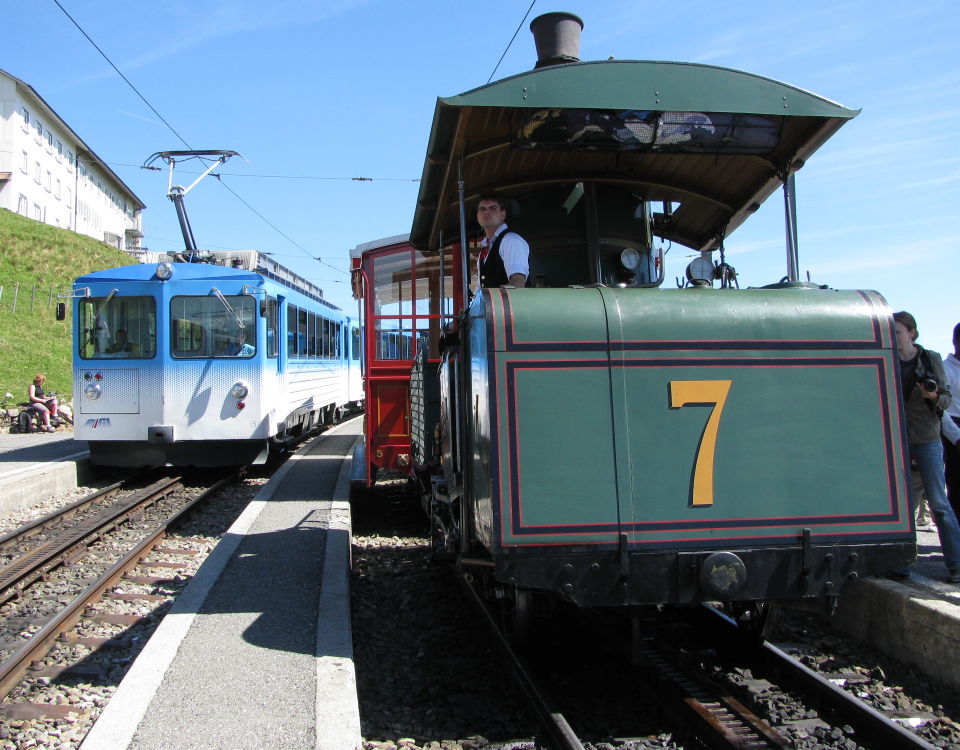 ---
21.08.2009 - A secure future for Schaffhausen's trolleybus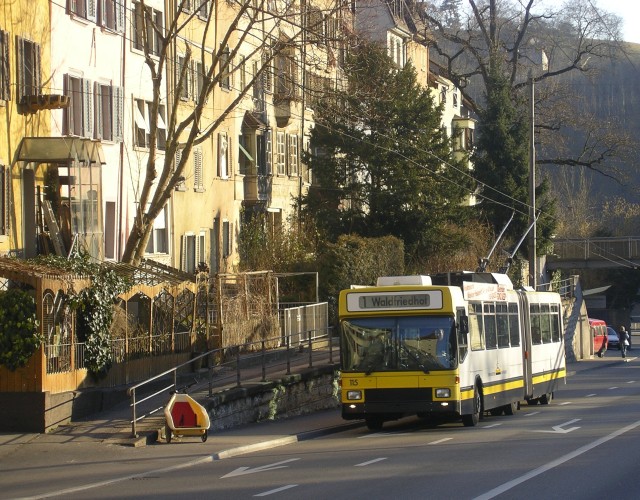 The future of Schaffhausen's trolleybus looks brighter. With 19 votes to 12, the town council agreed to invest 10.5 million Franks in 7 new trolleybuses, a new overhead repair vehicle and a new electricity substation for Neuhausen.
Schaffhausen's mini network has gone through a turbulent phase with abandonment being threatened; but fortunately the tide is turning.
---
11.08.2009 - Winterthur trolleybus visits Bologna
Winterthur's Solaris Trollinos are back on the demonstration tour, with 177 recently visiting Bologna (besides Zlin's Skoda 25Tr 408 and Milano's Van Hool/Vossloh Kiepe 709). Bologna is seeking to buy 11 articulated trolleybuses.
Previous demonstrations with Winterthur Trollinos include Gent (180), Trolleymotion conference Zürich (173), Salzburg (173 again) and now Bologna (177).
To this website's trolleybus page.
---
07.08.2009 - Cobras 3003 and 3002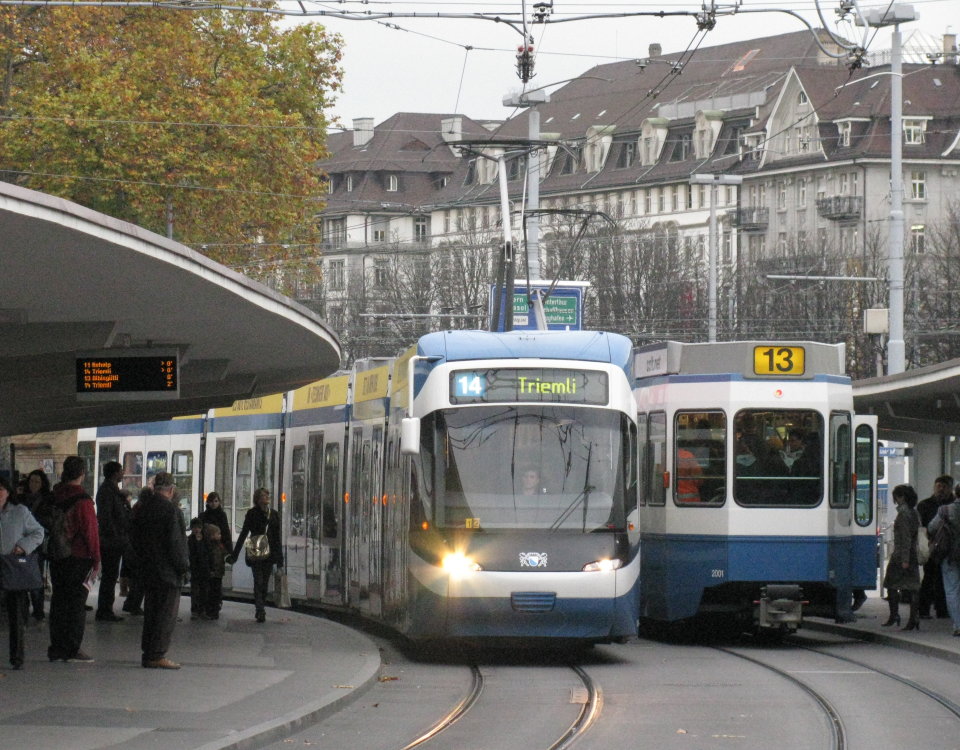 To follow up on the recent report of the return of rebuilt (or rebodied?) prototype Cobras 3005 and 3004; they have now been joined by 3003 and 3002.
---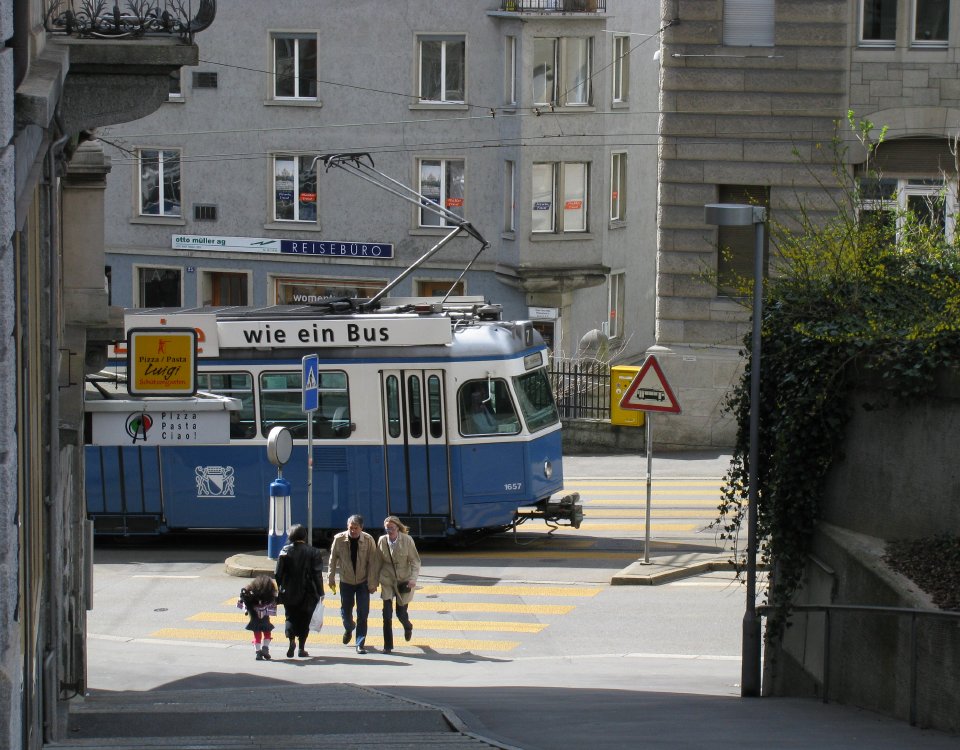 Complementing yesterday's update on ex-VBZ trams in Vinnitsa, the following withdrawn Mirage have had their VBZ insignia removed (according to Bahnhofplatz.net), suggesting they may be heading for Vinnitsa: 1606/9/11/3/6/8/ 23/4/8/31/2/3/6 (and furthermore 1630 with accident damage). If this is the case, the number of VBZ trams destined for this city must have been increased at some point. In September 2006, the number was announced as 12 or 13 Karpfen and a similar number of Mirage. The number was specified as 23 (presumably sets, not cars) that November. With 28 sets already there and maybe more to go, it would appear that they are a more of a success in their new city than previously envisaged.
According to Bahnhofplatz.net, the following VBZ Mirage are now fitted with IBIS Plus computers (facilitating real-time tracking, control and passenger information): 1656/7/9/64/5/7/8/71/2/3/4/6/9/80/1/6. The following are likely to be fitted accordingly: 1675/7/85/8. This would suggest that these are the Mirages likely to enjoy an extended life in Zürich, possibly lasting until the middle of the next decade.
In regard to the recent problems with Cobra suspensions, it is possible that VBZ may continue to be hesitant in disposing of surplus Mirages for the time being.
---
03.08.2009 - Vinnitsa numbering update
Further to previous reports on the numbering of ex Zürich trams in the Ukrainian city of Vinnitsa (see July 2008 and March 2009), Martin Baumann, a correspondent, has sent me the following definite list (citing as source Blickpunkt Strassenbahn):
Vinnitsa nr./
Zürich nr.

229 1418
230 781
231 1419
232 782
233 1427
234 777
235 1425
236 783
237 1421
238 784
239 1428
240 779
241 1424
242 773
243 1422
244 778
245 1429


246 771
247 1426
248 780
249 1423
250 775
251 1417
252 776
253 1416
254 772
255 1601
256 791
257 1602
258 794
259 1603
260 1718
261 1604
262 788
263 1605
264 1715
265 1614


266 792
267 1620
268 786
269 1612
270 797
271 1622
272 1717
273 1639
274 795
275 1615
276 789
277 1619
278 798
279 1683
280 796
281 1687
282 787
283 1689
284 793


Nrs. 229-254 are Karpfen units, with odd numbers allocated to motor units (VBZ series Be4/4 1416-1430) and even numbers allocated to trailers (ex-VBZ series B4 771-786): 13 pairs in total.

Nrs. 255-283 (odd numbers) are Mirage units (ex-VBZ series Be4/6 1601-1690): 15 cars.

Nrs. 256-284 (even numbers) are FFA trailers (ex-VBZ series B4 787-798) with the exception of three Mirage Blinde Kühe (cabless Mirage units, ex-VBZ series Be4/6 1691-1726) and one further Karpfen trailer: 15 cars in total of which 11 FFA B4 trailers.

Total: 56 cars
---
29.07.2009 - First Tram 2000 scrapped
It is sad indeed to see the first Tram 2000 scrapped. 2060, which was damaged in an accident in January 2008 and has been out of use since, met this fate last week.
---
24.07.2009 - Stadelhofen rebuilding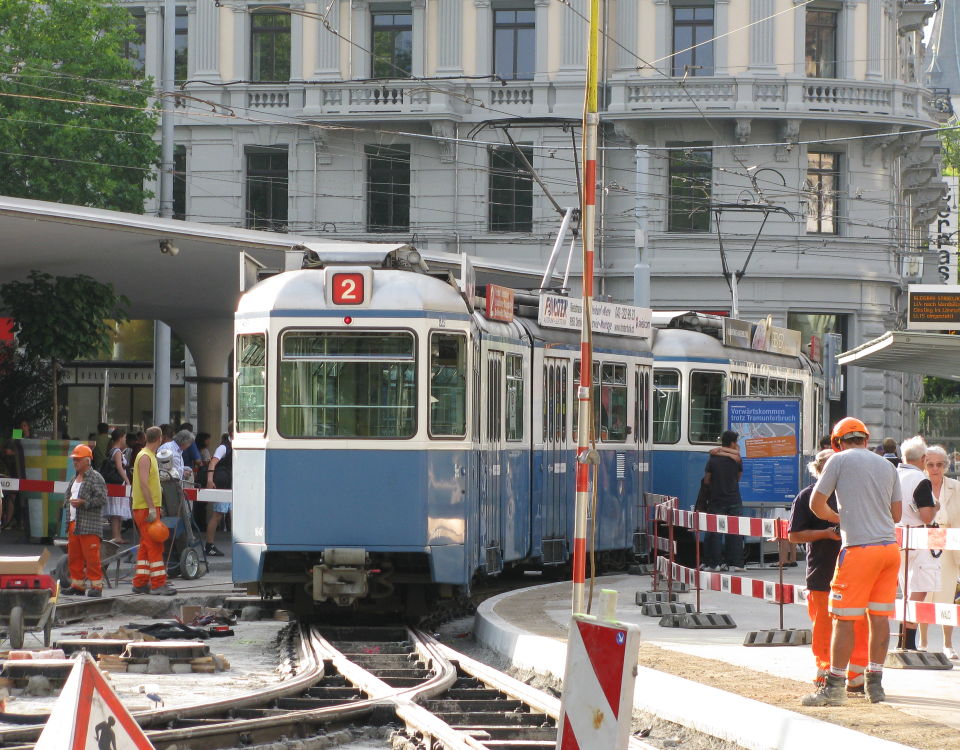 A major remodelling project is in hand at Stadelhofen, which is requiring the entire area to be closed off from 11th July to 16th August (the project was described on this newslog here).
During this period routes 2 and 4 are being turned at Bellevue, with the Tiefenbrunnen line bus worked. Route 11 is diverted from Bellevue via Kunsthaus and terminating at Tiefenbrunnen. To prevent overcrowding at Bellevue and Klusplatz, route 8 is diverted at Stockerstrasse and turns at Bahnhof Enge. Route 15 is suspended throughout. Forchbahn is terminating just short of the commencement of the works in Kreuzstrasse and a temporary surface-mounted switch (California switch) has been installed there permitting it to gain the other line.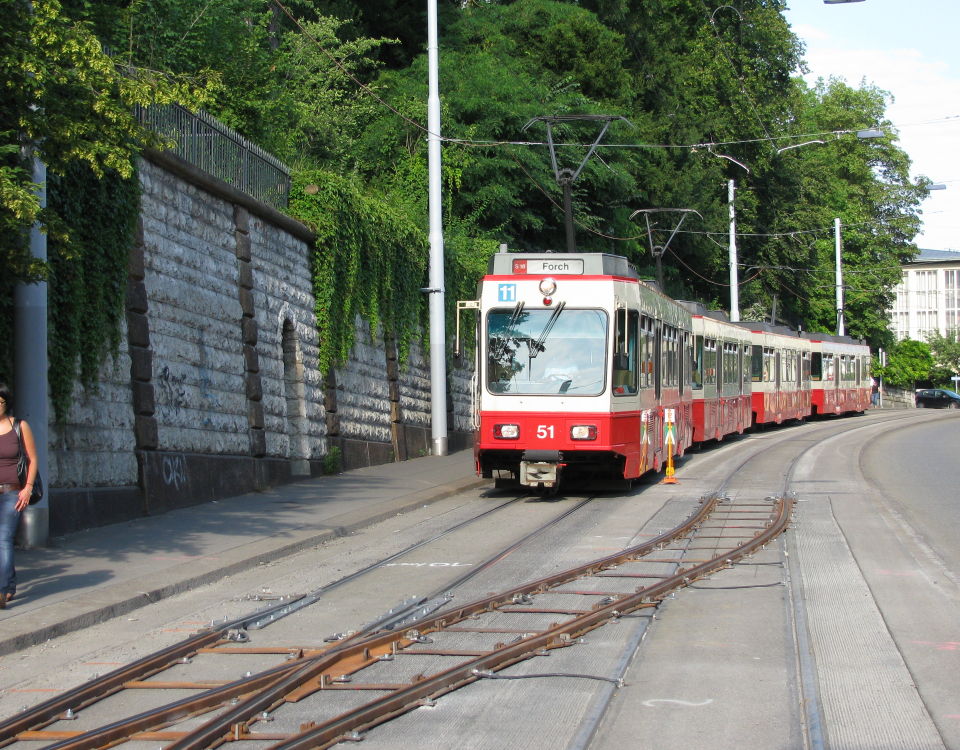 Due to the suspension of route 11 on this section, Forchbahn is serving all stops as far as Rehalp and the units are hence marked as route 11 in addition to S18. A selection of photographs of the construction and these aspects is available here.

---
24.07.2009 - Amsterdam pictures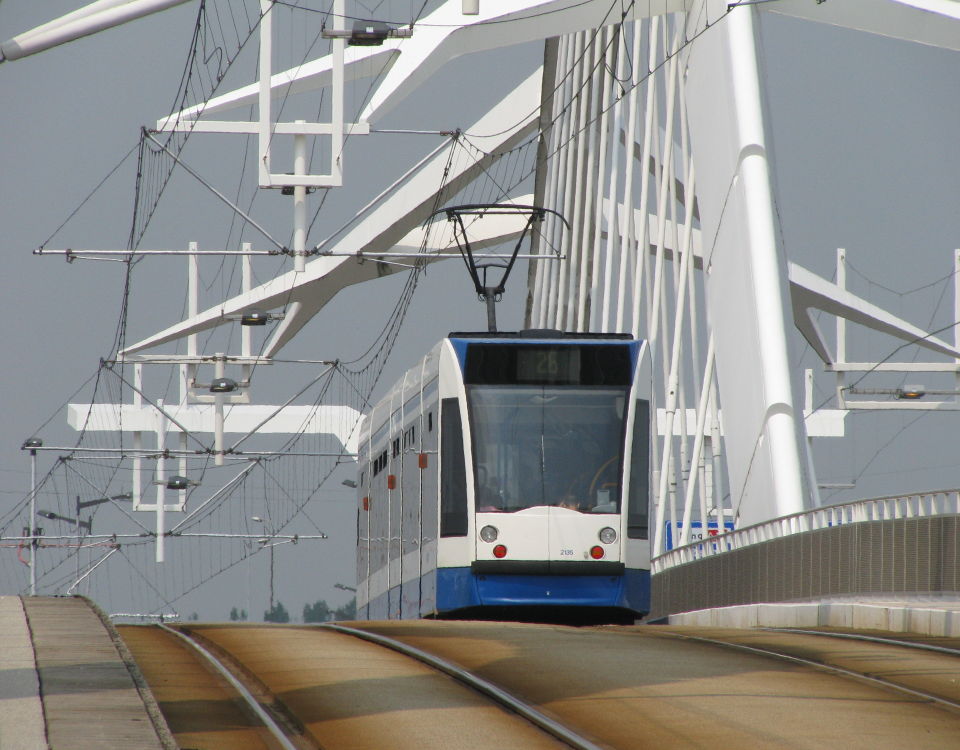 Recent Amsterdam pictures have been added to this website. Some document the IJburg line, which connects a string of recently developed islands, and others show more classical aspects of the city's tram system. View here.

---
23.07.2009 - RBS sets meter-gauge speed record
Bern's regional rail operator, RBS, has claimed the Swiss speed record for meter gauge. The record of 133.5km/h was acheived during testing of Stadler's new NeXT (Niederflur Express Triebzug). In total six of these units are being delivered to RBS. Their highest speed in regular service will be 120km/h — also a record.
---
14.07.2009 - Swisstrolley in Winterthur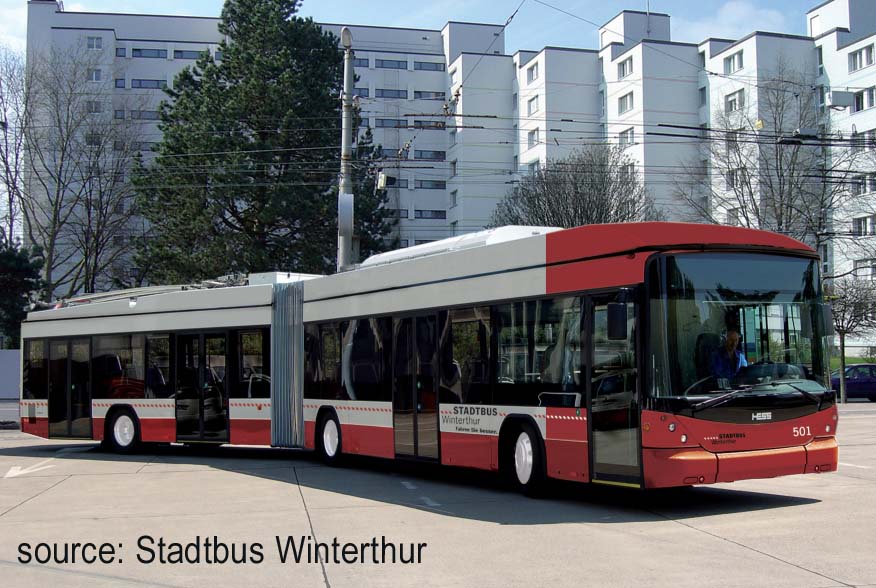 A Zürich Swisstrolley is being tested in Winterthur for three days commencing today. Winterthur ordered 21 of these trolleybuses in February. Delivery will commence next year.
---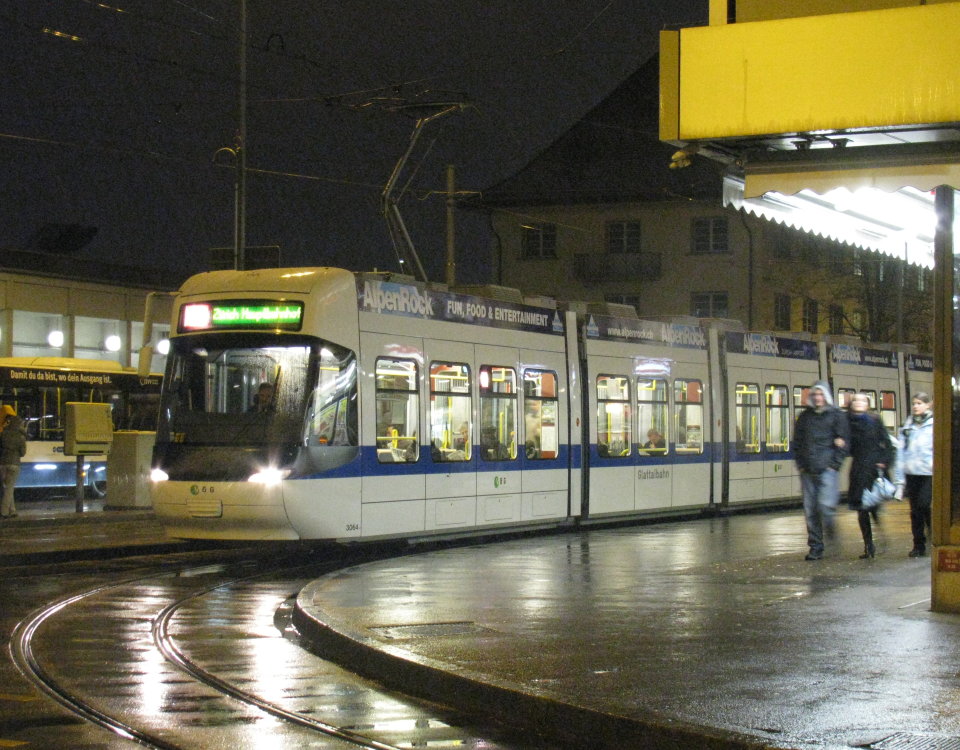 The visitor count on this newslog has just passed 50,000 — that is 10,000 visitors in seven months (since 10th December). Thank you to all visitors who keep this site popular.

---
10.07.2009 - This newslog is now syndicated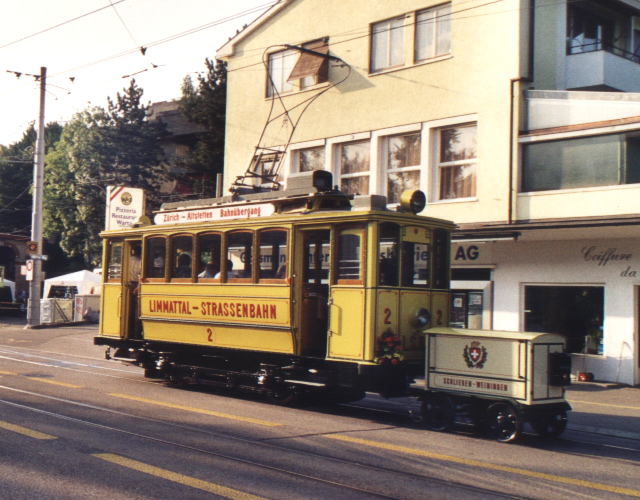 Moving along with the times, I have added an RSS news feed to this webiste. This means you can (for example) get news on updates of this site delivered straight to an RSS reader on your computer desktop.

The link to this feed is:
www.proaktiva.ch/tram/zurich/newsfeed.php
(not all browsers will display the linked page correctly, the link can however be pasted into an RSS reader)
---
08.07.2009 - News roundup (Oerlikon and Mirages)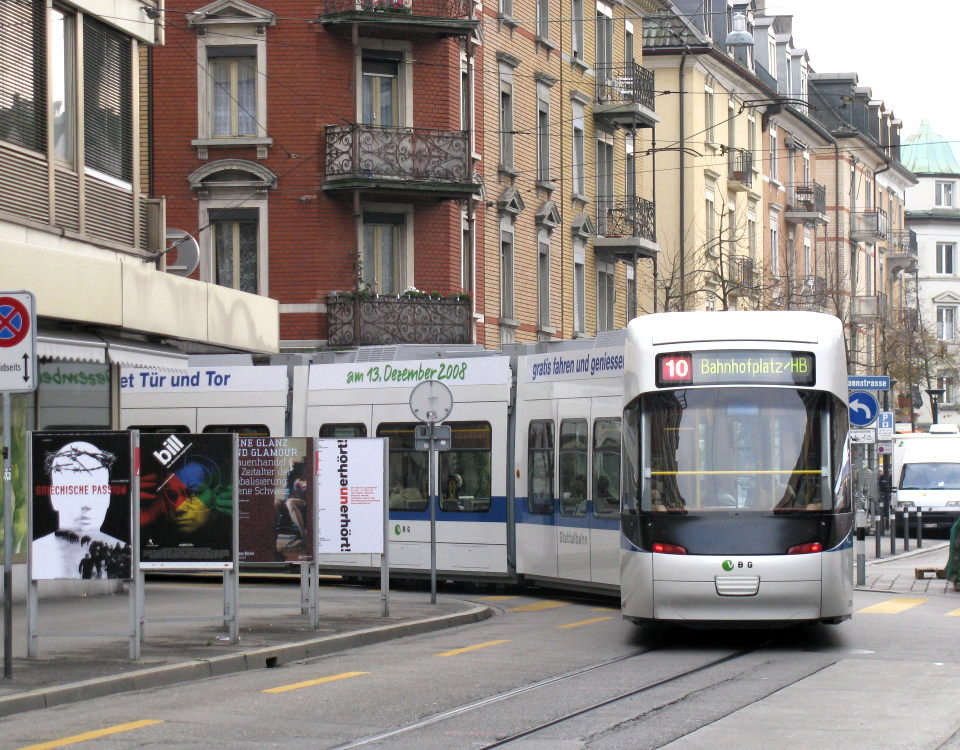 Plans are taking shape to redesign the area around Bahnhof Oerlikon. According to the city of Zürich, Oerlikon is now the 6th busiest station in Switzerland, handling 110,000 passengers a day (behind Zürich HB: 300,000, Bern: 145,000, Zürich Stadelhofen: 135,000, Winterthur: 122,000 and Basel: 120,000). The construction of the Durchmesserlinie (a new cross-city rail tunnel to be completed in 2015) will entail the addition of two further platforms here (taking the total to 8). The opportunity is being taken to implement various changes to the station's broader surroundings. As far as trams are concerned, the station forecourt will be redesigned to provide a double-track line throught. It is not clear whether this means the parallel line in Nansenstrasse will be removed or retained as an emergency turning loop. A new loop will however be built at Friesstrasse (by the junction of routes 10 and 14 at Bahnhof Oerlikon Ost). This will permit route 10 trams turning at Oerlikon to depart from the same location as those coming from the airport. Presently those turning in Oerlikon have done so in the Nansenstrasse loop and departed from the station forecourt. With the same route alternately departing from two different locations, some passengers have been confused over the best place to await the next departure. The stop of Bahnhof Oerlikon Ost will be reloacted to below the rail bridge there and escalator links will be provided directly to the platforms, so enhancing this interchange. The widening of one of the two bridges has already begun.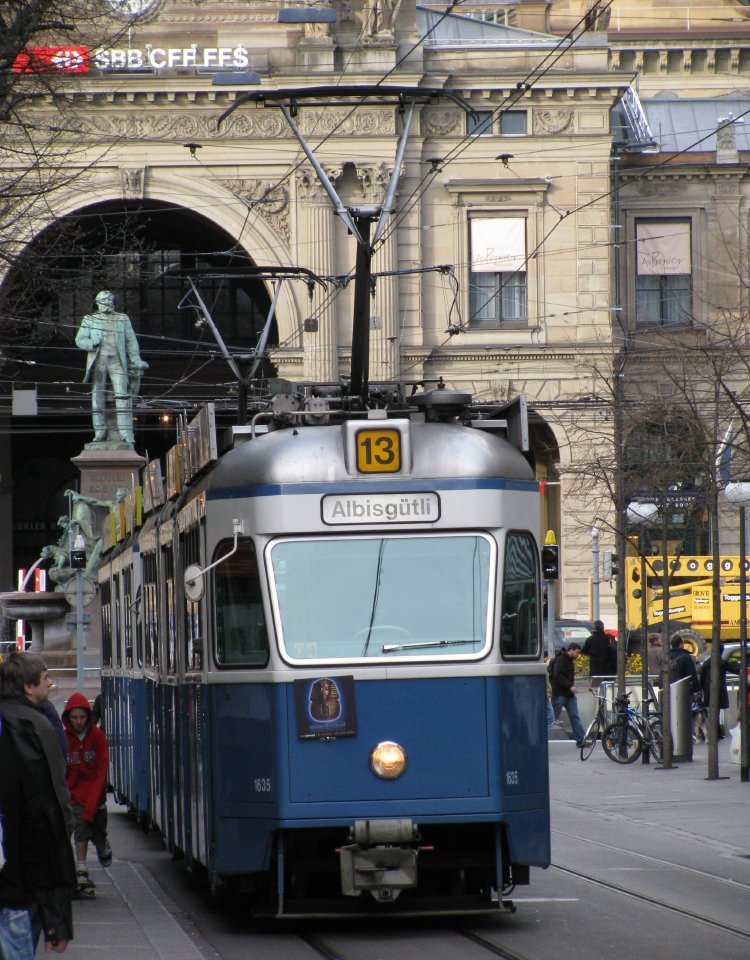 www.stadt-zuerich.ch, Bahnhofplatz.net
The number 98/05.-07.2009 edition of Tram magazine reports on plans to extend Oerlikon depot. The extension, to be built on part of the adjoining car park, will house seven Cobras and one Tram 2000, and cost 25 million Franks.
The magazine also reports that the status of Mirage trams is as follows: 26 units (in pairs) for route 2, 9 for route 8 and 16 (in pairs) for route 13. These are 1608/10/25-7/9/31/5/8/40/2/6-53/5-60/2-9/71-82/4-6/8/710/25. In store are 22 units: 1606/9/11/3/6/8/23-4/8/30/2-4/6-7/41/4-5/711/2/23-4.
---
01.07.2009 - Cobra suspension update
Inspections of the Cobra fleet following last week's broken-suspension incident has led to the withdrawal of six further Cobras.
---
01.07.2009 - Cobra 3074, then 3005 ...
With the arrival of 3074, the numerical delivery of the initial Cobra order is complete.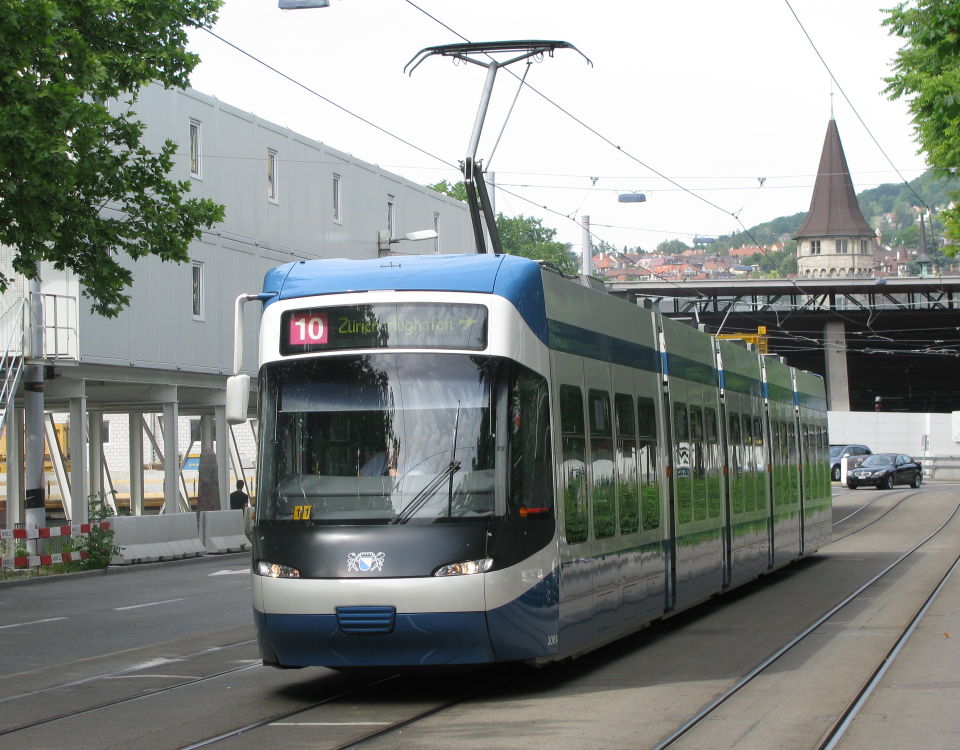 The initial contract signed between VBZ and the supplier consortium in December 1996 had specified an initial 17 trams of which six were to be delivered as a pilot series (the word prototype being explicitly avoided at the time). This would eventually have been expanded into a larger fleet of 70 to 100 units. The suppliers underwent a turbulent phase of takeovers, new management and works closures, with the tram design itself also undergoing changes of its own. The result was that the first of the "prototypes" (3001) did not arrive until May 2001, with the six not being complete until Autumn 2002.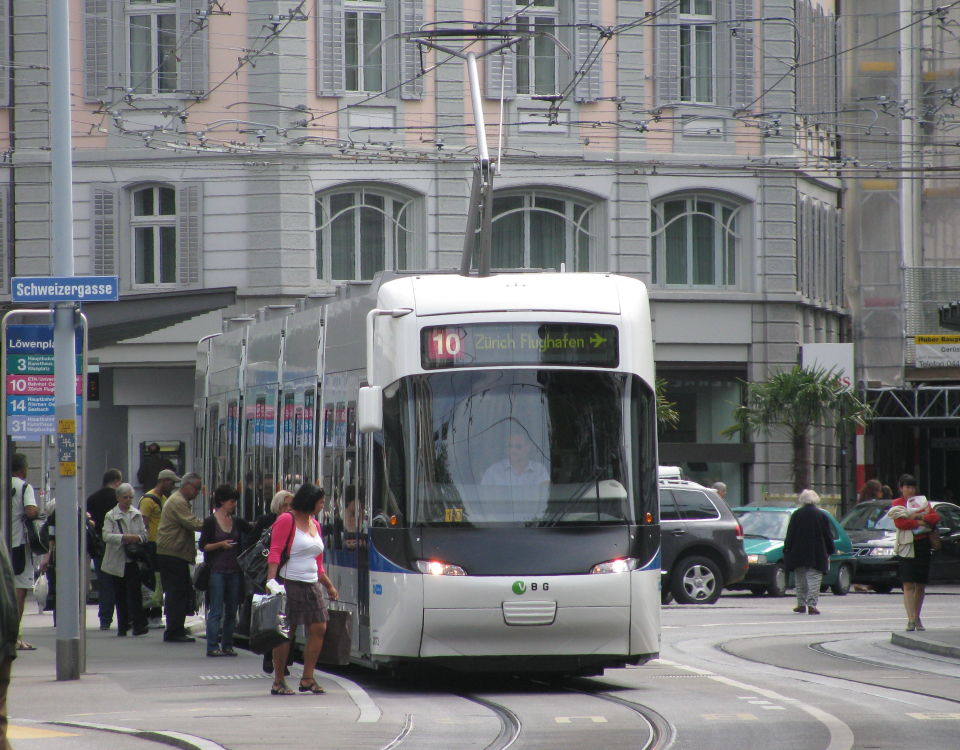 The "pilot series" suffered various problems with noise and vibrations and was found to have structural flaws similar to that of the Combino. In June 2004 a new agreement was negotiated between the suppliers and VBZ, this time for 68 trams, the first of which (3007) arrived in March 2006. The recent arrival of 3074 marks the completion of this series. It does not mark the end of production, however, as 14 further vehicles were ordered in December 2007, and it was furthermore decided to replace (or rebuild?) the prototypes (*). It now seems that these are being delivered ahead of 3075-88 (maybe to avoid giving a low number to the last ever Cobra to be built?) The tram that followed on from 3074 is thus 3005 and this has since been joined by 3004.
3062-74 are in the VBG Glattalbahn livery, with 3004 and 3005 carrying the standard VBZ livery, in common with the rest of the fleet.
*) Prototype 3006 was withdrawn in late 2006 and returned in circa May 2007. 3001-5 were withdrawn in early 2008.
---
In March, this website reported the appearance of a new e-magazine, Tramways Monthly. The magazine has since launched a new website: www.tramways-monthly.com, and reached issue number five. The website also features a forum to discuss all things tram-related.

---
28.06.2009 - More Cobra problems
It is reported on bahnhofplatz.net (citing Tages Anzeiger as source) that in the night of 24th to 25th June, as a Cobra tram was returning to Irchel depot, the suspension on one of the wheels on the middle section broke, leading to a "partial derailment". VBZ are now inspecting the entire Cobra fleet for damage. Analysis of the dismantled prototypes 3001-6 had revealed structural cracks in this region and some of the series units had been appropriately strengthened, not however this ill-fated tram. No passengers were on board when the incident occurred. The tram is still under guarantee so VBZ will incur no costs.
---
23.06.2009 - Progress on Tram Zürich West
In recent decades, the addition of new tram lines to the Zürich system has progressed rather sparingly. Following the stagnation of the 1960s in which the future of the tram system was called into question, growth never managed to progress beyond realising a new project every decade: Werdhözli in 1976, the Schwamendingen lines in 1986, and Messe/Hallenstadion in 1999 (and this despite long and growing wish lists). Since then, growth has accelerated somewhat, with the first two phases of Glattalbahn opening in 2006 and 2008 respectively. With work now progressing on both Tram Zürich West and the third phase of Glattalbahn (for opening in 2011 and 2010 respectively), Zürich is in the rare position of seeing two independent major projects being realised simultaneously — the first time this has happened since 1930.
Progress on Glattalbahn was recently presented on this newslog. This article will therefore take a closer look at the other project: Tram Zürich West.
Construction of this commenced officially on 9th Septmeber 2008 with first rails being layed earlier this month. The new line will start at Escher-Wyss-Platz. The diagram (left) shows the layout which is to be completely remodelled (into a sort of elongated grand union). The new line is that from the junction to the lower edge of the diagram.

The tram will run in the median of this road (Hardstrasse), lengthways underneath the Hardbrücke road viaduct (the junction is also partly under this). This covered median strip is currently used for car parking.

This neighbourhood was once heavily industrialised, but is now experiencing a fresh boom as a trendy district to live, do business or enjoy the night life. Dating back to its industrial past, many lengths of siding are still to be found throughout the area and indeed sidings once ran along both shoulders of Hardstrasse — and these are still largely intact.

These tracks are not all historical remnants bereft of any function however, as there is one plant that is not only still served by rail but also plans to retain its current location and rail access. This is the Swissmill flour mill which receives several trains a day. Coming from the mill (which is located on Sihlquai, not far from Escher-Wyss-Platz), trains first run on the east shoulder of Hardstrasse and then switch to the west shoulder by passing under Hardbrücke at an obtuse angle.

This path conflicts with the future tram line which would require two additional rail/tram intersections (there is already one at Escher-Wyss-Platz, as can be seen on the right-hand side of the above plan).

To avoid this, the disused continuation of the siding along the east side of the viaduct will be revived and a new connection to the west side is being built further South to permit the current one to be removed. What may look like new tram track taking shape at the Pfingstweidstrasse intersection is in fact the first section of this new connection. The picture (right) shows the disused, but to be revived tracks of the east shoulder in the foreground.

The new tram line will turn right into Pfingstweidstrasse at about this location, and run along the right shoulder of this broad thoroughfare. Ground work is visible in many places. The first track is not really in front of Technopark (Zürich's prestigous "campus" for startup technology businesses) as news reports have suggested, but is a short length on the Duttweilerstrasse intersection (further west). This is the only proper tram track that has been installed so far, and few other areas currently look ready to receive rails.
In this area, the tram passes several major redevopment sites. These include the Toni Molkerei, a former yoghurt factory that is being demolished, the former Hardturm football stadium , which is to be replaced by a new modern stadium and various other projects.
After the stadium, the line turns left into Aargauerstrasse and ends on a plot of land adjoining Bahnhof Altstetten (where the turning circle will be built). Altstetten station is served by both commuter (S-Bahn) and long distance services and many new businesses have been attracted to this area in recent years. There are also proposals to transfer the coach terminus here, further increasing its role as a transport interchange. The main station building is on the other side of the tracks, and although currently not served by trams, the project for tram 1 or Limmattalbahn could change this.
A series of photographs documenting the current status (including those used above) can be viewed here, and various unconnected recent Zürich tram pictures are here.

---
16.06.2009 - Wetzikon Meilen's last wagon saved
With such projects as Glattalbahn and Limmattalbahn now growing the Zürich tram system beyond its urban confines, it is often forgotten that there was a time that interurban lines extended much further into the surrounding countryside. Forchbahn and Bremgarten Dietikon Bahn (now BDWM) are but survivors of a once more extensive system. Wetzikon Meilen Bahn (WMB) was one of the more outlying part of this. It connected Kempten to Meilen Schifflände via Wetzikon, Gossau, Grüningen and Langholz, and opened in 1903. The short stretch from Meilen SBB to the lakefront at Schifflände closed in 1931, followed by Kempten to Wetzikon SBB in 1939. The remaining section survived until 1950. The corridor is now served by the VZO bus company. The above locations are all some distance from Zürich, but at Langholz (Oetwil) the line had a track connection to Uster Oetwil Bahn which in turn connected to Forchbahn's tracks at Esslingen. Through workings from Zürich did not occur regularly but there are reports of special trams having done this.
Passengers at Grüningen's bus station (which, as its railway-style architecture suggests, is the former WMB station) are reminded of this tramway by car CFe4/4 2, which is on display behind glass. Despite its appearance, this is not a genuine ex WMB tram but a practically identical vehicle from Trogenerbahn (BDe4/4 23) restored to represent the WMB vehicle by Tram Museum Zürich and placed here in 1992.
The only known vehicle to be a genuine WMB survivor is open goods wagon L53 of 1903 vintage. On occasions, WMB would fit this wagon with benches to provide delightful open-air rides. Following WMB's closure, L53 was transferred to the Solothurn – Niederbipp – Langenthal – Melchnau railway (now part of Aare Seeland mobil) where it was numbered K183 and ultimately passed to the custody of the track maintenance department. After 106 years of service, this rare vehicle (which still has its spoked wheels and other original features) has returned to Oetwil where it is displayed outside Holzhausen Museum. This institution now has a permanent exhibition on WMB's history.
Prellbock magazine (issue 3/09)
WMB page on Eingestellte Bahnen der Schweiz
Güterwagen L53 and CFe4/4 2 on Tram Museum Archiv
Museum Holzhausen on Oetwil am See website
Museum Holzhausen on muse um zürich
---
11.06.2009 - First rails for Tram Zürich West

The first rails of the Escher-Wyss-Platz to Bahnhof Altstetten line have been layed. They are positioned at the future Technopark stop. This 3.2 km link will open in 2011.
Tages Anzeiger

---
05.06.2009 - Glattalbahn to replace shuttle bus?
According to bahnhofplatz.net, hotels along the route of Glattalbahn, impressed by the performance of the new tram, have approached VBG to negotiate free use of the service for passengers transferring to and from the airport. Several of these so-called airport hotels, most notably Novotel and Renaissance, have Glattalbahn stops on their doorsteps (*). The airport operator, Unique, also supports the idea. Possibly, a ticket or boarding pass would automatically qualify as a zone 21 ticket. Watch this space for further developments.
*) For Novotel this is Lindberghplatz, for Renaissance it is Glattpark, both a short ride from the airport on Glattalbahn's new route 10.
---
Zürich Zoo's plans for a cable car link to Stettbach are taking a step forwards with the required structures now being highlighted by positioning poles to mark their outlines (as is usual in Swiss planning processes). The cable car link will cost 17 million Franks which the zoo hopes to raise through sponsors. The planned opening is in 2015. The cable cars, each carrying eight people, will whisk visitors to the zoo in seven minutes. Besides becoming an attraction in its own right, the promotors expect the line to reduce traffic congestion in the zoo area. They point out that using Stettbach as a starting point enables excellent integration with S-Bahn, trams, Glattalbahn and local buses. There is opposition to the project from the town of Dübendorf (on whose territory Stettbach partly lies) as it is feared it would bring more cars into the area and place pressure on parking facilities. The zoo believes that no more than 60 parking lots will be required here on the busiest of days. Dübendorf also objects to the destruction of a natural area the line would cause, and its proximity to buildings.
Website comment: Even 60 parking cars can make a considerable difference to availability of parking lots and congestion, and there is no guarantee that the figure will not be greater. The zoo's commital to encouraging its users to use public transport can be questioned, for example on account of its opposition to the proposed tram extension. Any attempts by the zoo to sell this as a convincing improvement to public transport and an incentive to make people leave their cars at home should thus be taken with a pinch of salt, if not as greenwashing. It seems more likely that this is an attempt by the zoo to move the car parking problem away from its own doorstep. However, if it can be made to work financially, the link has the potential to become a local landmark, and by linking in with public transport at Stettbach, it does reduce journey times for zoo visitors locally, and also for those coming from such places as Winterthur, even if the overall advantages for public transport users are not as great as claimed.
---
25.05.2009 - News roundup, new tram lines
According to reports on Bahnhofplatz.net, planning of the tram line on Rosengartenstrasse is making positive progress, with the company, Ernst Basler + Partner AG, now entrusted with the evaluation of the project. Variants being considered are (1) a tram on the present road (which would involve some major interventions to create a gradient that trams can manage), (2) use of a parallel road, (3) or a tunnel. This tram line was included in VBZ's Vision 2025 (published in 2006), which envisaged its completion by 2010 to permit an orbital link from Milchbuck to Albisriederplatz.
Although I generally welcome new tram projects, this is one case where I feel the present trolleybus (maybe with additional priorities and reserved rights of way) could do the job better. At present normal articulated trolleybuses appear to be coping well, but even if traffic were to increase significantly, double articulated units should provide an adequate solution for the forseeable future. A tram would require significant investments and modifications without necessarily balancing these with similar advantages.
The 5/2009 edition of Schweizer Eisenbahn Revue features multiple articles on trams. Besides covering the Tango's demonstration run in Zürich, an article is also devoted to Stadtbahn Limmattal (or Limmattalbahn), the light rail line projected from the western edge of Zürich to Killwangen Bahnhof. Work on this could begin in 2016 for an opening in 2019 and cost 600 to 700 million Franks. The previous option of phasing the project is not mentioned. Besides the options of using uni or bi-directional rail vehicles, a rubber tyred system is also under consideration. In contrast to earlier descriptions of the line, present planning sees it extended at the Zürich end from Farbhof to Bahnhof Altstetten, so linking into the S-Bahn as well as the urban tram systems here. Such an extension would make through running more difficult however (unless the priority of Tram Route 1 were increased to be completed in time, or the railway lines could be crossed at Bahnhof Altstetten).
There are plans to extend the line at the Western end also, with a continuation into Wettingen and Baden being envisaged. This certainly makes sense as the currently proposed Killwangen terminus is short of the important built up areas around Baden. Baden's conurbation has grown rather assymetrically in favour of Wettingen, and routing an extension through this area would make sense in my opinion. However it would involve crossing the river and the motorway. Finding a route through Wettingen and into central Baden would not be without challenges of its own. Avoiding central Wettingen might be easier, but this would miss a lot of the area's population.
Limmatlbahn now has a webiste of its own. It is rather minimal at present but will hopfeully grow as the project progresses: www.limmattalbahn.ch .
The third tram contribution in the magazine covers the planned Biel tram.
---
Off topic: After decorating the city centre with themed bears in 2005, this summer's special theme is giant flower pots. Although the trams themselves do not appear to be participating directly (they did last time) there is certainly plenty of scope for tram photography with these.
---
19.05.2009 - Glattalbahn: Phase three progress
A recent visit to Glattalbahn's phase three revealed rapid progress. Work is already in in hand at Bahnhof Stettbach, which is being totally rebuilt to accomodate the new tram line. The new layout will see the present unpopular structure replaced by a more open arrangement with both tram lines sharing a common turning circle. Between here and the new line towards Dübendorf a building that will have to be demolished is still standing, but immediately behind this the new tracks are already in-situ and the fresh grass is already sprouting. This continues as far as the Sonnental junction where the tram will turn left. From here to Giessen the final layout is less obvious as services etc are still being moved leading to myriad diversions and temporary solutions for general traffic.
At Giessen the tram will leave the roadside alignment and cross the river Glatt on a new bridge and then cut across what was until recently a green field. The bridge and its approaches are taking shape, with concrete now being cast. Giessen is also the junction with the future Ringbahn Hardwald (despite which, overhead masts are being positioned on the Ringbahn's future alignment). Glattalbahn's phase three turns left here but Ringbahn Hardwald will turn right. Phase three continues at street level along a minor street serving various garages and workshops. A short length of track is already in place on a road crossing. The tram will continue from here under the railway viaducts at Neugut before rising onto a viaduct of its own which is now rapidly taking shape.
In a series of elegant curves this viaduct will take the tram over the motorway and then past the Glatt Zentrum shopping mall, where a stop will be located on the viaduct and on level with the top parking deck of the shopping centre. I assume a pedestrian bridge will ultimately link the two. The viaduct takes another elegant curve crossing the railway lines at Wallisellen and descends to ground level at the station, where a major redevelopment project called Mittim is going on. From here the tram will continue on land vacated by dismantling an undertilised goods siding paralleling the Wallisellen to Oerlikon railway line as far as Balair. Along the full length of this section, ground has already been cleared and the foundations of overhead masts cast, ready for rails to be laid. From here the tram will follow roadside alignments, with a stop at Herti serving the adjoining industrial area and the housing on the other side of the road. Again the trackbed is ready and short lengths of track are in-situ in places, especially at road crossings.
At the motorway, an underpass has been cut and the track in this has already been laid and is making rapid progress towards Auzelg, leaving only a few short gaps to be filled. On the final approach to Auzelg the line occupies land formerly used for allotments. When the terminus at Auzelg was built in 2006, a short stub track was included for the connection of this line, and the new line is stretching towards this.
The third phase of Glattalbahn is scheduled for opening in late 2010. It will be served by VBG's tram route 12 which will link Bahnhof Stettbach to the airport.

---
12.05.2009 - Route 8's extension a step closer
VBZ's Vision 2025, published in 2006, included the extension of tram route 8 from its current Hardplatz terminus to form a junction with Tram Zürich West (currently under construction) at Schiffbau. The current status of planning is that this extension will go ahead after the completion of the above project. The two locations are separated by railway lines and adjacent railway yards. Early proposals for this tram saw it crossing this area by a subway, with later suggestions focussing on a bridge. Current proposals see it using the outer edges of the existing Hardbrücke road bridge. A major renovation project on this structure is set to commence in the near future. The measures necessary to strengthen the bridge for its future tram use will be included in this. The city is increasing the planning budget for the tram line by 860,000 to 1.4 million.
---
29.04.2009 - Tango trial a success
During BLT Tango 154's stay in Zürich, it covered 2777km in 158 hours of operation. It ran in public service on route 7 from 31st March to 17th April, during which time it only suffered one failure (caused by an an auxiliary control device). 14,000 questionnaires were distributed to passengers on the tram of which 3200 were returned. 70 percent of passengers liked the tram with only 7 percent disliking it. Praise was received for the low noise levels, the comfortable ride, comfortable seats and the large windows. The seat arrangement, however, was criticised, as was the yellow livery. VBZ wishes to commence the acquisition process for new trams this year. A tendering process will take place, so it is by no means a foregone conclusion that the new trams will be Tangos.
---
27.04.2009 - Bern: First extended Combino
The first of the extended Combinos for Bern has now entered service. 765 is the first of eight Combinos that are being stretched from five to seven sections. The work is being carried out by Siemens in Vienna.
---
The Tango demonstrator's last day in passenger service in Zürich may have been on Friday 17th, but this was not it's very last passenger-carrying move in the city. The tram was chartered on the evening of Monday 20th. This was the date of Zürich's traditional Seschseläuten festival. For the evening part of these celebrations, the guilds often charter public transport. The Tango took a party to Höngg.
This tram has since left Zürich.
---
27.04.2009 - Vinnitsa numbering update
Further to previous reports (July 2008 and March 2009 update) on the numbering of ex-Zürich trams in Vinnitsa, it is confirmed that 1602 is now 257.
Martin Baumann

---
The latest edition of Tram magazine (Nr. 97/02.-04.2009) reports on the ending of Mirage operation on route 7 in October, musing that in April 1966, 1601 and 1602 commenced running here and that the route saw this type continuously for the following 43 years. December also saw Mirage operations on route 4 come to an end. The last remaining Mirage + B4 set was split with 1680 being transferred to route 13 and 790 being stored for future heritage use.
Of the 90 Mirages with cab, 55 remain in service. Of the cabless version (Blinde Kühe) two remain of 36. 12 and four further units of the respective variants remain in store. VBZ intends to equip 20 units with the new CCM radio equipment, suggesting these may be destined to last for a while yet. 1675, the unit fitted with matrix displays will probably be the first to be treated.
2060, the tram that was damaged in an accident in January 2008, and that had previously been reported
as earmarked for repair is now likely to be scrapped after all.
Winterthur: the overhead of the long-disused trolleybus route 4 has been dismantled.
Basel: The cantonal government (BL) is planning to provide 1.34 million for the planning of the extension of route 14 from Pratteln to a railway interchange at Salina Raurica.
Bern: The extension of the Combino trams by adding intermediate sections has begun. The work is being carried out by Siemens in Vienna. Tram extensions are being considered to Ostermundigen Rüti (for 130 million), Köniz und Kleinwabern (260 million for all three projects).
---
22.04.2009 - Tango leaves Zürich
Tango demonstrator 154 is leaving Zürich for Basel by road, with the first half leaving yesterday and the second following today. Its three sister units (151-3) are already running in Basel.
---
16.04.2009 - Last chance to tango
According to Bahnhofplatz.net, the Tango demonstrator's last day in service in Zürich will be tomorrow (Friday 17th April).

---
I have uploaded a series of pictures from my recent USA trip, mostly focussed on New Orleans and including some tram scenes.

---
15.04.2009 - Stadtbahn for Winterthur?
Five years ago, Winterthur considered a tram system based on a mix of new lines and shared running on existing railways. The plans were dropped on account of their high costs. Recently, however, the concept has resurfaced. This time the proposals are less ambitious and focussed more on existing railways which could carry a "Regio Stadtbahn" with 15 minute headways similar to that of Zug. One of the main challenges needing to be addressed is the heavy rail traffic on many of corridors in the Winterthur area.
Tagi
---
15.04.2009 - Guided bus and trams for Zug?
Since its opening in 2004, Stadtbahn Zug has been the pride of Zug's transport system. The frequent and fast service upgraded existing rail corridors while adding new stops and capacity. From the beginning it had been planned to also add links to places more distant from these corridors. These plans are now moving ahead, with alignments being identified for the introduction of BRT or guided buses. These could be upgraded to full trams beyond 2020.
Zug's bus operator has always shown its will to innovate, for example through its reintroduction of trailer buses in the 1990s.
---
14.04.2009 - Original Polybahn car back in Zürich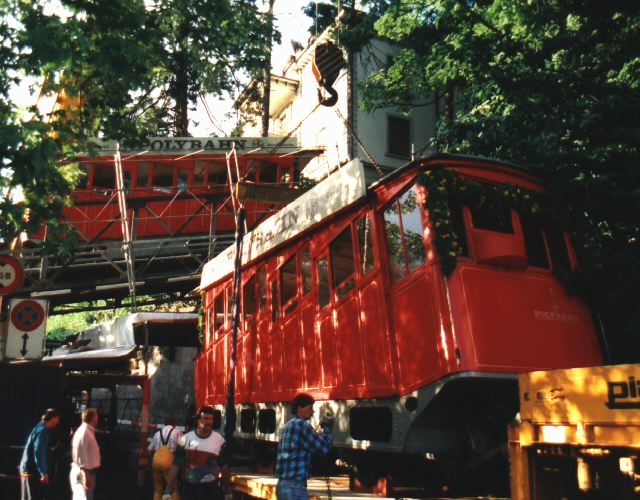 The Polybahn funicular, linking Central to Polyterrasse has long been an irreplacable part of Zürich's transport scene. Opened in 1889 and originally powered by water tanks and gravity, the funicular was electrified in 1897. The original cars and much of the equipment survived until 1996 when, despite protests from heritage organisations, this unique system was dismantled and replaced by a modern funicular designed to superficially resemble the old. One of the two cars survived and was originally displayed outside the Giesserei restaurant in Oerlikon before being tranferred to CEVI Pfäffikon. Suffering from the elements and slow progress in restoration and finally being forced to relinquish its resting place, a last minute rescue saw the car return to Zürich on 6th February in the custody of Tram Museum Zürich. Its ultimate purpose remains unclear, but it is currently stored (well wrapped in sheets) outside Wartau depot.
Prellbock
The photo above was taken during the dismantlement of the funicular in 1996. Car number 2 (the survivor) is on a low loader in the foreground, while car 1 waits on the bridge. This and further views can be found on this website's Polybahn pages.
---
The Tango demonstrator (BLT 154) has been succesfully running on route 7 for some days. I have uploaded a series of pictures.

---
25.03.2009 - Tango set for debut
VBZ has announced that the Tango demonstrator will run on route 7 for two weeks commencing 31st March.
---
24.03.2009 - Glattalbahn in T&UT
The April edition of Tramways & Urban Transit features an article by myself on the Glattalbahn.
---
19.03.2009 - Longer trams for Zürich?
Zürich is eagerly awaiting the first appearance in service of the Tango demonstrator which is now being prepared for its debut in the VBZ workshops. The choice of routes the tram can work on is somewhat limited though: The tram is 45m long, whereas the longest combinations currently operating are just short of 43m. Some stops are unable to accomodate the long trams and special provisons may be necessary.

VBZ meanwhile has a similar problem of its own. The conversion of route 10 to Cobra (coinciding with the opening of the airport extension) has rendered many Sänfte trams surplus. Some have been redeployed on route 4E, the peak-only route strengthening routes 4 and 13 between Escher-Wyss-Platz and Hauptbahnhof. However, the total number required is still reduced. VBZ are therefore interested in pairing these trams with 24xx Pony four-axle cabless trailers. Such a combination would also be too long for some stops. As a remedy, VBZ is considering removing the couplings at the outer extremities. The resulting set would still be 20cm longer than 43m, the greatest officially acceptable length. Watch this space for further developments.
Tages Anzeiger
---
19.03.2009 - Cobras 3070 and 3071
According to my observations, Cobra deliveries have reached 3070. Bahnhofplatz.net reports that 3071 is also now in Zürich. Both are Glattal liveried.

---
The project to reintroduce trams to the town of Biel has taken an important step forwards, with Bernese cantonal authorities giving their thumbs up. The new tram line will be developed from the present Biel – Täufelen – Ins narrow gauge railway (part of the Aare Seeland mobil system). This will be extended beyond its present Biel terminus (Bahnhof) to Bözingenfeld. At the same time the existing line will be double-tracked between Biel and Ipsach, permitting 7.5 minute headways between Ipsach and Bözingenfeld. The remaining interurban section to Ins will be served at half-hourly or hourly headways. The project will cost 125 million Franks. Construction could begin in 2014.
The artist's impression accompanying the official announcements interestingly shows a tram resembling that of Reims (or a metre gauge version thereof), including the APS current collection system of that city rather than overhead lines. The official announcement makes no mention of this feature.
---
The first half of the Tango-tram demonstrator arrived at VBZ's Altstetten workshops yesterday. The tram will be presented to the press on 25th March and run in service between late March and mid April.
---
Updating this website's previous report on the numbering of ex-Zürich trams in Vinnitsa, the following identities are confirmed: 229 is ex VBZ 1418 and 236 is ex VBZ 783. 1420 and 774 are being cannibalised for spares. The Mirage Be4/6 trams are being allocated odd numbers in the range 255 to 283. Confirmed so far are:
Vinnitsa number: Zürich number

255: 1601
259: 1603
261: 1604
263: 1605

Unconfirmed is

257: 1602


The even numbers in the range 256 to 284 are (or will be) "B4 Mirages" (FFA 3-door trailers). The following are exceptions:

260, 262, 272: Be4/6 Mirage Kühe (cabless units) 1715, 1717, 1718 (sequence unconfirmed)

268 is described as "B4 Karpfen" and is probably ex VBZ 786.
Martin Baumann, quoting as sources this forum and this fleetlist (with links to photos of individual vehicles).
The photographs accompanying this news item are from a series by Håkon Kinck Gaarder.
---
A new online tram magazine has been launched. Tramways Monthly is a (free) e-magazine covering tram and light-rail topics from across the world.
The latest edition (number 2) is available for download here (downloads as pdf). For subscription and other information, click here.
Although I am sympathetic towards this magazine, please note that I am not connected with it. This announcement is for informational purposes only.
[->update here (30th June 2009)]

---
04.03.2009 - It takes time to tango
Further to yesterday's report that the Tango demonstrator will arrive next week, other sources are suggesting the week after (16th March) with appearances in public service on route 7.
---
Zürich's Tango test is planned for week 11 (the week commencing 9th March).
---
02.03.2009 - Tango tram to be tested in Zürich
According to a report in 20 Minuten, one of the prototype Tango trams from Basel will be demonstrated in Zürich later this month. The Tango is a possible candidate for replacing the Tram 2000 type.
It is speculated on bahnhofplatz.net, that the tram in question could be the fourth and final prototype, number 154, which has yet to be delivered to Basel.
---
24.02.2009 - Winterthur: Swisstrolley update
Further to yesterday's information on Winterthur's trolleybus order, town councillor Matthias Gfeller has provided further information on the decison. Hess' offer was succesful against those of Viseon (the company that absorbed Neoplan), Van Hool und Solaris (supplier of Winterthur's trolleybuses 171-180 of 2005 and related diesel buses in the same fleet). Arguments cited in favour of the Hess trolleys were their lightweight aluminium construction (permitting low energy consumption and long life), generous space by the doors (facilitating speedy boarding and hence lower dwell times) and the geographic proximity of the supplier (advantages in terms of support and service). The accompanying photograph show an impression of the new trolleys in Winterthur livery (possibly on the basis of Zürich 151, which was demonstrated in Winterthur in December).
---
23.02.2009 - Winterthur orders Swisstrolleys
Following on from last year's decison to retain its trolleybus system and renew the fleet, Winterthur has ordered 21 Swisstrolley-type trolleybuses from Hess. The order is worth 26 million Franks, with a first vehicle arriving in late Summer, and the others following in three batches by Spring 2011.
Tages Anzeiger
---
17.02.2009 - Special liveries get rarer
Last year must have been a record year in terms of special liveries, with VBZ using the Euro 2008 championship to break ist usual rule restricting special liveries to three sets — and applying football liveries to five tram sets and two trolleybuses. Four further unconnected advertising liveries also operated during 2008 (not all simultaneously). With the university Cobra (3027) having lost its livery in late January, 2005 (Ewigi Liebi) is the only special livery tram to remain operational.
Special liveries in Zürich 2008

number

livery

23 (trolleybus)

63 (trolleybus)

1668 + 1709

1687 + 1712

1689

2005

2005 (again)

2051 + 2425

2087 + 2428

2091

Gesundheitstram (*)

3027
*) removed in April 2008.
---
Today's Tages Anzeiger newspaper reports about the continuing problems with noise and vibrations on Cobra trams. These are caused by unequal wear and tear on wheels which leads to wheelflats/polygon formation (with 15 to 19 corners). The noise and vibrations are especially marked in the interior. Such trams must then be taken to Oerlikon depot where the wheels are reprofiled on a lathe, a process that removes up to 3mm of the wheel tyre and takes two hours (for two wheels). In some cases this treatment is necessary after as little as 6000km, whereas in others it is much slower in manifesting itself. Normally wheels are turned after 25,000km and tyres changed after 360,000km. On Cobras the latter figure is 150,000 to 200,000. About three Cobras are currently receiving this unscheduled reprofiling every week. Typically only two of the 12 wheels are affected (usually adjacent on the same side).
---
12.02.2009 - Electronic matrix displays
With the continuing installation of electronic displays in Tram 2000 units, the original backlit route information displays are now becoming rarer. The greater flexibility of the electronic version makes it easier to transfer cars between routes.

Meanwhile, matrix destination indicators are increasingly replacing roller blinds on the O405 GTZ trolleybuses. The displays used are salavaged from withdrawn O405 diesel buses

---
12.02.2009 - Cobra 3068 and 3069
According to bahnhofplatz.net, Cobra deliveries have now reached 3069, with 3068 being the highest number in service. Both carry the VBG Glattal livery.
---
02.02.2009 - Ringbahn Hardwald
It has been a long time since this website reported on progress on Ringbahn Hardwald rapid transit project to the nort-east of Zürich. The accompanying map shows the status of planning as published by the Cantonal government last year. As far as I am aware, this alignment (circa 6.6km) is now safeguarded along most of its length. Putting it into the geographic perspective of Glattalbahn (map here), this line connects with the Glattalbahn's airport line at Fracht at its upper end. The final section at its lower end (as far as the second corner) is in fact identical to the Glattalbahn's approach into Stettbach and is thus already under construction. No agreement has yet been reached on the construction of the rest of the project. The canton favours a (shall we say stretched) timeline whereas the local authorities would like to see a more imminent realisation. In order not to compete unluly with this project, Dübendorf is formally dropping its alternative tram projects. These variants saw a tram being extended from Zürich (either from Bhf. Stettbach, or from Altried, one stop on route 9 before the last) and extending to Bahnhof Dübendorf (either by way of Überlandstrasse, like the Ringbahn project, or by the more southerly Zürcherstrasse). Ringbahn Hardwald, of course, fulfils the same ambition as this project and hence it is no longer necessary to expressly reserve the alignments.
---
30.01.2009 - Zürich trams in Vinnitsa
I have uploaded a series of photographs of trams (and trolleybuses) from Vinnitsa, including some familiar ex-Zürich trams. With kind permission of Håkon Kinck Gaarder. Click for: trams, trolleybus, ex-Zürich, all scenes.

---
It has been some time now since this website reported on the current status of the dwindling Mirage fleet. withdrawals have accelerated since the end of the EURO 08 football championship. According to the number 96/11.2008-01.2009 edition of Tram magazine, the following are currently stored: 1606-7/9/11/6/8/21/4/44/711-2/23-4. Scrapped so far (33 in total) are 1617/43/54/61/70/90-709/13-4/6/9-22/6. In Vinnitsa are (18 in total) 1601-5/12/4-5/9-20/2/39/83/7/9/715/7-8. Also in Vinnitsa are the 3-door (FFA) trailers B4 787-9/91-8. 790 remains in Zürich, officially as a spare, but ultimately for the heritage fleet.
The survival in service of cabless Mirages (Kühe) 1710 and 1725 is explained by their passenger counting equipment. Accident-damaged 1643 has been scrapped.
---
20.01.2009 - Statistics roundup
In the wake of various statistic misinformation and exaggeration (including in a recent article in Tramways & Urban Transit), I will attempt to clarify to the best of my information the size of the Zürich tram system.
Route length: 113.1 km (route length is the sum of the individual lengths of all routes, this means that track sections traversed by several routes are counted multiple times, whereas tracks not used by any route are not counted).
System length: 69.6 km (this figure is similar to route length only that sections used by multiple routes are counted once only).
Track length: 166.3 km (this figure is the physical length of all track, double track lines are thus counted twice, the figure is more than double the system length due to depot tracks, sidings and depots access lines).
The above figures are taken from the VBZ website and are for 2007. Since then, the Glattalbahn connecting line in Oerlikon has opened (450m) so I suppose the latter two figures should be increased to 70.1 and 170.5 km respectively.
To consider the total length of the Zürich system as opposed to the strictly VBZ part thereof, the figures for the connected systems should be added. These are Forchbahn (13.1 km) and Glattalbahn (phases 1 and 2: 7.5 km, 12.7 km when phase 3 is completed). The total system length of the interconnected Zürich system is therefore at present 90.7 km — of course within the accuracy of the original figures, rounding errors and possibly a little bit of double counting. With further projects being completed in the coming years, the total figure will edge towards and ultimately pass the 100 km mark. Sources placing the present VBZ figure alone well in excess of 100 km are clearly exaggerated.
Trolleybus: The route length of the trolleybus system is 54.0 km. The VBZ website does not specify the system length, but I guess this is about 52 km as the only significant shared section is the 2 km between Albisriederplatz and Rosengartenstrasse (shared by routes 33 and 72).
Ridership: To add some more statistics, 2007 saw 197.3 milion people use VBZ tram services, 53.2 million use the trolleybus services and 310.0 use total VBZ services. The accumulated distance travelled by all passengers was 360.2 million km (trams) 116.9 million km (trolleybus) and 617.3 million km (total).
Maps can be found on this website in the maps section of the photo gallery, and on the Swiss tram maps section of the www.tundria.com webiste.
---
19.01.2009 - Pedaler tram moves to safety
"Pedaler" is the name given in Zürich to the lighter version of the Swiss Standard Tram. 1501-1552 were delivered between 1941 and 1951, with the last vanishing from service in the late 1980s. Three examples have survived: 1501 was converted to a snow broom for TPC, 1530 is a heritage car in Zürich and 1517 stands in the gardens of Wagerenhof, a home for the mentally handicapped in Uster, a small town not far from Zürich. Despite its outdoor location, the latter car is still in excellent condition. It has recently hit the news as it was found to be in the way of a building project. Its scrapping could fortunately be averted through the generous support of two companies, Edel und Stahl Metallabau AG (Stäfa) and Welti Furrer AG who moved it to a nearby location free of charge.
---
16.01.2009 - Stadtbahn Obersee
There has been a resurgence in interest in light rail projects over recent years, with projects having been suggested or being considered in places as diverse as Lausanne, Sankt Gallen, Biel, Winterthur or Lugano. With Stadtbahn Zug and Glattalbahn having made it to reality in recent years, the interest in other projects is growing. In the immediate Zürich area, Stadtbahn Limmattal and Ringbahn Hardwald are being actively pursued and no longer appear as speculative as they once were. The latest addition to the wish list, however, is called Stadtbahn Obersee. This project centers on the railway link that crosses Lake Zürich on a causeway between Rapperswil and Pfäffikon SZ and envisages a "Stadtbahn" that would share these tracks with existing services, extending to Kaltbrunn along the northern shore and to Lachen along the southern shore, with a possible further extension from Pfäffikon towards Einsideln. Despite local euphoria, the project is not currently being awarded a high priority by the federal authorities.
Obersee is the name given to the part of Lake Zürich beyond the above causeway. It lies party in the canton of Sankt Gallen and partly in Schwyz.
---
08.01.2009 - Amsterdam's cargo tram in trouble
Amsterdam's cargo tram is possibly facing bankrupcy, as the city is refusing to contribute to the extra tracks that will be needed. The city is officially in favour of the project but on the condition that it works without subsidy. The cargo tram's prospective operator, City Cargo, has already raised 69 million Euros from companies such as Nuon and Rabobank, and has asked the city to contribute 5.6 million towards this track work.
The silver lining is that Veolia is said to be interested in finding a way to revive the project. There is no mention of any of this on the official City Cargo website.
dutchnews.nl and Railway Gazette
---
07.01.2009 - Trolleybuses cross the Andes
A bit off-topic, but quite spectacular: Imagine trolleybuses winding their way through spectacular terrain high up in the Andes (well, unfortunately, not under their own power). The explanation: The Argentine city of Mendoza has recently taken delivery of second hand "Flyer" trolleybuses from Vancouver and the final leg of their transfer took them over the Andes from Chile into Argentina. To find out more, check this blog on the trolleybuses of Mendoza: www. trolebusesmendocinos. blogspot. com (in Spanish).
Thanks to the Trolleybus Yahoogroup for finding this gem.

---
06.01.2009 - Basel: Tango in service
The first of BLT's Tango prototypes is now running in service in Basel. At present it is restricted to early morning turns, permitting it to be released for testing and training during the day.
---
06.01.2009 - Trolleybus disposals
GTZ trolleybus 19, one of the last of its batch to have remained in service in Zürich, has been seen outside the depot in Winterthur, presumably to be scrapped for spares.
---
The latest photo gallery uploaded onto this website contains a random mix of older and more recent photos, without any special theme.

---
05.01.2009 - Trolleybuses find new homes
A correspondent in Bulgaria reports that most ex-Sankt Gallen trolleybuses have now arrived in Plovdiv where they are replacing BMC and Skoda vehicles on routes 5 and 19 respectively. From reports on bahnhofplatz.net, the trolleybuses going to Plovdiv are ex Sant Gallen 101-111 of 1984. The 1991 vehicles will possibly go to Vilnius when withdrawn. Meanwhile, the last of Biel's Volvo trolleybuses have been sent to Brasov (Romania).
---
A Merry Christmas and a happy new to all readers!
All 2008 news items (106 in total) have been moved to: www.proaktiva.ch/tram/zurich/newslog/2008.html#latest.
2008 was another eventful year. Among the greatest highlights was doubtlessly the Euro 2008 football championship. Besides handling the crowds, VBZ contributed to the festivities by repainting nine trams (five sets) and two trolleybuses into special football liveries. The vehicles concerned have since all been withdrawn or returned to their usual liveries, returning Zürich to normality.

The other highlight was the opening of the second phase of Glattalbahn between Glattpark and the airport, and with it VBG's white tram livery, so far applied to 3062-6.
For several decades now, the growth of the tram network has been slow and new projects advanced sparingly. However, Zürich is now in the enviable situation of seeing two separate extension projects presently being built simultaneously. Work on both of these started in 2008 The third phase of Glattalbahn will open in 2010 and Tram Zürich West in 2011.
2008 was also a year of great rolling stock changes. Cobra numbering has advanced from about 3046 to about 3066. The retreat of the Mirage trams is meanwhile continuing with only routes 2, 8 and 13 seeing regular appearances. With Cobra numbering ultimately to reach 3088, the year 2008 may see deliveries being practically completed. It may well be that no further trams of this type will be ordered, with VBZ rumoured to be looking into a different type to replace the oldest Tram 2000 sets starting in 2013.
On the trolleybus side, 2008 saw delivery of the double-articulated Lightram3 vehicles completed and the Mercedes O405 GTZ trolleys of the 2-36 batch vanishing from passenger service, although some driver training examples remain. Although several towns have expressed interest in obtaining them, it appears that VBZ do not wish these trolleybuses to see further service due to concerns over the level of support it would have to provide.
Another highlight for the trollebus year was the Trolleymotion conference which saw a Solaris trolleybus from Winterthur and Neoplan from Barquisimeto (Venezuela) demonstarted in Zürich, a truly rare occurence.
See also:
2006 news
2007 news.

---
next year | previous year | current year | other years | search.
return to Zürich tram home page.