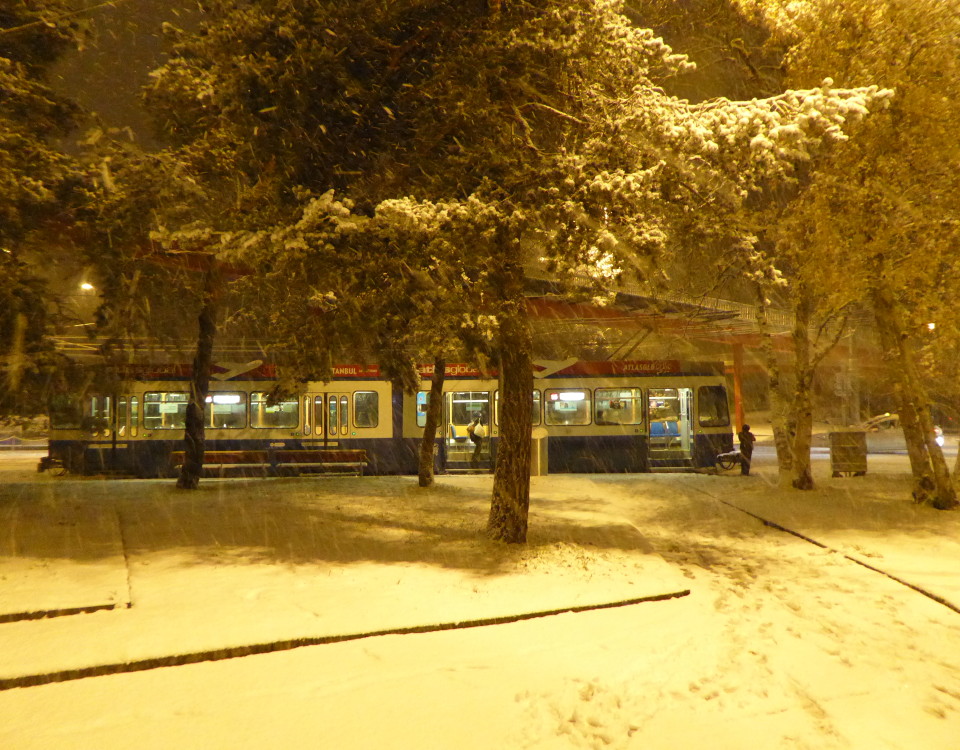 you are in: tram -> zurich -> news
Newslog 2017
latest news | archive | news search
This page presents news and other items of interest concerning the Zürich tram system and connected topics.
This is not the official information page of any organisation. All opinions expressed here are my own or belong to those to whom they are attributed. Whereas care is taken to ensure the correctness of news, no claim is made to total accuracy.
Visitors are informed that many links from this page are to external sites. Such links are provided for informational purposes only. The author of this site explicitly declines responsibility for the content of external web pages.
latest news | older newslogs | articles.
return to Zürich tram home page.
2017 news:

next year | previous year | current year | other years | search.

guide to linking to news items
---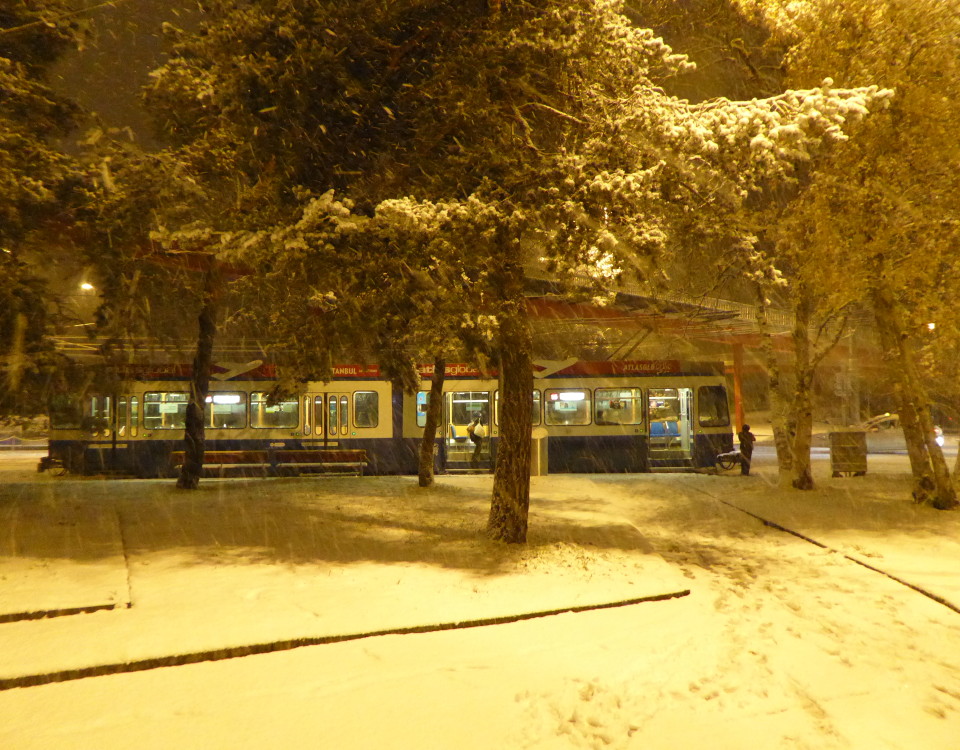 Tonight, heavy snow began to fall in Zürich. I took some pictures at Bucheggplatz.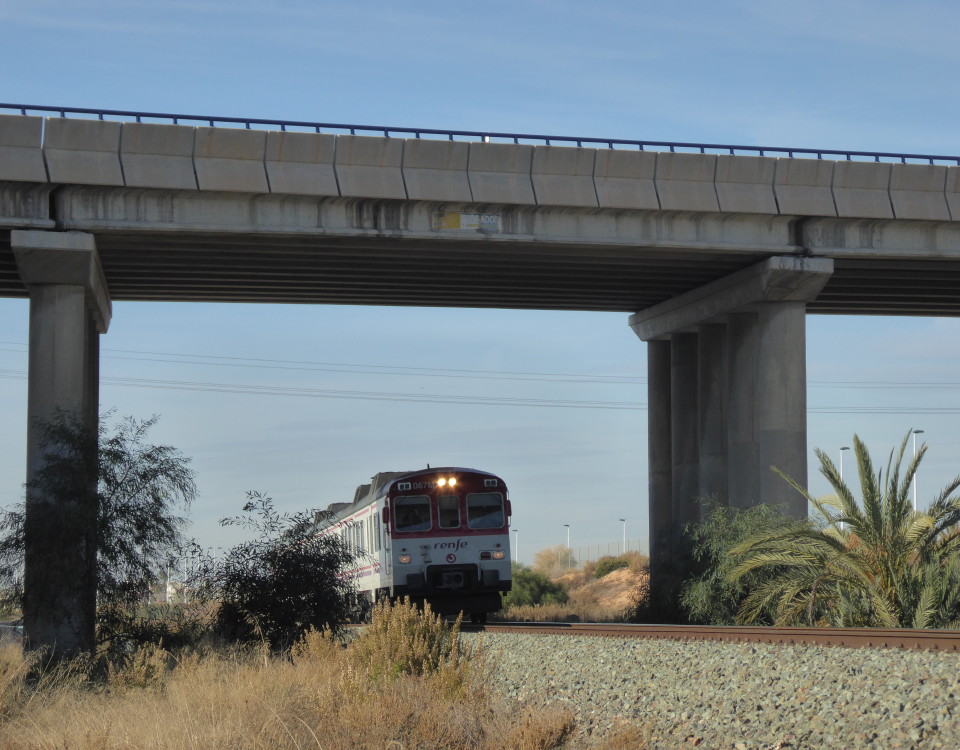 And as a contrast, photos I took just two weeks ago of trains in Torellano, near Alicante, Spain.

---
07.12.2017 - Tram Hardbrücke opening this weekend, and network changes
This weekend will see the opening of the new tram connection across Hardbrücke. Demonstration rides will be provided on Saturday (9th December) between 10:00 and 20:00 accompanied by various other festivities at Hardplatz. Regular timetabled operations will start on Sunday.
Background
There are numerous crossings between tram and railway lines in Zürich. Some of them are invisible to passengers because many railways are in tunnels. But Zürich's oldest railway, the Spanischbrötlibahn, which follows the Limmat valley to Baden (and that has long since been extended to Basel and Bern, making it the city's busiest railway) has, due to its wide formation and running at ground level, cut the west of the city in two. The tram networks north and south of this line developed separately and, before the various bus and trolleybus routes that do cross the line were added, passengers needed to take a long detour via the city centre. The only tram line that did ever cross it is the long closed Schlieren to Weiningen branch of the Limmattalstrassenbahn (which crossed at grade). The introduction of a tram along Harbrücke is a long awaited improvement to the network that and change travel patterns and have repurcussions across the city.
Hardbrücke is a dual carriageway viaduct crossing the railway lines by the station of the same name. Besides the new tram, the bridge carries trolleybus routes 33 and 72 with which it shares the same platform edge at the Bahnhof Hardbrücke tram stop.
Route changes
- Route 8 will be extended from its present terminus at Hardbrücke and use the new line to Schiffbau from where it will continue via Escher-Wyss-Platz to Hardturm.
- Route 8 will also change its routing at its other end. Rather than running from Bellevue to Klusplatz via Kunsthaus and Hottingerplatz as it does today, it will run to Klusplatz via Kreuzplatz. The reduction of the number of tram routes at Klusplatz permits longer trams to be used.
- Route 15, ceding its southern section to route 8, will cease to run to Klusplatz but turn at Stadelhofen.
- Route 31 trolleybus will be extended to Witikon, taking over the full length of the line of route 34 trolleybus, which is being discontinued. With Witikon getting a direct connection to Hauptbahnhof for the fisrt time in its history, the need to change at Klusplatz is reduced, which justified the reduction from three to two tram routes.
The changes to the tram route put increased pressure on the existing fleet. According to the initial plan, deliveries of the new trams should have been commenced by now. Of course some trams are being released by the shortening of route 15, but there is still an overall incraese in the vehicles required. This will be absorbed by reducing the number of spare vehicles and avoiding driver training trips and other such operations during peak times. VBZ has warned that in extreme situations, shorter tram sets may occasionally appear on some routes in order to have sufficient cars available. The situation will become even more acute in 2019 when the extension of route 2 to Schlieren opens.
Poster
I couldn't help but share the poster, with the two overlapping circles. There is a pun on the city districts of Zürich are call Kreise (circles). The new extended route 8 will connect districts 4 and 5. The two-section Cobra (which can't actually get onto the other track) appears almost whimsical.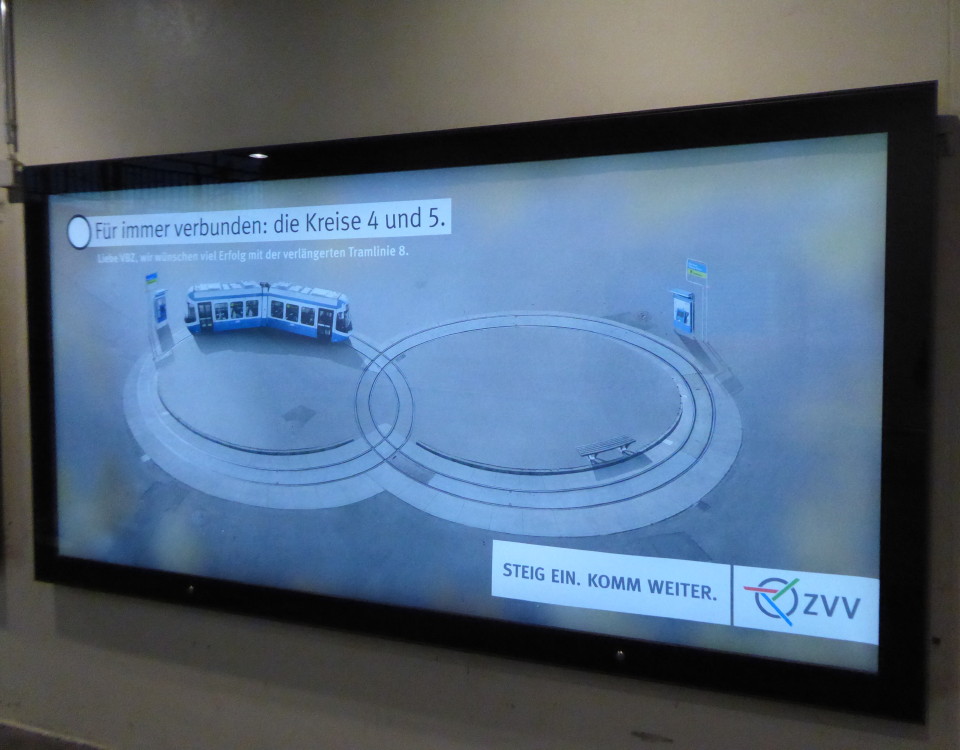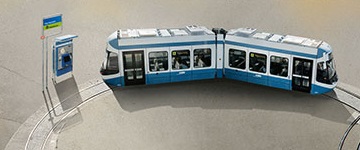 ---
07.12.2017 - Basel tram to St Louis opening
Enthusiasts attending tram openings will have a busy day on Saturday. Besides the opening of Zürich's Hardbrücke tram, Basel will be extending ist route 3 to Saint Louis (across the border in France). The first tram will leave Barfüsserplatz at 12:43, from when trams will run every 7.5 minutes. BVB can then claim to be the only tram system in the world to extend into three countries.
---
01.12.2017 - Basel trams in Sofia
Interesting Youtube find of ex-Basel trams heading for Sofia.
---
13.09.2017 - First tram on Hardbrücke
VBZ have announced on their facebook page that test running of the new tram link on Hardbrücke commenced on Monday night (11th September).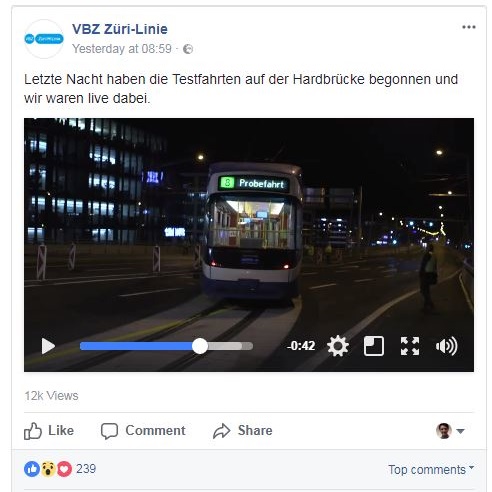 I caught a bus on Hardbrücke yesterday, before reading this news, and suspected something might be happening, seeing the fresh shimmer on the rails.
---
28.08.2017 - Limmattalbahn work begins, and trolleybus cut back
Today marks the official comemncemnt of work on Limmattalbahn. At the same time it is also the end of trolleybus route 31 on its Farbhof to Schlieren section. This will be replaced by the new tram. In the interim this section will be worked by a dieel bus shuttle, route 31E.
Bahnhofplatz
---
26.08.2017 - Trolleybus update
As from the timetable switch of this December, trolleybus route 34 will be joined up with route 31, finally fulfilling the ambitions of Witikon to gain a direct connection to central Zürich. The three new trolleybuses ordered are intended for this purpose. However, as they won't be available in time, it is to be expected that single articulated trolelybuses wil make more frequent appearances on routes 31 and 32.
All the SwissTrolley3 buses originally delivered with a diesel as emergency power source have now been refitted with batteries. Of the double articulated units, seven are still equipped with diesel.
Bahnhofplatz
---
22.08.2017 - No BLT trams for VBZ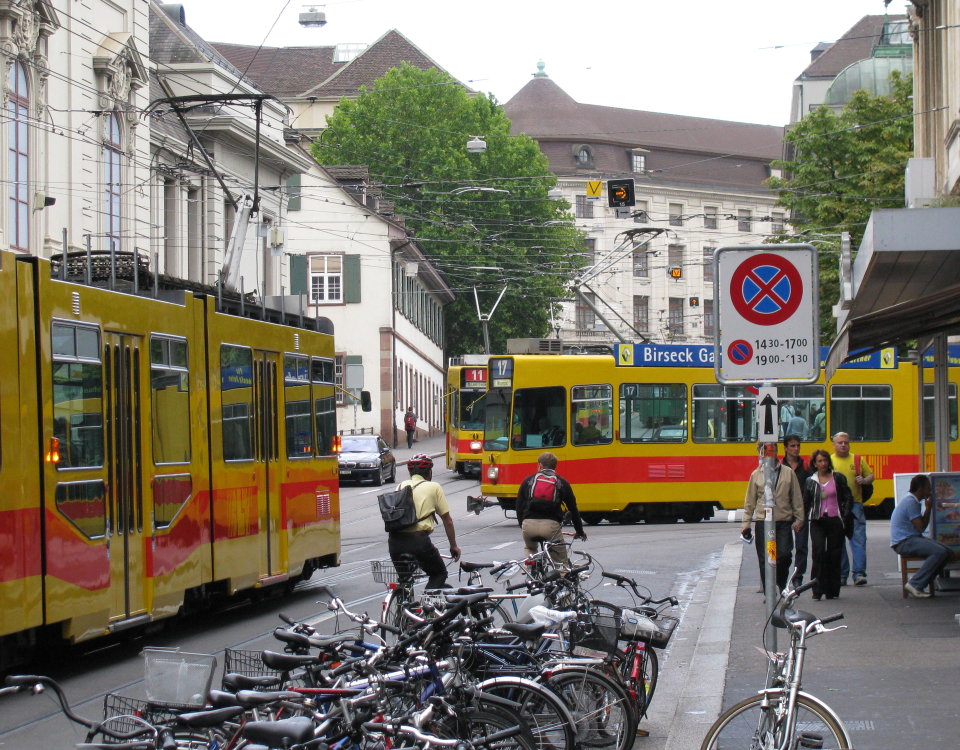 Various speculations have been doing the rounds recently that surplus BLT Be4/6 and Be 4/8 trams might be finding their way to Zürich. The reason is that Zürich's new tram order has been delayed so far that VBZ could be facing a rolling stock shortage. Apparently the Tram 2000 fleet are in serious need of major overhauls if they are to be kept running until the new trams arrive, and VBZ has been looking into alternatives. However, the BLT trams would also be in need of overhauls and platforms would have to be modified to permit their use. There those won't be any BLT trams in Zürich for the time being.
Tram, Bahnhofplatz
---
08.08.2017 - Hardbrücke, a bit of history
With the completion of the tram link across Hardbrücke approaching, VBZ's website features an article on the history of the link from farm tram track to trolleybus route to urban motorway to tram. Below are some interesting views from the article.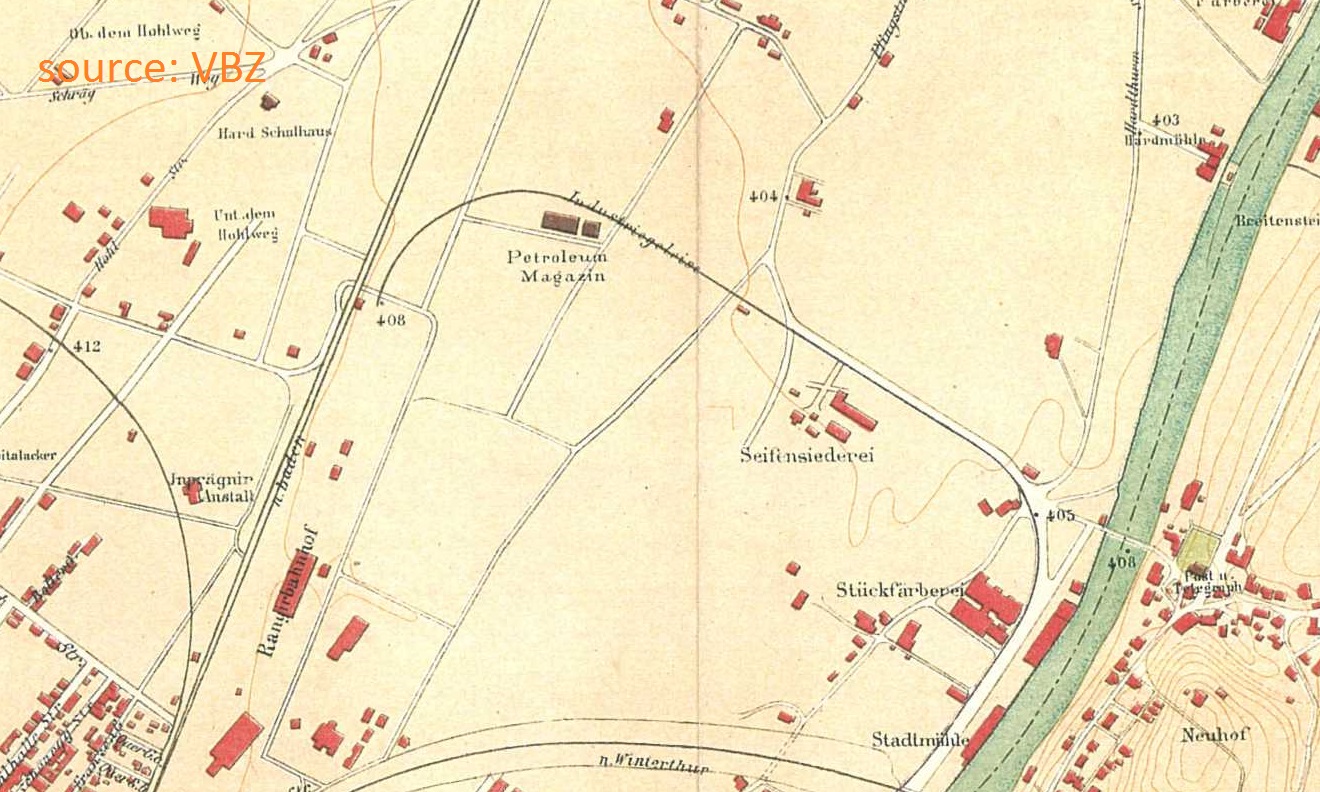 This 1889 map shows the industrial railway siding that is still in use today serving Swissmill. It appears that this in part predates the road.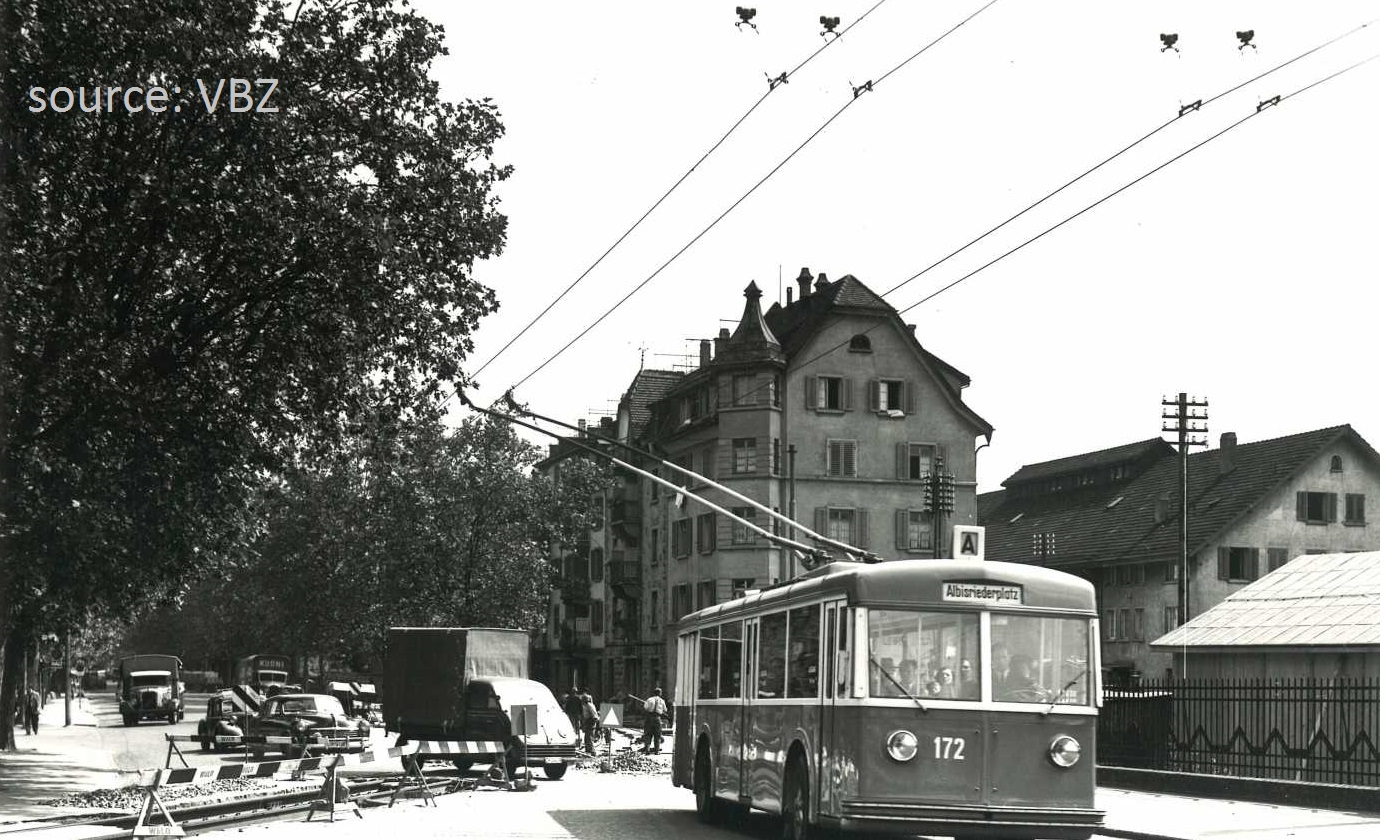 This 1950 view shows a trolleybus on an idyllic Hardstrasse. Today much less sky is visible from this location as this would be the lower level with the Hardbrücke passing overhead. The view shows track work in progress on the previously mentioned railway siding. The tram tracks cross the siding close to this location. The building with the turret behind the trolleybus still stands. The Big Ben Westside Pub is on the ground floor. Today trolleybuses run on the upper level of the bridge.
---
28.07.2017 - Battery trolleybus reliability questioned
Following the failure of the experimental battery trolleybus 183 at Bucheggplatz, which took two hours to clear, the press has been questioning the overal reliability of the experimental vehicle.
Bahnhofplatz
---
19.05.2017 - Three double-artic trolleybuses ordered
VBZ has ordered three additiona double articulated trolleybuses from Hess. These are part of the option that was part of the 2011 order. These trolleybuses will have similar non-overhead line operational parameters to the single-articulated prototype 183.
It is interesting to see this spoken of as "Notantrieb" (emergency power) and no longer as alternative to overhead lines.
Bahnhofplatz
---
12.05.2017 - Winterthur trolleybus expansion
A landbote report on the WV reports that an extension of route 1 is planned and that double articulated trolleybuses are to be ordered.
Bahnhofplatz
---
02.04.2017 - Bern Ostermundigen tram progress
The cantonal parliament of Bern has released 102 million CHF for the Ostermundigen tram extension. Construction of the 264 million CHF project should begin in 2022.
Bahnhofplatz
---
13.03.2017 - Stadler withdraws objection to new tram order
Follwing Siemens' withdrawal from the appeal against the awarding of the tram order to Bombardier on 2nd March, Stadler has announced that it is following suite.
Bahnhofplatz
---
02.03.2017 - New tram order signed
The order for 70 new trams from Bombardier has finally been signed.
Bahnhofplatz
---
21.02.2017 - New tram order to go ahead
The administrational court of Zürich has ruled that the objections voiced by Stadler and Siemens against the awarding of VBZ's new tram order to Bombardier should not postpone the realisation of the order.
Bahnhofplatz
---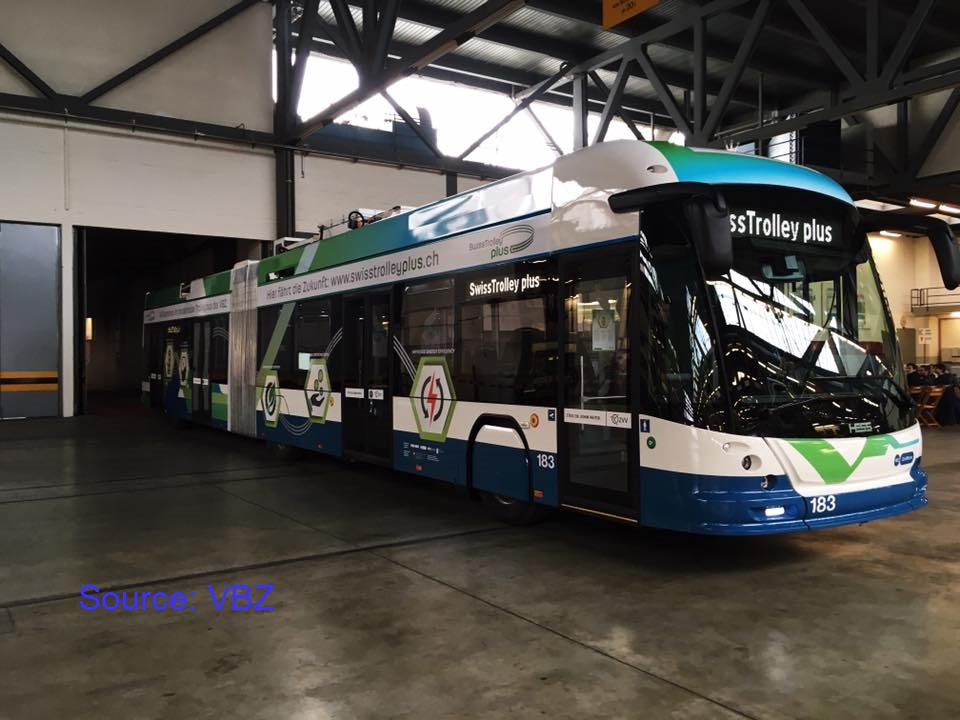 VBZ has published pictures of the new Swisstrolleyplus on their facebook page. There is also an article on the new trolleybus on their website here.
Swisstrolleyplus is a trolleybus with an improved energy management system developed by ETH. The bus has an increased range of operation away from the wires. The improvements are not jsut in terms of battery capacity, but also smarter algorithms to choise the best point to feed energy back into the grid.
The project has its own website www.swisstrolleyplus.ch
---
next year | previous year | current year | other years | search.
return to Zürich tram home page.