New trains for Uetlibergbahn
filed on: 28.09.2010 (28th Sep 2010)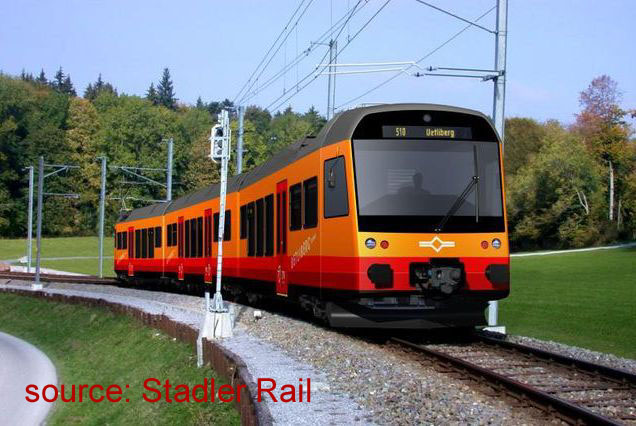 SZU has ordered six new trains for its S10 (Uetlibergbahn) service from Stadler Rail for 58 million CHF. The new trains will enter service from 2013. Uetlibergbahn is a light railway from Zürich HB to the scenic Uetliberg peak overlooking the city and beyond. Besides leisure traffic, the line passes through several residential areas and makes an important and growing contribution to commuter traffic.
To be able to increase capacity, the new three-car articulated sets will be able to run in multiple. For the first time on this line, trains will be dual voltage (1200V DC for the Uetliberg line and 15kV 16.7Hz for the Sihltal line). Regular use on Sihltal services is not planned at present, but the dual voltage capability will increase flexibility in operations and depot stabling and maybe permit a long term conversion to a single operating voltage. One special feature of the Uetliberg's 1200V electrification is that the overhead line and pantographs are not centered above the track but displaced to one side. This permits the dual electrification of the common section between Zürich HB and Giesshübel (but makes pointwork very complicated). To be able to work under both systems, the new trains (which will be known as class Be 510) will feature a laterally movable pantograph.
SZU is furthermore spending 2 million on adapting various stops and also modifying the workshops for the new trains.
For various SZU pictures, see the SZU page of this website's photo gallery.
This news item is from the 2010 newslog.


---
search Zürich tram news archive
news index for 2022
all news for current year
Zürich tram homepage
---
to link to this item please use:

http://www.proaktiva.ch/tram/zurich/newslog/newsitem.php?year=2010&item=280910