Ossie Pie, the baker's apprentice, was a merry young hobbit who lived with his fierce little mother in Lavender Lane, Stock. His journeys to and from work and his evening visits to the Inn led him along Tatty Walk, a narrow lane, past a row of cottages. This was a pleasant place on sunny days but could be quite creepy after dark.

In the Spring of 1248, Shire Reckoning, there were suddenly rumours of something terrible seen in and around the village. Ossie tried to laugh at the whole business, but soon his journeys took on the quality of nightmares........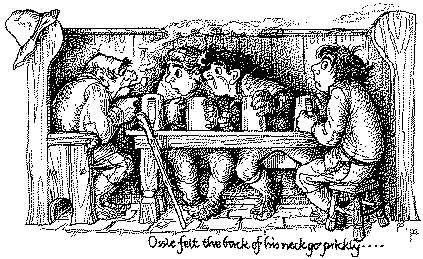 This is a tale of suspense, intermingled with some more light hearted moments. It will keep you uneasy to the very last page and beyond. An ideal story for those darkest nights...

The Terror of Tatty Walk was written by Kay Woollard who has also read it for our CD. The playing time is about one hour. The CD is accompanied by a booklet with the complete text and the author's delightful illustrations. The Terror of Tatty Walk is published in the Tales of Yore series by the Walking Tree Publishers.

35 pages, amply illustrated, accompanied by an audio-CD, c70 minutes, Walking Tree Publishers 2000, ISBN 3-9521424-2-5

Where can I buy The Terror of Tatty Walk?



---
send us a mail
this page last updated 08.09.00
counter added 07.02.00