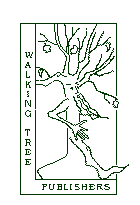 Who are the Walking Tree Publishers?
Where can I buy these products?
How do I contact the Walking Tree Publishers?
---

You can buy our publications, and a lot else besides, from the following Tolkienia retailers:

Clicking on logos will take you directly to the websites of these booksellers:

Wherever possible, we have additionally provided links directly to those pages advertising our publications. Please note that, unfortunately, not all vendors advertise all products on their websites. Some are also rather slow in updating their web pages. It is worth asking if you don't find what you are looking for.

If you are a vendor, and feel that this page does not adequately link to your pages, then please contact us.

Please mention this website when contacting resellers.