Basel: Tram order awarded to Stadler
filed on: 08.05.2006 (8th May 2006)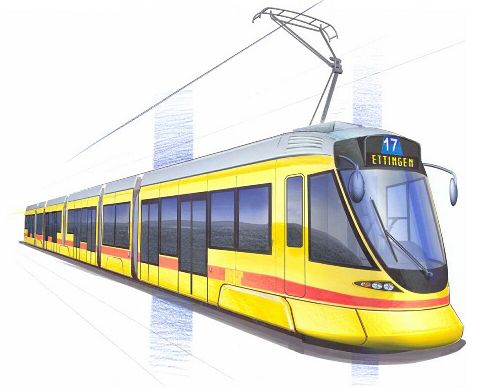 A joint BVB/BLT tram order has been awarded to Stadler. The 45m long, 10-axle Tango trams able to hold 276 people (of which 94 seated) are bogie vehicles based on those recently supplied to Forchbahn and Trogenerbahn.
The order is worth 276 million Franks. Prior to its confirmation, four prototypes must undergo an extensive testing programme with BLT for 2 years. In total, 40 vehicles will be supplied to BLT and 20 to BVB. The prototypes will be delivered to BLT in 2008. If these perform well during the test phase, BLT will order a batch of 15, to be followed by 21 between 2014 and 2016. The 20 BVB trams will enter servce in 2014.
source: Tramforum Basel, BLT (there is as yet no mention on the websites of BVB or Stadler)
See also:
Basel tram acquisition latest (31.01.2006)
Industry lethargic on Basel tram order (24.11.2005)
New trams for Basel (30.06.2005)
Website comment: Today's official press release speaks of 60 new trams; previous news items mentioned only 55 (of which 15 for BVB).
This website is pleased to see that this significant order has been secured by Stadler, an innovative company with good knowledge of the local market. The company appears commited to securing jobs and expertise and is well positioned to fill the gap in the tram market that has been left by the recent wave of ruthless mergers and consolidations. This is yet another milestone in the growth of Stadler!
This news item is from the 2006 newslog.


---
search Zürich tram news archive
news index for displayed year (2006)
news index for 2022
all news for current year
Zürich tram homepage
---
to link to this item please use:

http://www.proaktiva.ch/tram/zurich/newslog/newsitem.php?year=2006&item=080506