Trolleybus update
filed on: 11.12.2008 (11th Dec 2008)
This newslog has previously reported how Winterthur's Solaris Trollino trolleybus 173 visited Zürich for the Trolleymotion conference. Now Zürich's Swisstrolley3 151 has paid a return visit for demonstration and evaluation purposes in connection with Winterthur's trolleybus tendering process.
While on the subject of the trolleymotion conference, the picture above is a probably unique view of the Winterthur bus on its way home on Zürich's Hardbrücke, between two Zürich GTZs. The route 46 in the foreground has, like the Solaris, probably just left Hardau depot. This and other photographs of aspects of the event I wasn't able to photograph have kindly been provided to me by Emídio Gardé. A selection of these pictures can be seen here.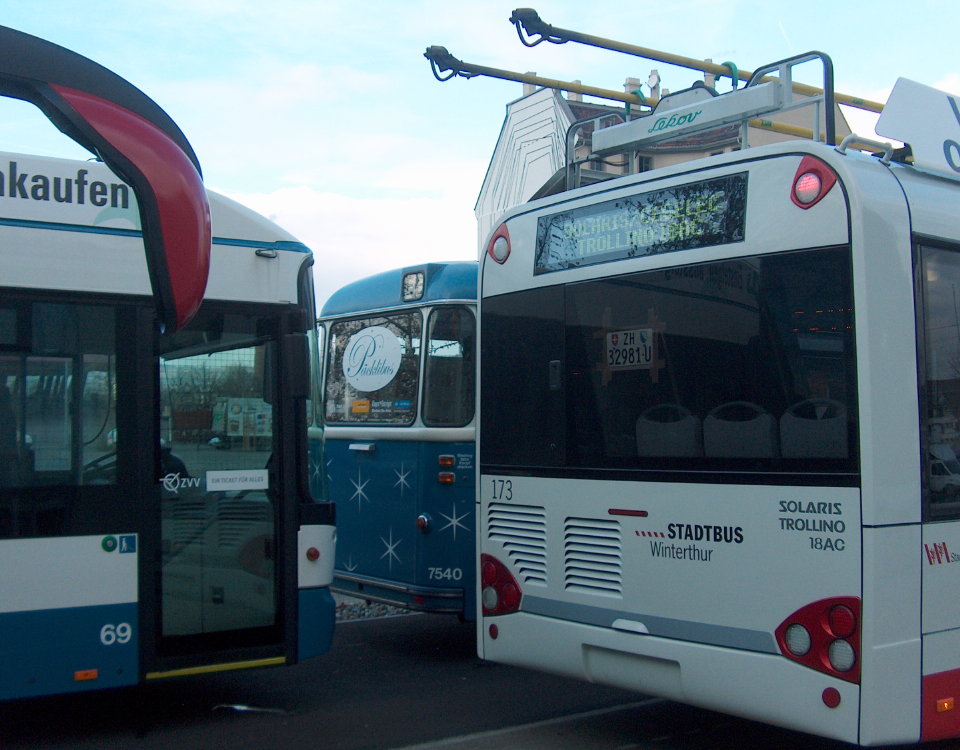 In the further Zürich news, the only GTZ of the 2-36 batch to remain in revenue service is number 19. 25 has been withdrawn and 11 is scrapped.
143 is the first GTZ to be equipped with matrix displays. These are salvaged from a withdrawn diesel O405 sister vehicle.
Meanwhile, appearances of double-articulated trolleybuses on route 32 are becoming increasingly commonplace.
source: bahnhofplatz.net
This news item is from the 2008 newslog.


---
search Zürich tram news archive
news index for displayed year (2008)
news index for 2022
all news for current year
Zürich tram homepage
---
to link to this item please use:

http://www.proaktiva.ch/tram/zurich/newslog/newsitem.php?year=2008&item=111208b