Basel trolleybus farewell
filed on: 24.06.2008 (24th Jun 2008)
Coming Monday (30th June 2008) will be the last day of trolleybus operation in Basel. BVB are marking the occasion by decorating two trolleybuses with flowers. These will be the last to run in service, entering Rank depot for the last time at around 20:00. Additionally, two trolleybuses will run on the former route 34 from 15:00 to 19:00. A further vehicle will be parked outside the BVB main offices at Claragraben 55 from 14:00 to 18:00 for public inspection.
source: BVB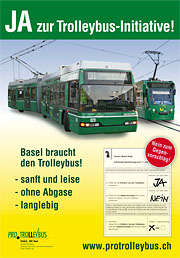 Opposition against the closure led to the formation of the Pro Trolleybus group, who collected over 7000 signature to enforce a referendum (4000 are required). In order to give the alternative a greener face, BVB announced in March 2006 that it was replacing the trolleybuses by buses powered by biological compost gas. Despite having to backpedal on this, admitting that the buses would use normal natural gas, the green label stuck and the referendum of 17th July 2007 scuttled all hopes of saving the ailing system, with 53.7% voting against retention.
Latest news suggests that the trolleybuses will see further service in Romania. The advanced electronics may be replaced by something more basic.
See also:
A brief history of Basel's trolleybuses (July 2006)
Basel trolleybus fleetlist
Search news archive for Basel trolleybus
This website's main trolleybus page

Link to Pro Trolleybus website
edit: fixed typo in date
This news item is from the 2008 newslog.


---
search Zürich tram news archive
news index for displayed year (2008)
news index for 2022
all news for current year
Zürich tram homepage
---
to link to this item please use:

http://www.proaktiva.ch/tram/zurich/newslog/newsitem.php?year=2008&item=240608