Open day: vintage buses and a tram
filed on: 14.02.2011 (14th Feb 2011)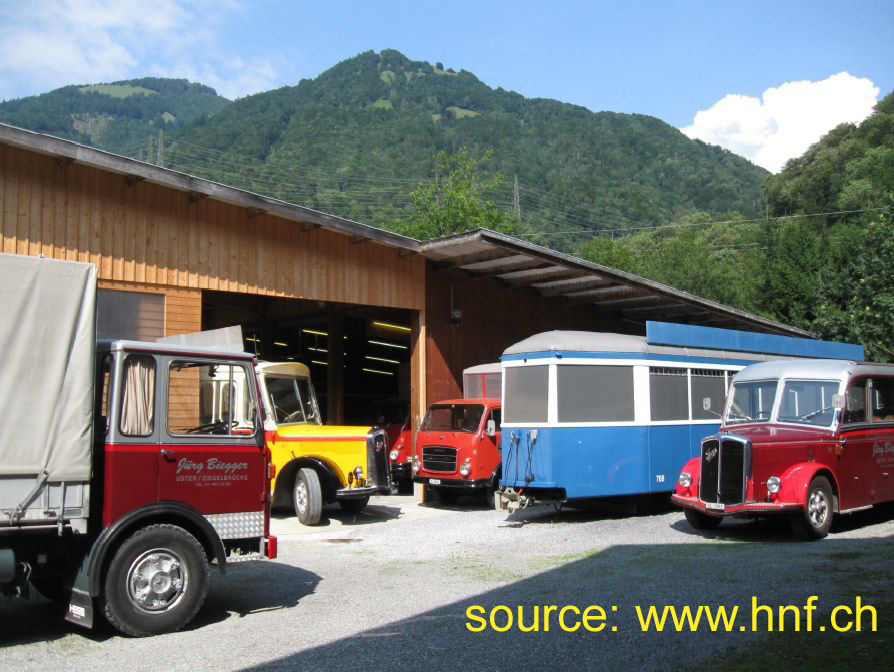 An operator and preservationist of a fine collection of vintage Swiss buses has announced an open day for his collection for 8th May. The collection is located only eight minutes from Ziegelbrücke's railway station. Besides the unique and varied collection of buses, coaches and utiluity vehicles of all ages, visitors will also be able to see Zürich tram trailer 768. This Swiss Standard Tram was built in 1953. Following is withdrawal it became an exhibition tram for Tram Zürich West in 1985. Jürg Biegger acquired the tram in 2007, and had it repainted into its 1960s livery and fitted for parties and events.
Those wishing to experience vintage buses in public service in a rural setting should not miss 17th April, when three buses from the collection will be working between Wald, Hinwil, Uster and Bauma.
More information on the events and and vehicles is available on Jürg Biegger's website: www.hnf.ch.
This news item is from the 2011 newslog.


---
search Zürich tram news archive
news index for displayed year (2011)
news index for 2023
all news for current year
Zürich tram homepage
---
to link to this item please use:

http://www.proaktiva.ch/tram/zurich/newslog/newsitem.php?year=2011&item=140211c