Iconic Zürich bus in the news
filed on: 01.12.2015 (1st Dec 2015)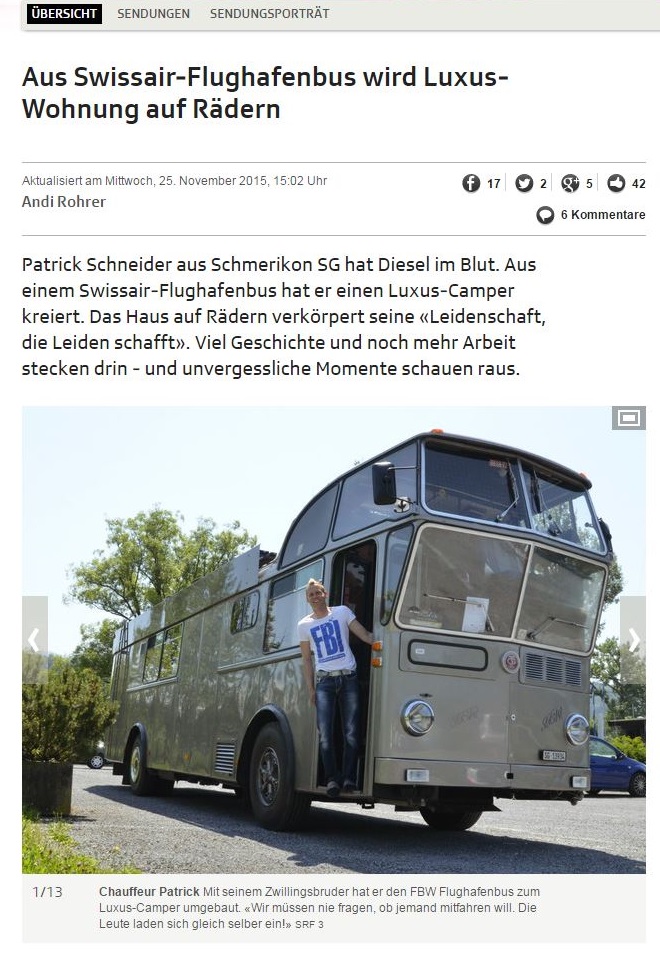 An ex-VBZ Hochlenker or Giraff bus, converted to a mobile home, features on the SRG website. The article erroneously calls it a former Swissair airport bus. These buses mostly saw dervice on VBZ's route 62 between Schwamendingen and Oerlikon.
According to bahnhofplatz.net, the vehicle in question is ex VBZ 244.
More information on the type can be read on this site. Although this page is possibly out of date, it would appear several examples survive although only 239 is in historic condition. The bus was acquired and restored privately before being sold back to VBZ. After some years as an operational heritage bus it was disposed of under VBZ's austerity regime and is now apparently at the FBW museum in Wetzikon.
This news item is from the 2015 newslog.


---
search Zürich tram news archive
news index for displayed year (2015)
news index for 2019
all news for current year
Zürich tram homepage
---
to link to this item please use:

http://www.proaktiva.ch/tram/zurich/newslog/newsitem.php?year=2015&item=011215b