More on Flexity for Zürich, and squealing wheels
filed on: 18.05.2016 (18th May 2016)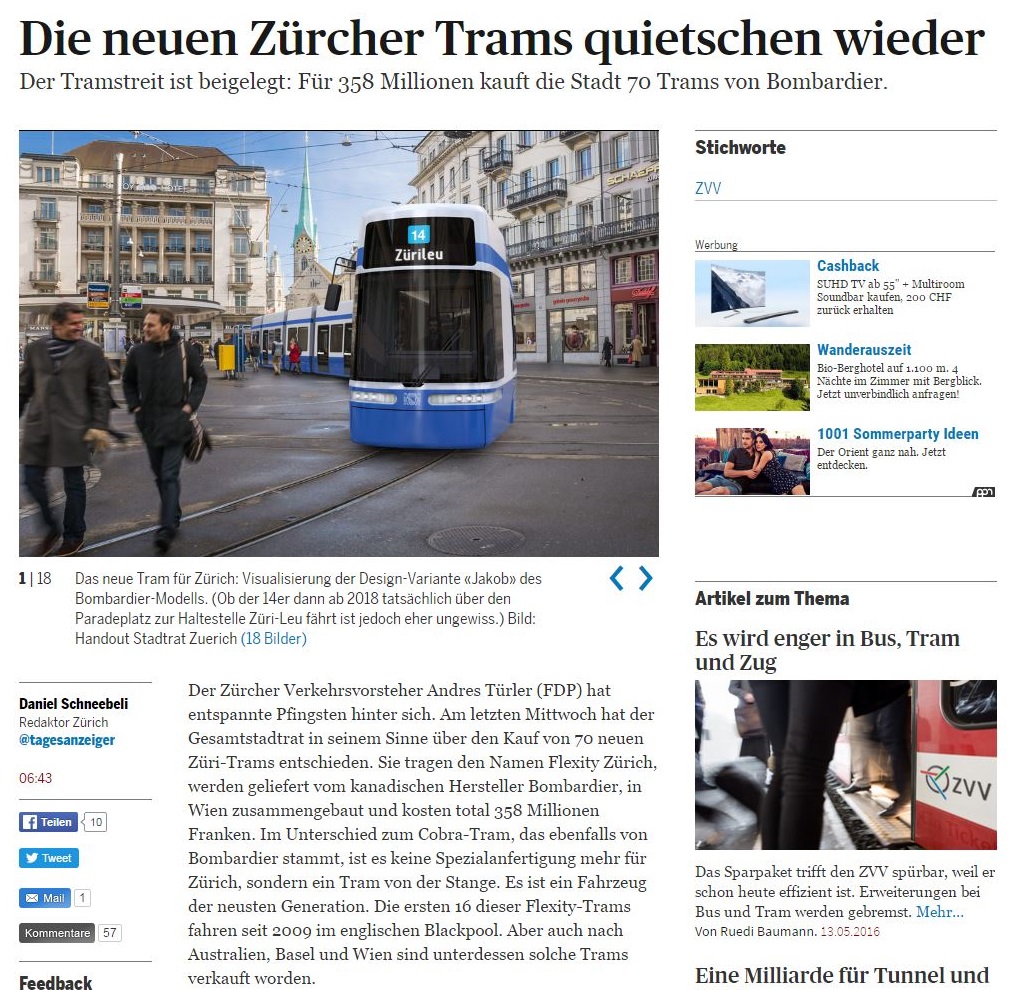 Today's edition of Tages Anzeiger has more information on the Flexity order (article here). The headline states that trams will "squeal again". In contrast to Cobra, which has individual wheels, Flexity will have axles again. However, according to the article, these will not squeal as loudly as the Tram 2000s (no explanation is offered as to why this should be the case).
The 70 trams are costing 358 million CHF. Unsuccesful competitors were Siemens, Stadler and CAF. These have 10 days to appeal the decison. After these 10 days the awarding of the contract is legally binding.
The 70 trams of the main order will replace all Tram 2000s of the first and second batches. The option for further trams will be used to cover planned system extensions and may also be used to replace the third batch of Tram 2000s.
Another interesting problem wull arise at the main workshops which are present unable to handle such long trams. When the Cobras arrived the traverser was rebuilt with a curved track. But to handle 43m long trams, another solution will be required. VBZ is looking into this, but the article also states the new trams will not be visiting the works during their first years.
The article also states that an importanbt difference to the Cobra is that rather than buying a custom tram, Zürich is now buying off the shelf. The first 16 trams of this type have been running in Blackpool since 2009, and the type has since also been supplied to Australia, Basel and Vienna.
This news item is from the 2016 newslog.


---
search Zürich tram news archive
news index for displayed year (2016)
news index for 2022
all news for current year
Zürich tram homepage
---
to link to this item please use:

http://www.proaktiva.ch/tram/zurich/newslog/newsitem.php?year=2016&item=180516b