Lausanne: Last days for La Ficelle
filed on: 18.01.2006 (18th Jan 2006)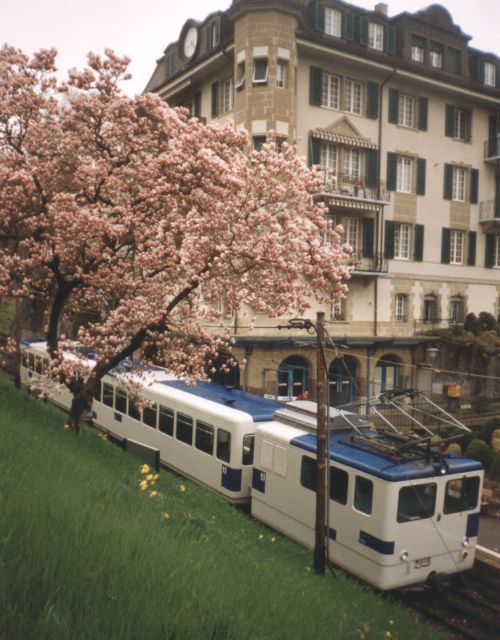 Lausanne's cog-railway metro, also known as La Ficelle (the string) is to see its last day of regular service on coming Saturday (21st). Further special events including free rides will take place on Sunday (22nd). The railway is to be rebuilt as part of a rubber-tyred metro opeining in 2008.
This new metro will be the third mode to use this alignment. Flon - Gare - Ouchy was opened as a funicular in 1877. In 1879 a second funicular was opened parallel to the Gare - Flon section. Besides passengers, these lines also moved railway goods wagons. For this purpose, a connecting track from the main–line railway crossed the station forecourt and connected to the Gare – Flon funicular. Industrial sidings existed at both Flon and Ouchy and wagons could be exchanged between the funiculars by means of a traverser at Flon. DC electric locomotives shunted at both Flon and Ouchy. Transport of goods from Gare ended when a railway siding reached Flon directly in 1954 (since dismantled).
The funiculars were replaced by the present cog railway in 1954 and 1958. The remaining freight traffic between Flon and Ouchy was discontinued but a track connection was retained at Flon for a period to permit materials to be delivered to the railway.
The cog-railway uses the Strub rack system and climbs 135 metres with a maximum incline of 11.6%. There are five stations in total. The section upwards of Gare is in a double-track tunnel (but effectively worked as two single-track lines — as in the days of the funiculars: one line for the Gare – Flon shuttle and one for Ouchy - Gare – Flon). A simple crossover in the tunnel connects the tracks. The lower section is mostly in the open and is single track with a passing loop at Montriond. The depot is at Ouchy. The line has been designated Metro line M2 for some years now.
The Ouchy - Flon service is normally worked by two sets, each consisting of an He2/2 locomotive 121-3 attached to the valley ends of a two car train Bt2 1-5 (all built 1958). The Flon - Gare shuttle is worked by a single railcar Bhe2/2 111-112 (built 1964) — the remaining stock being spare. TL are seeking new owners for this rolling stock. Sadly, the transport museum at Luzern has declined to offer a home to any of these remarkable vehicles.
The new M2 will be considerably longer than the old, extending beyond Flon to Croisettes. The driverless rubber-tyred stock is being supplied by Alstom and is based on that of the Paris METEOR.
Interesting link: FUNIMAG
This news item is from the 2006 newslog.


---
search Zürich tram news archive
news index for displayed year (2006)
news index for 2019
all news for current year
Zürich tram homepage
---
to link to this item please use:

http://www.proaktiva.ch/tram/zurich/newslog/newsitem.php?year=2006&item=180106