Glattal progress
filed on: 25.04.2006 (25th Apr 2006)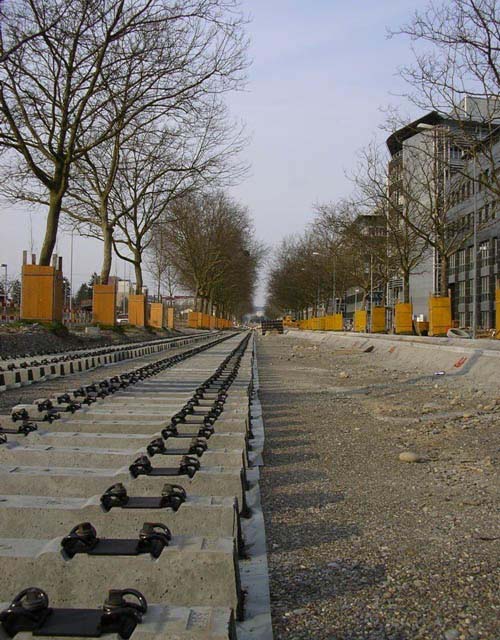 A visit to Glattalbahn (Stadtbahn Glattal) last Thursday (20th April) showed the rapid progress that has been made during recent months. Track is now in position between Hallenstadion and Airgate (Leutschenbach). Beyond this, railway-style sleepers have been layed along much of the remaining section on Thurgauerstrasse. This marks a departure from Zürich's usual method of surface track construction.
At the next stop (Ambassador / Glattpark) the triangle that will connect the phase 2 line to the airport has been built. The ground along the entire length of phase one is levelled and prepared for track laying. The Auzelg terminus will be realised as two concentric loops allowing trams from both directions to be turned. Only the through lines will have platforms and there is no holding loop to allow trams to overtake. I wonder how this will be operated in practice when route 11 terminates here and route C runs through (as the published plans suggest will happen when all three phases are complete). At least a platform on the loop track would be useful to permit passengers to alight without blocking the departure platform.
View pictures of current state of works
See also:
Glattal progress (08.11.2005)
News from Stadtbahn Glattal (08.09.2005)
Stadtbahn Glattal: first tracks laid (22.06.2005)
Glattal progress (21.12.2004)
Search news archive for Glattal
Glattalbahn is a project to bring trams to the Glattal area to the North of Zürich. Phase One (on which work began in September 2004) will open in December. Further phases will see lines to the airport (second phase opening 2008) and Stettbach (third phase).
This news item is from the 2006 newslog.


---
search Zürich tram news archive
news index for displayed year (2006)
news index for 2022
all news for current year
Zürich tram homepage
---
to link to this item please use:

http://www.proaktiva.ch/tram/zurich/newslog/newsitem.php?year=2006&item=250406b