The first Combino in Zürich
filed on: 05.03.2010 (5th Mar 2010)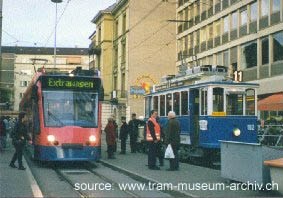 With a Combino tram demonstrator having now arrived in Zürich and soon to debut in service, it is appropriate to recall that this isn't the first Combino to visit Zürich. In September 1998 the Combino prototype was demonstrated in the city for the UITP conference, and ran in passenger service between Hauptbahnhof and Hallenstadion. At the same time, a Saarbrücken tram-train also visited the city and was operated on the Seetal railway as well as providing a demonstration run from Oerlikon to Zurzach.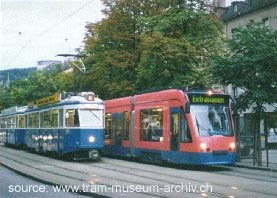 The prototype (first presented in 1996) also visited many other cities, running on both meter and standard gauge trucks. It was finally retired in circa 2001 and came to Potsdam where it was apparently originally intended as a modern museum car but was finally overhauled and entered service as number 400 in 2009. The car is relevant to Potsdam as this was the first city to order the type. 48 Combinos were ordered in 1996 for delivery over a longer period. With only 16 of these delivered (between 1998 and 2001), Potsdam cancelled its order in view of the uncertainties caused by the March 2004 withdrawal of Combinos across the world. Potsdam 401-16 are five section vehicles (with 12 wheels). The prototype (number 400) is the only Combino in the world to have 4 sections (10 wheels). This includes one unusual end section with a single "axle".
source: Potsdam Combino information: www.tram2000.de/html/combino1.html
1998 UITP report from Regenbogen (VBZ staff magazine) from Tram Museum Zürich archive: www.tram-museum-archiv.ch/Seiten_Rueckspi/uitp-D.shtml (also source of above pictures)
See also this website's Combino gallery (unfortunately without the prototype)
This news item is from the 2010 newslog.


---
search Zürich tram news archive
news index for displayed year (2010)
news index for 2021
all news for current year
Zürich tram homepage
---
to link to this item please use:

http://www.proaktiva.ch/tram/zurich/newslog/newsitem.php?year=2010&item=050310