Pau Casals: End of an icon
filed on: 07.11.2012 (7th Nov 2012)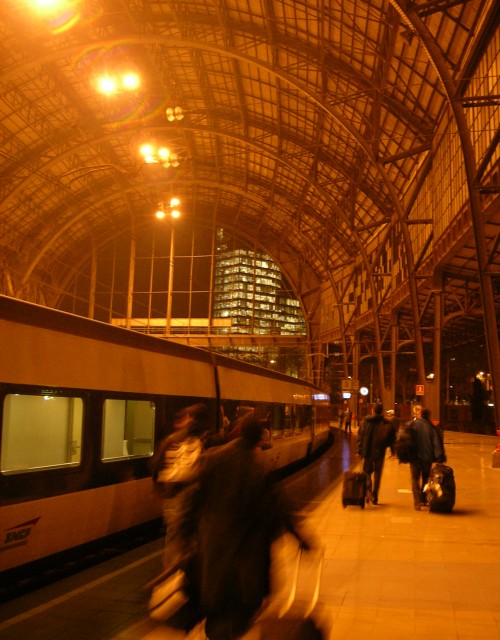 Largely ignored by the media is the approaching end of the Pau Casals Talgo hotel-train linking Zürich and Barcelona. Presently the legendary train runs thrice weekly, providing the only direct train service between Switzerland and Spain. The operating company, Elypsos, has announced the train will be discontinued this December, with no replacement being offered. Also being terminated is the portion of the train connecting Barcelona to Milano (Salvador Dali) which runs coupled to the Swiss portion for the first part of its journey out of Spain.
It is especially tragic that whereas European governments are announcing and investing in a trans-European high-speed rail system, with publicity maps suggesting a true pan-European network, in reality the opposite is happening, with long-distance trains being eliminated and investment directed to national corridors. The Pau Casals permitted me to board in Zürich in the evening, enjoy dinner in the dining car, sleep comfortably on the train, arrive at Barcelona the next morning and catch an onward day train headed further South. A combination of high speed and regional trains may also permit me to get to Barcelona in a day, but there the journey must end, at least for the night. So in the era of high-speed trains, and many billions of Euros of investment later, the same journey will take a day longer.
Maybe (according to some twisted logic), in an era of diminishing oil supplies, the solution is to fly. But then the plane cannot match the quality or experience of the night train. Travel in the future willbe less of a pleasure and more of a chore. Maybe the highlight of the Pau Casals was the bar car, open until the early hours of the morning – a place in which strangers could meet and discuss anything from philosophy to football. Order a Ribera del Duero on a plane and even if they don't ask you "what's that?" you'll likely drink it alone in your seat. Civilised travel is a luxury maybe, and a luxury that is maybe at the expense of public subsidies? But will we pay less taxes when the train is gone? Or is it just another victory by the bean counters who see the price of everything but the value of nothing, endlessly redistributing the public good until there is nothing left to distribute?
The last departure from Zürich will be Friday 7th December 2012. Until then it leaves Zürich on Mondays, Wednesdays and Fridays, and Barcelona on Sundays, Tuesdays and Thursdays.
This news item is from the 2012 newslog.


---
search Zürich tram news archive
news index for displayed year (2012)
news index for 2022
all news for current year
Zürich tram homepage
---
to link to this item please use:

http://www.proaktiva.ch/tram/zurich/newslog/newsitem.php?year=2012&item=071112a