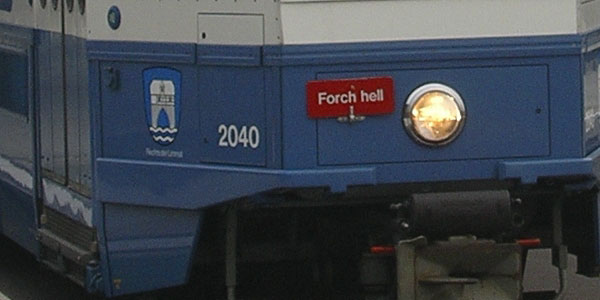 you are in: tram -> zurich -> news
Newslog 2012
latest news | archive | news search
This page presents news and other items of interest concerning the Zürich tram system and connected topics.
This is not the official information page of any organisation. All opinions expressed here are my own or belong to those to whom they are attributed. Whereas care is taken to ensure the correctness of news, no claim is made to total accuracy.
Visitors are informed that many links from this page are to external sites. Such links are provided for informational purposes only. The author of this site explicitly declines responsibility for the content of external web pages.
latest news | older newslogs | articles.
return to Zürich tram home page.
2012 news:

next year | previous year | current year | other years | search.

guide to linking to news items
---
A very happy and prosperous 2013 to all readers of this newslog!
---
31.12.2012 - Basel (BLT): Trailer operation ends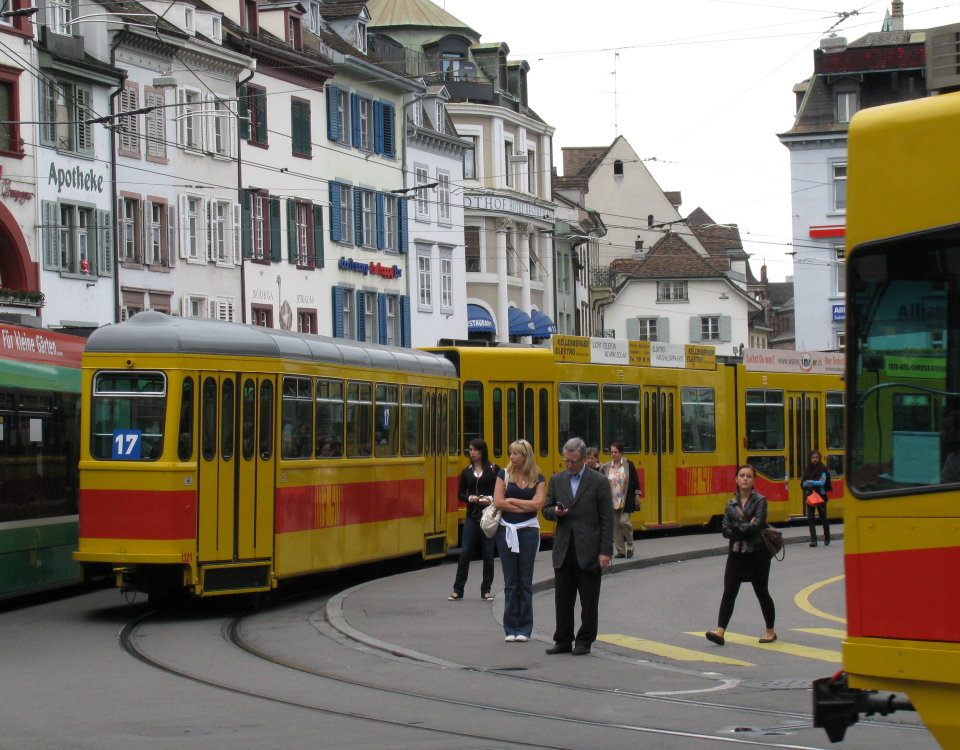 The magazine Schweizer Eisenbahn Revue (SER) reports that the operation of trailers on BLT ceased with the December timetable switch. BLT operated a fleet of B4 Standard Tram trailers, all of them second hard cars from BVB or Zürich. The withdrawals are made possible through delivery of new Tango articulated units. Among the withdrawn trailers is the celebrity piggy bank tram.

---
22.12.2012 - A spot of history: London RT buses in Zürich

A correspondent sent me a photograph he discovered in the January 1954 issue of the Leyland Journal, showing Zürich's Bellevue with a London Transport RT bus.

The occasion is fitting, as 2013 will mark the 60th anniversary of the accession to the throne of Queen Elizabeth II. In connection with this occasion two RTL buses visited Zürich from 15 to 28 June 1953 as part of the "British Festival Weeks" sponsored by the British Tourism Board. Public rides were provided on timetabled routes from different parts of Zürich and its suburbs, bringing visitors to the festival at Kongresshaus. The buses were RTL 1459 and RTL 3710. The former was a Leyland/Park Royal vehicle and the latter AEC/Weymann. Registrations were NLE 733 and NLE 817. (the above information and photograph are from Peter Kamm, Zürich Transport 1882-1996)
I have done some quick internet research on this and found this short film.
This article from The Commercial Motor Archive reveals more about the trip, including that the bussed were worked by Swiss crews while in Zürich, who were trained by their London counterparts. The buses covered 6300 miles on the continent without any failures.
---
19.12.2012 - Winterthur GTZ trolleybuses pass into history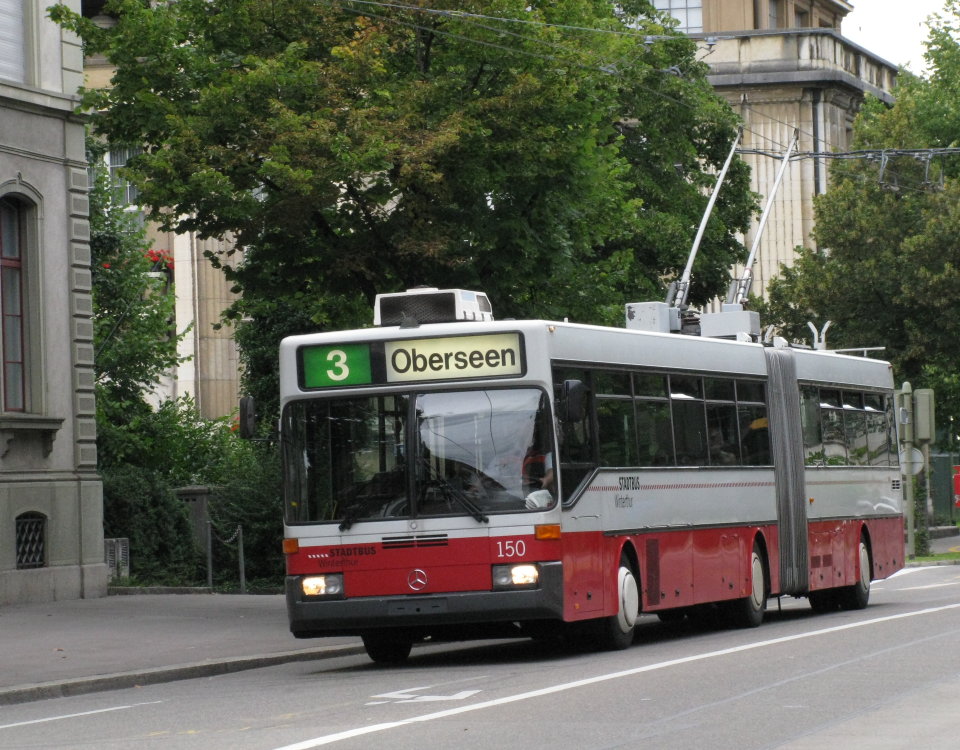 According to bahnhofplatz.net, the very last Winterthur ABB/Mercedes O405 GTZ trolleybus, 147, ran its last service on Wednesday 5th December, suitably decorated with flowers. Most of the Winterthur GTZs were withdrawn in 2010-2011. Although the fleet was replaced one on one by Swisstrolleys, the decision to reduce diesel bus operation on trolleybus lines led to two GTZs being retained. 147 spent a short period as de-icing unit before being re-instated alongside 149. To finally replace these, two further Swisstrolleys were ordered in late 2011 and recently delivered.
Possibly one of the recent withdrawals may be saved by the preservation group, Retrobus. Concerning the disposal of the earlier withdrawals, 143, 150, 156, 157, 158, 159, 160, 161 were scrapped for parts by VBZ (it is interesting to note that previously Z&uumlrich 5, 9 and 21 went to Winterthur for parts). Further units went to a German dealership, and have apparently still not found a new owner.
---
13.12.2012 - Trolleybus in 1939
A delightful find on YouTube is this 1939 MFO film, mostly about trolleybuses (but also showing other aspects of Zürich, with much that has changed and surprisingly much that hasn't).
1939 saw the opening of Zürich's first trolleybus line, from Bezirksgebäude to Bucheggplatz. Today this section is part of route 32. The footage with operating trolleybuses was mostly filmed along Langstrasse (including the railway underpass) and on Limmatplatz and Kornhausbrücke.
---
12.12.2012 - Lightram deliveries complete
Delivery of the Hess LighTram3 trolleybuses 78-89 is complete, permitting headways on route 32 to be stretched to six minutes with the timetable switch of 8th December. In total 29 double-articulated trolleybuses are now available (61-89) – the first batch of 17 having been delivered in 2007-2008.
The first of the 21 new single-articulated Hess Swisstrolley4 units is expected before Christmas. It will be numbered 162 following on from Swisstrolley3 144-161. Mercedes/ABB O405 GTZ units withdrawn so far include 101, 103, 107, 117, 134 and 139. Previous reports of 102's withdrawal were somewhat premature.
The same news site also presents images of the first Swisstrolley4 for Limoges, which is fitted with a "tram-like" front end. The Zürich examples, in contrast, will look much like their Swisstrolley3 predecessors. The Limoges images can be seen here (trolley:motion website).
---
11.12.2012 - Bern: Wankdorf tram opens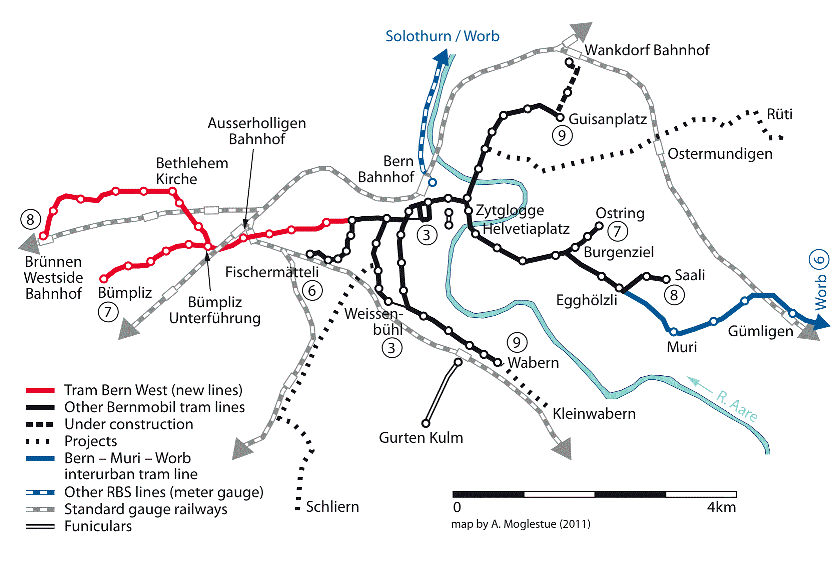 The timetable change of Sunday (8th December) saw the opening of the extension of Bern's tram route 9 from Guisanplatz to Wankdorf.
To add a note of tramway trivia, this was not the first tram line to serve Wankdorf. The previous line (using practically the same alignment) was last operated in 1991, and in fact much of the track survived until the building of the present line. It was used mainly to serve Wankdorf stadium on match days. Operation was finally discontinued due to the poor condition of the track. Until 1974 the tracks were also used by the Bern - Ittigen - Worb railway, whose Bern terminus at the time was at Kornhausplatz. This line ceased to share tram tracks in 1974 when it was diverted via Worblaufen to the underground terminus at Bern Hauptbahnhof. For more information on the closed section between Wankdorf and Ittigen, see www.eingestellte-bahnen.ch/22048/22111.html (external link in German).
Note that the map above was made for the December 2010 opening of Tram Bern West and does thus not relate directly to this news item, but the new line can be seen as under construction at the top.
---
27.11.2012 - O405 GTZ trolleybus withdrawals gather pace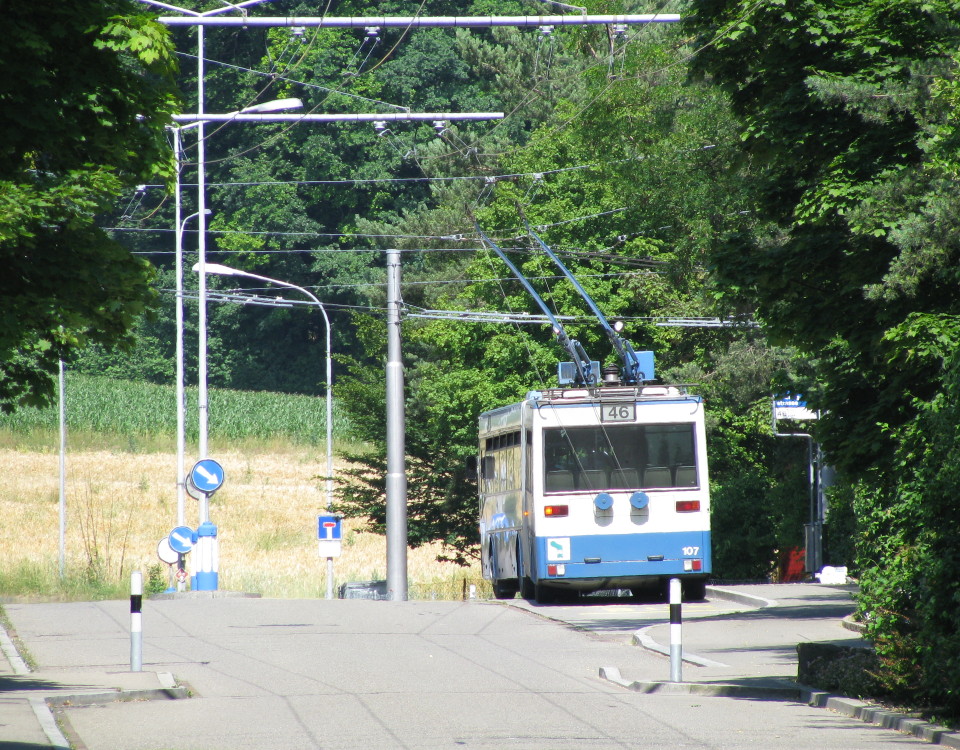 With new trolleybuses entering service, withdrawals of Mercedes/ABB O405 GTZ are gathering pace. Reported withdrawn are 102, 107, 126 and 134.
---
21.11.2012 - Swiss Standards in Tramway Review, part four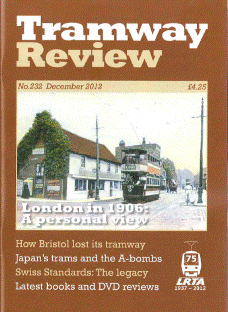 The fourth and final part of my article series on the Swiss Standard Tram has been published in the December-dated (No 232, pages 560-571) issue of Tramway Review. The article discusses the BLT, Neuchâtel, Luzern and Genève units and ends with some more general observations including a summary description of the related Rotterdam Schindler cars.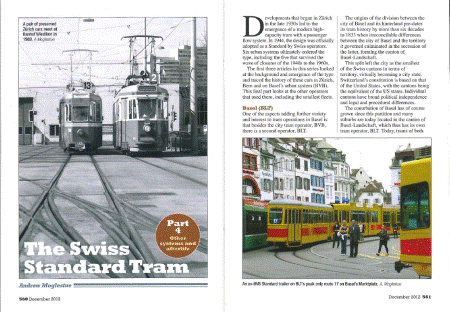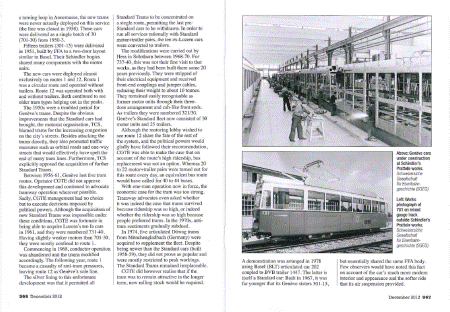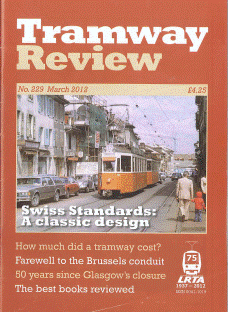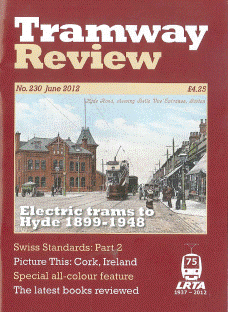 Part one was published in issue 229 and discussed the type's pre-history in Zürich and the prototypes 31, 31 and 351 (the first Kurbeli).

Part two was published in issue 230 and discussed the Zürich lightweight cars (Pedaler), trailers and the adoption of the type as VST standard in 1944.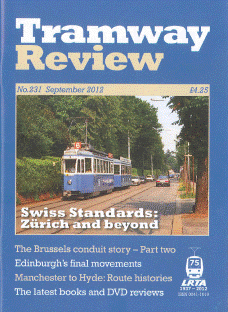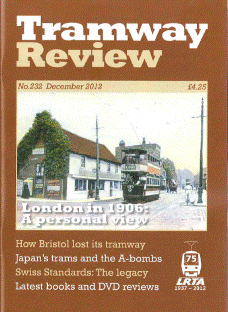 Part three was published in issue 231 and covered the latter days and demise of the type in Zürich, as well as the works cars. It also discussed the Bern and Basel (BVB) cars and includes related types in both cities.

Part four was published in issue 232 and completed the survey by looking at the cars of Basel (BLT), Neuchâtel, Luzern and Genève.

Click on the covers above for the announcements of the individual parts.

Tramway Review is a quarterly journal of LRTA. For more information on this journal see the Tramway Review page on the LRTA website.

---
20.11.2012 - New tram order: The ball is rolling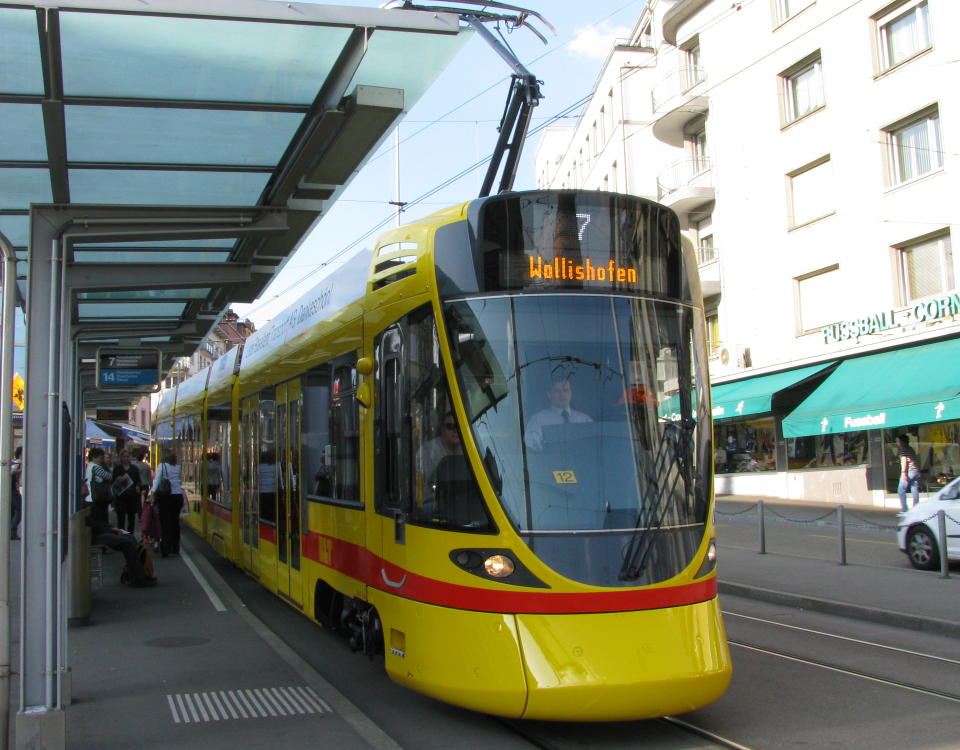 VBZ has asked the suppliers that have emerged from the pre-qualification round to submit offers for the 30 trams that will replace the first batch of Tram 2000 units. The first of these should be delivered in December 2016. In addition to this offer, they are also being asked to quote a price for 70 trams, which would also permit the second Tram 2000 batch to be replaced.
The new trams will be 100 percent low floor and have capacity for 225 passengers (ideally 250) based on a standee capacity of 4 passengers per square meter. This is 30 more than for a Cobra. The seated capacity remains unchanged at 90. A Tram 2000 coupled set seats 100 and can carry 221 in total.
The 88 Cobras had a price tag of between 2.99 und 4.3 million francs each (not adjusted for inflation). Basel is paying 3.6 million for its new Bombardier trams.
Tages Anzeiger
---
12.11.2012 - Luzern to acquire nine further double-artic trolleybuses
Luzern has invited tenders for the delivery of nine further double-articulated trolleybuses to be delivered by December 2014.
---
With a cull of the Mercedes trolleybuses likely to start soon, I have filmed nocturnal trolleybuses over the last weeks.
Fans of works trams may enjoy the farewell tour of Freiburg's rail grinder 405 of 30th September.
---
09.11.2012 - Driver trainer trolleybuses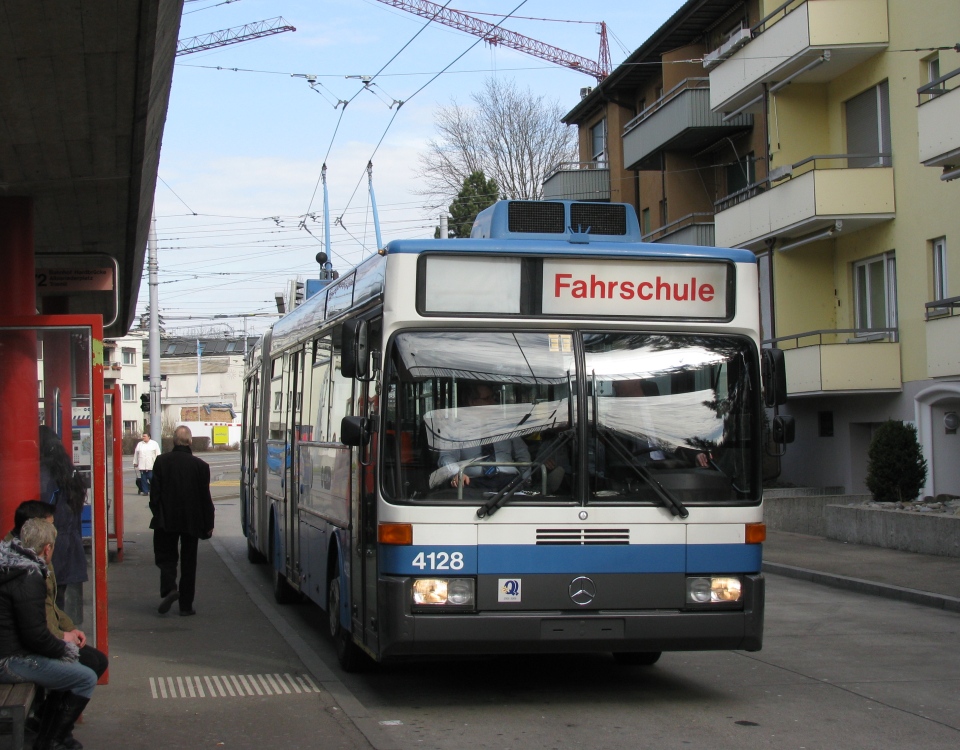 The driver-trainer GTZ trolleybuses (ex passenger units of the first batch) were scrapped in July. Swisstrolley 161 is now used for driver training, but remains available for passenger service.
---
07.11.2012 - Pau Casals: End of an icon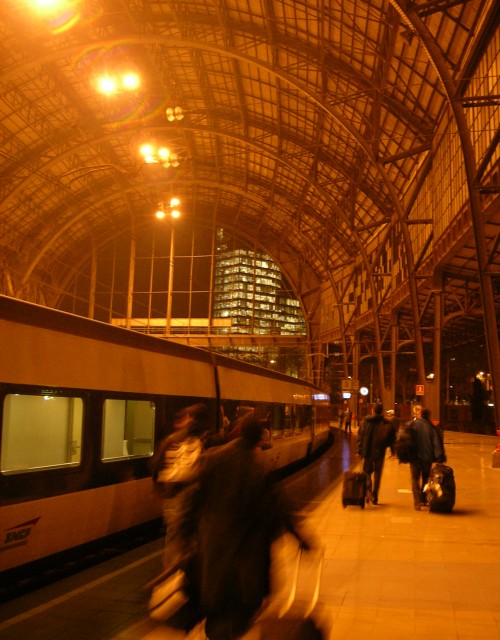 Largely ignored by the media is the approaching end of the Pau Casals Talgo hotel-train linking Zürich and Barcelona. Presently the legendary train runs thrice weekly, providing the only direct train service between Switzerland and Spain. The operating company, Elypsos, has announced the train will be discontinued this December, with no replacement being offered. Also being terminated is the portion of the train connecting Barcelona to Milano (Salvador Dali) which runs coupled to the Swiss portion for the first part of its journey out of Spain.
It is especially tragic that whereas European governments are announcing and investing in a trans-European high-speed rail system, with publicity maps suggesting a true pan-European network, in reality the opposite is happening, with long-distance trains being eliminated and investment directed to national corridors. The Pau Casals permitted me to board in Zürich in the evening, enjoy dinner in the dining car, sleep comfortably on the train, arrive at Barcelona the next morning and catch an onward day train headed further South. A combination of high speed and regional trains may also permit me to get to Barcelona in a day, but there the journey must end, at least for the night. So in the era of high-speed trains, and many billions of Euros of investment later, the same journey will take a day longer.
Maybe (according to some twisted logic), in an era of diminishing oil supplies, the solution is to fly. But then the plane cannot match the quality or experience of the night train. Travel in the future willbe less of a pleasure and more of a chore. Maybe the highlight of the Pau Casals was the bar car, open until the early hours of the morning – a place in which strangers could meet and discuss anything from philosophy to football. Order a Ribera del Duero on a plane and even if they don't ask you "what's that?" you'll likely drink it alone in your seat. Civilised travel is a luxury maybe, and a luxury that is maybe at the expense of public subsidies? But will we pay less taxes when the train is gone? Or is it just another victory by the bean counters who see the price of everything but the value of nothing, endlessly redistributing the public good until there is nothing left to distribute?
The last departure from Zürich will be Friday 7th December 2012. Until then it leaves Zürich on Mondays, Wednesdays and Fridays, and Barcelona on Sundays, Tuesdays and Thursdays.
---
07.11.2012 - 175 railway links threatened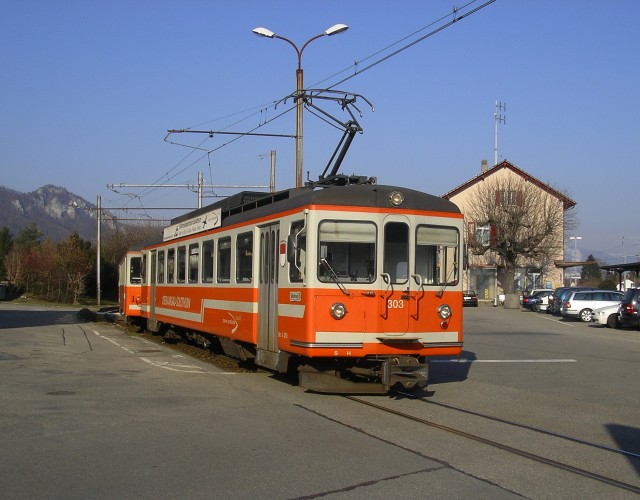 As if one piece of bad news wasn't enough, news has already been going around for some time of 175 railway links that are under threat. Pre-empting panic, there are no immediate plans to shut these down, but due to insufficient cost recovery, they are to be re-assessed on a periodic basis (no doubt making a lot of cash for consultants) and serious questions will doubtlessly be raised when major replacements or investments are due. This could lead to the end of many of these lines within the next 20 years or so. The list includes quite a few lines that have an iconic status among railway enthusiasts, and also quite a few quaint and wonderful narrow gauge lines, some of which have been covered on this newslog in the past.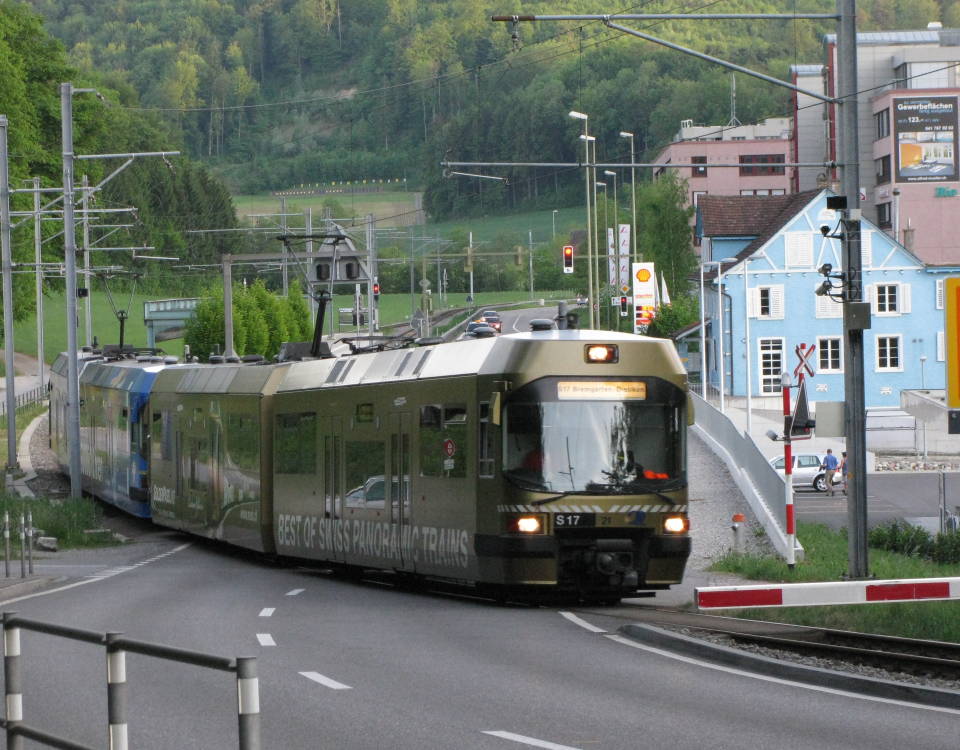 The full ist is here (link to document on VCS website).
VCS is launching a petition here. This can be signed by anyone, regardless of nationality of place of residence. Please help stop the madness and don't let Switzerland follow down the road of other countries who have tried this in the past, sacrificing valuable infrastructure without reaping the implied benefits.
Please pass this news on to as many people who care as possible. (link to this item)
---
07.11.2012 - Trolleybus deliveries
Trolleybus deliveries have reached at least number 86.
---
07.11.2012 - La Chaux de Fonds until 2014
A report on Trolley:motion suggests trolleybus operation in La Chaux de Fonds could continue until 2014, although an imminent reduction of operations is expected due to the arrival of new hybrid buses.
---
25.10.2012 - Future trolleybus fleet
This newslog has been awash with trolleybus news lately. Earlier on, doubt was raised over how 43 GTZ trolleybuses were to be replaced by 12 LightTrams and 21 Swisstrolleys. A knowledageable entry on the bahnhofplatz.net forum provides some additional insight:
The transition to larger trolleybuses on route 32 will permit peak headways to be stretched from 5 to 6 minutes. This reduces the number of vehicles on the line from 18 to 14. Vehicles will then be required as follows: route 31: 14 vehicles, route 32: 14 vehicles, route 33: 19 vehicles, route 34: 4 vehicles, route 46: 9 vehicles, route 72: 9 vehicles. Double articulated vehicles will be used on routes 31 and 32.
With a total of 68 trolleybuses available to cover a demand of 69, there will be no spare trolleybuses and the difference will be covered by an increased use of diesel buses, including on the lines that should be worked by double-articulated trolleybuses. Diesel buses are already a common sight on trolleybus routes today, so this will probably become even more common.
---
25.10.2012 - Zürich trolleybus in Linz
Following its trial in Salzburg, Zürich's 78 also demonstarted in Linz, where it arrived on 11th October.
---
25.10.2012 - Winterthur trolleybus update
Winterthur's two new trolleybuses (122 and 123) should have entered service there on 14th October, spelling the end for the last two GTZ (147 and 149).
---
12.10.2012 - Zürich trolleybus in Salzburg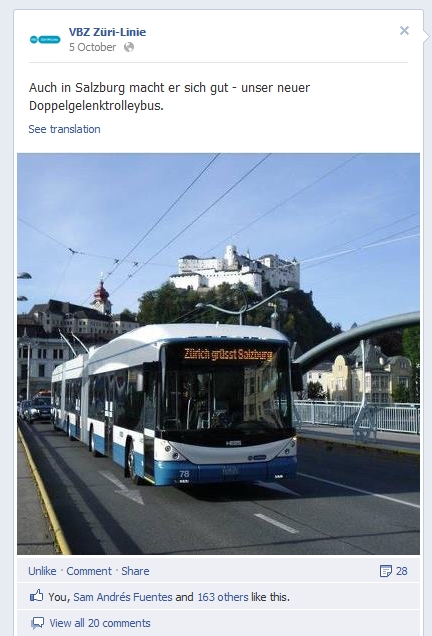 A picture has been posted on VBZ's facebook page of VBZ's 78 in Salzburg. The visit has also been covered in Salzburg's media.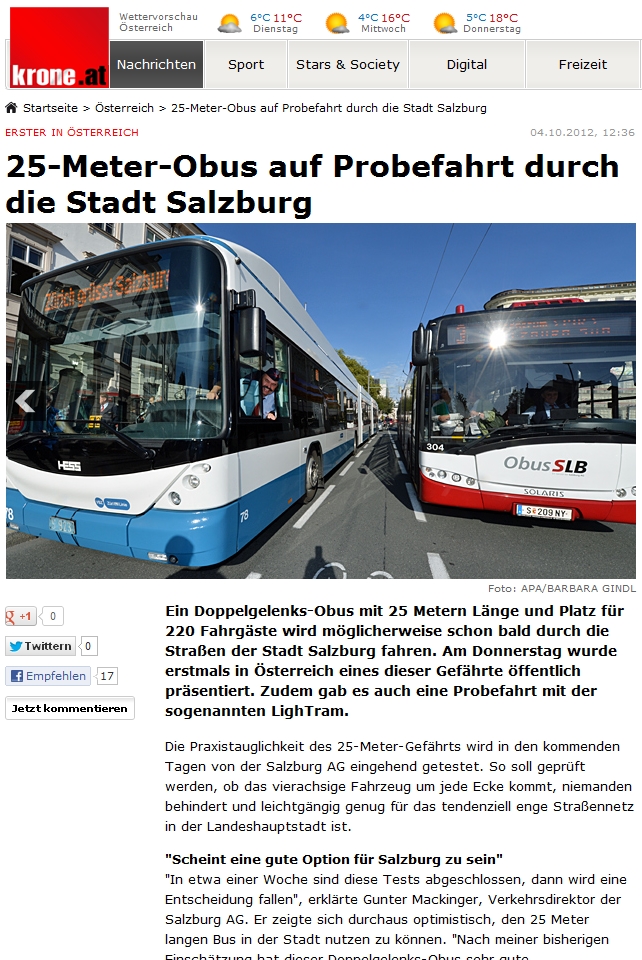 www.krone.at/Oesterreich/25-Meter-Obus_auf_Probefahrt_durch_die_Stadt_Salzburg-Erster_in_Oesterreich-Story-336387
---
VHF is preparing HOm-scale models of the modern image Forchbahn rolling stock, covering all the FB2000 variants as well as the recent Stadler units.
---
02.10.2012 - Zürich trolleybus to be demonstrated in Salzburg
The first of the new trolleybuses, number 78, has been seeing intensive use on both routes 31 and 32, where it has since been joined by 79. Deliveries have reached at least number 80. The new buses can easily be recognised in service by their matrix displays, which have a much better contrast than the previous generation. Also, in contrast to the previous batch, they do not have an auxiliary diesel engine but use lithium batteries. One of the new trolleybuses (probably 78) is being loaned to Salzburg for demonstration. It is reported it left Zürich yesterday.
---
04.09.2012 - First new trolleybus arrives
The first of the new batch of 12 Lightram double-articulated trolleybuses (ordered last May), number 78, arrived in Zürich on 17th August and is set to enter service on 6th September on route 32.
Delivery of the 21 single-articulated trolleybuses, which will be type Swisstrolley4 rather than Swisstrolley3 like 144-161 (ordered last July) will commence in December.
The above source also states that by September of next year, the entire VBZ bus fleet will be low floor. With 43 GTZ trolleybuses to be replaced, it is not clear how the numbers (12+21 new trolleybuses) will add up, or whether trolleybuses are partially being replaced by diesels. The VBZ order incliudes an option for 40 further trolleybuses.
According to bahnhofplatz.net, GTZ withdrawals have already commenced, with 107 being taken out of service in July. The status of the driver training GTZs is also unclear, with 161 being reported used on these turns.
Update (6th September), 78 was sighted on route 32 this morning (bahnhofplatz.net).
---
31.08.2012 - Limmattalbahn: Concession applied for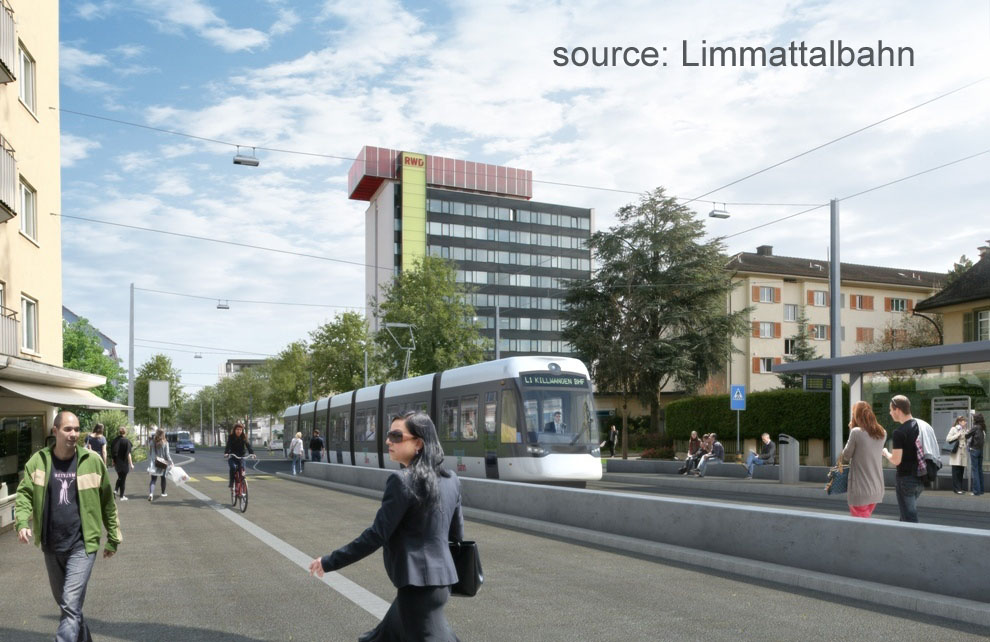 Limmattalbahn, the proposed light rail link from Zürich Altstetten to Killwangen is moving forwards. The concession to build and operate the link has now been applied for by Zürich's cantonal authorities. The concession must be granted by the federal government.

---
28.08.2012 - Swiss Standards in Tramway Review, part three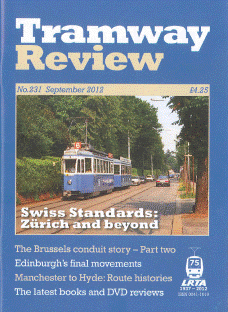 The third part of my article series on the Swiss Standard Tram has been published in the September-dated (No 231, pages 502-518) issue of Tramway Review. The article completes the history of the Zürich cars (including works car and Cargo Tram) and goes on to discuss the Bern and Basel (BVB) units.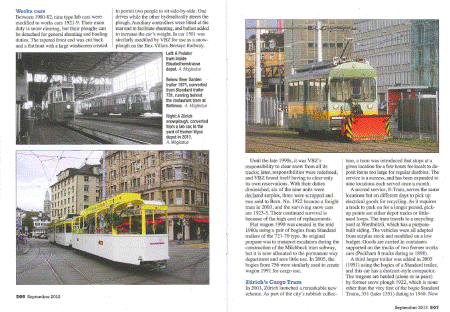 The fourth and final part of the series, scheduled to appear in the December issue, will cover BLT, Neuchâtel, Luzern and Genève.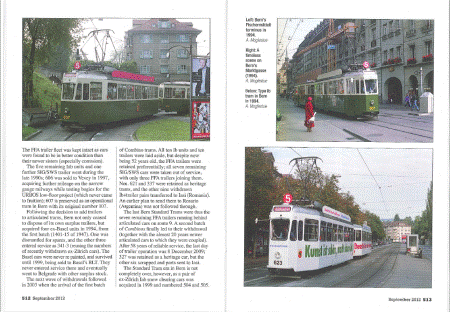 Announcement of part one, part two, part four.

---
31.07.2012 - Special livery for Forchbahn centenary
The latest VBZ special livery is applied to Cobra 3048 and celebrates the centenary of Forchbahn.
---
27.07.2012 - Tram Zürich West article on LRTA website
My T&UT Tram Zürich West article (or the first page thereof) is presently featured on the LRTA website as sample page for the magazine.

to page | screenshot | screenshot 2
---
25.07.2012 - Ex-MThB driving trailers for SZU
SZU is aquiring two NPZ ex-MThB driving trailers (built 1994) for the Sihltal service. They will replace Bt 971-973 of 1976, which are reported to be in poor condition due to corrosion. The vehicles in question are:

SBB Bt 50 85 29-35 971-5 (ex. MThB Bt 50 48 29-33 211)
SBB Bt 50 85 29-35 972-3 (ex. MThB Bt 50 48 29-33 212)

They will enter service in 2013.
---
24.07.2012 - Tram Zürich West article in T&UT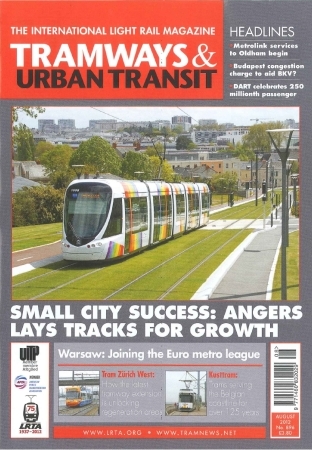 An article by myself on the opening of Tram Zürich West is published in the latest (August dated, No. 896) issue of Tramways and Urban Transit, with the title Tram Zürich West unlocks regeneration.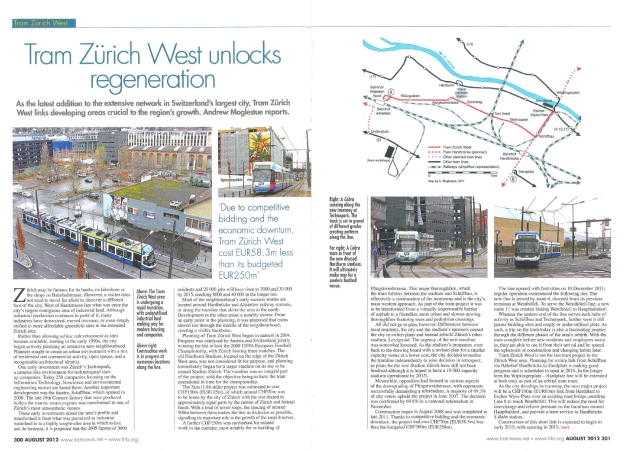 T&UT is published by the LRTA. Their website is here.
---
19.07.2012 - Basel: Piggy bank tram to go to Stuttgart
Possibly Basel's most famous tram, a trailer disguised as a giant piggy bank on wheels, is slated to be withdrawn at the end of this year. The unit (BLT B4 1322) is to find a new home in Stuttgart's pig museum (Schweinemuseum).
---
17.07.2012 - Users select new tram seat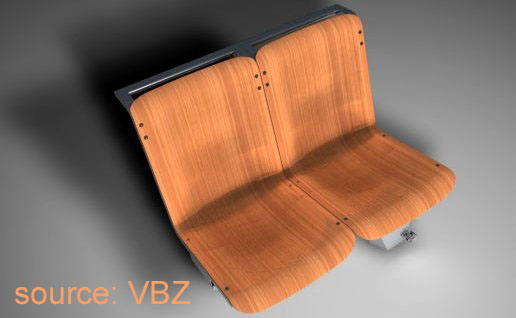 The clear winner of the public consultation over seats for the new trams is a design named D2, based on those of the old Mirage trams.
---
17.07.2012 - YouTube update: SZU, Cracow, Montserrat, CNL...
I have uploaded some random YouTube movies that may be of interest.
The final of Uetlibergbahn Ce 2/2's farewell tour of 9th November 2008. These views may also be of interest for those interested in the archaeology of Zürich's abortive U-Bahn project, as it provides a rarely seen views of the Bahnhofplatz undercroft (the tunnel should have continued through that end wall, under the Limmat and onwards to the airport).
Trams in Cracow, filmed during my visit there in 2009, with a mix of ex-Vienna cars, typical Polish Konstals, and modern low-floor cars.
Cremallera de Montserrat, the Montserrat rack railway in Spain, with Stadler GTW trains.
The CNL Copenhagen-Basel night train leaving Freiburg with a musical locomotive and through coaches from Minsk and Moscow.
And in case it may be of vague interest to anybody, a robot (totally off topic).
---
16.07.2012 - Cobra tram increases wear on track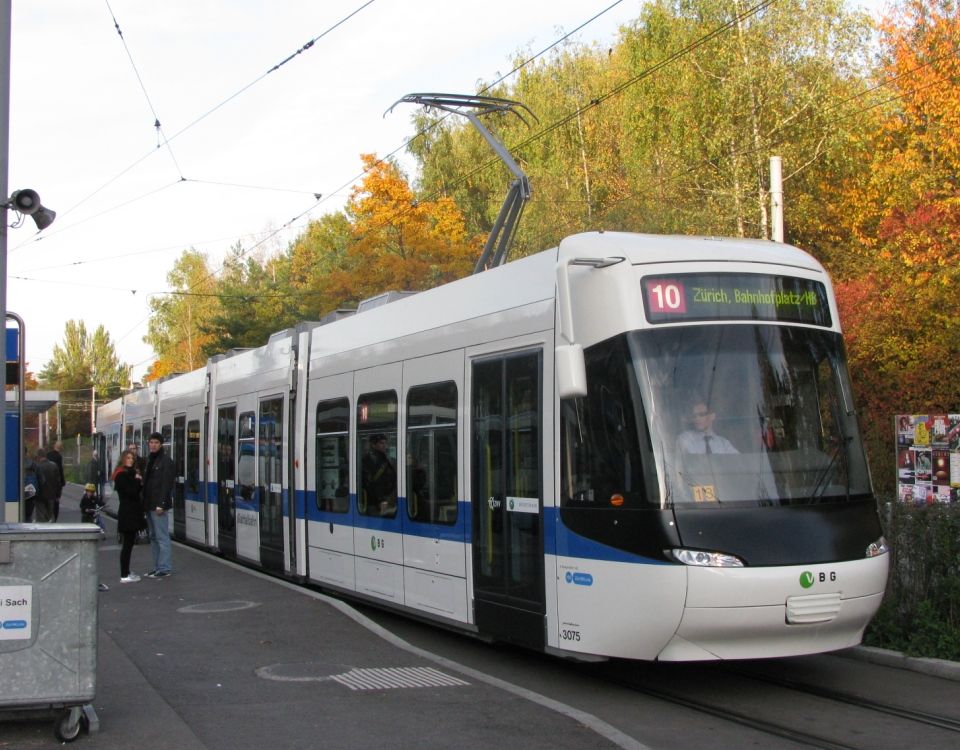 Adding to the various problems that have plagued the Cobra trams throughout their careers so far, is their increased wear on track due to their heavy axle loads, especially on shallow-groove pointwork. To mitigate this, VBZ are evaluating new alloys for such track elements. At intersections where the angle allows it, deep grooves are also being used instead of shallow ones.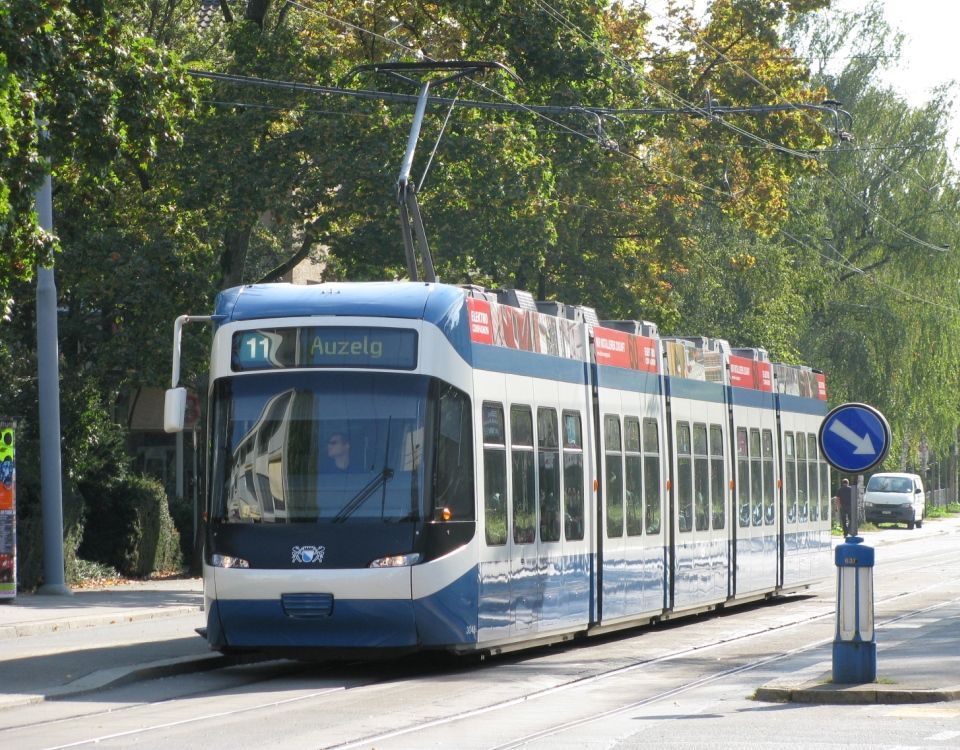 A Cobra tram has only six axles, meaning the weight per axle is greater than on the older types of trams (which have 10 or 12 axles for a set of comparable length or capacity). Ironically, it was the goal from the beginning that Cobra should be a very track-friendly tram. Adding to early problems were modifications to the design that added weight (such as the air conditioning, which was not originally envisaged).
---
13.07.2012 - WSB: Freight traffic to end
WSB has announced that freight traffic is to be terminated this December. Volumes have dwindled from some 100,000t annually to 15,000t. Presently, freight traffic operates between Suhr (exchange siding with SBB) and industries in Reinach and Menziken using transporter bogies to move the standard gauge wagons on meter gauge tracks. This year's sugar beet harvest will also be moved by rail, but for next year alternative solutions are being sought.
Although this decison was to be expected in view of dwindling volumes and general problems facing wagonfreight, it is surprising nevertheless so shortly after re-building the exchange sidings at Suhr (this was done in 2010 as part of the larger program of replacing street running between Suhr and Aarau by re-using the former SBB alignment).
Freight traffic between Oberentfelden and Schöftland was already discontinued in 2008.
---
10.07.2012 - Basel: Tram museum has BVB's blessing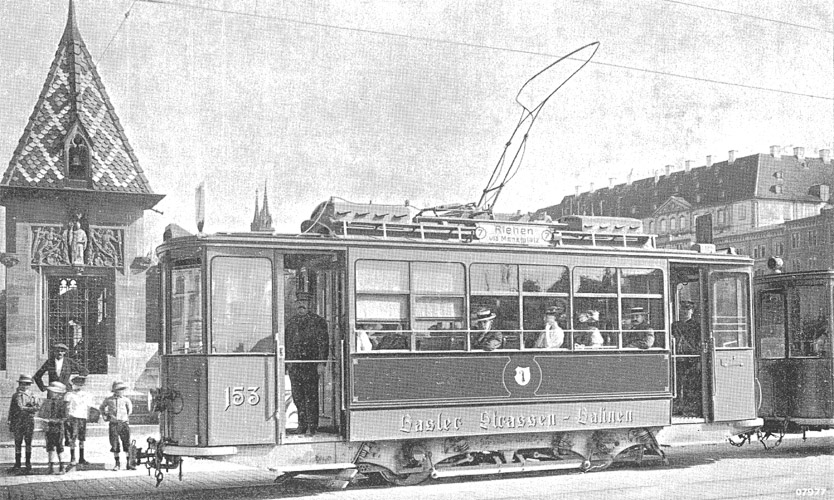 In an unexpected change of mood, Basel's BVB has agreed to a tram museum in Dreispitz depot. About half of the depot will be set aside for the museum trams (presently 15 cars), with the other half being required by regular trams. These will, however, be out in service during opening hours of the museum, permitting the heritage cars to de distributed across the entire depot. The cantonal government is not interested in supporting the project financially. The museum's promotors do, however, believe they can realise the project through donations and sposnorship. The museum could open in three year's time.
---
03.07.2012 - BDWM BDe 8/8 is back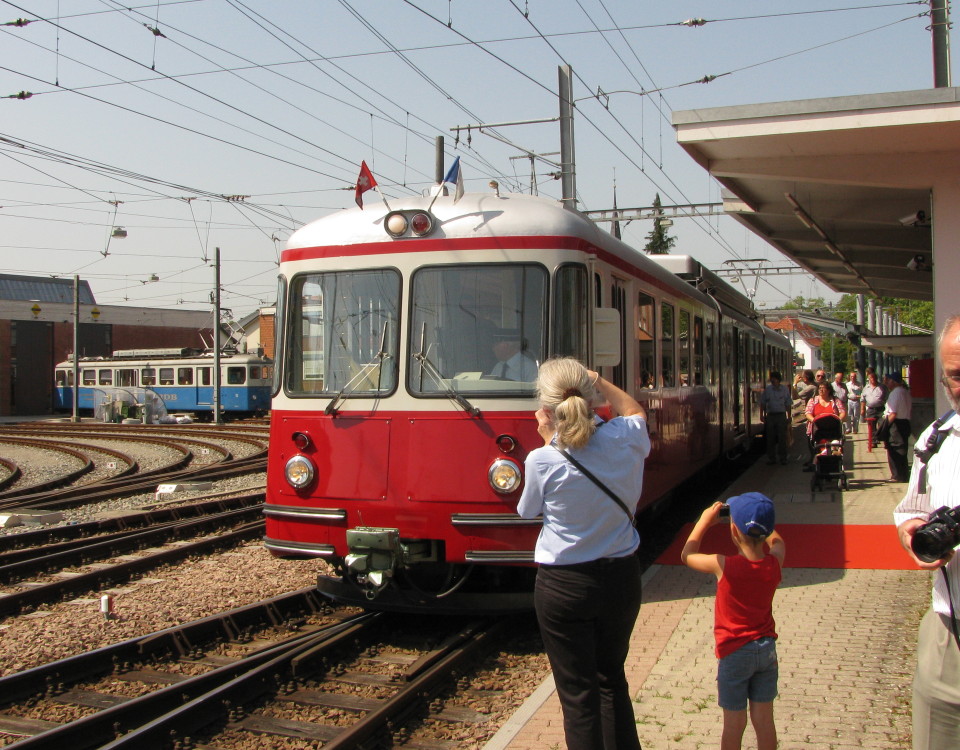 The launch of BDWM's "new" heritage car was celebrated on 30th June. BDe 8/8 number 7 was restored by a working group and will not only be available for private hire, but can also be called upon to work regular services in times of need.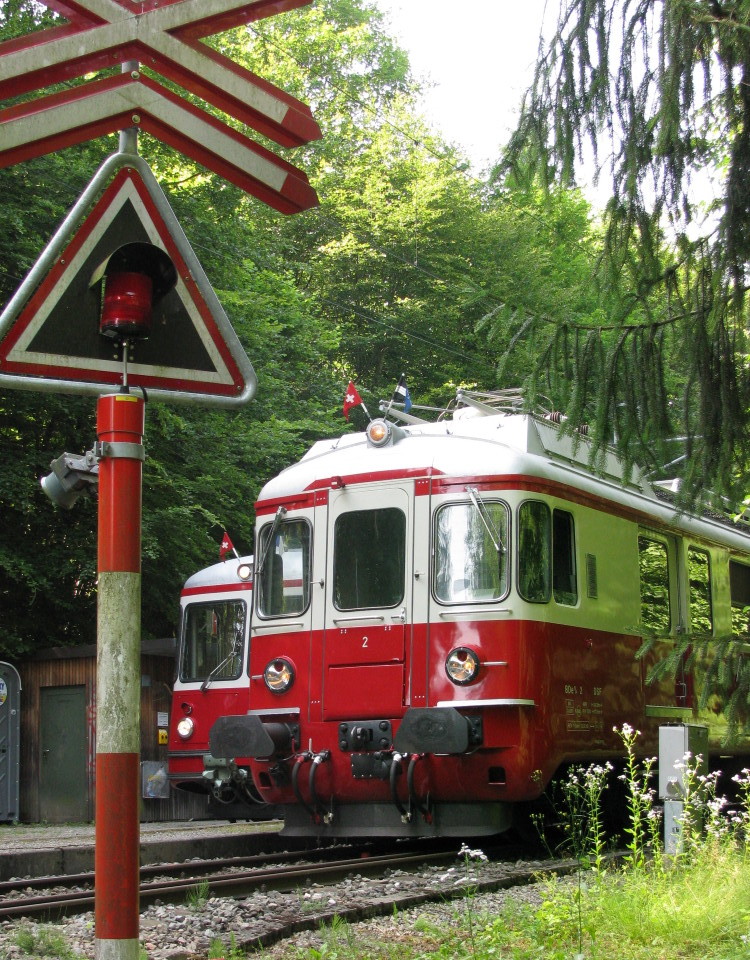 Also visiting the line was ex-WM number 2 (Wohlen-Meisterschwanden, a closed standard gauge line that is the origin of the WM in BDWM). It was able to use the mixed gauge section, pushed by a diesel, to reach Bremgarten West from Wohlen.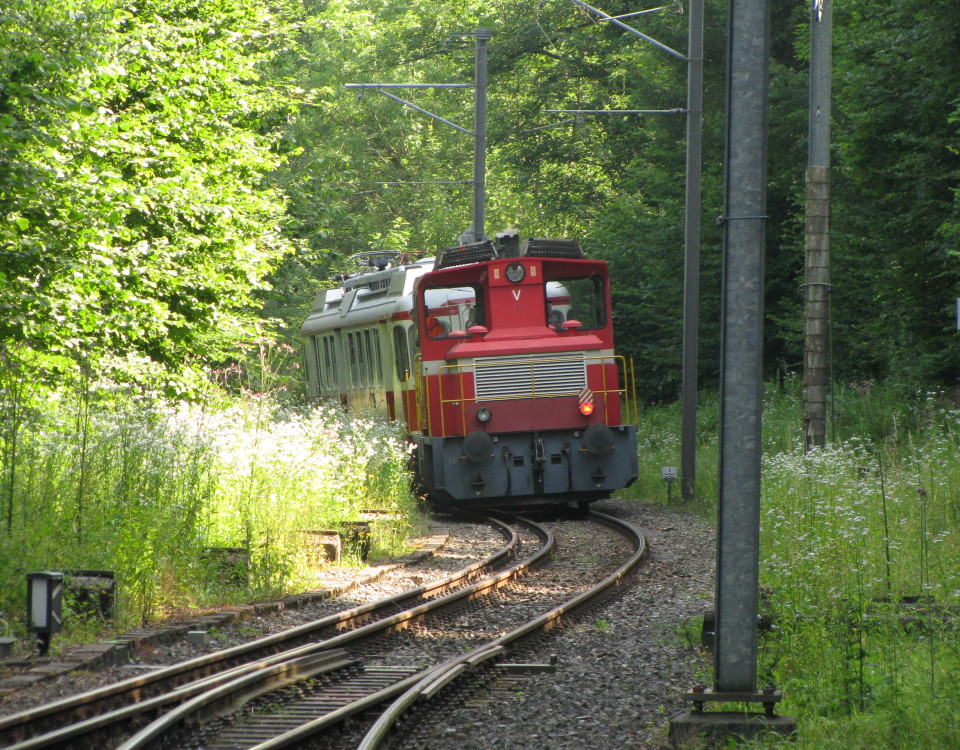 I have uploaded some pictures of the event (click here to see all).

And also a YouTube movie:



To learn more about BDe 8/8 number 7, visit the website of the working group: www.bde88.ch
---
27.06.2012 - Testing new tram seats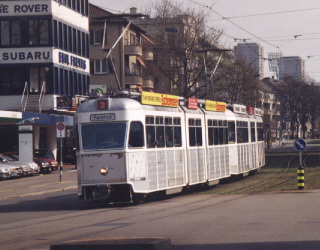 In order to consult the public over the design of seats for Zürich's new tram generation, three variants have been set up at Bellevue. It was already decided last year that the seats will be wooden.
---
25.06.2012 - Trolleybus extensions not a priority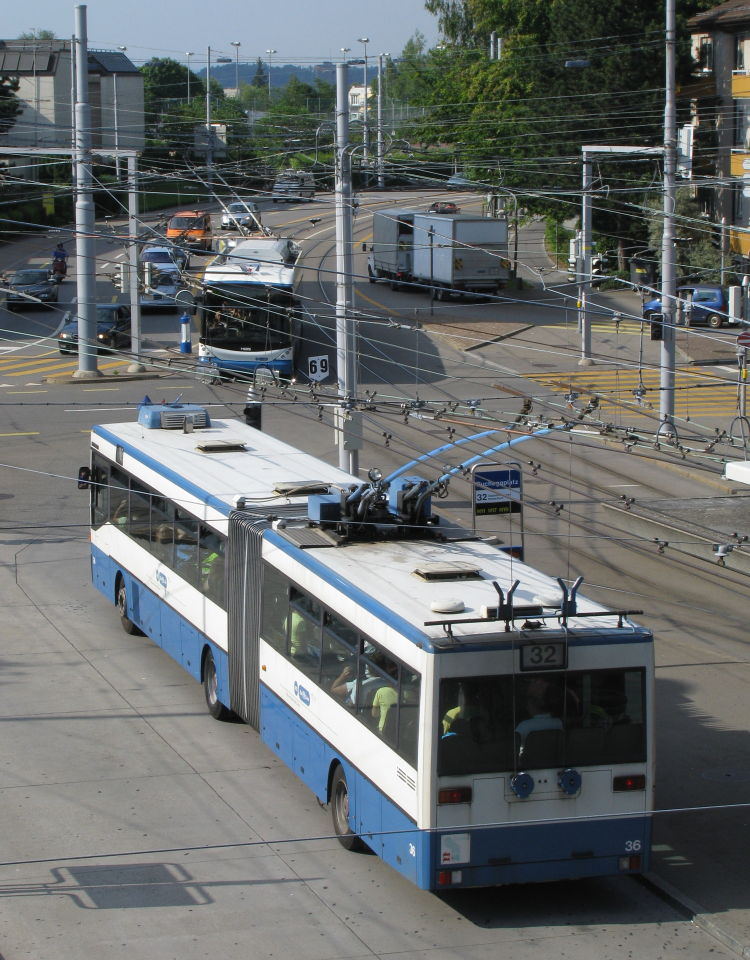 The canton of Zürich cannot budget for the proposed electrification of bus routes 69 and 80. The statement does, however, recognise the advantages of trolleybuses, maintaining hopes for a later realisation.
---
22.06.2012 - Tram Affoltern back in the news
Tram Affoltern continues to make news. According to a Tages Anzeiger article, the city executive council has rejected the idea of installing bus lanes along Wehntalerstrasse (they would require a row of trees to be felled, which is not considered appropriate for a temporary measure, seeing these lanes would ultimately make way for the tram). The date of "between 2019 and 2022" is re-iterated,. The decison over whether the tram line would run to the city centre (joining the present system at Bucheggplatz), or fork and additionally connect at Oerlikon, will be decided by the end of this year.
---
19.06.2012 - New trolleybuses: First deliveries in late August
The first of the new double-articulated trolleybuses, number 78, is expected to be delivered around the end of August.
---
18.06.2012 - Madagascar: Swiss stock update
In the past, these pages have reported on the progress (or more often lack thereof) in the shipping of various items of Swiss rolling stock (much of it ex-Forchbahn) to Madagascar to create a suburban service in Antananarivo.
The website, www.internationalsteam.co.uk brings this development up to date (as part of a longer report on railway developments on the island). The report (original here) is based on a visit in January/February of this year and reveals there is still no progress with the project, but that the two ex-FO baggage cars have been passed on to Madarail. The page says:
Train Urbain de Tananarive (TUT):

In 2004/05 a number of Swiss private railway companies donated passenger equipment to Antananarivo municipality as part of a project to reopen the Alarobia line as a commuter railway. The electric motor coaches were to have diesel engines installed in the baggage compartments. However, nothing came of this and most of the stock is stored at Tana station (the two ex-FO baggage/postal vans were sold to MADARAIL):

- Trognerbahn motor car BDe 4/4 6 (SWP/MFO 1952) shipped in 2005;
- Forchbahn motor car BDe 4/4 11 – 14 (SWS/MFO 1959) shipped in 2005;
- Forchbahn motor car BDe 4/4 15 – 16 (SWS/MFO 1966) shipped in 2004;
- Forchbahn driving trailer Bt 101 (SWS/MFO 1959) shipped in 2004;
- Forchbahn driving trailers Bt 102 – 106 (SWS/SWP/MFO 1967, new bodies 1975/76) shipped 2004/05.
(the original website is well worth reading, also offering insight into the development and ongoing revival of other parts of Madagascar's railway system.)
http://www.internationalsteam.co.uk/trains/madagascar03.htm
---
18.06.2012 - Tram Affoltern: Voters approve revised building lines
The weekend's referendum included a challenge to the city's plans to re-draw a building line in Affoltern to create space for the future tram alignment (and a stop). Opponents had called for a referendum on this modification, but 71% of voters have now approved the change.
Priority of the proposed Affoltern tram link has increased, with the city council presently planning to realise it between 2019 and 2022 (VBZ's Vision 2025, published in 2006, had placed the realisation of the line at an undefined date beyond 2025). Hurdles to the realisation of the Rosengarten orbital line as well as last year's referendum on Städteinitiative have permitted this project to move forward.
---
15.06.2012 - Hybrid buses reduce fuel consumption by 30%
ZVV has succesfully concluded it's one year trial of hybrid buses. These buses were tested on the regional system VZO and VBG, with fuel economies of 30% exceeding the expected figure of 25%. The buses were also able to maintain schedules despte their poorer acceleration. Timekeeping problems were encountered only in urban settings with frequent stops. The trials are being continued.
---
08.06.2012 - Vinnitsa status update

A correspondent (Martin Baumann) confirms (with reference to http://transphoto.ru/list.php?t=1&cid=125) the numbering of ex-Zürich units in Vinnitsa reported here in February. The page cited furthermore highlights units out of use in yellow (these are primarily Karpfen and FFA trailers) and indicates that 333/1626 has not yet entered service.
http://transphoto.ru/list.php?t=1&cid=125
---
06.06.2012 - Passenger trains on industrial tracks?
They can still be found, those railway tracks criss-crossing the city's industrial areas, often lightly built and running by the roadside if not on grooved track on the roadway. Their number has decreased over the years under the combined effect of heavy industry making space for residential developments and the broader downward trend in wagonfreight. Nevertheless, some such lines do survive and two even cross tram lines at grade. One is the Swissmill siding (picture above), remnant of a once more extensive system in the Hardbrücke area crossing the tram lines at Escher-Wyss-Platz. This line is still used by several trains a day serving Swissmill. Seeing much less use is another line from Bahnhof Altstetten to Zollfreliager Altstetten (formerly used as a customs storage site) but currently being redeveloped as housing. The line crosses tram route 2 on Badenerstrasse. A branch off this line serves the VBZ workshops in Altstetten and is occasionally used for deliveries of new trams, transferring old ones (as recently used by the Mirages headed for Vinnitsa) and delivering track supplies.
Seeking to improve connections to the new housing development, VBZ investigated whether the line could be used as a passenger link using lightweight railcars. The investigation has produced a negative result, with the many road crossings and the need to secure these being among the reasons. Nevertheless, the line will see some further use with spoils trains from the clearing of the site using the line. After that only the section serving the VBZ workshops will be retained.
---
04.06.2012 - Trams for Sankt Gallen?
A study has suggested bringing back trams to Sankt Gallen. A line from Stephanshorn to Winkeln could cost 500 million.
---
04.06.2012 - BDWM heritage car to debut on 30th June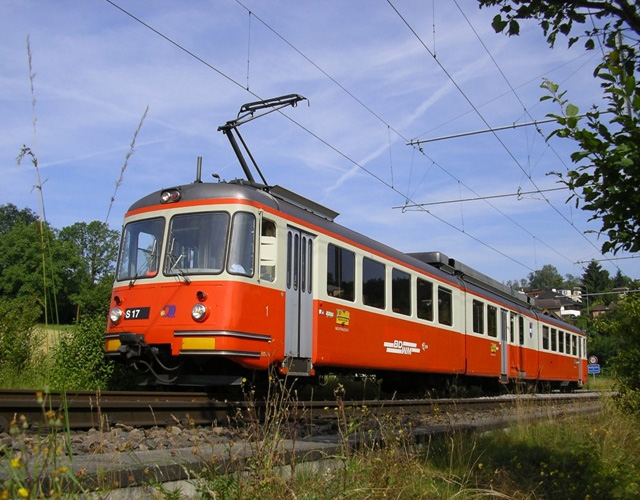 With the restoration of BDe8/8 7 approaching completion, the vehicle will be presented to the public on 30th June. Ex-WM BDe4/4 2 will also be present.
---
01.06.2012 - Swiss Standards in Tramway Review, part two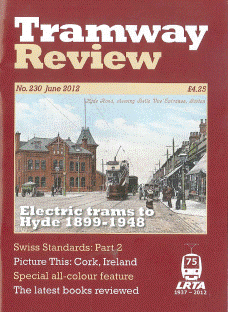 The second part of my article on the Swiss Standard Tram has been published in the June-dated (No 230, pages 459-472) issue of Tramway Review. The article discusses the Zürich production cars.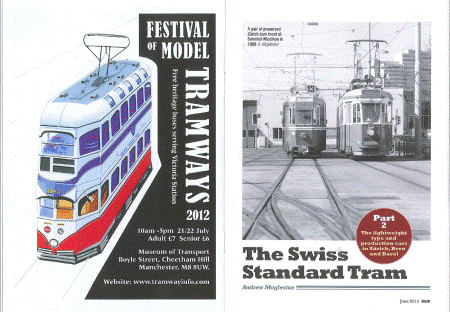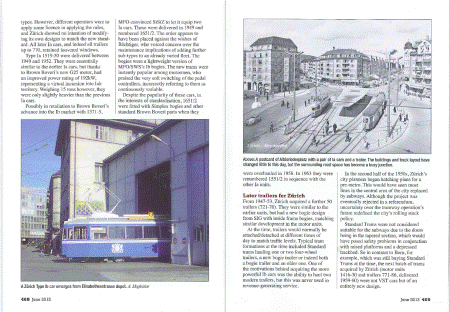 ---
08.05.2012 - Aktion Pro Sächsitram has new website
In February, this newslog reported the disappearance of the Aktion Pro Sächsitram website. Fortunately, it has now returned in an updated guise (including an entire section dedicated to the project to restore Standard Tram 1408).
---
08.05.2012 - ... but another significant website remains down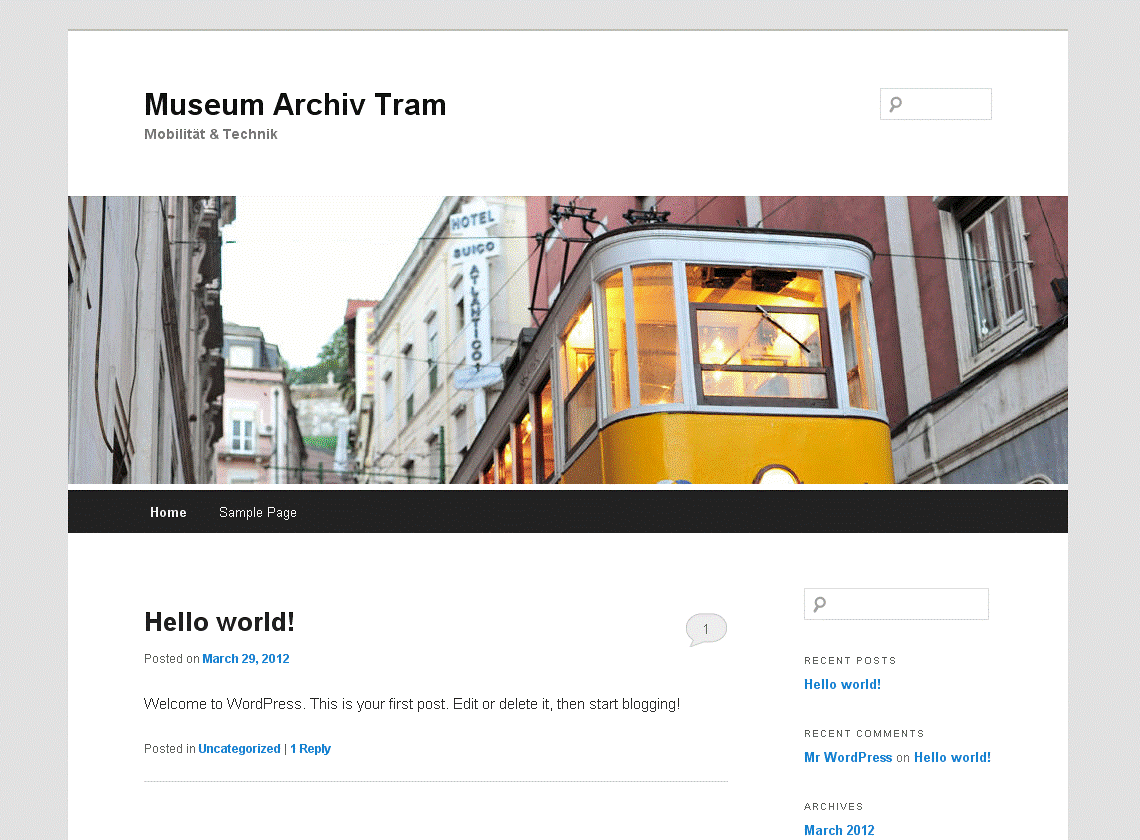 The same can unfor-tunately not be said of the Tram Museum Archive site, whose content has not been restored. As a small consolation, one of the random pictures shows a Lisbon funicular (but is probably just a stock shot). More about this website (including Wayback links) can be read on this newslog here.
---
20.04.2012 - Biel: trolleybus will co-exist with proposed tram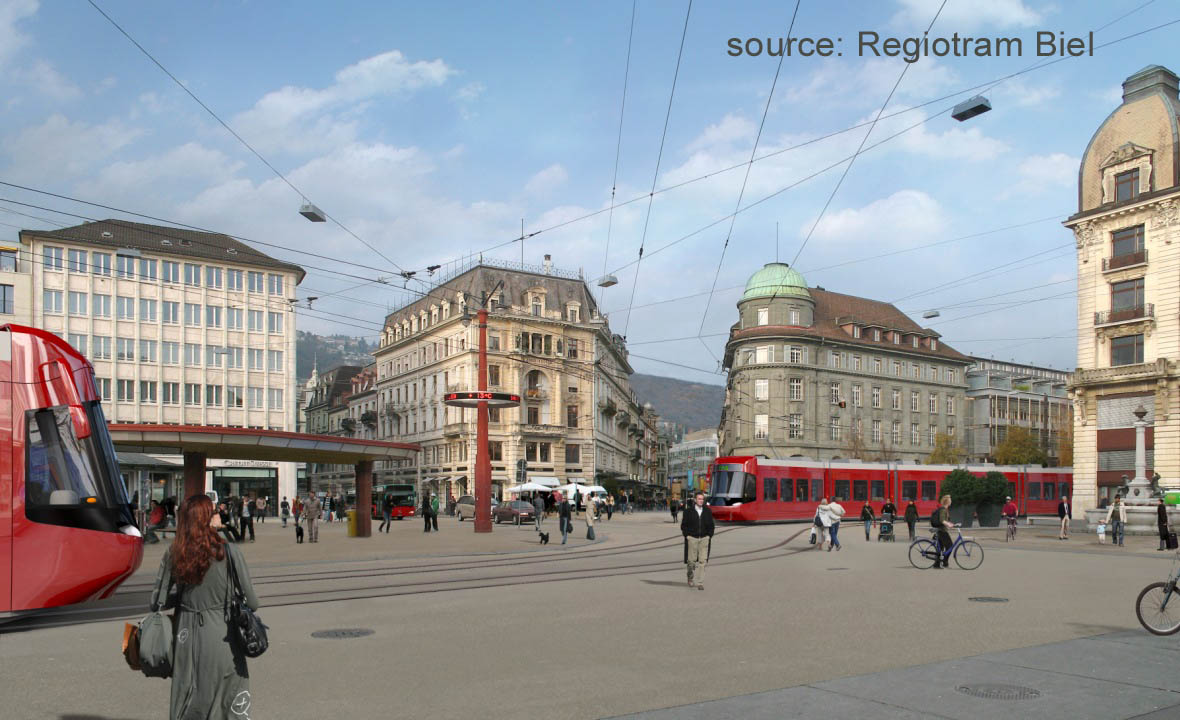 According to present plans, the proposed Biel tram will not spell the end of the city's trolleybuses. Although route 4 will be replaced by the tram, trolleybus operation of route 1 will continue.
---
04.04.2012 - WSB heritage car saved — by scrap merchant
WSB's heritage car 115, sold for scrap only weeks ago, has won an unexpected reprieve. Rather than break it up, the scrap merchant, Bertschi, wishes to set the car up in their Reinach scrap yard and use it as a classroom to teach visiting groups about recycling — the car, dating to 1901, has seen many rebuilds and different uses and so surely is a story of recycling in itself.
---
02.04.2012 - ZVV does not support trolleybus expansion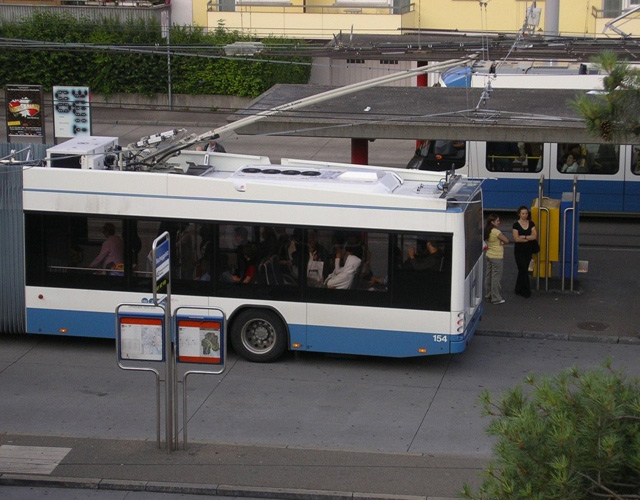 ZVV (the cantonal public transport coordinator) has indicated it does not share VBZ's enthusiasm over expansion of the trolleybus system. The body, which regularly exerts pressure on VBZ and other operators to increase their financial efficiency, has said it welcomes the environnmental advantages of trolleybuses but not their higher costs. The city remains upbeat and will still seek to obtain financial support from federal sources. VBZ wishes to seize the approaching need to replace diesel buses as an opportunity to electrify routes 69 and 80 at an incremental cost of 58 million Francs. To make use of this window of opportunity, an implementation by 2017 would be required.
bahnhofplatz.net, citing an NZZ article

For further trolleybus background, see this website's trolleybus page.
---
30.03.2012 - Remodelling Oerlikon
Further details have been published of the approaching remodelling of the tram layout around Bahnhof Oerlikon. Rather than looping around the block of buildings as it does today, route 11 will have a more generous and straighter double-track alignment along the station frontage (which will otherwise be pedestrianised). The loop track in Edison and Nansenstrasse will be retained however, permittig the trams of route 10 that are not running to the airport to turn . In a later phase, a new turning loop will be added at Bahnhof Oerlikon Ost stop so that turning and through trams can serve the same stop.
Linked (above) is the official map showing tram and bus routes after the completion of this work (which is commencing now but whose final phases will not be completed until 2016). The map on which it is based appears to be an older version. Hardly any of the industrial tracks survive, and many of the factories they served have been replaced by offices and flats.
Also in full swing now is the SBB-side work which will see two additional platform faces added in conjunction with the Durchmesserlinie, and the approach tracks also widened accordingly.
---
23.03.2012 - Bernina Railway on Google Street View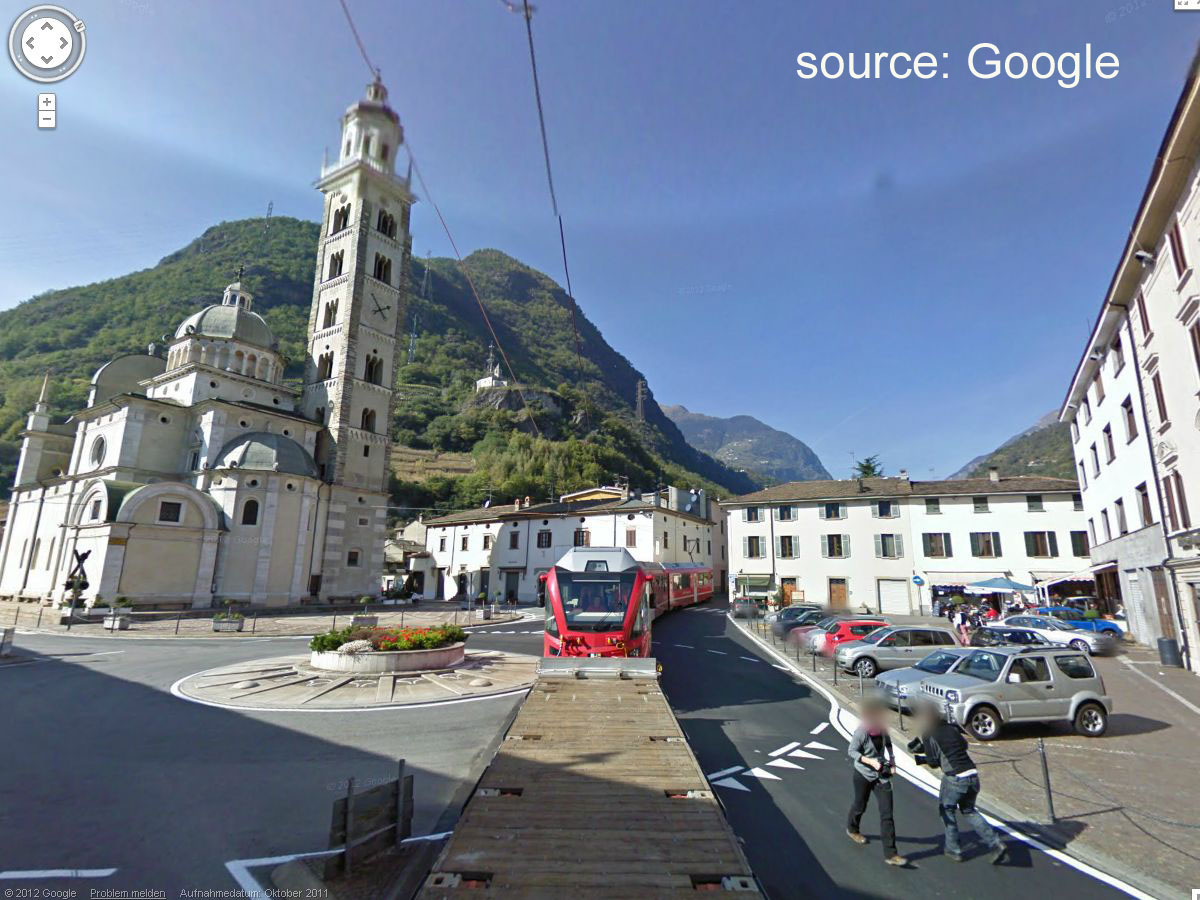 Google Street view has established itself as a useful way to explore the streets of distant cities from the comfort of your home. But now Google is travelling by rail as well. Parts of the Bernina Railway are now accessible online.
The view above shows the flat wagon on which the camera was carried on the famous street-running section passing the even more famous Basilica della Madonna di Tirano, pulled by one of the new Stadler dual-voltage Allegra units.
www.rhb.ch/RhB-Street-View.1908.0.html
---
23.03.2012 - More on Zürich's trolleybus expansion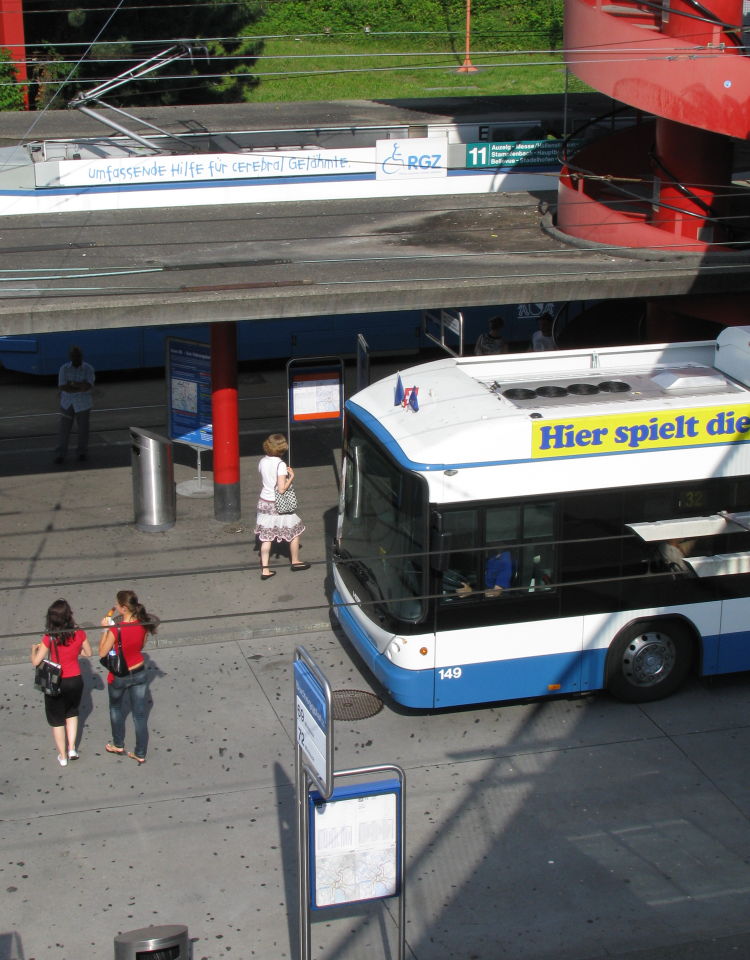 Two days ago, I questioned whether 14 million would be enought to equip two new trolleybus routes with vehicles. The figure quoted, however, is not the total cost but the additional cost compared to replacing old diesel buses with new ones. In total, 21 additional trolleybuses would be purchased as part of the option agreed with Hess last July. As an alternative, hybrid buses are also to be evaluated.
---
21.03.2012 - Pushing for trolleybus expansion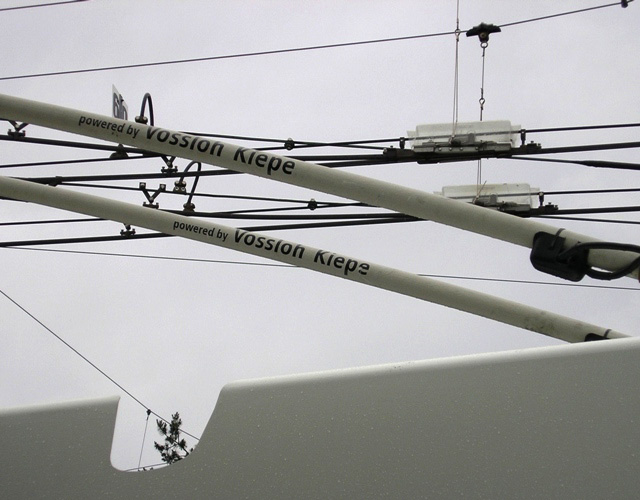 Zürich's city council has asked the cantonal government to include the extension of the trolleybus system in its development program and apply for funds. The electrification work on bus routes 69 and 80 would cost 44 million Francs, with a further 14 million earmarked for the actual trolleybuses. The routes could be operational by 2017. These two routes have been selected on account of their high ridership and development potential. Further advantages are the gradients involved and presenting natural extensions to the existing network. This announcement is by no means yet a sign that the work will go ahead as there are still several hurdles needing to be cleared.
I am not sure what exactly the 44 + 14 million Francs would cover as 14 million Francs seems rather conservative , with that sum buying maybe 10 Swisstrolleys, which would be insufficient to work two routes (one of which is very long).
Tages Anzeiger
For further trolleybus background, see this website's trolleybus page.
---
13.03.2012 - NStCM looks to the future
NStCM (Nyon - La Cure) has ordered new units from Stadler. The two-section trains are based on the manufacturer's existing narrow gauge concepts as recently delivered to other lines. The new trains will be delivered in batches, with the first four arriving in 2016 and being used to increase service frequency on the Nyon - Genolier section to quarter hourly. Six further units will follow in 2020 to replace the Vevey units that currently work the line. The order is worth 66 million Francs.
NStCM are also planning a new depot near Paleo to replace the existing facilities in Nyon. Also being studied is an extension of the line from La Cure to Rousses (across the border in France).
---
This website's newslog page (www.proaktiva.ch/tram/zurich/newslog/newslog.html) has just passed the 90,000 visitor mark. The real visitor count is probably high still as the news items can also be read individually (for example www.proaktiva.ch/tram/zurich/newslog/newsitem.php?item=120312b). Thank you to all returning visitors who contribute to the site's popularity.
---
12.03.2012 - Tram Affoltern by 2022?
As this website has reported previously, the chances of the Affoltern tram line being built are growing. As recently as 2006, VBZ's Vision 2025 projected this link to a long-term horizon well beyond 2025. With the Rosengarten slipping to a more distant date due to disagreement over how the displaced car traffic should be handled, and the ambitious goal set by the voting into law of Städteinitiative last year, the Affoltern tram is gaining political momentum. Currently being considered is a Y-shaped line, connecting Affoltern to both Bucheggplatz and Oerlikon. To this end traffic surveys are to be conducted. If all goes to plan, the new tram lines could open in 2022. The Regensbergbrücke bridge by Bahnhof Oerlikon, which is currently being renewed as part of the track widening work there, is already designed for future tram use.
Tages Anzeiger
---
07.03.2012 - Progress on BDWM BDe 8/8 No. 7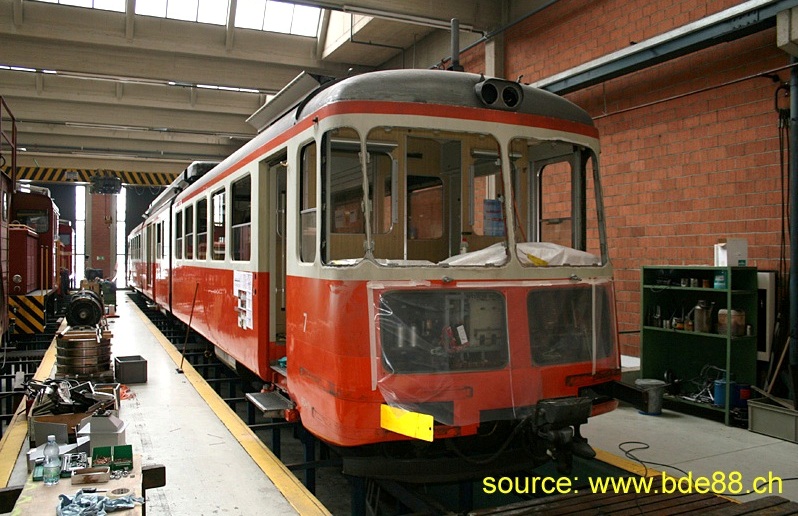 Progress on the restoration of BDWM is looking very good, as this series of photographs from the BDe 8/8 website shows. The group behind saving this fascinating vehicle are also looking for members, or can otherwise be supported by buying items from their shop, including many parts from No 7's sister units, BDWM station signs and more — providing an opportunity to bring some genuine Swiss narrow-gauge history into your home.
---
07.03.2012 - WSB/AAR scraps heritage car
WSB/AAR is scrapping heritage/party car 118 due to insufficient use.
---
07.03.2012 - Tram Zürich West opening in pictures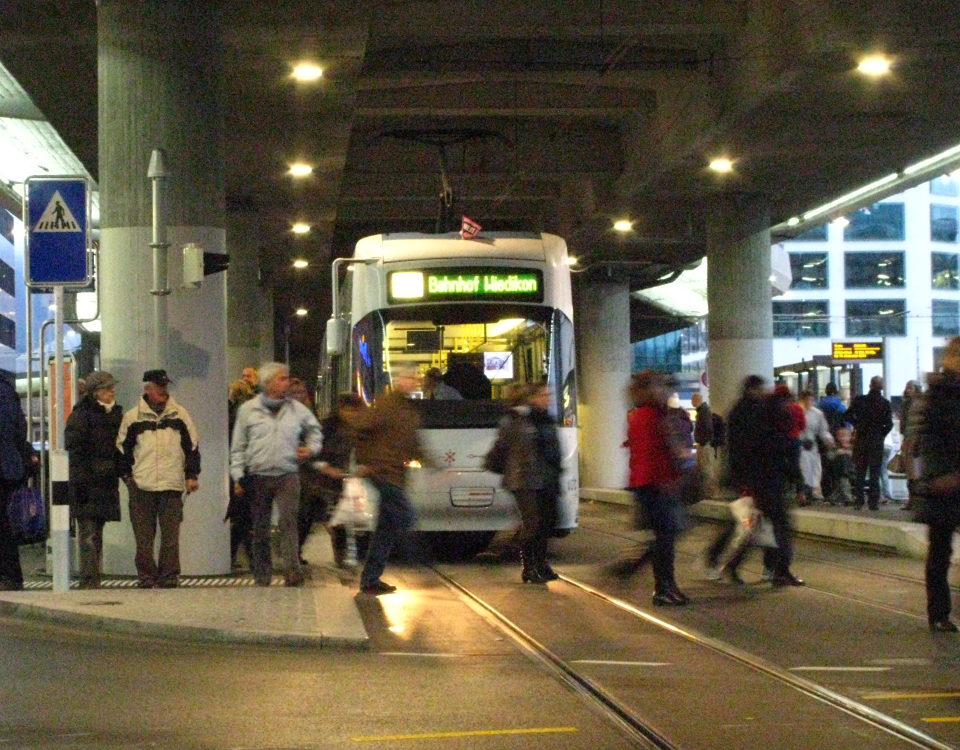 Somewhat belated, I have uploaded pictures of the opening of Tram Zürich West, the first day of operation and the new route 17 (view index).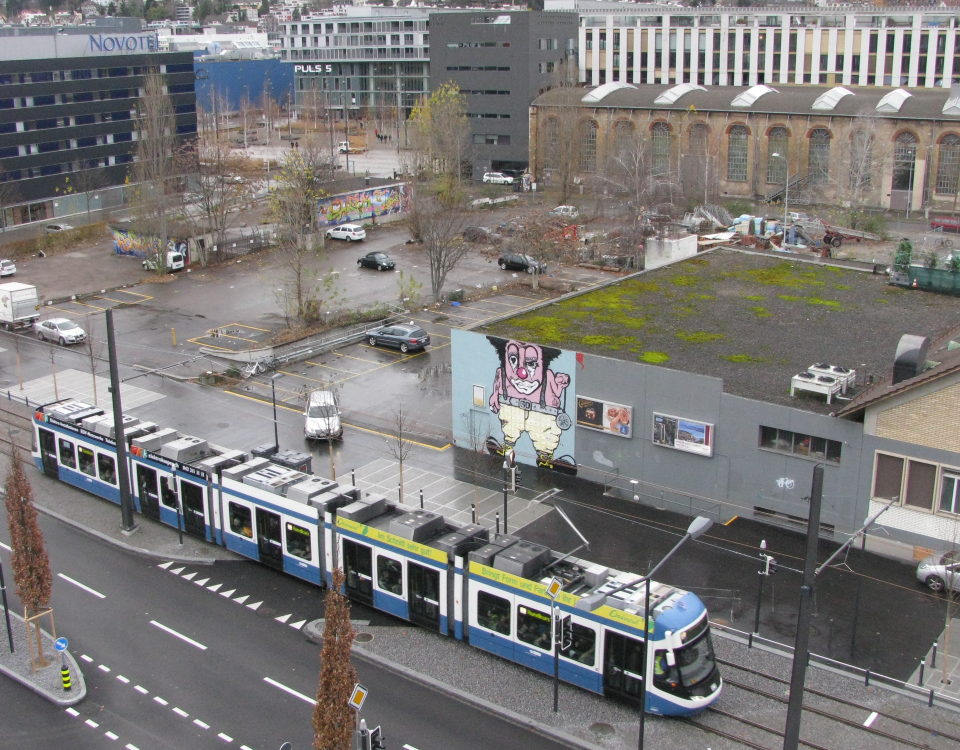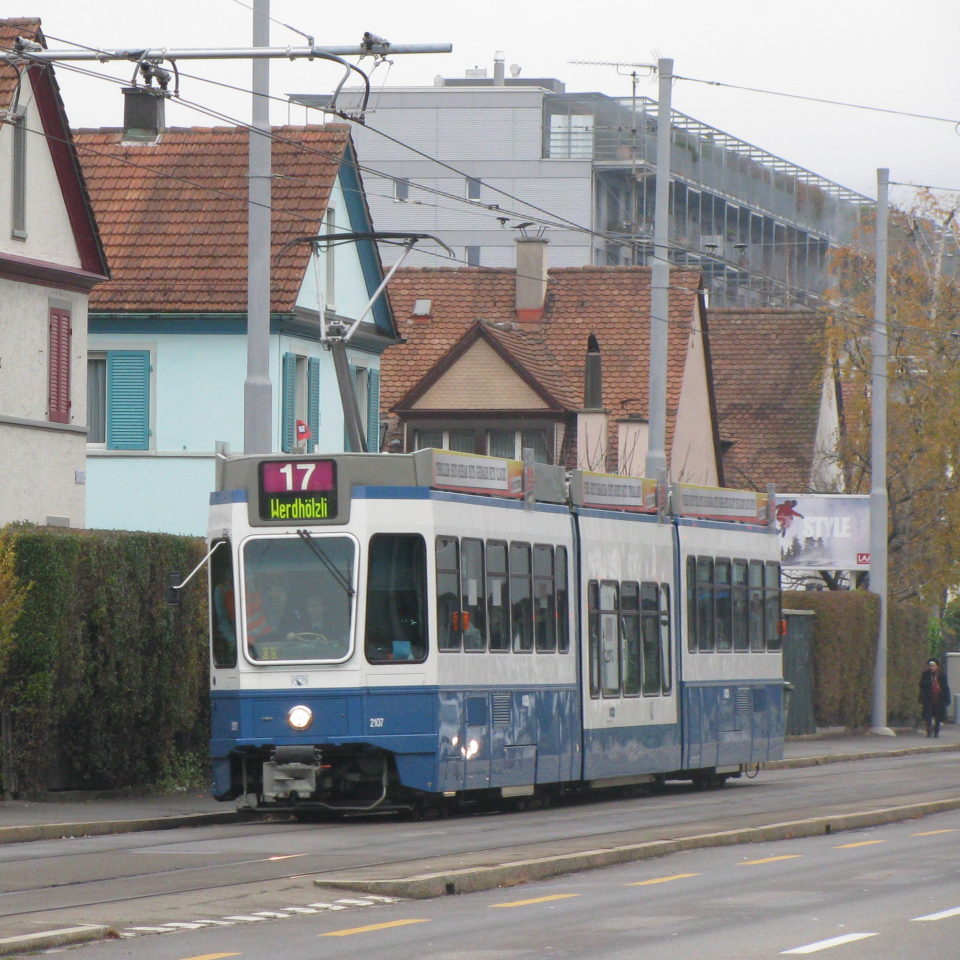 ---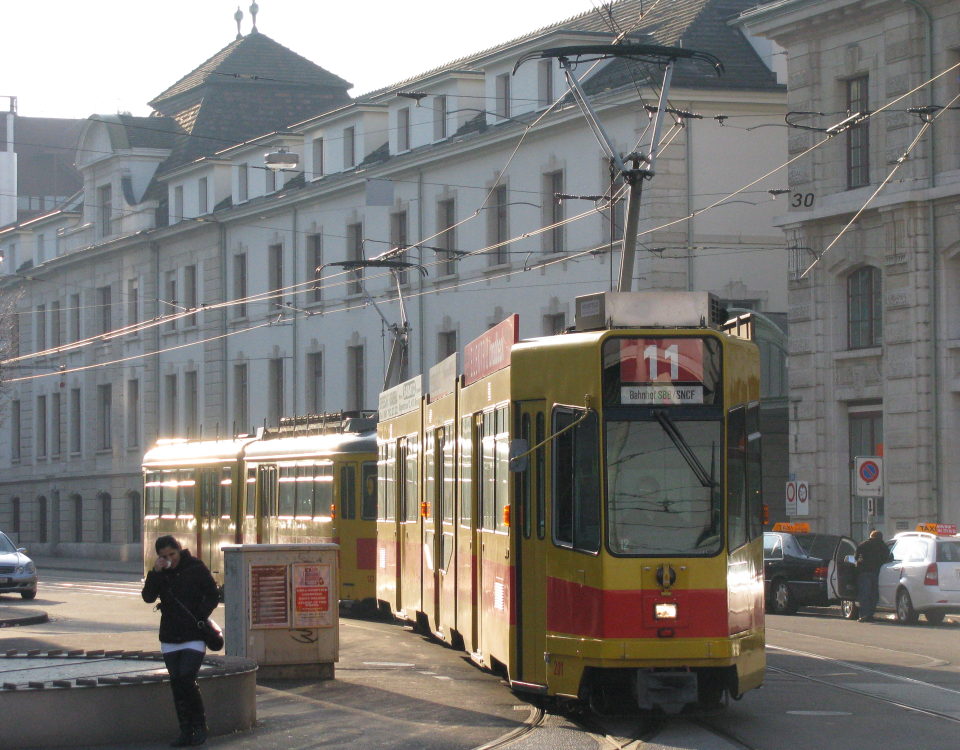 I have uploaded a short series of recent pictures. Topics are Basel, a brief encounter in Zürich and the ex-Zürich Pedaler now at Wagerenhof in Uster (view index).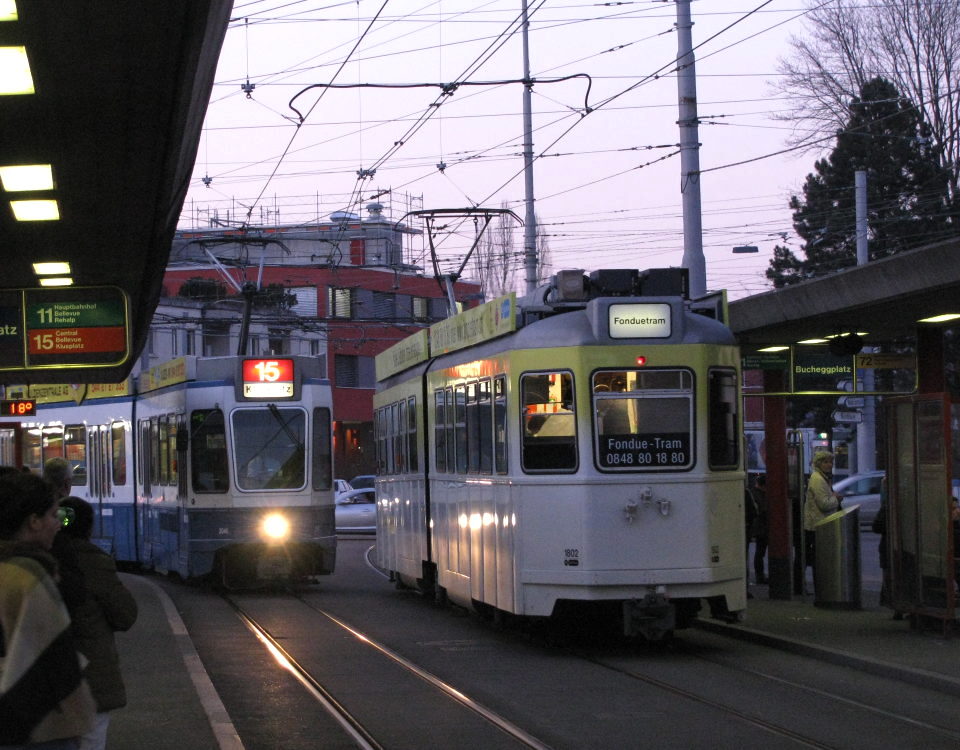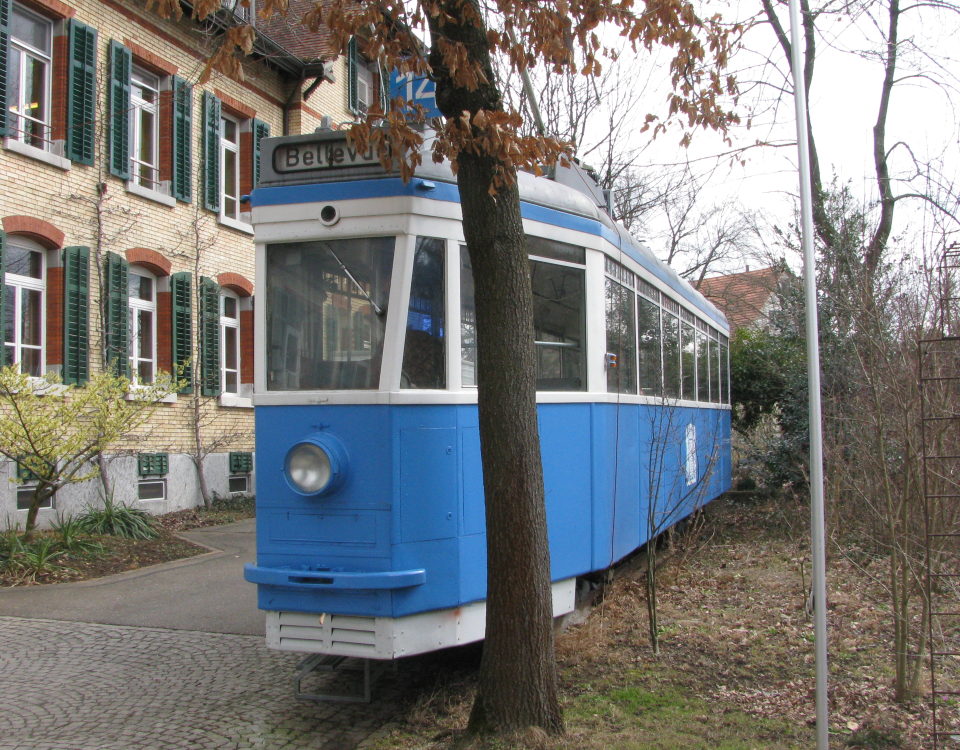 ---
02.03.2012 - Hardbrücke tram concession granted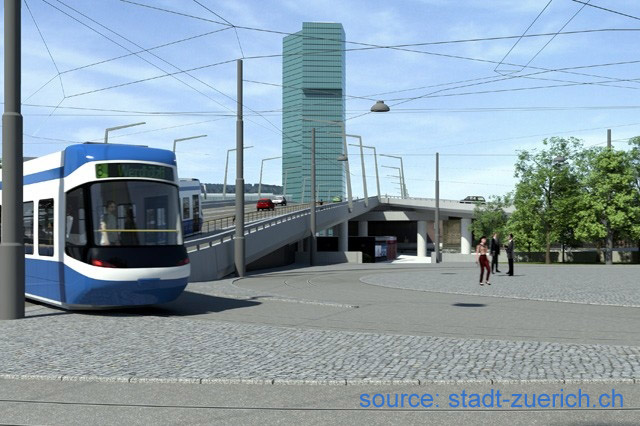 The federal council has granted the concession for the Hardbrücke tram (Hardplatz to Schiffbau). The project, which will cost 100 million Francs, must also be approved in a referendum in 2013 or 2014.
Tages Anzeiger

---
21.02.2012 - La Chaux de Fonds trolleybus to close
The La Chaux de Fonds system will close this Summer. The remaining trolleybuses will be transferred to Neuchâtel. The closure is precipitated by the need to divert bus routings in the town centre.
---
20.02.2012 - Swiss Standard Tram article in Tramway Review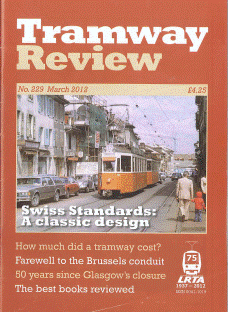 Tramway Review is publishing a series of articles written by myself on the history of the Swiss Standard Tram. The current (March dated, No 229) issue publishes part one (of probably three). The article appears on pages 16-33 of the journal, and has the title The Swiss Standard Tram: Part one, Origins and early Zürich prototypes.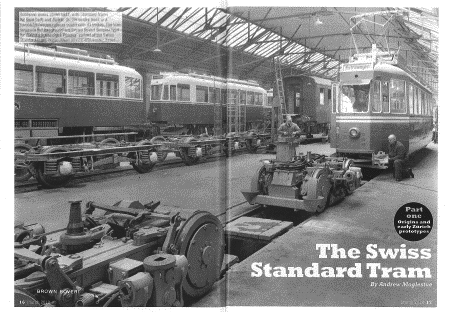 Tramway Review is a quarterly journal of LRTA. For more information on this journal see the Tramway Review page on the LRTA website.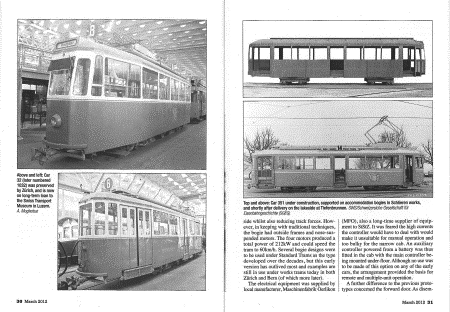 A fuller overview of this series of articles is provided here.

---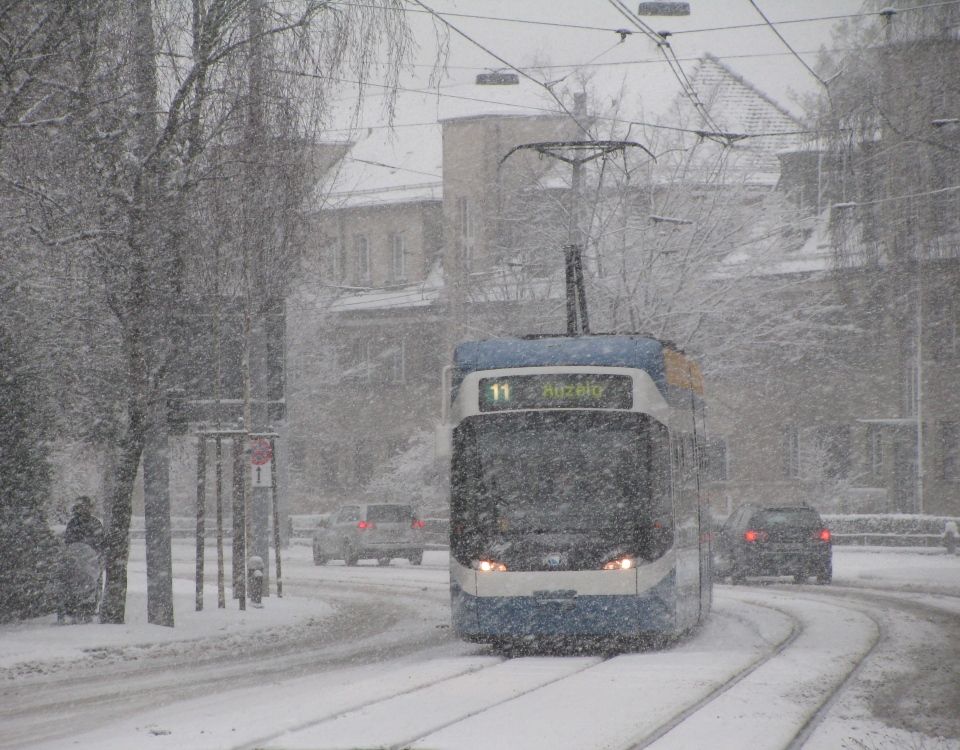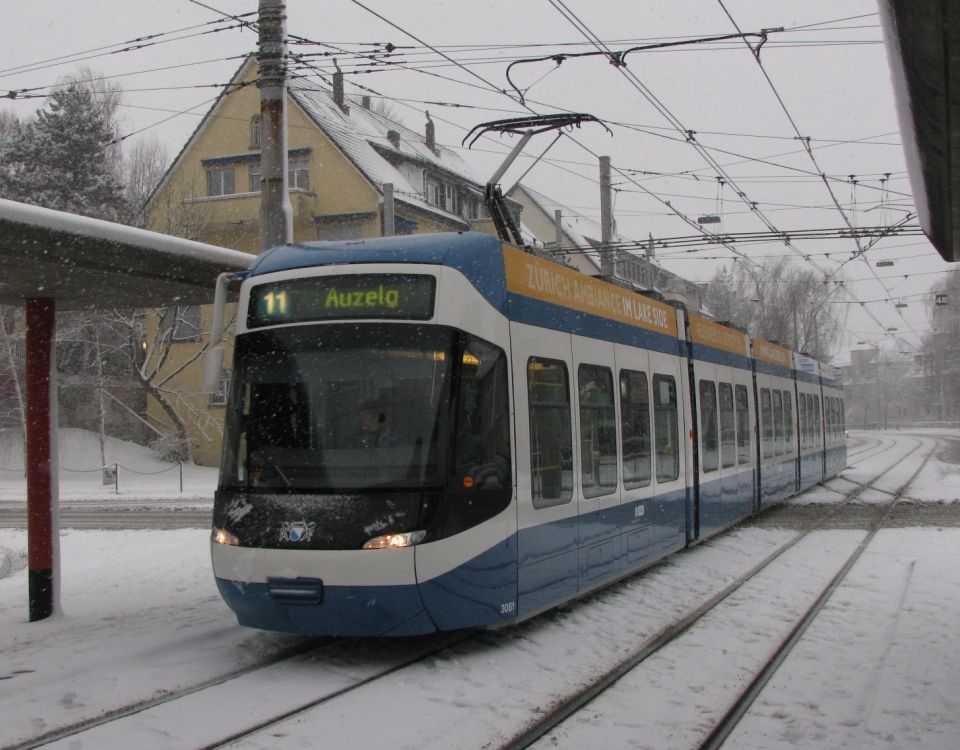 The very cold spell appears to be over, but snow is back. Here are some pictures I took this morning.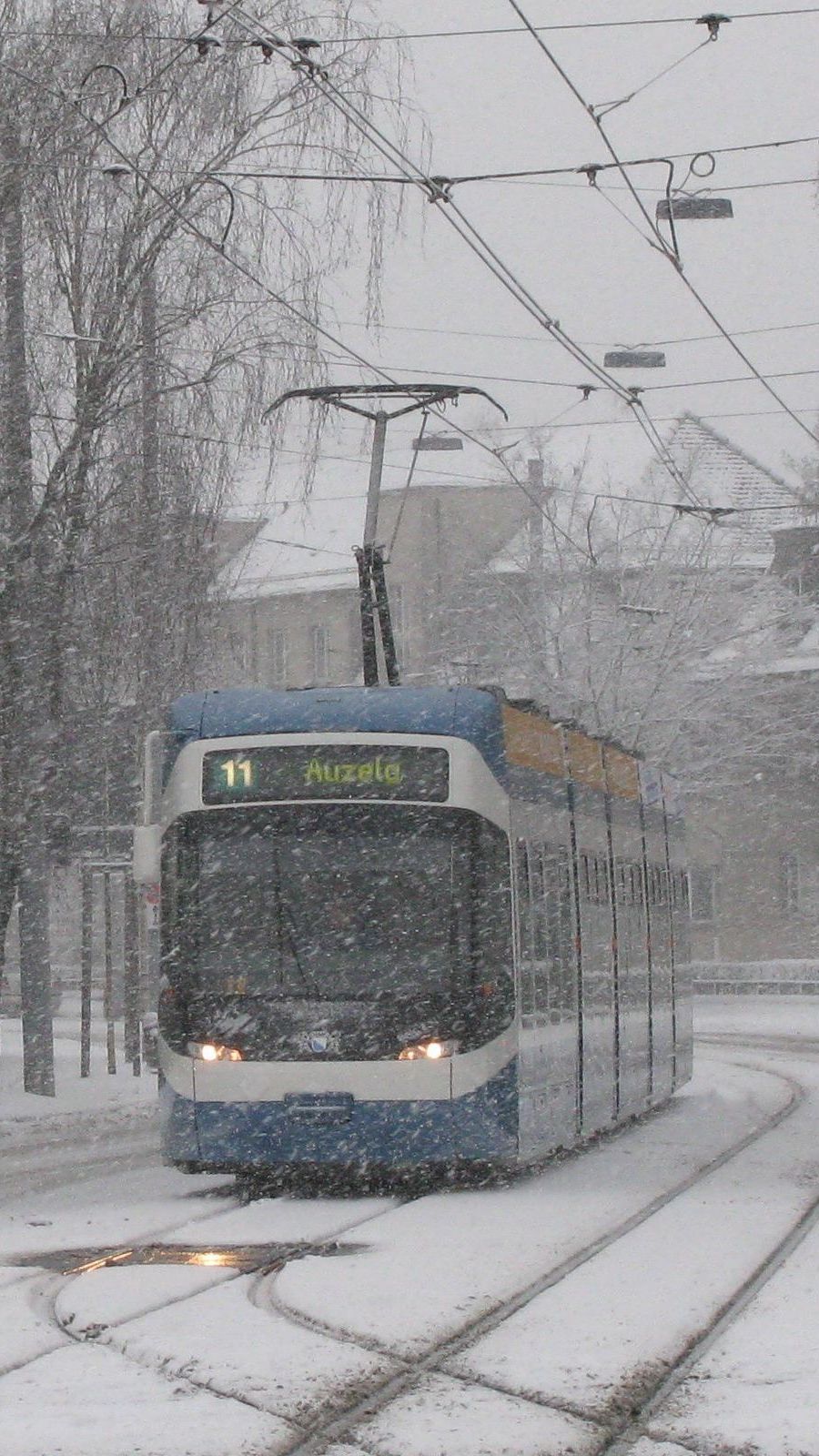 ---
14.02.2012 - Vinnitsa numbering update
The final shipment of Mirage trams to Vinnitsa was reported here in November, with movies of these 12 cars leaving Zürich and arriving in Vinnitsa being added later. The latest edition of Tram magazine (No 109) has published the Vinnitsa numbers of these cars (333-344). The table below shows the numbering of all ex-Zürich in Vinnitsa, independently of whether these cars are currently in use.
In October, the demise of the Karpfen type (229-252) was reported. However the movie linked above shows one of these units being used to help unload the Mirages on arrival in Vinnitsa.
Vinnitsa nr./
Zürich nr.

229 1418
230 781
231 1419
232 782
233 1427
234 777
235 1425
236 783
237 1421
238 784
239 1428
240 779
241 1424
242 773
243 1422
244 778
245 1429
246 771
247 1426
248 780
249 1423
250 775
251 1417
252 776
253 1416
254 772
255 1601
256 791
257 1602
258 794
259 1603
260 1718
261 1604
262 788
263 1605
264 1715
265 1614


266 792
267 1620
268 786
269 1612
270 797
271 1622
272 1717
273 1639
274 795
275 1615
276 789
277 1619
278 798
279 1683
280 796
281 1687
282 787
283 1689
284 793
285 1606
286 1609
287 1611
288 1613
289 1616
290 1618
291 1636
292 1624
293 1628
294 1630
295 1631
296 1632
297 1633
298 1636
299 1608
300 1610
301 1625
302 1627
303 1634
304 1635
305 1637


306 1638
307 1652
308 1653
309 1658
310 1662
311 1669
312 1678
313 1682
314 1684
315 1629
316 1640
317 1642
318 1646
319 1647
320 1648
321 1649
322 1650
323 1651
324 1655
325 1657
326 1660
327 1663
328 1665
329 1666
330 1671
331 1672
332 1680
333 1626
334 1656
335 1659
336 1664
337 1668
338 1673
339 1676
340 1677
341 1679
342 1681
343 1685
344 1688



Nrs. 229-254 are Karpfen units, with odd numbers allocated to motor units (VBZ series Be4/4 1416-1430) and even numbers allocated to trailers (ex-VBZ series B4 771-786): 13 pairs in total.

Nrs. 255-283 (odd numbers) and 285-344 (all numbers) are Mirage units (ex-VBZ series Be4/6 1601-1690): 75 cars.

Nrs. 256-284 (even numbers) are FFA trailers (ex-VBZ series B4 787-798) with the exception of three Mirage Blinde Kühe (cabless Mirage units, ex-VBZ series Be4/6 1691-1726) and one further Karpfen trailer (B4 786): 15 cars in total of which 11 FFA B4 trailers.

Total: 116 cars
With respect to the June 2011 list, this list is updated through the addition of Mirages 333-344.
Surving in Zürich (for use as museum cars) are 785, 790, 1430, 1674 and 1675. All other missing numbers are scrapped.
---
10.02.2012 - Ex-Zürich trolleybus burnt in Valparaíso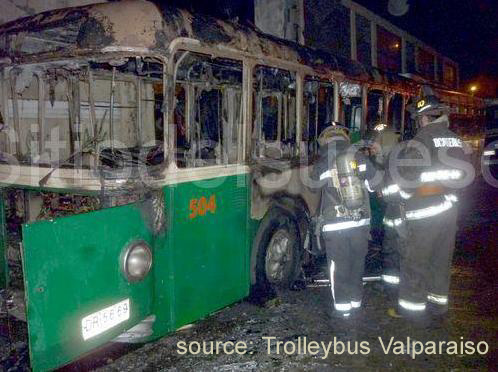 I have learnt with regret that one of three ex-Zürich Valparaíso FBW GTr51 trolleybuses, number 504 (ex VBZ 132 of 1963) was destroyed by fire yesterday.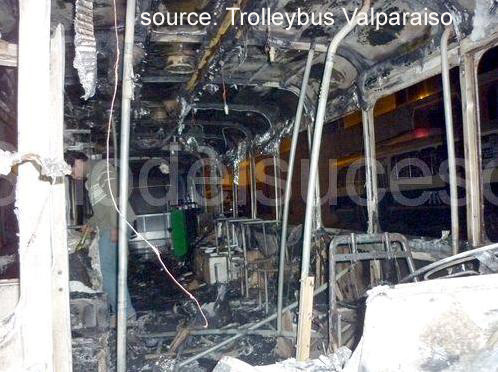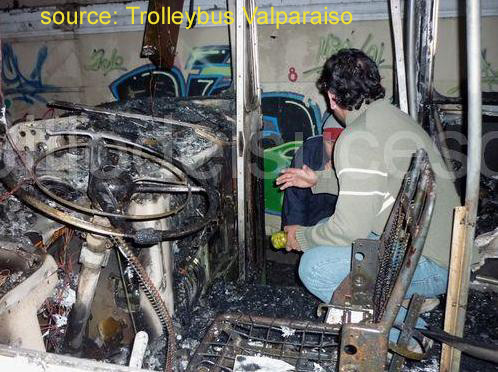 ---
03.02.2012 - Another website down?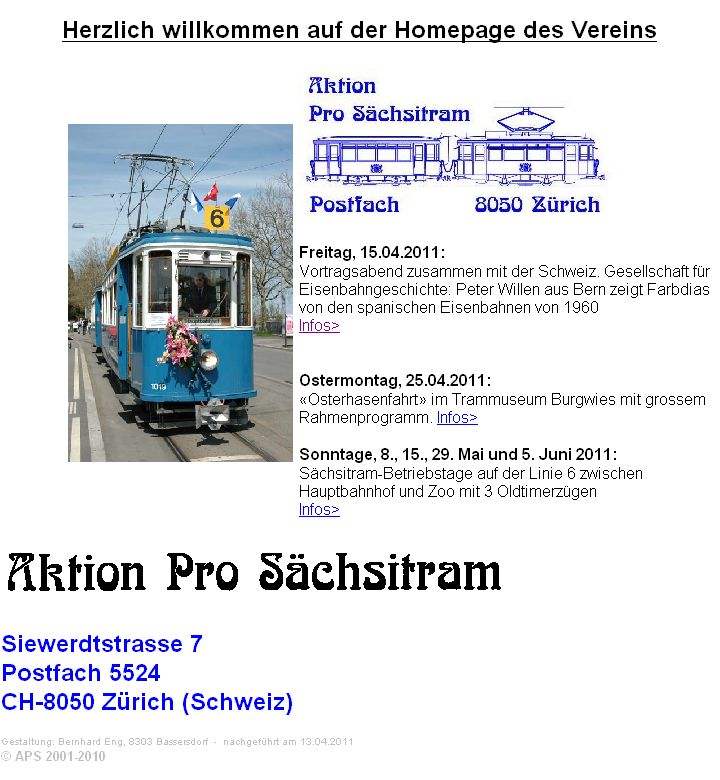 After reporting two days ago on the demise of the old Tram Museum website, it has been drawn to my attention that another webiste that has been unreachable for some time now is that of Aktion Pro Sächsitram (www.6-tram.ch). If this disappearance is also permanent, we are facing a severe loss of enthusiast-oriented web-based information on Zürich trams.

---
02.02.2012 - Advertising trams debut
Zürich has been slow to jump on the all-over advertising bandwagon, but tightening budgets can sweep away good resolutions. Last year, the city council decided to trial five such trams over a three year period. The first of these is now running. It is 3087 advertising the stock-trading platform Swissquote.
---
02.02.2012 - Limmattalbahn progress
The pre-project of the Limmattalbahn light-rail system has been completed. Work on the LRT, which will connect Zürich Altstetten to Killwangen via Schlieren and Dietikon should commence in 2017.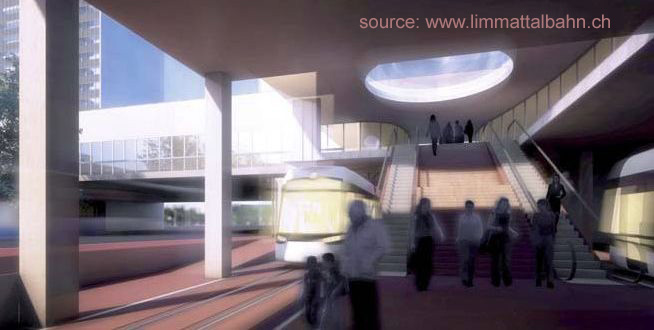 A brochure with plenty of details is available on the website of Limmattalbahn (-> here).
---
02.02.2012 - Bern: Compressed air tram project stopped
The Berner Tramway Gesellschaft, who also operate Bern's steam tram, have been working on a replica compressed air tram. Such trams operated in Bern from 1890 to 1902. With the support of apprentices, work had begun on both the wooden body and on the compressed-air engine. Sadly, all work has now ceased, apparently due to the transport ministry tightening its regulations. It is not yet clear what will happen to the partially completed unit.
---
01.02.2012 - Tram Museum Website on Wayback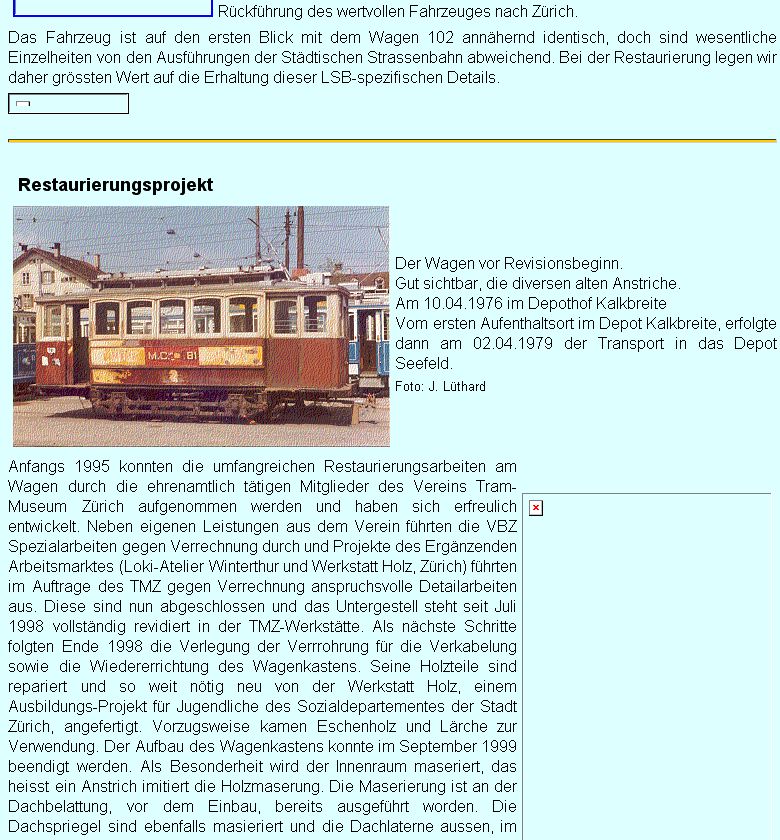 In the course of its history, Tram Museum Zürich has redesigned its website several times. The current version is here: www.tram-museum.ch. Professionally implemented, it presents the visitor with all the basic information, but it hardly presents scope for hours of browsing, nor is it a magnet to which many web visitors will return with regularity. Its fondly remembered past incarnation, which was maybe less professional in its design, but presented far more detailed information, was a true treasure trove for the tram enthusiast. Besides presenting the museum collection, tram history and numerous connected topics, it included rare pictures and articles from out-of-print publications. Fortunately, when the new professional website came online, the old website was saved and made available again under www.tram-museum-archiv.ch.
It seems that this webiste too is no longer accessible. Maybe the only way now to read these articles is to use the Wayback Machine (for example the version of 5th February 2003).
Just as old trams and tramway artefacts and documents deserve to be saved, so should valuable websites be preserved.
---
31.01.2012 - Trams for Winterthur?
Apologies for the long silence on this newslog.
By 2030, it is expected that Winterthur's population will have grown from 100,000 to 120,000. To cope with the increased pressure on the city's transport system, the GLP party is suggesting trams. The project would be a long-term one, but preparatory planning would be required now to make it possible.
---
31.01.2012 - Former Albisgüetli tram in Kärnten
The ex Zürich (Albisgüetlibahn) tram which served as a rail grinder in Innsbruck until 2004 has been loaned by the Innsbruck tram preservation group to the Historama museum of Kärnten. It is planned to restore the car to its 1971 condition. Innsbruck rail grinder 21 is none other than Albisgüetlibahn 3 of 1907 and a sister of BVB 8 which is currently on display in the Zürich Tram Museum. Amazingly, the other three members of this batch also survive. More information on these cars can be read in this 2006 entry.
---
For those who may be interested, I have posted some new videos on YouTube, drawing on footage of the last couple of years.

LSB reversing out of Wartau depot - and into Burgwies



In the Schwamendingen subway, Schörlistrasse stop



And somewhat unrelated, but for those interested in USA railways, the Horseshoe Curve on the Pittsburgh line through Pennsylvania (this video was featured on trainvideos.net).



More YouTube content here.
---
31.01.2012 - Watch the last 12 Mirage trams leave Zürich
Not filmed by me, but a must for all Mirage fans, is this YouTube footage of the last 12 Mirage trams leaving Zürich by rail for their new home in Vinnitsa. The event was reported here on 24th November.



And the same units arriving in Vinnitsa:


---
next year | previous year | current year | other years | search.
return to Zürich tram home page.