Iconic Giraff bus as model
filed on: 07.06.2013 (7th Jun 2013)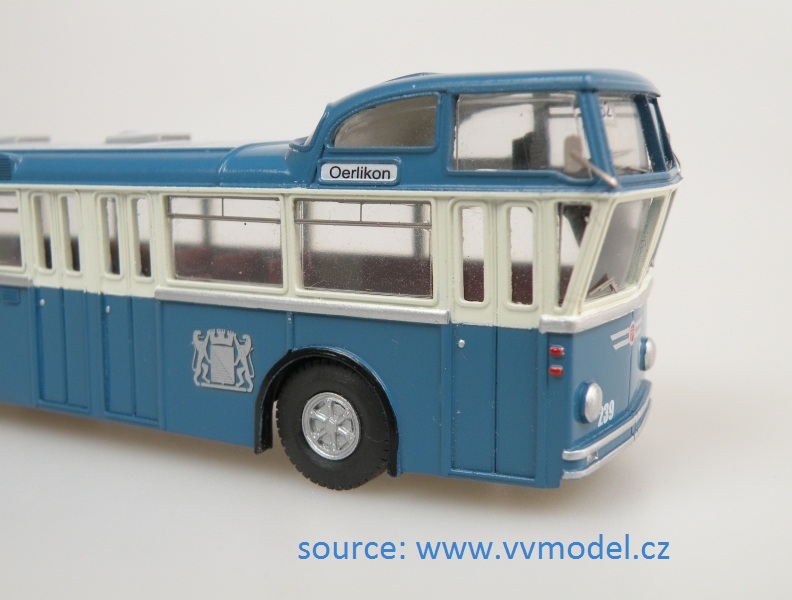 This newslog mostly reports on Zürich's trams and trolleybuses, while mostly sidestepping the topic of diesel buses, presuming them to be of less interest to the international audience. However, as I know that several followers of this newslog also have models of Zürich trams, they may be interested in this model of a truly iconic and classic Zürich bus to embellish their layout or display. The Hochlenker (or Giraff) was designed and built by FBW. In an attempt to improve his view, the driver was sat in an elevated turret approximately half a deck above the passenger level. However, the advantages did not prove themselves under operating conditions, and only 12 were built, being delivered in 1959 and 1960 (239-250 – 239 originally and briefly carried the number 219). FBW failed to sell any outside Zürich. Despite their small number, the buses developed into one of the most iconic Zürich buses of all times. In spite of being slightly impractical, they proved reliable members of the fleet, lasting in VBZ service about 20 years with several subsequently being sold on for further use (some as caravan buses). It is not clear how many survive today, but VBZ was able to buy fully restored 239 back from a preservationist in the 1990s. The bus is currently not operational.
HO scale modellers who would like to include this truly Zürich bus on their layouts can now obtain one from the Czech model maker, www.vvmodel.cz (direct link to product page here).
More information on the type can be read on www.ogs-seebach.ch/ p/infoseld.php?src=ogstheme2.php&id=654 .
This news item is from the 2013 newslog.


---
search Zürich tram news archive
news index for displayed year (2013)
news index for 2022
all news for current year
Zürich tram homepage
---
to link to this item please use:

http://www.proaktiva.ch/tram/zurich/newslog/newsitem.php?year=2013&item=070613