A look at O405 trolleybuses in Quito
filed on: 12.03.2013 (12th Mar 2013)
Time is clearly running running out for Switzerland's Mercedes O405 trolleybuses: Bahnhofplatz reports that the last two Winterthur vehicles, 147 and 149, have been passed to Retrobus, although the Retrobus website does not as yet refer to the acquisition. Trolleymotion reports that Zürich's fleet has now also dwindled to 24 units (102, 106, 110-111, 113, 115, 118, 119, 122-125, 127-133, 136-137, 140, 142-143). With the end of these units only months away, we may soon have to look across the Atlantic (and half way around the globe) to see the star of the O405 continue to shine. Quito (Ecuador) has a fleet of O405 trolleybuses by Mercedes-Benz / Adtranz / Hispano. These are equipped to serve high platforms on dedicated busways, but also share with general traffic in the city centre.
According to an article on Trolleymotion, the earlier batch (1-54) have reached the end of their economic lifespan. No decision has yet been made about whether they will be replaced by new trolleybuses or by diesels. Delivered in 1995, they are of similar age to Zürich's present O405s (also being withdrawn). Quito also has newer units (55-113) of 1999. The possibility of refurbishing these is presently being evaluated, with 102 being treated as a pilot.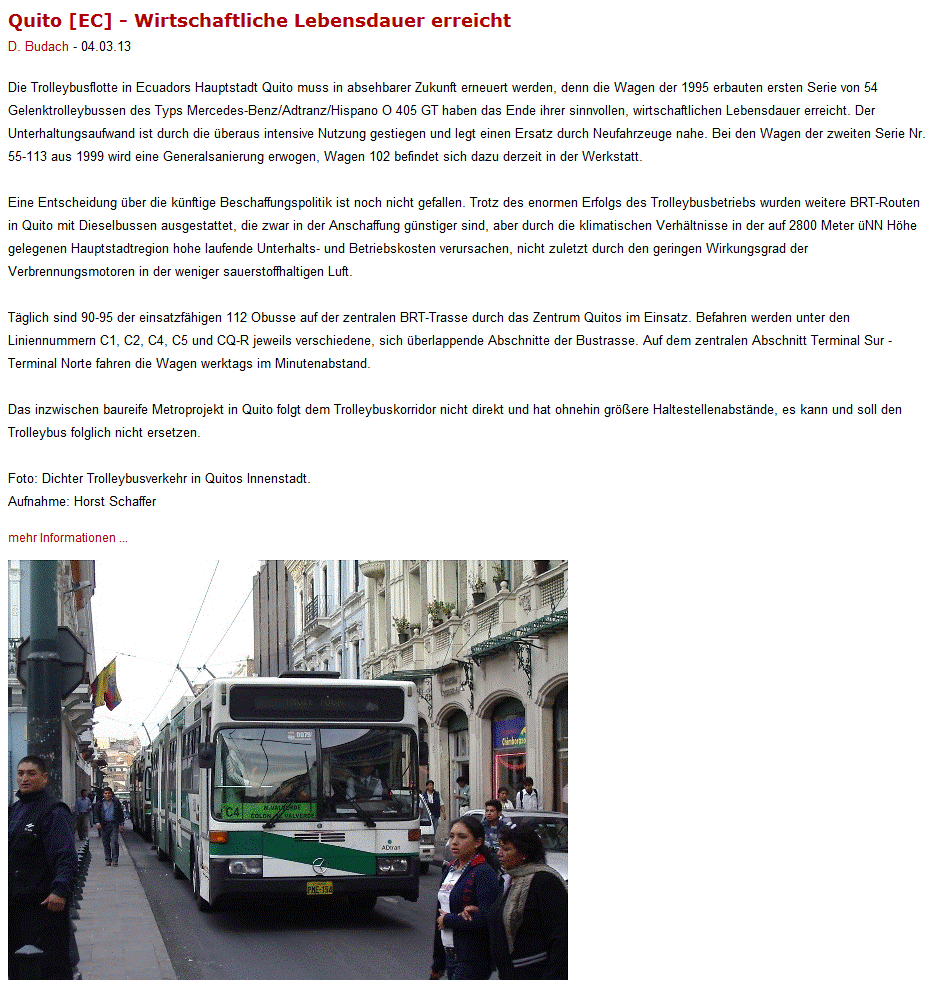 to website
This news item is from the 2013 newslog.


---
search Zürich tram news archive
news index for displayed year (2013)
news index for 2019
all news for current year
Zürich tram homepage
---
to link to this item please use:

http://www.proaktiva.ch/tram/zurich/newslog/newsitem.php?year=2013&item=120313a