Hess trolleybus models
filed on: 13.12.2013 (13th Dec 2013)
The manufacturer Navemo has long been a good source of HO/HOm scale models of Swiss trams. The manufacturer is now adding trolleybus models by offering Hess's Swisstrolley in both the Zürich and Winterthur variants.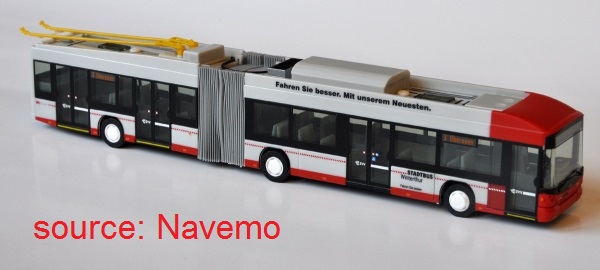 (click on pictures for link to Navemo website)
Note that this is not just the same model in two livery variants. The Winterthur version sports that city's signature white hubcaps for example.
This news item is from the 2013 newslog.


---
search Zürich tram news archive
news index for displayed year (2013)
news index for 2020
all news for current year
Zürich tram homepage
---
to link to this item please use:

http://www.proaktiva.ch/tram/zurich/newslog/newsitem.php?year=2013&item=131213c