Altstetten tram plans to get a re-think
filed on: 13.12.2013 (13th Dec 2013)
In conjunction with the construction of Limmattalbahn, the city had proposed to re-route tram 2 from its present alignment on Badenerstrasse to share tracks with the proposed Limmattalbahn and so serve the forecourt of Altstetten station directly. The proposed abandonment of the Badenerstrasse section (with the Bachmattstrasse stop) has led to concerns from local residents and traders who fear loss of service and infrastructure in the centre of their neighbourhood. 600 signatures were collected and the city has promised to reconsider its plans.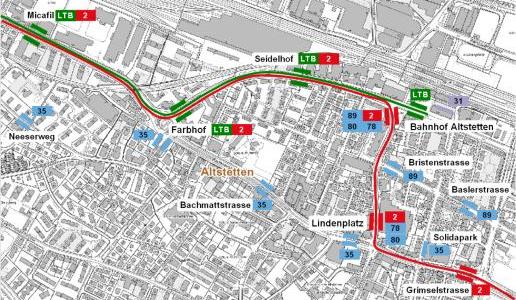 source: bahnhofplatz.net
This news item is from the 2013 newslog.


---
search Zürich tram news archive
news index for displayed year (2013)
news index for 2022
all news for current year
Zürich tram homepage
---
to link to this item please use:

http://www.proaktiva.ch/tram/zurich/newslog/newsitem.php?year=2013&item=131213f