Ex-Sernftal Be4/4
filed on: 04.11.2014 (4th Nov 2014)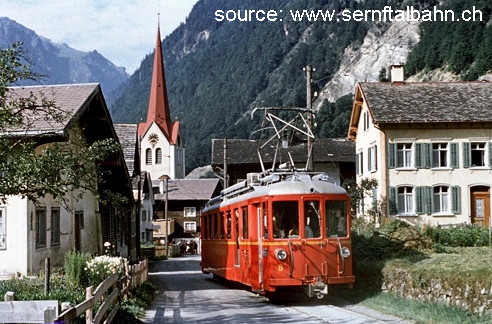 In 1948, Forchbahn took delivery of two modern bogie cars. The presence of these cars, their speed, comfort and potential for economic operation played a crucial part in warding off closure threats and releasing money for further modernisation measures. It is thus fitting that both cars still survive today. 10 is a heritage car and 9 is converted to a snowplough.
It is maybe less well known that three further virtually identical cars were built. These were 5-7 of Sernftalbahn, a line between Schwanden and Elm in the Canton of Glarus. Following the closure of that line in 1967, the cars were transferred to AOMC (Aigle-Ollon-Monthey-Champéry) where they ran as 111-113 until they were rendered superfluous by the arrival of newer rolling stock (ex BLT) and found a third home in Austria in 1986. The secondary railway operator, Stern & Hafferl allocated ET 23108 (ex 111, ex 5) to Gmunden - Vorchdorf and ET 26108/9 (ex 113/112, ex 7/6) to Atterseebahn (Vöcklamarkt - Attersee). In 1987, ET 26108 was withdrawn following a fire. ET 23108 was transferred to Atterseebahn as a replacement and renumbered ET 26110. Together with 26109, it remains in service there to this day.
But all good things must come to an end. Atterseebahn will probably withdraw both cars by late 2016. In the meantime, a Sernftalbahn museum has been created in the former goods shed of Engi-Vorderdorf. Of course it would be fitting to repatriate one of the ex Sernftalbahn cars and place it on static display at the museum. A local bank (Glarner Regionalbank) has already promised to finance the transport. But further money is needed to remove asbestos and finance the restoration. More information can be found on www.sernftalbahn.ch .
Of course, in the meantime, also try and ride them while they're still running. Even in the distant corners of the Alps, cars of this vintage are becoming more and more of a rarity.
source: Prellbock 4/14
This news item is from the 2014 newslog.


---
search Zürich tram news archive
news index for displayed year (2014)
news index for 2022
all news for current year
Zürich tram homepage
---
to link to this item please use:

http://www.proaktiva.ch/tram/zurich/newslog/newsitem.php?year=2014&item=041114a